Watching May Queen harkens back to the days of yore when K-dramas were chock full of amazing coincidences, outlandish plot contrivances, and painfully overwrought emotional entanglements. Despite knowing I am watching something truly dumb, I'm enjoying the delicious nuggets of angst between the three leads Chang Hee, Hae Joo, and Kang San. I read an interview with Jae Hee where he discusses how his character is going to get pulled through the wringer but will have some sort of reversal of fortune at the end, which totally got my hopes up again that there is a possibility this drama won't follow the original construct of Hae Joo losing her first love Chang Hee and ending up with Kang San. I'm totally getting Beautiful Days vibes from this drama, where in BD Lee Byung Hun was supposed to be the first love and Choi Ji Woo was to end up with Ryu Shi Won, except as the story progressed the audience totally fell for the initial pairing and that ended up being the OTP since the drama was live filmed and the writers decided to go with what was working. If I were to take the temperature of the audience, it looks split evenly between SanJoo shippers and ChangJoo shippers, which is pretty impressive since Kim Jae Won by far has the larger fanbase. I'm purely on Team Chang Hee because of his character alone – I love how these two kids fell in love during the kid portion and how their love is so fraught with elder generation pitfalls but they are just innocent and pure victims who would be together but for things beyond their control. I was worried the earlier scenes between them were a tad too chaste, but in the preview for episode 14 we get a ChangJoo KISS IN THE POURING RAIN. It's so hot I almost combusted on the preview alone. Tomorrow can't come fast enough. Even if my ship sinks, I will enjoy it to the fullest until then.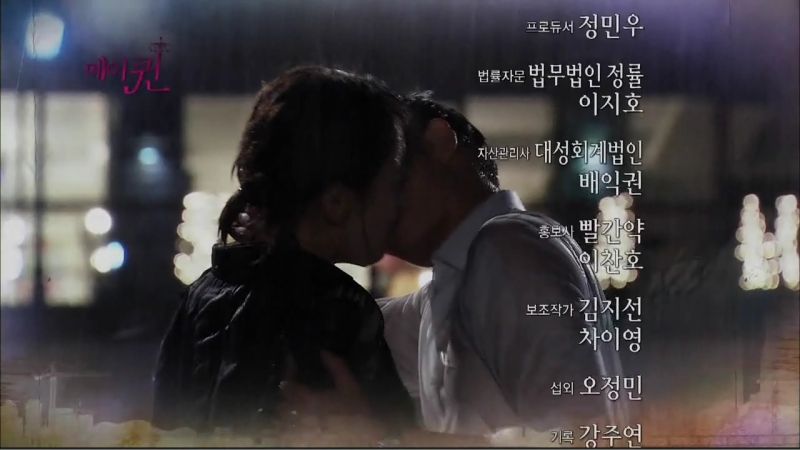 Credit for the screencap and preview video courtesy of @Shirley via Soompi May Queen thread. In episode 13, Chang Hee learns that his daddy tried to off young Hae Joo and moves out, desperately trying to keep her safe and finding a way for them to be together. Hae Joo and Kang San continue to be adorable and carefee together, with him teaching her ship building design techniques. I know between the two men San is definitely the saner choice since he comes with zero baggage other than a predilection to be a giant flirt, but my heart is totally rooting for the pairing that comes with baggage because I want them to rise above it all and make their own happiness together.
Preview for episode 14
© 2012, ockoala. All rights reserved.