I'm out folks! Strangely I'm not upset or anything, probably because I knew it was inevitable plus I got plenty of happy beforehand so it was all worth it. This weekend's May Queen finally drove the wedge between Chang Hee and Hae Joo with his discovery of his father's role in her birth father's death (and not even that his father also mowed her adoptive father down, which is like pouring acid on an open wound). At the end of episode 16, Chang Hee asks Hae Joo to break up, and unlike the last time when she tried to break up with him and he kissed her into boating their angst away, this time I'm sure it'll stick. Mostly because this drama is almost halfway done and the writers have to get on a move on in transferring Hae Joo's affections over to Kang San. I totally accept that San is the better, saner, healthier choice for her as a long term partner, but I find him as interesting as a slightly loopy puppy plus there is no way I will abandon the Chang Hee-Hae Joo ship when they are in love with each other and can't be together because of circumstances beyond their control. As opposed to him turning evil. So that means I'm ending my MQ ride now and retaining all my happy shippy Chang Hee-Hae Joo moments from the first half of the drama. I love their childhood love story, and the adult portions were as good as I had hoped, with them dating, being so warm and affectionate with each other, and busting out the passionate romance when the situation called for it. However the drama ends, I got what I wanted out of it and for that it was time well spent. I'll disembark with a cute picture of Jae Hee being goofy on the set and an MV below of my preferred OTP falling in love.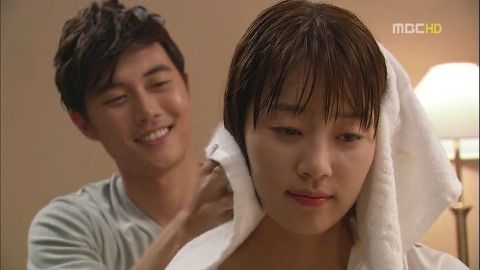 I love how my OTP got so many happy and lovey dovey moments together before the mean scriptwriter tore them apart.
In my heart of hearts, they've eloped to Jeju and is running a little marina boat shop together while Chang Hee becomes mayor of their little town and they have 3 kids. The end.
May Queen "First Love":
© 2012, ockoala. All rights reserved.