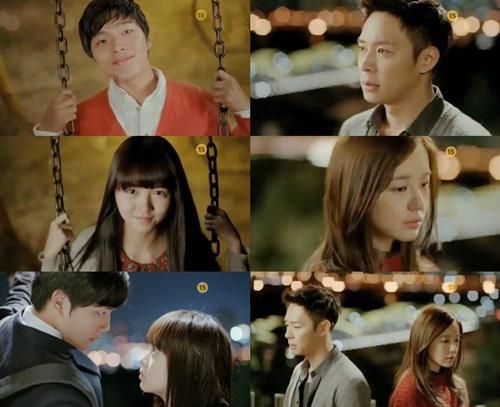 The first teaser is out for Missing You, which makes sense since Arang and the Magistrate ended today though the drama won't premiere for another two weeks. Still, it's nice to get an inkling as to what to expect. Can I sound like a crazy Koala broken record and remind the producers that there is still no second male lead confirmed for this project. Unless he's been filming under the umbrella of secrecy and to divulge his identity is a matter of national security. It definitely isn't Chun Jung Myung since his agent stated this week that he's taking on a rom-com movie role next. I guess not having a second male lead isn't a drama deal breaker at this stage, especially since this teaser only consists of the two leads, both the youthful incarnation of Yeo Jin Gu and Kim So Hyun as well as the adults of Yoo Chun and Yoon Eun Hye. All compatibility issues should be put aside because its clear Yoochun and Eun Hye look great together, and both are bringing on the eye pain already in the trailer. What's really not clicking with me is the story, which feels so old-school and the execution so, dare I say it, cheesy. I mean cheesy not in the haute French cheese way, but in the Velveeta style. I'll definitely be watching it, and only the kids section will be going up against Nice Guy which wraps up when the adults show up in MY so the drama ought to have a good chance at a ratings grab. Not to mention Nice Guy's follow up is Jeon Woo Chi, so it'll probably be splitting the sageuk audience with The Great Seer. Check out the English-subbed teaser below and form your own first impression.
Teaser for Missing You:
© 2012, ockoala. All rights reserved.