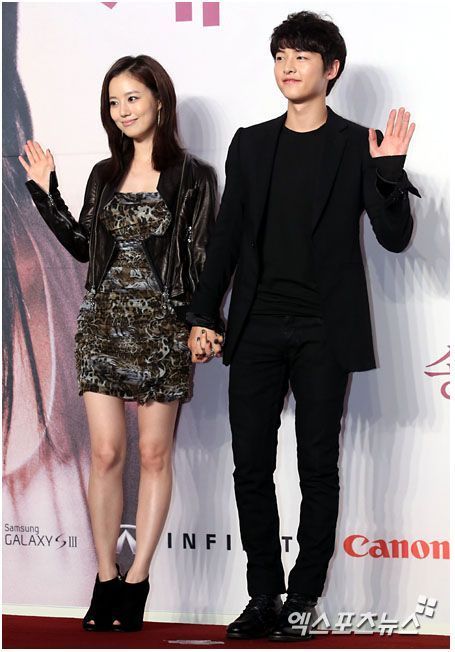 WHAT THE HELL, KBS?!?! Please don't screw up the tense exhilarating ride that is Nice Guy (The Innocent Man) with what I consider the death knell of dragginess by extending a highly rating drama for the sake of ratings rather than creative necessity. With only 6-episodes left in its 20-episode run, KBS is apparently considering an extension and is in talks with the cast and crew to see if its possible based on everyone's schedules. I hoped Song Joong Ki and Moon Chae Won have scheduled a vacation together to Bali with non-refundable tickets leaving the night the final episode airs, because I do not want an extension. I would love to spend every Wed-Thurs watching the beautiful love story of Seo Eun Gi and Kang Maru, but that's a pipe dream because what I want even more is to have the story end with satisfying cohesion. That simply won't happen if this drama gets extended because that always sucks the energy out of any drama. I have not encountered an extension that worked, but have countless examples of extensions that harmed a drama. I hope Lee Kyung Hee tells the KBS bigwigs that she doesn't have enough story for an extension and nip this idea in the bud. To extend it would mean more Jae Hee and lawyer Ahn shadiness, and while they work fine now as credible antagonists, at some point they are going to run out of steam and start pulling tricks out of their ears. I wonder if this is a move to stick it to Missing You or to give Jeon Woo Chi more time to film? An extension for NG is bad for MY in my book, since folks will surely want to finish up the current melo rather than try out the new one. Sigh, to calm myself down about this happening, thanks to the PD I've got a major "San Francisco (Be Sure to Wear Flowers in Your Hair)" earworm going on and found a Nice Guy MV set to the song. Enjoy and good luck getting the tune out of your head after this.
I keep wondering why the PD selected this particular song. The singer Scott McKenzie actually passed away in August of this year, and this was his one and only hit in his short singing career. It does have the fame of being the song that brought millions to San Francisco in the 60s in search of the freedom and flower power love he was crooning about. Is that what the song represents in this drama – freedom that is so completely alien to the normal structure of society, but acceptable because there are other kindred spirits around? So if Maru seeks freedom from his painful life, could he find it with Eun Gi and live the rest of his life, or is death really what this song foreshadows? I really love the MV below because its not set to scenes from the drama, but to stills. I actually find Maru and Eun Gi's relationship much more impactful when we see snippets of it like this. I think we can all agree that, unless its a both of Maru's cars are set to magic radio stations, he's got this CD in his player which is why the song always comes up when he's driving with Eun Gi. All I know is – if Maru and Eun Gi dies in the end (still a very real possibility), and the PD plays this song during or after said deaths, imma going to toss some very heavy appliances all the way across the Pacific ocean to Korea.
Before Nice Guy started, I liked Song Joong Ki and Moon Chae Won well enough and thought this was a brilliant pairing for a melodrama. I had no clue what rabbit hole I was about to fall into. This feels like deja vu circa the heydays of Mary Stayed Out All Night, when I started off liking Moon Geun Young and Jang Geun Seok well enough and ended the drama with them becoming one of my ultimate biases and me turning into a goofy fangirl. Falling for an actor doesn't necessarily require the drama to actually be good, though that does increase the odds, but does require the actor to blow me away with delivery, chemistry with co-stars, and play a character I adore beyond all reason. That happened with the GeunGeuns in M3 even if the drama was like playing whack-a-mole in fun silliness, and its happening right now in Nice Guy. Song Joong Ki and Moon Chae Won are delivering impeccable performances of two characters I care about even knowing they are fictional. It's also important to note that their chemistry with each other could heat my entire house, and my house is pretty roomy. We an all agree that they should date, no? Such perfection with each other not be acted upon is like wasting a great box of French chocolates. I know I've written lots about this drama already, but there are actually countless details set up from episode 1 that really highlight how complicated this love story is and makes me appreciate it all the more. They love each other not because drama law dictates it, but because in my heart and soul I know they have simply barged into each other's lives and gave it purpose again.
[News of Nice Guy extension from Osen]
Nice Guy MV – San Francisco (Be Sure to Wear Flowers in Your Hair):