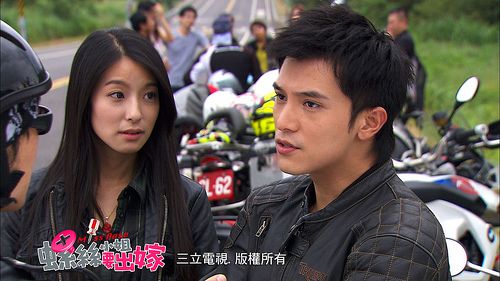 I was waiting for a new video preview for episode 14 of Miss Rose before posting the written preview, but it doesn't look like one is forthcoming. I reckon with all the hoopla over the Golden Bell Awards this week, it's been lean with the entertainment news on other fronts. GTV was the big winner at this year's GBA while SETTV was the ratings winner but snubbed when it came to critical acknowledgment. Everyone has been boo-hooing over Roy Qiu not being nominated for Office Girls, and while I would have loved if he got nominated, it was understandable he wasn't since OG was such a fluff piece and his character was admittedly adorkable but that doesn't get much recognition. While I highly doubt Miss Rose will see any hardware come award time next year, I'm still vastly satisfied with the drama in general and haven't felt the drama taking a turn towards the draggy or ridiculous. The pace has remained consistent throughout, a mellower and more contemplative work that the usual idol drama spazzy undertones.
I'm waiting for the calm before the storm to arrive, the time for Si Yi and Cheng Kuan to openly date and enjoy each other's company in the role of boyfriend/girlfriend. We all know Vivian hasn't bowed out yet, and her dad President Jiang probably has his own practical reasons for wanting to hold on tight to his cash generating machine that is Cheng Kuan. I wonder if Yi Chun will graciously exit left once he learns of Si Yi and Cheng Kuan's new relationship? I do like the repentant version of him, and rather feel sorry that he missed his opportunity to win Si Yi back. A few months earlier and who knows, he's probably the one winning the beauty and the empire. I hope the drama quickly ends the procurement bribery scandal and get rid of the GM. I would rather spend time with Sheng Jun and Xiao Ke rather than watching Dumb and Dumber (and Floozy) continue to plot. At this point they are not integral to the plot and I think the story needs to move towards how Cheng Kuan will approach the next stage of his career and what obstacles Vivian and President Jiang are sure to throw his way.
Written preview for episode 14:
For the Beauty, Give up the Empire!
Cheng Kuan plans to take Si Yi with him and leave Guang Qiang, to blaze his own path. Si Yi has a worried heart but quietly supports the man she loves….. At the interview with the new company, Cheng Kuan is brimming with eagerness but the person who shows up is?! This time, Cheng Kuan might truly be shaken.
Vivian realizes that Cheng Kuan doesn't deal well with ultimatums so she decides to switch up her tactics, agreeing to cancel the engagement and take a step back in order to move forward. Seeing the gentle and considerate little princess with smiles in her eyes, Cheng Kuan sincerely wishes the girl he grew up with happiness, unaware that Vivian is brewing up another plot.
The engine revs up and the tires travel over every mile of happy road. Si Yi and Cheng Kuan finally openly walk towards each other. Their romantic date is suddenly interrupted by an unwanted third party, and each word challenges Cheng Kuan's patience. In front of the woman he loves, Cheng Kuan agrees to a challenge with his opponent….
© 2012, ockoala. All rights reserved.