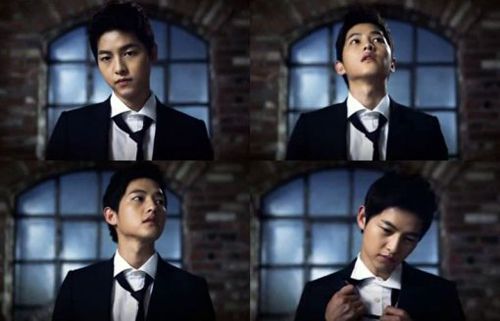 It's not just my overeager imagination that Song Joong Ki appears to be everywhere, right? He's on television with Nice Guy (The Innocent Man), he's on the big screen with The Werewolf Boy, he's all over the news doing media promotions for both, and he's all over my blog as the trying-to-be-bad-yet-innately-good Kang Maru in NG. It's time to add another medium to his current omnipotent presence – Song Joong Ki is guest starring in the MV of his hyung Kim Jong Kook's latest single called "Men Are All Like That". LOL, I love the title of this song, and bonus points if Kim Jong Kook actually sings about men being fickle bastards because they are weak-willed, because we know men are all like that. Heh. The single will be released on November 1 but a teaser has just dropped that is strangely captivating. The song has a great intro and a rousing hook, not to mention we are treated to a glimpse of Song Joong Ki angsting while dressed in a suit. Works for me! Song Joong Ki used to be on Running Man with Kim Jong Kook (and also his current NG co-star onscreen BFF Kwang Soo) so that's where these two guys became real life buddies. I confess to not following Kim Jong Kook's singing or variety show career (other than his long-ago flirtation and cute bantering with Yoon Eun Hye on X-Man) but he seems like a solid performer and this song sounds potentially awesome. I wish he could've roped both Song Joong Ki and Moon Chae Won to star in this MV together. Can you imagine the meta! Eun Gi telling Maru to bugger off because he's just like all the other guys, and Maru has to pine and mope as he comes up with sincere ways to win his pissed off lady love's heart again. With this title, I'll go on a limb and suggest the drama use the song in later episodes and liven up the proceedings. Check out the teaser below and drool with me.
Teaser for Kim Jong Kook's "Men Are All Like That":
© 2012, ockoala. All rights reserved.