It's no secret that I was underwhelmed by the first two episodes of Missing You, a melodrama fairly dripping with an excess of pathos and bathed in the ardent sheen of young love. After mentioning how Yeo Jin Gu was surprisingly bland in episode 1, he stepped up his game in episode 2 and together with his co-star Kim So Hyun, in episode 3 the two of them are singlehandedly the best part of an otherwise soggy storyline mired in inheritance battles and poverty-stricken injustices. I could watch Jung Woo and Soo Yeon be cute together all day long, their moments of happiness so brief and fleeting that it appears to belong to another drama entirely. While I joked with friends that Kim So Hyun must've been cast because Kim Yoo Jung was already doing a heavy duty stint as the child lead in May Queen, I've come to truly appreciate how much Kim So Hyun took this character and ran with it. Lee Soo Yeon is saddled with one of the most horrific and miserable backstories I've ever seen in a K-drama, but Kim So Hyun makes her feel a broken-winged song bird still daring to fly. Everyone has been wondering what huge thing happened to keep Soo Yeon and Jung Woo apart for 14 years, and episode 3 revealed the giant hammer of doom. Its just unspeakably terrible. The ratings for this episode barely blipped up and I wonder if even the adults coming in can save this drama from being mired in so much pain that the viewers just don't want to spend time with it anymore? Anyhoo, giant spoilers of pain after the jump!
In episode 3, Jung Woo gets kidnapped on his way to meet with Soo Yeon, and she happens to witness it and also gets kidnapped along with him to keep her quiet. One of the kidnappers is a drug-user and when the other kidnapper steps away, he beats up Soo Yeon before raping her. All in front of Jung Woo, who cannot do anything because he is tied up and gagged. It's too late when the other kidnapper returns and tries to stop him. Despite the drama electing not to show the rape, it did happen. The Korean newspapers are writing about how truly awful it was to see the rape and brutality towards a teenage girl onscreen. All the viewers hear is Soo Yeon screaming and Jung Woo crying and crying and crying, and then we see Soo Yeon's bloodied face and her clothes in disarray.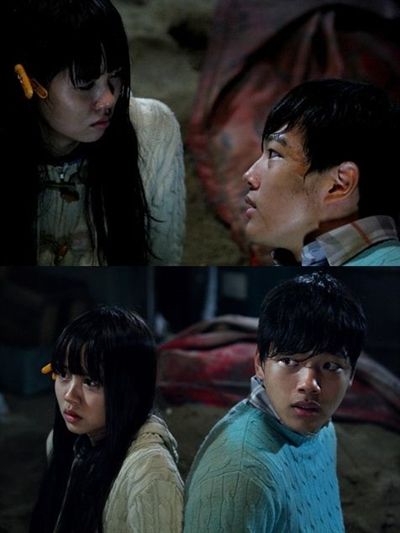 When the other kidnapper comes back, Jung Woo happens to break the ties on his hands and he stumbles up. He sees Soo Yeon laying there and their eyes meet. She is completely catatonic. Jung Woo looks up and sees the door is open. He looks between Soo Yeon and the door….and then he chooses to run away. There is nothing he could have done for her had he stayed, running away to get help would be his only rational choice, but Soo Yeon lays there and tears fall from her eyes. As Jung Woo is running it starts to snow and he remembers his vow with Soo Yeon that they are to watch the first snow together this Winter. He looks back towards where she is being held and cries.
The kidnappers leave Soo Yeon laying there to go after the escaped Jung Woo. She lays there and watches the snow falling outside the door. Jung Woo's dad arrives in time with his minions to save Jung Woo, who asks him to go back and save Soo Yeon but the evil bastard doesn't care. Soo Yeon stumbles out of the place where she was being kept. Hyun Joon and his mom's nurse are driving there and hit Soo Yeon with their car. Jung Woo's dad sends him minions to burn down the place where the kidnapper kept the two kids. Jung Woo is dragged home and when he wakes up he screams for Soo Yeon, but it's too late, she's gone missing.
So….uhm….saying that was intense would be an understatement. Watching it onscreen is much worse than hearing me recap it. I'm not squeamish about rape as a plot element, nor is the fact that the victim is a teenage girl make it any more wrong. It's utterly monstrous watching the entire scene unfold, Soo Yeon trying to protect herself and getting violated, Jung Woo watching in helpless agony. Narratively I felt this was exploitative on the part of the writer to create the schism between the OTP, but its not wholly unbelievable something like this could happen in such a convoluted situation. Both Yeo Jin Gu and Kim So Hyun were magnificent in those scenes, neither over-acted and truly conveyed the pain and agony of suffering through such a traumatic event. Kim So Hyun tweeted this morning saying "Watched Missing You today and my heart hurt……I did not act out that scene directly but I presented that difficult emotion with the hopes that something like this will never happen again in this world." This girl is truly a talent and I applaud her for delivering a performance worthy of a standing ovation. Same with Yeo Jin Gu, whose performance in episode 3 made his The Moon Embraces the Sun performance in episodes 5-6 (when Hwon loses Yeon Woo) pale in comparison.
As for how the story will continue, I pretty much loathe every character not named Jung Woo, Soo Yeon, and Hyun Joon, and I think Jung Woo won't see Soo Yeon ever again until the adults section. Obviously she's not going to die, so my guess is that the nurse takes Soo Yeon and Hyun Joon and they hi-tail it out of Korea and head to the States as the character descriptions indicate Hyun Joon and Soo Yeon have English names. Obviously Soo Yeon is leaving behind an emotionally deadweight Mom and some horrific memories if she returned to her old life, so starting new would make sense for her. This is probably how she and Hyun Joon start dating eventually. Which begs the question – she will then have a much stronger history with Hyun Joon if they grew up together whereas her history with Jung Woo consisted only of the short time they knew each other which ended the worst possible way I can imagine. I'll keep watching to see how the adults section moves past all the tragic woe of the backstory and perhaps do something meaningful in dealing with grief and forgiveness and healing scars, but oh my was this episode draining to watch.
Watch Missing You here.