A drama obsession can flicker on in the most impossible to predict and oftentimes inconsequential of ways. All it took was one look, from him to her, and I was lost. Even as I bemoan the writing lapses in Missing You, I find myself looking for ways to make the drama make sense, if only to add to the enjoyment I derive from watching Yoon Eun Hye and Yoo Seung Ho on my screen twice a week. I find the writer is doing a better job with characterization and little details then she is with the who-dun-it silliness and the overarching narrative coincidences. I wish she would concentrate on her characters, and not just have Jung Woo spend countless minutes per episode taking fully clothed showers or brooding in dark places. I want character development like Jung Woo's heartwarming interactions with Soo Yeon's mom, like Zoe and Harry's tiniest gestures and words with each other. Because I love Yoo Seung Ho's performance here, and therefore am focused on his character, I want to share my thoughts on what I think is a very complicated role.
Jung Woo is the undisputed hero of the story, and his one moment of weakness when he left Soo Yeon laying on the floor to save himself (as he admitted later, it wasn't to get help, he was scared and in that split second made a very human choice that I am truly in awe the writer went there) makes me appreciate him and root for him. Because he made a choice that haunts him, I want him to find absolution because he deserves it. He was kid with the choice between likely death and saving himself, and he saved himself. I understand that. Soo Yeon is a straight up heroine, abused and tormented but still striving to overcome her painful past and I root for her to truly let go of the rape and then find a romantic path for her future with the guy she now loves, whether its Hyung Joon or Jung Woo. But Hyung Joon is the most fascinating character for me, because he's the only one who is not rooted in the pain inflicted on him but striving to carve out a world for himself going forward without the spectre of the past hovering over him.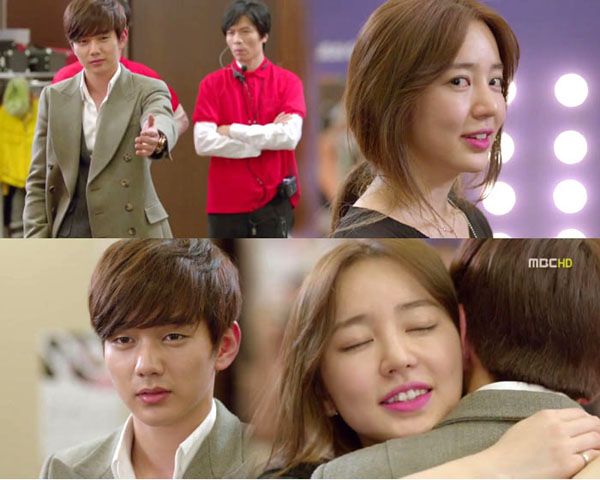 If we take background, both Jung Woo and Hyung Joon have inadvertent ties to Soo Yeon's past history. Jung Woo's dad set dogs on Hyung Joon and maimed him, then tried to kill him. That led to Hyung Joon's mom ordering the nurse to kidnap Jung Woo, which led to Soo Yeon getting taken along as well and then raped. Both Jung Woo's dad and Hyung Joon's mom are responsible for setting things in motion, and all for money. Jung Woo's dad because he was so greedy he couldn't stand his dead father giving money to the new wife and son he had in his latter years. Hyung Joon's mom for choosing to do something illegal and reprehensible in ordering Jung Woo's kidnapping to protect her own son Hyung Joon. They compound each others wrongs, even if Jung Woo's dad stands at the very top as being the true villain of this tale. But neither parent's actions should reflect on either Jung Woo or Hyung Joon. What both men have are their own mistakes and issues with Soo Yeon.
Jung Woo left Soo Yeon and chose to run away. It is a choice he made, I hesitate to say mistake because to stay he could not have helped her either, and one which he is suffering for. Hyung Joon told Soo Yeon the truth about the newspapers reporting that she was raped and murdered, telling her no one is looking for her and that Jung Woo abandoned her. That was all true, but he could not have known Detective Kim was in fact still looking for her. Nor could he have known of Jung Woo's immense guilt and his looking for her. And if he did, I know he wouldn't give a shit because he hates Jung Woo who in his mind is but an extension of his evil half-brother and because he thinks Jung Woo abandoning Soo Yeon in that warehouse was a coward's decision. Hyung Joon asked Soo Yeon not to leave him, because he has no one now that his mom is dead. And Soo Yeon heard his pleas, and whether that jolted her back to existence because of someone wanting and needing her, we will never know. But she chose to stay. Detective Kim was collateral damage in Jung Woo's dad's continued attempt to track down Hyung Joon. There was no murder, which required intent, because all Hyung Joon did was put the coke can on the brakes to slow down the person he believed to be pursuing him on behalf of Jung Woo's dad, never knowing even after the car rolled down the cliff that it was the kindly Detective Kim coming to bring Soo Yeon back. And did Soo Yeon want to go back? I actually would say no. How could a teenage rape victim living in a small town to a poor family, with her name plastered all over the newspapers, ever hope to move on and shed the ignominy of public scrutiny of being "that girl who was raped." Her only chance for a clean slate was to leave with Hyung Joon.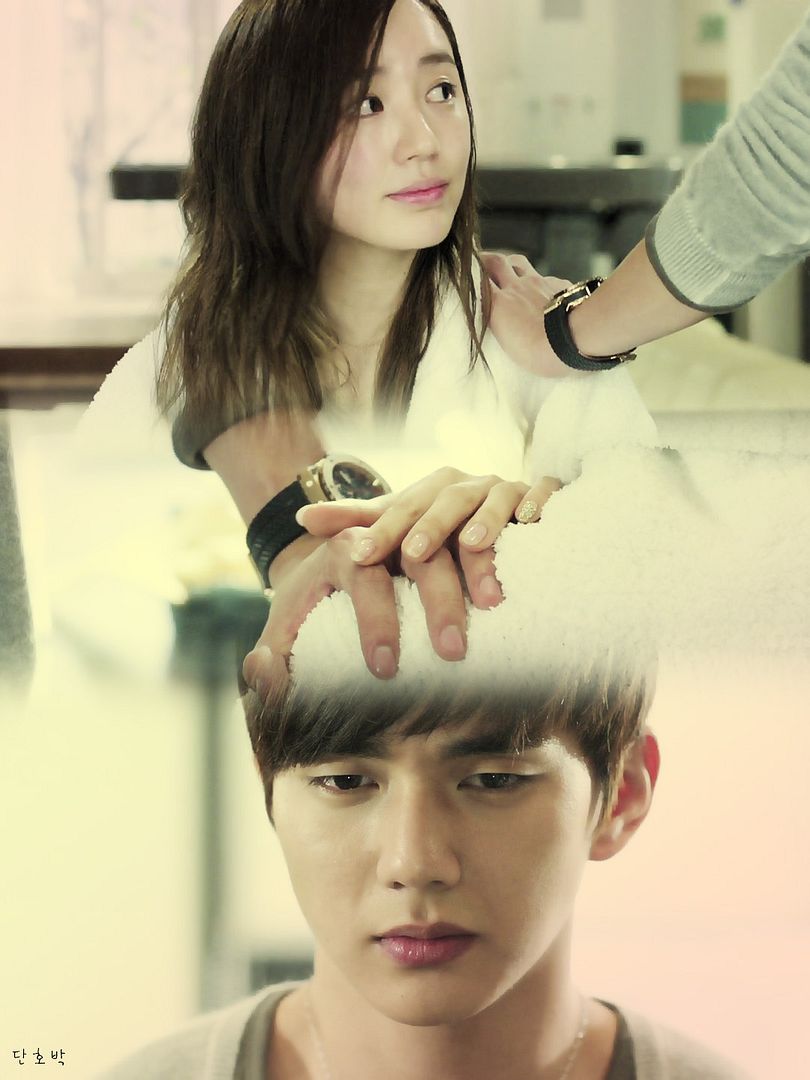 What I see in Missing You is actually two parallel love stories. There is the love story of Jung Woo and Soo Yeon – who meet as teenagers and had their love cut short because of a horrific and senseless crime. There is the love story of Zoe and Harry – two people who have been each other's sole companion for fourteen years and are everything to each other. The reason for Hyung Joon and Soo Yeon to adopt their English names is as a way to break from their past. Zoe to erase who Lee Soo Yeon was (domestically abused poor girl who was raped) and Harry to escape who is after Kang Hyung Joon (Jung Woo's dad). But Zoe has never truly erased Soo Yeon's feelings and memories, even as she's formed new ones with Harry. It's almost like she is two people, and she loves two men. I think back to how Hyung Joon survived, a 12 year old boy with a gimp leg who used his smarts to get that greedy nurse to agree to take care of two children by telling her that only he can get the money when he turns 18. Witness that Zoe doesn't even care that Nurse Hye Mi died, whereas Harry was affected when he was her dead body. What was life like for those two during those 6 years before Harry turned 18, when they had to rely on Nurse Hye Mi? They must've relied on each other, she nursed his leg, he tried to heal her broken spirit. And after he became of age, he was able to take care of Zoe completely, and we see that he has done everything he can for her. She is a successful and confident fashion designer, she knows he'll take care of all her problems. He tries to do what's best for her, but he lets her do whatever she wants if its something different. It's like he's her security blanket without being a set of chains weighing her down. She can fly, but she knows he's always there to catch her if she falls.
What I love the most about Hyung Joon is how he puts Zoe first. In the world's most serendipitous car accident when they ran over the rapist, the first thing he did was reach out his hand to shield her as he braked. What I can see the writer doing as Harry's downfall in terms of losing Zoe, i.e. she returns to being Soo Yeon, is that he will seek revenge against Jung Woo's dad (and by extension likely Jung Woo) for what happened to his mother and himself. I wish Zoe and Harry could go back to France, go back to their own peaceful world of two, where all the greed and hatred of the familial conflicts are no longer pressing down on them. Coming back to Seoul really is so painful for them both, and I can see why he wishes Zoe didn't come. I loved how he always steps up to shield her, like when he saw her so affected by Jung Woo's presence so he said that Zoe is his fiancee. You can see how that jolted Zoe out of her emotional basket case moment and she remembered that she wanted to leave all of this behind because she's Zoe now. Zoe doesn't want to reunite with Jung Woo, that is her choice and Harry is merely making sure her decision remains intact.
I thought it telling that Harry passively sits there and its Zoe who walks over and puts her hand on his shoulder and announces that she only loves Harry. Personally I think it's stupid for Zoe not to reunite with Jung Woo, since it's bound to happen anyway and I want them to reunite fast and hash out their issues. I don't care if the two men fight for Soo Yeon/Zoe, because I like the believe the writer will weigh a teenage potent love with a 14 year relationship. It's impossible to deny that Harry and Zoe's relationship is balanced in that they share equal power structure with each other, though it's an unhealthy attachment to each other. She tells him not to leave her, he tells her not to leave him. It's sad because we know they are happy, but it's a happiness that is built on unresolved pain and fear. And because i know once all the issues of resolved Soo Yeon and Jung Woo obviously will be together, I just wish the writer would not write Hyung Joon as evil for the sake of padding the happy ending for the OTP. I see two abused and frightened kids who were each other's everything for 14 years, don't flush that down the toilet for the sake of plot. Harry and Zoe genuinely love each other, but sadly Hyung Joon and Soo Yeon might never be able to overcome the odds to be together.
I have this sinking sensation that the writer won't bother with developing Hyung Joon's character because ultimately this story was premised on the OTP separated and missing each other. I do feel though that Soo Yeon doesn't appear to miss Jung Woo. He's still in her heart and affects her, but she's living her life fully with Hyung Joon. When she had the run-in with Jung Woo in the living room, which turned into an OT3 stare down of sorts, afterwards she was just bopping along just fine. When we saw her driving with Hyung Joon, before mowing down the rapist, they were completely normal as if nothing happened. I think the writer either has to acknowledge that Soo Yeon has resolved feelings with Jung Woo but at the same time Zoe is currently in love with Harry, or else I'm not going to buy any reconciliation between Jung Woo and Soo Yeon that doesn't feel like Harry was thrown under a bus. It's with dramas like Missing You where I keenly feel the need for a better writer at the helm, with so much potential in the set up (first loves torn asunder by brutal crime) but so far is botched in the execution. Here's to hoping Zoe ends things properly with Harry before returning to Jung Woo, because Harry has loved her for 14 years unconditionally and honestly has been a super duper great and supportive best friend/boyfriend. He has the potential to be a totally cold metaphorical assassin type character who plans in detail to take town his foe (namely Jung Woo's father), but I love the way he loves Zoe/Soo Yeon with every fiber of his being on the line.