It's funny how the ratings for Missing You continue to increase inversely proportional to how the excessive dramatics are being toned down. Though I really do believe the ratings are buoyed by a combination of three popular young actors in the lead along with a story that can be quite addicting even if sense took a long walk and still hasn't returned to the set yet. I like how the mood is toned down significantly now so one can enjoy the visual prettiness without being startled out of the atmospheric melancholy. While I may wish Soo Yeon and Hyung Joon can find their happily ever after away from any unresolved revenge plots, its predicated on my feeling that they have just built up this love for each other that makes so much more sense than being fixated on a short first love that was cruelly cut short. However, this episode makes it clear that Soo Yeon isn't just scarred by the rape, she is really really angry with Jung Woo for abandoning her at that warehouse.
We kept seeing Jung Woo's point of view, his fear and his wavering leading him to run away, not to mention the mountains of guilt he's been living under. This was the first episode that I really understood from Soo Yeon's perspective – the last image she had of Jung Woo was her calling his name and him running away without once looking back. That giant painful decision haunts her as much as it haunts him. Yes, once she finds out he has been atoning for that for the past 14 years she might be less pissed, but I don't know how their relationship could or should ever be rekindled. I know the writer wants to sell it, I just don't connect with it. Hyung Joon and Soo Yeon might be unhealthy in their own world to the exclusion of others, but they have truth and love built up on 14 years of sincerity towards each other.
Episode 7 recap: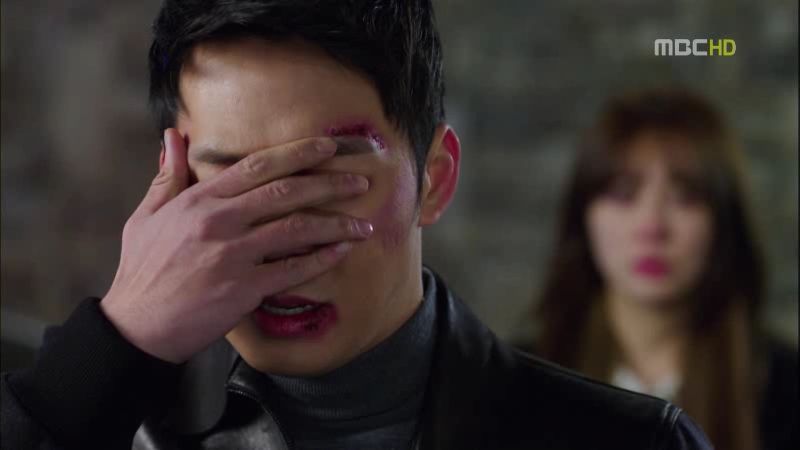 Jung Woo asks Soo Yeon to call his name and she obliges. Because, yunno, we girls don't think it's weird at all some guy we just met asks us to repeatedly call his name while his back is facing us.
While Jung Woo cries, Soo Yeon remembers calling his name as he ran away from her as she laid on the ground after being raped. Yeah, these two could not be farther apart on the memory scale.
Soo Yeon tearfully stares at Jung Woo's back and calls his name, but when he turns around she's smiling and got her game face on. She asks if that's good and he tries to tell himself that she can't be Soo Yeon. She asks him out to drink since the mood feels rather that he's ending things with the Soo Yeon in his memory.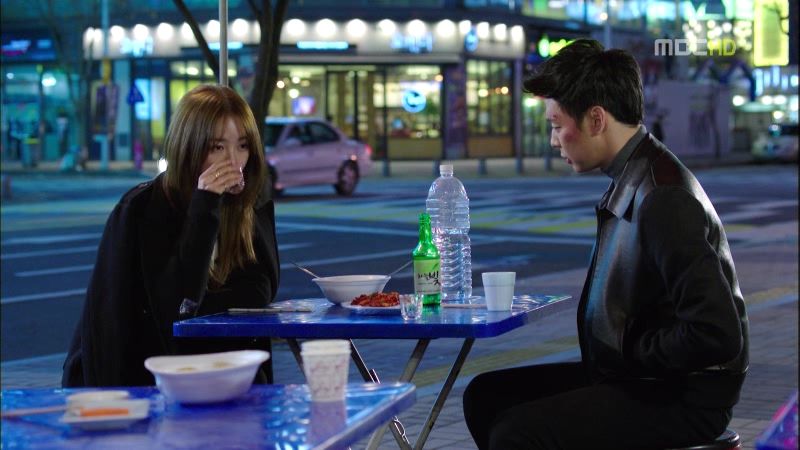 They sit in a pojangmacha and Soo Yeon drinks a shot of soju and remarks that alcohol tastes just like memories, all one flavor. Jung Woo doesn't drink and confesses that he's the one shot and drunk singing in the noraebang type. He asks if she sings and what songs she sings? She doesn't answer and asks if he's going to arrest her for not answering. She asks if he still thinks she is Lee Soo Yeon? She asks him ti keep pouring her more, perhaps if she gets drunk maybe she'll admit she is Lee Soo Yeon.
Soo Yeon wonders why he thinks she is like Soo Yeon? Jung Woo says her voice sounds exactly the same when she calls his name, like she's on the verge of tears. Soo Yeon says he appeared to like Soo Yeon a lot, so why did they break up then? She stares at him.
A man runs out of the rapist's home screaming and the police are alerted to the scumbag's murder. The police arrive and the man tells the police chief that the murderer had to be Han Jung Woo. Jung Woo's partner calls him but he doesn't pick up. He calls Soo Yeon's mom who says Jung Woo isn't home yet. Eun Joo says he's not at the usual noraebang either.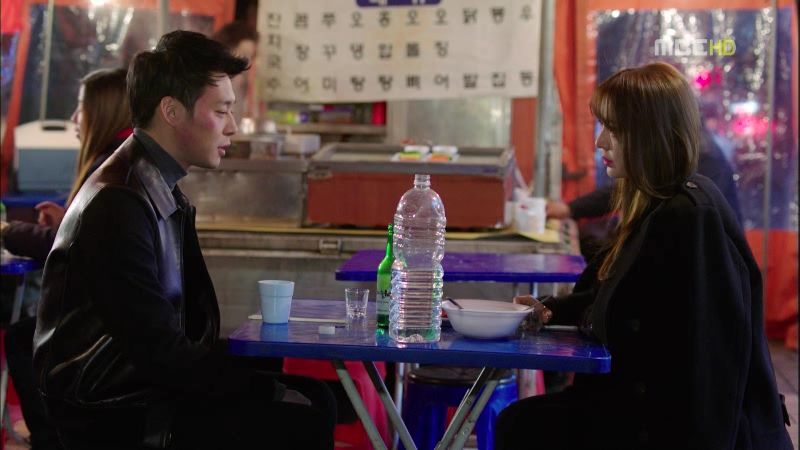 Soo Yeon notices Jung Woo's phone ringing continuously and asks why he's not answering? Jung Woo turns around and asks about her and Harry. She says they have been together since she was young, they were adopted and reborn the day they were adopted. She asks again how Jung Woo split up with Soo Yeon? Jung Woo says it was because he ran too fast. He is very good at running, now and back then. He is number one at running or chasing after criminals. He asks if she's confused by his answer? Dude, I applaud you for owning up to it in whatever capacity.
Soo Yeon asks if he's good at fighting? She thinks whomever becomes his girlfriend is very lucky because he would protect her no matter what. Soo Yeon softly calls him Officer Han Jung Woo and then smiles and confesses to being drunk.
Jung Woo drives Soo Yeon home and she apologizes for making Jung Woo more tired. She asks if he's angry at her and he tells her to stop distracting him. She opens the window to feel the breeze and sticks out her right hand. Jung Woo looks at her and thinks about little Soo Yeon again. Soo Yeon sees a pretty building ahead and says she wants to go there some time.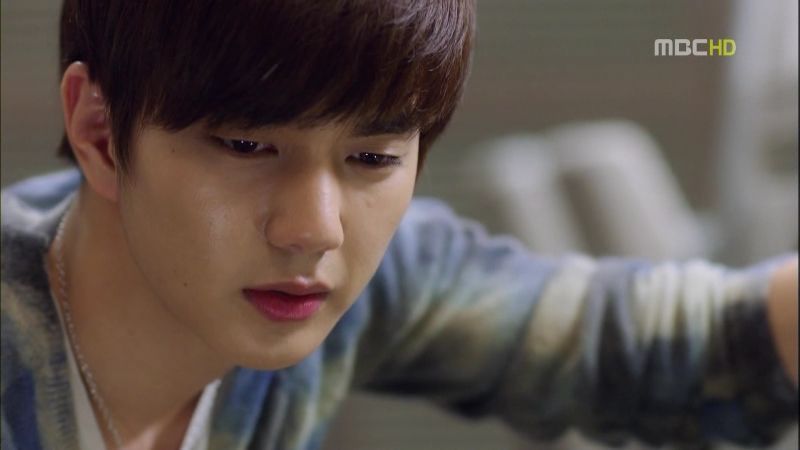 When Hyung Joon gets home, he sees the shattered glass in the kitchen and goes to clean it up. He sees via the CCTV feed that a car is pulling up outside and knows Soo Yeon is home.
Outside the house, Soo Yeon asks Jung Woo to write his phone number on her palm since she lost her cellphone. Harry is very busy and she needs a friend in Seoul, plus she's going back to France soon and who knows when she will be back. Since he broke up with his girlfriend, can they meet up sometime at that restaurant she saw. Jung Woo says no and Soo Yeon says they can be secret friends if he feels bad towards Harry. You naughty minx, Soo Yeon.
Jung Woo doesn't like secrets but Soo Yeon wheedles him to just be her friend. All she needs is one friend and she promises not to tell anyone about tonight since they are now secret friends. Jung Woo remembers Soo Yeon asking them to be secret friends when they were kids. As Jung Woo walks away he gets angry and appears to want to turn back but then he answers a call and finds out about the rapist being offed.
Soo Yeon goes home and finds Hyung Joon riding a bike in the living room. She frets over him because its too dangerous with his leg. He asks where she went. He was worried about her since she wasn't well earlier when he left the house. Soo Yeon doesn't answer him and he smiles and says that he's happy she seems recovered. He wonders why she didn't answer her phone and Soo Yeon reveals its missing. Hyung Joon tells her to buy a new one tomorrow. Hyung Joon says he can't use the pool now after what happened to Nurse Hye Mi so he's decided to ride a bike so he can stay healthy to take care of her.
Soo Yeon suddenly blurts out that she just saw Han Jung Woo, which causes Hyung Joon to pause and he falls off the bike. Soo Yeon quickly runs over to help him. Hyung Joon asks Soo Yeon to get married. She looks stunned and he asks if there is another man she would even consider marrying other than him. She says later and h suggests an engagement first then. This isn't a spur of the moment thing for him, it's something he's wanted since he was 18. No matter when or how, he looks forward to it. He says they can get married after they turn 40 or even 50, he will wait for her.
Soo Yeon says she didn't meet with Jung Woo because she still likes him. All those people back then, all those memories, she wishes they would all die. Hyung Joon calls her silly, telling her that she's not Lee Soo Yeon anymore, she's Zoe now. He tells her to forget again. Soo Yeon apologizes to him, she was just too angry. Hyung Joon softly calls her Korean name "Soo Yeon-ah" and lays his head on her shoulder.
Soo Yeon embraces his shoulder and says sorry again. Hyung Joon reaches out and grabs her hand. Hyung Joon cries and thinks to himself "Han Jung Woo, keep hating him, then it will be fine. It will be fine, right?"
Jung Woo arrives at the crime scene and screams at the dead rapist to tell him where Soo Yeon is. Afterwards he learns the suffocated rapist has injury consistent with a car accident and they are running blood tests.
The captain wants him off this case and Jung Woo promises to stick with the team so he can stay on it. Despite knowing how much he's been looking for Soo Yeon, he knows its best if Jung Woo isn't involved. He promises to catch the killer and also seek justice for the drove-off-a-cliff Detective Kim.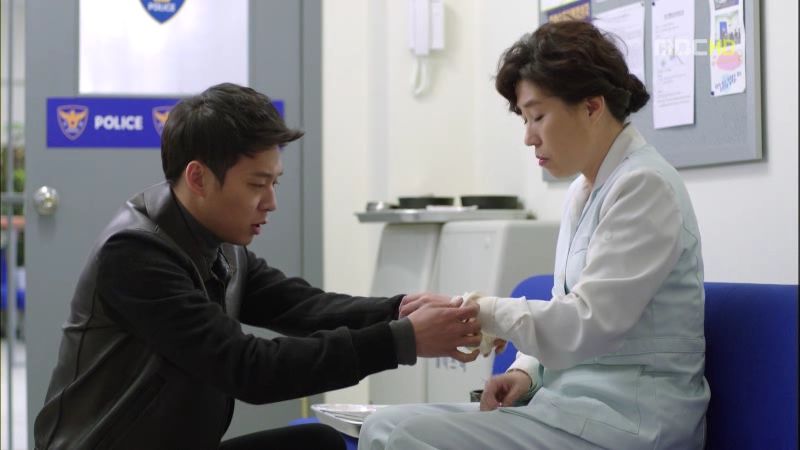 Jung Woo broods in the police station and runs into the cleaning lady ahjumma (who is forever and always Beo Jin's awesome mom from Tamra in my mind). The cleaning lady says she heard about the rapist being killed and offers to gather police files for him when she cleans.
Han Tae Joon gets an update from the police chief about Jung Woo's current affairs and he asks for the file on the rapist's death. Ugh, he looks so much like a gopher rat with his new facial hair. So he's keeping a tab on his son after all. As he arrives at his office, he's almost mowed down by a guy riding a bike whizzing past him. It's Hyung Joon and dressed like a teenage bike messenger. Hyung Joon acts all contrite and apologizes to Han Tae Joon. After Han Tae Joon walks away, Hyung Joon's smile drops and he stares at his half-brother's departing back intently.
Soo Yeon is at home and finds out about the death of the rapist. She then reads on the internet a post by Jung Woo's stepmom about wanting to make friends with Zoe the fashion designer. Attached to the post are pictures taken of Soo Yeon and Hyung Joon. Stepmother suggests hanging these pictures in her store and then invites Soo Yeon to come in for a visit. Soo Yeon is pissed to see this.
Jung Woo is going through the evidence when the cleaning ahjumma comes by offering to help. She suggests the rapist was killed by someone he crossed. Jung Woo walks outside and see Soo Yeon outside the police station.
Jung Woo brings her coffee and she sees his toes tapping the ground the same way Soo Yeon used to. She tells him to sit closer to her. He asks why she came and she uses the excuse that someone took secret pictures of her and that is clearly against the law to blackmail her. She shows him pictures of her and Hyung Joon and smirks a little to see Jung Woo affected by seeing it. Jung Woo tells her to find the local police to help her, he's busy with other things.
Soo Yeon shows her the email letter and he realizes it was written by his stepmother. Jung Woo stares at her and she asks if he knows who that woman is. He agrees to investigate and call her. Soo Yeon grabs his hand to write her new number down on it to contact her after he's taken care of things for her. Jung Woo's partner is hiding in the bushes watching and Eun Joo arrives. She's not happy to see Jung Woo talking with Soo Yeon.
Eun Joo interrupts and hands Jung Woo a bag of food, saying their mom made it for him from the restaurant. Soo Yeon sees the name of the restaurant on the outside of the bag. Eun Joo shoots Soo Yeon derisive looks and Soo Yeon looks uncomfortable and leaves (though she recognizes Eun Joo's name). Jung Woo chases after Soo Yeon but doesn't find her. He gets a text from her asking if Eun Joo is his girlfriend, and inviting to meet her outside that restaurant tonight.
Hyung Joon goes to the bank to withdraw a shit load of money. Han Tae Joon hears about this massive withdrawal at his bank and orders Secretary Nam to go down and greet the customer and ask him to withdraw in chunks. Ah Reum is there to wheedle money out of her dad to pay for her study abroad trip and Dad tells her to work at the bank in spare time.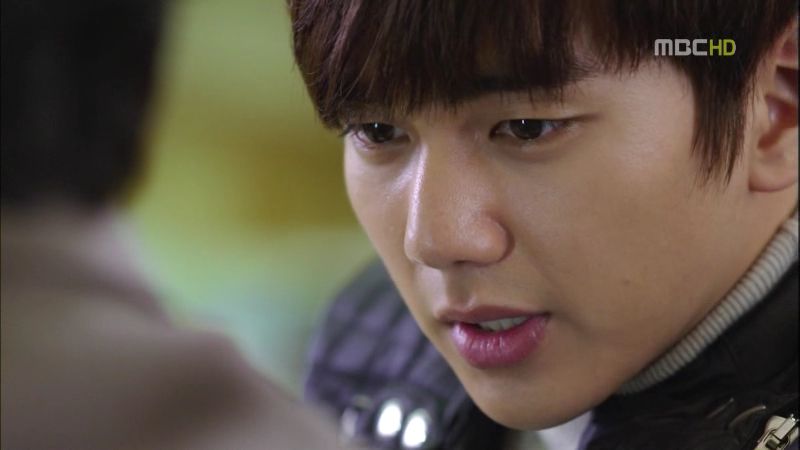 Secretary Nam goes down and sees the customer is Hyung Joon and is uncomfortable with him being here. Secretary Nam asks why he is here and deposited money and now is trying to withdraw it. Secretary Nam says he's not on anyone's side, he just needs money. Ah Reum goes down to the bank and sees Hyung Joon there as the rich customer. Hyung Joon spots her as well. Hyung Joon warns Secretary Nam to be careful, he might be the first person Han Tae Joon will get rid of when things start to fall apart.
Soo Yeon tracks her mom down to the restaurant where she works. She sits inside and watches her mom greet the customers. Mom notices Soo Yeon and asks why she hasn't ordered? The TV turns on and it's the news about the rapist's murder. Soo Yeon wonders why Mom watches such depressing news. Mom changes the channel with tears in her eyes.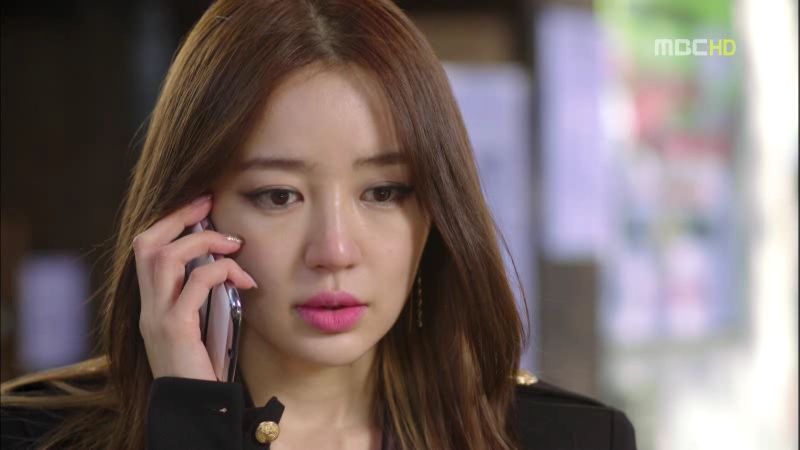 Soo Yeon wipes her tears and leaves, calling Hyung Joon from outside the restaurant, saying she misses him and asking when they can meet.
Jung Woo goes to find Soo Yeon's mom and sees her in a daze. He takes her away knowing that she's in a very sad mood. He buys her ice-cream and puts new shoes on her feet that he got for her. Soo Yeon's mom tells him that with the death of the rapist, everything is over. She tells Jung Woo to go back to his own family. Jung Woo and Soo Yeon's mom happily play in the playground.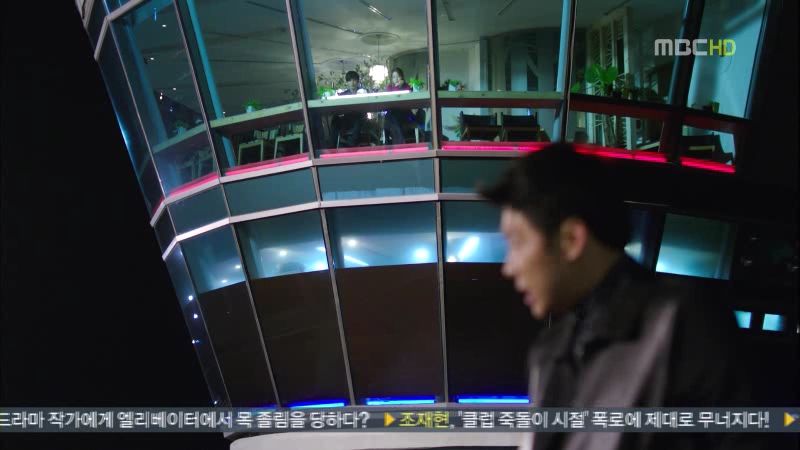 Jung Woo receives a text on where to meet Soo Yeon. He runs there and stands out in the street. Behind him in the restaurant above is Hyung Joon and Soo Yeon drinking wine. They watch Jung Woo waiting in the cold, shuffling to keep himself warm.
Soo Yeon says she was right, he did come. Hyung Joon asks if she'll feel better after this. Soo Yeon says this isn't bad. They toast each other and look out the window. Hyung Joon asks to bet how long Jung Woo will wait. He says 30 minutes while Soo Yeon says 1 hour. The winner has to agree to the winner's wish. Soo Yeon agrees and her wish is that they return to France.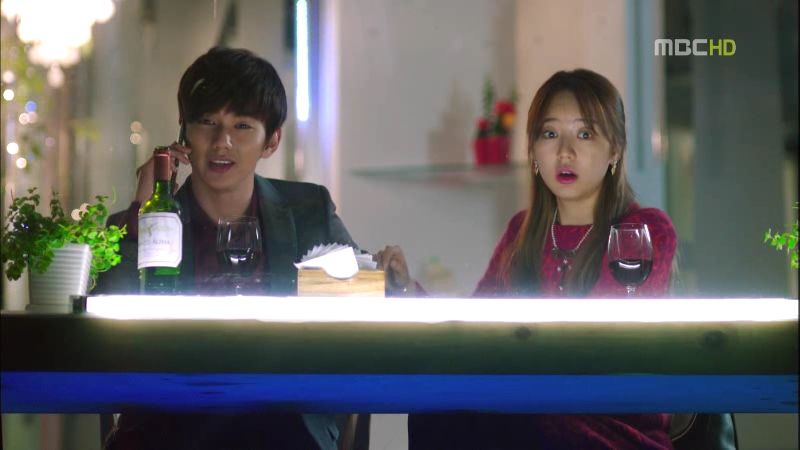 After some time, Hyung Joon calls Jung Woo and says he is dining with his fiancée and invites Jung Woo to dinner as well. Hyung Joon thanks Jung Woo for taking Zoe to the pojangmacha last night. Soo Yeon tries to grab the phone away but is too late. Jung Woo doesn't answer and Hyung Joon says next time. Soo Yeon tells Hyung Joon he cheated on their bet. He asks quizzically "wasn't it your wish to torment Han Jung Woo?" Hyung Joon says his wish for winning this bet she already knows, it's to get engaged.
Hyung Joon checks his watch and says Jung Woo is waiting for quite a long time. After Jung Woo waits and waits, he suddenly wonders what the heck he's doing and leaves before 30 minutes as passed.
As Jung Woo runs off, Soo Yeon coldly looks at his departing form and says he hasn't changed. This is exactly what she saw when he was 15 (always running away so fast). Ouch. Jung Woo, how are you ever going to live this down?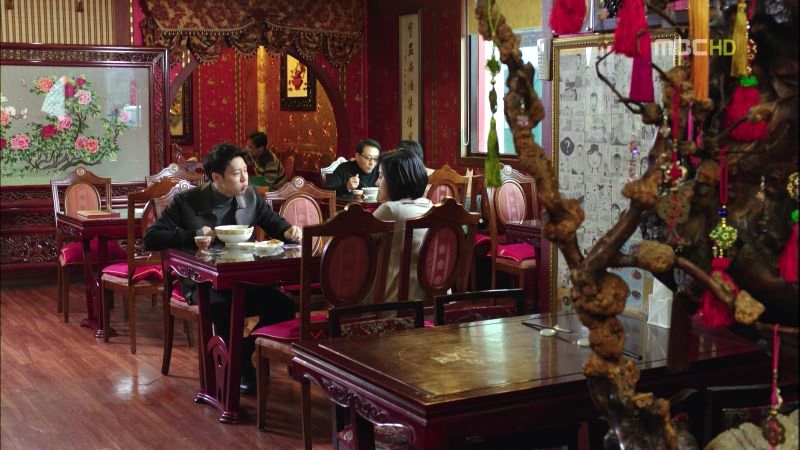 Jung Woo goes to the rapist's home to search for clues. Seriously? This place is not a taped up crime scene? He looks everywhere and finds a restaurant tag in the washing machine. He goes to the restaurant and interviews the owner who said the rapist ate here and then handed over Hyung Joon's card saying this guy will pay for his meal. She also heard the rapist use Soo Yeon's cell phone to call a "Chairman".
Ah Reum offers to give her mom information in exchange for money for her trip. She reveals she saw Hyung Joon, Zoe's boyfriend, at the bank depositing a huge sum of money. She tells her mom that Zoe's sponsor was the guy they saw with her in Jeju. Stepmother is thrilled because now she was just looking for an investor. If she gets Zoe, then her sponsor will come as well. Ugh, these people.
Soo Yeon and Hyung Joon are at home sitting on the sofa. She has her legs resting on his comfortably. Soo Yeon asks who he invited for the upcoming party? Hyung Joon says his usual clients and a new investor. Soo Yeon says wine is perfect for the party, but then suggests soju as well. She smacks her lips adorably and says it taste good, sweet and clean. She asks Hyung Joon to go with her to the pojangmacha tonight. Hyung Joon sighs and says he is never ever going to a pojangmacha in this lifetime. Soo Yeon laughs and says he sure is good at pretending since he acted all fine that day but he is clearly angry. Soo Yeon aegyos him and puts her head on his shoulder.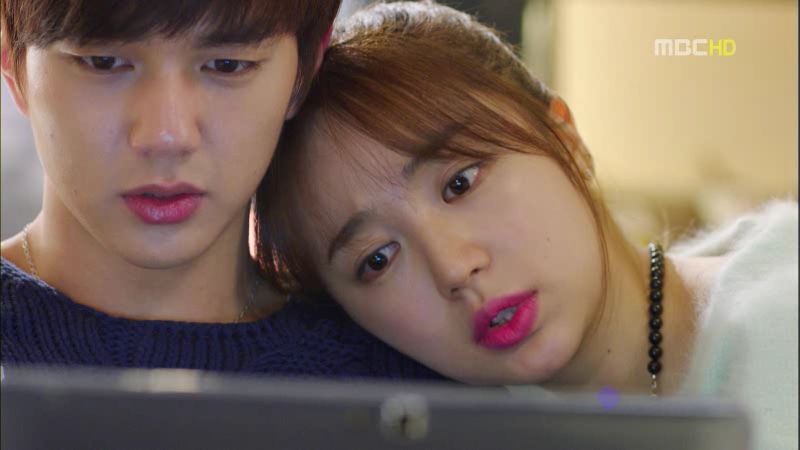 Hyung Joon shows her an email he received with an outfit from her fashion show hanging in the store window mannequin of Jung Woo's stepmother's boutique. Soo Yeon is furious.
Jung Woo tracks down the street camera footage from the accident where Hyung Joon and Soo Yeon's car ran into the rapist. He freeze frames on Soo Yeon's face and he can see her abject fear and realizes that she is in fact Soo Yeon and must've recognized the rapist. Jung Woo sits in his car and looks at the picture of young Soo Yeon and asks if Zoe really is her?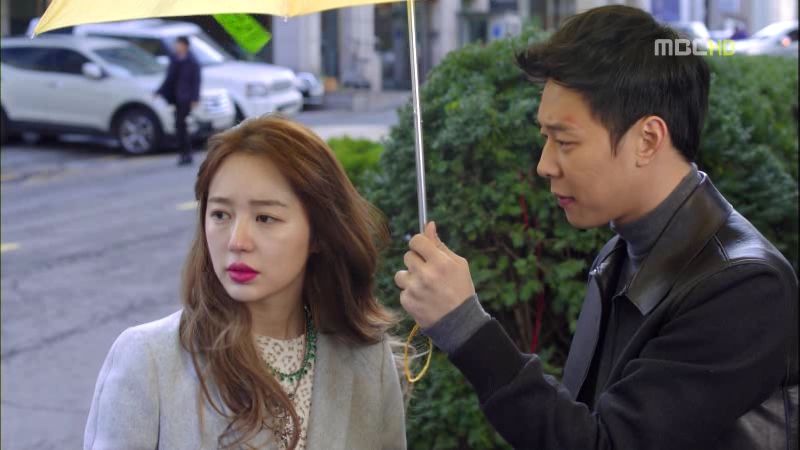 Soo Yeon is on the street staring at the store window with her design in it (she's also wearing the same pale grey coat Moon Chae Won sported a few weeks ago in the final episode of Nice Guy). Suddenly Jung Woo appears before her with her old yellow umbrella. He asks if he's late for their date? He tells her that it's not raining today.
Soo Yeon tries to excuse herself saying she's busy today. Jung Woo chases after her and offers to go with her. Soo Yeon asks what he's doing, telling him that she's about to get engaged. Jung Woo asks her where she is going and if she really dislikes him that much?
Hyung Joon drives up and from his driver's seat he can see Jung Woo talking with Soo Yeon under the yellow umbrella. Soo Yeon tells Jung Woo to scram but he suggests that being secret friends isn't exciting enough, how about they be secret lovers? Soo Yeon stares at him as the yellow umbrella descends and blocks them from Hyung Joon's view.
Thoughts of Mine:
I have to say that adult Jung Woo is really much much more interesting than his childhood counterpart. I'd say all the guilt and self-flagellation did him some good in giving him more depth. He's a good guy who made one super bad choice in life at a young age and has been doing everything right since them to atone for it. How can I not root for him to get absolution. I do, however, think that his absolution needn't come in the form of getting all romantic with Soo Yeon again. His absolution needs to come in the form of punishing the people who committed a series of crimes that set up the tragedy in question. The person most responsible would be his own father. If Han Tae Joon hadn't tried to kill Hyung Joon, then Hyung Joon's mom wouldn't have ordered Jung Woo's kidnapping to do a son-for-son trade. If Han Tae Joon hadn't tried to track down Hyung Joon and called Nurse Hye Mi, Hyung Joon wouldn't have tried to stall Detective Kim so they could get away, thinking he was one of Han Tae Joon's goons. Everything starts and ends with Han Tae Joon, and I want to see Jung Woo be the person in the capacity of a police officer to put that bastard away.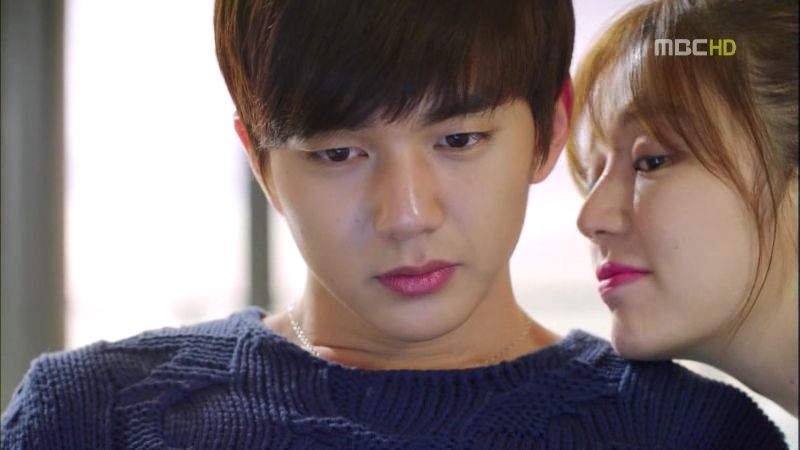 I'm surprised at how Soo Yeon could toy with Jung Woo, until I realized the full extent of her concealed bitterness towards him. Her one snipe that he should not have abandoned his girlfriend shows us that young Soo Yeon truly felt like Jung Woo let her down completely back in that warehouse. While its understand we as viewers could understand how a 15 year old boy in a life-and-death situation could run away, imagine being Soo Yeon and laying there and being left behind. Yeah, not so easy for her to be all objective and step into Jung Woo's shoes, no? I appreciate that she and Hyung Joon have such an open line of communication that she tells him immediately about seeing Jung Woo and apologizing for being so angry and not being able to truly let go. Hyung Joon both lets her do what she wants (make Jung Woo wait out in the cold for her), while subtly encouraging her to let go for both her sake and his sake. If she lets go, then she can start moving on from the lingering pain. Then his relationship with her would be able to take the next step forward. I really loved the juxtaposition of Soo Yeon's tense toying interactions with Jung Woo and her relaxed and tender moments with Hyung Joon. I totally feel for Hyung Joon's fear that Jung Woo will return and take Soo Yeon away, because dude which boyfriend wouldn't have issues with that. But hopefully he'll continue to let Soo Yeon make her own choices in life while he does his best to show that he's the one for her.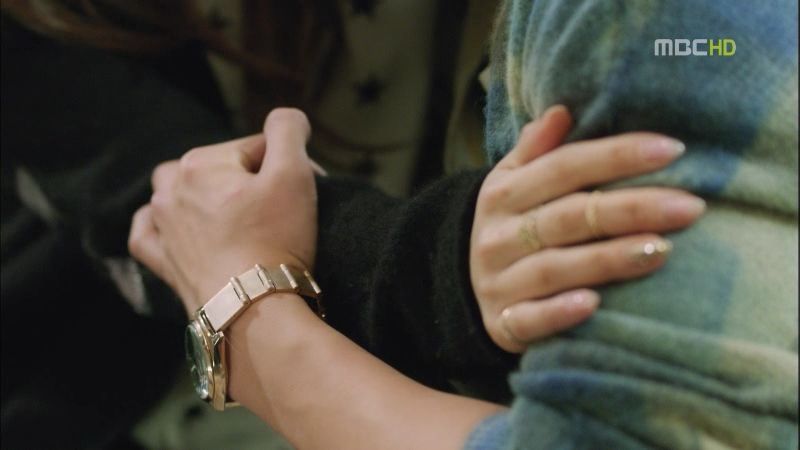 I was really stupefied by all the non OT3 stupid scenes in this episode. The rapist investigation was beyond silly, what with Jung Woo doing a search of the scene himself and the cleaning lady ahjumma giving him pointers. I don't get Hyung Joon's revenge on Han Tae Joon either, and why that needed him to dress like a hipster and accidentally brush past him on a bike. Poor Eun Joo is like the drama world's most invisible second female lead, and honestly she's totally uninteresting so I could care less. I like Jung Woo's police colleagues and I love his interactions with Soo Yeon's mom. At this point, I not only ship Soo Yeon-Hyung Joon, I also ship Soo Yeon's mom with Jung Woo. Not in a romantic sense (ewwww), but more like she needs to adopt him for realz and they can be the world's most functional and supportive mother-son duo. It's sad Soo Yeon never experience that kind of affection from her mom but I'm sure she would want her mom to find peace in her own life. I still think Soo Yeon needs to hie herself back to France where she can anonymously send money to her mom every week. Hyung Joon will also do better spending the boatloads of money his mother gave her life to give him rather than risking his wellbeing for revenge on Han Tae Joon. And finally – raise your hand if you are absolutely fascinated by the lipstick colors used in this drama? Yoon Eun Hye's cherry and magenta tinted lips are gorgeous. But I wish the makeup artist would lay off on using the exact same color on both Yoochun and Yoo Seung Ho, with the former really caking it on in some scenes that it totally distracts me.
Click here to watch Missing You.