I have to say a mea culpa for running my 2012 OTP poll too early. I said in that post that the only remaining drama OTP left in 2012 was Moon Geun Young and Park Shi Hoo in Cheongdamdong Alice, which hadn't aired yet when I ran the poll. I doubted then that those two would have chemistry enough to impact the poll in any significant way so I didn't feel bad about leaving them off it. I now feel bad. No, I don't just feel bad, I can safely say that if CA aired even a month earlier and this drama ended before 2012 wrapped up, Se Kyung and Seung Jo would give my 2012 OTP choice of Jae Ha and Hang Ah in The King 2 Hearts a run for their money depending on whether the second half went down the crazy crapper. If I was watching episode 6 standing up, by the end of the episode my knees would have buckled from so much chemistry onscreen radiating outward and sending my heart rate soaring. Holy mother of something or another, there wasn't even a kiss in this episode and yet I haven't felt this level of anticipation in god knows how long. I said last week that I'm dying for naturally developing closeness between Se Kyung and Seung Jo and today we got it. It was beyond good, it was like cosmos exploding or stars imploding level of good.
Watching CA is like experiencing the osmosis absorption of dramatic satisfaction, where a fictional story with well-developed character and a fascinating plot line nourishes our weary souls and gives us just that bit of entertainment to lift the spirit. This drama's unexpected but totally appreciated awesomeness washes away my recent disappointment with Missing You being all over the place and going nowhere. Moon Geun Young's two year hiatus was well worth it since I don't recall any rom-com in the last two years that has hit with this level of substance, romance, and oddball humor for me. Watching Seung Jo and Se Kyung fall in love by spending time getting to know each other, it makes me wish more rom-coms will remember that romance is only as believable as how well-written the two participants are. Forget the gimmicks and the plot shenanigans to get two leads to run into each other, what really works is for the audience to connect with their hopes and dreams so that we sincerely believe that the impending romance makes sense and has stakes in the long run. Everything I just wrote is indeed happening in CA and that is why this drama is deliciously brilliant to watch. Never has a high five made me happier in any drama, and for once a pretend telephone call is as poignant as it is cute. I love you CA! I love you so so so much!
Episode 6 recap:
Se Kyung thanks Seung Jo for everything and he smiles to receive the thanks he's been waiting for.
Seung Jo goes home with the box of emoticon rabbits, sitting down and taking two out. He looks at them and thinks back to Se Kyung pretending to be the President while posing the rabbits. He laughs and says she sure likes dramas since she makes a reference to Kim Joo Won's dialogue from Secret Garden.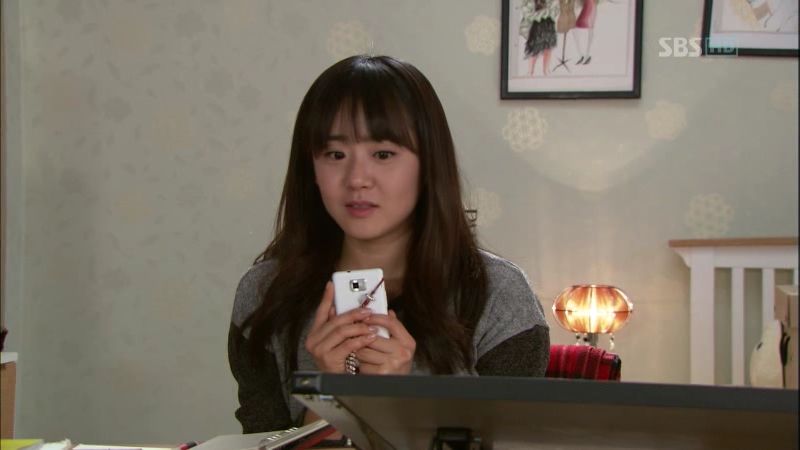 Se Kyung sits at home and thinks back to Seung Jo happily packing up the rabbits and telling her that his name is Seung Jo. Se Kyung smiles and says his name a few times before shaking her head to clear her mind. She gets a text from a new number showing one of the happy rabbits and saying the text is from Jean Thierry Cha. Seung Jo sits at home wondering if he should have sent it. Se Kyung runs around her all excited and then sends him a text saying thank you.
Seung Jo gets a call on his other phone from Se Kyung who is all excited to report that the President texted her a happy rabbit picture. Seung Jo lies that the President asked for her number. Se Kyung says its all thanks to him and worries about his condition, reminding him the hospital told him to drink more water. Seung Jo says he'll call her if he feels sick.
She hangs up and gets to work designing an outfit for the President. She flips through her cell phone and sees a side profile of Seung Jo in a picture she took of a suit. She stares at him with a smile before putting it down and getting back to work.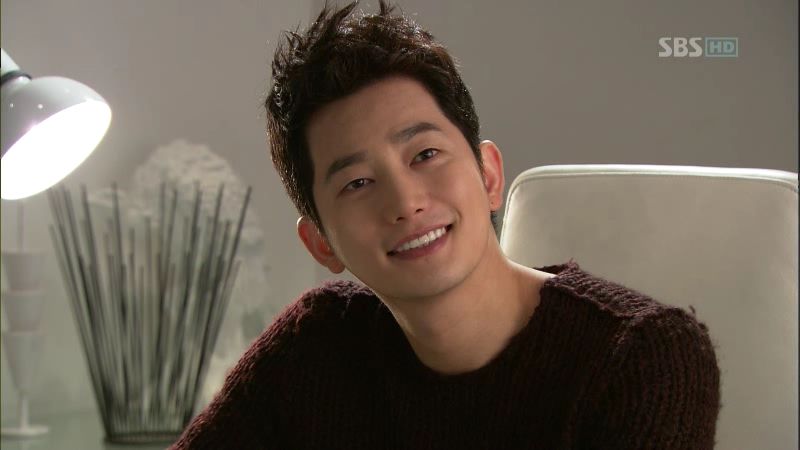 Seung Jo sits at home filling out the questionnaire. He suddenly imagines Se Kyung sitting next to him asking him the questions directly. He goes down the list – his favorite movie is Love Affair, his favorite food is crepes because he loves sweets, and his favorite plays is the Montmartre section of Paris, because there is a great crepe store there. When asked about his preferred coffee drink, he says latte since he likes sweets. She asks when was the last time he cried. He thinks back to her letter and says December 8, 2012.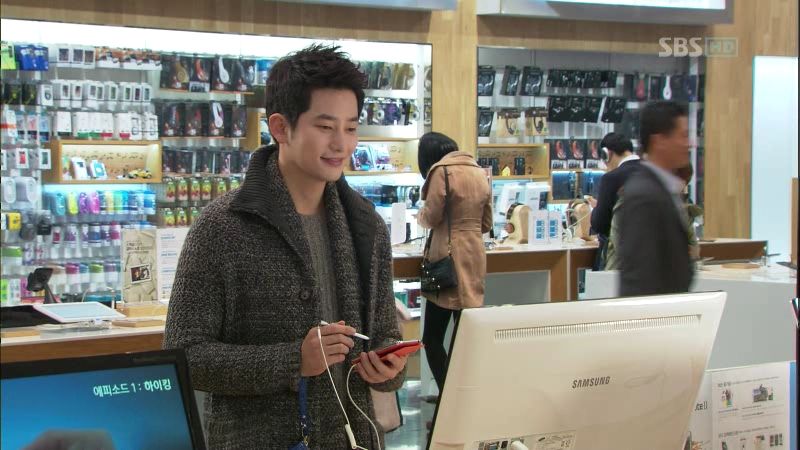 Seung Jo goes shopping for a camera and then we see him at home continuing to fill out the questionnaire. Se Kyung sketches and drapes cloth on a model in her room. Seung Jo falls asleep while still filling out the questionnaire.
Se Kyung wakes up to find Ah Jung in her room and reading Yoon Joo's secret diary. Ah Jung is upset and asks what that is and what Se Kyung has been up to lately? Se Kyung admits it belongs to Yoon Joo and Ah Jung realizes why Se Kyung has been so weird lately and interested in Tommy Hong. Se Jin comes in and tells them to get a move on with the packing, the moving trucks are here. Ah Jung vows to finish this convo with Se Kyung later.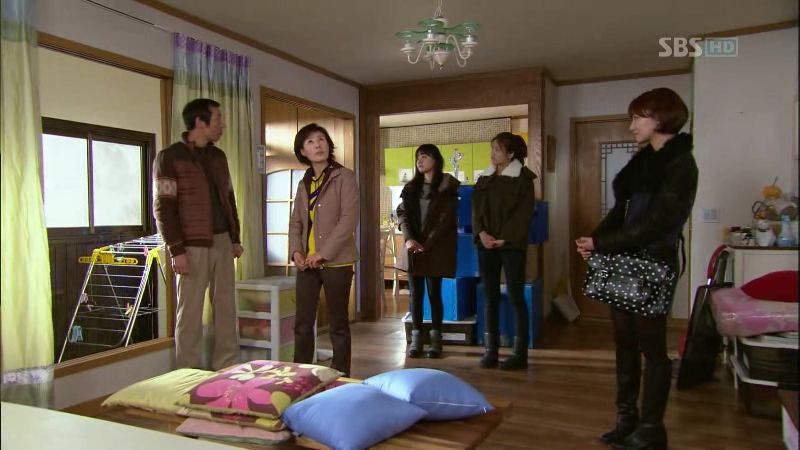 The Han family moves into a rental. Everyone tries to make the best of it except for Se Jin, who cries and whines about the old fashioned bathroom. Dude, can I smack her?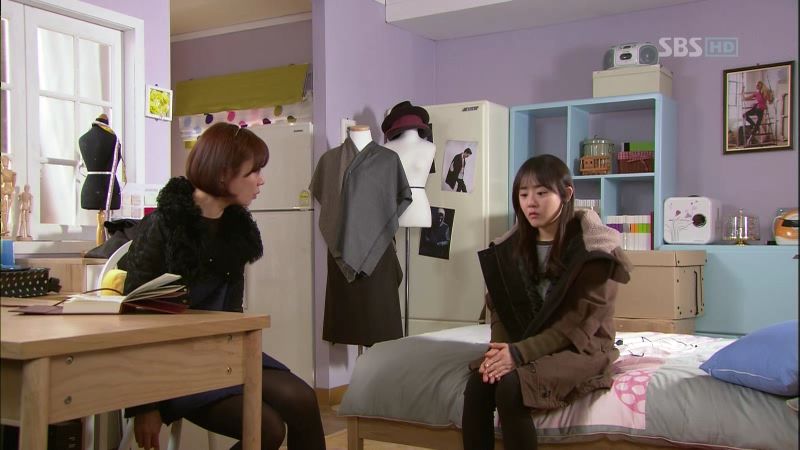 When they are alone, Se Kyung reveals to Ah Jung that she used Yoon Joo's wedding picture to exchange for the diary, admitting that she envies Yoon Joo. She might have mocked Yoon Joo but that was just a lie because she couldn't live like her. Ah Jung says Yoon Joo was always like that so this method works for her. But Se Kyung is not that kind of person, she needs to live her life according to her own principles. Se Kyung asks if she has to keep part-timing forever then? Is that the life that will bring her happiness?
Se Kyung walks out to clear her mind and Ah Jung joins her. Se Kyung knows she doesn't need Ah Jung's approval to do this, but Ah Jung says that she will gather information on the new Artemis President for her. Ah Jung worries that Se Kyung will find herself in even deeper trouble, but Se Kyung says she's in deep trouble already with years of education but can't even get a full time job. Ah Jung tells Se Kyung that if Yoon Joo can do it, so can Se Kyung, who agrees since she's never lost to Yoon Joo since they were kids. Ah Jung asks why Se Kyung is interested in the President and she reveals he's going to be her White Rabbit.
Dong Wook reads the questionnaire that Seung Jo filled out for Se Kyung, laughing at how goosebump inducing the answers are. Seung Jo is happy that Se Kyung will know all these things about him. Dong Wook wonders why this is necessary to design clothes for Seung Jo, who likes it since it makes him think about the past and feels like things he did when he was in grade school. Dong Wook cautions him to answer truthfully and points out that he almost blew his cover last night. Seung Jo warns that as along as all three people who know keep their mouths shut, then it's all good.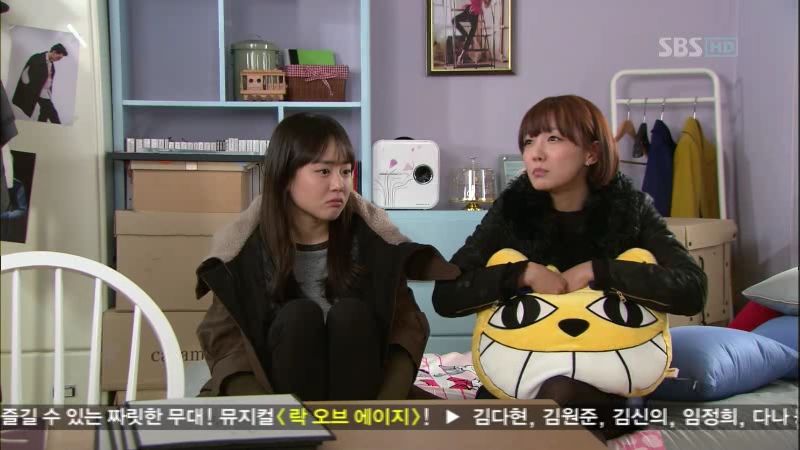 Ah Jung wonders who this Secretary Kim is? Se Kyung says he knows all about the President and Ah Jung calls him the mini-White Rabbit then. She decides to start gathering information on him for Se Kyung.
Seung Jo goes through the list of people who know and thinks Secretary Moon is the weak link. Suddenly he gets a call from Se Kyung and he worries about what to do. Dong Wook smiles and tells him to answer. Seung Jo answers and after he ends the conversation, Dong Wook excitedly asks what's going on? Seung Jo wonders if he doesn't have anywhere else to do since the weather is so nice, why is he here? Seung Jo says he's off to meet Se Kyung for "work" and then picks up two nicely wrapped presents for her. He asks if this is too much and Dong Wook says its way too much.
Seung Jo meets with Se Kyung and hands her the presents, this time without the wrapping paper. He says this is so she can do her job properly. One of the boxes still had a red bow on it and Seung Jo quickly grabs it off. Se Kyung takes out a few preliminary sketches to show Seung Jo and he likes them but offers some suggestions to make it more tailored.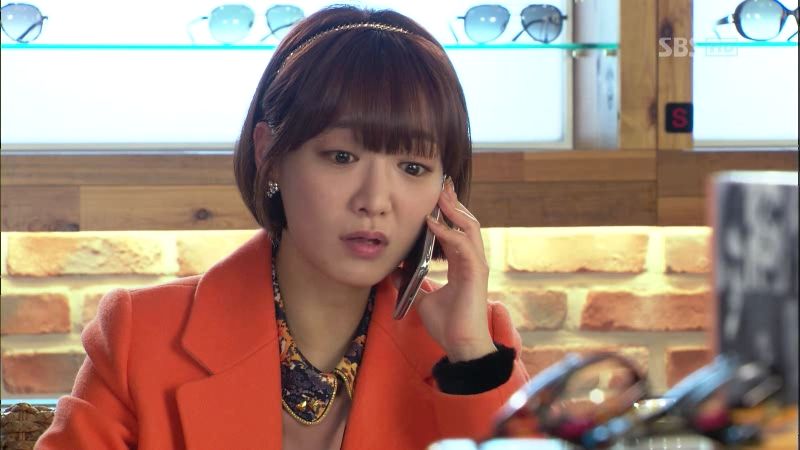 Ah Jung sits in a coffee shop and logs onto the employee intraweb at Artemis and looks for Kim Seung Jo but can't find any such person. She calls Se Kyung and says there is no one named Kim Seung Jo working at Artemis. Se Kyung looks over at where Seung Jo is buying them coffee and quickly hangs up. Ah Jung ends the call and Secretary Moon arrives to meet with her.
Se Kyung stares at Seung Jo and asks if he's brought the questionnaire? He says its not done yet. What about the pictures of the President's closet? He's forgotten and apologizes. She asks for Seung Jo's name card and he swallows and then gets a text from Secretary Moon saying trouble is brewing. Ah Jung asks Secretary Moon if there is a Secretary Kim Seung Jo who works with him? She identifies herself as Se Kyung's good friend and says she's working with someone who claims to be the President's secretary.
Secretary Moon gets a call from Seung Jo and steps aside to answer. Secretary Moon tells him to come clean right now since there is no Kim Seung Jo working at Artemis. Se Kyung texts Ah Jung saying Seung Jo went to the car supposedly to grab his name card. Ah Jung texts back that Secretary Moon frantically ran off to answer the phone.
Seung Jo and Secretary Moon return to Se Kyung and Ah Jung, respectively, and solemnly says that Secretary Kim is President Jean Thierry Cha's…………shadow warrior, i.e. his double. Mwahahahahahaha, LOL forever! Se Kyung says "buh?" She searches on the web and reads that shadow warriors are doubles for famous people. He says his job is secret that is why he's not listed in the company directory. He works only for the President.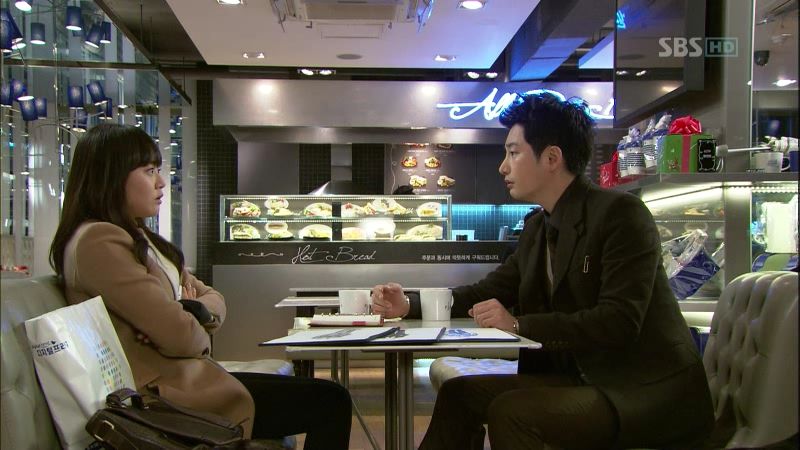 Se Kyung asks if Seung Jo looks like the President, since shadow warriors are supposed to look like the famous person. Seung Jo smiles and says he's the better looking one. He tells her that all rich and famous people in the world have shadow warriors. Se Kyung tells him to prove it then, since she has never met the President and this whole far-fetched story is just unbelievable. Seung Jo insists its all true so Se Kyung tells him to prove it!
Se Kyung gets a call from Ah Jung who tells her that Secretary Moon just told her that Secretary Kim is the President's shadow warrior. Ah Jung says there is no reason for Secretary Moon to lie. Se Kyung wonders if this shadow warrior thing really is true? Seung Jo walks out and tells Se Kyung to follow him since she asked for proof. He's casually wearing her scarf and she grabs it back and they are so cute.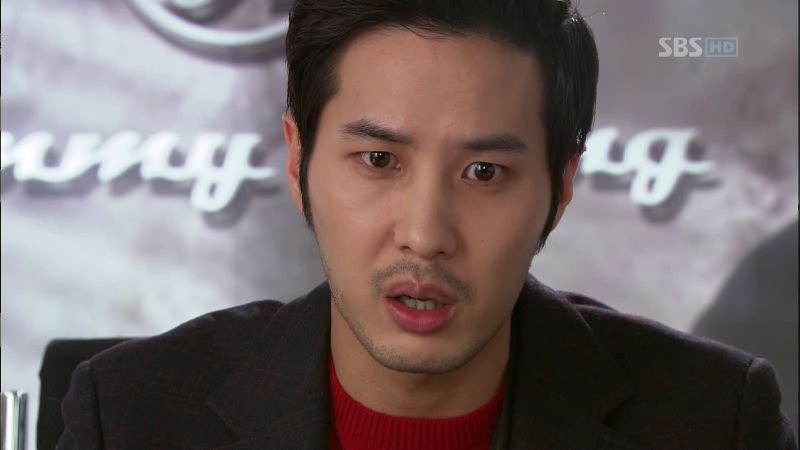 Tommy and his assistant go through all the files on Cha Seung Jo they were able to find. They find out that he lived in New Haven in 2000 and rowed crew. Tommy flashes through his mental files and sees a name of someone who attended Yale around that time. In Hwa goes to meet with that same person.
Tommy is about to head out to meet that person when In Hwa arrives and shows him Seung Jo's graduation picture from Yale that she got from that guy. Tommy smiles that she beat him to the punch. In Hwa says there must be a reason for Cha Seung Jo to change his name and not let people know he's the son of the Royal Group President. Tommy and In Hwa decide the first step is to get closer to President Nam.
Yoon Joo is preparing dinner and breaks a dish because she's still in shock about the plan to marry Seung Jo to In Hwa. During dinner, In Hwa suggests donating clothes to the Royal Group charity drive. Yoon Joo stares at her and thinks to herself "Seo In Hwa, what do you know?"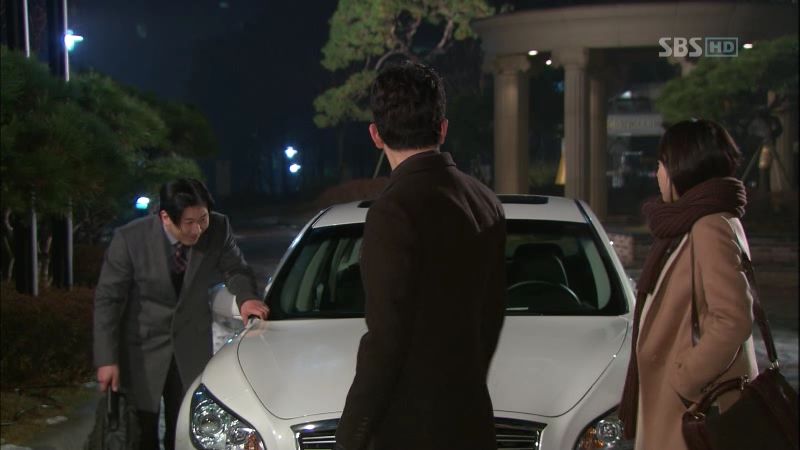 Seung Jo brings Se Kyung to his condo, passing by Driver Kim in outside, who continues to keep up the ruse for Seung Jo that he's just Secretary Kim.
They go inside and Seung Jo takes her to his closet and shows her letters addressed to Jean Thierry Cha with this address on it, proving this is his home. Seung Jo tells her that he even knows the President's home code and even Driver Kim just confirmed that he's Secretary Kim. She wonders if its right to be here when the President is not home. Seung Jo says he comes everyday to clean. He tells her to take pictures of the closet while she is here.
The doorbell rings and she wonders if the President is home. Seung Jo says the owner wouldn't ring his own doorbell and goes out to check. He sees through the intercom that it's Yoon Joo and freaks out. Se Kyung opens the closet doors and starts taking pictures.
Seung Jo opens the door and Yoon Joo barges right in and sits down on the sofa. Seung Jo tries to drag her out and she asks why and Se Kyung hears her voice. Seung Jo forcibly removes her so when Se Kyung walks out she sees no one in the living room. Seung Jo drags Yoon Joo outside to talk in the hallway and she sees a pair of woman's shoes on her way out. She asks if he has a woman now, and why he wouldn't introduce her? He asks her to get to the point and she asks if he knows about the marriage alliance being planned between him and Seo In Hwa? Seung Jo looks stunned.
Se Kyung sees her bracelet sitting in the accessories drawer and smiles. She also sees Seung Jo's wedding bracelet with Yoon Joo and reads the inscription as "SJ Cha."
Yoon Joo says that her mother-in-law is working with Tommy Hong to arrange the marriage. Seung Jo says it will never happen and things are over being him and Yoon Joo. She accepts it but asks him again to guard the present situation. Do not just think about what he wants, also think about what the other person wants. If he does that, then he will be able to protect this new woman. She wishes him well with all her heart, because that also means she will be able to live her life going forward.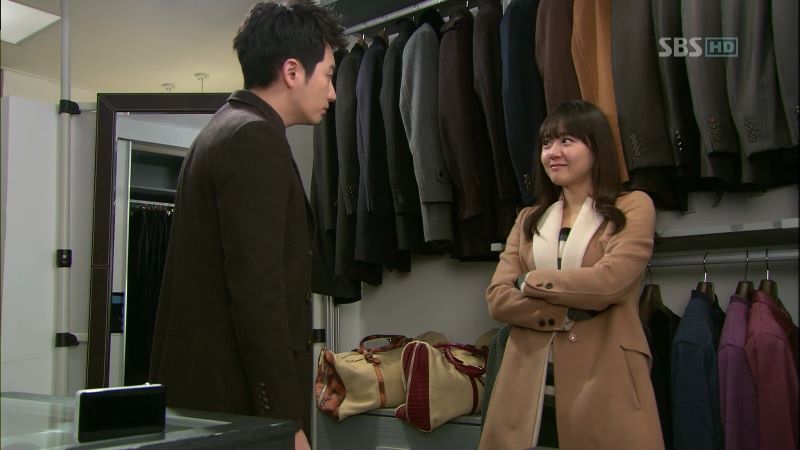 Seung Jo returns to Se Kyung and she asks why the bracelet is inscribed with SJ Cha instead of JT Cha? Seung Jo says he doesn't know why. Se Kyung points out that the President appears to have OCD, all his clothes are arranged from light to dark, and the materials are arranged from thin to thick. Seung Jo says the President has mental problems, he's also petty and quick to anger. They both simultaneously call him brain addled and then laugh about it.
Seung Jo purposes messes up the closet a bit and Se Kyung stops him. She asks how he met the President and Seung Jo quickly says it was when he was studying abroad in Paris and was a part time house keeper for the President. Se Kyung says that based on all the super expensive clothes he wears, she thought he came from a rich family. Seung Jo claims that all his clothes were given to him by the President so he isn't an embarrassment when he appears in public. Seung Jo claims that he really suffered when he lived in Paris despite being so good looking. He randomly makes up having worked construction part time jobs in Paris, and pointing to a picture on the wall and says he worked on that construction. Se Kyung scoffs and says that place has been built for 30 years already, revealing that she is very familiar with Paris.
Se Kyung draws Paris on a map and then a few of the major sights such as the Arc de Triomphe, the Louvre, and the Eiffel Tower. She draws a Michelin 3 star restaurant and reveals that for the last 7 years she's been dreaming of going so that is why she's memorized the city. Seung Jo says he'll show her around if they go and she draws even more spots on the map as Seung Jo points them out to her. He describes a place makes a delicious Bouche de Noel and she knows what it is. They smile and imagine Se Kyung in a car driving through Paris.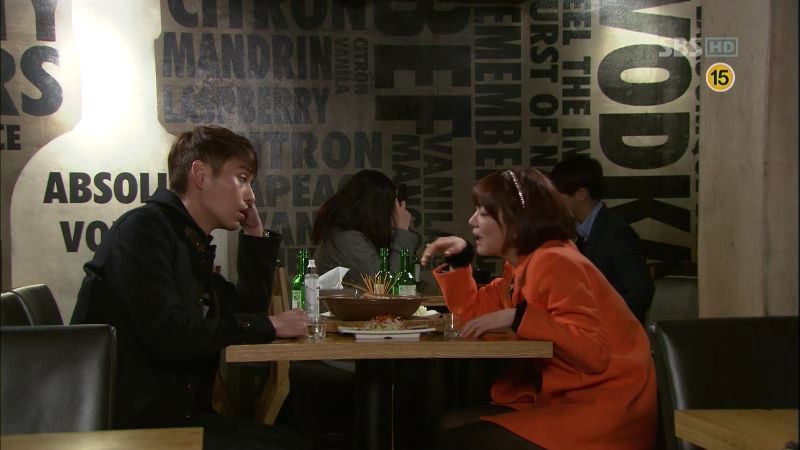 Se Kyung gets a call from Secretary Moon saying that Ah Jung is totally drunk. Seung Jo offers to go with her, claiming that Secretary Moon is his superior at work. Ah Jung is drunk and still talking about shadow warriors. Secretary Moon moans that she's been going on like this for hours now. He spritzes water on his face to calm himself down. Se Kyung arrives and goes to check on Ah Jung while Seung Jo tries to find out if Secretary Moon let anything slip.
Ah Jung walks up and meets Secretary Kim and is about to reveal Se Kyung's Cheongdamdong dreams but Se Kyung covers her mouth. Ah Jung ends up crying about how sad poor Han Se's life is. After they walk out, Seung Jo confirms from Secretary Moon that he kept the ruse going. Secretary Moon glares at him and says "shadow warrior?!?!?" He gets up to go to the bathroom and then sends a text saying he left, telling Seung Jo to clean up the mess himself.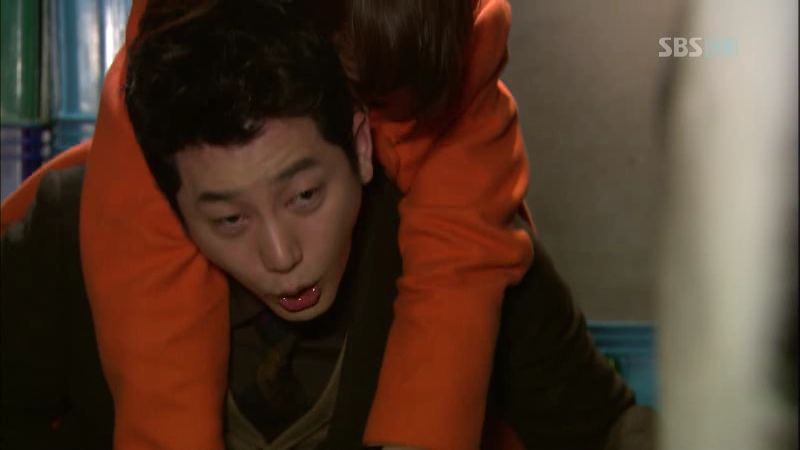 Seung Jo runs out and finds Se Kyung trying to rouse the sleeping Ah Jung in the stairwell. Seung Jo hits her a few times but she won't wake up. He finally piggybacks her and poor Seung Jo almost buckles under her weight. As they walk home, Seung Jo wonders when Se Kyung moved to this new place?
As Seung Jo is about to put Ah Jung in bed, she throws up on his back and he freaks out. Se Kyung goes to clean up his coat while he looks around her room. He smiles when looking at the Han family portrait and then he sees Yoon Joo's diary. As he's about to open it up, Se Kyung's dad walks in asking who he is? Seung Jo turns around and the two men stare at each other. Se Kyung returns and everyone is dragged outside to talk.
The family stares at poor Seung Jo while asking Se Kyung how she got to know the President of Artemis. Se Jin says it was because of the In Chan bag scandal and Se Kyung wrote a letter to the President. Dad thanks the President but wonders why he's willing to help Se Kyung? Seung Jo says the President isn't helping her, he's getting help. Se Kyung's sincerity touched him and he's discovered there is still a person as good as Se Kyung in this world.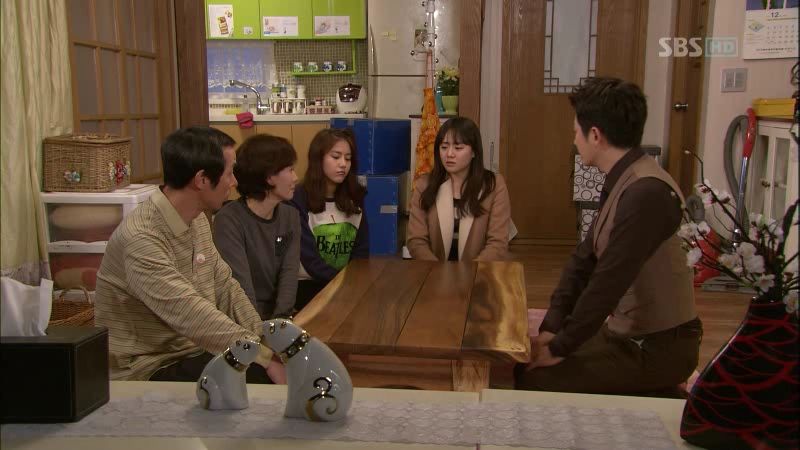 Dad asks Seung Jo about his parents and he says he doesn't have any. His mom died when he was in junior high and he's lost touch with his dad. Dad asks Mom to grab some snacks and soju and asks if Seung Jo is married. Se Kyung keeps trying to shush her dad but Seung Jo smiles and says he's still single and turns to give Se Kyung a quick glance. Mom comes out with the soju and Dad pours Seung Jo a glass and the two men drink.
Dad asks Sung Jo where he went to school and Se Kyung keeps trying to end the conversation. Seung Jo reveals he studied art in Paris. Dad says he wishes he could send Se Kyung to Paris. Seung Jo says his dad didn't approve so he went by himself and took on part time jobs to pay for tuition. He learned the hard way that when one has nothing, there is nothing to fear. He realized that one can fall to depths of despair, but from that low point he regained his energy for life and started over again. Dad sighs and says he never imagined that at his age he would be living in a rental and asking for help now. Dad asks if getting energy back means all the hardship can be overcome? Seung Jo says yes, especially since Dad has the support and love of his family.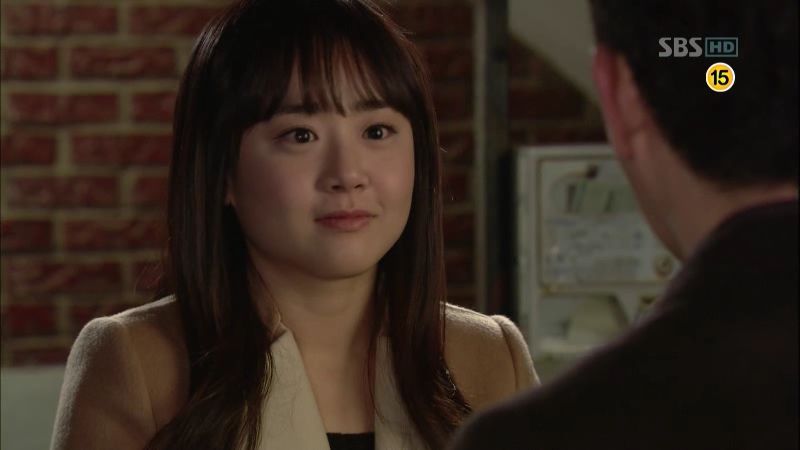 Se Kyung walks Seung Jo out and thanks him for today. She asks how he knew she moved? Seung Jo admits that he followed her home that day when she learned that In Chan took her money and left the country. He was worried something might happen. Se Kyung smiles and then changes the subject, asking why he poured soysauce on Tommy Hong? She asks if he really did it? Seung Jo says he didn't do it just for her, Tommy Hong also insulted the President of Artemis.
Se Kyung smiles and says he did well. She raises her hand and Seung Jo waves back at her like a dork. Se Kyung smiles and asks if he doesn't know what a high five is. They smile and high five each other, their hands not letting go immediately. Se Kyung finally lowers her head and pulls her hand back.
She walks back inside and Seung Jo smiles as she leaves, then stares down at his hand with an even bigger smile. Seung Jo walks down the street and does a little hop skip action. He's beyond adorable. Se Kyung sits in her room and looks at the red bow that Seung Jo accidentally left on the camera box and she smiles. Ah Jung stirs awake on the bed.
Se Kyung takes care of the hung over Ah Jung, revealing that Seung Jo took her to the home of the President of Artemis. Ah Jung is just happy Secretary Kim is not a fraud. Se Kyung gets a text from Seung Jo asking to meet at a fancy French restaurant tomorrow to prepare for the party. Se Kyung smiles and says Seung Jo works so hard at helping her out. Ah Jung warns Se Kyung not to fall for Secretary Kim, apparently she heard from Secretary Moon that Secretary Kim is butt poor. Se Kyung deletes her long reply text and just sends back a yes.
In Hwa hears that her family is dining with President Nam tonight at the same fancy French restaurant. Yoon Joo reads in the news about the new connection between GN Fashion and Royal Group. Her brother wonders why the two families are getting closer. Her brother asks if Royal will turn down the marriage alliance and Yoon Joo says no, Royal needs the connection more. Her brother says its a done deal then and Yoon Joo will be seeing Seung Jo from now on. Yoon Joo says Seung Jo claims its over between them and he never wants to see her again.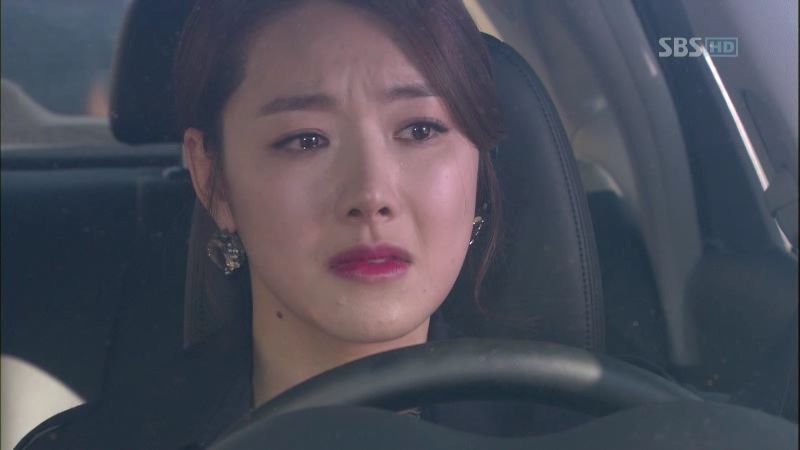 Yoon Joo gets a call from her husband that she is dining with the family tonight along with President Nam. Yoon Joo tries calling Seung Jo who ignores her call. He reads about GN Fashion's donation to the Royal Group online. She's in the car freaking out and finally steps on the accelerator.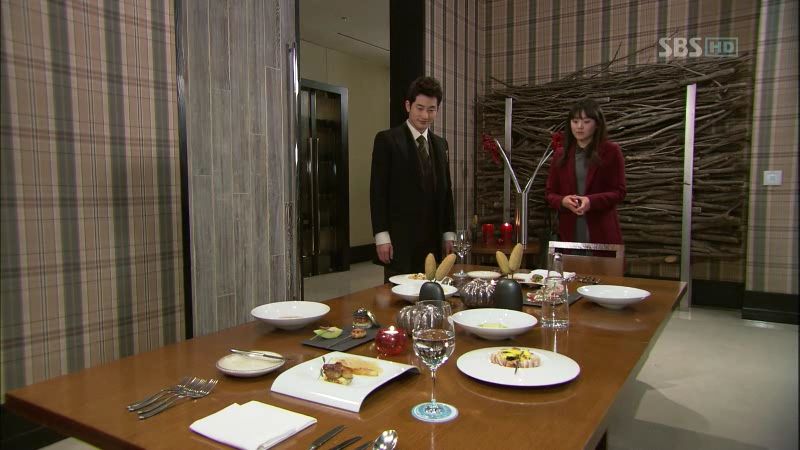 Se Kyung and Seung Jo arrive at the French restaurant and he claims its for a tasting of the party menu so she can plan the right outfit. He starts describing the dishes but Se Kyung knows them all and can say it in French. He compliments her, saying her accent is better than his. Se Kyung says she worked hard in her dorky way to learn French. Se Kyung asks if he's seen Before Sunrise? Like in the movie, where the couple pretends to call each other as a way to reveal their real feelings, she used to pretend to call a friend studying in France and speak French to improve her grasp of the language.
Seung Jo offers to do it with her right now and calls her. Se Kyung hesitates before answering and they start speaking French. Seung Jo asks where she is and Se Kyung says a restaurant. He asks with who and she says a person she knows. He asks if its a man and she says yes. He asks if its a date and Se Kyung says no, she's working. He warns her because its a man. Se Kyung says he's not like that. Se Kyung says initially she thought he was weird but…… Seung Jo stops pretending and asks in Korean what she means by weird. He calls her Han Se like Ah Jung does and she picks up the pretend call again but now they speak Korean.
Seung Jo asks why she's working with a strange man? Se Kyung says its not the man who is weird, it's she who is strange these days. He knows that she's can be like that, right? She ends the call saying she has to get back to work. Seung Jo looks taken aback and ends the pretend call. Se Kyung asks if they can eat now, she's hungry. Seung Jo says to go right ahead.
Min Hyuk and In Hwa arrive at the restaurant, talking about Yoon Joo missing this dinner because she was in an accident. They walk past and then Seung Jo and Se Kyung walk out. They run into President Nam in the hallway and Dad takes note of Se Kyung. Seung Jo asks Se Kyung to wait for him outside and grabs President Nam to talk, acting all casual. President Nam watches Se Kyung leave and asks Seung Jo if he's here dining with his girlfriend?
Seung Jo says his personal life is none of his business and walks away. Dad follows him and says he has right to be interested in his son's personal life. Seung Jo asks why he's cosplaying his dad now, and reveals that he knows Dad is doing something with GN Fashion. He tells Dad that it won't work. Dad asks Seung Jo to come back, he needs him. Seung Jo says he knows Dad needs him and there is always a cost.
Seung Jo still remembers what his dad said on the day he signed away his inheritance. Dad said that he paid for Seung Jo's entire life and for that Seung Jo has to live according to Dad's wishes There is nothing free even between parents and children. Dad smiles and says this is the business law in this world. If Seung Jo accepts this then he can succeed. But Seung Jo is still the same idealistic naive self. That is why he can be played by others, hurt by others. Does Seung Jo think his little revenge succeeded in doing anything?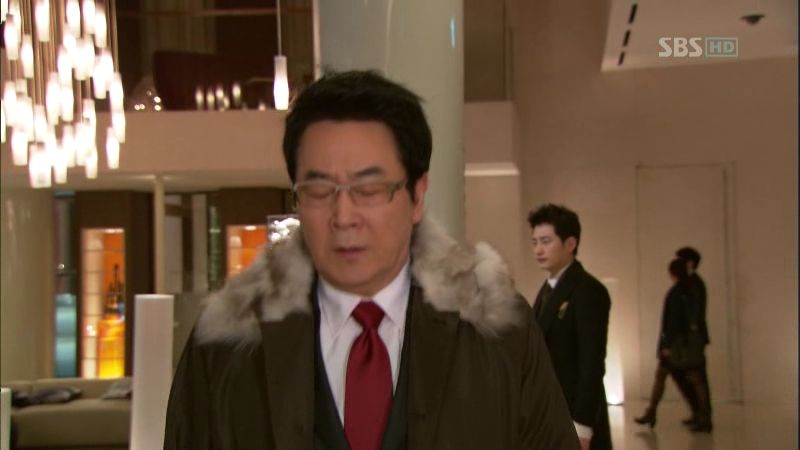 Dad walks away and we can see both men take deep breaths. Se Kyung finds Seung Jo walking through the lobby and asks if anything happened? He says nothing and asks if she wants to have a drink with him.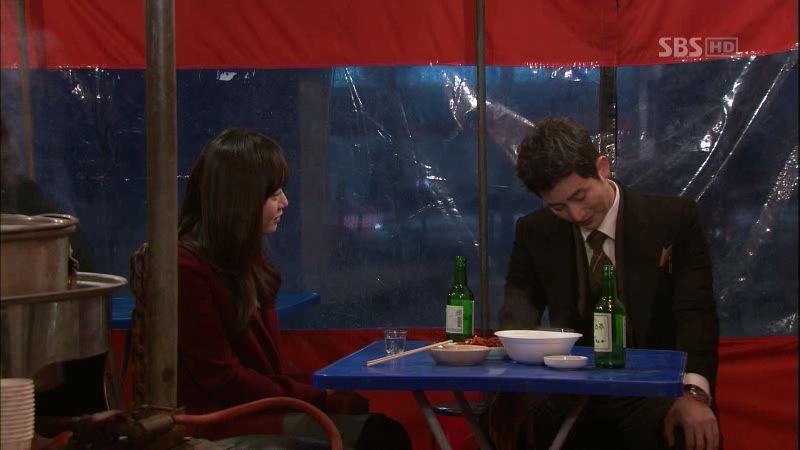 They go to the pojanmacha to drink. She drinks and asks if he is a light weight when he doesn't drink. He admits it and says that he has nothing yet he has high tastes. Seung Jo confesses that he lied to Se Kyung – he said he lost contact with his dad but in truth he knows where his dad is but he doesn't want to see him. Se Kyung says nothing and Seung Jo asks why she's not peppering him with questions like she usually does. Se Kyung says she doesn't feel like its the right time to ask questions. Seung Jo says she has 100 questions for the President but none for Seung Jo.
Se Kyung says there is a lot that is similar between herself and Seung Jo. He doesn't think so since she has a good relationship with her dad. His father has never complimented him in his entire life. No matter what he does its not good enough for his dad. That is why he doesn't want to see his dad. But what's funny is that his dad still matters to him. When he sees his dad, he wants to hide his weakness and show all his strengths in front of him.
Se Kyung asks if he really never once complimented Seung Jo? He smiles and takes a swig of the soju. Se Kyung stands up and wants to give him a high five. Seung Jo stands up and they high five, holding hands afterwards. Se Kyung says he did well and everything from now on will go well for him. He says the same for her.
Suddenly Se Kyung gets jostled and she falls into Seung Jo's arms. They stand there just holding each other.
As Se Kyung comes to her senses and tries to push herself off, Seung Jo tightens his arm around her waist and pulls her back into his arms. They stand there, their faces just an inch apart and both of them clearly totally in the moment. HOLY MOTHER OF GOD THIS MOMENT IS SO HOT I COMBUSTED JUST BY WATCHING IT.
Seung Jo leans in but Se Kyung is the first to turn her face and move out of his arms. He lets her go and takes a deep breath before saying they ought to leave now.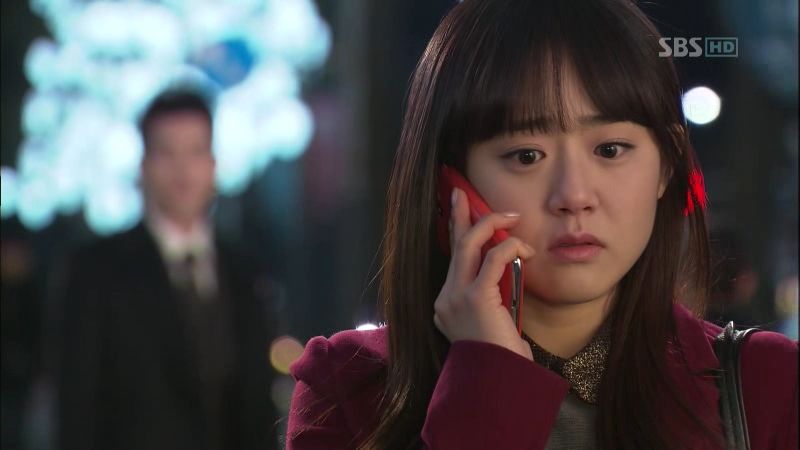 Seung Jo and Se Kyung walk down the street and she tells him to go home now, the bus stop is right there. He tells her to have a safe trip home. Se Kyung walks off and calls Yoon Joo, who answers in the hospital. Se Kyung asks what the first danger of the three dangers Yoon Joo said she might encounter is? Yoon Joo pauses and then says "love."
Se Kyung stops and turns around, and there is Seung Jo standing there waving at her with a giant smile on his face. Se Kyung stares at him and you can see how her heart is hurting. OMG I'm crying here from the thought of either of them hurting each other or any misunderstandings. T___T I can't handle it and its not even here yet. Drama, why are you so fucking perfect?
Thoughts of Mine:
Raise your hand if you alternated between swooning, laughing, and almost crying in this episode alone? Which incompetent person was in charge of the promos over at SBS, because this drama was one of the worst promoted offerings I've ever seen. The posters suck, the character stills were pretty fugly, the trailers were dreadful, and never have I been that down in the dumps before a drama aired starring one of my favorites as I was before CA. Episode 1 was admittedly choppy and that added to my worries, but by episode 2 this drama took off and since then hasn't looked back. My mind is already going a mile a minute on all the possibilities as to what might happen, and how the various relationships will all unfold. Will In Hwa try to personally win Seung Jo's heart, or use her brains and try to persuade him that a marriage alliance will be mutually beneficial? Will Seung Jo try to play GN Fashion against Royal Group, or really is he completely done with his revenge as he told Yoon Joo. I was really moved by the honesty in his conversation with her in the hallway, when she told him what he needed to do to make this new relationship work. I don't think she still loves him, though she clearly once did, but she's a ballsy woman and once she moved on she wasn't looking back and I love that about her. I think even if she finds out Se Kyung is the girl she won't turn into a crazed jealous bitch trying to undermine her.
I'm totally loving all the side characters, from exasperated Secretary Moon, befuddled Driver Kim, amused Dong Wook, and in-the-know BFF Ah Jung. It's like Se Kyung and Seung Jo are surrounded by a support group that is slowly forming a circle around both of them, and I couldn't feel happier knowing that their growing relationship is being watched over and likely protected by others who can see how perfect they are for each other. While Seung Jo has been getting all the attention since his character does all the hilarious things for Se Kyung, her character development really took a great leap forward in this episode as she slowly revealed hints to Seung Jo about how she views him. She also shows through her reactions to the handholding and the embrace-almost-kiss scene that he affects her like a man, and its clear that Seung Jo is cognizant of this as well. They are not trying to hide their growing affection for each other, but neither is pushing the relationship forward faster then its naturally progressing. God how I adore them so. Seung Jo is such a unique hero and Se Kyung hits all the Candy traits but doesn't fall into a paper cut out stereotype. Not to mention Moon Geun Young and Park Shi Hoo brings their characters so vividly to life that I already can't imagine anyone else in the roles. SBS is just killing me with the lack of previews, but this allows me to imagine all sorts of naughty things in my mind, right? 😀
Click here to watch Cheongdamdong Alice.