Super duper rich Chinese network say what?!?! OMG, I figured this wouldn't happen for another five years or so but it's actually happening in mere weeks. The C-news is reporting that after years of trying to reunite F4 (also known as JVKV) for China's largest lunar new year television program, they actually succeeded by throwing so much money at Jerry Yan, Vic Zhou, Ken Zhu, and Vanness Wu that the four guys are going to perform one of their seminal songs "Meteor Rain" in the upcoming 2013 lunar new year celebration. The song is of course from the TW-drama that propelled them to fame Meteor Garden (1 and 2) which was the first of many drama adaptations of the manga Hana Yori Dango. The leading lady was Barbie Hsu but let's not lie and say we all watched it for her. She was good but I was pretty much a goner for both Jerry's version of hot blooded Domouji (Dao Ming Shi) and Vic's version of autistic and introverted Hanazawa Rui (Hua Ze Lei). F4 was the group that was formed by the four guys who played the drama version of F4 and they were actually quite popular all over Asia. The last time the boys reunited was in 2009 for their Japanese sold-out tour but since then everyone has gone their own ways. I won't lie and say they are real life BFFs and keep in touch, because they really don't. But they did get along when they were active as F4. Since then Vic as emerged as the thespian and most high profile actor, Jerry takes on too few projects and is still coasting on his fame rather than doing anything new, Ken is sorta just there, and Vanness had the most extreme transformation from sleazy douchebag to born-agan Christian and earnest actor/singer. If this new is true I AM SO EXCITED. My Vic, singing again as part of F4, it's too good to be true. I'm going to go watch F4 videos to prepare for the nostalgia.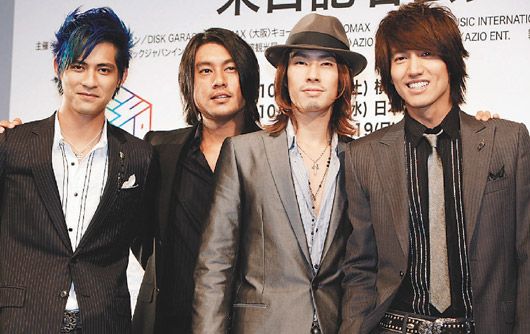 F4 "Experience" MV"
F4 "Meteor Rain" MV:
© 2012, ockoala. All rights reserved.