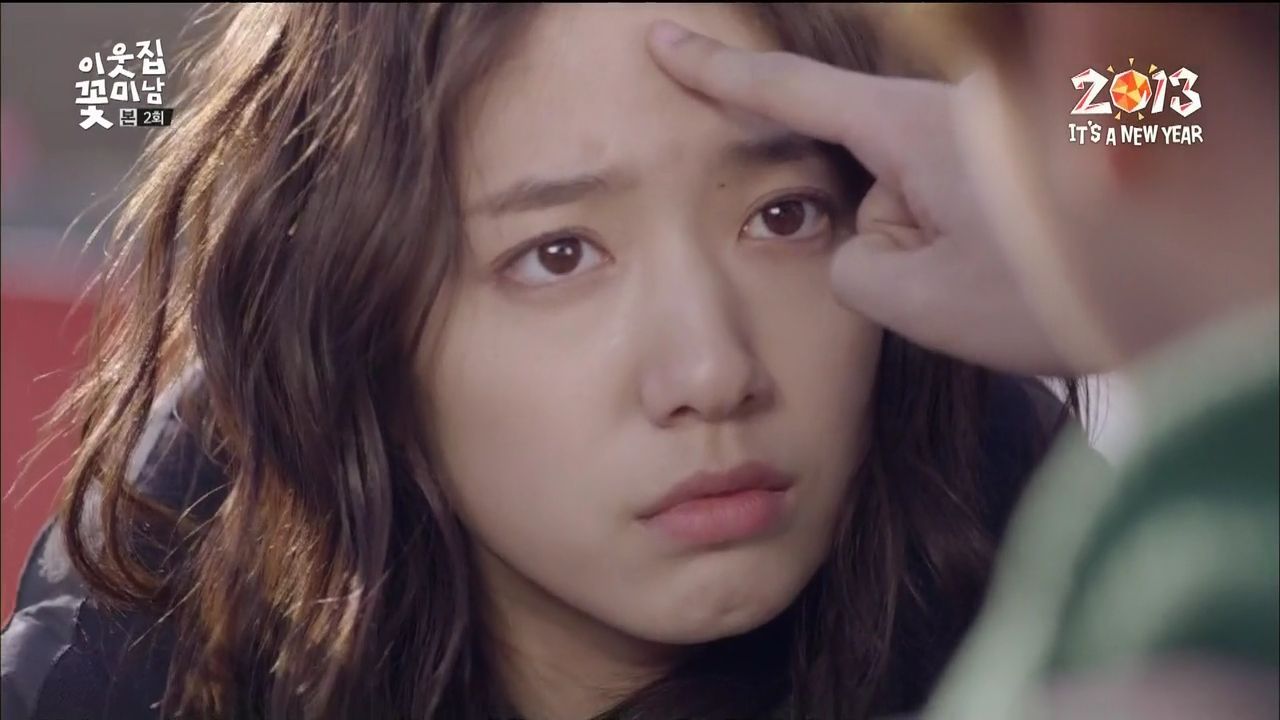 Flower Boy Next Door has such a dichotomy between the two leads. Park Shin Hye as Go Dok Mi has barely any dialogue whereas Yoon Si Yoon as Enrique can't seem to shut up and natters on a mile a minute. It's going to be a pleasure seeing these two warm to each other. I already ship these two characters like mad, even if second male lead Jin Rok is playing the quiet protector role to the T with a dash of insouciance. What clicks in this story is about making connections in a bustling world filled with people of all colors and shapes. If Dok Mi is closeted because of a past trauma, which is looking more like the after effects of being severely bullied, then I appreciate how the story is taking a very real modern crisis and handling it with sincerity and a dash of humor.
Dok Mi may be paralyzed from going on, but she still does it when she has to, and in those moments she is capable of interacting with people. Her world is tiny but her life is rich with her own inner thoughts and capable self-sufficient ways. She's not like Goldilocks locked in a tower dreaming of getting out, she is content with her solitude while longing to make little connections outside of it, such as her crush on Tae Joon. What makes Enrique's intrusion into her life precious is that it's so natural to him to want to connect with this oddball girl. He breathes talking to people while she shrinks from human contact. The drama allows the characters breathing room to reveal themselves and take solid steps forward towards a more interesting world as they all get to know each other.
Episode 1 recap:
Jin Rok opens Dok Mi's note which explains her frugality methods – she lives as though its judgment day tomorrow. To save on heat she keeps hot water in a bottle wrapped in a towel and uses the water later for washing, cleaning, and even flushing the toilet. She wears giant coats indoors and unplugs unused appliances and blocks openings and crevices. At the end of the note she asks Jin Rok if he can be the protest leader in her stead today?
Jin Rok compliments Dok Mi as being transparent, she is completely upfront about being frugal. Jin Rok is about to go talk with her when Watanabe knocks on the door and introduces himself as the new neighbor to Jin Rok and Dong Hoon. The boys check out cheerful fashionably dressed Watanabe.
Enrique catches Dok Mi peeking into the apartment and he rushes over to confront her, wearing nothing but his panda cap around his neck, his boxers, and a trench coat. Good one. Dok Mi cowers and frets in her apartment while Enrique bangs on the door and takes to kick it, all the while demanding she open up because he knows she's in there!
Dok Mi has a flashback to laying on the psychiatrist chair being asked questions about what she dislikes – doorbells ringing, people calling, hearing her name. All of those sounds indicate someone wants to connect with her. The doctor asks if she's been this way since the incident, which causes tears to fall from Dok Mi's eyes.
Back to the present, the commotion causes Jin Rok, Dong Hoon, and Watanabe to peek out the door and they witness Enrique trying to bust down the door of unit 402. They go out to stop him which is when the security guard arrives. Enrique tries to play the victim and says the person in 402 was peeping at him. The guard looks at Enrique and calls him a flasher pervert because of the way he's dressed and tries to drag him off.
Dok Mi realizes things are getting out of hand and gets up her courage to open the door. She gapes at the assembled guys in the hallway and quietly mumbles that Enrique is here because of her.
Enrique recognizes her as the girl who was pressed up against the door of Tae Joon's apartment yesterday. Jin Rok tells her to go back inside, he'll take care of things. He also tells Dok Mi that he will take her place today as protest leader. He manages to explain that it's all a misunderstanding since the two buildings are so close. The guard lets Enrique go.
Jin Rok and Dong Hoon discuss what just happened, with Dong Hoon suggesting maybe that the girl in unit 402 was spying on Enrique Geum. Jin Rok dismisses that and says the girl stepped forward to help Enrique because she's a kind person. He can see it in her eyes. She's transparent.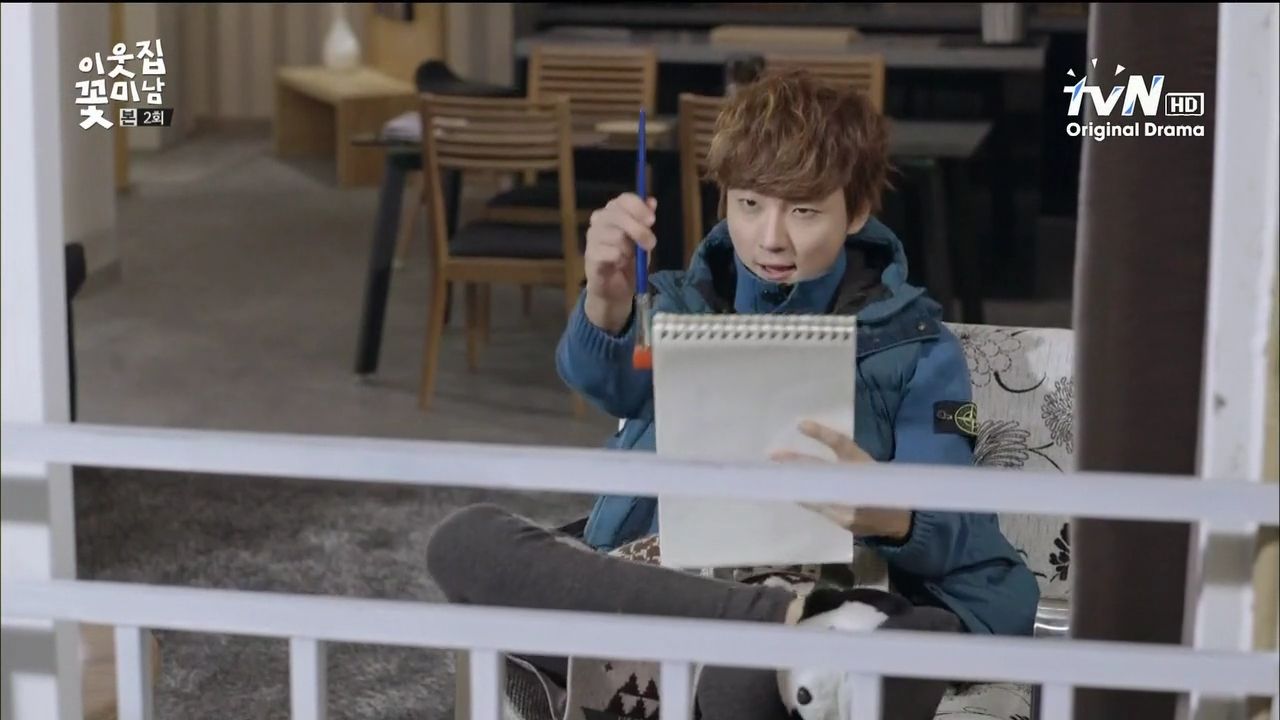 Enrique goes back to the apartment and says his stay in Korea won't be as boring as he thought. He sits down facing the window and grabs a paintbrush and gets to work.
Dok Mi gets paid a pittance for her editing work but she's too meek to confront the editor about it. She realizes her food supplies are low but she doesn't want to go shopping or have food delivered. She hears the guard calling on the loudspeaker for all the residents to congregate outside for the protest rally of the day.
She opens the curtains and sees Enrique drinking some wine and waving at her. She quickly closes the curtains but then peeks out again and Enrique is pointing to his right. She peeks out the right side and sees that he's drawn her a note telling that he will be back.
Jin Rok and Dong Hoon meet with his editor and he fleshes out his Flower Boy Next Door manhwa – the introverted girl slowly comes out of her shell because of her neighbor, who has been keeping watch over her for the past 3 years since she moved in. Editor thinks its because of THE POWER OF LOVE and wants the guy to confess in episode 1. Jin Rok explains that he hesitates to tell her his feelings because he doesn't want her to reject him because it's too much for her to handle. The editor loves it and tells them to keep going and send her a first draft.
Dok Mi ventures out of her apartment and heads to the protest rally, which is gathered inside a tent to keep warm. She shuffles in and immediately face plants, which causes everyone to look at her. She gets up and goes to sit down while awkwardly acknowledging everyone. Watanabe is introduced as the new neighbor and he's here to learn more about cooking. Despite grumbles about these daily protests, the guard keeps saying the residents will get money if they win so they have to keep going.
Enrique gets ready to leave the house. He picks up his camcorder and trains it out the window on Dok Mi's apartment building.
When Dok Mi is assigned the protest leader, Jin Rok steps up and says he'll do it instead. Dok Mi nods her head gratefully at him. After everyone disperses to prepare, Jin Rok cautiously tells Dok Mi to go home now and not attend the protest. After he rejoins Dong Hoon, the latter grumbles about Dok Mi getting Jin Rok to do things for her. Jin Rok worries that Dok Mi may have overheard, and chides him for saying that about Dok Mi since she must really be hurt to behave this way. Enrique overhears this.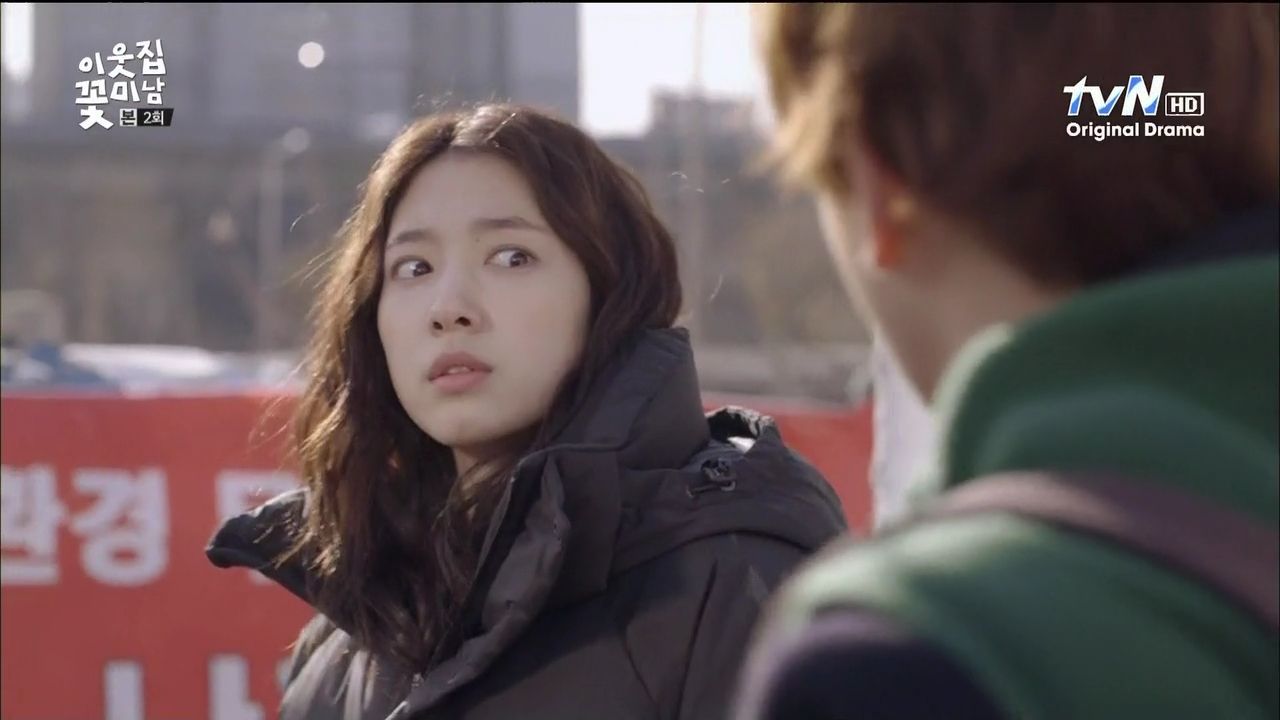 When Dok Mi leaves the protest tent, Enrique is outside waiting for her. He smiles and walks over and starts talking to her. He knows she was the one who called the cops about the possible injured dog and plays her the recording he got from the cops. So she was spying on the dog and not Enrique? He calls her ahjumma and during this entire conversation Dok Mi just stares at Enrique and says nothing.
While Dok Mi says nothing, Enrique appears to read her mind in his responses which freaks her out. Enrique says overreacted this morning when he felt someone spying on him and he's here to start over with her. She starts nodding and he pokes her cutely in the forehead and tells her one nod is enough. He suggests they talk in the tent since its so cold and goes inside first, but then Dok Mi runs off.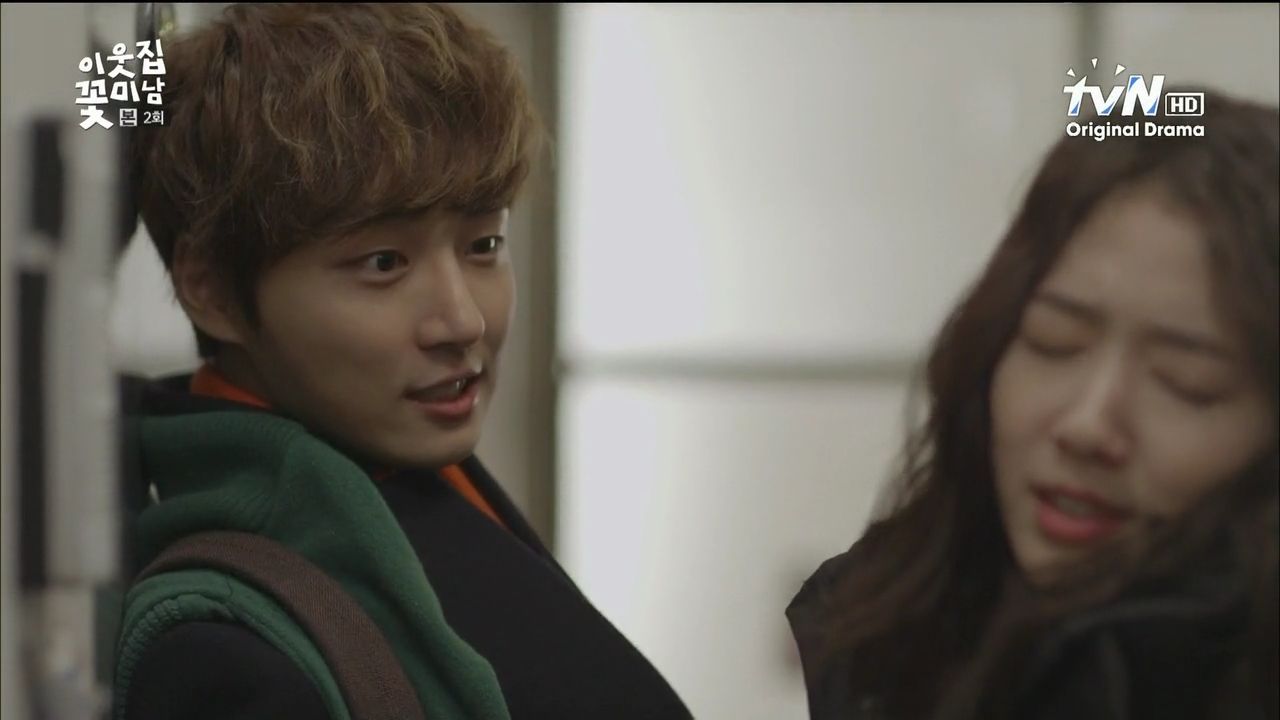 When Dok Mi gets back to her apartment, Enrique is there already waiting for her. He makes an analogy of her life to soccer – she is the goalie playing the most powerful position but it's lonely because she is keeping people from entering her world. He tells her to be strong and leaves.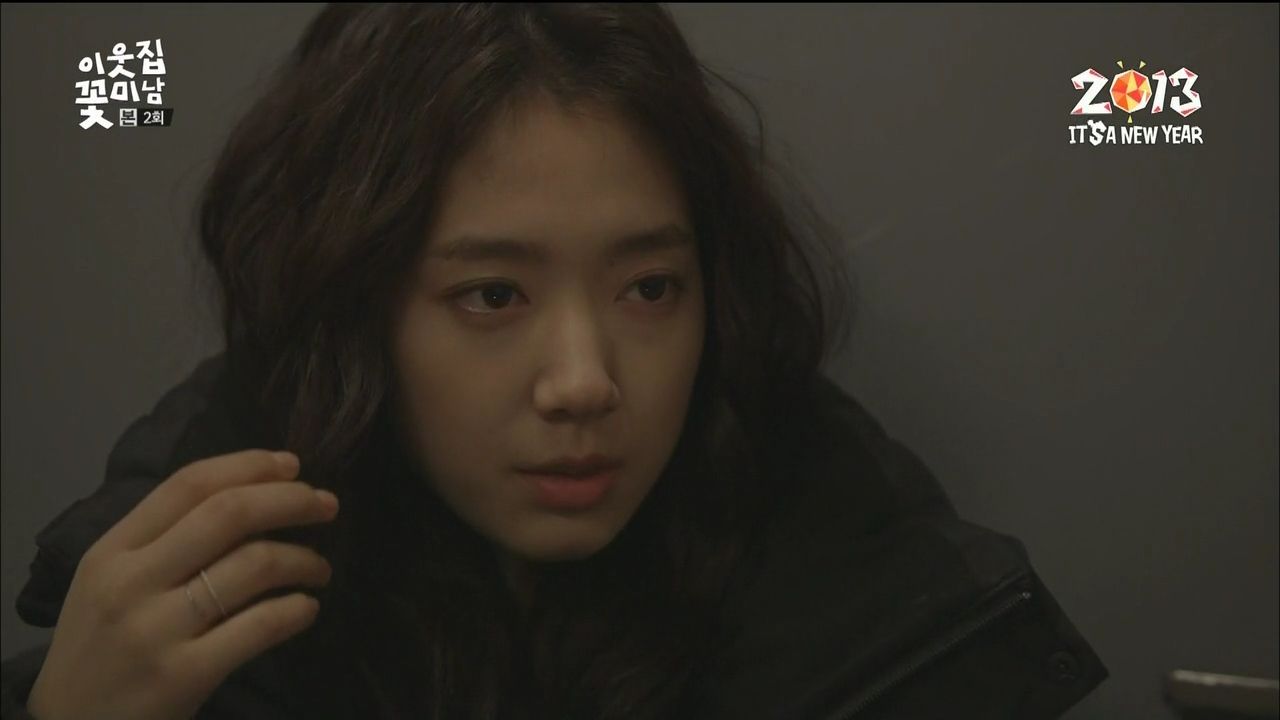 Dok Mi goes into her apartment and remembers Enrique touching her forehead. She wonders why he talks that way to an ahjumma with respect before realizes she's actually not an ahjumma. Enrique is also pondering why she doesn't talk at all.
Enrique walks around Seoul and attends a meeting for the gaming company. Reporters and fanboys are following him around snapping pictures which get uploaded to the interwebs immediately and folks comment on Enrique. He gets a text from Seo Young and thinks back to asking if she liked Tae Joon. He sighs that he shouldn't have come to Korea.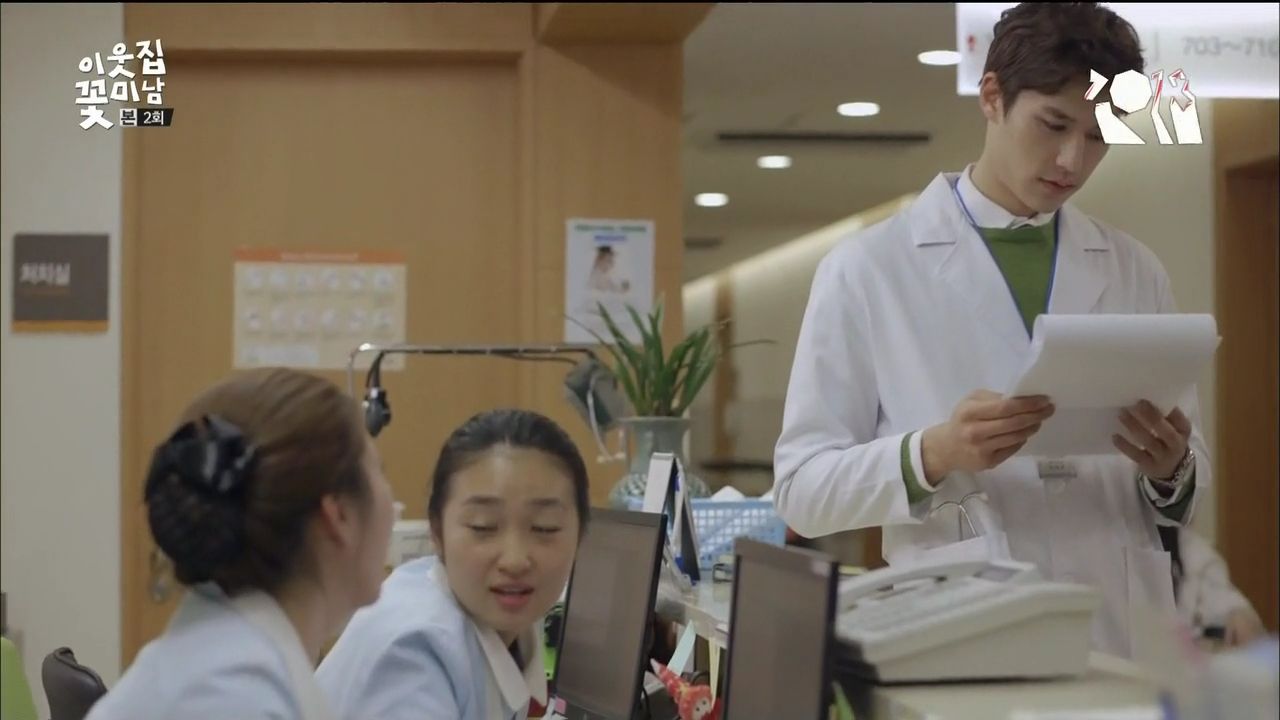 Tae Joon, who unsurprisingly is a doctor (zzzzz, boring even in his perfection), is at work and gets a text from Seo Young asking to meet.
Dok Mi runs errands outside, including paying her rent and grocery shopping, though she makes an effort to avoid Enrique when she spots him in the same supermarket.
A girl dressed like a cross between a flamingo and a polar bear is sitting in a car outside Dok Mi's building. She is Cha Do Hwi, Dok Mi's former classmate. Do Hwi looks around and remarks that this place is such a dump.
The protest starts as Dok Mi comes back with the groceries. She puts them away and returns to the protest, where this time Jin Rok leads the chant with more enthusiasm. He spots her and their eyes meet and she gingerly raises her hands in the chant.
Do Hwi hears Jin Rok leading the protest and goes googly-eyed at his hotness. She spots Dok Mi and takes off her sunglasses and walks up to talk with her.
Do Hwi calls her Go Dok Mi and pulls her in for a hug, while Dok Mi's eyes are wide open and she recalls Do Hwi bullying her when they were in school for no reason.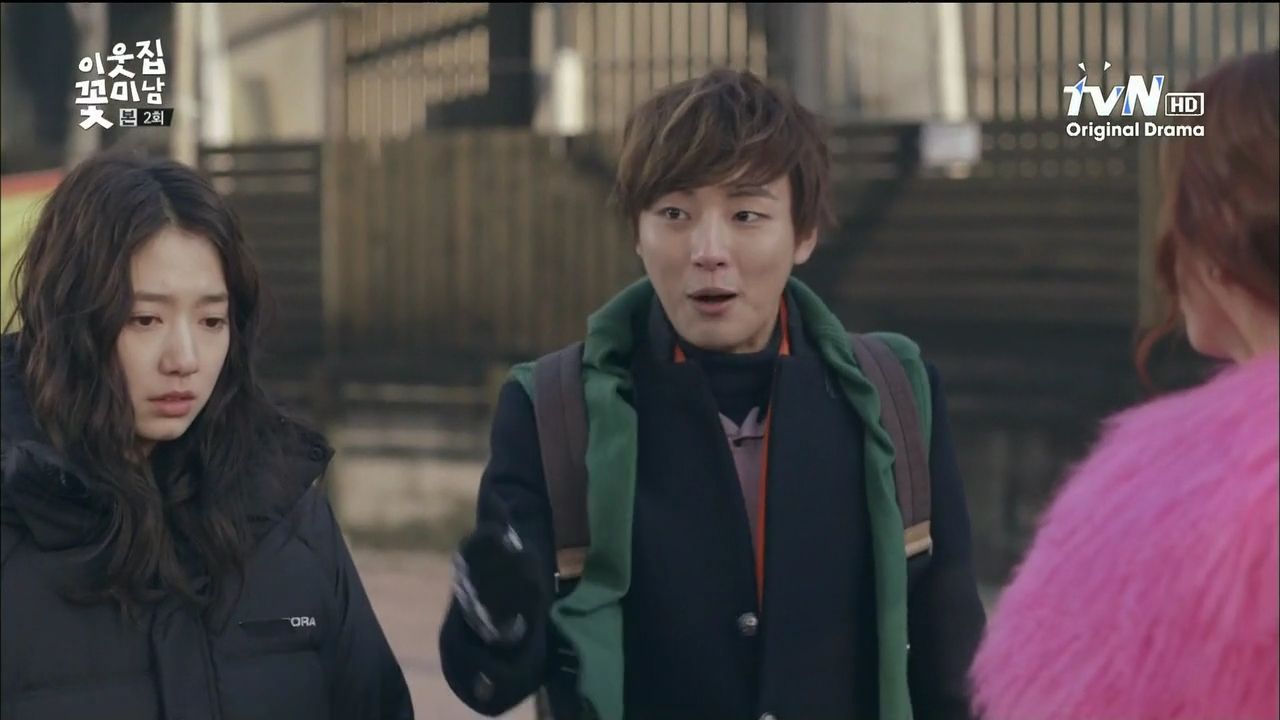 Enrique arrives and hears Do Hwi call Dok Mi's name and now he knows her full name. Do Hwi eyes the hottie that is Enrique and mutters that Dok Mi has all the luck. Enrique teases that he and Dok Mi are like Romeo and Juliet while the two buildings are the feuding parents.
The protest moves elsewhere and Do Hwi tags along after hottie Jin Rok. Dok Mi suddenly grabs Enrique's arm and with tears in her eyes, she starts to beg him to….and then she faints.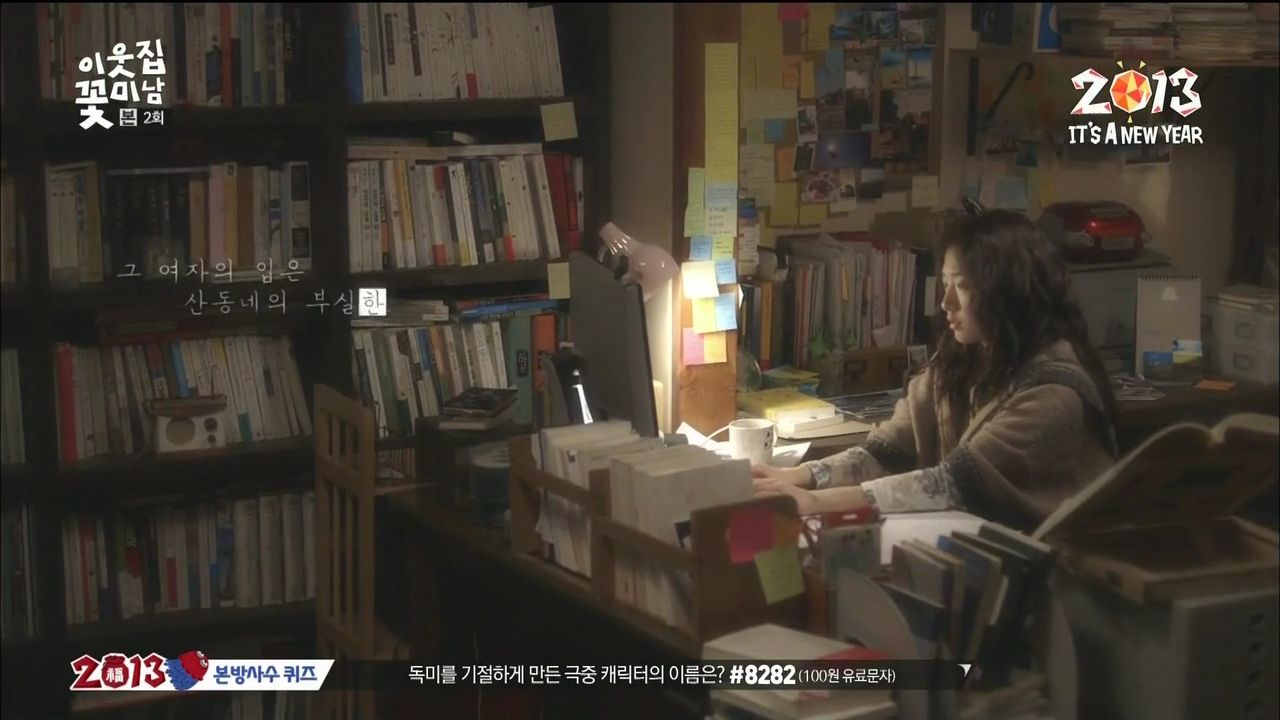 Dok Mi dreams about writing in her room about her experience with Do Hwi, who always has the upper hand and Dok Mi never has the strength to stand up to her.
Dok Mi wakes up in Tae Joon's apartment and sees Enrique cooking dinner. She tries to leave but he stops her, asking if she shouldn't thank him first. He explains that she fainted and he brought her here because his hyung is a doctor and can check her out.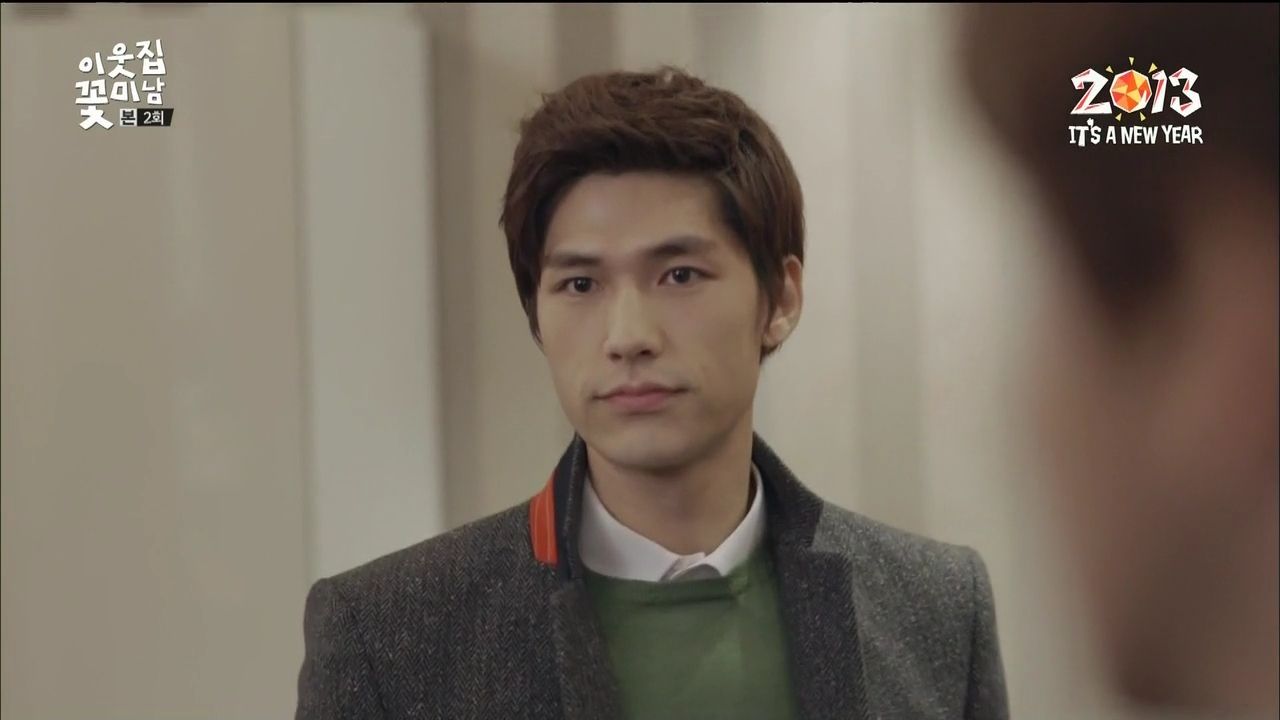 Dok Mi thanks him and still tries to leave but he grabs her arm. He tells her that soon he will need to do something very difficult, so will the ahjumma stay here with him? The door opens then and Tae Joon walks in. Both Enrique and Dok Mi turn and stare at him.
Thoughts of Mine:
I can't quite capture the feeling of FBND. It's melancholy without being sad, humorous without being hilarious. There is a quiet mood that permeates the drama and grounds the story in a feeling of filtered reality. I can't say the story is all that interesting but some of the characters are endlessly fascinating to me. The writer gives her characters room to breath so we don't need to always see them doing things. We saw a bit of Dok Mi editing, some of Jin Rok illustrating, but by and large we see them going about the daily routines of their lives. Some happen to live in an older building currently partaking in a protest rally for compensation money from the new high rise that blocked their view. No one stands out as wacky for the sake of being the comic relief, at the same time the angst doesn't feel overwrought at all. Park Shin Hye is doing a brilliant job as Dok Mi, her silence matters not because she conveys the world of emotions through her eyes. No wonder Enrique gets her even though they have barely spoken to each other.
It's only two episodes in and normally I would say this story moves so slowly since other than introducing all the leads and getting them into each other's orbit, nothing else has happened. But that's the point of it all, things don't need to happen for people to grow or get to know each other. I'm curious if Jin Rok has known of Dok Mi's presence since she moved in and has been harboring a sympathy for her since then? What is his own backstory? It's clear that Do Hwi has a tormented history with Dok Mi, but why is she back looking for Dok Mi on purpose, and acting all happy to see her? Of course its easy to hate Park Soo Jin since her character immediately comes across as vain and vapid, but I have to give her kudos for throwing herself into pink furry Do Hwi with aplomb. While I like that Dok Mi has a protector in Jin Rok, I'm not feeling any emotional connection between them other than as potential friends. Perhaps its my love for chipmunk Enrique speaking – he's just so endearing and delightful in his interactions with Dok Mi that there isn't any room to second lead ship here.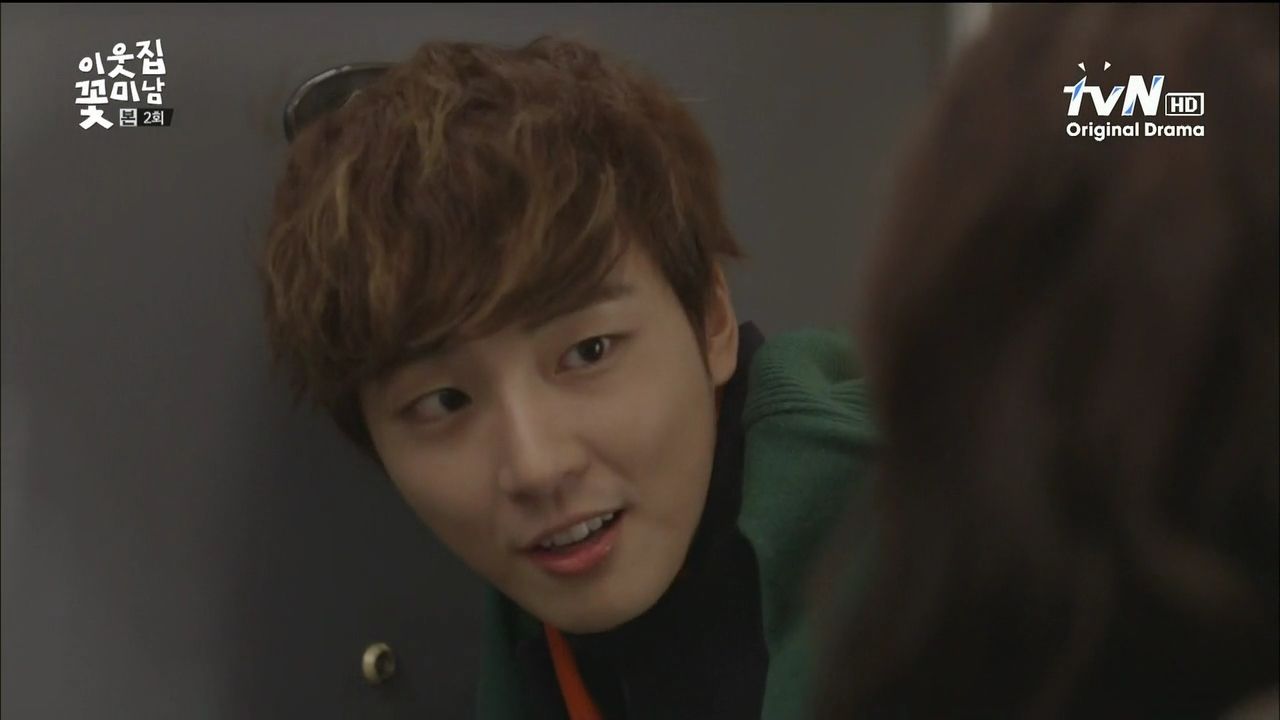 When watching FBND I don't have any urge to find out what's going to happen and the episode endings don't leave me with any particular need to skip a week to keep going. I rather like how this drama conveys a sense of normalcy within the unique people populating its world, almost like peeping at the lives of denizens of an interesting compound. Well, other than Tae Joon, who can be replaced with a department store mannequin and I wouldn't notice the difference. The writer has done a remarkable job in fleshing out the important characters and all that is left is to build on the pieces. I'm looking forward to watching Dok Mi overcome her fears, Enrique to do some growing up, and Jin Rok to figure out his career future as an illustrator. Along the way some folks will fall in love, learn some lessons in life, and hopefully experience all the laughter and tears that will only mean each is living life to the fullest extent. I have a feeling this drama will end up being fulfilling with the characters finding the simplest of happiness.