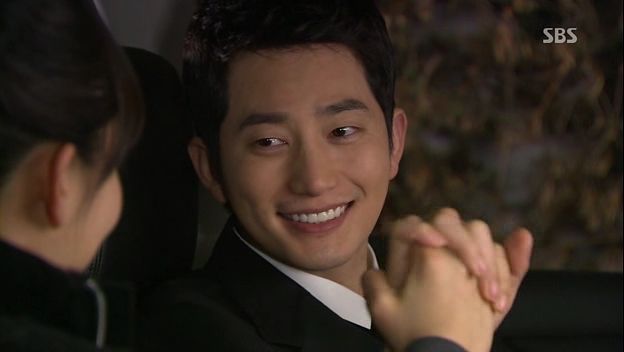 I started recapping episode 11 of Cheongdamdong Alice when 10 minutes in I almost couldn't go on. How could I keep recapping when this drama hardly makes any sense to me anymore. It's not completely nonsensical but there are so many loopy and extreme elements, not to mention coincidences and near misses it stretches my credulity to the point I can't deal with trying to write it down without shaking my head and going "how could this be happening?". Just a heads up not to be surprised if this entire series gets dropped in the near future. I know its so close to the end and I honestly make a concerted effort to finish recapping projects, but this drama is falling apart gradually at the seams and any ability to connect with the characters or narrative is slipping through my fingers. Right now I don't like any of the characters with the exception of Team Seung Jo and Se Kyung's parents. Everyone else sucks as a human being or is behaving like an irrational and myopic ten-year old. Seung Jo's speed-dating his way to an engagement with Se Kyung is one of the least romantic thing I have seen in a K-drama in a long time and thank god Se Kyung's dad said no to giving his blessing to this ridiculous (at this stage) farce of an engagement.
Se Kyung has become Seung Jo's security blanket and that is the farthest thing from giving this man a healthy new start in life than replacing all the love he's craving with a nice substitute rather than getting him back on his own two feet emotionally. Se Kyung is just plain stupid at this point – forget being good or bad, black or white, innocent or calculating – she needs to come clean with Seung Jo rather than digging herself even deeper with Tommy and this entire charade because too many clues are out there and its so easy for anyone to start connecting the dots. Lo and behold, thwarted In Hwa gets a clue about a nanosecond in and sleuthes her way to the confirming evidence three seconds later. At this point I'm rooting for everyone to fail and for all the cards to come falling down so people can start afresh without all these issues and lies and misunderstandings. This episode was also horribly directed, like a herky jerky hodge podge of scenes awkwardly transitioning into each other. What the fraking frak is going on here, drama? Are you having a public meltdown? Because if you are, please just tell me so I can walk away and not witness it, because you were oh so refreshing and charming when you first arrived at the party.
Episode 11 recap: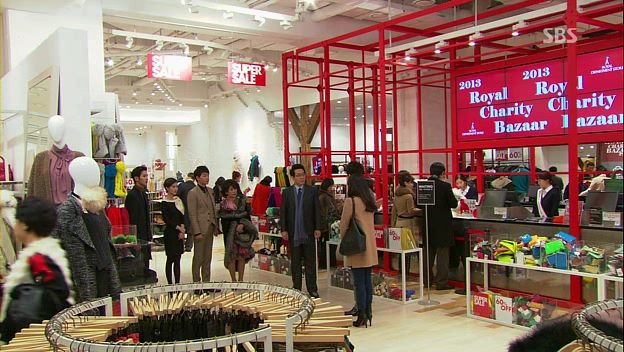 The Royal Department Store charity bazaar is underway and the GN Group family is there along with Tommy. Some rich ladies discuss the matchmaking between the two groups and say that he's also the President of Artemis and compliment In Hwa on being so pretty and she blushes becomingly. President Cha arrives and is greeted warmly, with talk of President Shin (the father) taking him out to dinner soon. The ladies congratulate President Cha (on the alliance) and he hesitates ever so slightly.
Seung Jo arrives and pulls Se Kyung in behind him. Everyone stares and she is dragged over to greet President Cha as Seung Jo's girlfriend Han Se Kyung. Tommy visibly cringes and In Hwa holds back her shock. Seung Jo also publicly refers to President Cha as his father and then says he and Se Kyung are getting married. He knows Se Kyung works at GN Fashion and purposely asks them to take care of "his" Se Kyung. Awwwwkwardness.
President Cha, Seung Jo, and Se Kyung retreat to a meeting room to pow-wow. Dad accuses Seung Jo of doing this to get revenge but Seung Jo points out that falling in love for revenge is ridiculous and not to insult his love for Se Kyung. Dad asks if they are in love, they can go live their happy love elsewhere, why come here to join the festivities? Good point, Dad. Seung Jo claims that he wants to make clear to everyone plotting his marriage that he's off the market.
Tommy is getting raked over the coals by Momma Shin and Min Hyuk in another room. Tommy keeps apologizing for his oversight and Min Hyuk is furious that GN Fashion got publicly declined a marriage, and over a girl who works part time at the company. In Hwa tells them to cut it out, it'll only make her look worse. In Hwa tells Tommy to stop apologizing, she wants this all to go away. More importantly, she is no longer interested in Cha Seung Jo. He doesn't understand what marriage alliances mean for people like them, therefore he is of no use to her.
Dad still insists that Seung Jo doesn't love Se Kyung, he's doing this to get back to Dad by picking the exact type of girl dad hates. Dad tells Se Kyung that the moment he agrees to the wedding Se Kyung will get dumped. Seung Jo tells Se Kyung to wait outside and Dad asks if she graduated college and what her parents do. Seung Jo pulls her outside and asks her to wait for him. He goes inside and father and son keep arguing with each other.
In Hwa walks out of her room and encounters Se Kyung in the hallway. In Hwa smiles that things sure was awkward back there but her family doesn't care so she wishes Se Kyung well. Se Kyung can hear the screaming coming from both rooms, with Min Hyuk screaming that Tommy embarrassed them and Dad screaming that Seung Jo doesn't understand reality. Se Kyung kneels down and she can see Tommy with his head bowed to Min Hyuk. She thinks to Yoon Joo that this is what its like to enter Cheongdamdong.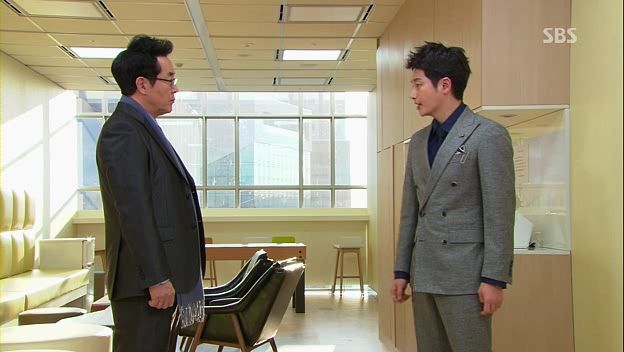 Seung Jo accuses Dad of arranging the marriage alliance with GN Group knowing Yoon Joo was the daughter-in-law to keep Seung Jo always under his thumb. Dad screams back that getting Seung Jo to capitulate is exactly what he wants and if Seung Jo admits he was wrong and wasted the life Dad gave him, then Dad will be satisfied. Seung Jo can still breath now by not living like Dad wants, otherwise he would have died in that family. Neither have anything else to say to each other.
Min Hyuk insults Tommy as staking everything he's ever accomplished on making this marriage alliance. He ridicules Tommy as not a designer but simply a pimp whose life is ruled by making marriages. That is why Min Hyuk should not have trusted in an unknown entity like him. He leaves along with his fugly Mom. Min Hyuk runs into Se Kyung outside and snidely asks if she's planning to quit her job now that she's the fiancee of Jean Thierry Cha? He stalks past her and fugly Mom walks out and wonders aloud where Seung Jo ran across an item of such low caliber as this.
Tommy walks out and over to Se Kyung. He glares at her but before he can say anything, Seung Jo walks out. Seung Jo asks Tommy to stop meddling anymore and then pulls Se Kyung away. President Cha walks out and also insults Tommy as thinking he could handle this situation but messing it all up.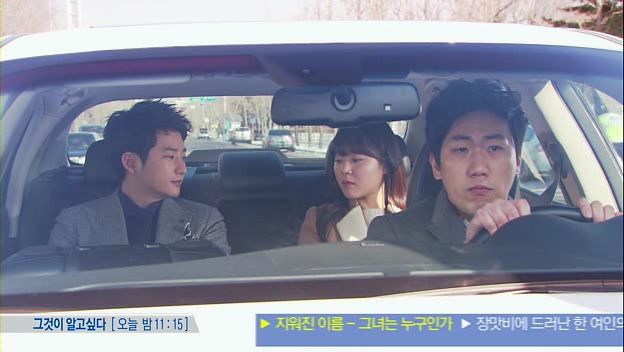 Seung Jo and Se Kyung are in the car as Driver Kim takes them somewhere. She stares at Seung Jo and asks where they are going. He says somewhere and they both look out the window. You know, Seung Jo, can you dragging Se Kyung places and never telling her where you are going, much less ask her before hand if she would like to go. Her considerations matter too, not just you doing whatever the heck you feel compelled to do, even if you are doing it due to an excess of love. Said love having developed over the course of a few short weeks (maybe days) so it seems.
Tommy stalks home and gets an update from his spy who caught Se Kyung meeting with that woman last night and it was very weird. Turns out spy recorded Yoon Joo and Se Kyung's convo last night in front of Seung Jo's apartment (with his camera and no one else around and close enough to get audio but neither lady notices him. Seriously.) Tommy realizes Min Hyuk's wife Yoon Joo was Seung Jo's ex, thereby expanding the truly convoluted mess surrounding Seung Jo. His look of horror and shock is pretty priceless.
Seung Jo tells Se Kyung that when he was 10, his parents got divorced and his mother picked him up from school one day and he spent a few days with her only to never see her again. She wanted alimony from his dad and used Seung Jo as a bargaining chip. Dad told Seung Jo that if anyone said they loved him to never trust that person because that person was only using Seung Jo. From that day on, the word love because a prison for Seung Jo, always uncertain and doubting.
Then one day he met Se Kyung and what she showed him made him not fear the world anymore. He asks her to marry him, getting down on one knee with a ring. Se Kyung cries and looks at him. Suddenly she sees a call from Tommy and she wavers between Tommy and a kneeling Seung Jo. Seriously? At this very second? What are the odds? She asks Seung Jo wait and rushes into the bathroom, with the poor guy kneeling there.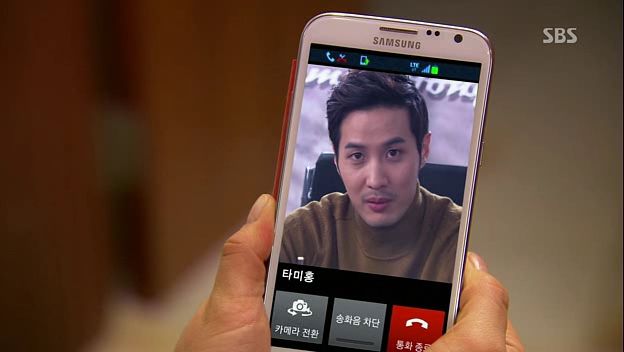 Se Kyung watches the video Tommy sent which is of her and Yoon Joo's convo last night. Tommy sends her a video message giving her one day to choose between Paris or Hell.
Seung Jo knocks on the door and asks if she's okay? He knows everything that happened today must be overwhelming for her. He's good at running away, and going to Paris was actually him running away. When he left home he was dreaming that he could find his own home. But in this world he couldn't find it. But now he found it, Se Kyung is his home. Se Kyung cries in the bathroom hearing him say this. He knows this is all so sudden and he's willing to wait until Se Kyung can accept it all.
Se Kyung wipes away her hears and takes a deep breath before walking out. She faces Seung Jo calmly and asks him to say that if one day she disappeared from his life, he will die. It doesn't matter if its a lie, please say it to her now. He tells her that if one day she disappeared from his life, he would die. Se Kyung cries and asks him to put the ring on her. Se Kyung promises to never leave his side, even if he leaves her she will go looking for him,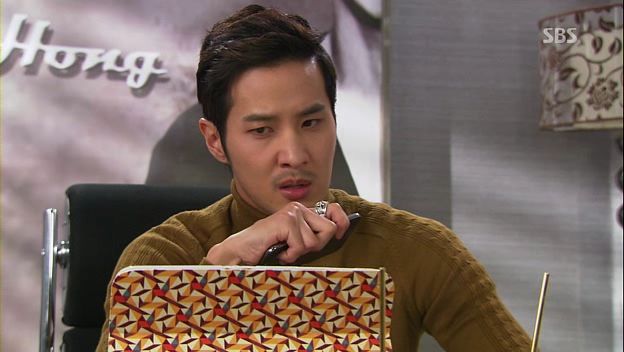 Tommy is still in a rage and tossing things in his office. He tells his assistant that he knew Se Kyung was formidable when he met her, and in truth she reminds him of himself way back when. They were stepped on and now they must step on others to move forward.
Yoon Joo finds out from Min Hyuk about Seung Jo's bombshell and that In Hwa has given up on the matchmaking. She runs into In Hwa outside and counsels her to move on since Jean Thierry Cha doesn't seem all that. In Hwa asks Yoon Joo to tell her all about Han Se Kyung. Yoon Joo was shocked too and says she doesn't know how Se Kyung landed Seung Jo. In Hwa remembers Seung Jo giving Yoon Joo a bracelet at the dinner and her mind starts turning.
Yoon Joo and Se Kyung meet and Se Kyung shows her the video from Tommy. Yoon Joo thinks this is the end of both of them and they are headed to Hell. Se Kyung doesn't think so. She said Yoon Joo's problem was giving up when confronted with the obstacle of Seung Jo's dad. From now on, she will not come clean to Seung Jo but she will love Seung Jo forever and protect him forever. From now on, this is Han Se Kyung's secret diary. Yoon Joo has to help her and Se Kyung will help secure Yoon Joo's position. But once she and Seung Jo get married, she and Yoon Joo must never meet again. There is no way Se Kyung can face the woman who used to be with her husband.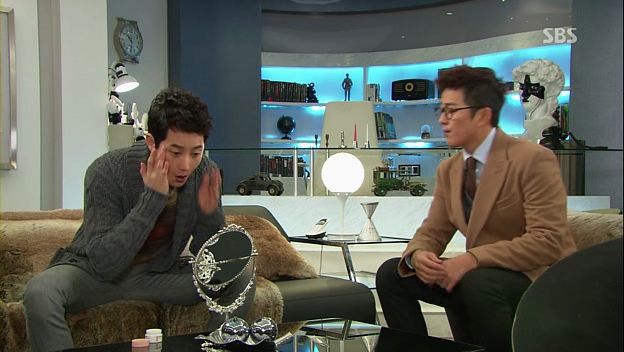 Dong Wook hears from a happy Seung Jo about dropping the marriage bomb in public in front of President Cha. Dong Wook chides Seung Jo for rushing and doing it so improperly. Finally, someone who speaks sense in this drama! Seung Jo doesn't want to hear it since Dong Wook is ruining his happy vibes from today. Everyone paces around and looks worried and deep in thought, from Tommy to In Hwa to Seung Jo to Yoon Joo to Se Kyung. Se Kyung thinks to herself that she has gone completely black now.
In Hwa visits Tommy and asks for him to explain what went wrong. She doesn't know why Seung Jo picked Se Kyung and she can't handle not understanding something. Tommy looks towards his desk where the video is on his tablet and then he's called out for a moment. In Hwa sits down and sees a file with Seung Jo's name on the table. She goes to pick it up and opens the tablet cover as well showing the video of Yoon Joo and Se Kyung meeting. She is about to press play when Tommy's assistant returns and she hastily puts it away and leaves.
Tommy goes to meet with Se Kyung, sporting all black with a new ponytail hairstyle now that she's gone to the dark side. She's not here to answer him, she's here for her own proposition. The marriage between GN Fashion and Royal Group is over now, so which side is he on. Even if he gets rid of Se Kyung, here is no way Seung Jo is willing to marry In Hwa, especially with Yoon Joo involved. Tommy can still help resolve the knot between President Cha and Seung Jo by helping Se Kyung and that way he still aid one of the two sides. He should help her because it helps himself.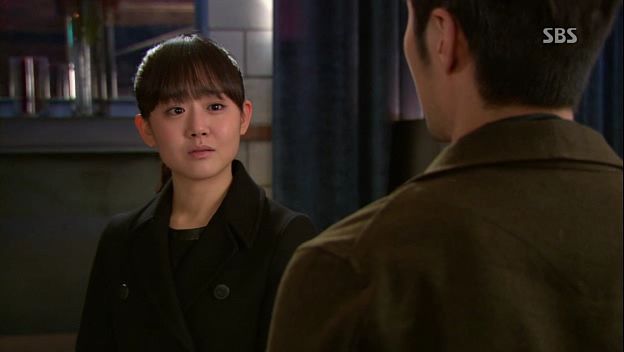 Tommy laughs that she's watched too many dramas that a poor and kind girl loves a rich man and gets her happy ending. But Se Kyung is not going to get her happy ending because she is not kind and loves Seung Jo for his money. Se Kyung asks what is the result for people like them? Do they fall and shatter into peices? Se Kyung doesn't want this lecture because she's not the kind innocent person she was before. If she was, she would have told the truth long ago and asked for understanding. Bur she won't do that, because she is not a kind innocent girl. She is a poor calculating girl who will continue this ugly love for the rest of her life. If she fails, she will accept defeat. But she hasn't failed yet and neither has Tommy. She gives him two days to let her know.
In Hwa sits at her desking but she keeps messing up since she's distracted thinking back to the video.
Seung Jo discusses moving to Paris with Se Kyung, he gets transferred back to corporate and Se Kyung goes to design school there. Dude, horse before the cart please. He is even willing to bring all her friends and family there. Se Kyung asks about his Dad but Seung Jo refuses to answer. Se Kyung gets a text from Seung Jo's dad asking to meet tomorrow.
Se Kyung meets with Seung Jo's dad and finds out that her dad is a baker and they live in a poor neighborhood. Dad asks if she is really intending to marry Seung Jo? Se Kyung asks Dad to try to understand why Seung Jo is insisting on doing this but dad stalks out.
Dong Woo, Secretary Moon, Ah Jung and Se Jin are hanging out watching the video of Se Kyung and Seung Jo's big riverside romantic moment when Se Kyung arrives and they tease her about kissing. Se Kyung sits with Dong Wook to discuss Seung Jo's issues with his dad. Dong Wook reveals that Seung Jo has this recurring dream about attending his dad's funeral which represents his guilt over leaving his dad. He is afraid to reconcile with his dad because he is afraid of being rejected again. Right now his actions scream "look at me" to his dad.
In Hwa keeps stewing over the video and wondering what Tommy is hiding. Tommy is thinking back to Se Kyung's ballsy conversation with him and he smiles at how crazy she is. Se Kyung goes back to see Seung Jo's dad and says that Seung Jo is constantly around his dad rather than rebelling elsewhere because he is looking for his dad's approval and support. Se Kyung brings out all her former scribbles, drawings, and awards and says her dad never complimented her before but she still kept it all. She asks Seung Jo's dad to reach out to Seung Jo first.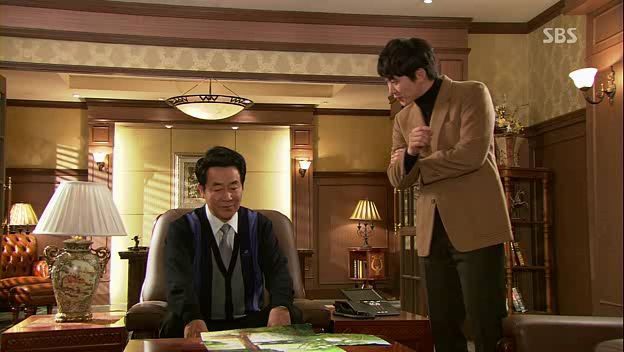 Dad looks at Se Kyung's paintings and smiles, remembering how he looked at Seung Jo's old paintings and met with Seung Jo's painting teacher who complimented his talent. Dad was happy but told the teacher to stop coming by anymore because a boy didn't need to keep painting.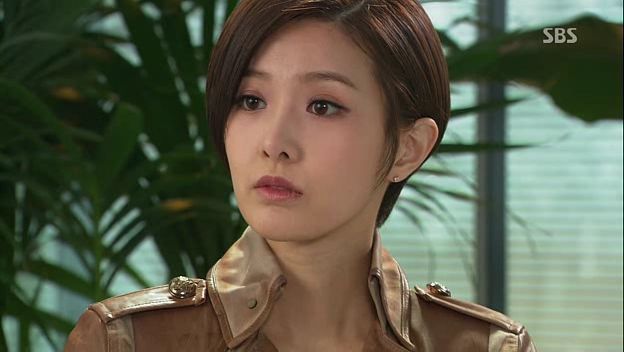 Se Kyung runs into In Hwa at work, with In Hwa wondering why Se Kyung isn't running errands for Yoon Joo lately? She asks if they were close back in high school and Se Kyung says no. When asked if they are close now, Se Kyung also says no. After Se Kyung walks away, In Hwa asks the assistant to buy a tablet cover identical to the one Tommy has.
Tommy meets with Se Kyung and reveals he once kneeled down before someone at this very restaurant once. But over time people started begging him and each time he would turn them down. He used to see rage and unfairness in their eyes, but he doesn't see it in Se Kyung's eyes now. He now sees desire in her eyes again. He asks if she has the confidence to never come clean for her entire life? The confidence to become the daughter-in-law of Royal Group? He makes her promise that once she reaches that position, she will place a set of wings on Tommy. Later Tommy's assistant asks why he agreed to Se Kyung's proposition? Tommy doesn't know but he thinks that he ought to say yes at that moment because it made him look cool.
In Hwa meets with Tommy but is called away so she is left alone in his office. She exchanges the tablets and runs to the bathroom with Tommy's tablet and quickly sends the video to herself. Tommy returns and In Hwa asks if he's not planning to explain about Han Se Kyung, Tommy says the problem wasn't with Han Se Kyung, it was with Cha Seung Jo who isn't suitable for In Hwa.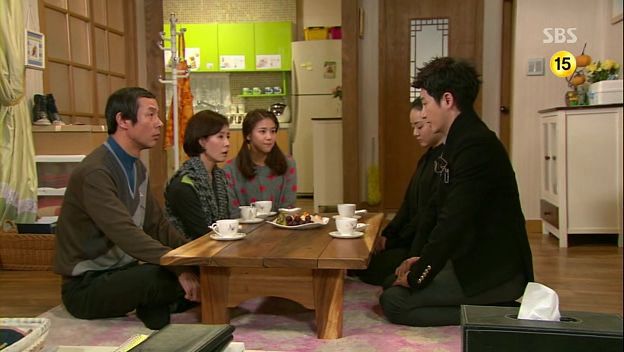 Seung Jo and Se Kyung meets her family and discusses getting married. If they agree, Seung Jo can start planning the wedding. Dad says he cannot agree because Se Kyung has been through a lot. He is fine with them dating but the distance is too great between them. He cannot accept a marriage with such a wide disparity. Seung Jo says he doesn't have a lot and Se Kyung gives him a lot. Dad says his Se Kyung is a sweet girl who everyone would love. He doesn't want to send her into a family where the son and father have broken ties with each other. Seung Jo has nothing to say to that.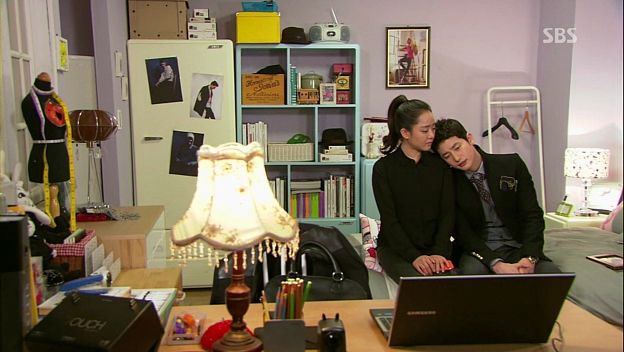 Later Seung Jo sits in Se Kyung's room and wonders why her dad doesn't just accept him as a son and be done with it. Se Kyung confirms that he is very envious of her family and tells him to do as she says. She encourages Seung Jo to meet with his father but Seung Jo says no. Se Kyung shows Seung Jo a news article about his deceased grandfather's ten anniversary passing but Seung Jo still refuses to go and leans his head on her shoulder.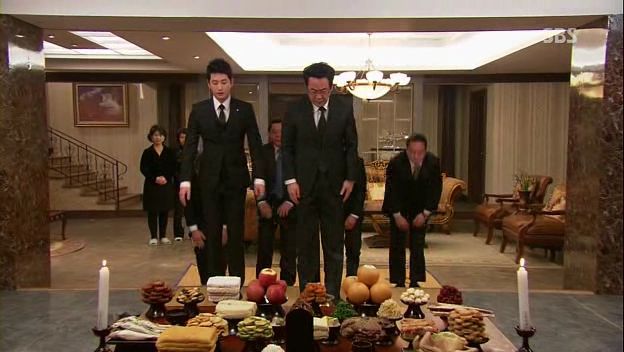 Seung Jo goes home and pulls out his French book and inside is a picture of a little boy him posing with his dad. He gets a text from Se Kyung showing a sad rabbit. Seung Jo smiles and sends him a video of happy rabbit walking somewhere so Se Kyung grabs her coat and rushes out. Seung Jo goes home to his grandfather's passing anniversary ceremony with all the family members present. All the aunts and uncles are very happy to see him. He joins his father at the altar and they all pray and pay their respects. Seung Jo is leaving and his dad tells him to drink the ceremonial wine first before leaving.
Se Kyung is in the car waiting for him and Seung Jo finally returns. She asks if he did well and he says there is no well or not well. She asks if he's feeling better and he smiles softly. She raises her hand for an high five and he says no need. Se Kyung tells him to not let her look silly and give her a high five. He smiles and gives her a high five.
In Hwa watches the video of Yoon Joo and Se Kyung and literally clutches her chest in shock. Yoon Joo walks in with a snack and In Hwa calms herself down. Once Yoon Joo leaves, In Hwa glares at the door and calls Yoon Joo a fox. She then looks at Se Kyung's resume and says there are two foxes.