When I watch Flower Boy Next Door, I find myself appreciating it in real time. Normally we fickle beings don't know a good thing when we see it, more often than not only appreciating things once it's over. It's hard to quantify something immediately, especially when there remains an unknown element that can shift the axis later. With that said, I really do sit back and absorb all that is wonderful about FBND. It's pensive pace that doesn't feel slow at all but instead comes off as reassuring. Much like it's going to take Enrique probably the entire drama to full draw Dok Mi out, that's not dragging at all because the drama is about that journey so the sweetness is in the details. We're 6-episodes in and I don't feel for a second that the OTP like each other, or are even falling for each other. But I do feel like their interactions are building the blocks for a friendship that feels even more precious than the stirrings of romance or the thrill of crushing on someone.
I think the Flower Boy moniker is rather inappropriate and a good way of stating there are cute boys in this drama and nothing more. This drama is better called Friends Next Door because it harkens back to the great classic screwball heartwarming mangas like Maison Ikkoku where you have a quirky group of people living in close proximity and the laughter and entertainment comes from their everyday interactions. I can safely say FBND is definitely more of a J-dorama than a K-drama, even the abrupt cruelty of the Do Hwi bullying elements feel stark and less K-drama melodramatic. I love that Enrique is interrupting Dok Mi's safety room structured life, even to the point where he might force her to comfort the furry demon ex-friend that is Do Hwi. There is no hurt that cannot be overcome, the question is how long and with what support network. I think Dok Mi is slowly discovering though Enrique that a toxic former friendship shouldn't sour her on all friendship forever.
Episode 6 recap:
Enrique enters Tae Joon's apartment and is immediately yelled at and kicked out by Seo Young, who chastises him for worrying his hyung by staying out all night without a word. Enrique understands Seo Young's intent to give Tae Joon some time to work through his issues, and agrees to move out. Can someone please ship Snore Joon and Seo Annoying off to Siberia. I'll gladly pay for shipping and handling.
Once Enrique is outside, he text Seo Young and tells her not to worry. He looks up towards Dok Mi's apartment and vows to drag her out of there before he leaves Korea.
Dok Mi runs into Do Hwi in the hallway and freezes. Do Hwi looks shocked to see Dok Mi walk beside Jin Rok, perhaps assuming they spent the night out together. Dong Hoon has finished changing and comes out and voices the assumption that his hyung was out all night with unit 402, which Jin Rok shakes his head no.
Do Hwi tries to act friendly with Dok Mi and lies that she was here waiting for her. Dok Mi cuts her off and moves to walk past her. Do Hwi whispers how Dok Mi could ignore her when people are watching. Do Hwi repeatedly tries to block her but Dok Mi feints and manages to get into her apartment. Dok Mi reminds Do Hwi that she is doing the very last thing Do Hwi said to her – pretend she doesn't exist.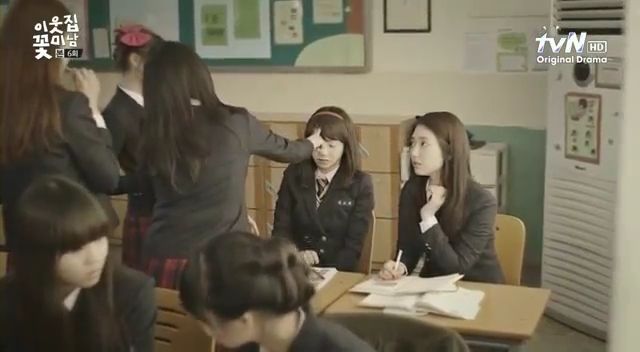 Once inside her apartment, Dok Mi flashes back to high school. Turns out they were good friends but picked on by mean girls in class. One day Do Hwi saw Dok Mi talking with the cute teacher in the office and got jealous of how he encouraged Dok Mi and lent her a book.
After that, Do Hwi aligned herself with the mean girls and completely ostracized Dok Mi. Even worse, the class confronted the teacher, who apparently visited Dok Mi's house before, accusing them of behaving inappropriately. The teacher says nothing untoward happened but chooses to transfer to another school anyways.
Dok Mi is left being bullied constantly by all her classmate for trying to seduce the teacher.
Do Hwi has wormed her way into Jin Rok's apartment again and this time he's not so sure she really is Dok Mi's friend. Do Hwi shows him high school pictures where she and Dok Mi are smiling and happy together as proof of their friendship. Jin Rok is very happy to see pictures of Dok Mi smiling and wonders what happened to take the smile from her?
Enrique is off watching a new 4D movie and having fun. He's excited to work with the creator on making a new game for it. He gets called about the autobiography he's writing about his gaming career and is told that the publisher is sending it to an editor. This gives Enrique an idea knowing that Dok Mi is an proofreader.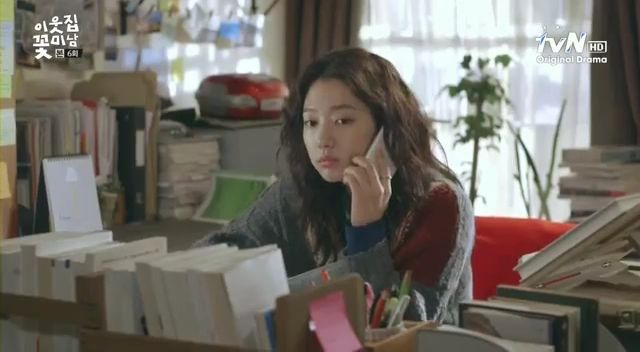 Dok Mi is at home and answers a call from her editor that the agency received a book that needs to be proofread immediately. A copy of the pages will be sent to Dok Mi's apartment right away and she doesn't get a word in edgewise to decline the assignment.
Do Hwi continues to lie through her teeth about Dok Mi, chalking her cold attitude up to being overly sensitive since she came from a divorced family. As to why Dok Mi may be upset at Do Hwi, she claims not to know. Jin Rok wonders how to get Dok Mi to smile again?
Dok Mi opens her door for the book delivery and when the package falls out, she sees a picture of the sand castle Enrique built. She looks through the packet and sees Enrique's picture there.
Enrique may be homeless for the time being but he's full speed ahead on his gaming career. He gives a speech in front of a group of folks explaining about his games and how he developed them. Weaving through this scene is Dok Mi sitting in her room and proofreading Enrique's manuscript. He talks about his life as Dok Mi reads about it and makes edits.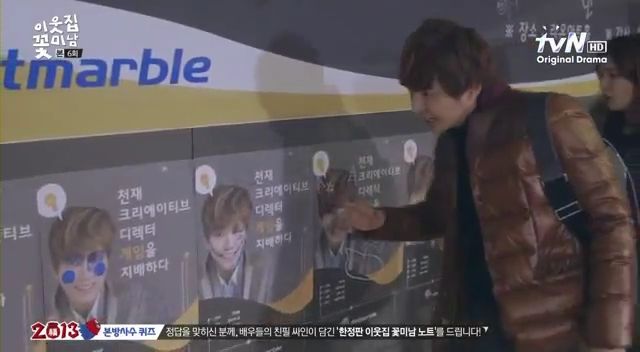 Enrique is told that his posters outside have been vandalized recently which leads him to want to figure out who's been doing it and rather amused he's famous enough to warrant antis. He asks around on a place to stay for the night and is told to check out the usual haunts – a jjimjalbang or a PC bang.
Enrique parks himself at the jjimjalbang and whiles away the time playing his own video games on his phone with little kids. Cut away to Dok Mi playing the same game on her phone as a way to get to know him better to edit his manuscript. I love that we see both Dok Mi and Enrique hard at work, both of them so conscientious about what they do.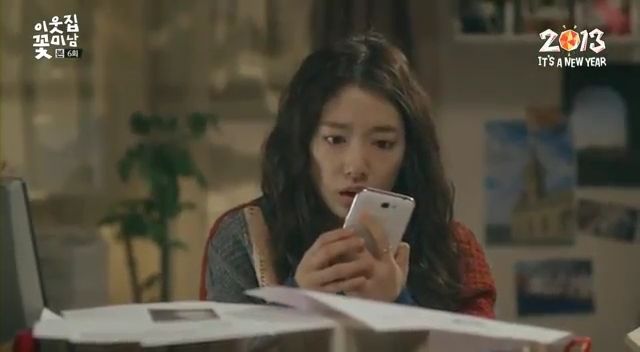 Enrique is sleeping at the jjimjalbang when he gets a text that the first edited portion of his manuscript is ready and will be sent over shortly. He smiles his devilish smile. The next thing we see is Dok Mi getting a call from her editor that the author didn't like her edits and wants to work with her personally to ensure the end product meets his standards. Before Dok Mi can protest or decline the editor ends the call.
Jin Rok read on a note on his computer to the effect that a guy can go crazy with too long of an unrequited love. He calls Dong Hoon to complain and we see Dong Hoon doing his usual thing – picking up drunk girls outside a club.
Dok Mi is nervously anticipating Enrique's arrival and he comes armed with his suitcase and a smile. She finally opens the door and he pretends to be surprised that she's the proofreader. He introduces himself as the author of the manuscript and reminds her that they are on a tight schedule. Dok Mi wonders what exact objections he has with her work and he won't explain other than they need to go through it together.
Dok Mi leaves him standing outside for a minute as she quickly tidies up her apartment. She opens the door and reluctantly allows Enrique in. Which is when Jin Rok happens to head out and he sees Enrique entering Dok Mi's apartment.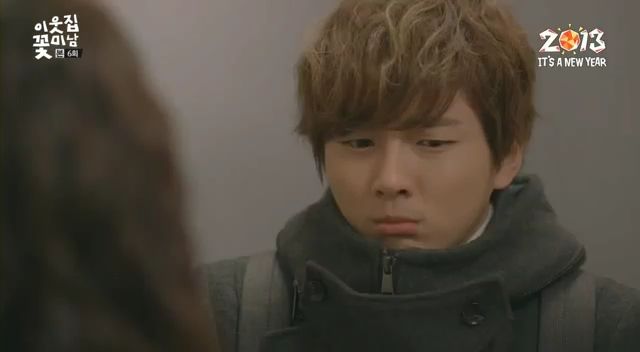 Dok Mi wonders why he has luggage with him and learns that Tae Joon kicked Enrique out and he's been crashing at a jjimjalbang these past few days. Jin Rok tries to eavesdrop but has to leave when his phone rings.
Enrique looks around the apartment and marvels that he's the first person inside much like Neil Armstrong on the moon. He shivers at the cold and she's forced to turn the heat on for him. Enrique takes in all the surroundings and notices that she must love to travel since she has so many pictures of foreign locales taped on her wall.
Dok Mi gets down to business and wants to keep on editing, promising to get done quicker since he is here to answer her questions. Enrique can see that she's done her research on him and asks her questions about himself that she is able to answer. He teases that she probably knows too much about him now. Dok Mi is surly and says she can stop working on this assignment and he pouts that she is so nice to others but so mean to him.
Jin Rok meets with his sleep-deprived editor and wakes her up from her desk nap, leading her to smack him in the face with her glove yelling that she told him not to drop by unannounced. Jin Rok reveals that his story has hit a bump since the closed off girl is opening her life to another guy. The editor is perceptive enough to know Jin Rok is upset not just at the story and tells him to go confess his feelings to the girl now.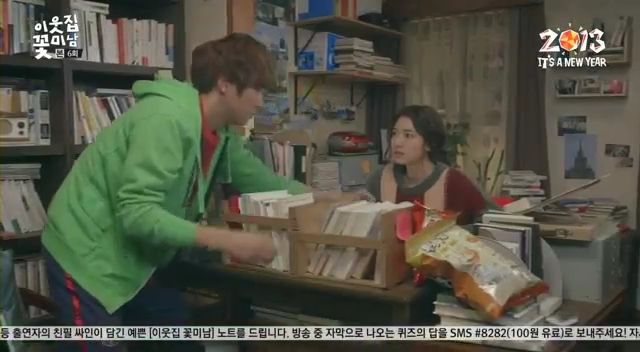 While Dok Mi work, Enrique is bouncing all around her apartment. He watches TV, plays video games, goes to bother her. Finally she has enough and yells at him to sit still! Enrique pouts and sits down on a chair for all of three seconds before he happily asks if she wants to eat his delicious ramyun. Dok Mi glares at him and hands him a new edited manuscript for him to read, warning him not to have any problems with it this time. Enrique dutifully reads it.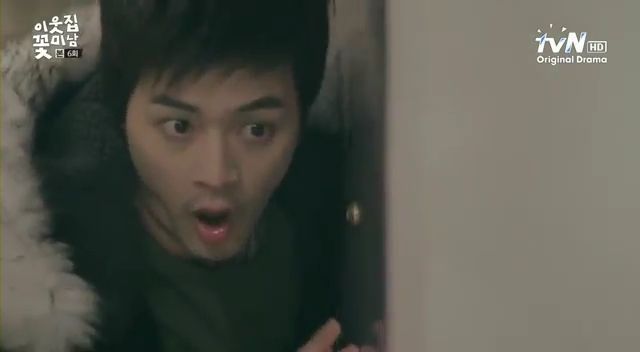 Jin Rok comes back and decides to try and eaves drop outside Dok Mi's door. He hears some yelling inside so he quickly scurries back to his apartment and presses himself against the wall between the two units and tries to listen to what is going on in Dok Mi's apartment.
Hours later Dong Hoon comes home and finds the apartment seemingly empty. A search reveals Jin Rok pressed up against the wall covered with a blanket and totally asleep. Ha. Jin Rok smiles in his sleep as he relives the memory of Dok Mi saying she enjoyed flipped through his post-it manga.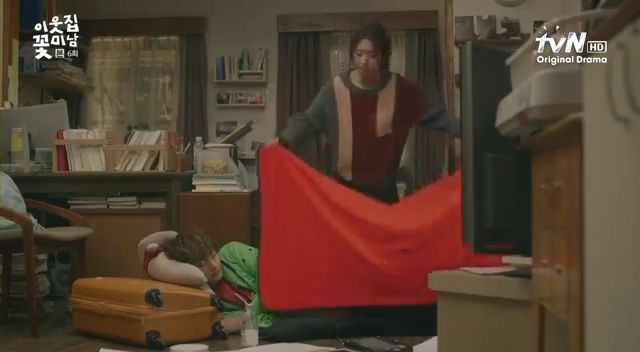 Dok Mi takes a break and stretches herself, getting up and seeing Enrique asleep on the ground. She turns off the TV and covers him with a blanket.
Later Enrique wakes up and sees Dok Mi asleep at her desk and covers her with the same blanket. He notices her binoculars on the ledge and uses it to peer into Tae Joon's apartment. He smiles to see Tae Joon inside and looks down at the sleeping Dok Mi, wondering why he feels this kinship with her despite just meeting her?
He notices a feather on her hair and tries to pluck it off before deciding to blow it off. He leans down and puckers his lips to blow when suddenly Dok Mi wakes up and she sees his puckered lips inches from her face. Dok Mi screams and wakes Jin Rok up next door. Dong Hoon also freaks out and tries to find out what Jin Rok is doing eavesdropping.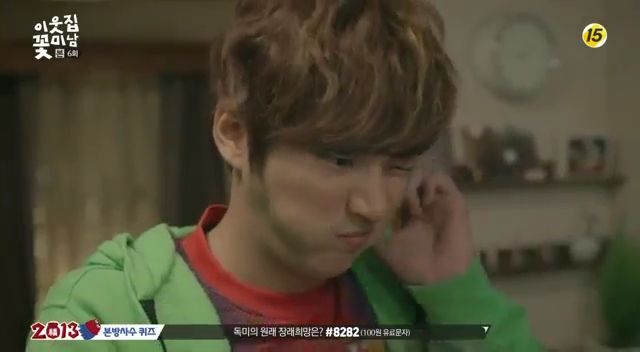 Enrique is back to trying to explain his actions and he frantically shows Dok Mi the lint and explains how he was trying to blow it off her hair without waking her up. Dok Mi moves away from him and Enrique tells her not to think of him as a guy.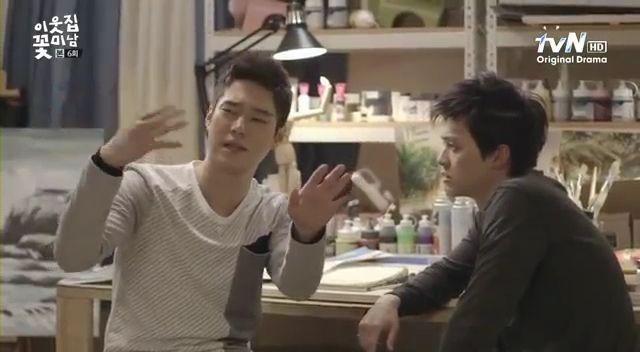 Dong Hoon thinks 402 and Enrique are totally dating since he spent the night in her apartment. While Jin Rok wants to find a way to drag Enrique out, Dong Hoon says its probably too late and poor Jin Rok is crestfallen. Dok Mi grabs food out of the fridge and tells Enrique to feed himself. He wanders around the apartment munching on food and Dok Mi nags him about the mess he's making.
Dong Hoon and Watanabe head to their photo shoot for Do Hwi's online shopping mall. Watanabe is a natural and Dong Hoon sucks and he ends up making these ridiculous Zoolander poses for the camera. Afterwards he claims to be a pro at this modeling stuff. Do Hwi uses the chance to ask Dong Hoon if Jin Rok likes Dok Mi? Dong Hoon turns the question around and asks if she likes Jin Rok? Do Hwi claims it was love at first sight (barf), to which Dong Hoon is miffed Do Hwi likes Jin Rok over him. His suggestion is for Do Hwi to befriend Dok Mi.
The security guard makes an announcement over the loudspeaker that the tenants have successfully won compensation. This makes Jin Rok doubly happy – to get money and this will lure Dok Mi out of her apartment. Dok Mi calls the guard and declines her portion since she never participated in the protests. The guard tells her that someone is coming to deliver a package to her right now, which confuses Dok Mi since she didn't order anything.
Her doorbell rings and Dok Mi cracks it open to reveal Do Hwi standing there with boxes. Do Hwi sticks her foot in the door and asks Dok Mi to let her in and talk. Dok Mi goes into the hallway and pushes Do Hwi out. Do Hwi acts aggrieved at what Dok Mi is doing – ignoring her calls and texts and being mean to her when she has come all the way to see here.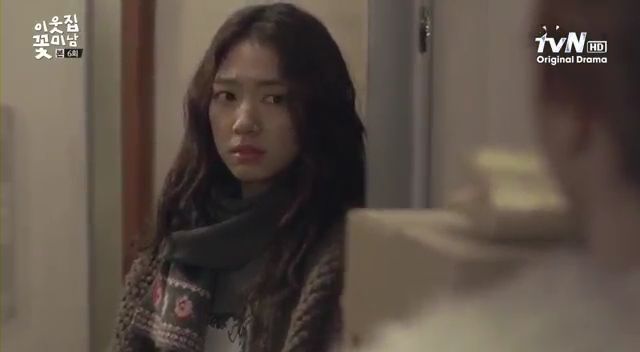 Dok Mi coldly points out that Do Hwi is still the same and asks what those boxes are for? Do Hwi turns it around and loudly asks if Dok Mi is only interested in the stuff she brought over. She says the boxes contain clothes she brought as presents for her friend. Dok Mi tells Do Hwi in no uncertain terms that she doesn't want it and take it back.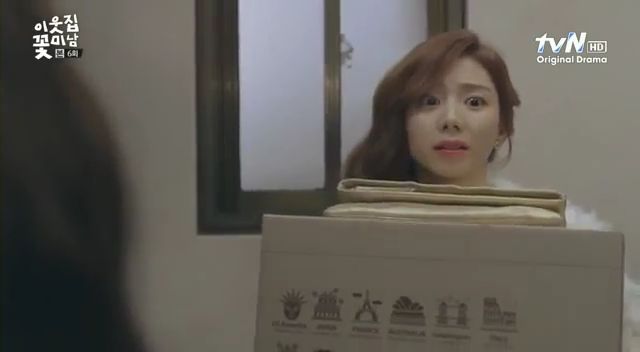 Enrique listens in the apartment and considers opening the door but stops himself from butting in. He wonders why Dok Mi has these problems? Dok Mi asks why Do Hwi is here looking for her and Do Hwi claims she missed Dok Mi and to let bygones be bygones.
Jin Rok and Dong Hoon walk out of their apartment and immediately Do Hwi fakes the tears and claims all she wants to do is see Dok Mi again and get along. Enrique finally comes out, and Jin Rok takes note of that, and offers to leave the apartment so Dok Mi and Do Hwi can talk. Do Hwi stares at this cute guy coming out of Dok Mi's apartment.
Dok Mi tells Enrique not to leave. Dong Hoon butts in and wonders why Dok Mi is so mean that she's letting her friend cry in the hallway. Dok Mi says there is nothing for them to talk about. Dong Hoon chides Dok Mi for being a bad friend. Jin Rok puts a stop to it and tells Dong Hoon to zip it.
Do Hwi can sense her woe-is-me act is not working so changes tactics and says this was all her fault for dropping by unannounced. She compliments Dok Mi and Enrique on being so cute together and Enrique quickly tries to clarify the misunderstanding. Do Hwi tries to hand the boxes to Dok Mi and says she will leave. She reveals her office is nearby and they can see each other anytime in the future. Dok Mi stands there not moving.
When Dong Hoon points out Enrique living with Dok Mi, Enrique quickly explains that they are merely working on a project together for a brief period. He takes the boxes from Do Hwi on behalf of Dok Mi which is when Jin Rok speaks up and tells Enrique there must be a reason Dok Mi refuses to accept the boxes.
Enrique is clueless and says it's a present from a friend so Dok Mi should at least open it. He doesn't want Dok Mi to just hide from social contact. Jin Rok steps forward and sternly tells Enrique that they need to talk. The two men look at each other while Dok Mi raises her head.
Thoughts of Mine:
I can't believe the drama so deftly maneuvered Dok Mi and Enrique into cohabiting (innocently and reluctantly, of course) so soon. For a girl who sequesters herself in her apartment, letting a guy in is taking such a giant step forward in terms of social interaction. I don't feel like Enrique is pushy at all, at least not in an annoying or inconsiderate way. He thinks up great reasons to engage Dok Mi, and even brings in their respective jobs into the mix. Through her work she is getting to know him better and it gives him positive reasons to interject himself into her world. I don't even feel like Dok Mi is annoyed with him or what he's doing – she just seems so baffled by his bouncy energy and refusal to adhere to social boundaries, yet every time she is around him she sort of takes charge in the end and renders him like a little boy pouting for her approval. The dynamic shifts between then constantly which makes their every interaction so amusing and unpredictable. Just like he notices her loneliness, she also notices things about him and is filing that away in her own mind.
I wish the drama didn't have to have a villain like Do Hwi, and instead could have shown us through flashback that Dok Mi was bullied in the past. I feel like her reinsertion in this present part of this story feels forced – she clearly knows Jin Rok's real identity and is after him for who he was in the past, and accidentally ran into Dok Mi in the process. She's seriously vile to me, not just for the bullying in the past, but for the bullying now in trying to insert herself back into Dok Mi's life so that she can get close to Jin Rok. I have this urge to bitch slap her every time she shows up onscreen and with her penchant for fur coats, to tar and feather her as well. I pray to god her character doesn't get redeemed and most definitely cannot end up with Jin Rok. I'm so content sitting in Dok Mi's apartment with her and Enrique as they awkwardly and cutely acclimate to the presence of each other. Jin Rok's crush on Dok Mi is totally sweet and I can also see that he understands her. But in my heart of hearts, I'm so far down the rabbit hole of Enrique's perfect complementary energy to Dok Mi's reticence that I am conserving all my squees for the moment when the OTP start falling for each other for real.
Click here to watch Flower Boy Next Door