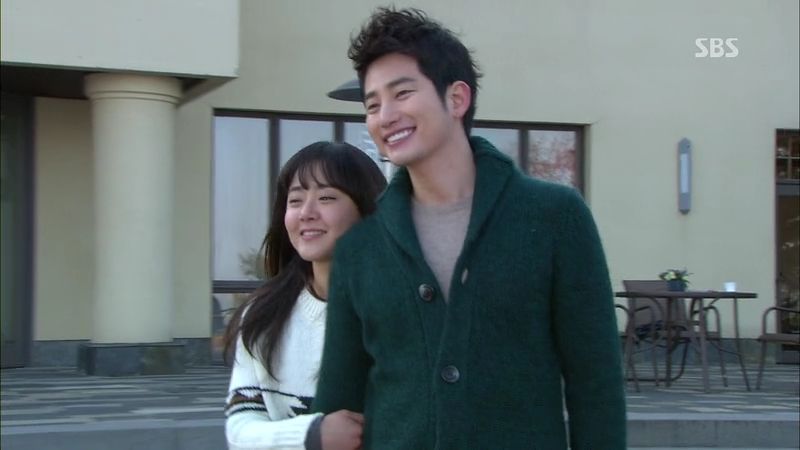 Most weekend dramas are of the longish variety so when I first heard Cheongdamdong Alice would be the typical weekday drama length of 16-episodes, I worried there wasn't enough time for the entire story to be told properly. Turns out I was right but for the wrong reasons, there was enough time, the writers just wasted most of it on pointless conflicts and redundant discussions. Over and over this drama went like a hamster running a wheel when it could have been a rabbit bolting for the finish line. It wrapped up today with all the hallmarks of K-drama flourishes – most everything is brushed aside while the groundwork is finally laid for the OTP to head towards their happy ending. It was tedious watching this episode pile on the Alice in Wonderland references and allusions, complete with Seung Jo's dream state and everyone talking about Alice in Wonderland's ending. As the drama wound down, I was really watching only for Yoon Joo, a character I disliked at first sight played by an actress I haven't loved in a drama in years. Tommy also captured my interest in the last few episodes, and watching these two interesting characters get wasted highlighted the fundamental flaw of this drama.
There is so much that is interesting and can be discussed and explored by the characters and their inherent situations, but the drama didn't do anything with them leaving the viewer feeling unsatisfied at the end. But if all that narrative potential was sacrificed for the OTP, did they at least get an happy ending? My personal feeling is that I frankly stopped caring about them episodes ago. Of course I still want them to get their happy ending, but seeing it wasn't going to miraculously wash away my misgivings or make it all better like sticking a bandaid on a boo boo. I felt like poor Moon Geun Young and Park Shi Hoo was required to keep acting out the same scenes and conflicts repeatedly and its by the grace of their ability they could sell it by the very end. This drama buttressed two years, with the first half airing in 2012 while the second half aired in 2013. It similarly felt bipolar watching it, as if the creative and interesting writer who wrote the first half was kidnapped as a replacement snuck in for the second half. CA – you coulda woulda shoulda been so much better, and I maybe oughtta stick firmly to my rule not to recap weekend dramas rather than getting lured in with honeyed hopes.
Episode 16 recap: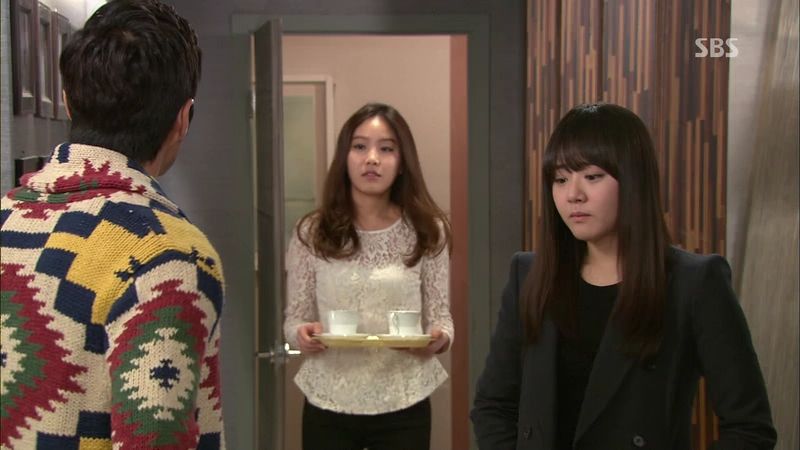 Se Kyung tells Tommy that she can see the ending now, and the ending of Alice in Wonderland is that Alice wakes up from the dream. Tommy asks his assistant who is bringing the coffee if she knows how Alice in Wonderland really ended but she doesn't either.
Yoon Joo tells Seung Jo its obvious who bought the painting – his father Cha Il Nam. She would suspect that if she was Seung Jo since he's the son of a rich man. Seung Jo points out his dad made him sign away his inheritance but then remembers Se Kyung's earlier talk about how she has no good luck so she can't even believe in hope. Yoon Joo says she could be wrong, but then again, she doesn't have the luxury of believing such good things can happen to her. If it was her, the first reaction would be fear over why this is happening.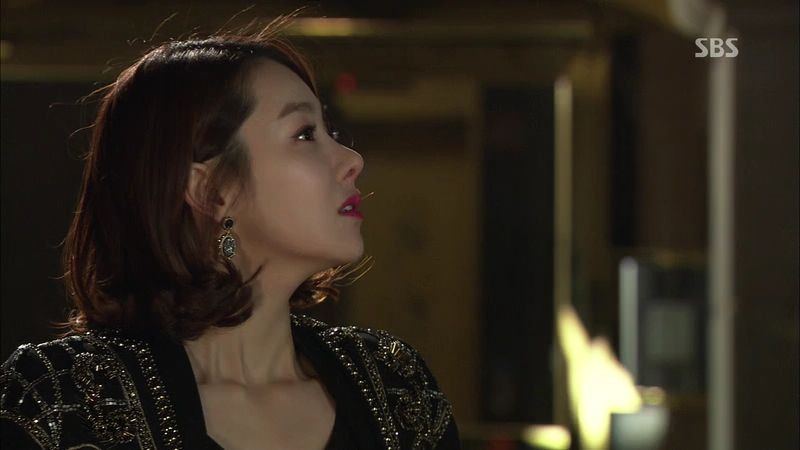 Yoon Joo leaves, without asking Seung Jo for help, and looks up around the rich homes in that area.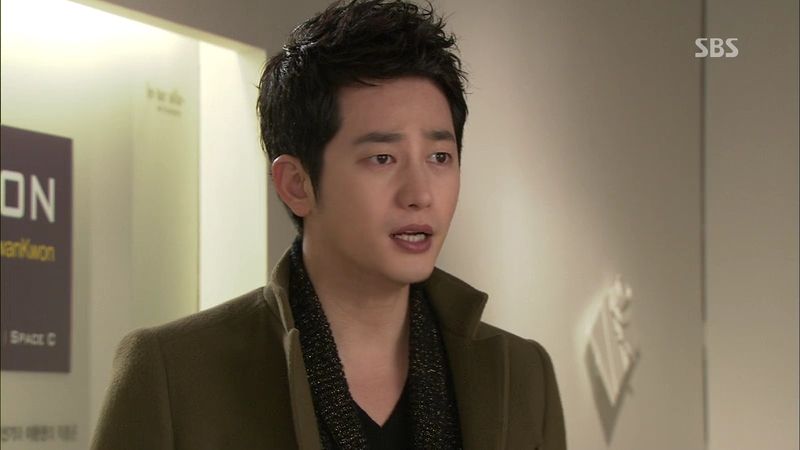 Seung Jo sits there thinking back to his interactions with his dad. He thinks he proved to his dad he could succeed on his own, his dad asked back whether his revenge was successful then? Seung Jo heads out to the art gallery for confirmation. Seung Jo finds out at the gallery that his painting was sold a few days ago, back to the same person who donated it, who turns out to be the father of the painter.
Seung Jo goes to his dad's office and pokes around since his dad just left, finally locating the painting there. He remembers back to Yoon Joo pointing out his dad wouldn't let him suffer just like that, and Se Kyung saying that Seung Jo got a lucky break.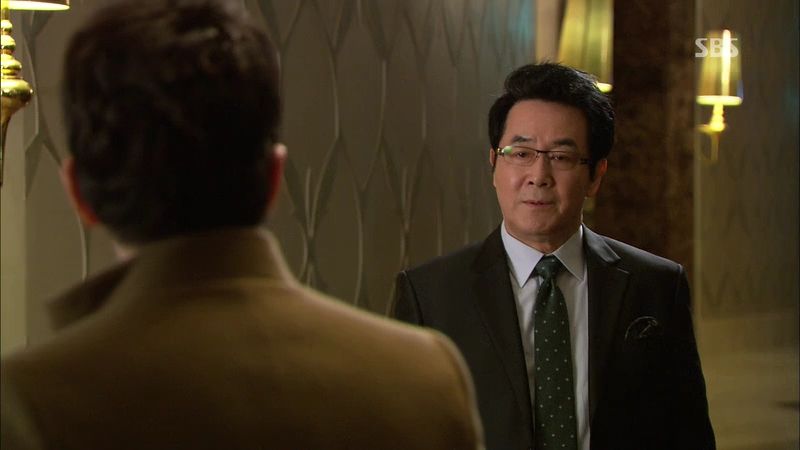 Seung Jo's dad arrives and Seung Jo confirms his dad bought his painting a few days ago, and was also the same person who bought it a few years ago in Paris.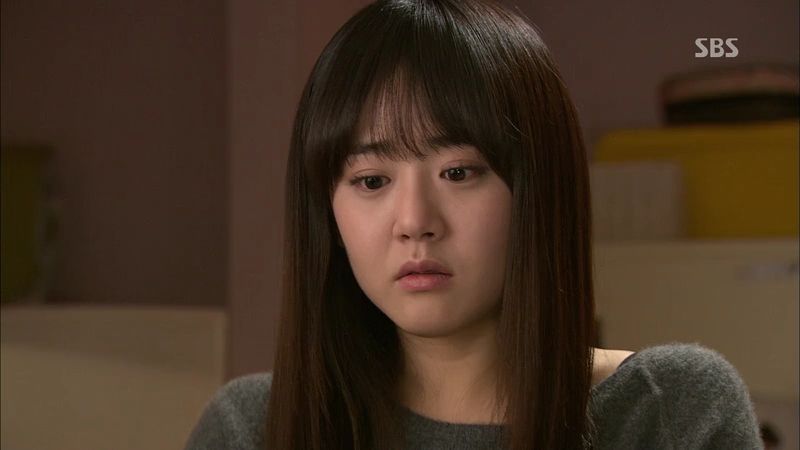 Se Kyung is at home cleaning out her work box and thinks back to Seung Jo asking whether she ought to be forgiven simply because her poverty drove her to take such means.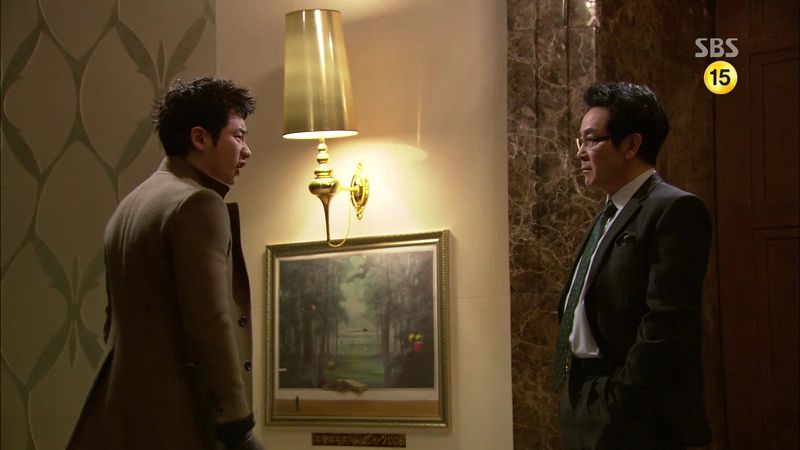 Seung Jo asks why his dad did it and dad points out Seung Jo wouldn't have accepted money from him. This rocks Seung Jo's world and he's furious because he believed he succeed on his own. Dad says Seung Jo did succeed on his own merits, and just because he came from a wealthy family that could use money to help him doesn't negate his own hard work. He finally sees Seung Jo not as his successor but as his son who also loves art and is capable, this is what Se Kyung said to him. Dad says he couldn't watch Seung Jo live as a beggar which is why he bought the painting, that is all. There was no ulterior motive. Seung Jo staggers off.
Se Kyung sits in her room looking at the various rabbit sketches she drew before making the stuffed animals. Yoon Joo is in her car being driven somewhere and she texts Se Kyung asking what would have happened if they didn't run into each other recently? Se Kyung would have lived her life the same way, but Yoon Joo thinks this ending for her would have happened no matter what. She started off angry at the world like Se Kyung, but somewhere along the way she became someone who lived in fear and anxiety. She's ready to leave Cheongdamdong and start over.
Yoon Joo goes to Min Hyuk's office and presents HIM with the divorce. She might be worth a lot to him if she can make the business deal happen, but he's not worth the same to her anymore. She no longer wants to be the wife of GN Fashion. Booyah!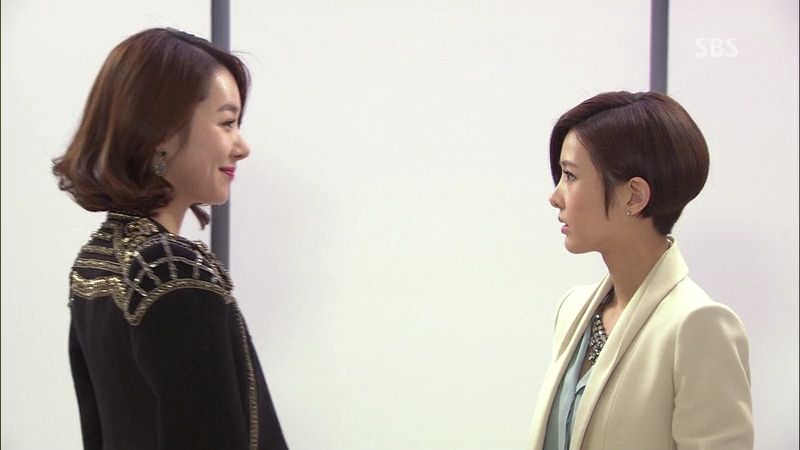 Yoon Joo walks out and says goodbye to the assistant warmly. When she walks to the elevator, In Hwa is there to smirk some more. In Hwa brings up Seung Jo helping Yoon Joo, but Yoon Joo derides this life that is motivated by business deals. Yoon Joo asks if its chafes In Hwa to know Yoon Joo holds the change of a huge business deal in her hands? In Hwa admits it does. Yoon Joo wipes her smirk off by telling her that she just divorced Min Hyuk so In Hwa should go in and comfort her brother. Hahaha, this would be more satisfying if In Hwa and Min Hyuk had even a shred of decency.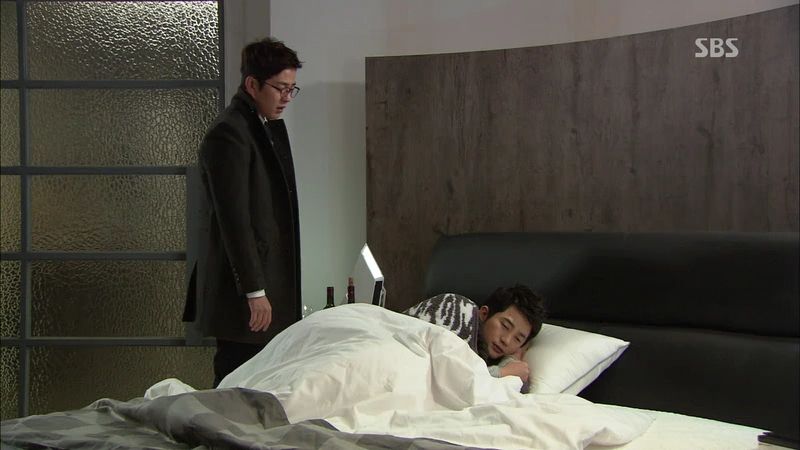 Dong Wook goes to Seung Jo's place and finds him sleeping and refusing to get up. He calls Seung Jo's dad and promises to take care of him. Seung Jo's dad calls Se Kyung for help and she heads over.
Seung Jo dreams about his mom leaving him when he was a kid, and she promised that she wouldn't forget him.
He wakes up when Se Kyung arrives, though he bitterly asks if she's here to rub it in for being right, or because others are again worried he's going to die? Se Kyung backhugs him and says she's here because she misses him. Forget all the issues – who bought the painting, Secretary Kim, President of Artemis – she misses him so much she feels like she can't live.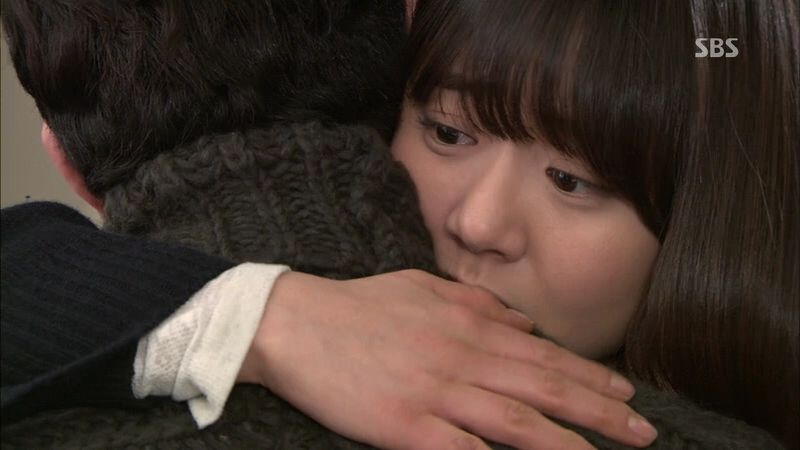 If this isn't love then she doesn't know what is. She loves him. Seung Jo turns around and hugs Se Kyung back as they both cry.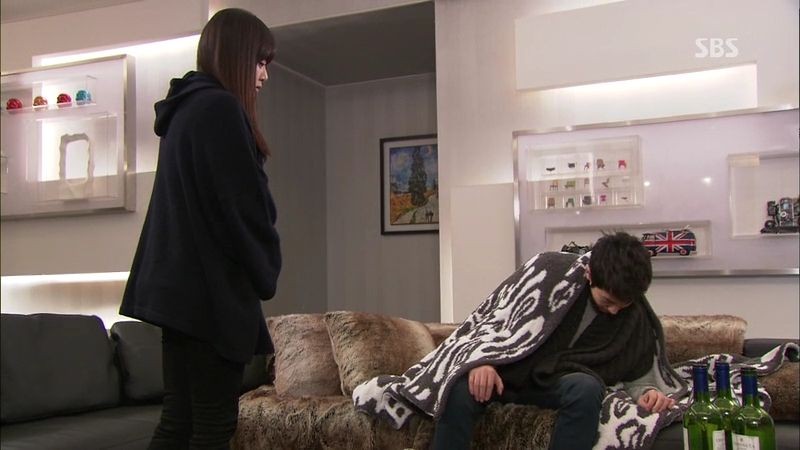 This turns out to be Seung Jo's dream (or is it?) and he wakes up on the sofa. He calls out for Se Kyung and it turns out she is here and she walks in. He asks what she is doing here and Se Kyung says she is here to say goodbye properly. There is no way for her to prove her love, so she wants to him to see all of her and he can decide. Seung Jo points out that she lied to him and wanted him for his money, chances are he can't accept her like that. She is fine with it and then he asks her to prove her love by earning the same amount of money he has and that will show him she doesn't want him for his money. LOL, Seung Jo, you are seriously a kid.
Se Kyung says that is tantamount to them breaking up now because it can't ever happen. She wishes him well and to live a good life before leaving. Seung Jo sits in his living room processing everything.
Se Kyung goes shopping for a presentable outfit and then meets up with Ah Jung, who still hopes there could be a happy ending. Se Kyung says she couldn't have pretended to be a Candy forever, and really loving someone is loving everything about them. Ah Jung then drops the news that she's dating Secretary Moon and Se Kyung wishes her friend happiness.
Seung Jo goes back to work and takes a business meeting with his dad about the outlet deal. Seung Jo's dad wonders how his son can refuse to see him privately but be fine meeting for business, though he is pleased to see Seung Jo not wallowing in misery anymore. He heard Seung Jo was eating and sleeping well and he's relieved. Seung Jo heads to another meeting.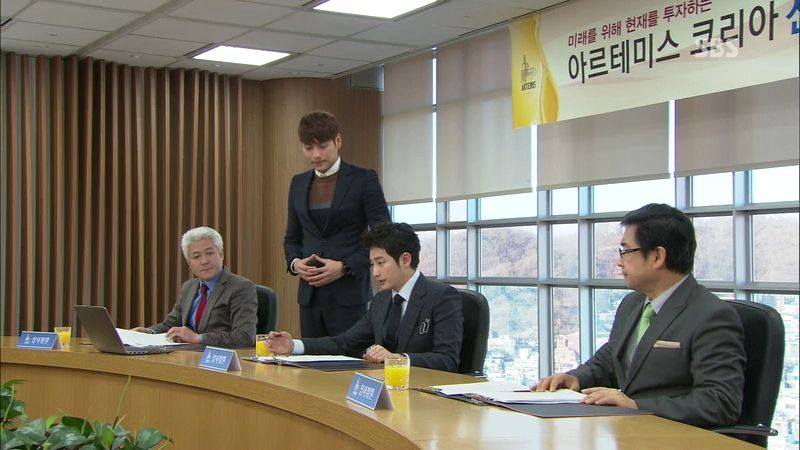 Se Kyung is dressed smartly and headed to an interview. Seung Jo sits in an interview room and looks at a resume with a girl named Se Kyung. Turns out Se Kyung's interviewing with another design house while Seung Jo is interviewing a Shin Se Kyung.
In Seung Jo's interview, he finds out this girl had to take time off school to work jobs and pay the rest of her tuition. When he asks why she's wearing such an expensive outfit, she explains its necessary when interviewing to look the part, which makes Seung Jo flashback to one of his earliest conversations with Se Kyung. He wonders how he would have rated Se Kyung if she interviewed with him in the past?
In Se Kyung's interview, she admits to leaving GN Fashion and not studying abroad, but shows them the design portfolio she did as the personal stylist for the President of Artemis. The interviewers recognize her now as the fiancee of Jean Thierry Cha. They all erase the original low scores they gave her and bump it up. Se Kyung knows that and admits that even after breaking up with Seung Jo, she's still using him in a way to succeed.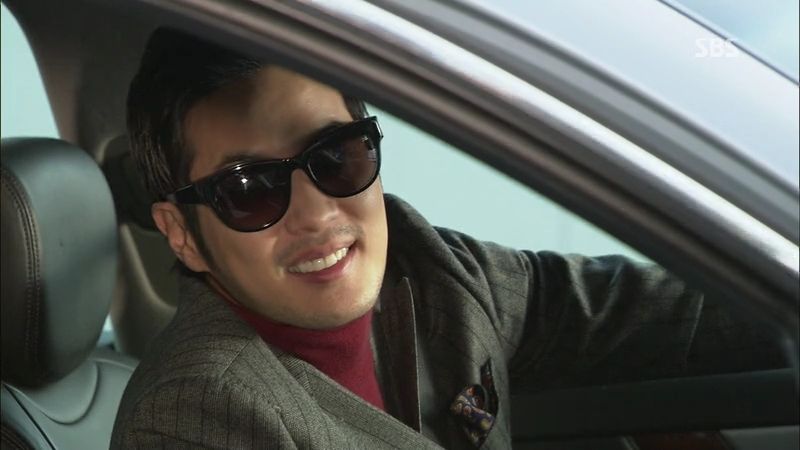 After Se Kyung leaves the interview, she runs into Tommy. The guy has been busy dealing with his work woes hence hard to reach, but he's here to show Se Kyung the book he tracked down with the original ending to Alice in Wonderland.
In that ending, Alice was woken up by her older sister. After Alice told her story to her older sister, she realized that if dreamt again she can keep half her eyes open and straddle both reality and wonderland. Se Kyung thinks the older sister is quite wise indeed.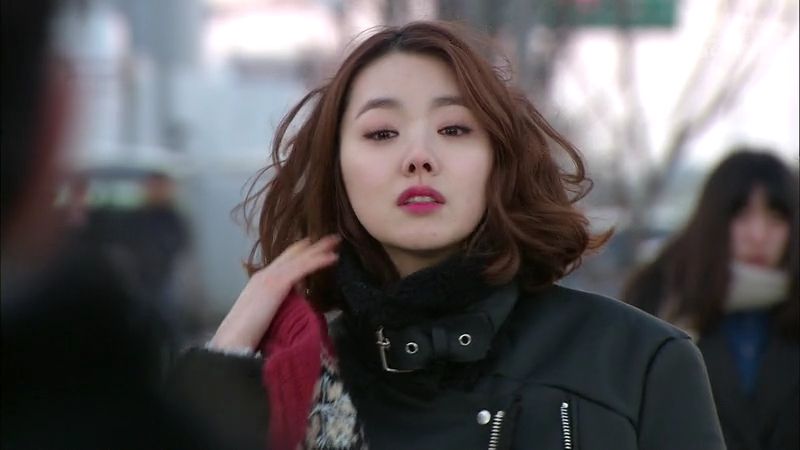 Seung Jo is driving through Seoul when he sees Yoon Joo and pulls over. They greet each other warmly.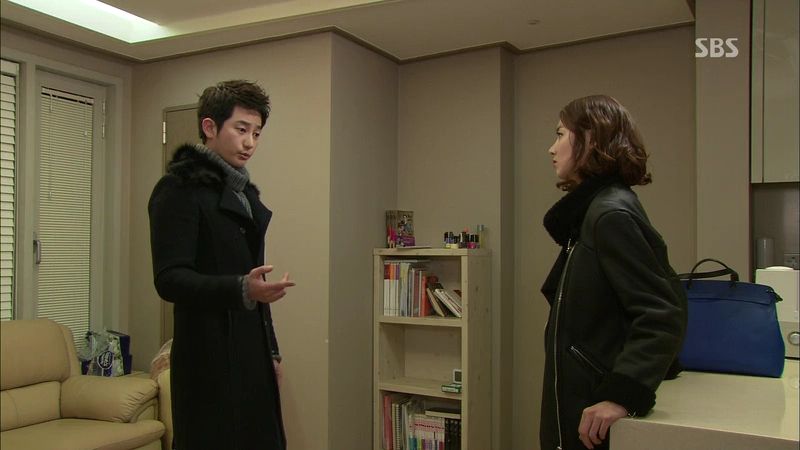 She catches him up on her divorce and moving to a small place. He brings up her mentioning a chance to save her marriage but Yoon Joo brushes that aside. Yoon Joo asks if he's broken up with Se Kyung and Seung Jo says she left because she couldn't prove her love. Yoon Joo says Seung Jo must have asked her since he doesn't trust people.
Seung Jo says no, he lives in reality now. He knows his dad bought his painting, he knows that Se Kyung liked him and liked his money both. So what is there to prove? Yoon Joo scoffs at that, pointing out that no matter what Se Kyung said to try and prove her love, deep down Seung Jo would still be suspicious. Yoon Joo says the Se Kyung she knows never runs away, so Seung Jo must have pushed her away.
Seung Jo brings up the dream and then realizes it wasn't a dream. Se Kyung cries that she did like Secretary Kim first, then when she found out he was President of Artemis she liked him more and felt very lucky and happy. That is all. She does feel guilty, but it doesn't negate her love. She hands him her yellow pad with her list and tells him to read her real thoughts. He did push Se Kyung away by telling her to prove her love and by saying that he couldn't read her yellow notebook which contained her real thoughts.
Seung Jo runs to Se Kyung's place but she's not there. He goes into her room and finds the yellow notebook with her list. After reading it, he stands on the roof thinking for some time before taking off running.
Se Kyung has been hired as the new full time designer a the company she interview for. She knows she used her connection with Seung Jo to her advantage. She's still angry at this unfair world but now she won't show it anymore by lashing out. She'll continue her hardworking Candy existence again. For years she lived in a Candy dream with In Chan. And when that ended she lived in another dream with Seung Jo. But now that dream has ended and she's finally woken up.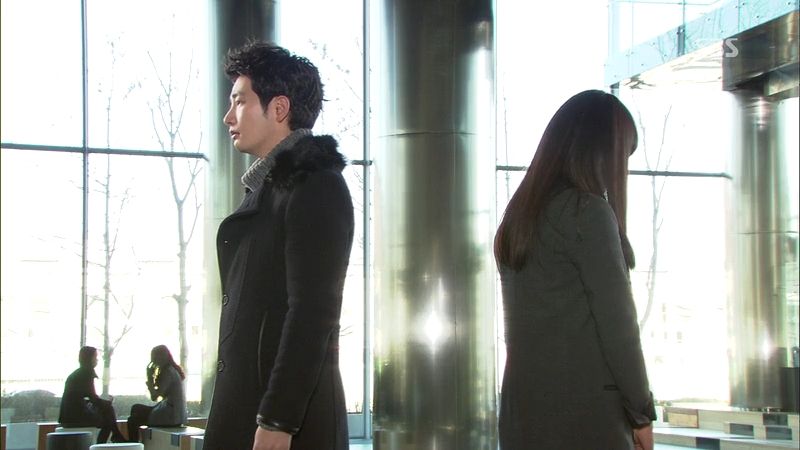 Seung Jo runs into the lobby of the building and Se Kyung wonders if she's dreaming again. Seung Jo acts like he's here for work and walks past her before turning around and asking if she's not going to grab onto him. Didn't she say she would hold onto to him and never let go? Didn't she say she would never run away? Se Kyung says she never ran away but she doesn't have time to play games with Seung Jo since she's new on the job here.
Just like Se Kyung can't differentiate between loving Seung Jo and using him, he can no longer differentiate between the real Se Kyung and Candy Se Kyung. But that doesn't matter anymore, because he likes the her that is standing right here in front of him.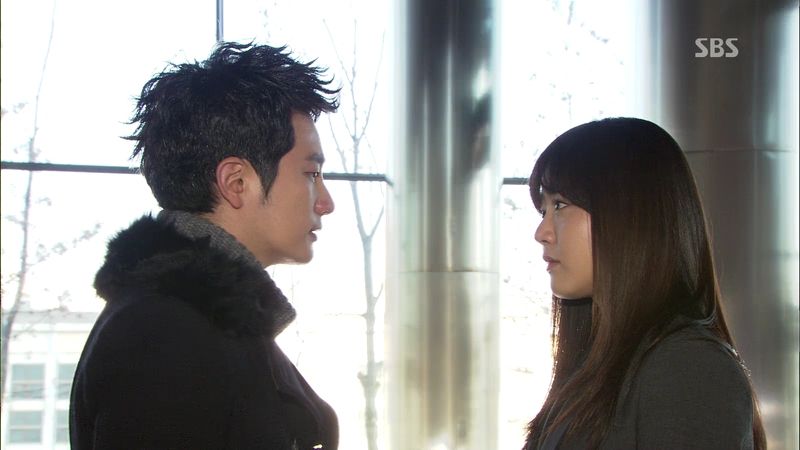 Seung Jo pulls Se Kyung in for a hug. Se Kyung asks if he trust her and he vows to try. She wonders if she doesn't need to act anymore in front of him. They both know they don't full understand each other, but they want to try. Se Kyung brings up the millions he asked her to earn as proof and Seung Jo smiles and says he will help her earn it.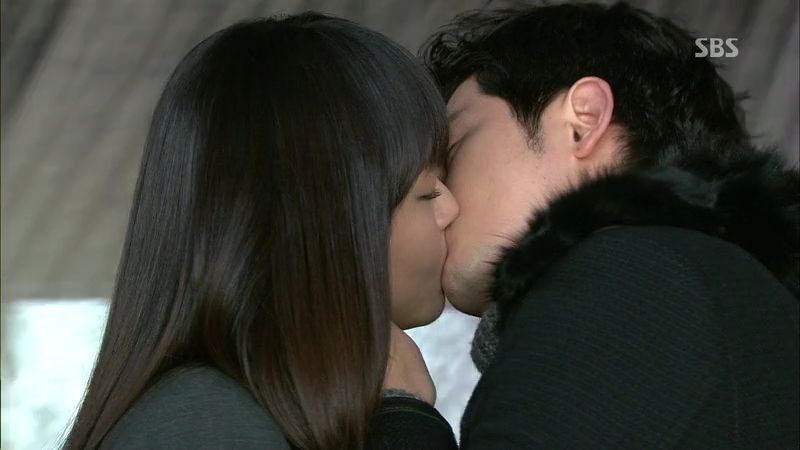 Se Kyung laughs and asks if he's proposing to her now. Seung Jo finally gets to use the quote he had prepared in episode 3 when he was showering his largesse on her and In Chan – he needs Se Kyung because he loves her, he loves Se Kyung because he needs her. It's impossible to differentiate the two anymore. They kiss and the camera swirls around them.
Tommy is getting out of his car when he runs into Yoon Joo carrying bags of stuff. They smile at each other and stop to catch up. Hhhmm, can these two get together? They are interesting people with depth and experience and have thoughtful discussions and enjoy each other's company.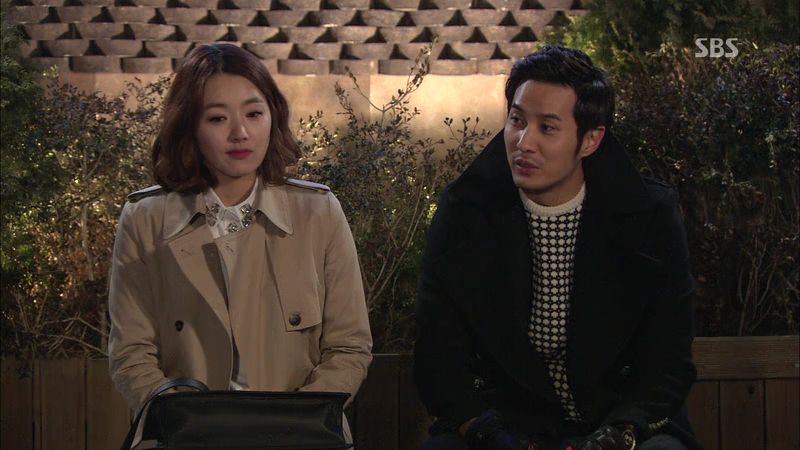 He asks why Yoon Joo didn't take the chance Min Hyuk offered and she admitted that she was angry at them so making them lose the big deal was her way of getting back at them. She now knows how angry Se Kyung felt at the world. Tommy asks if she regrets it and Yoon Joo laughs and says of course she does! But Tommy points out that she looks pretty at ease right now. Both of them lament how things are not going well – Tommy's lost some income now that he's not matchmaking while Yoon Joo's business isn't exactly taking off.
They discuss Se Kyung and how she's used her own way and gotten back together with Seung Jo. They are dating, but who knows what the future with bring. Neither Tommy nor Yoon Joo are the maudlin types who believe in happy endings, though Yoon Joo is happy that Se Kyung did well. Before she leaves with her brother, she hands Tommy her card and teases that he should keep her in mind if he needs to matchmake.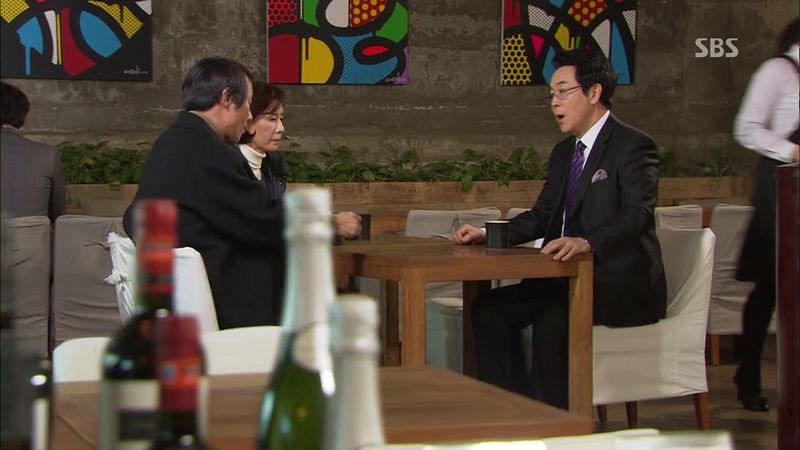 Seung Jo's dad is meeting with Se Kyung's parents and turns out the couple has gotten married in the end and now Seung Jo's dad wants her parents to move into a house nearby to bakery store #5 and to run the store. Se Kyung's and refuses because he doesn't want to be seen as selling his daughter to a rich family and mooching off her. Seung Jo's dad wants Se Kyung's mom to step in and help convince her husband, since it would look bad to the reporters that they still live in the same small home. Se Kyung's mom says its all up to her husband and refuses to get involved. Seung Jo's dad throws in the towel and says Se Kyung's dad is as stubborn as she is.
Seung Jo and Se Kyung hang out in the backyard of their mansion. Seung Jo picks Se Kyung up and carries her off. Se Kyung narrates about how the real ending of Alice in Wonderland is Alice's older sister half-asleep and half-awake, dreaming of wonderland but still in reality. Similarly if we half close our eyes, we can imagine ourselves in Wonderland even if we can still see reality.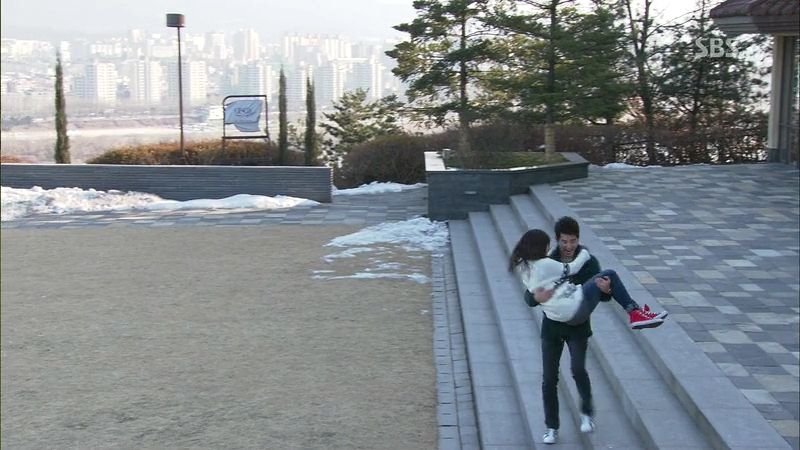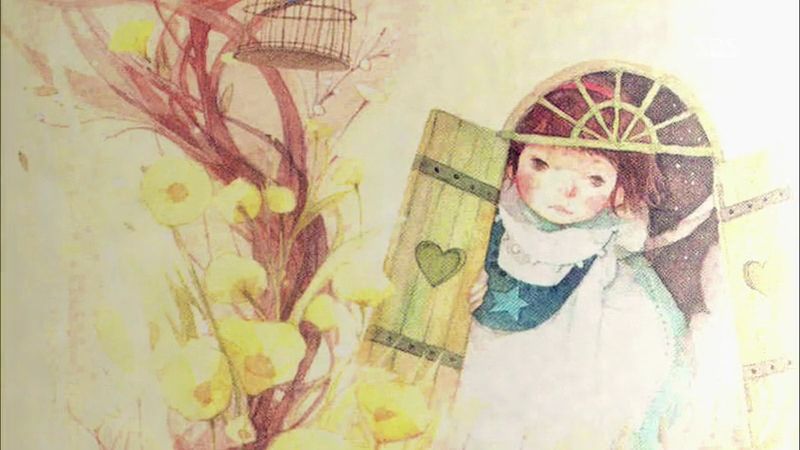 Thoughts of Mine:
Happy endings are not all the same. The satisfaction comes from the journey, and here I felt like everything was half-assed. The writers couldn't figure out whether they were telling a story rooted in reality, or a parable of a fairy tale but set in modern Seoul. The characters were written to dance like puppets on a marionette, without any consistency of thought process or character flow. They weren't complex and written well because they were written to do whatever the writer needed to keep the story moving in a certain direction. Business-minded In Hwa suddenly turned into a wronged woman sneaking around to steal a video and undermining her family's future to win over two no-nothing women? Please don't insult my intelligence. Tommy suddenly going from street-smart experienced bootlicker to warm daddy long legs #2 for Se Kyung. C'mon! I really dislike it when the writer manipulates the characters to serve a purpose, rather than let their actions flow from the personality traits originally written for them. That is why so many K-dramas feel so disjointed these days. Initially the drama posited so many interesting characters, which is why it feels so disappointing to see nothing meaningful came from them. As much as I enjoy the many shades of Yoon Joo, and it was awesome to see her hand Min Hyuk his own petard, I'm not certain it was in her nature to let it all go in the end especially because she knew how horrible the rich are and what she was getting into from the very beginning.
I'm happy Se Kyung and Seung Jo are together, though really its not a relationship I feel has any merit as a well-written one or even one that reflects a semblance of reality. Seung Jo is one of the worst male leads I've come across in ages. Yes, he is a good person inside, and smart and hard working, but that's about it. He is SO DAMN INSECURE. I can imagine being married to him being a lifetime of making sure he feels loved and appreciated and cared for. He's the kind of guy who texts and worries when you don't return his text right away. Good lord is that exhausting. I don't feel bad for Se Kyung because she chose him, but if I were here, I would have taken a good hard look at Tommy. I don't know if the ending was half real, half wonderland, what with all the talk about Alice in Wonderland and eyes half open and half closed, because frankly this drama lost me on trying to discern a deeper message and I was just watching the ending for closure. Cute doctor Dong Wook was just a cipher and plot device to be Seung Jo's BFF, Se Kyung's family flitted in when required, Yoon Joo's brother made obligatory appearances every few episodes, and the Shin family served as the requisite evil villains of this tale. In the end, Se Kyung and Seung Jo decided to give their love a chance and all the obstacles between them fell away easily because it really never was such a big deal to begin with. Now I can put this one to rest as a romantic fantasy that tried so hard to be romantic and thoughtful but ended up being rather shallow and pointless