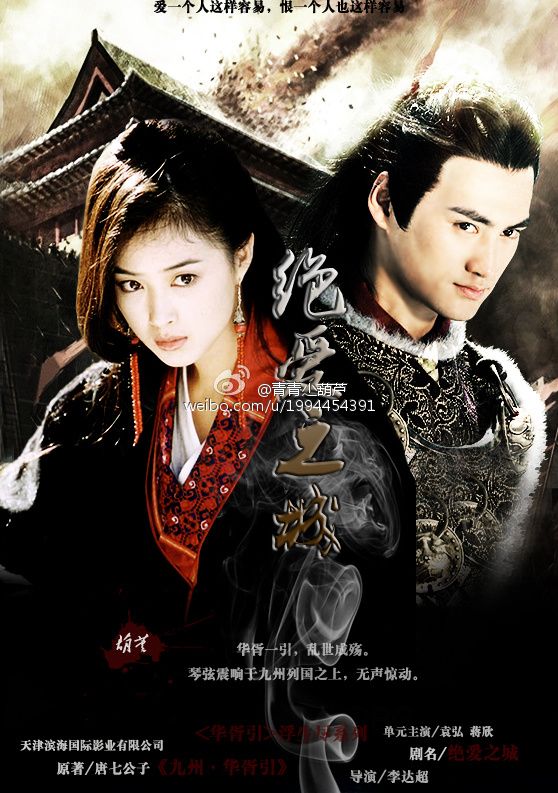 The casting has been completed for The City of Devastating Love, the drama adaptation of Tang Qi Gong Zi's period fantasy romance novel Hua Xu Yin (The Lure of the Hua Xu Tune), and I'll use this as another reminder not to believe in early reports. Initially the word was Kevin Cheng, Jiang Xin, and Yuan Hong were the three leads and I was immensely pleased with that. But the final casting is all been jumbled up and I don't even know where to begin. I've been preparing my write up on the novel, which I loved to pieces, but I'm going to have to discuss the drama and its casting first. I've read the leaked 30-episode synopsis for the drama and can confirm that its very VERY different than the novel. Set up, ages, relationships, so much has been changed it really should be called "loosely based on" or "inspired by" rather than an adaptation. And since the drama title is different than the novel, I think the producers knew what they were doing from the get go. The novel is lovely, so light and humorous, yet filled with epic romance galore. The drama as based on the synopsis actually is very compelling as well and could stand on its own. Hua Xu Yin is a novel where the main OTP of Mu Yen and Jun Fu traverse through the epic love stories of 4 other couples, and within those stories their love will develop into its own epic arc. The other four couples are Song Ning/Shen An, Rong Yuan/Ying Ge, Gongyi Fei/Qing Jiu Jiu, and finally Mu Yen's parents Su Heng/ Murong An. The final casting indeed has Kevin playing male lead Mu Yen (Su Yu), but Jiang Xin and Yuan Hong are not playing who I thought they would be. They are playing Song Ning and Shen An! No, I am not kidding! OMFG whut is this?!? Playing the female lead Ye Zhen/Jun Fu is C-actress Lin Yuan, while Jun Wei is Luo Jin. Rounding out the main cast is Cui Po as Liu Qi Qi, Bao Jian Feng as Rong Heng, and Guo Zhen Ni (who acted with Yuan Hong in Bu Bu Jing Xin playing Lu Wu) as Ying Ge/13th Moon. My mind is spinning about this casting, I need to vent a little below. If you've read the novel, what do you think about this entire cast?
So Kevin Cheng is indeed playing male lead the Crown Prince of the Kingdom of Zhen Mu Yen/Su Yu, and joining him as the leads are Lin Yuan as Ye Zhen/Ah Fu, the Princess of the Kingdom of Wei, and Luo Jin as Jun Wei, Ye Zhen's childhood best friend. The drama version of the love triangle between these three is very different than the novel. In fact, young Ye Zhen's hilarious and tender first encounter with Mu Yen in the cave is completely gone and they first meet as adults. Similary Ye Zhen doesn't grow up with Jun Wei (and my beloved Xiao Huang – the yellow tiger – is gone!) but they do have a childhood experience together. Jun Wei's character background has also totally been changed but revealing it would be a total spoiler. In the novel there isn't a real love triangle but the drama will have a very tough choice for Ye Zhen to choose. I would say this OT3 leaves me mostly unmoved and unimpressed. Kevin can pull off the drama version of Mu Yen (he's totally wrong for the novel version), but the other two are unknowns for me. This will need some crazy chemistry to sell the love triangle. Or else Yuan Hong and Jiang Xin will steal the show in the section of the drama where their story is told.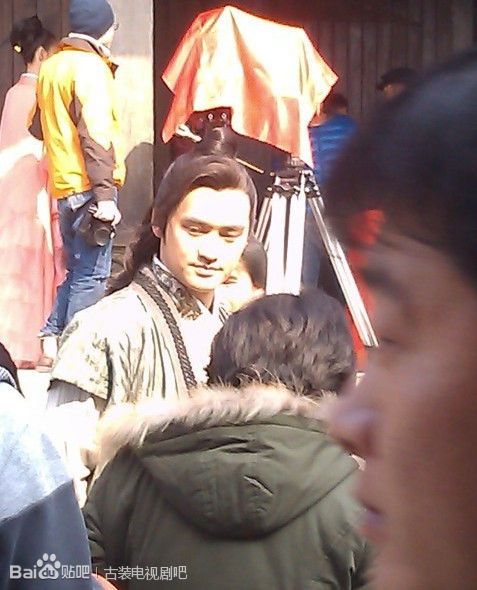 The best part of this cast is that Yuan Hong and Jiang Xin is playing one set of OTP, but I cannot stress enough how much I loathe Shen An. I hate that man like I hate the existence of brain eating bacteria. Above is the first look at Yuan Hong on the set in costume as Shen An, General of the Kingdom of Jiang and all-around male hottie. Jiang Xin is actually PERFECT to play Song Ning, warrior princess of the Kingdom of Li. I actually have much respect for Song Ning and her intense love/hate relationship with Shen An, even if her character frustrates the hell out of me. The entirety of Song Ning and Shen An's love story mix-up involves a serious lack of communication that could be remedied with one honest conversation. Of course, neither of those two hotheads could be bothered when things start off complicated as all hell already, but I wanted to headdesk myself so often on their behalf. Playing Liu Qi Qi is C-actress Cui Po and I swear this poor girl just got saddled with the one character I hate more than Shen An in this story. How could my loverboy Yuan Hong be playing Shen An!!! If he isn't Mu Yen or Jun Wei, I want him to be Rong Yuan, sweet perfect Rong Yuan with his love story with Ying Ge.
Some people say Song Ning and Shen An's story was the most intense and passionate and unforgettable in the entire novel. I can see why, what with Song Ning falling for this hunk on the battlefield and dragging his dying ass back to safety and the whole "their Kingdoms are at war" bit. But my favorite story-within-a-story in Hua Xu Yin was Ying Ge and Rong Yuan's love story, and even Ying Ge and Rong Xun was really sad to read. The totality of Song Ning's love for Shen An was that she loved him too much but not enough than her pride, and he didn't love her enough to read between the lines and question his own perception of reality which we all knew was based on a misconception that Liu Qi Qi didn't clear up. The novel does tweak their story a bit, such as dropping the LOL scene when bumbling Ye Zhen goes into the dream and accidentally pushes Liu Qi Qi off a cliff – ahahaha, totally still crying tears of laughter here. Watching Yuan Hong and Jiang Xin turn Shen An and Song Ning into a reality will be gutwrenching to watch. Which of course means imma watching this come hell or high water.
My favorite arc in the novel Hua Xu Yin is actually the second story-within-a-story. The complicated four-way love triangle between Ying Ge, her twin sister Jing Que, the Duke Rong Xun, and his cousin the King of the Kingdom of Zheng Rong Yuan. Two twin sisters, two powerful cousins, one case of altered identity dogging the four of them. I'm a little disappointed by the casting of Ying Ge and Rong Yuan. Of all the female leads in BBJX, Guo Zhen Ni was my least favorite. She just has this perpetually long sad face to me. In the novel, Ying Ge was easily my second favorite female lead after heroine Ye Zhen. Her cannot-be love triangle with a pair of royal cousins and some identity swapping was wonderfully compelling and I rooted for her all the way. It doesn't appear that the novel has cast Rong Xun yet, though I would be surprised if the drama made it that the two cousins look alike and have the same actor play both.
I'm still digesting this casting and mulling through the possibilities. If the drama was a straight adaptation of the novel this casting would suck, but since its a mostly different narrative this might actually work. One set of OTP in the novel won't even be featured in the drama – Gongyi Fei and Qin Jiu Jiu (the 3rd story in the arc and my least favorite) doesn't appear though Gongyi Fei's character is still the same. He just doesn't have a loveline and that actually is fine by me. He's a pretty meh character and the love story with Qing Jiu Jiu drove me nuts since its all based on one gigantic lie that drives everyone to act out of sorts. Overall this drama looks good to me, I'm just trying to re-adjustment my expectations since I thought Yuan Hong would be playing Jun Wei and Jiang Xin would be the heroine Ye Zhen. Right now only Yuan Hong and Jiang Xin are on set and Kevin is set to join them shortly.