I've gotten so used to the general realistic and low key trials and tribulations in Flower Boy Next Door that the recent shift towards more dramatic conflicts such as the stalker ahjumma disgruntled gamer mom and the panda hat fangirl have felt a tad jarring. I enjoy watching the denizens of this story talk, be awkward with each other, push each other's boundaries and challenge each other's comfort zone, and even have Do Hwi pull all the strings as the villainess without a soul. To see outsiders start to encroach on the physical and emotional safety of Enrique and Dok Mi worries me, because they are such a tenuous young couple that needs a lot of nurturing in the early parts of their relationship. Personality-wise they are at such opposite ends it would take some time for them to get into the groove of a daily existence that includes each other.
If they also have to deal with outside crazies, I worry Dok Mi will quickly give up before she even gives this new relationship a chance. It was sweet to see how much the two guys like her, though, and I think with their presence and Dok Mi's returning strength and conviction, she ought to be able to weather whatever new travails come her way. I merely worry that the big challenge might come in the form of what she went through in high school but on a larger scale – her relationship with Enrique becomes attached by the netizens because the public thinks she's not good enough for him and that brings back all the memories of her being bullied because of Do Hwi's lies. It's clear the drama wants to try and redeem Do Hwi, but to what degree it's still not clear. I think Dok Mi can't move on cleanly without exorcising the demons of her past, and perhaps that process will give her the ability to face whatever challenges lies ahead.
Episode 12 recap:
Dok Mi confesses her feelings to Enrique but then asks him to return to his original lifestyle and forget he ever met her. She'll try and move forward so he needn't worry about her. Enrique registers her confession and walks forward to tell her that he can hear the thoughts in her mind again, and then he kisses her tenderly.
Enrique ends the kiss and stares into Dok Mi's eyes. They take a step back and then are startled by a loud bang when the post-it collection on the wall falls off. Dok Mi goes to pick it up and Enrique notes that the post-its form an animated storyboard once flipped quickly.
The gesture is so very Jin Rok, a little at a time to build up his words. Unlike Jin Rok, he barrels straight ahead and he intends to show her the world. He'll never forget the look on her face when she saw the ocean that day. He will chatter around her and despite all the various tenses of "liking" someone, he's only going to focus on how his heart feels right now. If Dok Mi keeps liking him, he will continue to like her more and more.
Jin Rok and Dong Hoon show hand with each other – the former wondering why the latter has to quit but the kid explains he has debt and a family to support so he needs to make more money. Despite this being a dream, Dong Hoon can't pursue it anymore. Jin Rok offers to pay since he's really a runaway rich kid but Dong Hoon brushes that aside as joking.
Dong Hoon reveals he's the DD at night and if he didn't illustrate he could do many more part time jobs. Jin Rok wishes Dong Hoon said all of this earlier rather than to let Jin Rok think he was just lazy. Dong Hoon worries about who will take care of his hyung if he leaves. Jin Rok tells Dong Hoon to reconsider since the webtoon is taking off and very important to him.
Enrique and Dok Mi are online reading articles about dating and what to do when couples are in love. Dok Mi thinks that she merely said she liked him. He reads Dok Mi's thoughts that she merely confessed to liking him, proving that he can read her mind again. He wants to take Dok Mi out tomorrow on a date, which doesn't work for her since a prospective tenant is coming by tomorrow to look at the apartment. He asks if she still plans to move?
Dok Mi wants to move and finally start writing her own book but Enrique points out she can write here. Couples who date shouldn't live so far from each other. He wonders if it's because of Jin Rok? Is she back to hiding again? Dok Mi tries to get Enrique to go home but he makes up excuses such as Tae Joon has a lousy TV or his hand hurts, but Dok Mi points out that Tae Joon got a new TV for him, which also makes Enrique happy to know she's still peeping at him.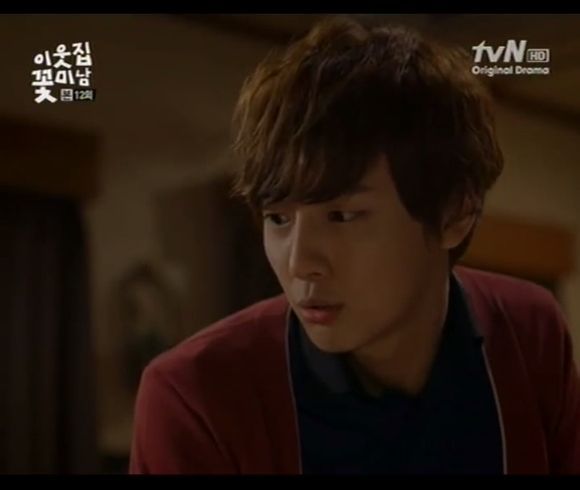 Enrique sends out a mass text to his fans scheduling a lecture that is intended as his gesture to his fans, asking them to invite their family members to attend.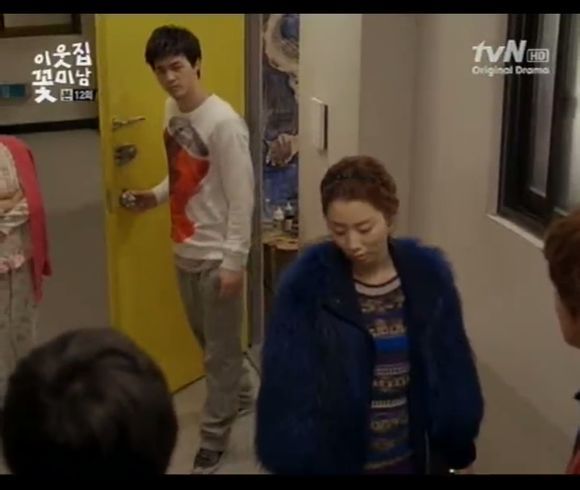 Drunk Do Hwi arrives and knocks on Jin Rok's door, mumbling that she is here to be honest like he asked. Enrique hears her and walks out of Dok Mi's apartment and tells Do Hwi to have an honest chat with Dok Mi as well. Jin Rok comes to talk with Do Hwi, who know wants to talk with Dok Mi first. Enrique goes inside and asks Dok Mi to talk with Do Hwi. Dok Mi has nothing to say but Enrique asks her to hear Do Hwi out, he will be supporting her the entire time.
Do Hwi and Dok Mi sit in Jin Rok's room while the two guys wait in the living room. Do Hwi asks why Dok Mi acts like her life is so hard and faints even? Can't they just smile and be happy to have seen each other again? Do Hwi blows my mind when she asks what she did that was so wrong? Was it her rumor-mongering?
Do Hwi says everyone lies and exaggerates, especially kids. Do Hwi liked being the center of attention when other kids clamored to find out what happened between the teacher and Dok Mi. Not to mention Do Hwi liked the teacher first but Dok Mi lied about her interaction with him. Plus all Dok Mi needed to do was say the rumors weren't true but she never tried to clear her name. That is her own fault for perpetuating the rumor. Yes, Do Hwi lied to keep her new friends around her but Dok Mi played a part in the rumors persisting.
Jin Rok can't handle it anymore and wants to end the conversation but Enrique asks him to hold on because Dok Mi needs to speak up for herself. Do Hwi claims she never realized the rumor would blow so out of hand and it upset her as well. She asked the teacher to come to the party to show him that everything was behind them and people grew up and changed. Do Hwi wanted to forget the past and move on. It wasn't just Dok Mi struggling back then, Do Hwi did as well.
Dok Mi finally has enough and stands up and asks if Do Hwi wants comfort? Or an apology from Dok Mi? Dok Mi couldn't transfer schools and upset her grandmother who was struggling to raise her, so she endured the poisonous rumors that destroyed her on the inside. She even wanted to die it was so painful. Dok Mi didn't pretend to avoid Do Hwi, she really was like a dead person inside from dealing with the pain.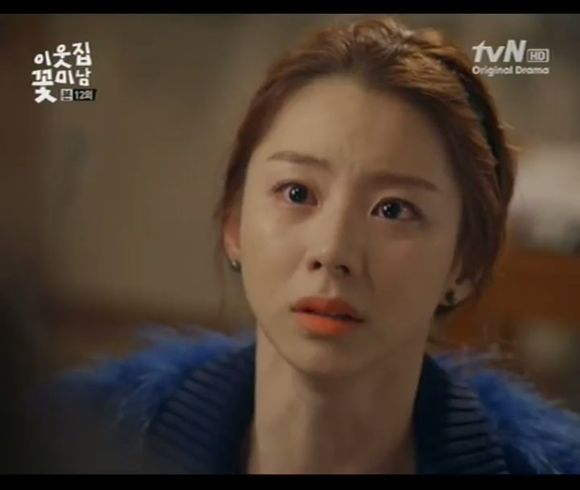 Do Hwi says Dok Mi was strong but she was weak. She needed more friends? Dok Mi asks why she wasn't enough, because Do Hwi was enough for her. Dok Mi is crying while Do Hwi absorbs what she said. Enrique stands back and looks content that Dok Mi spoke her piece.
Dok Mi goes back to her apartment and sits down at her desk. Enrique brings over pencils for her to sharpen with a razor knife the old-fashioned way, promising it will make her feel better. Dok Mi tries it and brings back memories of her friendship with Do Hwi.
Dok Mi walks Enrique out and he tells her to peek in the morning and he will greet her. She thanks him for being with her and he teases that she's the one keeping him company. Dok Mi assures him that she wants to go out with him and Enrique hugs her happily, promising lots of activities in the future. As he heads back to Tae Joon's, he keeps turning around longingly to say goodbye.
Jin Rok meets up with Enrique the next day and they discuss Dok Mi's insistence on moving, arguing over who knows her better. Enrique reveals that he trusts Jin Rok now because Dok Mi trusts him. Enrique thanks Jin Rok for bringing Dok Mi to the hospital since he would have been so sad to be alone. Jin Rok wishes Enrique left for Spain like he intended. This would be the last time he brings Dok Mi to Enrique.
Enrique hopes that Jin Rok will share the truth when he is ready. Both guys want to help her continue to venture out but wonder what to do if she insists on moving.
The flower boy quartet (Enrique, Jin Rok, Dong Hoon, and Watanabe) ply the landlord lady with food and honeyed words to get her to assist their ploy to make it hard for Dok Mi to move.
For example, she can raise the rent so no one else will want the place. Enrique even pulls Jin Rok close and says this guy will be so sad if Dok Mi moves. She scurries off when the security guard arrives and he warns the boys next to be so obvious that they knew who she really is. Enrique suggests acting like a loony to deter would-be renters.
Enrique offers Dong Hoon a part time job filming his lecture today, though Dong Hoon is skeptical people will come with their family. Enrique prides himself on being so cute people will come to see him. Jin Rok sighs at his boasting again while Dong Hoon manages to charge a high fee for his services and Enrique agrees to pay. Enrique asks Jin Rok to come but he refuses until Enrique dangles the carrot that Dok Mi is coming.
Enrique drags Dok Mi out to the lecture despite her reservations about the crowd. He reminds her this was all her idea and his aegyo works on her and makes her smile. Even better is his guilt trip about being attacked by more angry moms and needing her protection. Ha! Jin Rok and Dong Hoon are waiting outside and are stunned to see Dok Mi actually come.
The gang head to the lecture, with Enrique greeting his fans with their family while Dong Hoon films. Enrique's lecture is about the pride in being a gamer and how it's something that can be shared with family. Parents should try to learn what their kids love and kids should not be afraid to talk to their parents about it.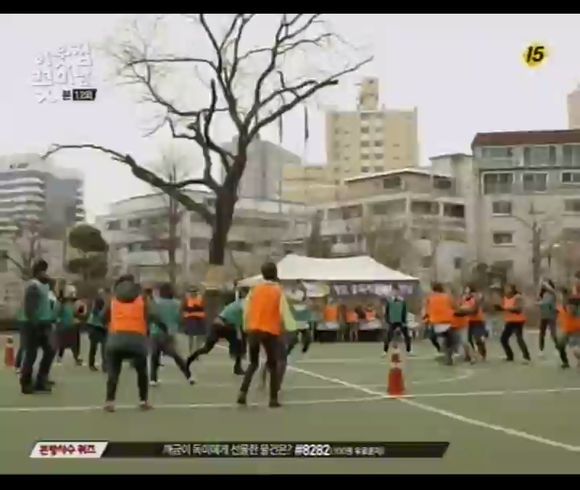 The lecture moves outside into an intramural soccer game with Enrique and Dong Hoon playing along with fans while Dok Mi and Jin Rok watch from the sidelines. During the game, Dong Hoon sends a strike that hits Enrique's behind and he acts hurt while his fanboys glare at Dong Hoon.
Jin Rok chats with Dok Mi and shares how it makes him happy to see her outside. He assumes Enrique purposely dragged him out to show how Enrique got Dok Mi to go out, and perhaps encourage him to go out more, too. Jin Rok takes out his coat and drapes it around Dok Mi and then heads into the game. Dok Mi watches Enrique play with a content smile.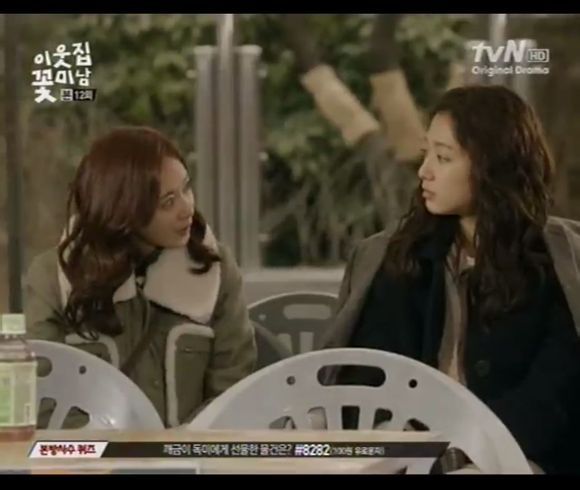 The panda hat fangirl comes to sit next to Dok Mi and spews all sorts of random gibberish. She says Enrique is not a person, he's a fairy that brightens up people's lives though his games and his presence. He is lonely because his existence is doubted and he cannot be surrounded by anything dark or shadowy lest he disappear. Enrique comes over and pulls Dok Mi off to join the fun.
After the game, Jin Rok, Dok Mi, and Enrique are at the bus stop just enjoying the moment. Jin Rok gets on with Dong Hoon, who can tell his hyung tried his best to be cool today. Jin Rok knows it took a lot to get Dok Mi to venture out in the crowd and he couldn't make things difficult for her at this time. Dong Hoon's heart hurts for his hyung and he suggests that if Dok Mi read the webtoon she would understand Jin Rok and fall for him.
Enrique and Dok Mi head out on a date, starting with shopping for shoes to change up her wardrobe. The panda hat fangirl is following them.
Enrique and Dok Mi stroll through the streets and he makes an effort to keep people from jostling Dok Mi. Enrique then takes Dok Mi to the 4D theater where he was invite to be a creative director and tells the owner he's staying. The panda hat fangirl appears upset to see them head inside.
Enrique and Dok Mi watch a movie all alone in the empty theater. When Dok Mi cringes during a particular scene, she turns to Enrique for comfort and he smiles to keep her safe.
Jin Rok goes to see Do Hwi. He knows it must have been hard for her to talk about the past. Do Hwi admits she read the webtoon and knows how Jin Rok feels about Dok Mi. Jin Rok thanks her for liking him but asks that she stop now in pursuing him.
Enrique and Dok Mi are walking home after a day out. Afterwards, Dok Mi types at her desk and thinks to herself an analogy about sunflowers looking towards the sun and absorbing its warmth and the water to turn itself into a replica of the sun. Perhaps she is starting to really understand that process.
When Dok Mi goes to the window, she sees Enrique standing at Tae Joon's window holding a note on his tablet wishing her sweet dreams of him tonight. They smile and wave at each other.
Dong Hoon is at the club waiting for customers when the editor arrives, this time all dolled up despite still sporting extreme dark circles under her eyes. She reminded him that he offered to help her insomnia and he reminds her to call first. She doesn't want to call because he might be in the middle of a driving gig and lose that job and can't pay back the debt. She invites him out to grab a bite. When the other skanky chicks deride her, Dong Hoon stands up for her and says her dark circles are quite pretty.
Dok Mi wakes up the next day and sees a note left for her asking her to read the latest webtoon. She reads the story which shows her, Jin Rok, and Enrique, with a narration where Jin Rok asks if his hand on her door every day left its imprint over time?
Enrique happily heads over to Dok Mi's apartment. Whatever he sees on the door suddenly freaks him out and he bangs on the door calling out loudly for her. We see that her apartment appears to be empty. Dong Joon and Jin Rok walk out wondering what the heck is going on when they see the shocking red letters scrawled on Dok Mi's door that says "Go die".
Thoughts of Mine:
I can't lie and say episode 12 of FBND didn't feel like a tiny bit of air had been let out of the balloon. It's so hard to maintain emotional momentum after a big cathartic moment between the OTP and jumping the shark is inevitable in some ways. For a rom-com, once the OTP confess their feelings and get together, what more is there? I think there is enough left in the tank to get this drama across the finish line in the same low key yet satisfying way. The very tone of FBND now works against its ability to deliver a compelling denouement – what is there to overcome when really nothing was ever all that impossible to achieve. Jin Rok and Dong Hoon's webtoon is gaining traction and once the dongsaeng's debts get paid off, he can draw to his heart's content with his hyung and maybe have a cute romance on the side with the editor. Enrique can be a successful game developer whether he stays in Korea or goes back to Spain. And Dok Mi is finally taking steps towards her own dream career of being a writer rather an editor. It's all good and doable.
So the drama throws in the recently introduced panda hat fangirl who is clearly a sasaeng fan and a crazy one at that. I don't know why Enrique couldn't figure out by the second time he spotted her around him, much less the 4th time she shows up. I'm not saying its weird Enrique would have a sasaeng fan (or even a handful of them), but following the stalker mom story this feels like a derivation thereof. It also feels like the drama wants to incorporate as many modern issues as possible that are prevalent in Korean society. It's like when a makjang throws in the kitchen sink of birth secrets, illnesses, and scheming second leads. Now that FBND is rounding the corner towards the finish line, all its little flaws become more evident because it sorta sticks out like a sore thumb. Introducing Tae Joon and Seo Young and doing nothing with them except as plot devices (the guy Dok Mi spies on, Enrique's first love, the reason Enrique was planning to go back to Spain, etc.) and then shipping them off so randomly. I still don't know if Tae Joon really doesn't like Seo Young, or refuses to date her because of Enrique. Weird. Watanabe I can accept as a cooking-related plot device to film dining scenes, but I still wish he has more of a personality other than a very nice smiley cute guy.
My favorite part of Enrique and Dok Mi starting to date is seeing how it flowed from their personalities and interactions. Enrique starts planning a million things he wants to do but she remains mellow and reserved. But little by little she shows her affection for him, like going out when he asks her, smiling whenever she gets time to just watch him, and allowing herself to partake of all the date activities he planned for her. I like even more that she's not planning to change her mind about moving, because the impetus was for her to start over. She wants to become a writer, she wants to leave the last few years where she hid out, she wants to take control of her life again rather than letting others dictate her path. The confrontation with Do Hwi was totally satisfying because it showed us Do Hwi really is a self-absorbed cruel bitch (without any redeeming qualities IMO), but Dok Mi has changed enough after meeting Enrique that she will yell back at Do Hwi and stand up for her own pain. I hope Dok Mi can keep building on this strong side of her personality as she is sure to face obstacles in her romance with Enrique as well as pursuing her writing dreams, and I love her so much I want her to have the world and eat it too.
Click here to watch Flower Boy Next Door.