Looks like there is trouble brewing in the never-confirmed romance between Roy Qiu and C-actress Tang Yan, and its in the form of the very similar in style Tia Li. I've long accepted that Roy has a type and its totally not the type I like for him but I'm cool with my guys dating as they like. Roy has been in China since early 2013 filming the modern C-drama Red Wine My Fair Lady with Li Sheng and the drama filming took only 2 days off for Lunar New Year before resuming its hectic production schedule. The C-media dropped the juicy gossip that Tia Li, who co-starred with Roy in Office Girls and Miss Rose, visited him on set in Shenzhen. Not only did she visit, they were spotted retreating to his trailer and feeding each other as they had lunch together. Roy is pretty fuming mad about this latest unfounded gossip and immediately after news broke he met with the media to discuss the drama but also to clarify the false rumors. He confirmed that Tia did visit him on set, but also other friends such as TW-actor Li Wei visited because he was missing friends. He didn't have any time off but his Taiwanese friends did so he texted folks and some happily came to visit him. He emphatically denied the feeding rumors and said nothing is going on between him and Tia, they are just friends from having filmed two long dramas together.
When asked about rumored long standing girlfriend Tang Yan, Roy stated outright that he's single right now. Roy and Tang Tang have never admitted dating so this statement doesn't strike me as confirming the relationship is kaput. After filming completes on this drama he'll be prepping for another race, and asked if he'll put a picture of Tang Tang in his car again, he casually replied that he'll probably stick a picture of the Goddess Guan Yin to keep him safe. If Tia visited I think something is going on despite Roy's denial since she totally looks like his type. Tia's fans are angry as heck that Tang Tang's fans think their idol is a Xiao San (interloper). I really have no clue what is going on with him and Tang Tang but a few days after the news broke a stunning weibo post ripped Roy to shreds. A user claiming to be Tang Tang's assistant posted a picture of Roy and Tang Tang in casual wear, and with her wearing no make up and hair adorably pinned up, clearly indicating they were hanging out somewhere private. That picture is pretty telling in itself, a rather hard to deny evidence that there is a deeper friendship than simply former co-stars, but what's shocking is the ballsy and candid statement accompanying this picture.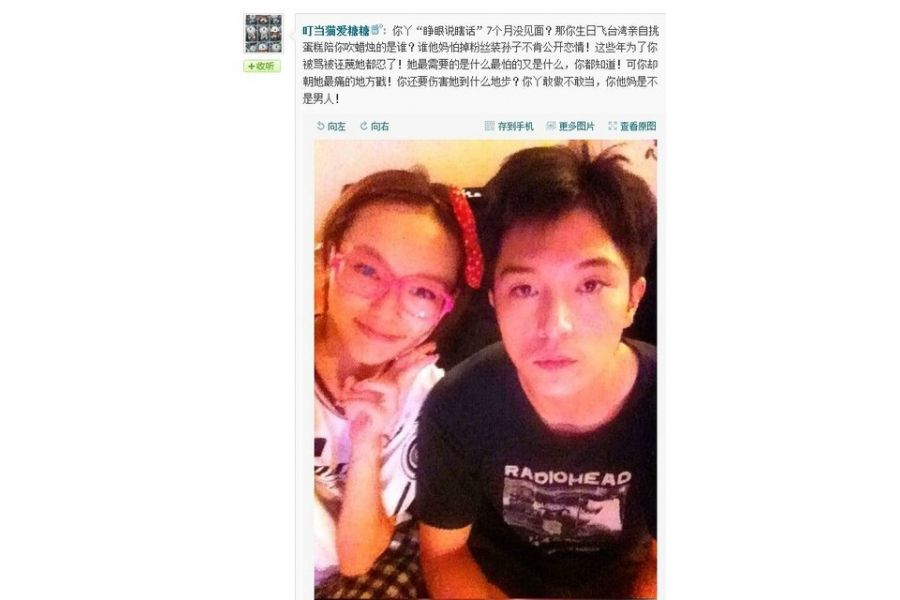 The assistant is furious at Roy for stating that he's single and hasn't seen Tang Tang in 7 months. The assistant asked why he was blatantly lying, wondering then who flew to Taiwan specifically for his birthday and was by his side to blow out the candles? The assistant further yelled obscenities, asking who asked to keep the romance a secret for fear of losing fans? Supposedly Tang Tang has been attacked by his fans for some time now but she keeps enduring silently for him. The assistant said that Roy knows what Tang Tang needs the most and is scared of the most, yet here he is jabbing at her most vulnerable spot. The assistant says that Roy is too chicken shit to be come clean and derides him as not being a real man. Hours after this weibo was posted it was immediately deleted. But of course its now gone viral. All I can say is….WOW. I know Roy's a total womanizer, he's broken the hearts of Rainie Yang and Chen Qiao En that we all know about, much less the ones we don't know about. But if he's flirting with Tia behind Tang Tang's back then this is really shitty. But if they are on a break or broken up, then I'm not sure what the protocol is. As for on set romances, SETTV is famous for having its stars hook up. Currently Amber Kuo is still dating her Love Forward co-star Tony Yang, while Alice Ke and Kun Da are a couple after doing Gong Hay Fat Choy together.