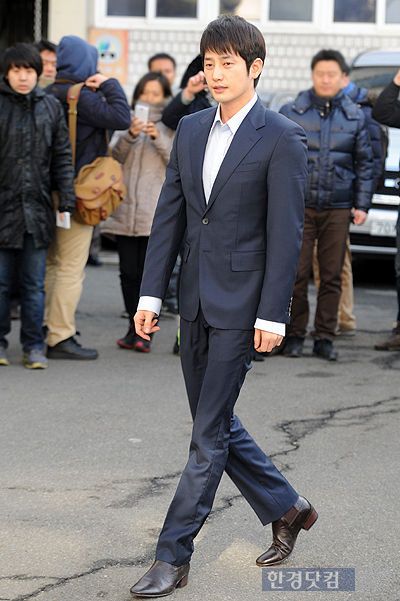 Da hell is this sideshow turning into? After a veritable alphabet soup of parties involved in the Park Shi Hoo rape investigation ranging from A to K, now there is yet another person speaking out on the case. SERIOUSLY? People need be shutting up here is all I can say. Alternatively referred to in the media as Park Shi Hoo's "friend" or "representative", this person hasn't yet been given a letter of the alphabet but I'll call him D for now. D met with a reporter of Sports Seoul on March 5 for an official interview expressing how Park Shi Hoo remains completely bewildered and perplexed over A's position. D says Park Shi Hoo liked A when he met her through K that night. Their interactions remained positive throughout, drinking happily at the bar and even the next morning at his apartment she conversed with him very amiably. Apparently they exchanged phone numbers the next morning and A left after saying in a very aegyo way to Park Shi Hoo "oppa, I'm off now." According to D (remember, that's my nickname for this unknown source for ease of reference), Park Shi Hoo intended to keep dating A afterwards otherwise if it was just a one-night stand he wouldn't have given her his number. Of course, the fact remains that if Park Shi Hoo's version of the tale is to be believed, he still slept with a girl 14 years younger the first night they met, albeit consensually per his assertion. I'm sure his fans will explain away their oppa's libido as perfectly gentlemanly and normal. The funniest part of this interview is that, at the urging of the reporter, D actually called Park Shi Hoo during the interview and asked him the reporter's question about how he felt about A. Park Shi Hoo replied over the phone that he liked A, thought they had a lot in common and felt she was a good person, and he had wanted to keep getting to know her. Can E, F, and G please come out all at once to keep this crazy show going?
I have to say none of the leaked evidence or assertions are cut and dry in determining whether there was a rape that night or a consensual sexual encounter. For all I know, A liked K and got drunk drinking with him and Park Shi Hoo, then they all went back to his place whereby A thought Park Shi Hoo was K and slept with him only to wake up sober the next morning confused as to why she ended up with Park Shi Hoo and not K. In her confusion as to what happened and in the period of trying to process everything, she exchanged cordial chit chat with Park Shi Hoo as she left his place and then text messages with K that highlight how confused she was about everything that happened (she's not exactly the brightest bulb in the room based on those texts, and if she likes K then she has really bad taste as well because K is about as sleazy as they come based on how K talks to A in those texts). The confused A talks with her so-called friend B, who somehow has it out for Park Shi Hoo and thinks this is the best way to destroy him or shake him down for a 1 billion won settlement. Wanting to get money from someone does not in and of itself indicate a set up or conspiracy, as there are times real victims would rather have monetary compensation over justice being served. Remember – greedy and bad people can in fact be genuine victims of a crime and its not always saintly people who have bad things happen to them.
Let me use very coarse language here to illustrate my point – A may very well be a stupid greedy slut, but being a stupid greedy slut does not in itself mean that she was not raped that night. Only facts about what happened will prove or disprove that, character speculation is spurious in establishing the case. Back to the possible scenario – after hearing of the events according to A's confused recitation, B encourages A to report the rape and gets her in touch with Park Shi Hoo's former agency director who is still completely pissed that Park Shi Hoo left his agency without a by-your-leave. There is no conspiracy to set Park Shi Hoo up for rape, but the former agency director pours fuel on the fire and tells A to report the rape since its like getting a Christmas goose delivered to him that Park Shi Hoo gets himself in potential trouble by sleeping with a chick he just met. A, who had no intention of sleeping with Park Shi Hoo but may have drank and flirted with him and led him on, ends up reporting it as rape because it was a non-consensual sexual encounter that she didn't agree to beforehand and may or may not have taken place while she was either incoherently drunk or even completely passed out. And then all hell breaks loose and the clowns all come out and soon the zoo will release the wild animals as well. Did I miss anything in building my case based on the available information? If what I posit is correct, the prosecutor won't have an easy decision on whether to press charges.