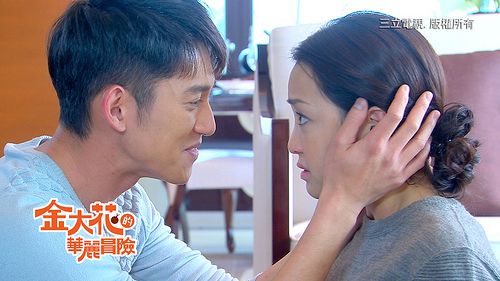 One caveat before I get started with my update on the increasingly awesome King Flower (also known as Substitute Princess) – Chris Wu is one of my TW-drama biases. I love him. Loved him since Autumn's Concerto (and I'm still angry at Ady An or Liang Mu Cheng or whatever her name is), loved him in Zhong Wu Yen (blind or sight back, and both twins), and endured the horrible What is Love? just to see him in his first prime time drama leading role. Now comes King Flower, where we have Nikki Hsieh as the heroine faced with two leading men in Chris and James Wen, and things have simmered its way to a high stakes emotionally charged playing field after ten episodes. Episode 1 was nice and breezy, but I actually zoned out in the subsequent episodes which felt like set up and I wasn't feeling the growing romantic awareness between Jin Da Hua (the country bumpkin) and her oppa Lin Guan Jun (James Wen in a nicely rough and tumble performance). I was feeling all sorts of warm and fuzzy for Terry/Ouyang Tai (Chris) and his fiancee Du Liang Yen (Nikki as well), and then the drama puts her in a coma and Da Hua is roped into getting a full plastic surgery makeover and pretending to be Liang Yen for a year. Initially I thought this drama would be a funny farce, and both leading lady characters would be around so that we can have a dual wedding at the end after all's well that ends well.
Then episode 7 hit and my jaw dropped somewhere between the floor and a place close to the center of the earth. The drama up and offed Liang Yen! What the what? Holy shit smokes, suddenly the drama's stakes are raised higher than high and I snapped to rapt attention. This isn't an amusing game anymore – Terry is stuck between a rock and a hard place (maybe hell), Da Hua's kindness and loyalty keeps her beside him, and somewhere Guan Jun figures out that he's got feelings for his not-so-little-sister but things are all sorts of complicated. Wowsers, I was not expecting this drama to suddenly hit so hard and be so ridiculously gripping that I can't stop watching. But like I said in my opening sentence, Chris is my bias and Terry is the character I have the most feels for. Chris is also acting his pants off (the scene where Lian Yen died needs to be submitted for an award somewhere), and every time he looks at Da Hua I feel his heart in his throat. Initially I thought James was the male lead but after ten episodes its clear both guys are equal leads, which leaves me uncertain of how the next ten episodes will unfold and where Da Hua's heart lies. It's with her Guan Jun big brother right now, but there are all sorts of ridiculously shippy moments between her and Terry that leave me all shivery in a good way.
We start off with one sorta couple – buck-toothed country bumpkin Da Hua with her oppa Guan Jun. They are really sweet and I approve. This drama has lead the ratings for Sunday night, but its just hovering above 1 which is a far cry from the 3 and above that SETTV expects from its biggest night for idol dramas. KF got lucky that its up against dramas that were either utter crap (Spring Love, K-Star) or too mellow to be interesting (Die Sterntaler). KF lacks a big name star as its draw, with both James and Chris just one step away from being an A-list leading man, and Nikki a fresh-face on the small screen despite her legit movie cred. But I think all three are well-cast and have chemistry with each other. Da Hua and Guan Jun have familiarity and candor with each other, knowing all of each other's flaws and drawbacks but still liking each other.
On the other hand there is another happy couple – rich as Croesus Terry and his kind and sophisticated (and extremely sheltered) fiancee Liang Yen. They are not in a chaste engagement, to say the least. I also approve, nice rich pretty people also deserve love. One thing that sticks out for me is that Nikki has had twice the screen time with Chris compared to with James, due to her playing fiancee Liang Yen and then later Da Hua pretending to be Liang Yen. I also feel like she has much better romantic chemistry with Chris, it was evident when they played an affianced couple, and later even when Terry was in a scene with Da Hua the air still crackled. The scene at the end of episode 8 when she confront him about ending their contract had me screaming at the screen for them to make out already. I wonder if the audiences are having a hard time picking which leading man for Da Hua in the end?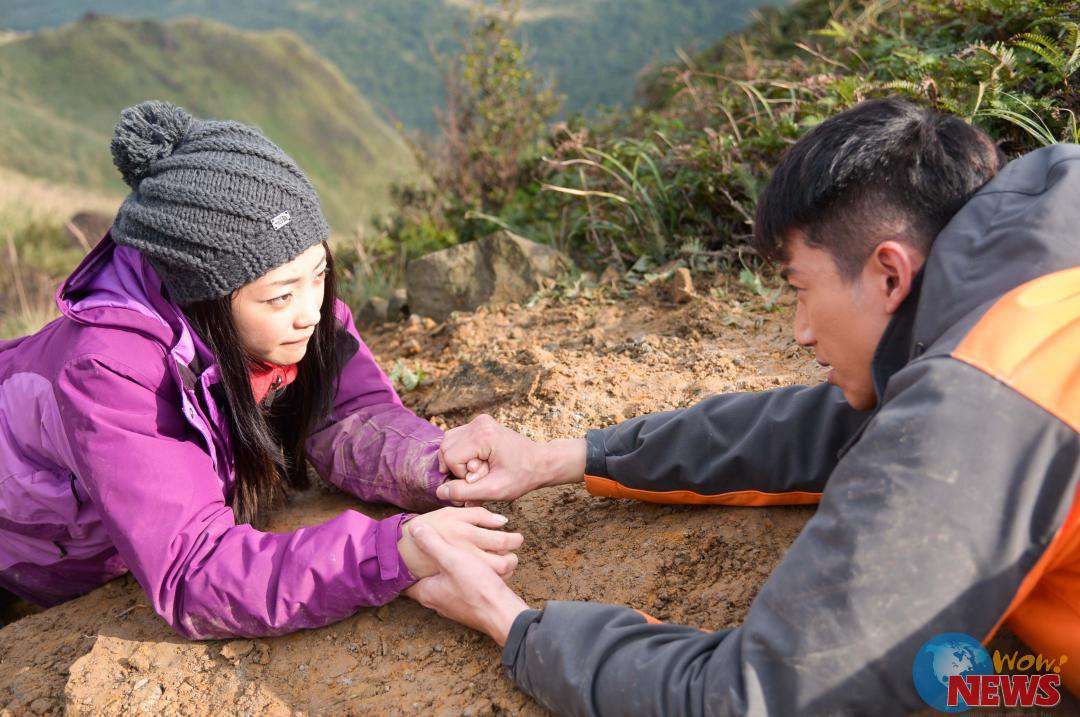 Sadly the happy rich couple isn't meant to be as Liang Yen falls off a cliff. Literally. After she begs, pleads, whines, and wheedles Terry to take her mountain climbing, disaster befalls them. I can say Liang Yen is a spoiled brat, but she's written as just a very naive and sheltered girl who wants to taste adventure for a change. This is sheer dramatic license that she gets into a random mountain climbing accident.
Liang Yen falls into a coma, and Terry falls into a funk and a dilemma. He's told by his friend and Liang Yen's doctor that she needs a year to recover. The man is a lying sack of shit, but he does it to keep Terry from falling apart. Terry finds Da Hua and offers her a deal – $2 million NT for a year of her life where she gets plastic surgery and pretends to be his fiancee Du Liang Yen while the real Liang Yen recovers. Terry's evil cousin and aunt are waiting in the wings to kick him out of the company as CEO and he needs to keep Liang Yen's accident from her dad who is the other major shareholder in the company. Da Hua needs the money and accepts the contract, telling her family and Guan Jun that she is off to work in Australia for a year.
This drama's Chinese title is Jin Da Hua's Extravagant Adventure, and in the closing sequence we see Da Hua awakening from a nap to find herself in a wonderland situation with both Terry and Guan Jun spending time with her. In the end she wakes up again and smiles. Initially I thought she would just experience something that would change her life, but now I'm not sure the end means she goes back to her previous existence and lives happily ever with Guan Jun. I feel like her experiences with Terry make her more self-sufficient and learned and changes her inside and out in ways neither expected. Whether she falls for Terry in the process remains to be seen.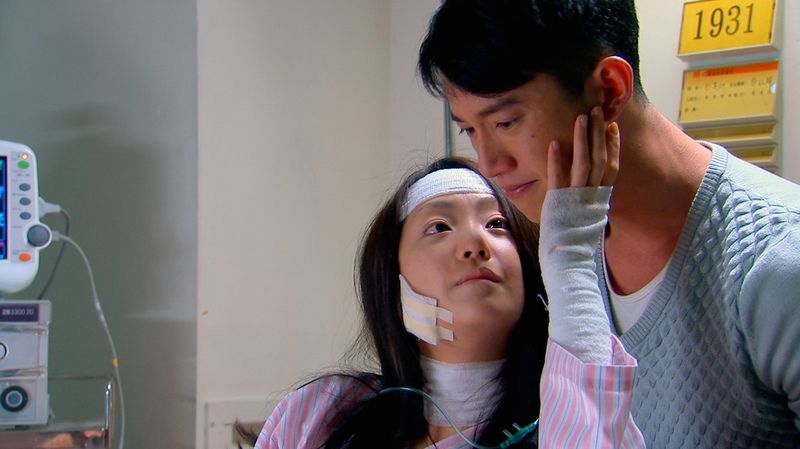 Too bad Liang Yen doesn't recover. In fact, she was never going to recover. She briefly wakes from from her coma and Terry arrives just in time to hold her in his arms as she dies. She asks him to not feel guilty about what happened to her, it was an accident and she was the one who begged him to take her climbing. She wants him to find love and happiness again. Terry breaks down completely with her death, and Chris was crying so hard during the filming for this scene the director had to give him time to recover afterwards.
What I love about Terry as a character is that emotionally he feels real. He loves Liang Yen, wants to make her happy, feels guilty for letting an accident befall her, and is devastated that he lost the love of his life. For the sake of his family and company he has to endure and trudge onward with Da Hua pretending to be Liang Yen, but in the process he both lets Da Hua into his broken heart as she picks up the pieces unwittingly, at the same time he tries to hold onto his memories of Liang Yen.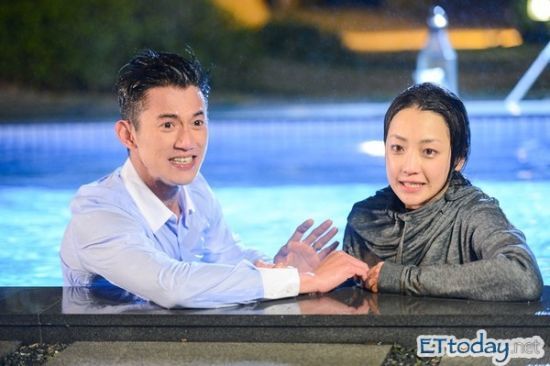 After Liang Yen dies, Terry struggles with what to do next. Heartbroken Terry takes a night dip in the pool to cool his head and Da Hua thinks he's committing suicide and dives in to save him. He doesn't need saving and instead saves her, but her consideration for him does touch his totally broken heart. He has decided to hell with it and wants to come clean about this deceit and let Da Hua out of her contract. But his friend reminds him that his entire company (all the employees' livelihood) is at stake if Liang Yen's dad discovers she's dead and destroys Terry. He is still adamant about letting Da Hua go but when he tells her she can return to her Guan Jun and her family immediately, she finds out that Liang Yen is dead and decides right then and there that she will fulfill the year long contract. Terry needs her and she wants to make sure he is alright.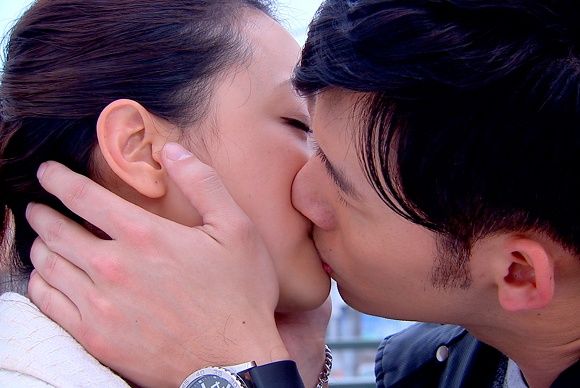 Da Hua is about a subtle as a mack truck driving through a one-lane alley so its actually amusing how long it took for folks to start figuring out the truth. No joke, she talks with that country accident and walks with her usual ungainly gait, not to mention her plastic surgery took about 2 months to completely recover from a full facial transformation. This drama, realistic it's not. Guan Jun soon finds out the current Liang Yen is his Da Hua and wants her to end the charade and come home. She refuses, saying that Terry needs her right now. Guan Jun correctly points out that all that pretending to be engaged and living together is bound to increase the chances that Terry will fall in love with her for real. He asks if she is just trying to be kind and loyal, or is a part of her much too concerned about the welfare of Terry
Da Hua's concern for Terry's well being is really sweet, but I just feel like she cares way too much for his difficult situation. When Terry tells her to go home, and now even Guan Jun knows and wants her to come home, yet she keeps insisting she will stay, she's totally making it hard for Terry to let her go later. After her discussion with Guan Jun she immediately rushes back to Terry to assure him that she's taken care of things and she'll keep her promise to finish the contract. I like that the drama tries to grow Guan Jun as a character, but his arc isn't written with nearly as much raw angst as Terry, so in the end I just connect less with him. I don't doubt that he loves Da Hua and she loves him, but I'm still mulling over whether this is romantic love or familial love. I also quite like the second female lead who has a crush on Guan Jun, the daughter of the buffoonish gangster loan shark. Maybe I'm projecting another girl for Guan Jun just so I can safely ship Da Hua with Terry, LOL.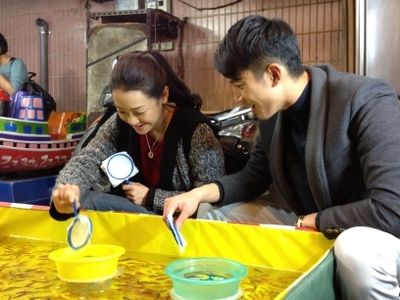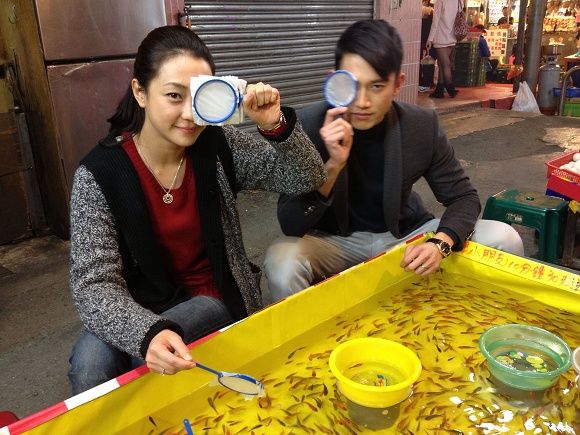 Liang Yen's dad, still unaware that his real daughter is dead, pushes Terry to set a wedding date. Da Hua is worried he will ask her to marry him as part of the pretense but Terry promises he'll handle it. Terry is really a very decent guy, one who does things only when he appears to have no choice but he always asks Da Hua first. He tried to let Da Hua go earlier because he didn't need her anymore. But as he's starting to fall for her, he'll likely push her away so that she can return to her own life.
Preview for episode 11:
Based on the preview, we've got a date coming up in episode 11 where Da Hua takes Terry to all her favorite places in the night market that she used to go with Guan Jun, just to cheer him up (see them fishing for goldfish above). She doesn't realize that he's made up his mind and is going to forcefully end their contract afterwards. When he sends her away and she calls out for him through the window and you can totally see his heart hurting, my heart………. T___T And then he hugs her and OMG I almost stopped breathing. My weekdays are now spent wondering when Sunday will arrive. Unlike my last TW-drama watch, Miss Rose which got progressively worse and worse (AND WORSE), this one keeps getting better and better (AND BETTER). I'm such a happy camper right now.
Aside from the story getting really interesting, the drama is also an easy watch because the music is so good. I actually loved all the songs from this drama. It's probably up there with Drunken to Love You (a brilliant mix of Yen-J, Magic Power, and Rainie Yang) and Office Girls (Genie Zhuo was da bomb!) in terms of how much I love every piece of music released so far. Check out the songs below and if I found the download links I've posted it as well.
Opening theme for King Flower – Dreamgirls "Because You're There":
Ending theme for King Flower – S.H.E. "A Woman Like a Girl":
Click here to download the latest S.H.E. album with this song on it.
Sub-theme for King Flower – Aaron Yan's "The Moment":
Click here to download the latest Aaron album with this song on it.
Sub-theme for King Flower – James Wen "Why Bother?":