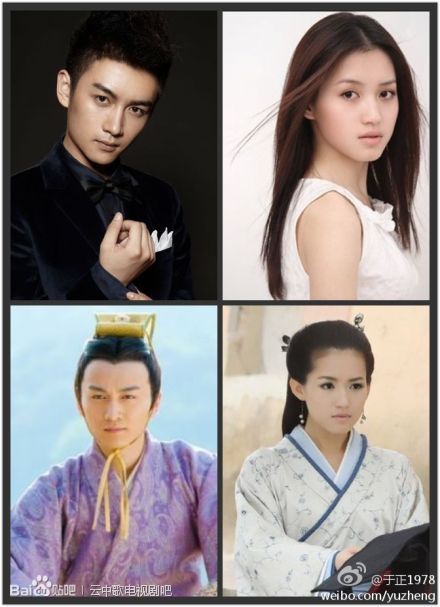 The Yun Zhong Ge bar is probably the most battle-worn place on Baidu right now. Every time I check in there is a new shit storm over something Yu Zheng, who holds the rights to adapt this novel to a drama, has pulled on the anxious fans of the original novel written by Tong Hua. Two weeks ago Yu Zheng claimed to have finalized a few cast members and released their names and which character they will play. Yeah, that turned out to be bull shit as well, because this morning he turned the YZG bar upside down (and then kicked those poor souls a few times for good measure) when he posted on Weibo that his original choice for male lead Liu Fu Ling (Emperor Zhao of Han) Chen Xiao will instead now be playing Liu Xun (aka Liu Bing Yi, future Emperor Xuan of Han). WHAT THE HELL?!?! Word on the street is that Yu Zheng is looking to marginalize the character of Ling gege while letting Liu Xun take center stage with Meng Jue. *headdesk* Let me caveat by saying I actually am fascinated by Liu Xun's character, and some of his scenes with Yun Ge are amazing (the tomb scene, the kitchen scene, and later the cherry blossom and sword scene). Chen Xiao, who managed to play douchebag Lin Ping Zi in The Swordsman wonderfully and with such depth and nuance, is quite possibly the best pick to play Liu Xun (the conflicted royal heir turned commoner turned Emperor), and Yu Zheng has just said pretty Su Qing is playing Xu Ping Jun. But then what about my Ling gege! Who is playing him, and is he being turned into a side character that croaks midway through and that's it? The C-fans are collectively weeping blood tears right now, and bracing themselves for more Yu Zheng casting attacks in the coming days. The rumor that Yun Ge could be Angelababy, Yuan Shan Shan, or even Yang Rong, has everyone forming support groups to deal with the upcoming trauma. I'll form one here for us if that happens.
Yu Zheng's original Weibo: Chen Xiao is playing Bing Yi, Su Qing is Ping Jun. In this drama, Bing Yi is calculating but charismatic, stands out very much!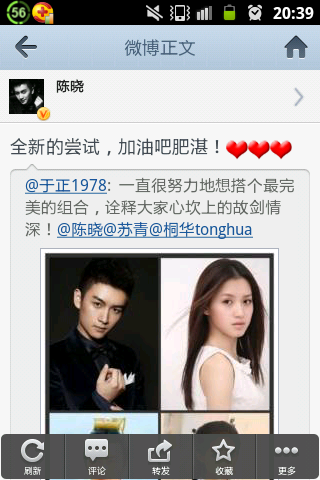 Chen Xiao responded to Yu Zheng's Weibo: A brand new experience, let's try it, fighting!

Yu Zheng then wrote: Like Liu Bing Yi, like the depth of his feelings, like how he went from nothing commoner to Emperor and the calculating journey he took. Like how he protects the people of his country but only ever loved one woman. In The Swordsman I created Miss. Dong Fan, please anticipate the brash, powerful, alluring Emperor. Wait for The Great Han Love Story I am preparing for you!
This quote from one Baidu fan captures my feelings perfectly.
于正,你给我去死吧,你死一万次也不能解我的恨!!!!!!!!!!!!!!!!!!
Yu Zheng, you go fucking die, even if you died one million times it won't erase my hatred for you!!!!!!!!!!!!!!!!!!!!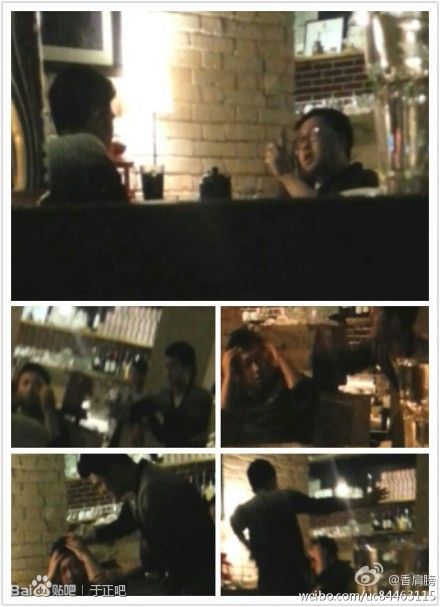 Of course, nothing in China escapes the eyes of the billions of masses, and this week a sharp-eyed fan spotted what appears to be Yu Zheng at a coffee shop with a guy. They looked to be in an argument and suddenly the other guy jumped up and dumped a drink on Yu Zheng and then slapped him while screaming "How could you do this to me? You are a beast! You are not human, you are a pervert……….."
All I can say is – hallelujah there is something called karma. One Weibo post captured it perfectly "Which hero eliminated a pestilence on behalf of the people, why not leave a name for doing such a greater good?" Ahahahahahaha! Of course, the guy in the picture above could be not Yu Zheng, but the Chinese fans who saw him last week on Hunan TV discussing his monstrosity remake of The Swordsman swear that its him, same old pudgy him.