Oh King Flower, why you have to go break my heart. And piss me off royally in the process. It's like you and I were unexpected BFFS, but then our love affair is potentially going down the drain as quickly as it began. I can't blame the drama, or any of the actors, I can only lay the blame on SETTV for the behind the scenes decision on narrative progression. And this from a network that doesn't have a problem with changing up pairings in its dramas – look no further than Love Forward, when the final OTPs are not the initial suggested OTPs on the official poster, or even recently in Gong Hay Fat Choy, when Alice Ke and Patrick Li spent 90% of the drama as the OTP only to have her suddenly end up with Kun Da at the end. So what is going on that 99% of the fans want a Da Hua-Terry ending, and instead of continuing to develop their tender and respectful relationship, the previews hint at Terry driving a wedge between Da Hua and Guan Jun in ways that are so unlike his straightforward and arrogant personality. He would never 挑拨离间 (sow discord), so why hint at that happening? His character has thus far been totally compelling and complicated, not a blameless man who never makes mistakes, but one whose motivations have been for a greater good rather than his own. He got a substitute because Qin Mo and his parents kept warning him that losing the company meant that douchebag Johnson would take over and run in into the ground. He has such a burden on his shoulders, and the writers have torn his guts out with the loss of Liang Yen, is it too much to ask that his great character narrative not be hijacked for Lin Guan Jun's sake? Sadly there is zero believable emotional connection between Da Hua and Guan Jun, so if indeed Terry is going AWOL then I'm bowing out now. Episode 13 will hopefully give me some clarity either way.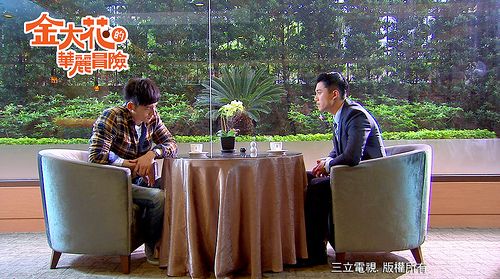 Written preview for episode 13:
President Du's health is gradually recovering but he's still anxious about Liang Yen's wedding. Ouyang Tai and Da Hua go take wedding pictures to assuage President Du's concerns. Du Hua has a thousand reasons not wanting to do this, but she convinces herself that this is part of her job. Who expected Guan Jun would see it and angrily storm out.
A worried Da Hua rushes back to the store to explain to Guan Jun and sees Xiao Fei kissing Guan Jun! The two of them just agreed to trust each other, will this misunderstanding cause a wall to appear in their feelings which are just starting to blossom?
Seeing that Ouyang Tai is gradually falling for Da Hua as they spend more time together, Guan Jun finds Ouyang Tai to have it out. Who knew Ouyang Tai would directly tell Guan Jun that he is the one who can give Da Hua a better future! Will Guan Jun decide to step aside? Da Hua's extravagant adventure has unexpectedly ignited a love battle between these two men!
Previews for episode 13:
Terry: I can tell that Hu Xiao Fei likes Lin Guan Jun a lot.
Xiao Fei: Lin Guan Jun, my dad agreed to let us be together! I'm so happy!
Da Li: Guan Jun, my sister spends every day with Maserati, as time goes on what if the two of them…….
Guan Jun: Hey, your sister won't change her feelings. She is not that kind of person. Ouyang Tai, I can see that you have decided to treat our Da Hua as Du Liang Yen. You intend to make the pretense into a reality.
Terry: A guy like you, Lin Guan Jun, what kind of future can you give Da Hua. You aren't good enough for Da Hua. She deserves better. Da Hua, you are really becoming more and more like Liang Yen. So how come I wish more and more that you won't be like Liang Yen?
Da Hua: Guan Jun oppa!
"Please don't be like Liang Yen"
Terry: Da Hua, you are becoming more and more like Liang Yen.
Da Hua: This is my job. I will finish taking the wedding pictures.
Terry: So how come I wish more and more that you won't be like Liang Yen?
"Da Hua number 1"
Guan Jun: Okay, let's buy this one. I'm naming it Da Hua Number 1.
Da Hua: Wow, it's like Aircraft Carrier Number 1.
Guan Jun: In the future there will be Da Hua Number 2, 3, 4…
Da Hua: Can you buy until Number 28?
Guan Jun: Ms. Hu, you and I have no future together.
Xiao Fei: From now on, all the deliveries at this market will be done by Lin Guan Jun's delivery company.