The first two episodes of Gu Family Book is a textbook example of the tail wagging the dog. The writer picked an end point and then wrote towards it, as opposed to writing a journey where the ending organically happened. The writer needed the parents of Kang Chi, the mountain spirit Gu Wol Ryung and the down-on-her-luck former nobleman turned gisaeng slave Seo Hwa, to be separated so that Kang Chi can be ripped from the arms of happy parents and raised elsewhere unaware of his heritage. But that wasn't enough, the writer also needed the parents to part in the most angry and betrayed way, obviously so there could be buckets worth of misunderstandings and unresolved trust issues between them. To reach that end, the writer massacred a character that was never all that fleshed out to begin with, and thereby created what I shall deem The Case Study of an Utterly Repellent Heroine. This is a very rare phenomenon indeed, because rarely does a writer elect to trash the personality and behavior of an important narrative character to the degree that it elicits near universal loathing. And it ought to be universal loathing, but for the fact that I think some viewers didn't quite understand the nuance of every step of Seo Hwa's repulsive behavior towards her mystical husband Wol Ryung at the end of episode 2 of GFB. The more I think about it, the angrier I get, and I think this character deserves full blown pitchforks and marching mobs to take her down. No – Seo Hwa is not some scared confused poor wee thing in way over her head. She is a selfish, ungrateful, and bipolar witch who unfortunately my delicious Kang Chi will have to suffer the ignominy of carrying her genes in half of him. Let me enumerate the laundry list of her unforgivable wrongs.
Seo Hwa was never written as a compelling character. She was a blank slate, and her only personality appeared to be steely yangban pride. But because such unfairness befell her, our sympathies naturally went to her. Not because we know she's a good person, but because the one tormenting her is a truly vile horrible monster. All we know of her is that she's a sheltered rich girl with a brother and maid who will die to protect her. And once Wol Ryung fell for her pretty face and sad lot in life, we also wanted them to find happily ever after. It was simple but effective storytelling. It was satisfying in its utter 1+1=2 fundamental handsome man loves pretty girl and saves her narrative.
I understand the drama wanted to condense the parents section into the first two episodes so it sped through everything, with the parents falling in love with the blink of eye. Still acceptable and cute, albeit not very compelling. Then the writer needed to create THE BIG TRAGEDY, and with it she took Seo Hwa's character and turned her into truly one of the worst characters I've seen outside of the caricature cackling villains. When Seo Hwa discovers with her own eyes that her husband is a supernatural being, and a very powerful and destructive one at that when he slaughters an entire army of soldiers sent to capture her back to become a sex slave, she is understandably scared. I get that. I get her fear of Wol Ryung, despite all he's done for her and the fact he hasn't ever harmed a hair on her head. This is olden times, she needn't be some Joseon-era Bella Swan.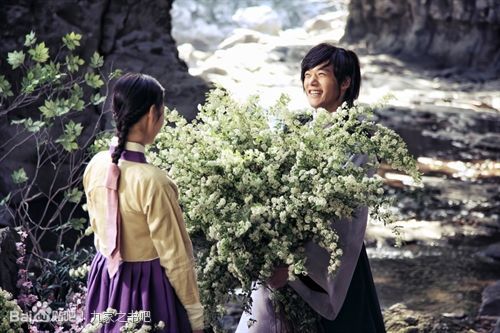 But what I cannot forgive is what she chooses to do to Wol Ryung that is NOT based on her fear of him being a monster. When she runs away from Wol Ryung, that is her right. She doesn't have to stay married to a monster she fears. But what in the fucking god's name would lead her to run to the army camp of the people trying to capture her? Hello? Anything in that brain of hers? Didn't she and her brother initially run into the mountains to survive on their own to escape the soldiers. So run away from BOTH Wol Ryung and the soldiers. Go survive on her own, that's cool with me. But no, she chooses to run to the very people who are out there to subjugate and return her to a life of violation and degradation. Good one, Seo Hwa.
That alone doesn't piss me off, though that is enough for me to write her off as a stupid broad who doesn't deserve Wol Ryung. But it's what happens afterwards that turns me into a homicidal viewer. She finds out from the murderer of her father and brother that Wol Ryung lied to her about her brother's death. One on hand is the person who actually murdered her brother. On the other hand is someone who merely concealed his death from her. And guess which one upsets Seo Hwa more? Yup, it's Wol Ryung's lie, and not the fact that Kwan Woong strung her brother up like a Christmas ham and hung him on the town walls until his neck snapped. Nope, she's angry that she was NOT TOLD THE TRUTH. Oh how dare Wol Ryung lie to her!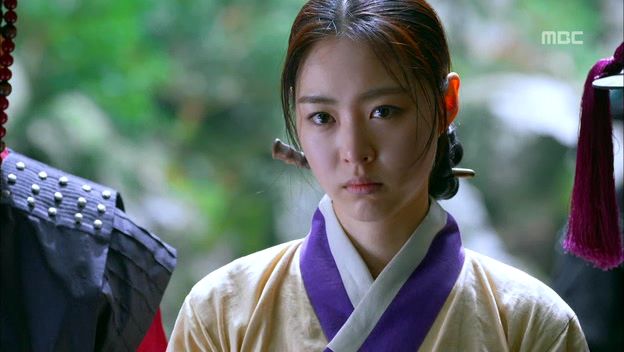 So her anger at Wol Ryung lies motivates her to lead an army of soldiers to his secret paradise garden to capture or kill the man she has called husband for the past 3 months. She didn't lead them there because of some confused sense of social duty to get rid of a scary dangerous monster that could menace their world, she led them there because she was mad at him. Mad because he lied to her about her brother's death. Can someone hand me a pick-axe right now. Because I have to go cut a bitch. When she stood before Wol Ryung all angry and accusing, she wasn't scared of him at all. Her motivation was to get punish him for lying to her. Excuse me, but WHAT THE FUCK YOU CRAZY BITCH?
So let's put in list form Seo Hwa's actions and whether it's justified or understandable:
1. Runs away from Wol Ryung —–> Justified, she's scared of him after seeing him turn into fangy monster.
2. Runs to soldier camp  —–> Not justified, who the hell runs to the very people out to capture her so she can become a sex slave.
3. Angry at Wol Ryung for lying about her brother's death  —–> Not justified, how she be angrier at him over the man who actually killed her brother is nonsensical and renders her character hopelessly wrong.
4. Leads the soldiers to Wol Ryung's secret garden —–> SO NOT JUSTIFIED I HAVE NO WORDS. In her petty and clueless anger at Wol Ryung, she chooses to get back at him by leading people to kill him. I mean, on what planet does a character who behaves the way she does deserve any sympathy or understanding of her motivations. Her motivations are based on her own sense of being wronged which she then translates into action that will lead to the death of the man who protected her and married her for the past 3 months. All because he lied to her. Can we say vindictive with a capital V.
I really want to give Gu Family Book the benefit of the doubt, but the writer's hack job in the first two episodes have left me clinging to a sliver of hope that somehow this is an anomaly and the rest will be awesome. Or not. Lastly, my breakdown of what makes Seo Hwa a terrible person is unrelated to Lee Yeon Hee's acting in this drama. It's purely a analysis of character motivation and actions, though I have to say she did try her best and at times she made some strides. Too bad she was asked to play such a unsympathetic and abhorrent witch of a woman.