This is the end of the line for me on Gu Family Book recaps. Maybe I'll continue with the baby recaps if the episodes remain as ludicrous as this one, with characters and plot elements written with the subtlety of a sledgehammer pretending to be carving an ice sculpture. There is a certain amusement in pointing out the absurdity, though I also rub folks who love the drama the wrong way with my brand of humor. Despite how truly dreadful Man of Honor was (which was the last drama from the writer of GFB, let's not forget), my recaps for that drama was so funny towards the end. Not because I'm funny, but because all my bewilderment at how insane everything was and just venting about it brings back the memories of experiencing a freakish trainwreck into a field of hay. No one got hurt except my brain and pride. I can't stress enough how adorable Lee Seung Gi is here Choi Kang Chi, and Suzy is so pretty I sigh looking at her. But Seung Gi's acting has regressed since The King 2 Hearts, where even in the first four episodes he was pretty darn impressive already. Don't even get me started on Suzy, she is so bad she makes Kim Tae Hee in Jang Ok Jung, Live in Love look like a Baeksang worthy performance. She cannot do sageuks, and should never ever attempt one ever again. I'll still look forward to her future dramas as long as it's a modern one, because girl is just 18 years old and stranger things have happened in previously bad actresses learning to act in later years (see Hong Soo Hyun). In this episode, magical ninja assassins make an appearance and the villainiest villain in all of Joseon arrives in town and promptly has the hots for wee lass Chung Jo, who apparently reminds him of Seo Hwa. Like, what? Nothing happened other than more random plot devices are set up while the actors run around saying their lines and trying to make things make sense when it might if presented with more intelligence.
Episode 4 recap:
A flashback to Seo Hwa and Wol Ryung's star-crossed lovers story. Again. Which admittedly should be epic, but instead came across as unconvincing. He falls for her on sight, she reciprocates quickly, and then it all goes to hell with one major fang-out and buckets of mistrust and misunderstandings.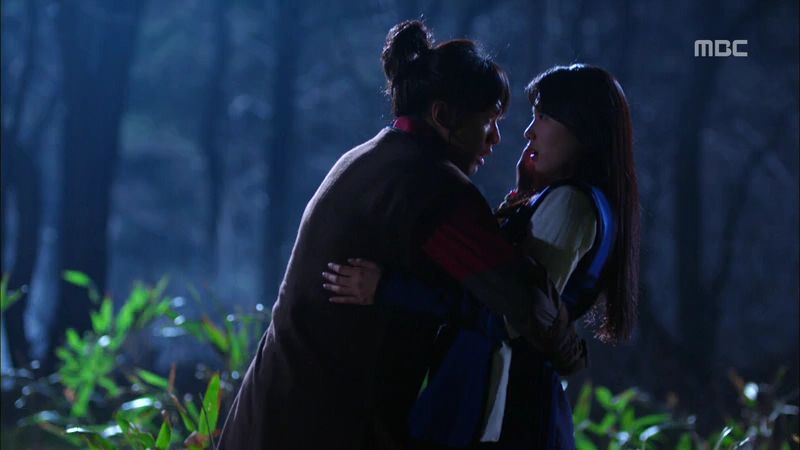 Kang Chi is being chased out of the Inn and is incapacitated by sleeping powder. Lucky for him Yeo Wool is nearby and runs to the rescue. They end up rescuing each other as Kang Chi stabs a guard to protect her and in his delirium thinks she's Chung Jo and vows to protect her forever before fainting on her shoulder.
Yeo Wool looks startled. Or clueless. I can't tell with Suzy's acting. She flashes back to her childhood when a boy protected her from a menacing dog and said the same thing. Sigh. Of course they knew each other as kids.
Kwan Woong has arrived in town and descends on the Inn, demanding his large group be housed and when he hears there isn't enough available rooms, demands other guests be kicked out. Good lord is he just ridiculous. Tae Soo doesn't know what to do and asks where Kang Chi is?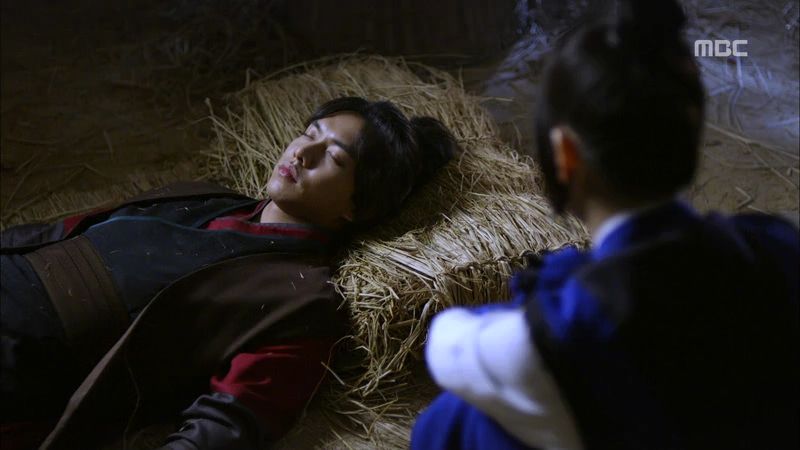 Yeo Wool watches Kang Chi sleep and wonders about him. He snores and scratches in his sleep and she's not keen on such an crass man being her destined soulmate.
Gon reports that the coast is clear and sees Kang Chi still sleeping and no amount of jostling will wake him. Gon pulls his sword and stabs it towards Kang Chi and the real danger causes Kang Chi to awaken and jump up.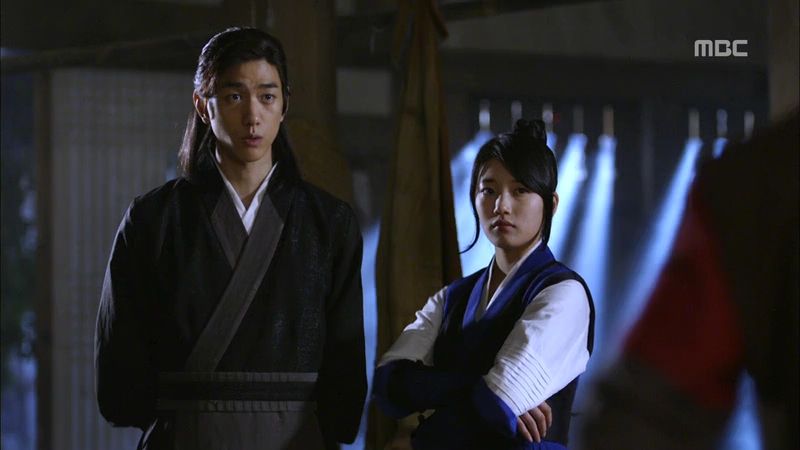 Kang Chi is in a foul mood and bickers with an amused Gon, demanding to know who they are. Yeo Wool says they saved his life and he doesn't believe her. Yeo Wool roundhouse kicks him and asks if he believes them now?
Yeo Wool and Gon have tied up Kang Chi like a puppy on a leash demanding he lead them to the Inn since he claims to be Mu Sol's son and lives there. Kang Chi can't exactly go back so Gon thinks he's either done something bad or has girl issues at the Inn.
Tae Seo's servant finds Kang Chi and tells him to hurry back to the Inn because there is trouble. Kang Chi hesitates which makes Gon tease that the woman trouble is dire indeed. Kang Chi makes up his mind and begs Yeo Wool to untie him, and his pleading puppy eyes remind her again of someone.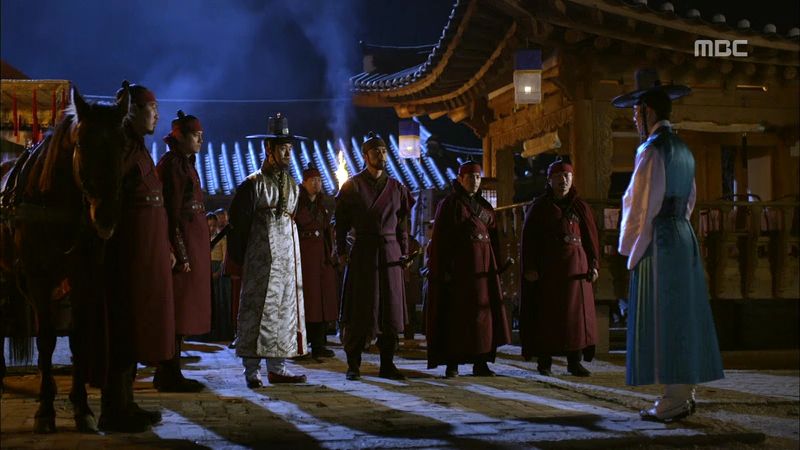 Tae Seo stands his ground and refuses to kick other guests out to make room for Kwan Woong's entire group. Kwan Woong asks if Tae Seo knows who he is? Tae Seo doesn't care, all customers are equal here, even if the King arrived he would not get better treatment. Kwan Woong grabs onto that statement and declares Tae Seo a traitor to the country. Good lord, does his villainy only have one method?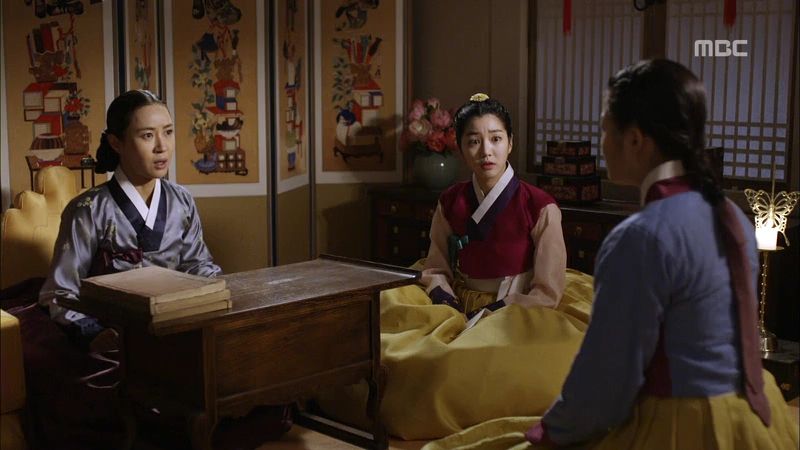 Chung Jo and Mom are informed about the situation happening at the Inn. Chung Jo wonders where Kang Chi is and Mom looks away all guilty. Ha, this would be perfect karma if the Mom realized that danger arrived the moment she tried to kick Kang Chi out.
Kwan Woong is ready to ship Tae Seo off when Mom arrives and gets on her knees to beg forgiveness and defuse the situation.
Kwan Woong isn't interested until he lays eyes on Chung Jo and suddenly looks very interested in her because he mistakes her for Seo Hwa. EW. Seriously, ewwwwwwwwwwww. And also – what the fuck with the convenient history repeating itself lameless.
Kang Chi returns and steps between Kwan Woong's line of sight at Chung Jo. He claims to be the protector of this Inn and everyone looks relieved that he's back. Yeo Wool and Gon arrive and sit on the roof to watch the action.
Kwan Woong sends his men to take out Kang Chi but he easily subdues them all. In fighting his bracelet begins to glow faintly. Kwan Woong is bested this time and leaves to go stay at the gisaeng house, but he makes note of Kang Chi.
Mu Sol returns the next morning to hear about the blow up at the Inn. He wonders where the guards were (chasing Kang Chi, obviously), so Kang Chi lies that he caused a problem and the guards came to get him.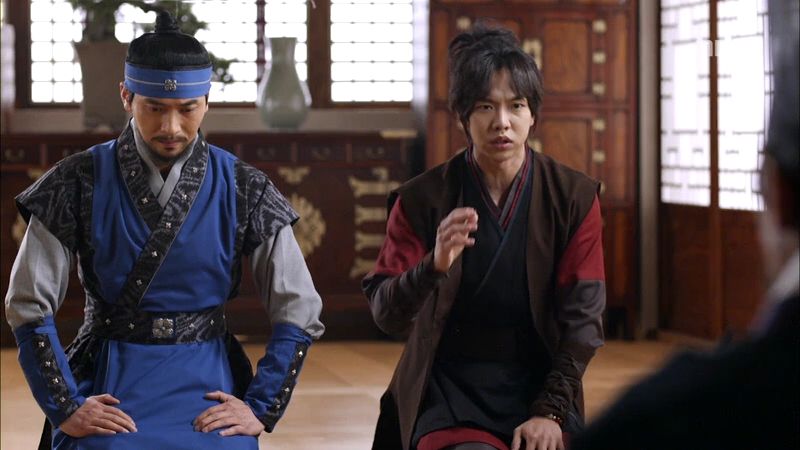 Mu Sol can tell there more to the story but Kang Chi doesn't want to out Mom's attempt to remove him from the Inn, while Mom looks all nervous.
Mu Sol and Tae Soo go to see Kwan Woong and apologize. Kang Chi asks Mom why she hates him so much and Mom claims he gives her a bad feeling and she doesn't even know if he's fully human.
She doesn't elaborate and Kang Chi is sad and confused, especially when he sees Chung Jo preparing her wedding trousseau.
Yeo Wool finds Kang Chi and reveals she's staying at the Inn now. She hits him with a stick to see if he can react as fast and he can't since she's not really a threat to him. Yeo Wool confirms Kang Chi is the boy from her past when she pretends there is a spider on the ground which freaks Kang Chi out.
Kwan Woong keeps the Park father-son waiting until he finally sees them. He wants to punish Kang Chi with 200 strokes of a beating which Mu Sol says is unduly harsh. Kwan Woong asks what Mu Sol will give him then? His Inn? His daughter? If not, then just give him Kang Chi.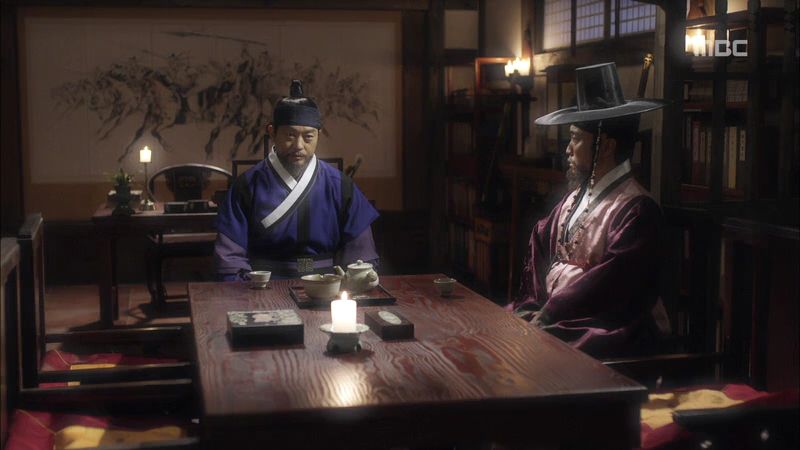 Mu Sol remembers what Pyung Joon told him about Kwan Woong's acts of villainy, how he makes people into traitors and takes everything they own. Mu Sol offers to take the beating in Kang Chi's stead. After he leaves, Kwan Woong orders Mu Sol killed and made to look like Kang Chi did it.
Kang Chi follows Yeo Wool and Gon but they easily shake him and head to their meeting with an unnamed Lord who is keeping tabs on all of Kwan Woong's murders. The mystery man thinks Kwan Woong is has a bigger conspiracy in mind. Kang Chi finds bullies shaking down villagers and he subdues him and returns the money to the villagers and is beloved by all.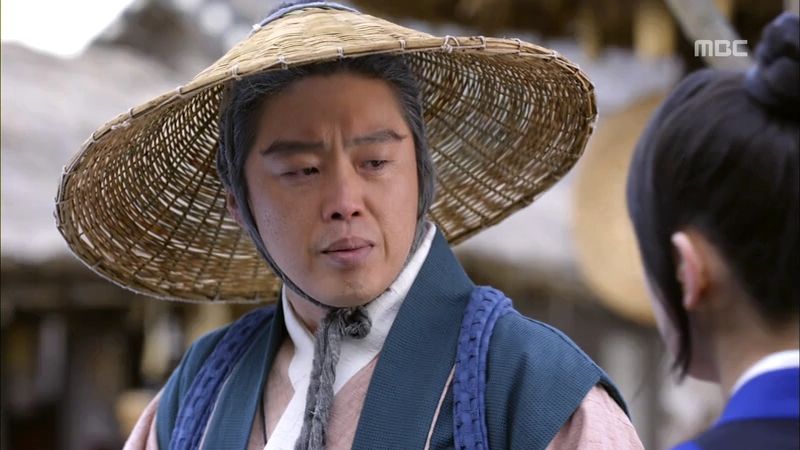 Yeo Wool watches Kang Chi play savior to the villagers and spots So Jung in the crowd. She tracks him down and wants to know more about the fate she needs to avoid. What if she can't avoid it? So Jung says one of them may die but he cannot say anything more.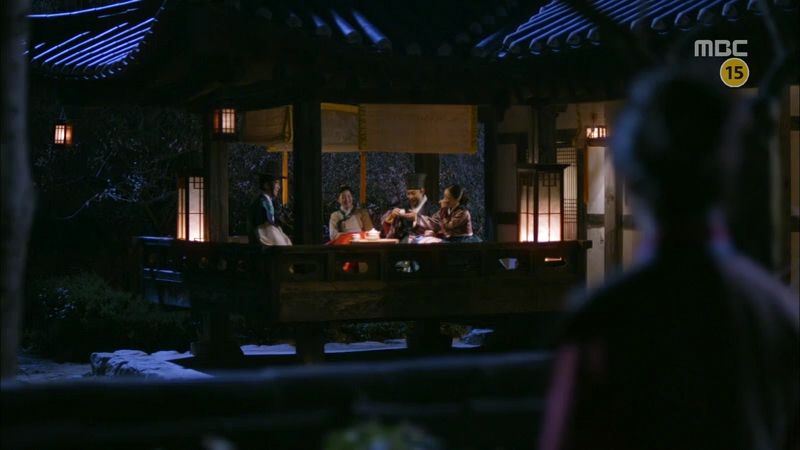 Kang Chi returns to the Inn and watches from afar as the Park family spend some quality quiet time together. He's clearly wistful and envious but understands that he is not a part of the family.
Kang Chi sees Yeo Wool practicing her sword in the courtyard and is impressed with her skills. He wonders how she knew about his fear of spiders and even with probing he doesn't remember meeting her before.
Suddenly Kang Chi and Yeo Wool are attacked by men in black. Ninja assassins? I dunno. Kang Chi calls for guards as more and more assassins material out of thin air right before them until they are completed surrounded.
Mu Sol hears the commotion and suddenly So Jung arrives in his chambers. He thinks So Jung is here because Kang Chi is almost 20 years old. He asks to know who Kang Chi really is, he saw what Kang Chi can do without the bracelet on. So Jung asks for specifics and Mu Sol starts to talk about the self-healing wound when suddenly he stops and realizes the person before him is not So Jung.
Mu Sol calls for guards as fake So Jung turns into a ninja assassin and demands to know more about Kang Chi and the magic bracelet as he holds a knife to Mu Sol's neck.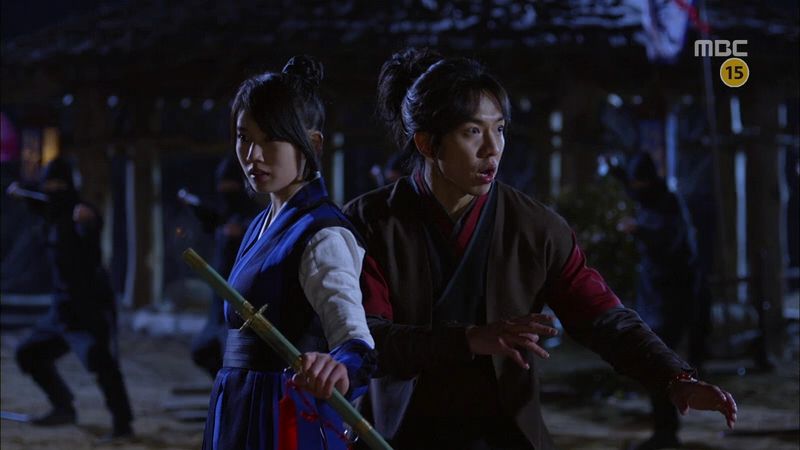 Yeo Wool and Kang Chi face off against a band of ninja assassins.
Thoughts of Mine:
I don't think GFB is that bad of a drama, not by a long shot. I think it won't even come anywhere close to the abomination that was this writer's last drama Man of Honor. It's pretty enough and the fantasy elements have some appeal since very few sageuks tackle that angle, but it really falls short for me to in context of some recent similar dramas. For a drama with a fantasy bent, Arang and the Magistrate really set the bar high. It was eerie, it was pretty, it was interesting, it was compelling. That drama lost me because it really did well on the supernatural and mythical bits but didn't develop the romance side believably. For a sageuk with stakes, look no further than the currently airing Jang Ok Jung, Live in Love, with well-developed layered villains and conflicts, not to mention costumes and set design that really makes GFB pale in comparison. I plan to keep watching both dramas, but because GFB comes off neither visually or intellectually interesting, it's a drama best watched as casual entertainment. My recapping would require I discuss it, and boy its not worth discussing other than to snerk about its heaps of coincidences and leaps of pathos. I'm happy GFB is doing well in ratings for Seung Gi's sake, and maybe this is the drama world making it up to him for TK2H being so underrated IMO. I hope for the sake of fans of this drama that the writer at least maintain this current level of limited standard and not descend into convoluted madness later on. I can't even say this drama should be better (it can't even if it tried), only that I wish I could love it more (I can't even if I tried). I might continue with baby recaps to save up screencaps of Seung Gi, so read only if you enjoy my snark otherwise don't grouse that I'm writing about it because heck I can write whatever I want to.