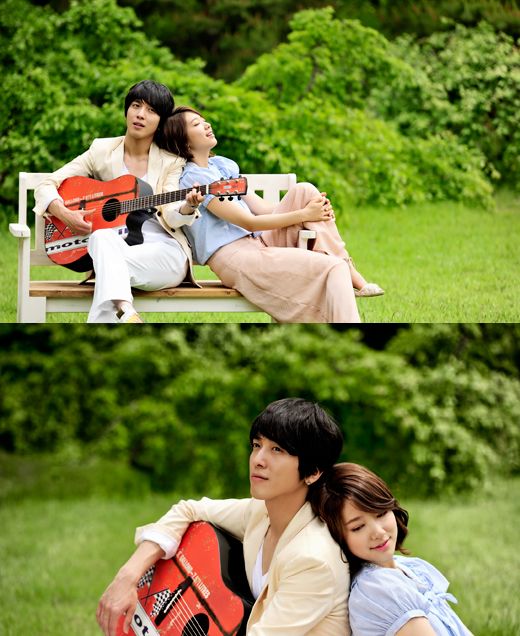 I'm not shy about posting casting rumors (with the requisite caveats, of course) because it sheds light on the casting thought process. Back on April 1 I wrote that Jung Yong Hwa was in talks to join Lee Min Ho in Heirs as guy 2, which was bandied about earlier than Park Shin Hye being cast as the leading lady. I thought Jung Yong Hwa of CNBlue being guy 2 to Lee Min Ho in a school drama was like mashing up Boys Before Flowers (where Kim Hyun Joong played that role) and You're Beautiful (where Jung Yong Hwa was wingman for Jang Geun Seok). And in a weird casting catch-22, Jang Geun Seok was originally offered the role of Gu Jun Pyo in BOF but he turned it down because he wanted to play Ji Hoo-oppa and that's how the legend that is Lee Min Ho as Gu Jun Pyo was born. Back to this casting for Heirs, which has now been confirmed that Jung Yong Hwa is indeed getting a three-peat chance to woo Park Shin Hye, not to mention rival Lee Min Ho, I don't know what to think. Okay, I have thoughts, but most are quite pessimistic. Let's get the positive one out first – this drama is going to get so much pre-airing and live-airing and quite possibly post-airing publicity and interest that I'm going to have to go back to Boys Before Flowers to compare the likely levels of hysteria and fandom schism. Let me put it this way, chances are those who love it will LOVE it, and those who hate it will HATE it. There will be no in betweens. Now that I am looking forward to. It's been too quiet around dramaland lately.
First off, apparently my initial sources were slightly off when it reported that this was a college-aged campus drama, when it's actually a high school campus drama about rich kids. An early description calls it a cross between Boys Before Flowers and US show Gossip Girl. This will only rock my boat (in a good way) if Park Shin Hye's character is written as the K-drama version of Blair Waldorf and she does her best Leighton Meester impression. It's a K-drama so let's not expect a Serena van der Woodsen type to make an appearance. I mean, drugs and promiscuity and questionable judgment, oh my lord!
The concept alone is enough to make me raise my eyebrows, and then you want me to jump onboard Lee Min Ho reverting to playing a high school student a nearly 5 years after he did it? After he played city protector in City Hunter and a supposedly full grown adult general in Faith? I also thought Park Shin Hye moved past that stage as well, especially with her taking on college-aged and beyond roles. It's not that I think any of these three are TOO OLD to play high school, I just feel like its some sort of walk down memory lane for them and a type of wink-wink inside joke to revisit campus hi-jinks with actors who have successfully transitioned out of that stage.
Then you have writer Kim Eun Sook tackling her first non-adult drama theme. I can critique her penchant for slick linguistic showmanship but I have no clue if she even remotely understands the mental psyche of high school students and can convincingly tell their story. Lastly, the third-time pairing of Jung Yong Hwa and Park Shin Hye will not be a charm, since he's back playing second fiddle and vying with Lee Min Ho for her heart. Been there-done that seems too inadequate a pithy saying to describe how redundant this all feels. And in a final trod on any optimism, all three have been cast without even reading the still-unfinished script. Talk about leap of faith.