I really am controlling myself from over-gushing about Jang Ok Jung, Live in Love. It is beyond anything I expected or could have hoped for, that was how low my expectations were going into this drama. I watched it after recapping episode 1 of Gu Family Book expecting an epic mess and a good laugh, and look where I am four weeks later after a complete turnaround. While Kim Tae Hee has been alternatively bashed by the media in Korea for her performance as Ok Jung (DA FUCK! Are they on crack?) while being praised by the international viewers, she's got such a good head on her shoulders by saying in a recent interview that she will always get criticized and she's now accepted that. She loves to act and will continue to do her best and challenge herself, but she's stopped doubting herself and being pulled down by the unending criticism. Good for her! I feel like those Korean media reviewers wrote up their criticism of Kim Tae Hee before the drama even aired and decided to publish it afterwards to save the hassle of rewriting it. Otherwise I can't believe they are that blind and clueless.
In the past I found Kim Tae Hee to be one of the weakest A-list actresses in Korea and was ready to laugh at her sageuk foray, but instead I am writing gushing odes to her amazingly restrained portrayal of re-imagined Jang Ok Jung. I also want to pimp out Kang Min Ah, who played the teenage Ok Jung and bears a striking resemblance as baby Ha Ji Won. Kang Min Ah is the real deal, and not yet as hyped as Kim Yoo Jung or Kim So Hyun, but just as good and maybe even better considering she's a newbie. What's even more astounding is seeing the two actresses actually delivering mirroring performances of the same character. It's not just good acting, it's good acting that is aware beyond the scope the page and taking into account more than just a standalone performance. What's so remarkable about Kim Tae Hee and Kang Min Ah here in JOJ is that their awareness of the camera and their role is undeniable even in stills alone. Check it out below, and I've also included a few snapshots of Kim Tae Hee at her worst many years ago. It's a great reminder of how far she's come.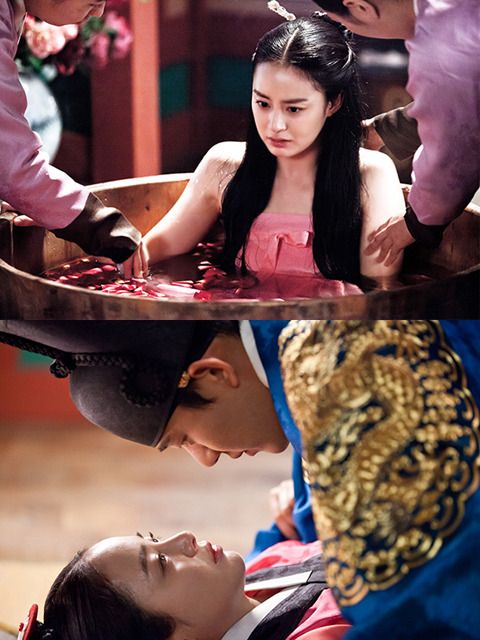 Kim Tae Hee and Kang Min Ah are the best one-two actress punch in a sageuk drama in my memory.
Now for some hilarious walk down memory lane. One cannot fully appreciate Kim Tae Hee's acting transformation in JOJ unless one has watched her worst performances ever, as I have. Kim Tae Hee in The Restless with my I Lub You. "What is that? An UFO? Ironman? A fart coming towards me? I don't know but I'm really scared! Look at my dilated pupils."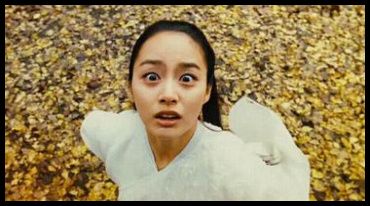 Kim Tae Hee in Stairway to Heaven with Kwon Sang Woo. "How can you not luuuuuurve me, oppa! Does my glare of evil not turn you on? Look at my leopard print jacket. Don't make me jump you, I am a wild cat yes I am!"