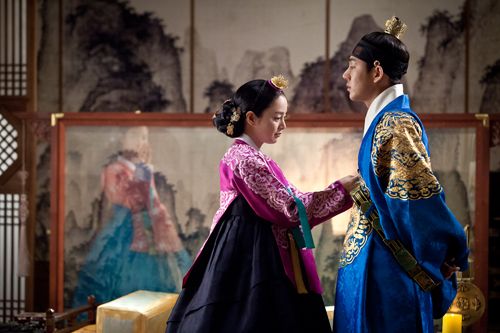 So, um, don't shoot the messenger, okay? For those of you unaware of the source material for Jang Ok Jung, Live in Love, it's adapted from a recent chick lit Korean novel of the same name. Much like The Moon Embraces the Sun (and Sungkyunkwan Scandal) was similarly adapted from same-name novels, there appears to be a little niche publishing arena for fantasy/fusion sageuk novels. The producers of JOJ said in a statement very early on during the production phase of the drama that it would be the K-drama version of Bu Bu Jing Xin. I've read BBJX the novel (and translated the same author's two other works Da Mo Yao and Yun Zhong Ge) and watched the drama, and I can safely say that I am totally getting BBJX vibes from JOJ. It's not the story, which is a completely different narrative journey and context (even taking away the time-travel element in BBJX), but the mood and tension in both are very similar. An extraordinary woman falls in love with the ruler of a nation, and their love may be as epic and romantic as can be, but it exists within a world that doesn't allow it to survive. For those of you who have watched BBJX, the boxes and boxes of tissues used up during the watch is a testament to how moving the love story was. I know the same thing is coming for JOJ.
MoonSun was such a popular drama that the novel excerpts started popping up on DC Gall and Baidu shortly after it aired. JOJ has such low ratings and domestic interest I haven't see the novel posted anywhere. Until now, when randomly two snippets showed up on DC. One is is sweet scene between Ok Jung and Lee Soon, and the other is……….the final two sentences of the novel. The former is adorable, and the latter gives away the novel ending. I've translated both so read at your peril. I have to say the word on the street is that so far the drama is deviating a lot from the novel, changing characterizations and events around but keeping the general outline intact. That means the drama ending could be different than the novel ending. Could be, but I doubt it. As much as JOJ is a re-imaging of the life of Jang Ok Jung and her love with King Sukjong, at the end of the day there is still their fates hanging in the balance and some veneer of history accuracy to pay homage to. It could end like DMY (those of you who read it knows that what happened to historical Huo Qu Bing was a big what-if hanging over the entire novel but the ending was clever and satisfying), but I'm not going to jump that far ahead. We have 8 more weeks ahead of us, let's savor it while we can. The fans at JOJ DC Gall have created a brain map for Lee Soon that is hilarious and worth a read, so check out these goodies below.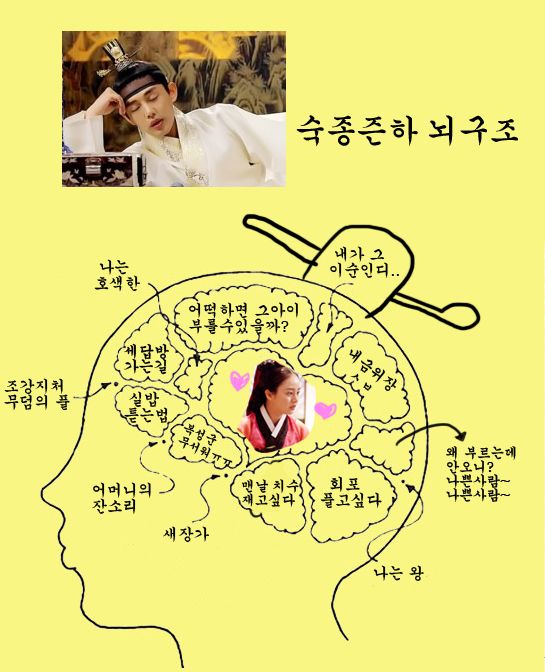 Lee Soon's brain:
Biggest part is hearts for Ok Jung. Other hilarity includes:
1. How to get that child to appear before me?
2. Every day all I can think about is getting measured.
3. What is the route to the laundry department?
4. I called her before me, why didn't she come? Bad girl, bad girl!
5. Having to take another wife.
6. Dowager Queen Mom's haranguing.
7. The grass growing on Queen In Kyung's grave.
8. Head of the Palace Guard Lee Soon.
9. Prince Boksun is so scary!
10. I am King.
11. I want to talk about my inner most thoughts with you.
A little sweetness between the OTP:
Lee Soon loved this side of Ok Jung, even if he was a bit abrupt with her, she would allow him. Sometimes her reaction was one he couldn't expect, but she was more alluring than any woman as she blushed. Lee Soon said he wanted to breakfast at Ok Jung's residence. While having breakfast, his hand held Ok Jung's hand and never once let go. Ok Jung saw how embarrassed it made others present and she couldn't lift her head up.
Last paragraph of the book:
From that moment on, there was no one in this world that could reassure the lonely shoulder of Lee Soon or wipe away the tears from his face. Because the only woman who ever loved him, Jang Ok Jung was no longer in this world.