I had an epiphany today when watching episode 18 of King Flower. It was an amazing moment of clarity made all the funnier because of how crazy this drama is. This episode confirmed for me that it no longer matters how it ends and which guy Da Hua picks. I finally realized there is some method to the writer's madness – its clear by now with at most 2-3 episodes to go that the end game is most likely still Da Hua and Guan Jun, but the writers are almost doing a wink-wink at how Terry has become the heart and soul of the show and he's getting more and more scenes to showcase his awesomeness. So the essence of the ending boils down to – Guan Jun may get Da Hua (I can care less because Da Hua isn't good enough for Terry), but Terry is getting the drama, the viewer's love, and all the care that goes into writing exquisite dialogue and scenes for him. The inanity of Lin Guan Jun publicly dumping Da Hua because of his own insecurity and because he wants her to have a better man than him only goes to showcase how mature and thoughtful Terry is. He doesn't need to get Da Hua to have a happy ending, that is my epiphany, and with that all my rage went out the window and I am the happiest Koala alive again. I look at Terry and realize he's going to be just fine no matter if he gets the girl or not.
Losing Liang Yen was the most difficult experience of his life and luckily Da Hua was there to help him through it, but his happiness isn't predicated on winning Da Hua's hand. He said to Da Hua in this episode "We did nothing wrong, and it doesn't matter what other people say or or think, as long as we earnestly live our lives with meaning." Amen to that. King Flower was a wonderful watch because we all got to meet living, breathing, caring flesh-and-blood Terry brought to life by Chris Wu. Terry isn't a sad-sack second male lead, how can that be when he is the narrative focus, not to mention heart and soul, of this drama. Da Hua is the ridiculous one in clinging on to her childish love for a man who treats her like a object to be won or given away, who never has a mature conversation with her, and who ultimately keeps fucking up but everyone around him gives him a pass. If KF ends with Terry and Da Hua I'll be happy on principle that the right guy got the girl, but if it doesn't then I'm thrilled to have spent hours with one of the most fascinating male character ever to grace the TW-idol screens. Hold on to your hats – this recap is chock full of my runaway train of meta plus I have lots of thoughts to share afterwards.
Stage 18 recap: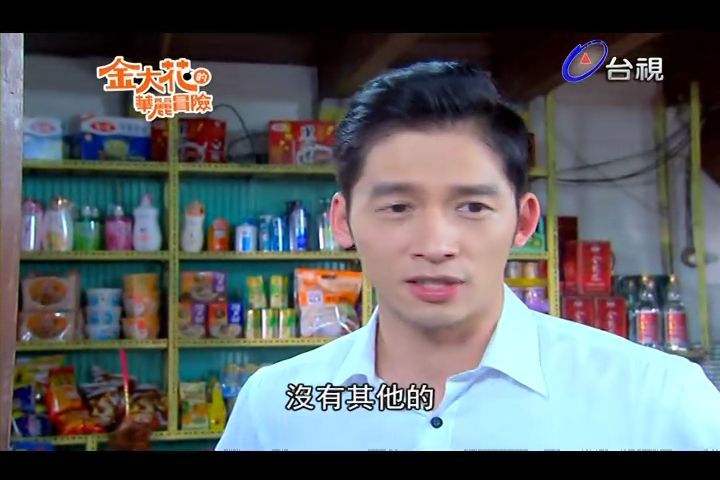 Guan Jun announces to the media that he's just siblings with Da Hua. The reporters are surprised since it doesn't look like that to them. Erm, it totally looks like that to anyone with functioning eye sight. Guan Jun closes the gated door on the media and then walks away.
Da Hua follows him to the playground where Guan Jun is laying on the see-saw looking all stressed. Da Hua asks why he would say they were siblings if he admitted he liked her and he was serious about her! What has gotten into him? Guan Jun says he's been thinking about what he can give her, what kind of happiness can he bring her? Let me just preface by saying this conversation bears zero resemblance to how normal, thoughtful, mature adults in a relationship would discuss legitimate concerns about a future together.
Guan Jun thinks he has no future with Da Hua since his career is based on Hu Jing Biao giving him a job so he's at the mercy of another. He doesn't believe anymore that hard work equals success (did he ever? didn't he laze away in the marketplace for 30 years?) so he wants both of them to pick someone better. He can't compete with Ouyang Tai (truer words have never been spoken, but its not because of wealth but because of personality), and he tells Da Hua to think long and hard about why she even likes him in the first place. He says people change, he's not the same Lin Guan Jun as before and she's also not the same Jun Da Gua as before.
Guan Jun walks away but stops to look back at Da Hua again and thinks to himself that she deserves a better man than him. Da Hua stands there crying. I swear she makes me want to slap her for being such a gormless doormat. And then I realized – she was always a gormless doormat with Lin Guan Jun. This is the real Jin Da Hua, the one that spent time with Terry was influenced by his awesomeness but in no way actually learned from it. I also realized that our collective freak out over Da Hua picking Guan Jun in the end is misplaced. Of course Dumb and Dumber should be together. Their gutless and/or insecure useless personalities should not be allowed to procreate with others.
Da Hua goes to Sheng Da and walks through the office and is the object of gossip and stares. She knocks on Terry's door and he's surprised to see her. He goes over to help her sit down since she's still limping.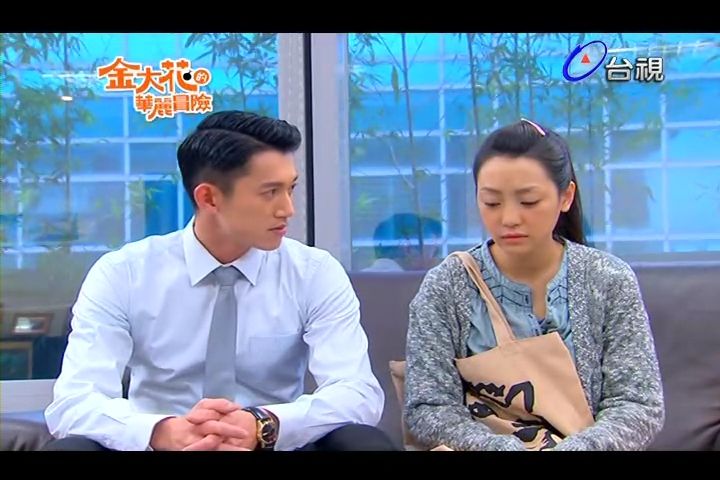 Terry can tell Da Hua is upset and tells her he knows what's going on and asks if she's hanging in there. It'll pass and the truth was bound to come out. He tells her not to worry, he's here with her and won't abandon her. They can weather this storm together.
Da Hua stares at him and says she isn't worried about that. The truth coming out she expected, but she's upset because Guan Jun said she's just a sister. What happened and why would he say that? I don't know, maybe because he's a moron. How do we even attempt to make sense of why Lin Guan Jun says or does anything?
Terry looks away and Da Hua asks if he thinks Guan Jun is angry at her? Terry turns back to look at her and says he doesn't know whether Lin Guan Jun is really angry at her, but he knows that he's about to get angry at her. He asks how she can talk about another guy in front of someone who likes her? He's really hurt right now.
Da Hua remembers that Guan Jun said that Terry is sincere towards her and he can tell. Da Hua looks conflicted and she then blurts out that she is not Liang Yen, she is Jin Da Hua.
Terry laughs and says he knows she is Miss Jin Da Hua. He then asks if she's hungry, and when she says no, he tells her that he's hungry so she needs to go have lunch with him. I love how he just effortlessly gets her mind away from useless moping and going out to do stuff.
Terry and Da Hua sit at the market having street food. Da Hua happily explains that this stand is famous at their market and even the television shows have done reports on it.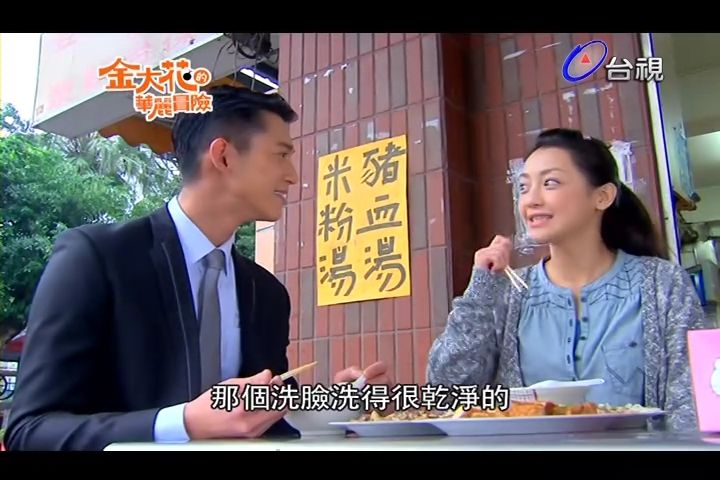 Terry laughs that Da Hua knows everyone and everything at this market, and he's really happy spending time with her because its always something interesting. Without her he wouldn't have tried this noodle, or the snacks at the night market. Da Hua says its mutual, without him she wouldn't have tried red wine, the pricey steak, and the awesome face cleaning thingamadoodle. They smile at each other and start eating.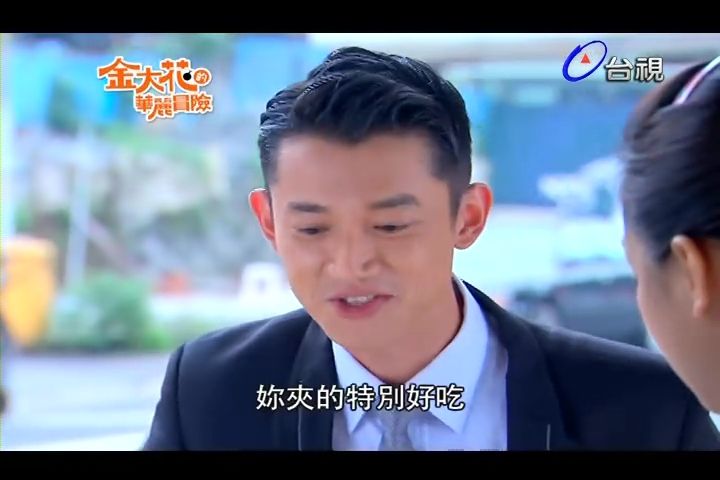 Terry suggests that if she wants the kind of food he's familiar with, she can find come find him and he'll take her. And if he's looking for someone to go to the nightmarket, he'll come find her and they can go together. Da Hua nods and says sure.
Da Hua picks up a fried chittering and offers it to Terry, who grabs her hand and eats it right off her chopstick. We see a paparazzi snapping photos of them. Terry smiles and says it's delicious but tastes even better off her hands. Sigh, even his effortless flirting is a billion percent sweet and perfect. He asks if she can get him another one but Da Hua doesn't and tells him to get his own food.
The next day, Da Hua and Terry's picture is splashed all over the newspapers with the headline that "Rich tycoon falls for Poor market girl". Da Hua reads it at breakfast and rushes out.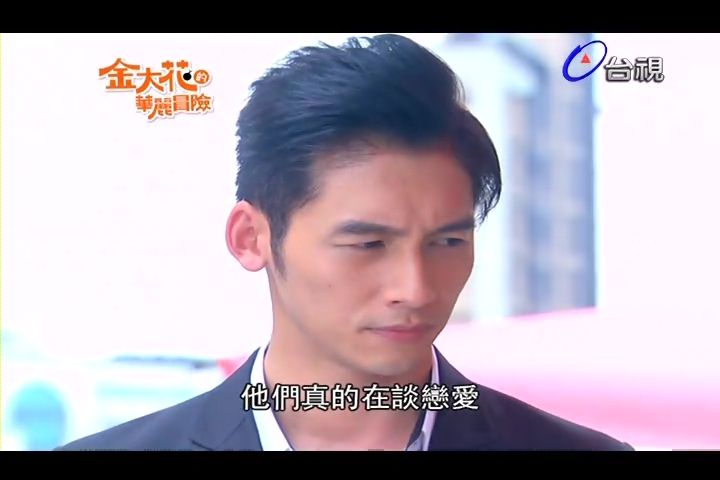 Guan Jun picks up the paper on the way to work and a few market folks ask if its true Da Hua is dating the rich Managing Director of Sheng Da? Guan Jun says it's a good thing for Da Hua to meet a rich guy who is good to her.
Da Hua goes to Terry's house and he asks if she woke him up early because of this as he raises an eyebrow as he reads out loud the ridiculous headline "Real Estate Tycoon Eats Chittering For Love". Terry's recitation is filled with bafflement that this is even news, and at how stupid the headline is.
Da Hua apologizes but he says there is nothing to apologize for. They are humans and they need to eat, and they did nothing wrong.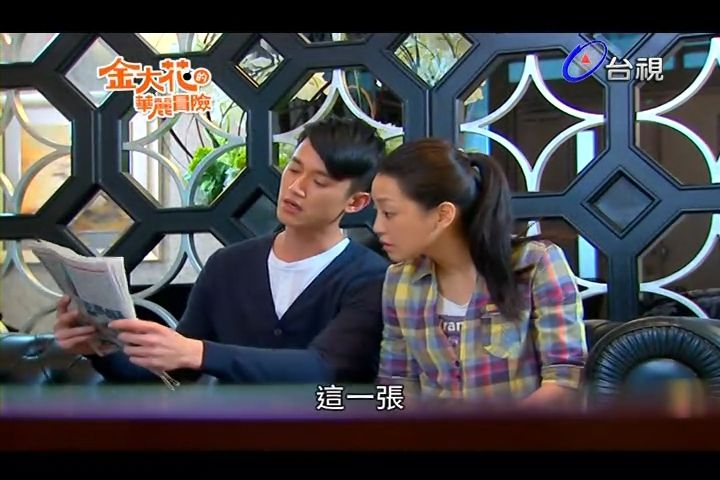 Terry instead changes to the subject to grousing about how the paparazzi couldn't even take a good picture of him. Da Hua asks him if this is a point worth discussing? Terry says absolutely and pulls Da Hua to sit down next to him.
This picture they printed was awful and he's so much better looking in person and why did they print a picture of him eating. He points out Da Hua's picture is no better, in one her eyes was super wide open like a goldfish and in the other she looks like she saw a ghost. LOL. Da Hua thinks Terry looks great in the pictures but he insists he looks better in person. Terry looks aghast and asks if Da Hua has problems discerning beauty, he totally looks better in person. OH MY GOD! Yes, Terry totally nailed it on the head. Da Hua clearly is blind to prefer Lin Guan Jun, whether in looks or personality. Unless she lives in Bizarro world where unattractive and douchy are characteristics to look for in a spouse.
They go back and forth until Da Hua laughs that he's just super good looking all the time so is that good. Terry smiles and tells Da Hua to hold her current smile. He wants her to remember this smile and keep it always. Guh, Terry, why so awesome. Especially to someone who just doesn't have the capacity to get it. It's like the Chinese saying goes 对牛弹琴 (playing piano to a cow – it does not have the capacity to appreciate it).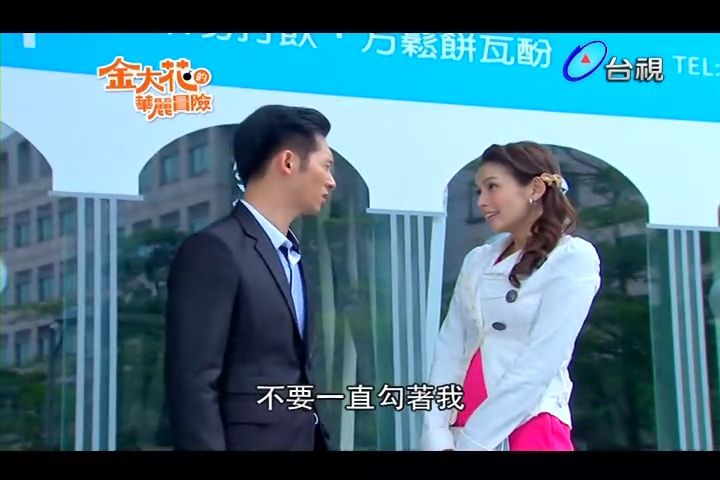 Guan Jun is at work and Xiao Fei asks him to go shopping with her. He reluctantly agrees but tells her not to hold his arm. Xiao Fei says arm holding isn't going to kill him and then huffs off behind him.
Da Hua and Terry are walking down the street and she doesn't want him to walk her home for fear that Guan Jun will misunderstand if he sees it. He offers to walk her just to the end of this road and call her a taxi when they suddenly come face to face with Guan Jun and Xiao Fei.
All four of them looked shocked and then Xiao Fei moves to grab Guan Jun's arm, almost like she want to show Da Hua that someone else is sticking up for Guan Jun if Da Hua wants Terry. Dang, I really do like her.
Da Hua walks over to ask Guan Jun what is going on, didn't he say he was at work? Guan Jun grabs Xiao Fei's hand and says he likes Xiao Fei and they are dating now. Da Hua doesn't believe it but Xiao Fei is ecstatic and kisses Guan Jun on the cheeks.
Xiao Fei tells Da Hua not to be angry at her. They agreed to compete openly and now Guan Jun has chosen her. Da Hua asks if Guan Jun said they were siblings because he likes someone else already. Guan Jun smiles and says yes. Da Hua runs off crying and Terry stares at Guan Jun, who avoids meeting his eyes, before he goes after her. Guan Jun drops Xiao Fei's hand and walks off.
Terry grabs Da Hua before she mows a guy down and tries to calm her down. Da Hua insists that it's just a misunderstanding and Terry is fed up with her stubbornness. He points out Guan Jun told the world they are just siblings, and back there he revealed that he was dating Xiao Fei. How could that be a misunderstanding?
Da Hua claims Guan Jun wouldn't like Xiao Fei since he told her he didn't like Xiao Fei. Terry says Guan Jun just said he liked Xiao Fei in front of them. Da Hua stubbornly says its because he is angry at Da Hua because he saw her with Terry. Okay Da Hua, let's assume you are correct. In that case, is Guan Jun's behavior acceptable to you?
Terry knows she's very hurt right now…………Da Hua plugs her ears and screams at Terry to stop talking! Fuck this, what are you, Jin Da Hua? A five year old throwing a temper tantrum. If you don't hear it then it's not true? I. Can't. Even. Terry lost Liang Yen so the writers could let him fall in love with……her? *headdesk*
Da Hua suddenly spots Ah Xi and runs crying into her arms. She tells Ah Xi that Guan Jun is dating Hu Xiao Fei.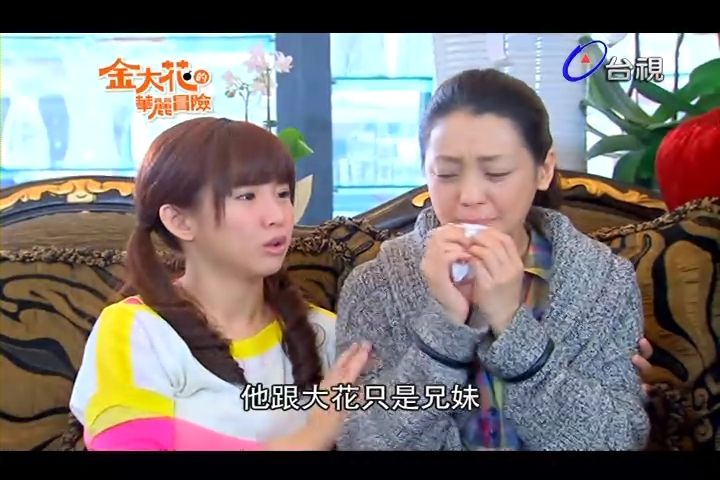 Ah Xi and Da Li are comforting a sobbing Da Hua in the flower ship. Ah Xi tries to make sense of how Guan Jun could have changed like that. Da Li remembers his conversation with Guan Jun in the truck where he said people change.
Da Li shares that conversation with Da Hua about how the world is changing and people change. As long as people are happier, Guan Jun is willing to change. Da Li asks if Guan Jun is acting this way because he thinks Da Hua likes Terry. Da Li reveals that Da Hua's recent behavior is odd as well. She used to be all about Guan Jun, but now that she's back all she talks about is Terry this and Terry that.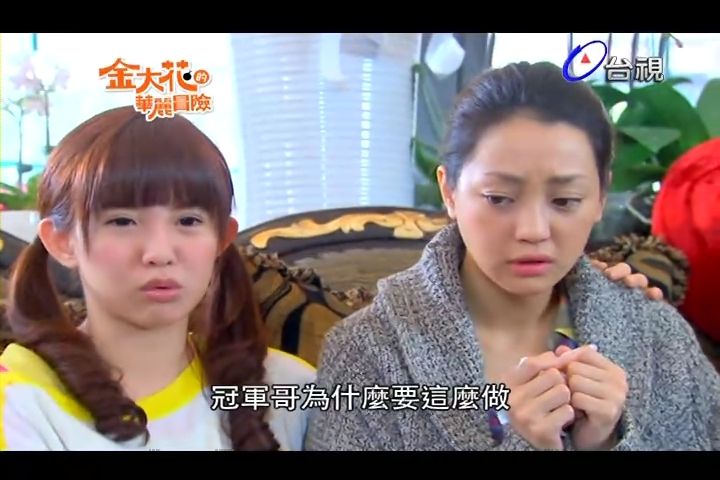 Terry sits there listening and he hears this. Da Li whispers that Da Hua's relationship with Maserati makes everyone think there could be something going on. Didn't they just get snapped by the paparazzi? Ah Xi thinks perhaps Guan Jun is upset about Terry and just being mean to Da Hua, though it's taking a huge chance that Da Hua might leave him in the end.
Ah Xi asks Da Hua what to do if Guan Jun really misunderstood what is going on between Da Hua and Terry? They suggest Da Hua go clear things up right away with Guan Jun. Da Hua stands up and asks to speak with Terry privately.
Terry calmly tells her to just say what she wants to say. Despite her earlier saying they could stay friends even after their contract has ended, but she does not want Guan Jun to misunderstand, and she doesn't want Terry to misunderstand. Terry understands that Lin Guan Jun is the most important person in Da Hua's heart. He asks her what she wants him to do?
Da Hua asks that they don't meet anymore. Terry stares at Da Hua and she continues by saying that now the contract is over, seeing each other only makes it more difficult. Da Hua doesn't even meet Terry's eyes as she says this but he stares at her without blinking before looking away and asking if she really feels this way? Da Hua can only apologize.
Terry smiles and asks why she is apologizing, she has done nothing wrong. He nods and says he knows what to do now. He walks out of the flower ship and Da Hua looks very sad. You know what, Da Hua, you are now officially a shitty friend as well. To toss someone as good to you as Terry aside just because insecure Guan Jun can't handle being less of a man around Terry, I hope some karma comes back and bites you on the ass.
Guan Jun sits with Xiao Fei and reveals all to her – that he doesn't see himself with a future with Da Hua, so that is why he is using Xiao Fei to push Da Hua away to Ouyang Tai. He apologizes for using her and he knows its wrong to her, but he has no other choice. He tells Xiao Fei to be angry or tell her dad, he will accept anything she does.
Xiao Fei can tell that Guan Jun really likes Da Hua and asks if he's not afraid Da Hua will hate him for doing this? Guan Jun doesn't care as long as it can bring Da Hua happiness. Xiao Fei agrees to help Guan Jun and be his pretend girlfriend. She asks if he'll try dating her? Guan Jun is happy if she helps him but he can't exchange his feelings for her help.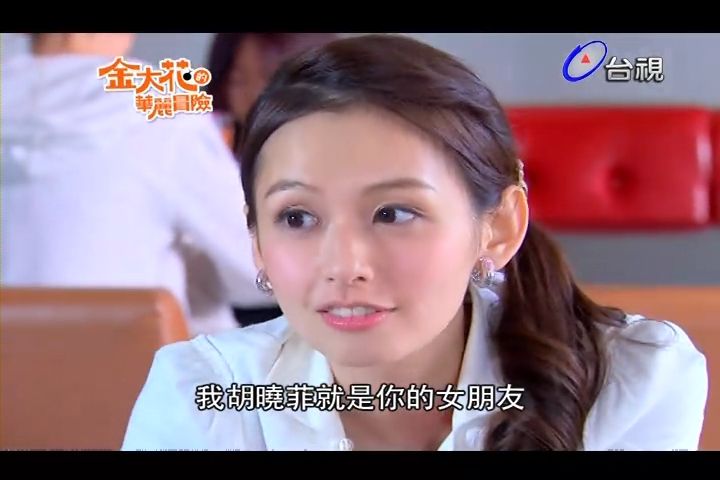 Xiao Fei doesn't mind, she'll be his shield and in public he'll be her boyfriend and she'll playact his girlfriend. Guan Jun asks if she doesn't mind knowing he likes Da Hua. Xiao Fei doesn't mind, if Guan Jun can sacrifice for the person he loves, she can also sacrifice for the person she loves. Guan Jun smiles and thanks her.
Dude, you two are able to have mature adult conversations, why can't you just try dating for realz? Does Guan Jun not realize he behaves like a mature adult only around Xiao Fei, and she responds candidly but sincerely? Not to mention James Wen looks fantastic with Yuan Ai Fei, whereas he looks like a sleazy ahjusshi with Nikki Hsieh. James can only look great with statuesque model types like Ai Fei, Cheryl Yang, Sonia Sui. With a petite cute thing like Nikki, all his greasiness comes out.
Guan Jun comes home and finds Da Li waiting for him. Da Li asks what is going on and Guan Jun sticks with his "people change" story. Da Li doesn't believe him since Guan Jun is always jealous of Maserati. Guan Jun says he missed Da Hua when she was away and that made him think he liked her. But now that she is back, he can see that it's not romantic love.
Da Li is angry but Guan Jun says he doesn't like Da Hua so he can't be forced to be with her. There is nothing wrong with being with Xiao Fei, she is rich, pretty, and treats him well. Being with her means he gets all of Hu Jing Biao's wealth one day and can not work so hard. Da Li asks what Guan Jun is saying? We are all asking that, Da Li.
Guan Jun says Da Li also thinks Ouyang Tai is rich, handsome, nice, all the girls like him. Da Hua will be happier with him. Da Li once asked Guan Jun if he has the confidence to be with Da Hua and bring her happiness. He can answer that question now – there is no future for him and Da Hua.
Da Hua goes home and mopes in bed, looking at pictures of her and Guan Jun and clutching her Grey Bear. Terry stands outside her window and thinks to himself that he'll always protect her no matter what happens. He stays until he sees her light turn off.
Da Li tells Ah Xi and Da Hua his conversation with Guan Jun last night, how Guan Jun wants to work less and be with Xiao Fei. Da Li doesn't think its that bad since Maserati really likes Da Hua for real, it's probably better for their family. Ah Xi is angry at how opportunistic Guan Jun has become.
Jin Mom is asking Da Hua what is going on later that night. Da Hua says there is a misunderstanding with Guan Jun is all. Guan Jun comes home and Jin Mom asks why he told the world that Da Hua was his sister? Guan Jun says he only sees her as a sibling, nothing more. He also tells everyone that he's dating Hu Xiao Fei right now.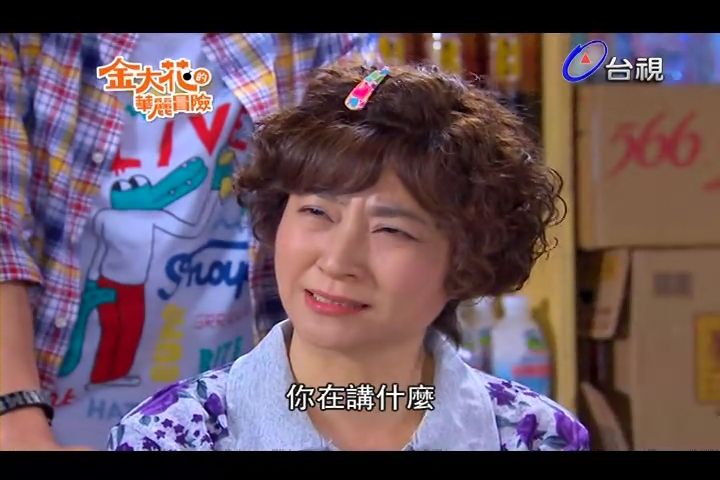 Jin Mom is so upset and asks how things got to be like this? Jin Mom tells Da Hua and Guan Jun to get married quickly to stop making the four-way love triangle so complicated. Guan Jun says he can't marry Da Hua since they are siblings. Mom asks if he won't regret saying this? Da Hua starts crying and Mom looks very disappointed in Guan Jun. She doesn't need him to marry Da Hua, but she's upset why he gave Da Hua hope earlier?
Guan Jun said he made a mistake – he thought he liked her when she left for Australia but he realized that he was just missing someone he took for granted and didn't want to lose her. Da Hua cries in her usual pathetic way.
Guan Jun says now that Da Hua looks like Du Liang Yen, it's more suitable for her to be with Ouyang Tai. Everyone is upset that he would say something like this. Jin Dad comes out and says Mom shouldn't force this. Mom knows Dad just wants the two kids to marry rich prospects. NO MOM. Rich aside, they would be marrying better prospects in terms of compatibility and personality, i.e. better people. Stop being so hung up on the money.
Guan Jun apologizes to Da Hua and leaves. Dad thinks Da Hua is lucky to have Ouyang Tai but Mom yells at Dad for causing this whole mess to begin with.
Da Hua finds Guan Jun stressing out at the park. She tries to talk maturely with him about what is going on, asking if he misunderstood anything about her and Terry. Guan Jun insist he didn't misunderstand anything, he is like a brother to her. Da Hua brings up all the promises Guan Jun made to her before. Lady, trying to talk maturely with him is like talking human language to a pig.
Guan Jun tells Da Hua that he chooses Xiao Fei and returns her bracelet to her. Guan Jun tells her to wake up from her silly dreams, he will never succeed at his delivery service. Right now his position is due to Hu Jing Biao, without it he's just a useless lout. Da Hua doesn't care, she is willing to work hard with him and achieve their dreams. She asks if liking someone is that superficial. She doesn't care that he doesn't have money. Guan Jun says he cares, he wants Hu Xiao Fei because she has money.
Da Hua doesn't believe he's that kind of man. Guan Jun says he is exactly that kind of man and tells her to stop bothering him. Da Hua runs off and Guan Jun touches his wrist where the bracelet use to be.
Da Hua wanders home clutching the bracelet and it starts to rain. She suddenly sees Terry standing before her, both of them soaking wet.
Terry walks up to her and they stare at each other. Da Hua asks why he's here when they agreed not to see each other again. Terry answers with the most honest of words – "Because I miss you so much." Guh, why so perfect? And is anyone shaking their heads over the director's desire to keep getting Da Hua and Terry wet (1x pool, 2x pouring rain).
Da Hua and Terry sit under an awning and he tendering dries her hair. Dude, I really don't think she's worth it. He knows she's in a bad mood, so no matter what she wants to say, he'll keep her company. Terry reminds her how she used to encourage him to say what's bothering him. Can she treat him like a friend right now, a friend who is willing to listen to her problems.
Da Hua starts to cry and he wipes away her tears, asking how things went when she explained the misunderstanding with Lin Guan Jun? Da Hua says she tried to explain but Guan Jun doesn't care anymore. As much as she doesn't believe it, Guan Jun might really be in love with Hu Xiao Fei.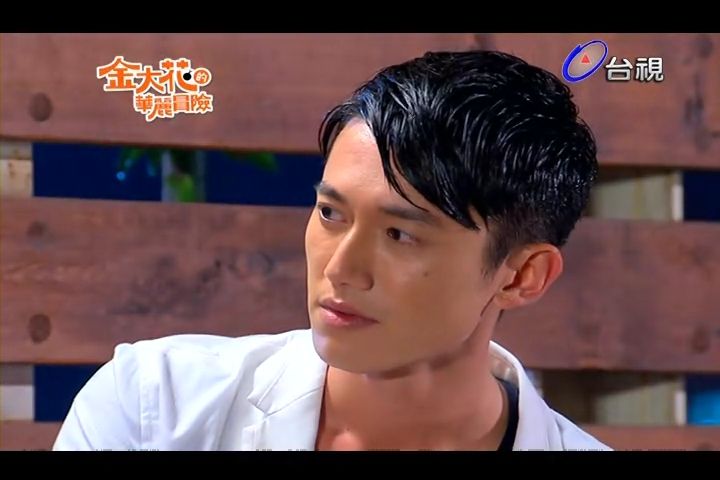 Da Hua asks Terry if she's really that annoying? Can I answer that question, Da Hua? Terry says no way, in his heart she is the kindest person in the world. Terry keeps wiping Da Hua dry as he assures her that she's not annoying.
Da Hua asks Terry if he thinks she's Liang Yen again? Guan Jun said that her face is identical to Liang Yen, so Da Hua rightfully belongs to Terry now. Da Hua says she was merely pretending to be Liang Yen, but she is still Jin Da Hua. Terry stands up and says he knows, and Guan Jun wasn't wrong. He confesses that he once thought she was becoming more and more like Liang Yen. And he struggled, he tried to make sense of his feelings.
He asked himself constantly whether he saw her as a replacement for Liang Yen. But he knows now what he feels and call tell her without a doubt that he likes her for who she is. He loves Jin Da Hua. My goodness – WOMAN, here is a man telling you that he put time and thought into figuring out his feelings for you and arrived at the honest conclusion that he loves you as you. And you are hung up on Lin Guan Jun, who has never said he loves you, and likely doesn't know which way the sun sets or whether his ass is facing down or up. Do you need a brain transplant to go along with your face transplant, Da Hua? Qin Mo probably works for free on this one.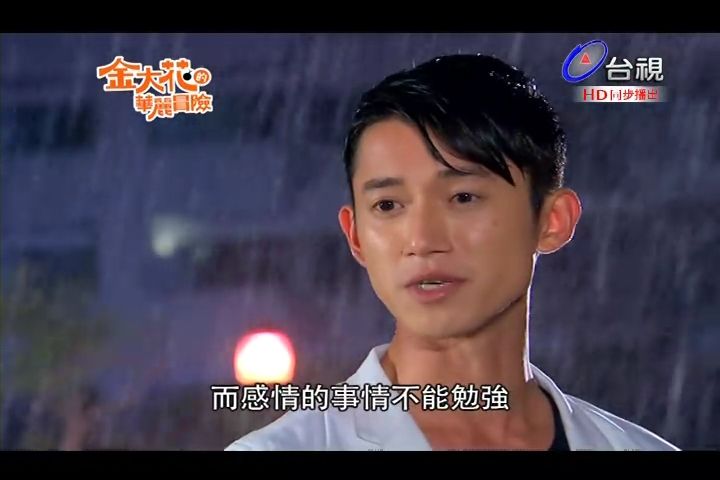 Terry knows that she loves Lin Guan Jun, and feelings can't be forced. All he wants is to keep her company when she's sad, to see her when he misses her, to know whether she's doing well. That is enough.
Da Hua stares at him and thanks him for talking with her today but says she has to go now. He offers to drive her home but she declines. He wants to give her his jacket and she also declines, saying she doesn't want Guan Jun to misunderstand and she knows she's been an idiot. Truer works have never been spoken. Jesus, if that man can misunderstand everything and anything and treats you like shit, how the hell can you keep justifying his douchiness and accepting it?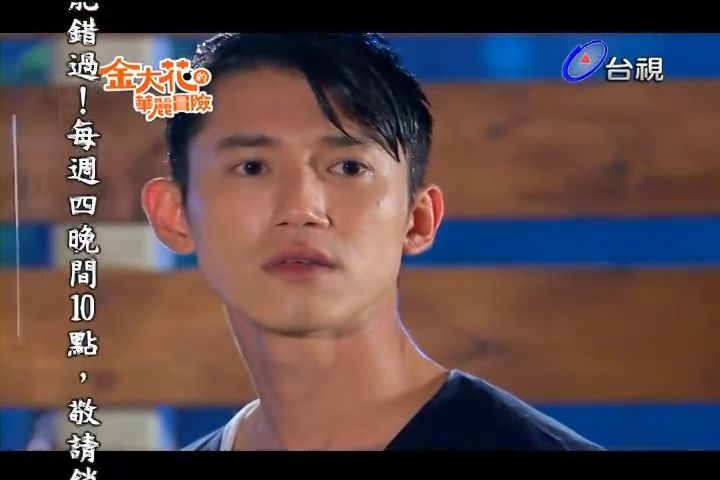 Da Hua runs off in the rain leaving Terry staring after her.
Terry goes to see Guan Jun who thinks he's here about the land co-development project. Terry says no, he's on a leave of absence at work so he's here for personal matters.
Terry asks why Guan Jun is purposely hurting Da Hua? He doesn't know why he is doing this since he likes Da Hua and treats her so well in the past. Guan Jun says lying to Da Hua about his feelings is the wrong thing to do.
Terry says Guan Jun is lying, he's seen the way Guan Jun looks at Da Hua. He's also seen Guan Jun being jealous about Da Hua, and when he thinks Terry is mistreating Da Hua, Guan Jun gets angry and wants to punch him out. So it's unbelievable to say Guan Jun likes someone else. Forget Da Hua not believing what Guan Jun is saying, even Terry doesn't believe him.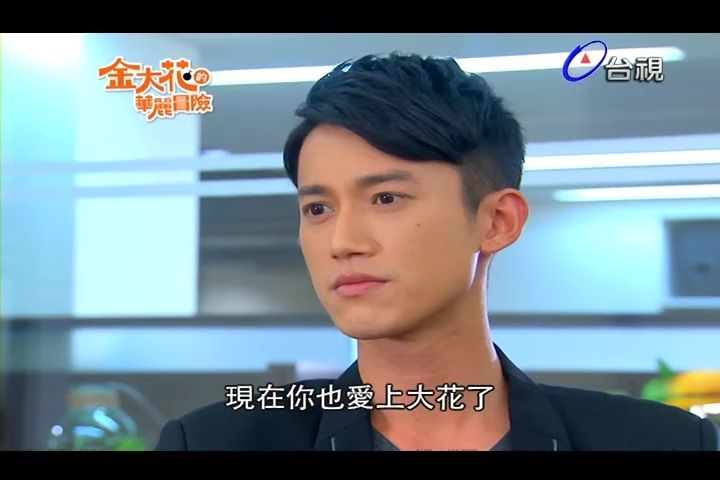 Guan Jun says people change, for example Terry claimed to love Du Liang Yen but now likes Da Hua. Terry says he did love Liang Yen, but she's dead. And his feelings for Da Hua came after a long and arduous emotional journey.
Terry says Guan Jun has no right to give up Da Hua. Guan Jun asks why Terry has a right to think his feelings didn't change after a trying journey? Uh, let me answer that one – as viewers we have seen you undertake not a single hardship or emotional journey of awareness. You figured out that you liked Da Hua after she left for Australia. Boo hoo, so trying. You saw a better man likes her and felt unworthy. Cry me a river.
Terry asks why Guan Jun is doing this? Da Hua is back with him and she still loves him, so how can he treat her this way? Guan Jun says he is being honest and he would rather hurt her now rather than pretend he still loves her.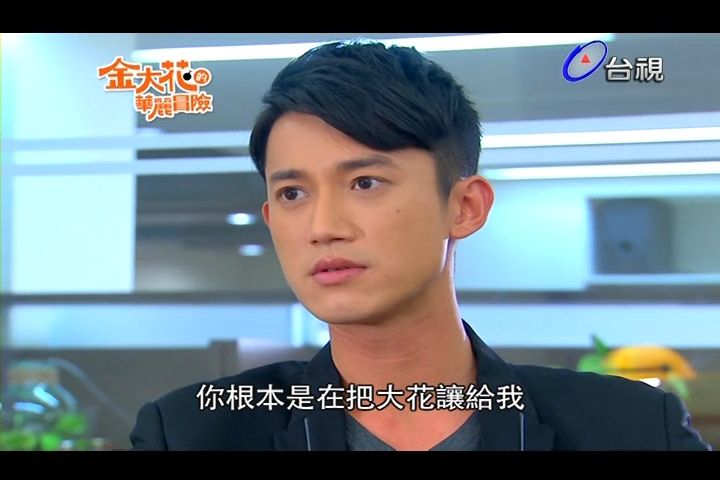 Terry sighs and says he can clearly see that Guan Jun is purposely giving Da Hua to him, right? Guan Jun stares back at him.
Thoughts of Mine:
Where do I even start? Let's all say a collective "we don't care about who Jin Da Hua picks – if she grows a heart and a brain and picks Terry then great, if she remains clueless and goes back to Guan Jun then its her loss." I was sooooooo angry last week with all those leaks that point to her picking Guan Jun, but having that epiphany made me so happy because the dreaded miasma lifted and I could enjoy every wonderful scene with Terry. From the preview it looks like Terry will propose, and based on the leaked spoilers that make sense he's the groom and Da Hua is the bride. Then the leaked script page shows Da Hua running off from the wedding to look for Guan Jun after Xiao Fei confesses that he loves Da Hua. My rage was doubled hearing of that lame plot development coupled with Da Hua hurting Terry AGAIN, but then I realized after this episode I was worried for nothing. Terry loves Da Hua and he loves her the way a woman can only dream about being loved. He loves her honestly and he puts her desires first, with no expectation she will love him back. So if Da Hua leaves Terry at the altar and runs to Guan Jun, Terry will only be happy that she's happy even as he's sad that he doesn't have a future with her. But he will deal with his sadness the way he dealt with the loss of Liang Yen, with courage and candor, and he'll be fine in the end. I even think that Terry proposing to Da Hua (so early!) is a feint, he's doing it to get Guan Jun to admit he still loves Da Hua. So he has no expectation from Da Hua, and for that I love him more, and also worry less about him. He's the only Big Boy in this pre-school romance and I'm just content I got to meet such a memorable character and performance.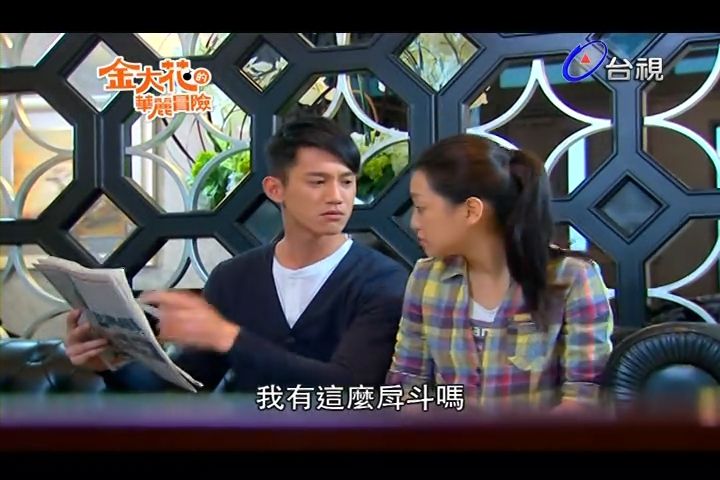 I joked a few recaps before that this drama ought to be called "Ouyang Tai's Wild and Crazy Ride" rather than "Jin Da Hua's Extravagant Adventure." As this drama comes to a close I am now fully convinced that the drama focused on the wrong person and discussed the wrong adventure. This story was about Terry's journey from have-it-all rich guy with the pretty and nice fiancee to someone suffering the great loss of a loved one and learning how to grieve and grow as a person. Da Hua has learned NOTHING from her adventure. Zero, zip, nada. And don't even get me started in Lin Guan Jun, who has actually regressed as a human being if you ask me. At least the old Lin Guan Jun wouldn't say one thing and do another when it comes to the people he cares about. Now he's fallen into a noble idiot trap that is not noble in the least but totally idiotic. It's motivated by insecurity about his worth and jealousy about Da Hua's closeness with Ouyang Tai. Both of which could be dealt with in a mature manner with thoughtful conversation with Da Hua, taking time apart to think through their current predicament, and learning to really assess whether they are suited to be together. You know, the type of relationship conversations mature couples have as relationships hit bumps in the road. The biggest failure of this drama was the lack of believable romance between Guan Jun and Da Hua, which only highlighted how much development awareness was between Terry and Da Hua. And now the story just barrels ahead as if the former was the end all be all of the story while completely ignoring the latter to the bafflement of the viewers.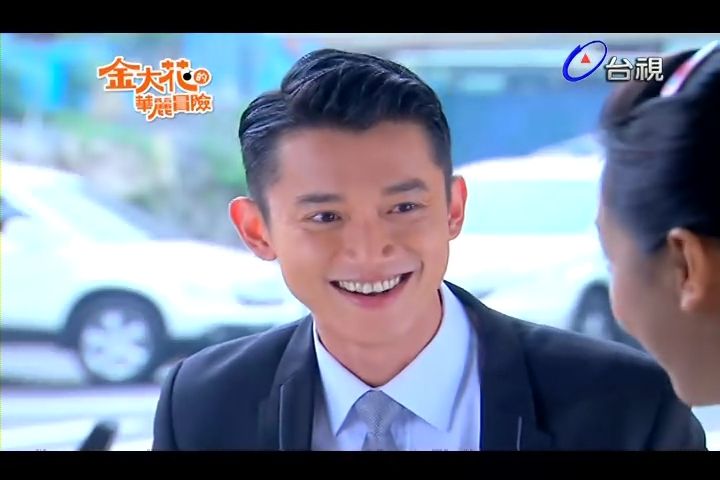 Of course this drama can still end with Da Hua and Terry. It could, why ever not? Anything could happen. This whole thing could be a dream Liang Yen had and in the end everyone wakes up and everyone is in the same place paired up the same way. Da Hua can run after Guan Jun at the wedding just to tell him that she understands and forgives him for pushing her away, but she did discover she was in love with Terry so she goes through with the wedding. Or Da Hua can ditch Terry and go back to Guan Jun and their old life, and Terry feels like he did everything he could to make Da Hua happy and for that he is content with his relationship with her being platonic. Da Hua and Guan Jun was seriously pissing me off SO MUCH in this episode until I had that epiphany that they have no meaning to the story because their characters are static and one-dimensional. Whereas Terry has worked through a life changing experience, stayed true to his principles and honor in the end, accepted his punishment and censure when due, and ultimately moves on with his life both personally and professionally. This drama succeeded in writing a character that epitomizes "The Measure of a Man" – Terry has class, dignity, and the courage to face up to his mistakes and the ownership of his own life. Conversely Lin Guan Jun has none of that, and it really is a feat of writing to create a character as deplorable as him. What's even more baffling is that he's written as the male lead.
I think we're two episodes away from the end (maybe three depending on whether there is enough footage in the can), and it's way too late for the drama to realistically convince me that Da Hua has grown to love Terry and is merely too dense to acknowledge it. This episode completely washed away all the great romantic tension and awareness between them built up in the last 12 episodes. Suddenly Da Hua is cold and withdrawn around Terry, which is a far cry from the girl who wouldn't leave him, left her Grey Bear but remembered to bring her goldfish, and cried after she got kissed and sent home because she couldn't be around him anymore. The writers for this drama really are as random as can be, and can't even get their plot points straight since Da Hua goes to the office to see Terry earlier and later Terry tells Guan Jun he's taken a leave of absence at work. This type of inconsistency really highlights the core problem of KF – the drama is tied into a quandary where the original story doesn't work but it can't figure out how to satisfactory end it differently without likely pissing off its lead actor and its fans. So in the end its like a puppy chasing its tail in circles, leaving everyone dizzy and confused and wondering what that was all about. For me, this story is all about Terry and I'm going to finish the recap project happily now that I have come to terms with the ending quite possibly being the most gag inducing thing ever. Assuming the ending is trite and ridiculous Da Hua accepting Terry's proposal, then on the wedding day ditches him for Guan Jun, and the two of them happily pledge their love – if I can accept that horror story ending, then I'm in a good place and I suggest you all start getting ready for that. Then afterwards we can throw a party for our perfect amazing Terry~ Everyone with me on this?