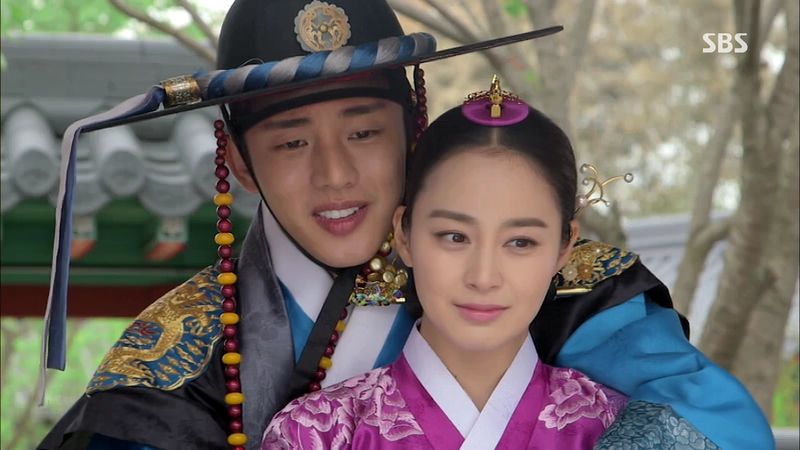 Just when I thought Jang Ok Jung, Live in Love was hopelessly lost forever in a sea of makjang, stupid posturing, and painfully childish plotting, somehow this drama found a glimmer of its former thoughtfulness and glory in episode 14. It didn't resurrect it completely, but the moments of sensibility here and there felt like a refreshing drink of water in an oasis for a thirsty traveler like me. A good sageuk, even one with a romance novel core, is about a world of people who only have one purpose in life. A yanban leads, a slave serves in sufferance, a King rules, a woman is validated by whom she marries. It is not a world we modern people need to deem acceptable, as a viewer we are asked to judge and view on the standards by which they live. For the last few episodes, JOJ was just a modern drama with lots of screaming, plotting overtaking a greater purpose, and all the lush picturesque strokes of this beautiful love story sinking into the quagmire of everyone operating under a "I'm gonna get you" philosophy. The world needs to be about living in it, the plotting ancillary as a point of survival, and the machinations delicate because one wrong step could mean the end.
Episode 14 brought back a bit of the delicate touch, with a flower arrangement session between In Hyun and Ok Jung that almost made me cry it was such a wonderful reminder of what this drama was and could still be. These two women are not enemies, they merely represent different avenues of life and living. They can coexist but for greater powers that seek to preserve or overturn the current world order. And in it, one has found love but at a great price of security, and the other will never experience love at the price of fulfilling a destiny. I love In Hyun because she's essentially doing a job she was born and trained to do, except she's facing a mountain called Ok Jung she cannot co-exist with. I love Ok Jung because she is essentially stepping over and above everything she was born and trained to do, except she will not take for granted her one chance at love even if she has to scheme and fight to keep it. I miss this drama's core that people who inhabit it are not sociopaths but are simply ruthless competitors in a winner take's all battle. The plotting is by-and-large still stupid but at least a tiny bit of the original heart seems to have seeped back.
Episode 14 recap:
Ok Jung is rightfully furious that her mom was purposely humiliated at this banquet and confronts Dowager Queen Kim about it. Dowager Queen Kim says that the person with rank as Sukwon is Ok Jung, not her mother, hence she's still a lowborn woman who has no right to sit with nobles. Ok Jung is so angry she sends a slap flying, not towards Dowager Queen Kim, but her court lady.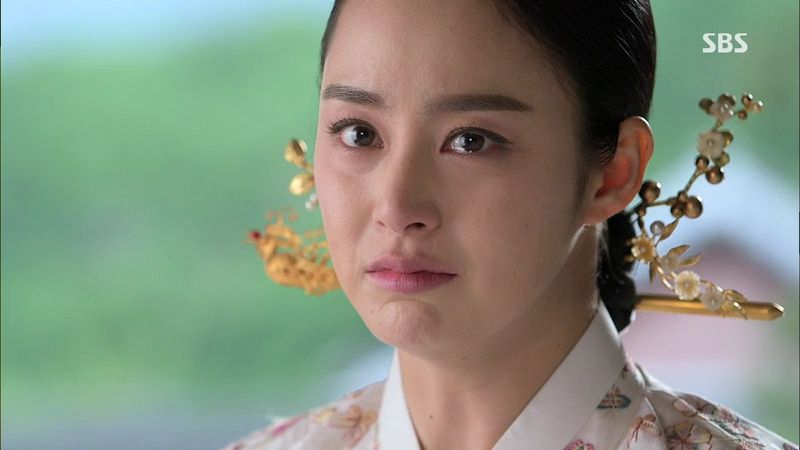 Court lady goes down for the count and Ok Jung rips into her for promising to take good care of her mother and then failing to do so. In Hyun warns that striking the Dowager Queen's court lady is akin to striking the Dowager Queen herself but Ok Jung doesn't care. She can take humiliation heaped on her but she will not take it when it's directed at her mom.
Ok Jung glares daggers at all the no-longer-haughty bitches gathered at the banquet and everyone quickly turns away in fear. Ok Jung storms off while Dowager Queen Kim looks like she might have an aneurysm.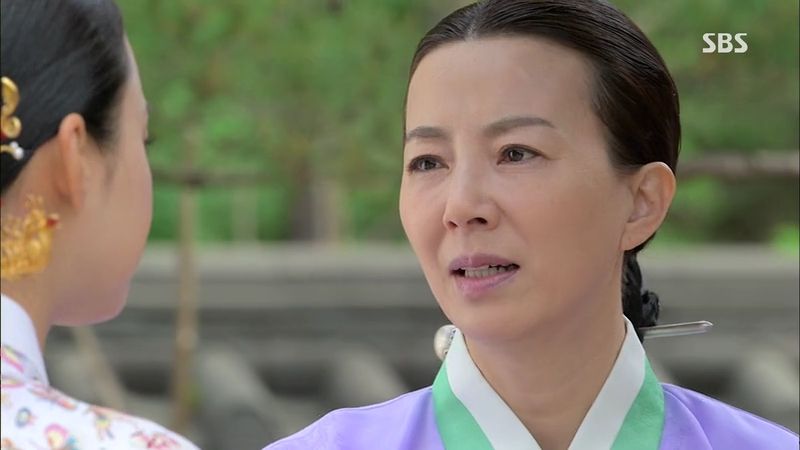 Ok Jung walks over and asks her mom to come to her residence. Her mom wants to just leave and go home but Ok Jung asks her to stay.
Lee Soon arrives and everyone bows to greet him. He only has eyes for Ok Jung and her mom and walks over to greet them warmly. He apologizes for intruding last time while Ok Jung's mother apologizes for the time he was injured but she didn't know who he was so that was a grave disrespect. He says she also helped to save his life and he never got to thank her until now.
In Hyun brings her step-mother and new wife of Minister Min down to greet Lee Soon as courtesy requires. Lee Soon nods his head and In Hyun's step-mother greets him. Lee Soon makes it clear he's spending time with Ok Jung and her mom, wanting to know more about Ok Jung. He beckons them to follow and then turns to walk away, pointedly cutting In Hyun and her step-mother, who turns to look at In Hyun with pity.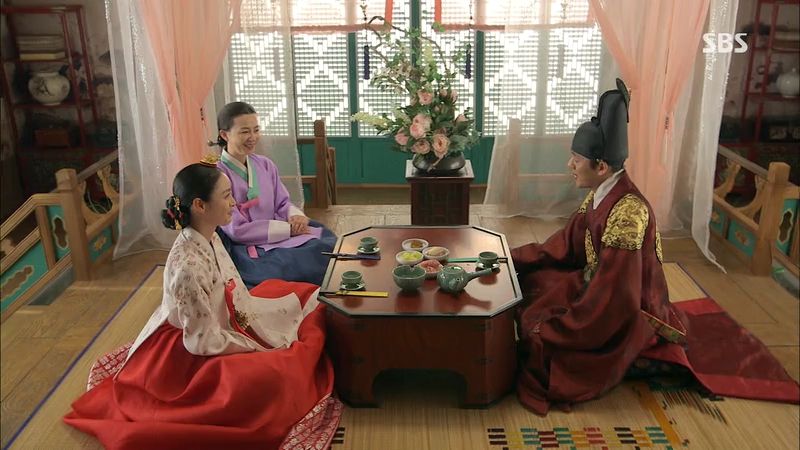 Lee Soon, Ok Jung, and her mom have tea at her residence. Lee Soon wants to know more about Ok Jung when she was a little girl and there is much happiness and laughter as they talk about how feisty and mischievous she was as a kid. He's very envious that Ok Jung's mother knows a side of Ok Jung he never saw. He invites her to the Palace often. Lee Soon takes his leave as he has an appointment with Prince Dongpyung.
After Lee Soon leaves, Ok Jung's mother is truly moved and reassured to know her daughter has received so much love from the King. She asks if this is a dream and Ok Jung says its real. Both mother and daughter are so pleased to spend time together, though Mom is still worried and tells Ok Jung to go apologize. Ok Jung says no, she is taking it one step at a time. Unless she is reborn as a high class woman, those people will never stop looking down on her.
Dowager Queen Kim sits with In Hyun to discuss what happened at the banquet today, how Lee Soon favored the low born Ok Jung's mother and ignored the high born In Hyun's step mother. In Hyun tells her not to fret too much about it.
Lee Soon and Prince Dongpyung discuss what to do about the Qing encroachment. He is using a new bull horn carved bow that he wants to issue to the military. He'll get the money from Jang Hyun.
Minister Min meets with Chi Soo, who's adopted father is Lord Chen in the Qing dynasty and very high ranking with large financial reach. Jang Hyun is using his profit from the ginseng trade to import bull horns for the King's army. The Qing will never allow that since it strengthens the Joseon military. Chi Soo asks Minister Min to arrange a meeting for him and the King, and also to obtain for Chi Soo the rights to sell bull horns. He'll give to Minister Min all the double profits that come with the ginseng trade.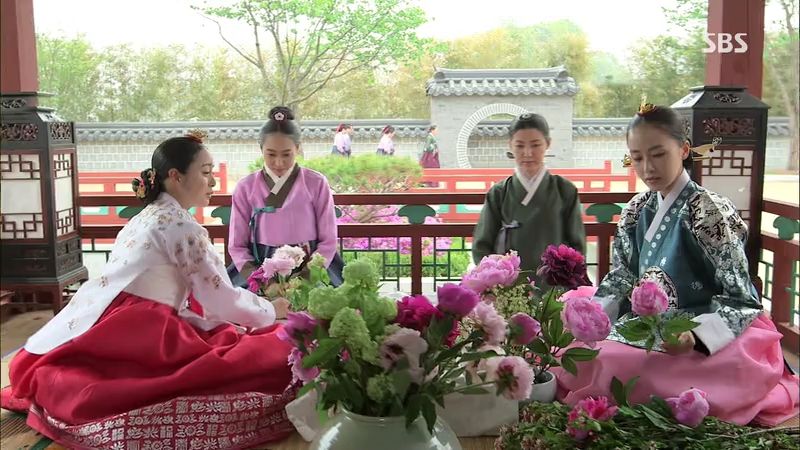 This scene is one of my favorites and heralds a return to what made this drama so intriguing and lovely – quiet interactions littered with meaning and a reflection on the world of this story. Ok Jung and In Hyun are arranging flowers with their court lady in tow. Ok Jung notices that In Hyun is only using peonies and asks why? In Hyun remarks that she loves peonies, it is the King of all flowers, regal and elegant.
Ok Jung points out that these two flowers are very similar but In Hyun says the flowers have a different class and value. Ok Jung doesn't have the same taste, she loves paeonias because in her mind, love and a person's worth is unrelated to rank and position in life. The worth of a flower is based on how many butterflies it can attract and not what a human being determines.
Court Lady Joo speaks up and chides Consort Jang for being rude to In Hyun. Ok Jung immediately scolds her for daring to interrupt while her master is speaking. In Hyun doesn't respond to that.
Court Lady Joo is carrying a vase of flowers and rushing somewhere when suddenly Ok Jung steps directly into her path and cuts her off repeatedly. Ok Jung's scary bitch face is SOOOOO awesome. This is totally warranted. Court Lady Joo asks why Ok Jung is blocking her path and Ok Jung says she is merely blocking her path, conversely she almost died because of her.
Ok Jung warns Court Lady Joo to stop doing anything that offends or harms the woman that the King loves dearly. Ok Jung asks if Court Lady Joo will finally know her place after Ok Jung reveals the truth to the King? Her warning hits home as Court Lady Joo fairly shakes in fear and drops the vase before kneeling to beg mercy. She promises never to do anything to cross Ok Jung.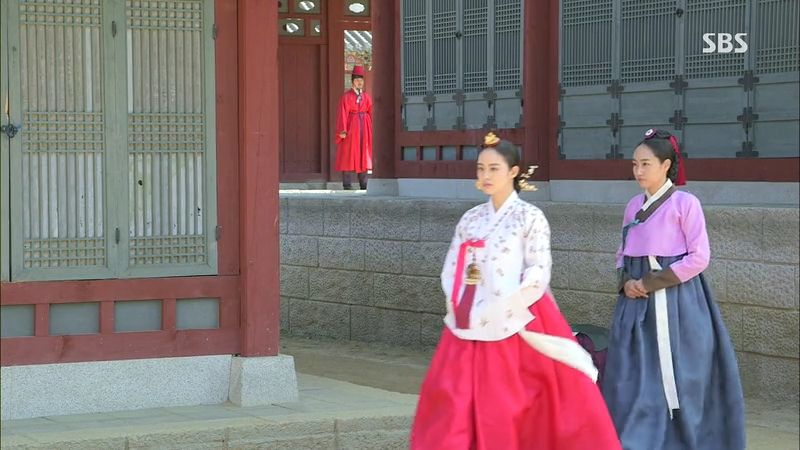 Ok Jung says to save one's life and take another is perhaps understandable. So what if Ok Jung takes Court Lady Joo's life now to save her own. Is that fine? Court Lady Joo begs for her life so Ok Jung makes her agree to do whatever she asks of her in the future. Court Lady Joo agrees. Ok Jung also warns her never to interrupt again whenever she is speaking to Queen In Hyun, that makes Ok Jung very angry. She steps on the flowers and with her loyal Court Lady Uhm walk away triumphantly.
Lee Soon is meeting with Minister Jo and Jang Hyun and discussing the trade arrangements with the Qing dynasty. Jang Hyun is angling for the lucrative bull horn trade and Lee Soon can see through it.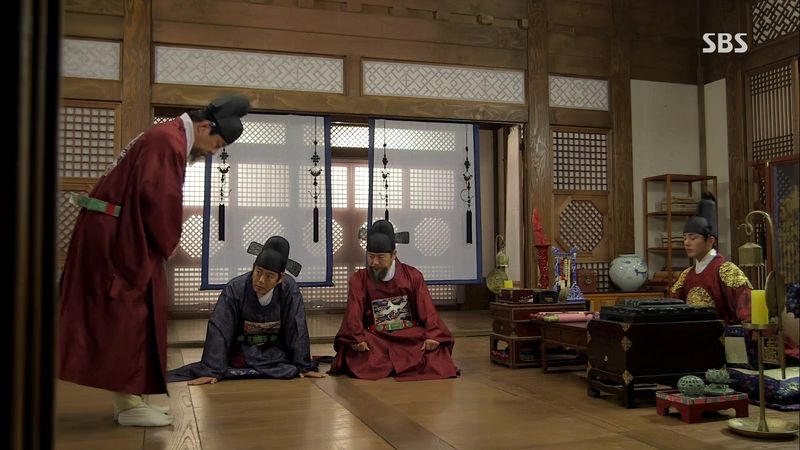 Minister Min arrives and turns out Lee Soon has already asked him to acquire the bull horn and he succeeded. Jang Hyun and Minister Jo look shocked.
Chi Soo meets with Minister Min who asks about the bull horns Chi Soo opens a box containing lots of expensive bull horns and Minister Min takes one and is pleased. Chi Soo asks about the meeting with the King and Minister Min pooh poohs it and says a merchant doesn't need to meet the King. He can get Chi Soo anything else he wants. Chi Soo says he doesn't need anything else and then sets the bull horns on fire, which pisses of Minister Min. Chi Soo is nonchalant, does he need to push things to the limit before Minister Min will take him seriously and arrange a meeting with the King?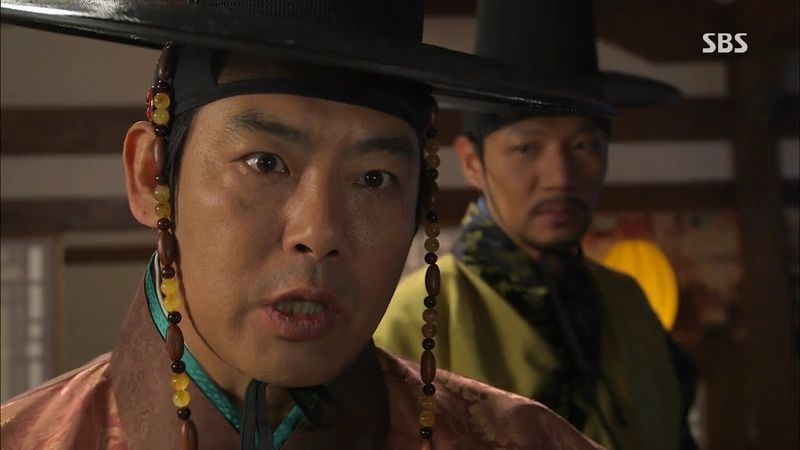 Jang Hyun goes back to his residence and throws a monster temper tantrum. Oh crap, don't tell me Dowager Queen Kim's "crazy eyes" is a contagious disease? He wants to know about this merchant that is behind Minister Min. All Hee Jae knows is that the man is living at a gisaeng house for the time being. Hee Jae tries to calm him down and promises to investigate.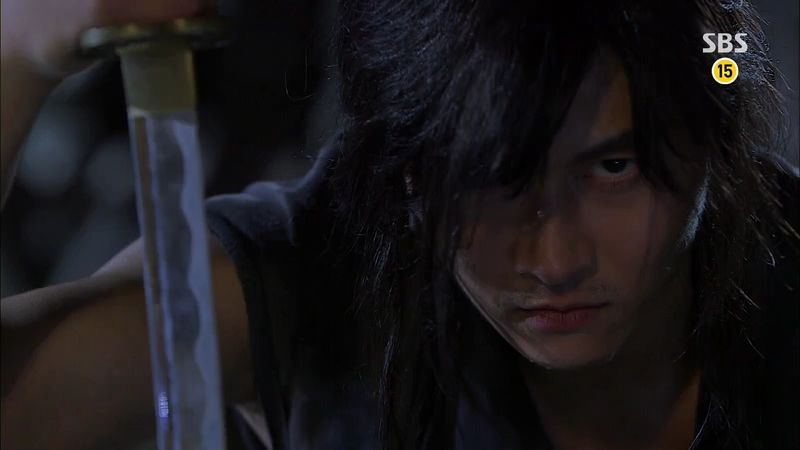 Chi Soo is practicing his sword in his courtyard late at night. He's very angry and his sword thrusts are powerful and reflect his pent up frustration. I think you need a girlfriend, Chi Soo.
He remembers confronting Ja Kyung after the fire and learning that a man with a scar set it, and connecting that it's the same guy who works for Jang Hyun. He remembers always loving and protecting Ok Jung. Chi Soo thinks to himself that he worked so hard and he's finally back to protect Ok Jung. Dude, you are so late even the word "late" thinks it's not adequate to cover your situation.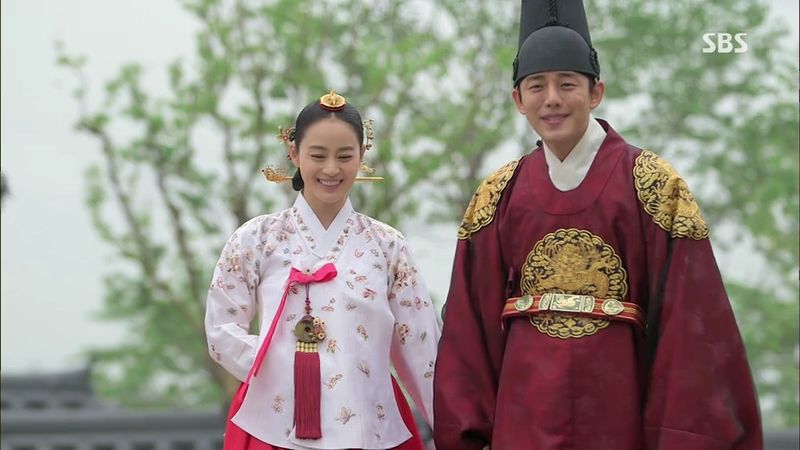 Lee Soon and Ok Jung are strolling hand in hand. Lee Soon asks Ok Jung what her idea of a strong King is? Ok Jung suggests one who receives the love and admiration of the Sungkyunkwan scholars and ministers?
Lee Soon says a strong King is one who has received the love and admireation of the people, but also has the fear of the yanban ministers and their ilk. He wants his ministers to live as if they cannot have a King, because everything they have comes from the King. He asks when her mom is coming back to the Palace, he wants to hear more stories about Ok Jung's childhood.
Lee Soon and Ok Jung continue their loving stroll while In Hyun passes by and sees it as does Prince Dongpyung. The two third wheels notice each other.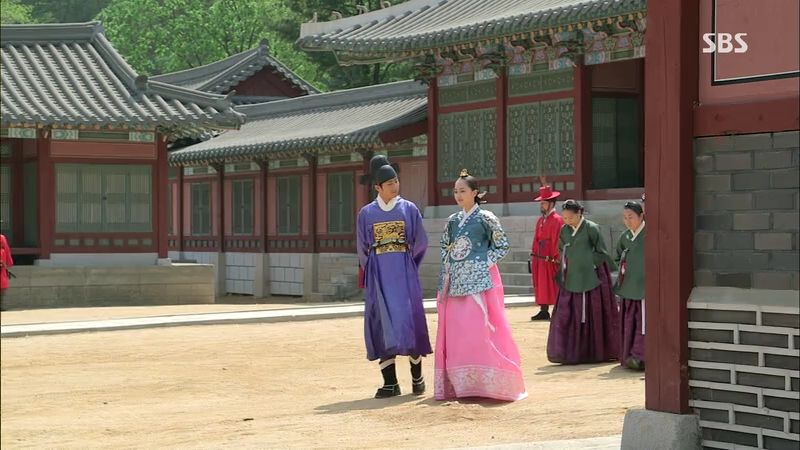 Prince Dongpyung walks with Queen In Hyun and he brings up their funny first meeting. In Hyun is glad that he seems to have his old happy personality back and wonders what happened recently. Prince Dongpyung says some worries and everyone has worries sometimes. She asks to hear it but all he says is that he's thinking about a wall he cannot climb and a flower he cannot reach for.
The ever sickly Dowager Queen Kim meets with In Hyun and offers her more medicine to help her get pregnant. She is still sick and doesn't think she is long for the world. She needs In Hyun to bear a child for the King. In Hyun is not angry but sad and resigned that the King's heart is simply not with her.
Dowager Queen Kim suddenly gets a great idea. She wants to take In Hyun and leave the Palace to go to the side Palace with the King. They can divert Consort Jang and In Hyun can spend time along with the King, I knew this crazy witch couldn't last an episode without plotting something.
Dowager Queen Kim and In Hyun goes to tell Lee Soon her plans to visit the royal tombs and introduce Queen In Hyun to the ancestors. Dowager Queen Kim says they need to introduce the royal family and aura to the people. Lee Soon asks that Consort Jang come along as well. In Hyun agrees despite Dowager Queen Kim's annoyance.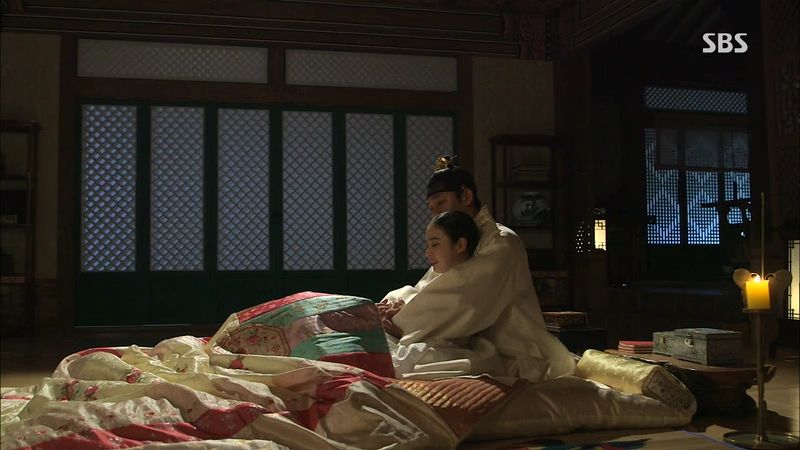 Lee Soon and Ok Jung are cuddling in bed and he asks if she's always sad because of her mother? She says yes. He ask if she remembers how long he waited for her, and how he wants her to carry his child. Ok Jung asks if he wants her to give birth to a girl or a boy, likely worried about succession problems. Lee Soon smiles and says it must be a son, he wants her to give him his firstborn son.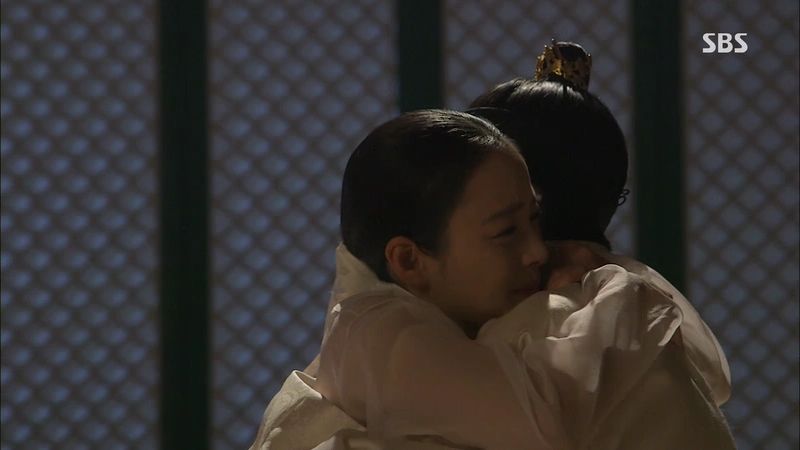 The happy couple embrace and they promise to spend some happy time together. Okay, the fanservice for the OTP is getting out of control. I'm not amused, I much rather have them taking tea, or reading, or her sewing, and discussing politics and governance and doing something useful as opposed to post-coital times and lots of strolling around the Palace holding hands so conveniently folks can see it, like poor ignored In Hyun, or lovelorn Prince Dongpyung, or man-with-a-grievance Minister Min.
Jang Hyun and Hee Jae come to speak with Ok Jung about the bull horn trade situation.
Ok Jung is at the seamstress wing trying on new clothes. She feels a bit faint and is assisted back to her room.
Dowager Queen Kim bitches to Minister Min about her praying for an heir plans but the King wants Consort Jang to come along as well.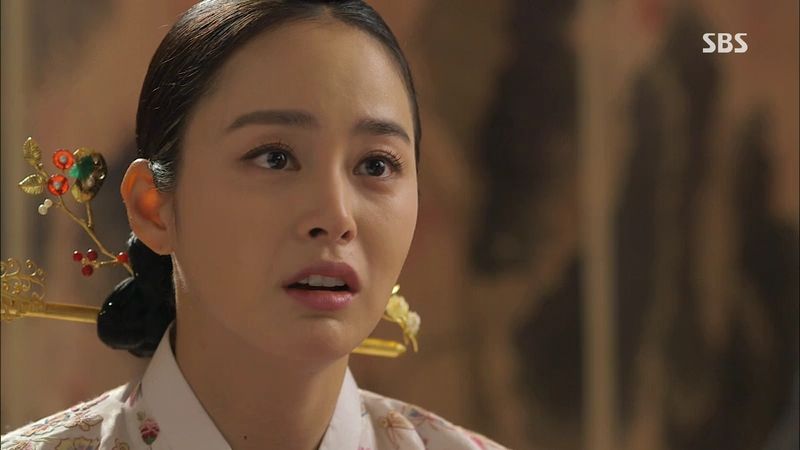 The royal physician is summoned to check on Ok Jung and he confirms that she's pregnant. The royal physician asks whether the King should be told right away and Ok Jung asks for it to be kept a secret because she wants to tell him herself. Everyone is ecstatic.
The royal physician leaves Ok Jung's residence and of course he runs right into Minister Min. Does that man have an evil radar or something? The physician tries to stay mum but Minister Min drags it out of him that Ok Jung is pregnant.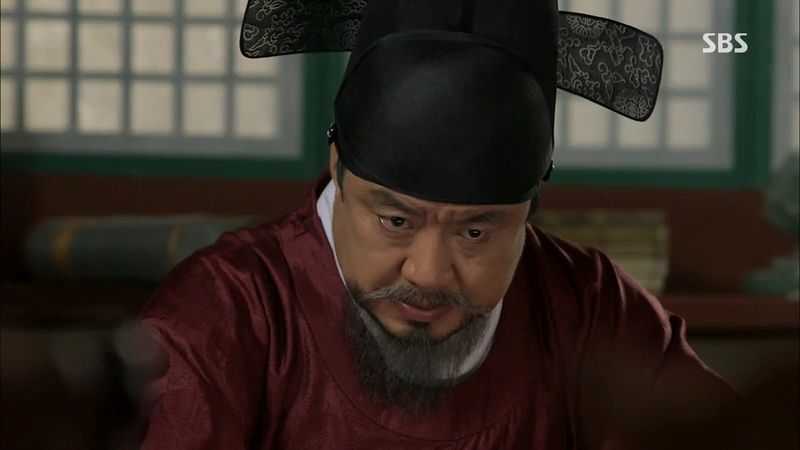 Minister Min goes back to the minister chambers and sits there angry and upset. Minister Kim comes by and can see something is wrong but Minister Min doesn't reveal the bombshell news.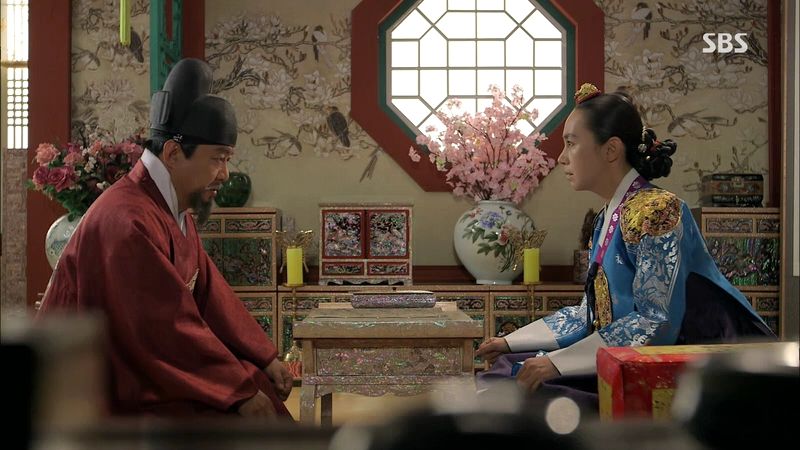 Minister Min rushes to Dowager Queen Kim and shares the information that Consort Jang is pregnant. Dowager Queen Kim starts to freak out and asks if the King knows but Minister Min says not yet. Dowager Queen Kim isn't yet into infanticide and this is still the child of her son, so she asks what to do. Minister Min says she needs to be decisive and get rid of Consort Jang now. Dowager Queen Kim actually looks conflicted (awww, is her capacity for evil going down?), though she's more afraid of what her son will do if he found out. In the end Dowager Queen Kim agrees to the plan to off Consort Jang before her pregnancy gets out.
Ok Jung is beaming with a maternal glow and a woman in love. She walks to the chambers where Lee Soon is holding a meeting. She gazes lovingly at him hard at work but leaves without bothering him.
Lee Soon notices her and ends the meeting to quickly run after her. He catches up to Ok Jung and promises to go by later in the evening when his work is done. Ok Jung can only smile adoringly at Lee Soon and he wonders what's gotten into her.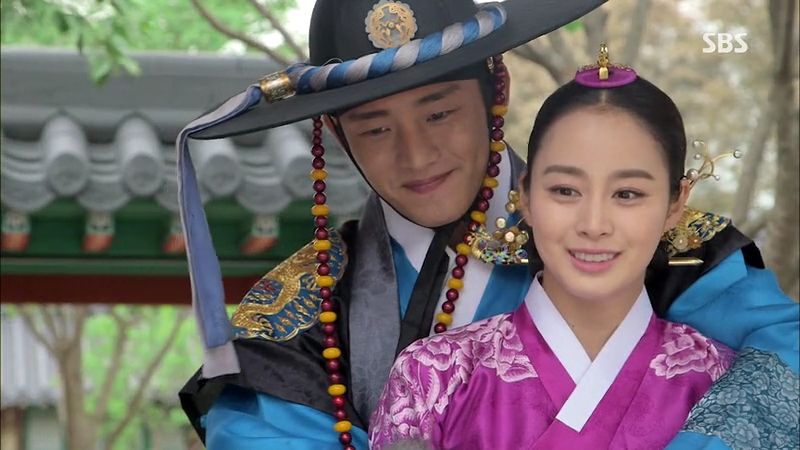 Lee Soon asks if she's got a fever? Lee Soon is called back to work and he quickly gives Ok Jung one more sweet back hug before leaving.
Minister Min finds Court Lady Joo, who apparently forgot her promise not to hurt Ok Jung, and she agrees to carry out the deed. In Hyun and Dowager Queen Kim walk by and In Hyun finds it weird her father is talking with her court lady alone. Dowager Queen Kim says its nothing In Hyun needs to be concerned with. Can these people be any less obvious? Court Lady Joo goes to add something to the horses feed.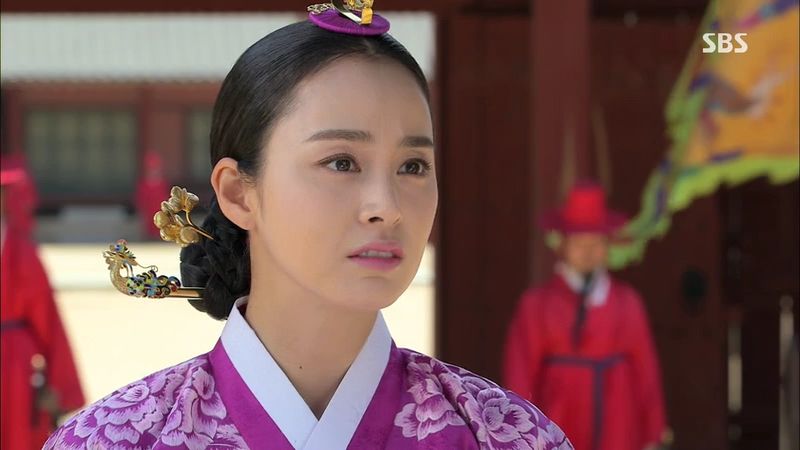 The day arrives to pray to the ancestors and the Heavens. Everyone gathers outside the Palace and while In Hyun and Dowager Queen Kim are given a palanquin, Ok Jung is told she has to ride a horse since only a first class rank person can ride in a palanquin.
Ok Jung protests that she doesn't know how to ride a horse and Dowager Queen Kim chides her for not following the rules set by the Palace just because the King loves her. Ok Jung thinks back to Lee Soon wanting a firm rule and agrees to ride the horse. The procession heads out to the countryside and Ok Jung is visibly uncomfortable riding the horse.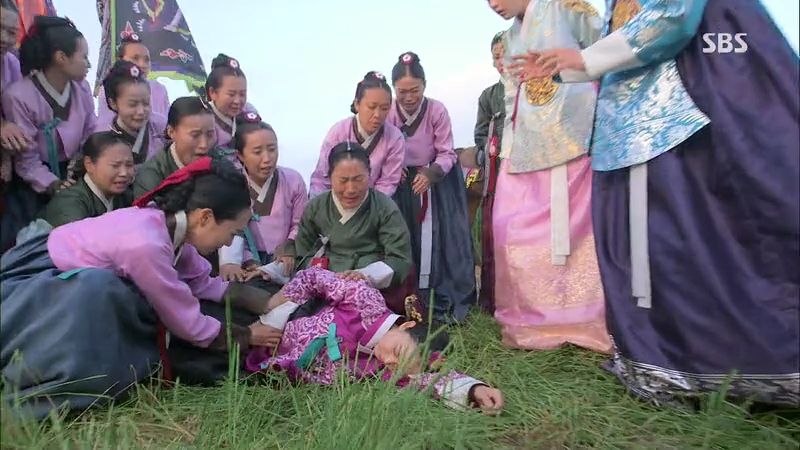 As the procession passes through a small lane, Ok Jung's horse suddenly goes crazy and bolts, throwing Ok Jung off its back.
Ok Jung lands on the ground and clutches her stomach. Everyone is shocked, even mastermind Dowager Queen Kim. The servants quickly rush to tend to Ok Jung while In Hyun and Dowager Queen Kim get out and look on in horror.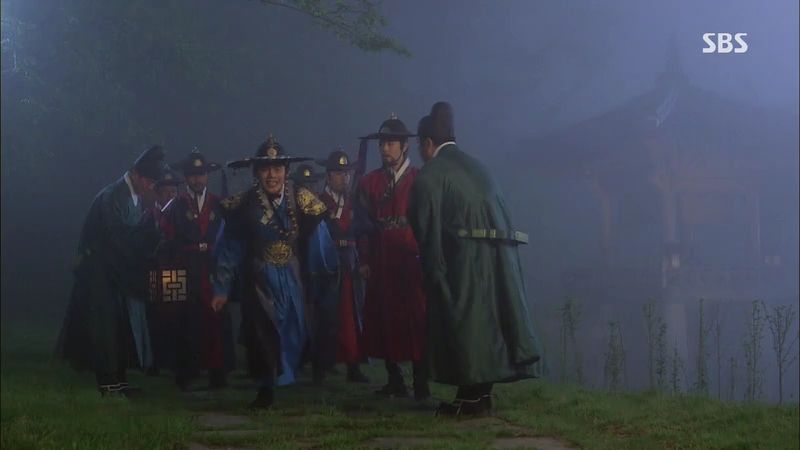 Lee Soon hears from his eunuch that Consort Jang was thrown from a horse and is injured. Lee Soon is furious and upset and rushes off.
The royal physician tends to Ok Jung and sadly informs her that she suffered a miscarriage. Ok Jung is so devastated that she can only cry, murmuring that it can't be true, her baby can't be gone.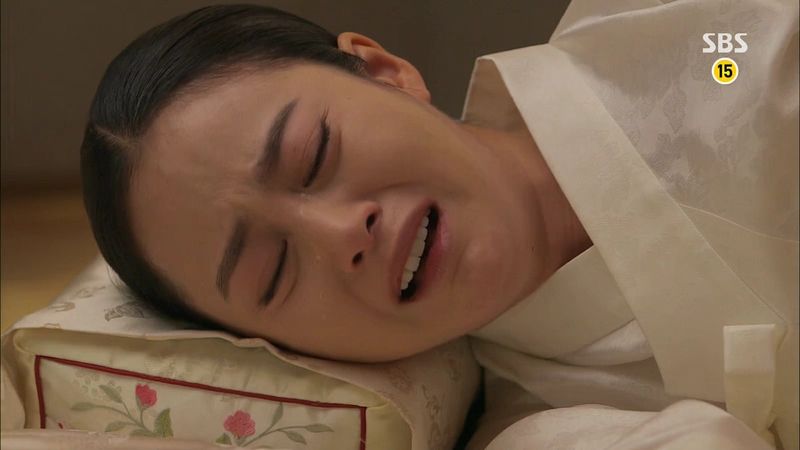 The royal physician asks if the King should be told and Ok Jung says no. He cannot be told because she doesn't want him to be sad and suffer. Since he didn't know about the baby, he doesn't need to know its gone. Everyone cries and cries.
Dowager Queen Kim and with In Hyun and all Dowager Queen Kim can keep saying is pregnant, pregnant…… In Hyun asks who is pregnant and starts to suspect its Ok Jung.
Lee Soon arrives and asks them about Ok Jung's accident and both assure him that she's fine.
Lee Soon rushes to Ok Jung's chamber but stands outside not going in when he hears through the door Ok Jung crying about losing the baby. Ok Jung says it's all her fault for not protecting her baby, but Court Lady Uhm says it's the fault of the Queens for making her ride a horse. Ok Jung cries that she doesn't want to lose anything else she loves so much. Lee Soon clenches his fist in anger and rushes off.
Lee Soon summons the royal physician and forces the man to tell the truth. He learns about the pregnancy and the miscarriage. He demands to know who else knew about the pregnancy! Did Queen In Hyun? The royal physician says the Queen didn't know. Lee Soon asks if his mother knew. The royal physician says yes, Dowager Queen Kim knew.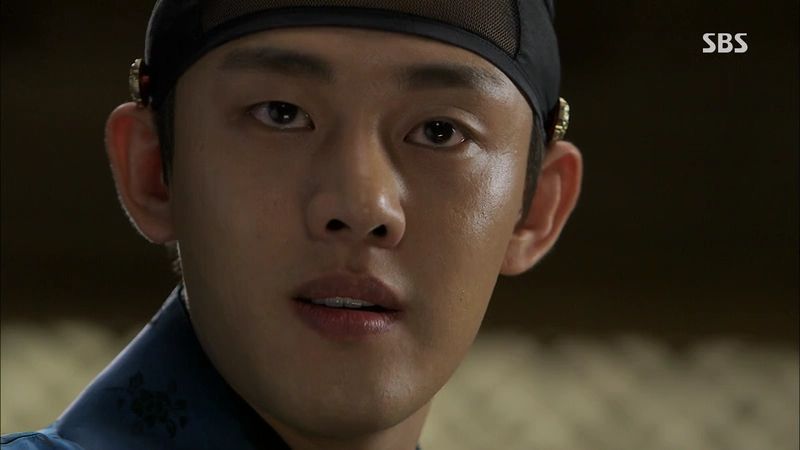 Lee Soon asks his eunuch to investigate the accident further. I hope Court Lady Joo is chopped into mincemeat.
Dowager Queen Kim is talking with In Hyun late into the night when Lee Soon suddenly makes an appearance looking extraordinarily calm all of a sudden.
He sits down and his mother tentatively asks why he is here? In Hyun asks about Ok Jung's welfare and Lee Soon says she is surely a very caring Queen. Lee Soon turns to In Hyun and asks her as the head of the back Palace to make Consort Jang (currently Sukwon fourth rank) into a first rank Heebin.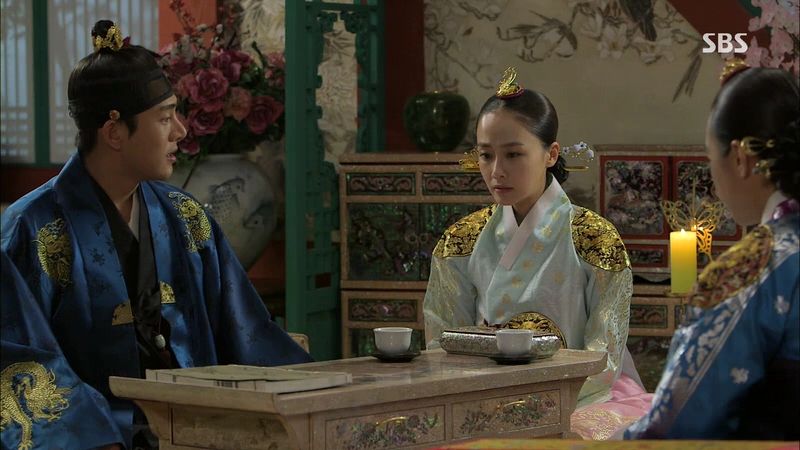 Dowager Queen Kim says that cannot be, Heebin is only for a consort who has born a son for the King. Lee Soon says Ok Jung did carry a son for him, and then demands to know if they knew she was pregnant!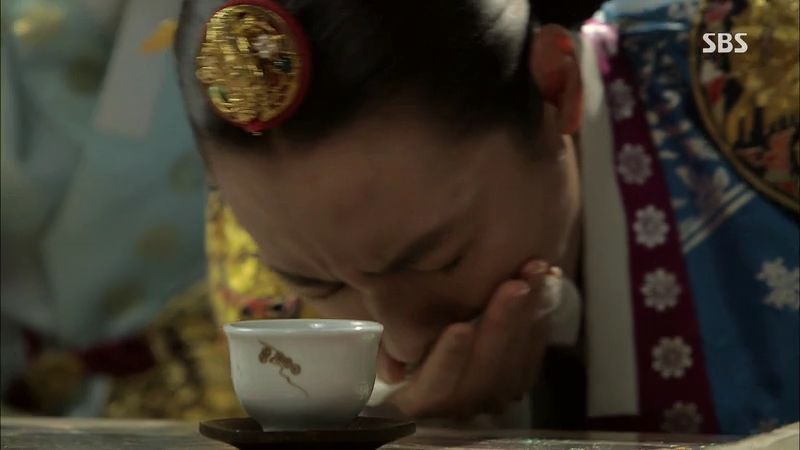 Dowager Queen Kim cowers at this angry questioning and In Hyun speaks up for Dowager Queen Kim saying the horse riding was part of Palace protocol. Lee Soon asks In Hyun if she knew about the pregnancy and In Hyun says both she and the Dowager Queen didn't before the accident and only found out afterwards. But she defends the horse riding as the requirement of a fourth rank Consort in the Palace.
Lee Soon is furious and says In Hyun's focus on protocol is what will forever keep them apart. People is more important than protocol. Lee Soon says he will make Ok Jung Heebin no matter what. He asks his mother to understand how much rage he has in him and how much more he has to endure of the things she did. He is enduring not because he doesn't know, but because if he publicly censures her it will cause national problems and might even affect Consort Jang. Dowager Queen Kim starts to cough uncontrollably and then agrees to do what he asks.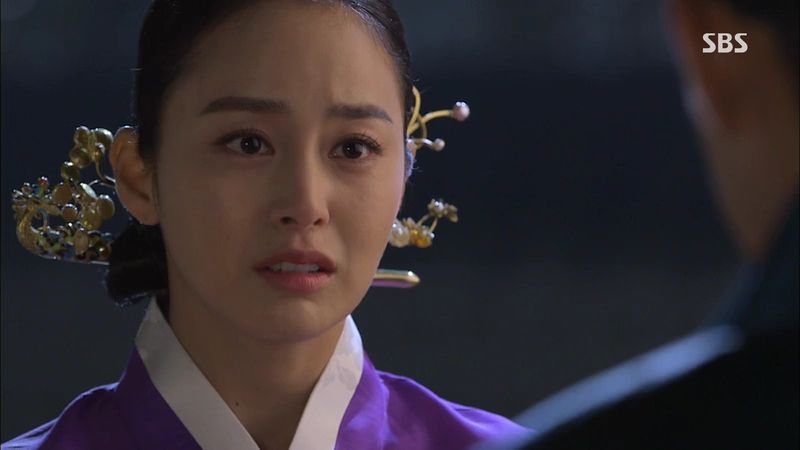 Lee Soon walks over to Ok Jung's residence as he deals with the pain of losing an unborn child. Ok Jung is dressed and walking in the garden as well. When she sees Lee Soon, she acts fine so he doesn't suspect her sadness. He says now is the time to fulfill his promise, the promise about being her clothes to wash away her low birth.
Lee Soon solemnly declares that he has now made her Heebin and then she will bear him a son, that is the clothes he promised her. And when she does bear him a son, he will make their son Crown Prince and he will inherit the throne.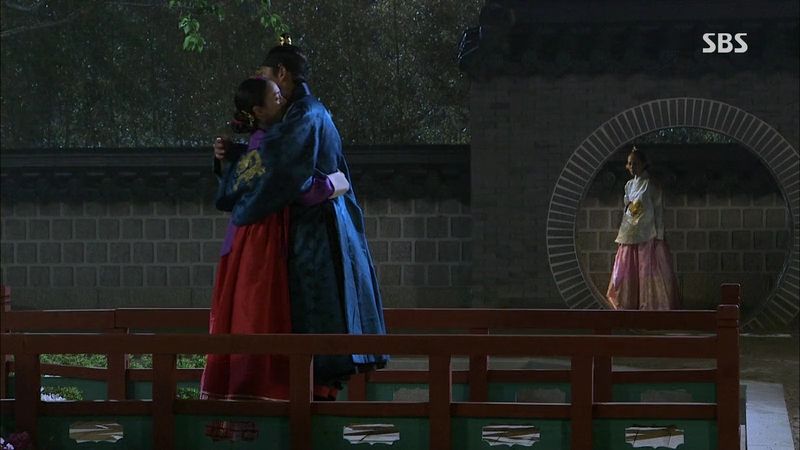 Ok Jung cries to be so loved by Lee Soon and rushes into his arms for an embrace. In Hyun had arrived outside the residence likely following Lee Soon to try to explain more what happened. But she stopped when she saw them talking, and after hearing the conversation and watching the embrace, In Hyun breaks down in tears of utter despair.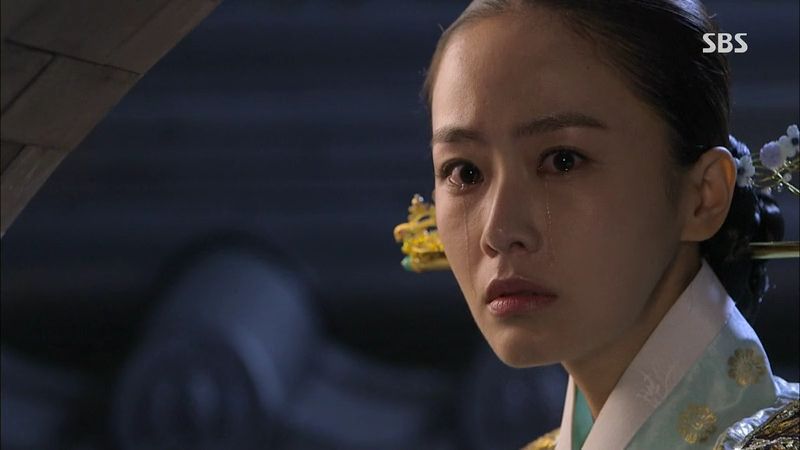 Thoughts of Mine:
It's indisputable that the sole reason for the dramatic and undeniable decline in quality of JOJ in the last few episodes was due to the writing, which substituted "action" for "interaction". That is a big no-no in sageuk writing, where the action comes from a pent up conflict of interaction until it powers through and triggers a narrative breakthrough. It should be used sparingly and always with much build up in logic, careful thought, and a sense of the inevitable. Take Prince Boksun's coup, that thing was years in the making and even though he failed neither the viewers nor anyone involved in the coup felt like it was pointless or rash. It had to happen and when it did all the pathos was unleashed and the aftermath was devastating. Since Ok Jung entered the Palace, all the "action" have come across as cheap tricks leaving a cheap aftertaste in my mouth. I miss the intelligent conversations that built up character development and was so grateful to see some of it back in this episode. But even then, the entire plot to off Ok Jung was once again one big FAIL from the get go and I'm appalled the writer even went there with the Dowager Queen Kim. For someone all about the royal family, the second Ok Jung was pregnant with the King's son, even if she hated her there was no way she would kill Ok Jung or the baby. If In Hyun was cruel and evil she might since Ok Jung is competition, but Dowager Queen Kim understands her duty above all else and family is important to her and that baby belongs to the royal family even if Ok Jung is her hated foe.
I feel like the writing is so slapdash in concocting whatever needs to happen to string along narrative milestones, even if comes at the expense of character consistency or logic. I'm kinda over-it with Lee Soon and Ok Jung's love story since the network has piled on the syrupy sweet rather than let it feel organic to his world as King and her world as a woman with a purpose to live her life with dignity. I like In Hyun so much not because I like who she is, I simply like how the writer has stayed true to her character narrative the most in showing us a woman who lived her life with one purpose (to be Queen, and a good Queen at that), who is suddenly thrust into an uncertain new world order. Does she accept her lot in life, a loveless marriage without respect or even the modicum of Palace etiquette from the King? Or does she say enough is enough? Ok Jung has said enough is enough to being pushed around, and that I can respect even if I think some of her tactics are so myopic and short-sighted. It feels a lot like how JOJ has veered towards makjang with a complementary shift in directorial flair from the elegant panning shots to the in-your-face camera shots. I felt like episode 14 delivered a bit of the old JOJ magic but I don't have much hope its not a last shot in the dark.