Verdict – I love this drama, but holy god is it a hot mess. I am a relentless critic when I watch dramas, because otherwise why write about it? I'm pretty certain that I've made so many drama friends and foes here at the Playground because I speak my mind, whether its to call a spade a spade (i.e. this drama sucks) or to praise a drama to the high Heavens to the extent people think I need to take a chill pill. It's all just my opinion, and right or wrong it at least validates my time spent writing about it. Otherwise I'd just sit back and watch. King Flower (Substitute Princess) is a drama that tried to fly and probably crashed landed somewhere so far off course rescuers couldn't find it. Narratively the final episode wrapped up with as much finesse and satisfaction as William Hung at his American Idol audition. But you know what? That boy had guts to go on TV to sing, and it took SOOOOO much insane twists and turns onscreen and behind the scenes for KF to even end this way. What way? The way where Terry and Da Hua end up together. James Wen isn't just the leading actor in this drama, with his name first on the credits, he's also SETTV's current undisputed 一哥 (top dog), and for him to get sidelined through the entire second half of the drama and spend the last few minutes of the final episodes in a bear suit is unprecedented for showing just how potent was Chris Wu's fire power.
Taking into consideration all of the behind the scenes jostling, aren't we just happy and relieved that Da Hua finally acknowledges that she loves Terry and picks him, even if the method the drama used was totally lame and unsatisfying. Because Terry is so incredible in his emotional journey we all want more from Da Hua, but in the hand-tied situation where the writers couldn't write Guan Jun off the show, we have to be thankful that at least we got so much from them surrounding Terry and that the ending is him smiling at Da Hua as they realize fate is going to step in for them. In this episode, Terry told Da Hua that he would wait for her and she told him not to because she wasn't worth it. His answer was a certain and sure "You are worth it", and I have to say the same thing to Terry/Chris. You are worth it for me to be crazily in love with this silly drama, because the combination of a fantastic character and a phenomenal performance is a rare thing indeed that I feel satisfied to have experienced first hand. Hold on to your horses, because episode 21 was still all about Terry and there were tons of scenes to re-watch in days ahead as I finally put this baby to rest. The final episode broke 2 again in rating so it's with a happy heart I send off my beloved Terry to Australia with his Big Flower.
Stage 21 recap:
Da Hua rings the doorbell and calls out for Terry, who opens the door for her and they give each other a very intense look. He brings her inside with a smile, ever the gentleman, and tells her to sit down as he moves to get her some water. She stops him and says she is here to talk with him and then leave.
Poor Terry pauses and turns to Da Hua. She takes out the wedding ring and returns it to him. He takes it reluctantly and says with a smile that it's fine, no one knows what the future holds. I can't believe this people, even Chris Wu's hand can act, you can see the slight quiver as he takes the box. Guh.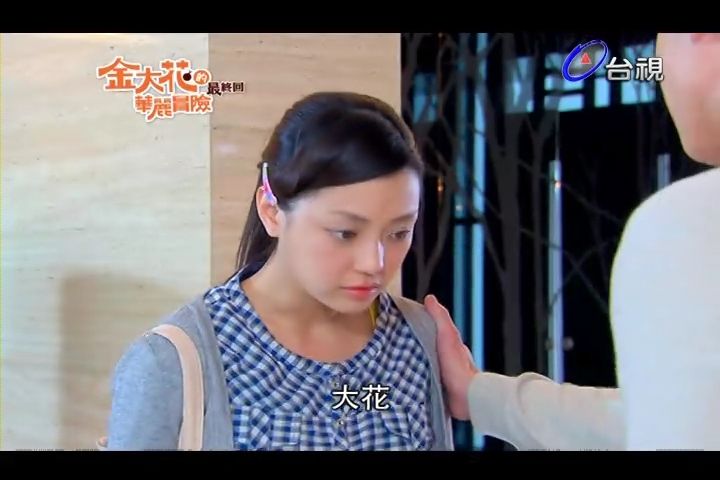 Da Hua bows low and gives him an apology for embarrassing him at the wedding. He looks really pained by seeing her so remorseful, telling her there is no need, she did nothing wrong. He was the one who called off the wedding to give her time to think. Da Hua knows he did it for her sake, so she wasn't conflicted.
Terry says her conflict and torment is his conflict and torment. She was the person most upset at that time so how could he smile and get married at that moment. He tries to comfort her but she brushes his hand aside and gets angry at him, telling him that he ought to be upset and yell at her. She pushes him and tells him to stop being so good to her.
Terry stares at her and says he won't yell at her, because he loves her he can't bear to yell at her. Da Hua yells that doesn't even know who she loves anymore, she doesn't have any right to love him. Terry says that he knows she didn't fully let Lin Guan Jun go but this is the only way he can love her.
Terry then gets angry and yells at her, asking what she wants him to do. Da Hua starts crying and says she is so selfish, she really is such a selfish person. Yeah, you think? She asks him to stop being so good to her. He can't, you silly cow, that is why he is so amazing and you must have saved an entire civilization in your past life to deserve him. Terry looks so torn and says that he's already fallen in love with her, there is nothing he can do about it,
Terry pulls her in for an embrace and she nestles into his arms. He calls her silly and lets her just cry in his arms. He tells her to stop crying, he isn't angry or upset at her. She did nothing wrong because there is no right or wrong in love. He knows she didn't intentionally hurt him.
Terry tells Da Hua not to cry anymore, everything will be fine. She keeps crying and he tells her again to stop crying because otherwise he will cry.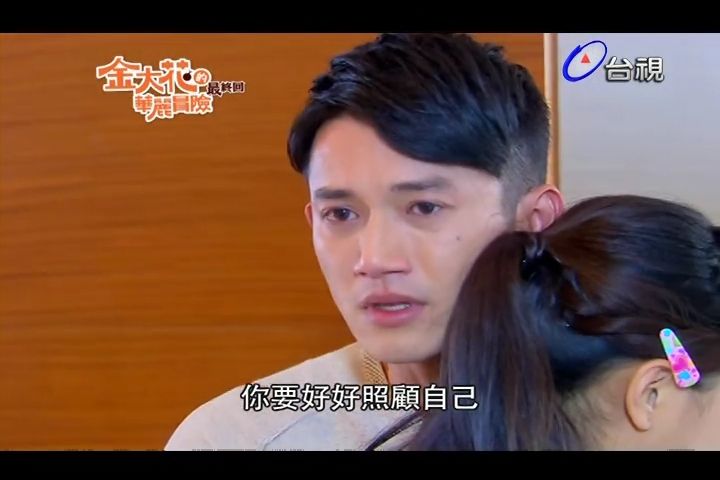 And we see that he's actually holding back his tears.
Da Hua hugs him and asks Terry to take good care of himself when she's not by his side. She will also take good care of herself. He promises and they keep hugging each other tightly.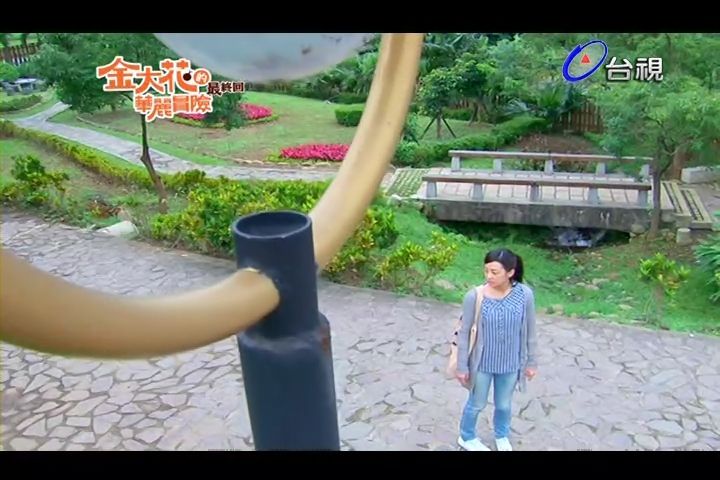 Da Hua walks through the park and suddenly she hears Terry call her name "Jin Da Hua!" She turns around but he's not there, she's just imagining it. Humph, I hope you have endless sleepless nights reliving your moments with Terry.
She flashes back to all their memories together and Da Hua cries at the park. Good Lord Jin Da Hua! You had a life changing love story with this guy, and if those memories aren't enough to make you go running back to that house and drag that man upstairs and not leave the house for a week, then you a really are not smart or brave enough to deserve him.
Terry is at home looking at her returned wedding ring and remembering that when he walked her out, he told her that he would keep waiting for her so she can take all the time she needs. Da Hua tells him not to wait for her, she doesn't deserve it. Tell me about it.
Terry looks very sad but resolute. I love that he loves her, even if she doesn't deserve to breath the same air as him. If she didn't love him then I wouldn't care, but she clearly loves him back and that's what kills me about her "angst". But that's love, and he loves like we all dream of loving and being loved. With compassion and conviction, embracing even her pointless angst.
Three months pass. Da Li is running his delivery service and at Ah Xi's flower ship to pick up a delivery. Da Hua comes by and offers to do deliveries with Da Li. Turns out Da Hua is helping Da Li run the delivery service in the last few months and its finally on track. Da Hua tells Ah Xi that Da Li works hard but gets distracted only because he's always thinking about Ah Xi.
Da Hua gets ready to deliver a flower arrangement to a coffee shop. Da Li and Ah Xi ask if she's finally decided who she is picking – Guan Jun or Terry? Da Hua says she has decided and knows, but refuses to tell either of them, only smiling and looking away. Da Hua changes the subject and asks Ah Xi if she's ready to choose Da Li? The three of them goof off and then Da Hua leaves with the flowers.
Terry and Qin Mo are at the indoor rock climbing facility and the two men give each other a challenging stare (I love Qin Mo's rakish hair flip and I melt for Terry's intensity) and then start their mano-a-mano climbing showdown.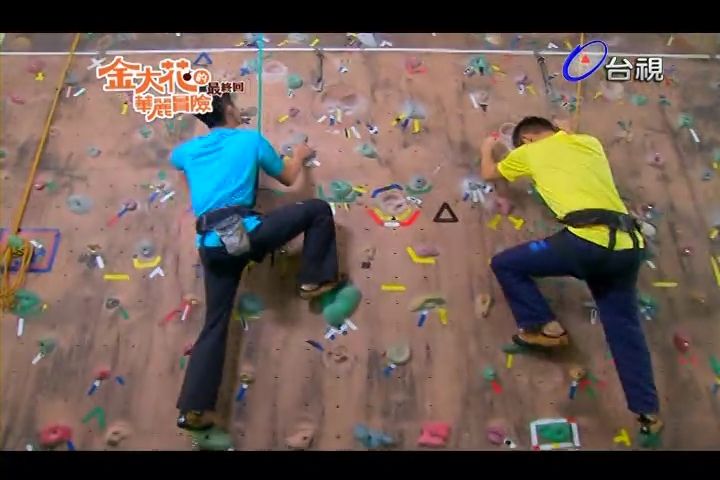 Terry gets to the top first and gives Qin Mo a hand. QIn Mo is shocked that Terry won.
Terry laughs and then says in all seriousness that Qin Mo was done in by his own over-confidence.
The two of them fall back down to the mat and lay there panting. Damn, I'm loving a return to seeing Terry's life outside of Da Hua and this whole company succession battle and substitute princess mess.
Qin Mo asks why Terry was the only one back in college who was willing to be his partner in chemistry lab. Terry says he sucked at chemistry so being Qin Mo's partner was his only way of not failing the class. But there was another reason – as a student in school he owed it to the school to keep Qin Mo in line, because otherwise Qin Mo was likely to blow up the chem lab with one of his crazy experiments. Qin Mo laughs and admits that he's more cautious with Terry beside him.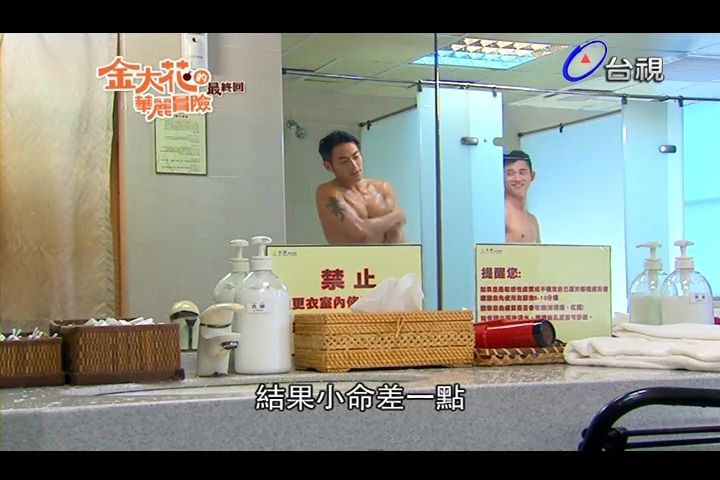 The two guys go to shower and change, and we have a totally awesome gratuitous shower scene. A wonderful bookend to Terry's solo shower scene in episode 1. And yes, clearly this important conversation needed to happen in the shower. Oh yes it did.
The guys talk about their first mountain climbing expedition in college and how Qin Mo tried to be the man and offered to carry the group supplies. But it was so heavy and he was suffering but tried to hold it in.
Later after the first day, Terry took some of the supplies from his bag and lightened his load. But Terry never told the rest of the group and allowed Qin Mo to keep the credit. Terry laughs and says he actually was trying to sneak some of Qin Mo's snacks that night so he ended up just carrying the extra stuff.
Qin Mo rolls his eyes with a smirk, wondering why Terry is so weird since he's the only person in the world who refuses to to get credit for things he's done and instead acts like he did something wrong.
As they are getting dressed, Qin Mo says that everyone calls him weird but Terry is the real one who is weird. Terry says that is why they get along so well because they are both so weird. Qin Mo sniffs him and says Terry definitely smells weird. He walks out and Terry calls over and says it smells much better now that Qin Mo left the room. LOL.
Terry finishes dressing and picks up his wedding ring. It's his ring with Da Hua, not the one he wore when he was engaged to Liang Yen. He smiles and puts it on his finger.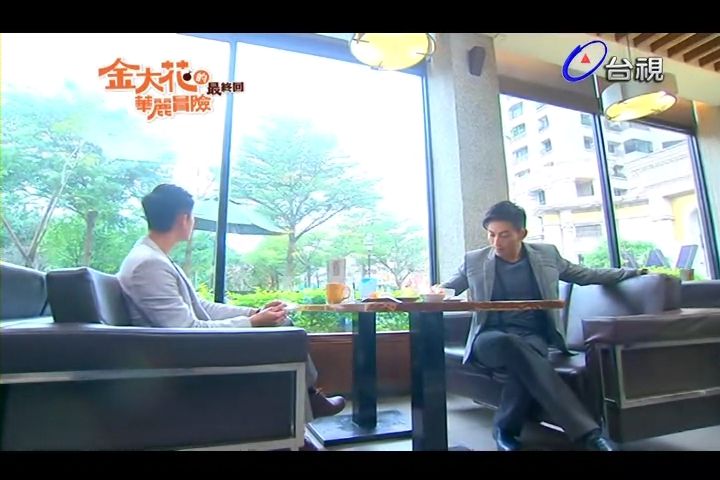 As Qin Mo and Terry are sitting in a coffee shop and Qin Mo asks if Terry has kept in touch with Da Hua. Terry says no in a very relaxed way and says that if they are fated to be they will meet again. Qin Mo is shocked and says this behavior is very un-Terry like.
Terry smiles and asks what behavior would be like him then? Qin Mo says Terry is someone who is driven and focused, if he wants something he plans it well and zeros in on making it happen. Terry smiles and says that is for work, it can be accomplished with strategy. But not when it comes to romance.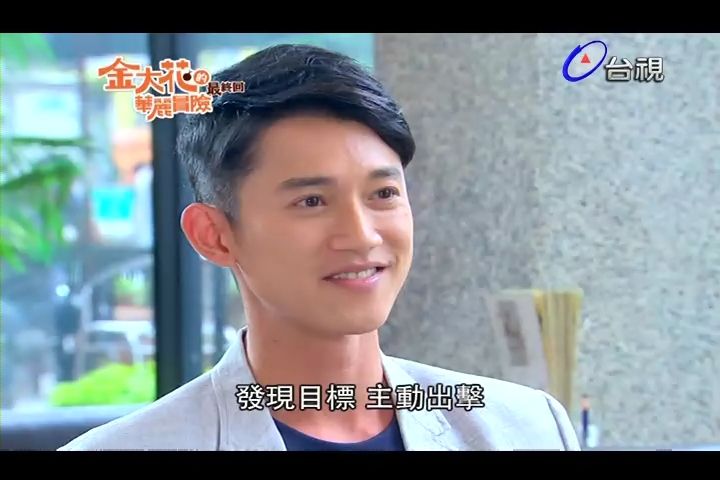 Qin Mo points out that Terry and Da Hua went all the way to almost getting married, it's clear they love each other. If Terry isn't more proactive, what if she misses out on this chance? Terry says its the opposite, if he doesn't give her time to think things through, that might be the biggest mistake of his life. So that's that. Terry says whatever Da Hua decides, he will respect and accept it. Especially after what happened with Liang Yen, he's learned not to force things.
Qin Mo asks if Terry still blames him? Terry stares at him and then says no, the man he is today comes from everything that happened to him and what he learned from it. What's passed is passed. Plus if it wasn't for Qin Mo, he wouldn't have gone back to look for Da Hua to be the substitute princess. So really – Terry ought to thank Qin Mo.
Qin Mo asks what the new Terry, who doesn't force things and only looks forward, will do now? Terry says probably go on a trip and think hard about what he wants to do next. Terry smiles and leaves, telling Qin Mo to pick up the tab.
As he's walking out of the coffee shop we see Da Hua arriving to deliver flowers. But as Terry walks out Da Hua kneels down to pick up a dropped card and they don't see each other.
As Da Hua is right outside the door, she suddenly turns and looks in Terry's direction. Terry also stops and turns to look back, but a damn truck drives past at that moment and block their view of each other. Da Hua goes inside with the flowers and Terry pauses before walking away.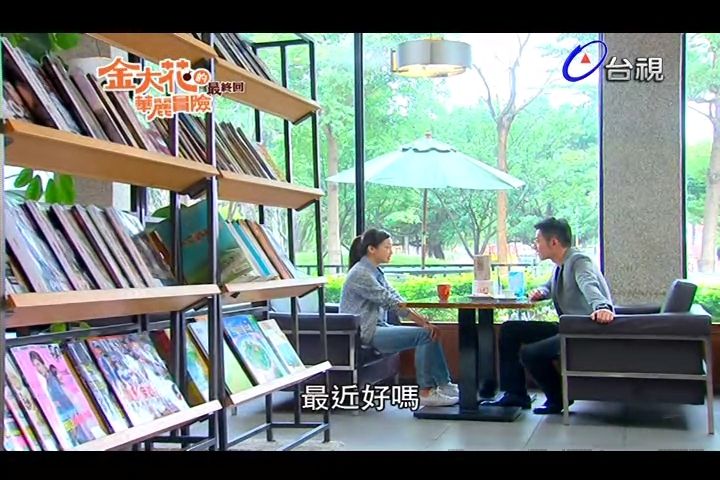 Da Hua drops off the flowers and sees Qin Mo reading a newspaper. She calls him and he happily tells her to sit down for a cup of coffee. He asks if she's doing well and she says yes. He asks if she's contacted Terry and Da Hua say they haven't contacted each other. Qin Mo says Terry just left recently and wants to call him back. Da Hua says no need, she believes if they are fated they will see each other again.
Qin Mo is shocked that Terry said the exact same thing when he just asked Terry the same question. Qin Mo smiles and says Da Hua and Terry are such kindred spirits. Da Hua smiles and then offers to treat him to this meal because the plastic surgery changed her appearance and life and she experienced so much. Qin Mo says this all happened because of Terry, so does Da Hua regret any of it? Da Hua says no, she is very happy to have met Terry. Because of him she experienced this extravagant adventure and lived a completely different life. Qin Mo smiles to hear her say that.
Da Hua walks home and passes by a bridal store. She stops and look at the wedding dress in the window. She remembers Terry's proposal, asking if she's willing to let him protect her and make all her dreams come true in this lifetime? She remembers back to all their interactions and asks in her head whether Terry has been living well during this time? Da Hua walks past a travel agency and sees a poster for a work-study abroad experienced in Australia. She goes inside.
Thirty minutes into the episode, Lin Guan Jun finally shows up and he goes to meet with Hu Jing Biao, who thanks Guan Jun for pushing him into closing down the shady business and going legit. Guan Jun hands in his resignation letter and calmly explains that he's not upset at anything. He wants to quit because the real estate company is now running smoothly and he wants to try something else by himself.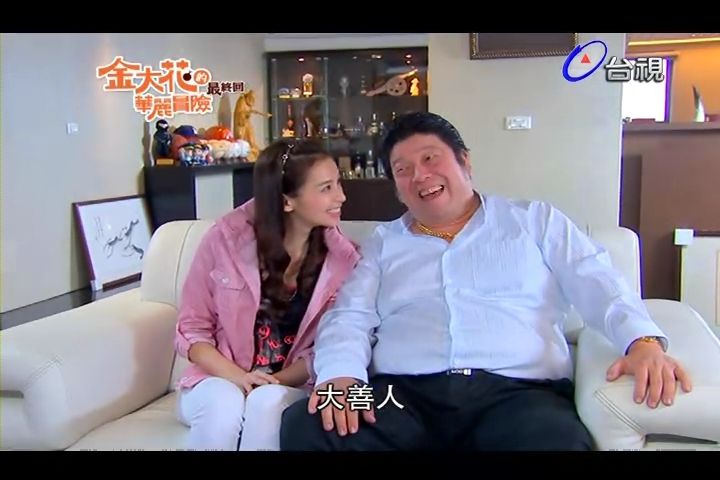 Hu Jing Biao refuses to accept his resignation and Xiao Fei also tells him to keep working on here since he's worked for less than a year. Hu Jing Biao admits that he recruited Guan Jun initially to give Xiao Fei a chance, but now he's okay with everything. Ouyang Tai and Da Hua walked down the aisle and even said their I Dos and still it's not a done deal. He's not going to force anything anymore with Guan Jun and Xiao Fei.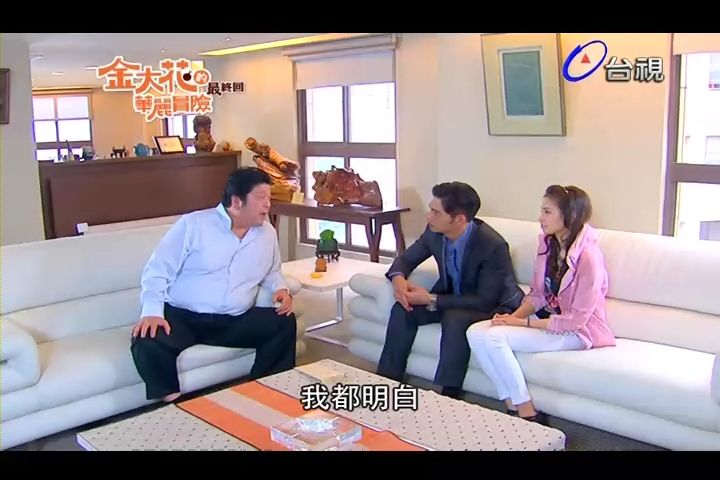 Guan Jun says Xiao Fei is a good girl but he can't return her affections right now. Hu Jing Biao promises to never ask Guan Jun to take Xiao Fei out anymore. If Guan Jun ends up with Xiao Fei, he'll be happy, but if he doesn't, then he won't force it. Guan Jun asks if he can think about it. Xiao Fei says that her dad really likes Guan Jun's ability and isn't keeping him for Xiao Fei's sake. And since she announced the truth at Da Hua's wedding, that means she's also fine with Guan Jun not liking her back. Xiao Fei announces that she won't bother him anymore so he can still work here. Hu Jing Biao asks him to stay and work hard. Guan Jun nods and says yes.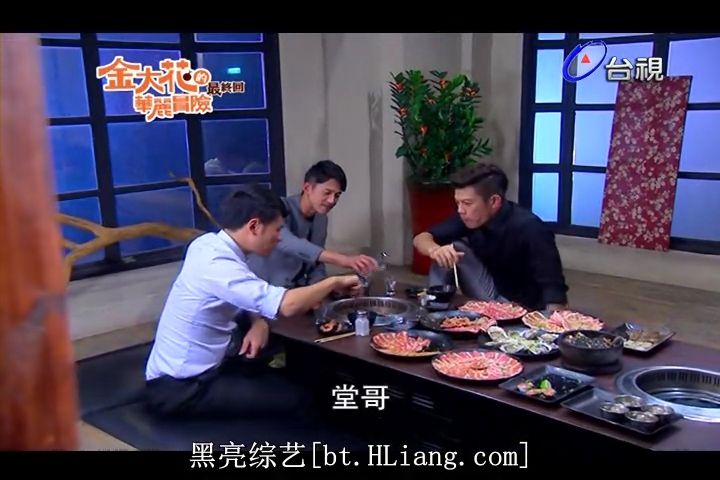 Terry takes his cousin Johnson out for dinner and Cheng Hong tags along. Johnson asks Terry when he's coming back to work since he's taken an extra 3 months off on top of his first month off. He asks if Terry is okay and encourages him to come back to work soon. Terry says he's fine but is here to tell Johnson about a decision he made.
These last few years Terry has been the Managing Director of Sheng Da, he's been wary of Johnson and hasn't allowed him to do what he is capable of. For that he is sorry. They are cousins and grew up together, who knew they would become competitors after they grew up. Terry doesn't think this is right or should continue. Johnson says this is caused by their environment and he thinks Terry wants to break this chain as much as Johnson does.
Terry says something has to start and he wants to be that person to break this chain. He's decided to resign officially as Managing Director and will ask the Board to appoint Johnson. All he wants is for Johnson to promise Terry right here to work hard and run the company well, so Sheng Da can continue to grow and thrive. Can Johnson do that? Johnson says that the company's success is for both their families. He admits that he did many shady things in the past to get the position and he was wrong. But he thanks Terry for what he's doing today.
They have the same Ouyang last name and its both their responsibilities to keep the company running. Terry smiles and says that he's always seen in Johnson real ability and now it's his time to show it. Johnson admits that he was immature in the past and apologizes to Terry. Johnson toasts Terry but Terry says its his toast for his older cousin. He made mistakes in the past and now he's putting Sheng Da in Johnson's care.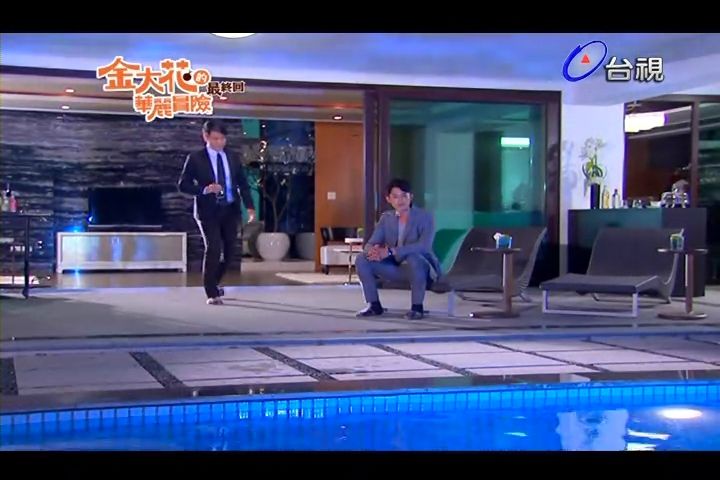 Terry sits at home by the pool and Cheng Hong comes by to ask if Terry is leaving Sheng Da because of Da Hua? Terry says no, he's doing it for himself. These past few years after all he's been through, he doesn't understand anymore why he's fighting with his cousin so much. Is he really afraid Johnson will ruin the company, or because he selfishly wants to keep his position.
Cheng Hong says what happened with Da Hua really has changed Terry so much. Terry says of course, and it's time for him to change. Cheng Hong asks if Terry still misses Da Hua? Terry doesn't answer but that is enough of an answer. Cheng Hong asks why he doesn't do everything in his power to get her back?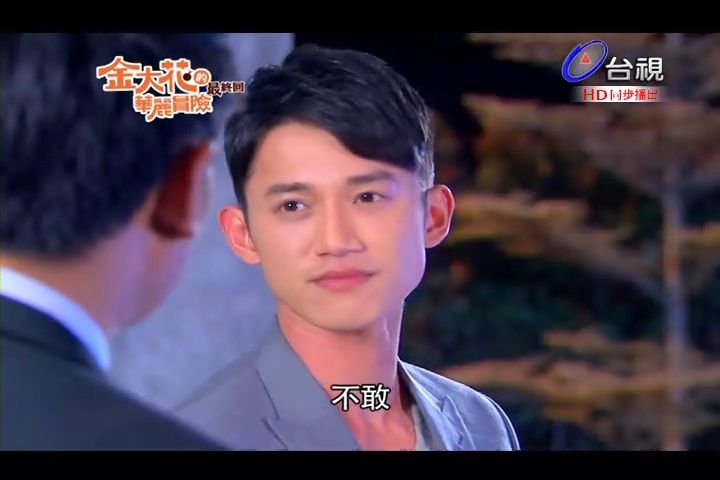 Terry looks at Cheng Hong and smiles, asking if Cheng Hong doesn't think Terry wants to do that. Of course Terry wants to do that, but he doesn't dare to. He's scared, very scared that when he meets her again he won't be able to control himself.
Terry is afraid to pressure her. He's afraid of her telling him that she doesn't love him. But he's most scared of even if she doesn't love him, he still can't let her go. Cheng Hong nods, understanding Terry's conflict and position.
Da Hua decides to go to Australia for the work-study opportunity and announces to her family that she really wants to experience more in her life. Mom is worried but Guan Jun is the first to support her decision. Da Hua promises to contact mom regularly and Mom reluctantly allows her to go.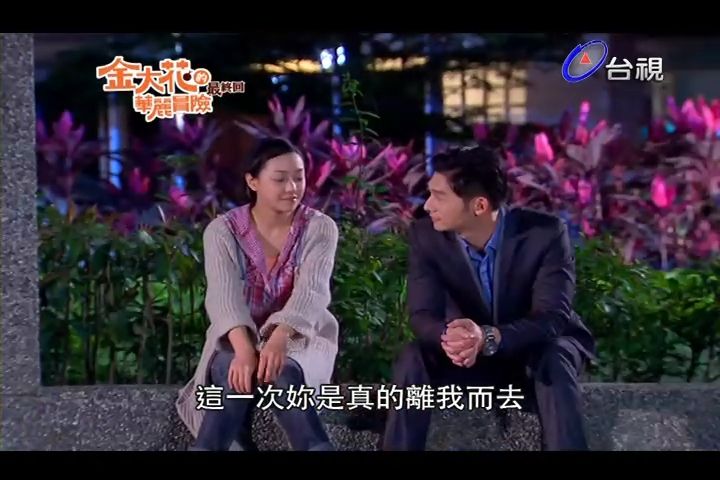 Da Hua and Guan Jun take a walk and she is very happy everyone is so supportive. Guan Jun chides her for still being so impetuous. He can't believe she really is going so far, but he thinks its time since she's given so much for the family and its time for her to see more of the world and find her own goal. He reveals that he tried to quit his job but Hu Jing Biao won't let him quit. Da Hua encourages him to keep working there because finally someone can see Guan Jun's ability.
Da Hua believes Guan Jun will succeed because she believes in him. She tells him to take advantage of this opportunity. He promises that when she returns from Australia she will see his improvement. She also makes the same promise and they give each other fist bumps.
Da Hua sits in her room and composes texts to Terry. She hurt him so much but he's always so forgiving and patient. But she can't forgive herself. She deletes this text and starts another. Terry pulls up outside the store and gets out to look up at her window.
Da Hua writes that she's leaving for Australia and asks if he's willing to let her be his bride again when she returns in one year? She deletes this text as well. Terry stands outside and smiles up at her window. Da Hua writes another text just telling him that she's leaving for Australia and asking him to take care of himself. But she ends up deleting this text as well. She lays down and stares at her goldfish.
Terry looks up at Da Hua's window and says that its been quite some time since he's had any news about her. He hopes that she is doing well and happy. He believes that if they are fated then no matter where they are they will meet again. Terry smiles and says goodbye before walking away.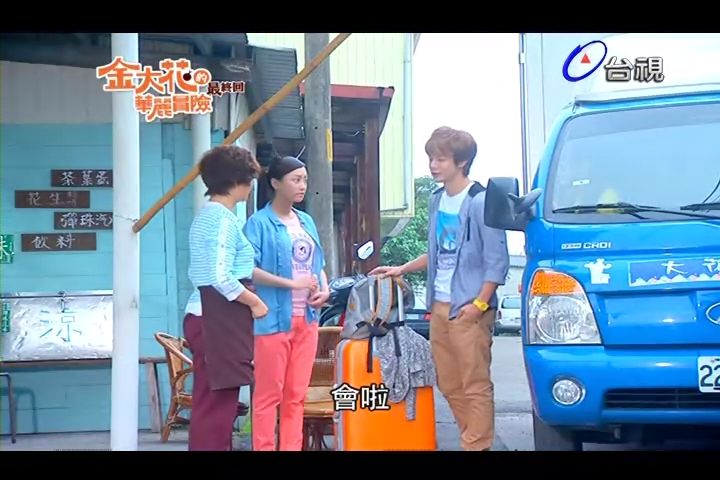 Da Hua is leaving for the airport and her mom sends her off as Da Li and Ah Xi takes her to the airport. They wonder why Guan Jun didn't come to see her off.
At the airport, Da Hua is sad that Guan Jun isn't even here to say goodbye. Suddenly a giant life-sized Grey Bear pops up and is here to send her off. It does a dance with her and makes Da Hua smile. That is a dang cute bear.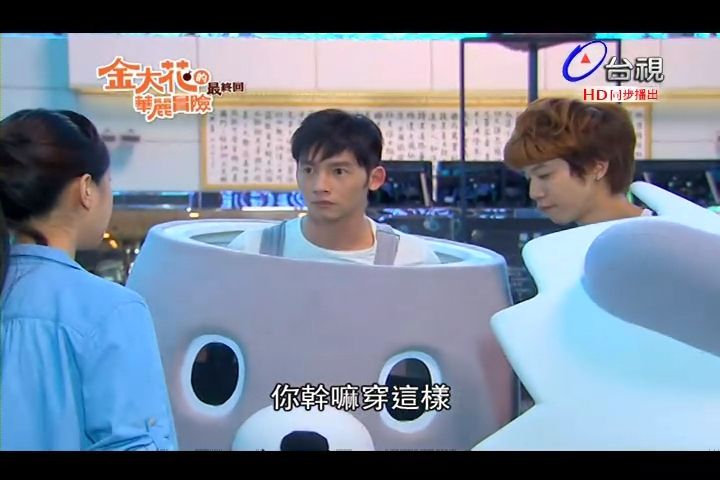 At the end of the dance, Guan Jun pops out of the Grey Bear suit and turns out it was Da Li and Ah Xi's idea for him to surprise her with a more exciting farewell.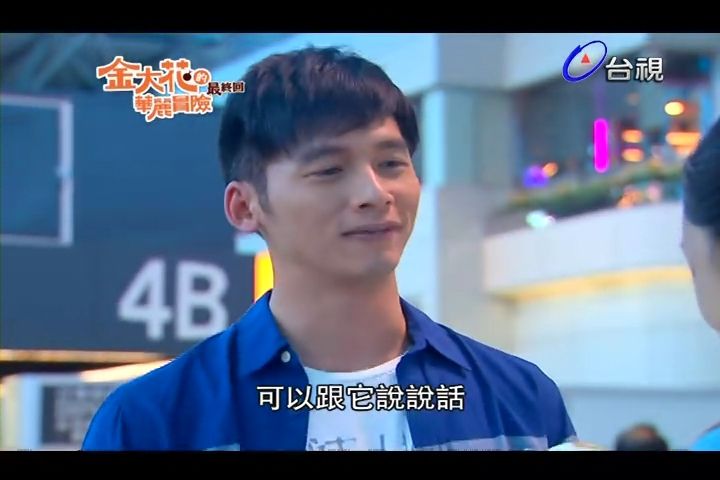 Da Hua and Guan Jun say their goodbyes to each other and he gives her another Grey Bear, suggesting that if she's lonely she can talk to it. He tells him to call home often and be careful, but always let them know how she's doing.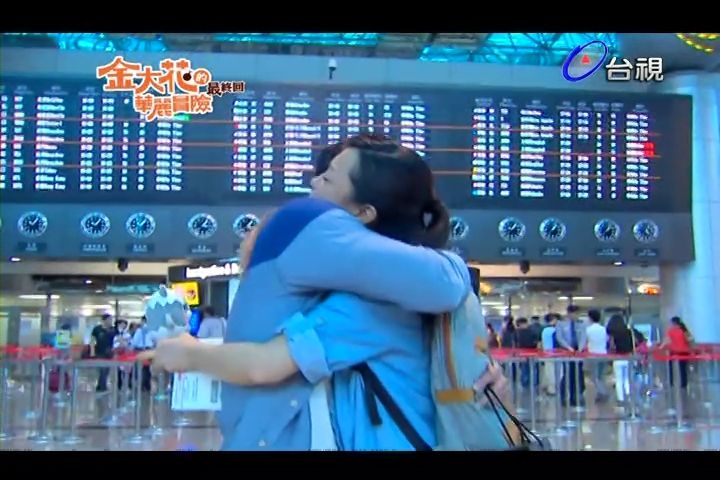 The plane announcement calls and they give each other a hug. I'm not sure why James Wen is doing with the crazy-eyes acting here, but the final hug is really nice and there is still no chemistry between them. At all. Da Hua waves goodbye to her best friend and family and heads inside. Guan Jun watches her leave and she turns around to wave again.
Da Hua boards the plane and as she's walking down the aisle she bumps into someone and drops her Grey Bear. A person steps out of the aisle and picks it up, and of course it can only be Terry.
They stare at each other in genuine shock. Good lord this man is gorgeous. That side profile…..
Lots of eye-sexing happens and then they both smile.
A super duper flashback to their entire extravagant adventure follows, starting with Terry offering her NT2 million to pretend to be his fiancee.
They then go through what was supposed to be a temporary charade, until Liang Yen dies and Terry is left to pick up the pieces.
But at his lowest point Da Hua was there for him, supporting him and encouraging him.
He was so lucky to have her, he can't imagine what would have happened without her by his side. There would be no drama, that's what would happen.
Let's keep on having more Terry-Da Hua moments courtesy of the drama allowing us to relive the sweetness all over again.
Terry and Da Hua smile at each other and both voiceover that they believe if they are fated they will see each other again.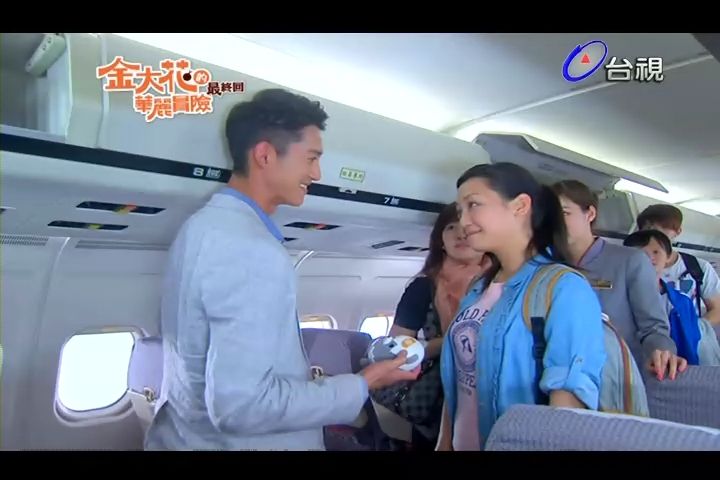 Their reunion holds up the poor passengers but what the heck, take a chill pill passengers! The plane takes off and I'm sure when those two land they will find a nice hotel in Brisbane. And for the record, this is NOT an open ending. Da Hua ends up with Terry. Happily I might add, though a hot kiss in the aisle would have been a nice capper.
Thoughts of Mine:
Having watched so many TW-dramas, some are just crap from beginning to end though almost all of them devolve into insanity and then end poorly. That's why chancing upon a real complete gem is like finding a needle in a haystack. That doesn't mean watching bad dramas is always a waste of time, and here I have I say that it was completely and utterly satisfying watching King Flower. Of course there is only one reason for my strong opinion of this little ball of crazy and it's the character and performance of Terry (Mr. Ouyang Tai) as brought to life by Chris Wu. I took a giant step back after watching episode 21 and I realized that he made the impossible happen. He not only turned a trifle of a drama narrative into something emotionally captivating, he actually transformed an entire story progression without even forcing it. The initial one-page storyboard synopsis, still on the TTV official drama webpage, writes that this is the story of a ugly girl who becomes pretty and has a chance to make love happen with her kind-hearted lout of an older adopted brother. That is it. There is no mention of Terry at all in that synopsis, only how much Da Hua loves Guan Jun and dreams of being with him. From there we went 21 episodes where Terry was the leading man in both screen time and narrative importance, with an ending that isn't open ended at all. Da Hua loves Terry and wants to marry him again, but she doesn't have the courage to reach out to him because of the immense guilt she feels over her earlier indecisiveness and a feeling that she's not good enough for him. But in the end fate leads them back to each other, and away from all the baggage behind them.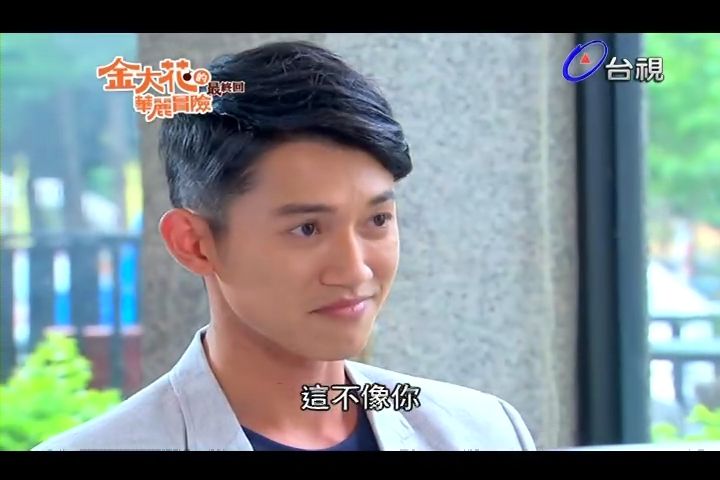 Terry leaves Sheng Da and Da Hua leaves Guan Jun behind emotionally and physically, and they meet again on that plane headed for Australia, the place Da Hua initially used as the excuse for her absence for a year when she went off to be Liang Yen's substitute princess. While the drama ending didn't have all the pay-off I would have loved, I've followed this drama filming for the entire 6 months and this might be the best the writers can do while still preserving James Wen's leading man dignity. Plus this episode was chock full of Terry-Da Hua flashbacks which was an indisputable reminder that those two had all the shippy scenes in this drama and really we can't complain because we watched them fall in love (even if Da Hua was mostly too dense to realize it as it was happening). The chemistry between Chris and Nikki Hsieh was to-die-for levels of heart-thumping and the drama really packed in so many Terry-Da Hua scenes in the middle I can't complain at all. We worried that Terry would be turned into an antagonist but that didn't happen, and then we worried that Da Hua would still insist on picking Guan Jun and that also didn't happen. In the end the entire last episode was spent wrapping up a few loose ends in a perfunctory manner and then letting us know that Da Hua and Terry are flying off and leaving it all behind. I love how all the viewers of this drama cared so much about Terry being happy that we raged so much on his behalf, and that in the end everyone has the same great sense of humor as we swooned/loved/cursed/raged and ultimately got swept up on an extravagant adventure along with Da Hua. Said adventure being meeting the imperfectly perfect Terry.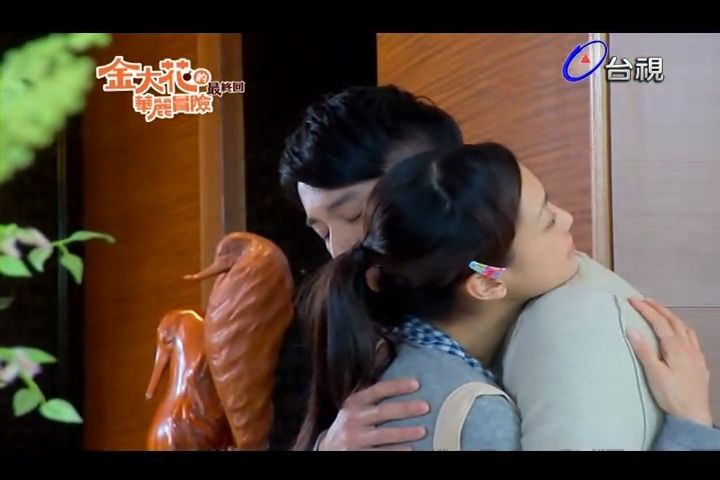 I don't know which was the more decisive clincher in making this drama so addicting – the power of Terry's arrogance tempered by the romanticism of a real man's man with a thrumming heart, or Chris' portrayal of Terry in all his tightly wound glory giving way with smiles that light up the room and tears that come straight from the heart. He easily out-acted both James, who has been a multiple Golden Bell Award nominated actor, as well as Nikki, a Golden Horse Best Supporting Actress winner. Clearly there is no way those critically high brow judges of the GBA's will nominate him for an award, and my gut tells me SETTV isn't even putting his name in contention because nominating him in the Best Actor category is a slap to the face of James, and he's clearly not the supporting actor here. I'm fine with that, hardly anything in the awards realm is about who really deserves it the most, and I do hope Chris has finally made a giant leap towards staying in the leading man category. He's actually much too good for SETTV fare, and I would love to see him in a PTS indie drama or at least something that doesn't require him to use his acting to carry an entire drama on his shoulders. Starting in episode 19 onward he looked absolutely exhausted (though still managing to be beyond gorgeous onscreen even with his exhaustion visible) and I want my man to get some rest now. I can wait patiently for his next project. I don't particularly need to see him and Nikki pair up again, and to be honest Chris always has amazing chemistry with his leading ladies but I have yet to find one that truly sparks back with him to the point where it's reached epic status. I loved Nikki and Chris as either Terry-Liang Yen or Terry-Da Hua, but unfortunately the brain fart the writers inflicted on Da Hua in the later few episodes really ruined their opportunity to be epic. But from the montage of all their shippy moments, it was undeniable that the writers still gave as much sweetness as they could for them.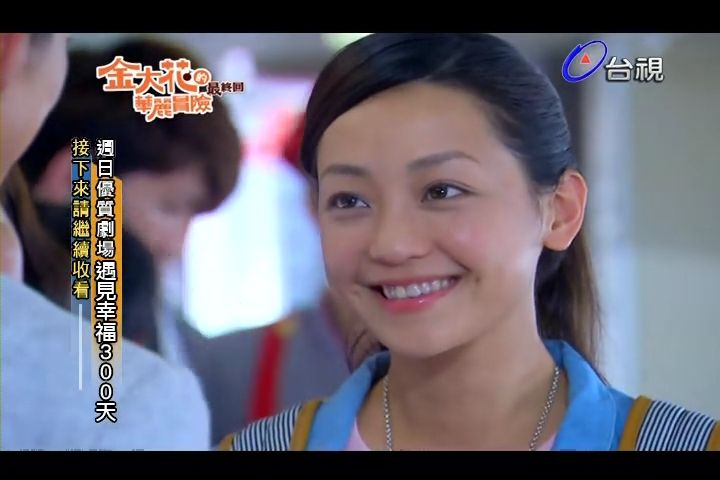 So after all is said and done, would I recommend King Flower? Yeah, in a heartbeat. I think all the Terry-goodness that created this maelstrom of complete rewriting a drama is just too amazing to pass up. This drama didn't suck because the writers didn't know how to write (though they weren't a brain trust either), it sucked because what happened probably left the writing team running around like headlesss chickens trying to balance the growing awesome and tsunami strength groundswell of support for Terry, while figuring out how to re-jigger the original story of poor girl gets a crazy adventure and goes home to be super attractive and ends up with the oppa of her dreams. SETTV had been getting flack for the usual rich-hot-tall leading man stereotype and KF was clearly an attempt to buck that trend and have a poor plucky couple as the lead. Ironically enough this drama ended up being the one where the rich-hot-tall male character bucks all previous stereotypes and ends up being the only flesh and blood and relatable character in the entire crazy charade. Half the supporting cast disappeared to make way for more Terry, the male lead ended up turning into an ridiculous noble idiot, and the female lead couldn't figure out which way was left or right but at least there were moments when she accepted that she did love Terry back. I'm glad SETTV at least had the decency to let the only couple who fell in love with each other sincerely in this drama end up together, even if the process at times resembled a runaway train. I actually enjoyed episode 21 for the little moments that were all Terry-centric – hanging out with Qin Mo, moving past his rivalry with Johnson, and actually have the courage to walk away from Da Hua and figuring out his life, but still wearing that wedding ring and loving her with all his heart. Farewell King Flower, thanks for a wild and crazy adventure that wasn't all that extravagant but was definitely a memorable one for reasons good and bad.