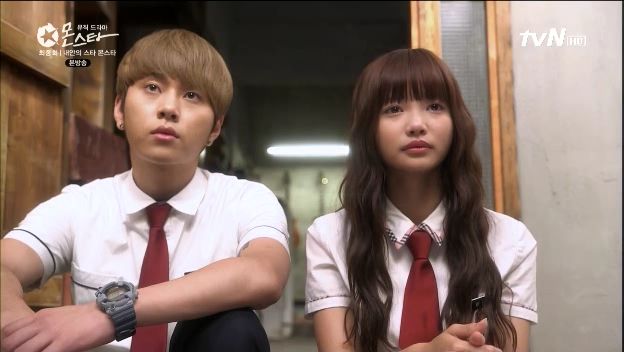 I'm so happy I checked out Monstar, because it led to one of the most relaxing recapping projects in a long time. No see-sawing emotions, no heightened expectations begetting freefalling disappointment, it was just a very assuring and easy-to-digest drama from beginning to end. The final episode went out with a relative whimper that capped an overall slowdown in the second half that unfortunately allowed this drama to not tap into its full potential. But what it did deliver was ultimately satisfying for me, a dish that was funny and emotional, sweet and entertaining. There were a lot of lovely moments in this drama, so much so that I am strangely okay with all its narrative misses. In the end, so much was left unresolved and unspoken, but the drama lets us know these people we have grown to love and care for will be fine even as the camera turns off. Rather than a hectic rush to tie up all the loose ends, episode 12 was oddly melancholy and ordinary, which was rather fitting since this drama was about a bunch of sad kids trying to chase away their blues and found solace in music and friendship.
Yong Jun Hyung as Yoon Seol Chan was the main reason I fell madly for this drama initially, and eventually I loved the entire cast and each wonderfully realized performance. It was only fitting that the final episode belonged to Seol Chan, his growth throughout this drama came to a head when he tried to protect his friends in Color Bar, and finally in his thoughtful and sincere connection with Se Yi. We don't know if he'll be able to date her over the craziness of his fangirls, but we know that he will always see her and reach out for her no matter what stands in their way. Sun Woo and Seol Chan's love-hate relationship gets a fitting non-ending because it really was never a big deal, and ultimately all the kids and even the adults let go of some misunderstandings and self-flagellation and learn to keep moving on. In the end, music and friendship was the central themes of this story and it wrapped up with the same themes as the focus. I appreciated all the little things Monstar did right and only wished it could do more because it had so much potential. One wonders if Mnet was setting it up for a sequel seeing as so much was left hanging, Whether that happens or not, as a viewer I've thoroughly enjoyed the journey of Color Bar. A fond farewell to the cutest K-drama I've watched this year.
Episode 12 recap:
Se Yi confesses her feelings for Seol Chan to Sun Woo and turns to walk away. He calls her name with a joke that she dropped some money, but really he just wants to say something to end the awkward mood. He apologizes for not being able to walk her home today and leaves.
Na Na is singing with some Color Bar members in the basement and elsewhere Seol Chan is rapping. Her balled and his rap blend together while Se Yi and Sun Woo mope on their way home. Seol Chan finishes and leaves the studio passing Ari on the way.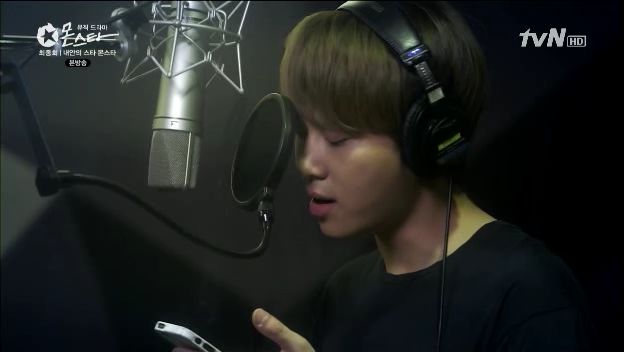 Seol Chan is practicing the guitar and composing a song. His fingers are all raw from practicing. His fingers are torn up from practicing so much.
Se Yi gets a text from Eun Ha with the picture she took of Color Bar at their launch party in the basement. She smiles and then zooms into Seol Chan's face and her smile fades.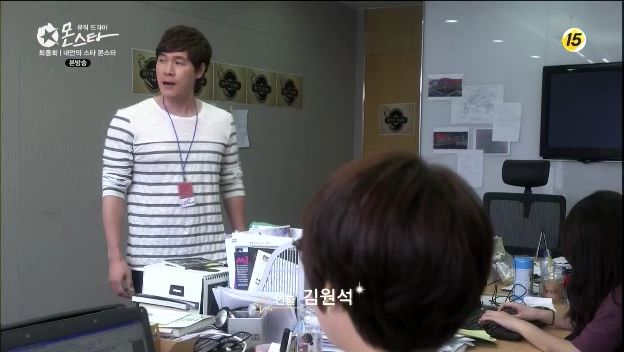 The entertainment PD is pissed off after he learns that Seol Chan won't be part of the Color Bar performance, despite his assistant explaining that Seol Chan's agency won't let him do it. He decides to up the ante and mess around with Color Bar. Se Yi asks her mom about her dad's band mate from high school and her mom learns that Se Yi has been hanging around Ji Woong all this time.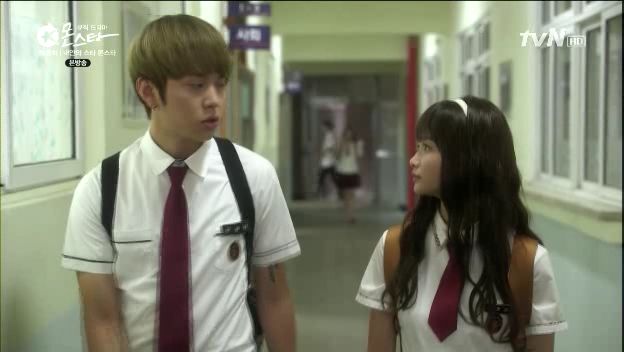 Se Yi and Seol Chan walk to class and he asks about her weekend while revealing he had to record a song he didn't want to do. He teases her for not calling and wonders if she hung out with another dude.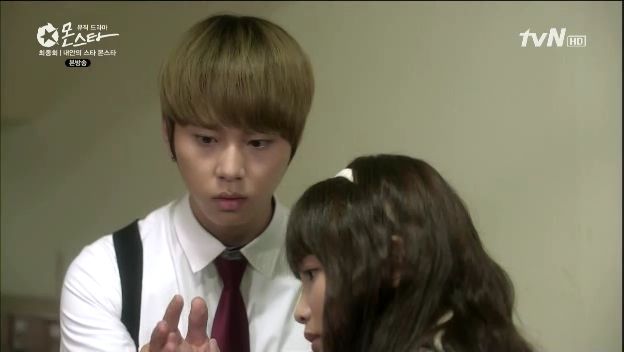 Seol Chan teases Se Yi for being a player and when he points at her she notices his ripped up fingers. She grabs his hand and asks what happened? He quickly pulls it away and makes an excuse.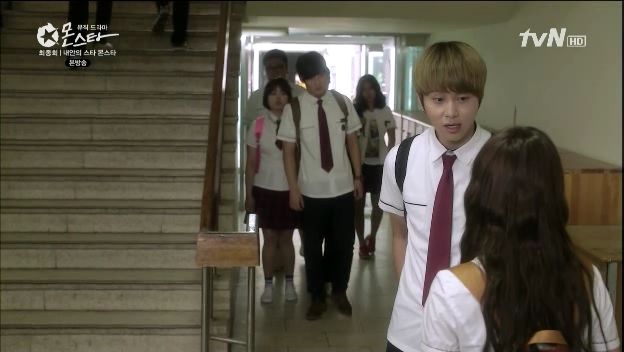 Sun Woo has arrived with the rest of Color Bar and see this final exchange. Sun Woo purposely steps between Seol Chan and Se Yi and reminds everyone to adjourn for practice after school for the performance.
Sun Woo walks off leaving everyone weirded out by his suddenly assertive ways. Eun Ha wonders what's gotten into Sun Woo while Seol Chan recollects that Sun Woo claims to not have given up yet.
Seol Chan calls Sun Woo out and tells him to stay away from Se Yi. He didn't want to have to say it so bluntly. Sun Woo isn't cowed and won't give up unless Seol Chan finds a way to deal with his fans to be with Se Yi. Sun Woo leaves and Seol Chan decides he can't let them use the performance as an excuse to keep hanging out.
Seol Chan joins the rest of Color Bar in the basement for practice. He is here as their music arrangement coordinator. Kyu Dong, Do Nam, and Eun Ha all smile and happily welcome his help.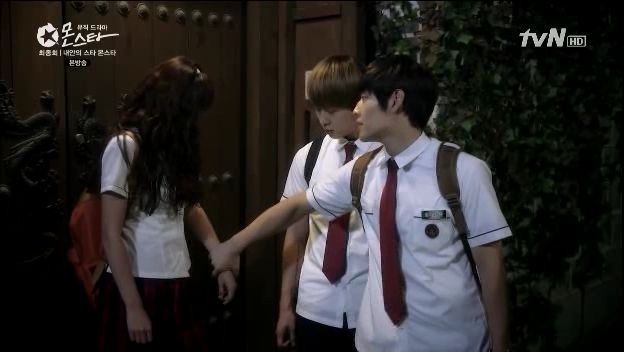 After practice ends, Seol Chan and Sun Woo both ask to hang with Se Yi. Eun Ha steers everyone else away and the other three walks off.
Se Yi's mom arrives at Ji Woong's place and asks him why he didn't tell her that he had met Se Yi already. He reminds her that she told him to pretend like they didn't know each other. Mom says Se Yi misunderstood what happened that night of the accident, but she's still accepting her own punishment because she went to see Ji Woong despite knowing her husband didn't like it.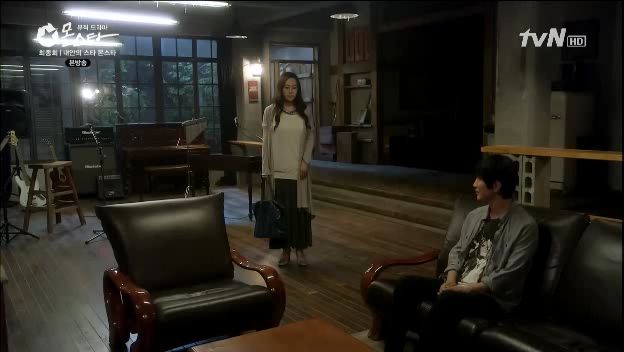 Ji Woong reveals that he blamed Mom for the accident, and all this time thought that she and her husband lived happily while his life was ruined. Then he learned from Se Yi that her dad died that same night. He asks if she is not going to clear the misunderstanding with Se Yi? Mom doesn't plan to.
Se Yi sits in a coffee shop and looks out the window to where Sun Woo and Seol Chan are facing off. Seol Chan calls Sun Woo immature and Sun Woo is fine with it since Seol Chan always thought he was immature anyways. Plu Seol Chan is immature so Sun Woo is just behaving like him. They continue to bicker and Se Yi watches them. Seol Chan says he'll show Sun Woo what is the true meaning of immature and then waves his hands in Sun Woo's face to block him from seeing Se Yi. LOL, both Se Yi and Sun Woo are like "sigh……"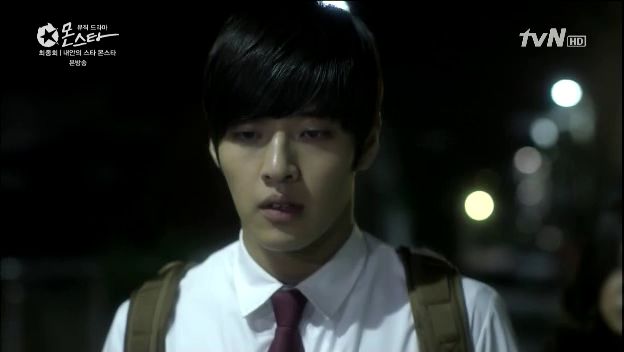 Sun Woo walks home and gets a text from Na Na. He tells her that he is practicing letting go for when the day comes that he has to.
Joon Hee tells Teacher Dokko that All for One will be holding closed door practices, so even she doesn't know what they are planning for their performance. Eun Ha hears about this and talks with Do Nam and Kyu Dong about why All for One is so secretive. Eun Ha cackles that perhaps their trump card is a really lame thing. She clicks her fingers and a fantasy sequence of Jae Rok, Hyo Rin, and Joon Hee doing a ridiculous kid song performance appears.
Seol Chan is at Color Bar practice when he gets a call from his Mom that his agency took his stuff back to the dorms. She asks if he won't consider living at home from now on?
Seol Chan is practicing the guitar with Ji Woong and he asks when he plans to play for Se Yi. Seol Chan doesn't know where to do it, he can't do it out on the streets since he'll attract attention. Seol Chan reveals that he really idolized a past music producer named J. Han.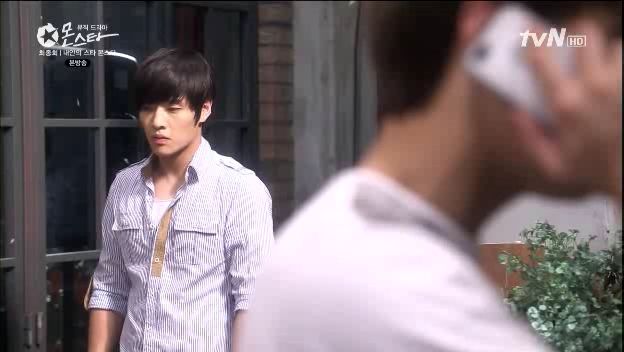 The PD is going through Color Bar members to see who to use for their expose. They exclude Kyu Dong, Eun Ha, Na Na, and Sun Woo, until only Se Yi remains. The assistant reveals that Se Yi's father was friends with the former music producer J. Han and the kids are currently practicing at his basement. The assistant isn't keen what the PD wants to do and he's fine if she tells Seol Chan about his intentions. Seol Chan hears about what the PD is doing and he calls the assistant back. Sun Woo overhears this and tries to find out about why the PD is interested in the personal lives of the kids of Color Bar. Seol Chan says he'll handle it and leaves.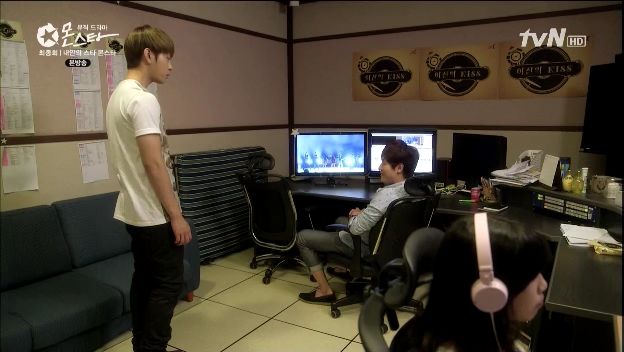 Seol Chan confronts the PD and tells him not to use his friends just because he can't do the show. He says Color Bar won't perform but the PD reminds him that his friends wants to do it.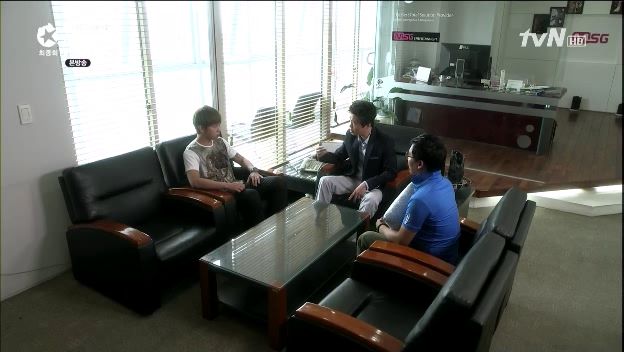 Seol Chan meets with his agency president and asks for the favor. The president won't do it unless Seol Chan gets a top star to perform. Seol Chan asks Ari for a favor, to plead with top star Stella to perform. He agrees to do the duet with her but she says it needs to be something else.
Seol Chan runs into Joon Hee at school and is goaded about not performing. Despite Seol Chan being a star, he can't do whatever he wants. Whereas Joon Hee can.
Sun Woo approaches Joon Hee and wonders why they are being so secretive. Joon Hee points out that Seol Chan is dropping out of Color Bar but the PD won't allow that to happen since it'll affect the ratings. Sun Woo recalls Seol Chan's conversation on the phone and realizes the PD is already doing something to force Seol Chan to participate.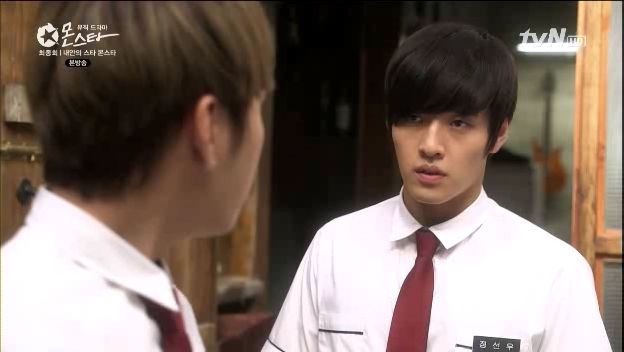 Sun Woo confirms with Seol Chan that his dropping out has led to the PD plotting to out the secret of Se Yi. Seol Chan promises to handle it. Sun Woo warns Seol Chan that if Se Yi gets hurt, he will not let Seol Chan off the hook.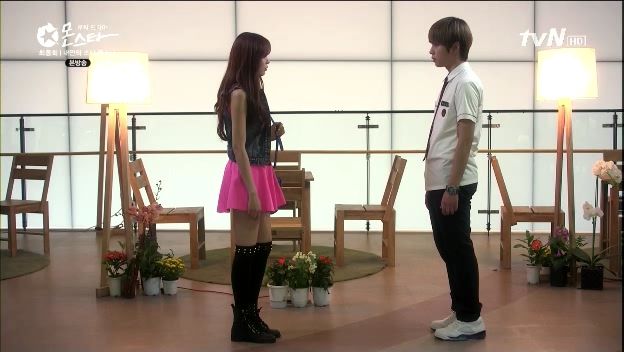 Seol Chan goes to asks Ari for the favor again but she's still haughty and pissy. He is serious and sincere and even offers to kiss her shoes like she demanded he do long ago. She tells him to stop and is pretty taken aback at why he is going so far for this. He can tell she will do it and thanks her.
Seol Chan tells the kids that he will do the show with them. Sun Woo pulls Seol Chan aside and asks what happened. They bicker some more and then head in to run through a full practice together.
The agency president is pissed that he had to relent and allow Seol Chan to perform with Color Bar. Manager Hong tells him to just enjoy the performance.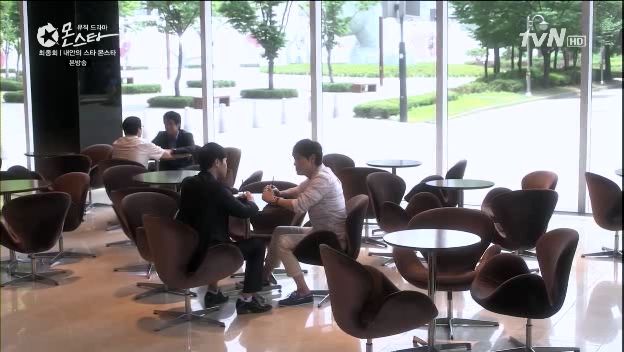 The PD is thrilled to hear that top star Stella and also Man in Black will perform on the show. He is impressed with Seol Chan's star clout. The assistant wants to not make the expose on the kids now but the PD says make it anyways since it involves dirt about former music producer J. Han. The dots are connected that J. Han was friends with Min Se Yi's dad.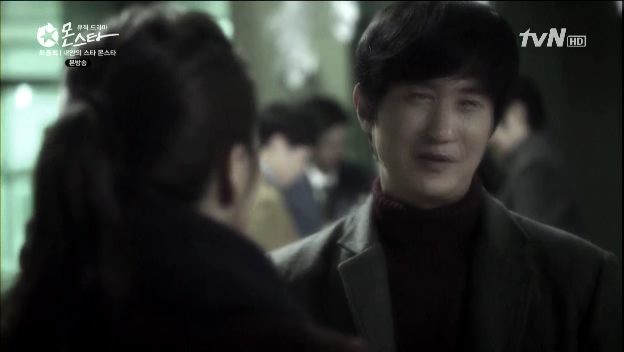 Turns out that night Se Yi's mom goes to hand her husband's CD to Ji Woong. He's a jerk to her since she picked her husband over him. He takes the CD and then allows the girl to hitch a ride with him.
Joon Hee hears from Hyo Rin that the PD has sent people to school asking all about Se Yi. He tells the PD to stop, All for One doesn't need this added help to beat Color Bar, especially by stooping so low.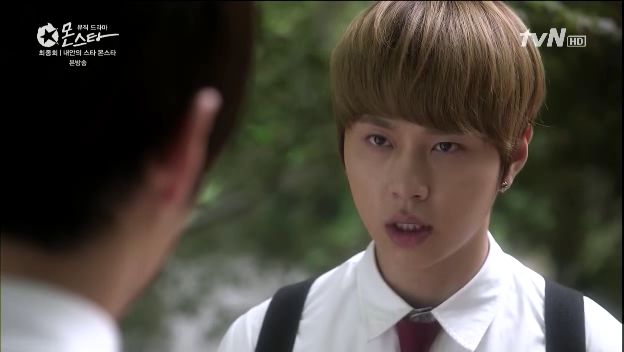 Sun Woo is preparing to head to practice but Seol Chan takes Se Yi away saying that they can't practice today. He shoots a barb at Sun Woo, asking if Sun Woo has ever taken his girlfriend home before?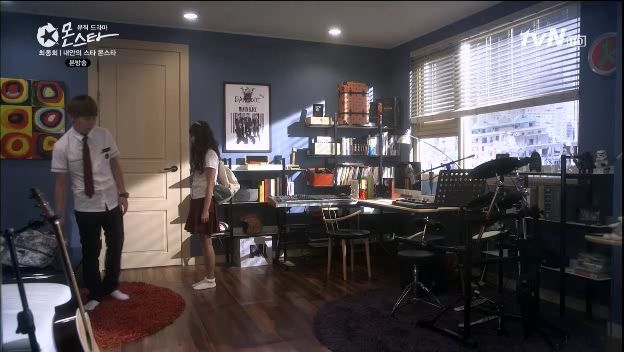 Seol Chan takes Se Yi home and she greets his mom on her way in. Seol Chan leads Se Yi by his band to his room. They sit down and she notices he framed her note. She spots the sheep and asks for it back. She sees a pictures of young Seol Chan with his family and says he is really cute.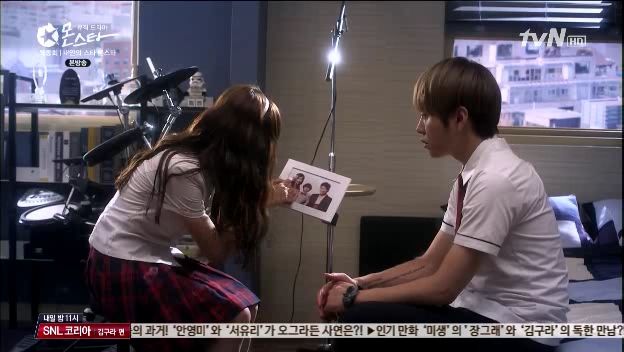 Se Yi says that Seol Chan looks like his mom. She points out that even people unrelated can look alike by being together and enjoying the same things together and experiencing the same emotions. Seol Chan softly asks if she thinks they look alike now. Awwww. Se Yi quickly scrambles to the window and looks out shyly. Seol Chan smiles.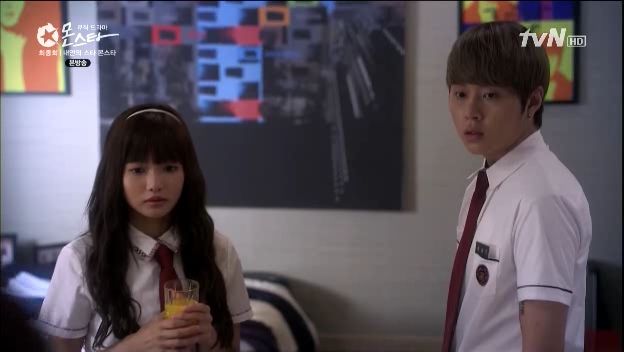 Seol Chan's mom comes in with refreshments and is so happy Seol Chan brought a friend over. She walks out and leaves the door open a crack and Seol Chan closes it. She comes back later with more food and keeps trying to leave the door open a little bit, she read in a book that when a son brings a girlfriend home to keep the door ajar. Seol Chan closes the door and tells his mom it's not what she thinks.
Seol Chan grabs his guitar and asks Se Yi to forgive his rough skills, but this is how he will repay her for trampling all over her dad's song. He wrote this song just for her. Seol Chan plays the guitar and sings to Se Yi. She sits there and listen to him with a smile as he sings about being her partner and being there for her.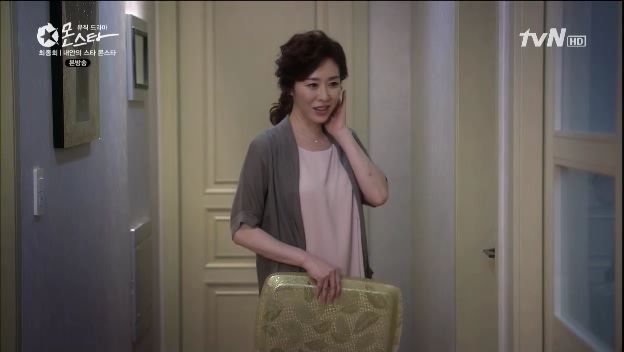 Seol Chan's mom leans against the door and listens, comforted that he's grown up. Seol Chan walks Se Yi home and they gently wave goodbye at her door. Seol Chan goes home and remembers that he never asked Se Yi whether she liked his serenade more than when Sun Woo sang to her.
Seol Chan's mom comes into his room and apologizes for what she did in the past. Sending him back to the orphanage because she wasn't ready to be a mom. She loves him and will continue to try her best. She asks that he call her mom instead of the more formal mother.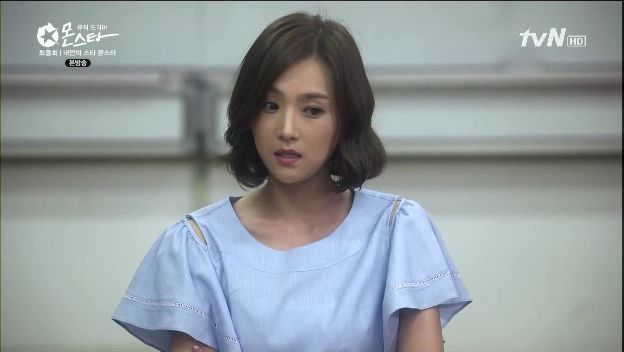 Teacher Dokko breaks the bad news to Color Bar that the song they want to use is nixed because of a license problem. They are upset but realize they have one day to whip something together. They put their faith in Seol Chan to arrange a new song.
Ji Woong watches Color Bar frantically practice and then gets a visit from Nawin. Turns out he's the younger brother of the dead girl and Ji Woong has been sending him money for years. He wants to become a singer in Korea because that was his sister's dream and he just wanted to meet Ji Woong and tell him that it's okay. He asks Ji Woong to forgive himself and stop sending money anymore.
Seol Chan and Se Yi are exhausted from the practice and sit down at a café. He's happy to be alone and she orders cakes for him that she says are filled with nutrients. She feeds him a bite and he takes it and smiles. She grins and he asks if she did it with Sun Woo, too. Se Yi laughs at his petty jealousy.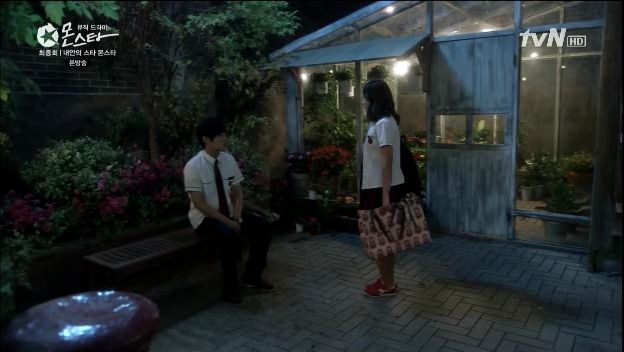 Sun Woo gets called out by Na Na using her 8th coupon and they meet in the basement. She brought her guitar and he asks if she has something to say to him. She can't say it in front of others and wants to know how much longer her other coupons are good for. He's cold and says it expires today.
Na Na cries and asks him to sing her a song then, a song of his choice. He said he wanted to make her laugh before. But Sun Woo chooses to sing a sad ballad and Na Na calls him a bad guy and leaves. She cries her way home. When Sun Woo finishes singing, he spots a bag that Na Na left for him.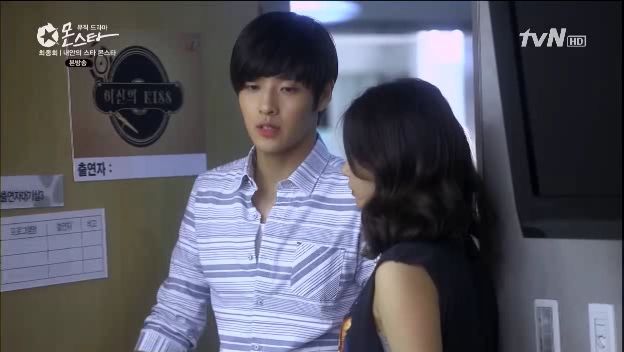 Se Yi heads out to the music program and her mom tells her to do well. The stage is being set and everyone is getting ready. Na Na and Sun Woo see each other and are cordial. Seol Chan sits down next to Se Yi and Sun Woo comes and shoves Seol Chan aside to sit in the middle. Se Yi gets up and walks away.
Se Yi happens upon the entertainment program assistants talking about how an expose on her was nixed by Joon Hee's dad. Apparently the big secret was that Se Yi was the cause of her dad's accident, but she lost her memory so doesn't know. That triggers Se Yi's memory and turns out that night she was fidgeting with the radio knob in the car when her dad told her to stop, and his momentary lapse resulted in the accident. But the real cause of her dad's death was that her dad wrapped himself around Se Yi and blunted her impact so he died instantly while she survived. Yikes. Se Yi runs away in horror while Sun Woo and Seol Chan both see this and can't reach her in time.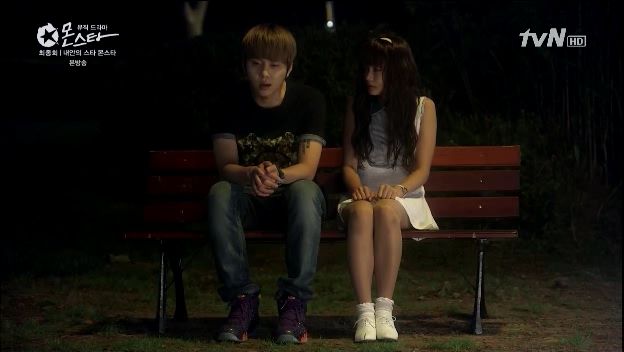 Seol Chan gets into the car and goes first to Ji Woong's place but can't find her. Sun Woo is tasked with telling the rest of Color Bar that something happened with Se Yi. Seol Chan finds Se Yi at their park bench and she's crying. He sits down and she apologizes but she can't perform like this. She erroneously blamed her mom when it was herself all along that caused her dad's death.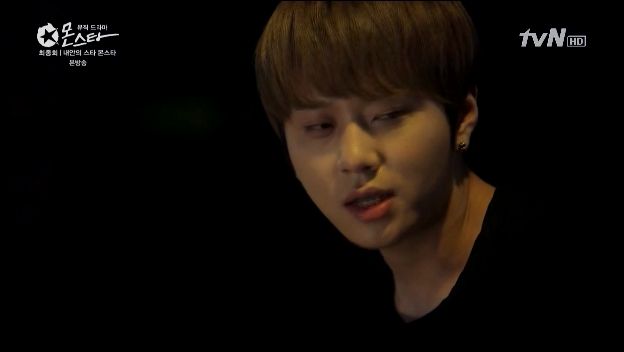 Seol Chan reveals that he had had three names since he was born. He was abandoned at the orphanage and they gave him a name. When he was adopted the first time he got another name. But his mom gave him back because she couldn't handle raising a kid, and that was when he cried because he knew what it felt like to be abandoned then. But later she came back and took him again, and he got a third name. He hurt so much then, but he realized that he could survive it, because he understood then that god only gives us the challenges that he knows we can weather. He sigh that they are only eighteen and already they have endured so much.
The music program begins and the various acts perform while Color Bar waits anxiously back stage. Do Nam reveals to Color Bar that he just heard that All for One's trump card is a guy named Daniel Park. He was a sunbae of their high school and now is a singer in England.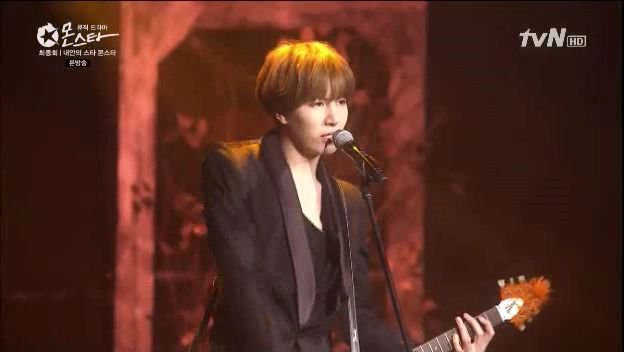 All for One take the stage with a rock orchestral performance with No Min Woo making a cameo as Daniel Park. The performance is rocking and the crowd goes wild. Color Bar watches and wonders why Joon Hee allowed a trump card to save their performance. Do Nam thinks Joon Hee has pride, he's showing that if he wants to he can pull out all the stops to win.
Seol Chan and Se Yi arrive at the studio and get out of the car together. As they rush inside Seol Chan is mobbed by his fangirls and his hand is jostled free of Se Yi's hand. They are separated by the fangirls and keep reaching for each other.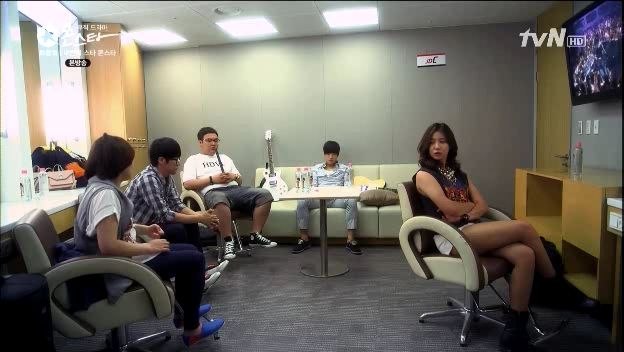 Sun Woo gets a text that they are here and he rushes outside to get them. He sees the mob of girls around Seol Chan and Se Yi trying to get to him.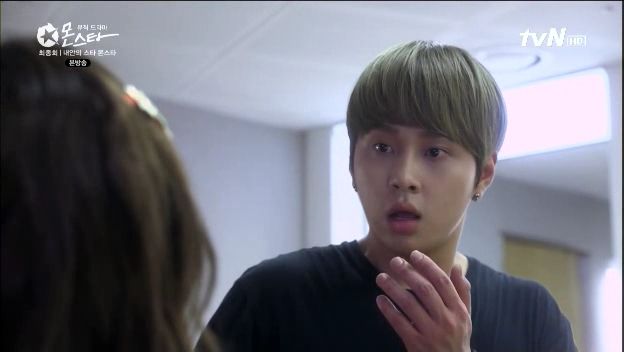 Seol Chan manages to grab Se Yi's hand and runs inside with her. He arrives in the Color Bar waiting room happily with Se Yi. Except Eun Ha is horrified and says "psycho?!?" Seol Chan looks back and turns out he grabbed the hand of the psycho girl from episode 1 that kissed him.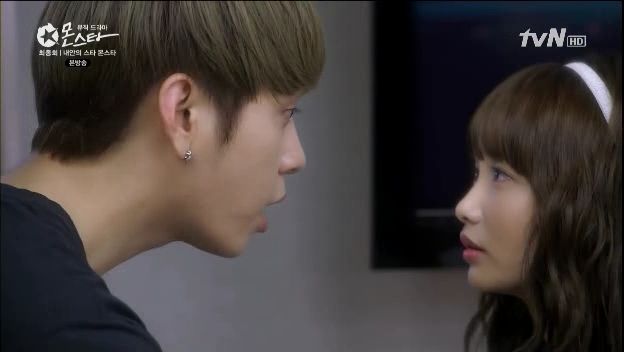 Sun Woo runs in with the real Se Yi in hand. Color Bar is called to perform and Se Yi still looks uncertain. Seol Chan grabs her shoulders and says to do the performance AND cry if she wants to.
Color Bar takes the stage and starts to perform. I love that they are wearing their school uniforms open with different t-shirts underneath, and everyone wears a red scarf wrapped around their right wrist like a bracelet. Se Yi is crying throughout the entire performance, which has Sun Woo and Na Na taking the lead vocals but everyone chimes in with a small solo.
The performance is a more inclusive and cohesive one that the first, with Do Nam on drums and Kyu Dong on keyboard and Eun Ha on the xylophone. The song ends and the crowd breaks into wild applause. Seol Chan smiles until he looks over and sees Se Yi sobbing, and Sun Woo looks over and sees it too.
Some time later, Se Yi goes to see Ji Woong and he asks if she's here by herself. Se Yi says they will all come. He asks if they won and she tells him to guess.
Sun Woo looks at the picture of the Color Bar group that Eun Ha snapped and smiles. He opens the window and takes out the bag Na Na left for him. It's the jacket he tried on for her. He puts it on and says to himself that he didn't think it would suit him, implying that he's surprised now that it does suit him. Sun Woo's voiceover that love arrived even when it wasn't clear, when they were just kids and now teens. A montage of all the key moments in this drama flash by.
Se Yi sits by herself on the steps on Ji Woong's garden. She's crying softly and then Seol Chan walks over and quietly sits down next to her. They turn to look at each other.
Seol Chan reaches over and wipes away her tear. She smiles at him and he smiles back at her. The camera pulls back to the two of them sitting quietly on the garden steps. Together in contentment and silence, the two people who started off arguing the every single moment they were together.
The credits play and its all behind the scenes pictures of the cast and crew filming Monstar. Then we see everyone from the cast singing the end credits song and its just adorable. All close and happy like a genuine bunch of high school friends. Kudos to a wonderful production for creating such a warm and heartfelt drama.