Boys! I know you guys are young, and ridiculously popular, and two of you are dating veritable goddesses in the C-entertainment industry (Gao Yuan Yuan and Ni Ni, respectively), but can you guys at least attempt to tone down your collectively preening for the cameras. Oh what the heck, bring it on! The cast of the upcoming wuxia mystery C-movie Detective Dee: Rise of the Sea Dragon assembled in Beijing for its star-studded press conference. Starring Mark Chao, Feng Shao Feng, Lin Geng Xin, Kim Bum, and Angelababy, the press noted that the average age of this cast hovers around 27 years old and is the youngest cast to headline a big budgeted Director Tsui Hark helmed movie. It's getting a prime premiere date of September 28th which is around the time the entire nation of China goes on a holiday for its National Day celebrations. I just realized that Kim Bum will probably keep hitting the soy sauce in Goddess of Fire in the foreseeable future since he had to go to Beijing for this press conference which explains his limited screen time.
In the movie, Mark plays young Detective Dee and he expressed admiration for his sunbae Andy Lau for creating the iconic character in the first movie Detective Dee: Mystery of the Phantom Flame, and hopes he can do the character justice as his younger self. I actually think its pretty funny that Mark's Black & White co-star Vic Zhou has been getting compared to a young Tony Leung, and here Mark is channeling a young Andy Lau. Bromance 1.0 begets thwarted bromance 2.0 even in acting choices. Clearly Mark and Bummie got the fashion notice before arriving since they both look fantastically suited but conversely Feng Shao Feng with his all-black get up with what appears to be a red bulls eye in the center slays me with the fugly while Ling Geng Xin is just randomly mismatched all over. Angelababy relished being the sole female in the cast with all four male leads attracted to her in the movie, though her love line is only with Bummie. Mark complimented her as being as attractive in person as her character is described in the movie. The cast had a blast at the press conference, ribbing one another and divulging embarrassing stories from the set. Read on for more highlights.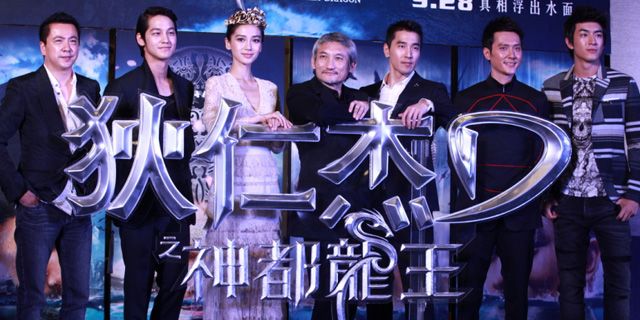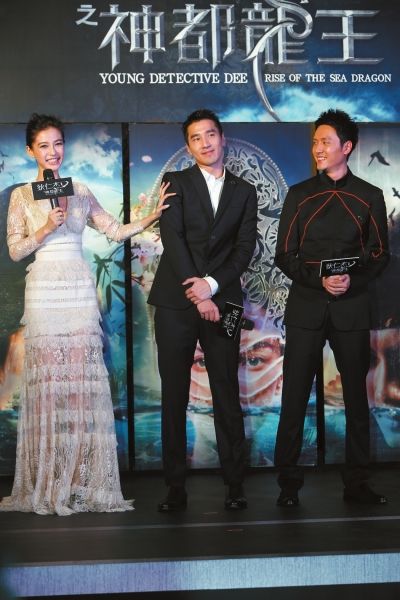 THIS beyond adorable picture of everyone pointing at Lin Geng Xin is in connection with a revelation that Lin Geng Xin positively adored Mark on the set and was pretty much his loyal golden retriever. Awwww. Angelababy groused that Lin Geng Xin never even looked her way once, he only had eyes for Mark. The poor boy had to explain it was a bromance kind of love and not the romantic sort. Everyone admitted that Feng Shao Feng carried the brunt of the physical shooting, Mark said that he would go from fight scene A to fight team C then segue into fight scene B. Lin Geng Xin got roasted the most, with the reveal that he was constantly snacking and would go around asking people as his slogan "Am I handsome today?' Angelababy said that he was so cheap and couldn't drink on the set so he carried a fridge stocked with Sprite that he would drink and proclaim it the best champagne ever. Ah heck, now I want to watch the outtakes way more than I want to watch this sure to be a special effects laden bundle of silliness if the first movie is any indicator.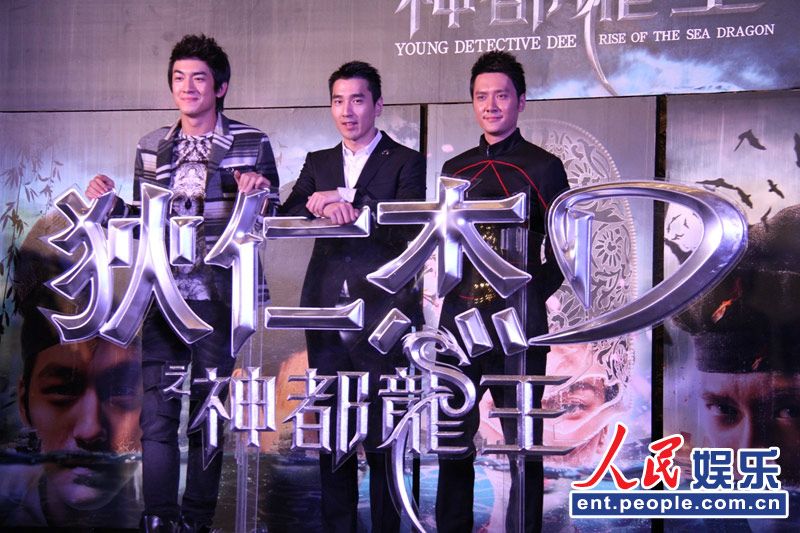 Press conference for Young Detective Dee: