The Chinese entertainment world's never ending scandal and romances are amusing to keep tabs on, but personally I love the epic bromances more. There are so many I can't track but it's time to add a new one to the list – after making Director Tsui Hark's prequel to Detective Dee, Lin Geng Xin promptly fell madly into a bromance with Mark Chao and it's so overwhelming the entire cast of Detective Dee: Rise of the Sea Dragon can't stop talking about it during promotional events. I think it's adorable, and judging from the picture above where leading lady Angelababy is seriously shoved to the side while the two guys have only eyes for each other, I'm wondering if Mark's girlfriend Gao Yuan Yuan needs to keep the boys away from her man and not just the girls. Mark must have some sort of bromance hormone because he's notorious for getting his male co-stars to become BFFs with him after working together – Vic Zhou in Black & White (before the Golden Bell Awards debacle), Ethan Ruan in Monga, and now Lin Geng Xin in Detective Dee. Mark recommendedLin Geng Xin to his frequent collaborator Director Tsai (who did Black & White the drama and movie as well as tons of other famous TW-dramas) and that is how Lin Geng Xin is the latest fresh face to join the Black & White franchise. Y'all remember how it went down – the drama won awards and critical acclaim, but Mark's shocking upset win over Zai Zai at the Golden Bell Awards put their bromance on ice, Zai Zai turned down the movie so Mark went at it alone, the movie raked up the box office so obviously a sequel was going to happen.
Director Tsai said that the Black & White movies would be a trilogy and the first movie was set before Mark's character Yin Xiong met Zai Zai's Pi Zi (Chen Zai Tian). The second movie is likely still set prior to the time line of the drama, and this time Lin Geng Xin will play Mark's new partner and he's described as a cop that believes in hard evidence above all else. Apparently Jerry Yan will also be joining this movie and his connection to Director Tsai came from when he directed Jerry on the TW-drama White Tower. Even more awesome is that a familiar face will be re-joining this franchise and it's one who has worked with both Mark and Jerry. Janine Chang will be reprising her role as CSI Lan Xi Ying which makes me extremely happy because I loved her character. She's already pooh-poohed any awkwardness in working with Mark again since they dated for two years after making the drama but he's since moved on to a very public romance with Gao Yuan Yuan while she is reportedly dating her three-time leading man Peter Ho. Janine has also worked with Jerry before as his leading lady in White Tower. I was supremely pissed that Zai Zai did not return to the franchise where he was the leading man, but based on all the returning faces, I'm rather hopeful that by the time the third B&W movie gets made, he'll be ready to return and wrap up all the lose ends left at the end of the drama. He can even bring his real life girlfriend Reen Yu along, since we all know she was the biggest twist at the end of the drama and a major loose end that needs to be tied up. Mark and Lin Geng Xin have already started filming for the movie since last week and the rest of the cast will be joining shortly. I can't wait!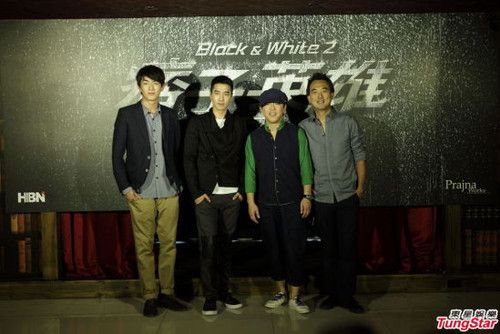 Mark and Lin Geng Xin are already having way too much fun on the set of B&W the Movie Part 2.
I just had to share the pictures of the cast from the Detective Dee prequel recording an episode of Happy Camp, because there are not enough crazy to adequately describe what Lin Geng Xin is wearing. HOLY THREE BLIND MICE WHAT IS THAT ABOMINATION ON HIM! But Lin Geng Xin cleans up real nice, the selca below is his new hairstyle for the B&W movie. Koala approves.
And a quick look at a new face and an old face joining Mark in Black & White The Movie Part 2. It'll be awesome if there is a love triangle between Mark-Janine-Jerry, because she has fantastic chemistry with both guys. Gimme now!