You know that existential crisis moment when you're reading a book and land on a sentence and find yourself reading it over and over again because suddenly words don't compute? That is usually a signal to put that book down and take a break because the synapses are momentarily overloaded. I worried that moment was barreling towards me with respect to Heirs or The Inheritors, but then the press conference and long 14-minute preview hit and I was just fine. No disorientation and no disappointment, I like what I see. Kim Eun Sook was testy at the press conference when asked point blank about it being like Hana Yori Dango (I hesitate to say like Boys Before Flowers since that drama was merely the Korean adaptation of the underlying manga that is HanaDan) and she said it's not and if it was there was no way she would have asked Lee Min Ho to play the head considering the inevitable comparison to Gu Jun Pyo. I'll buy that, and I have to say that after watching all the previews I didn't see any similarity to the HanaDan set up other than the rich kids in high school and a poor girl joins their rarified world. All the characterizations and personalities are different, and the plot points don't have any overlap in anything I've seen. The press conference had a bit of a "just get it over with" feel to it since there were so many people on stage. Lee Min Ho needs to burn his too-tight burgundy pimp suit, Park Shin Hye is ladylike as usual but no amount of hand-holding or shoulder touching with Lee Min Ho will convince me those two have any natural chemistry.  And stop with the finger-pointing, these two are equally emanating the "just friends" vibe around each other. Whatever they produce in the drama as the romantic OTP, they will have to use acting to sell it because it's not there effortlessly. The rest of the cast all looked nice at the press conference consisting of Kim Woo Bin, Kim Ji Won, Kang Min Hyuk, Krystal, Park Hyung Sik, Kang Ha Naul, Jeon Soo Jin, Kim Sung Ryung, Im Joo Eun, and Choi Jin Hyuk. I think all the guys were all wearing socks, I saw socks and that must be noted. I thoroughly enjoyed the long 14-minute preview and while the location shoot looks pretty and all, I'm way more excited for the drama to dive into the school yard hijinks proper. The final few minutes of the preview had me grinning.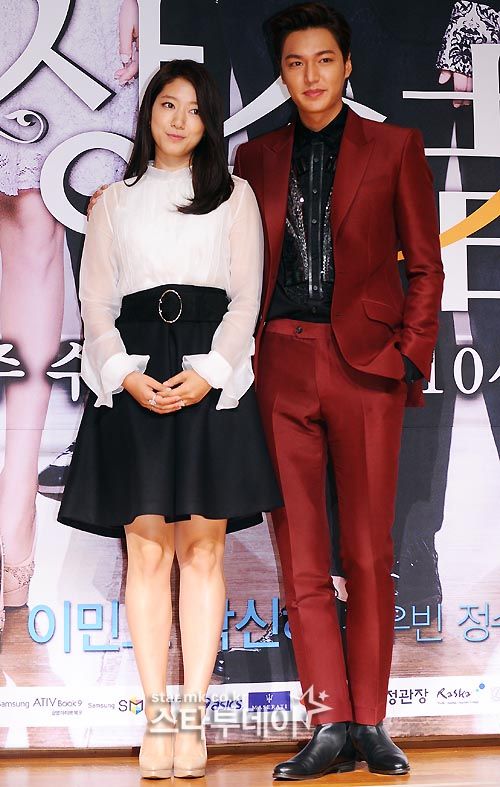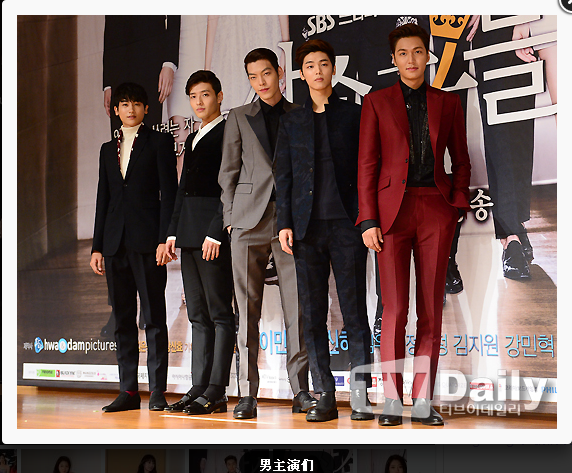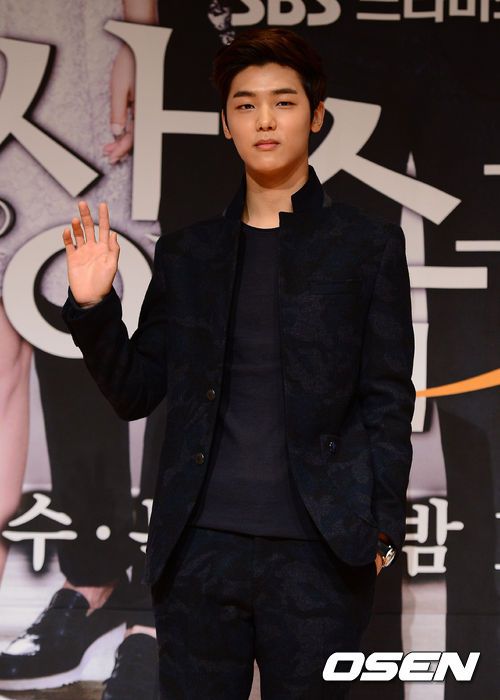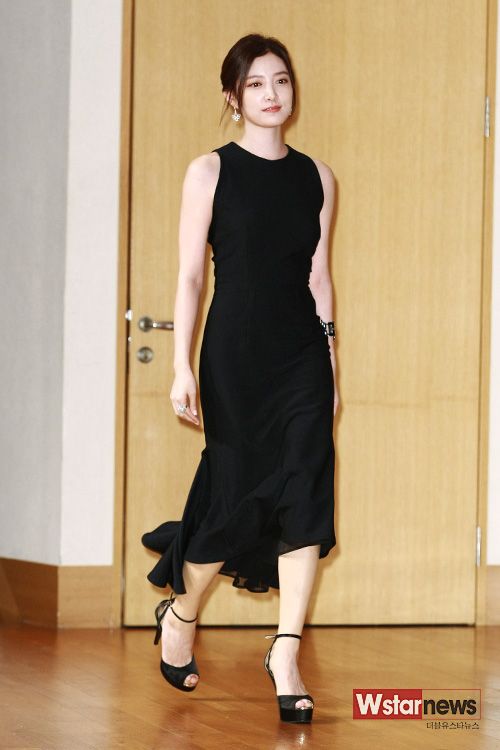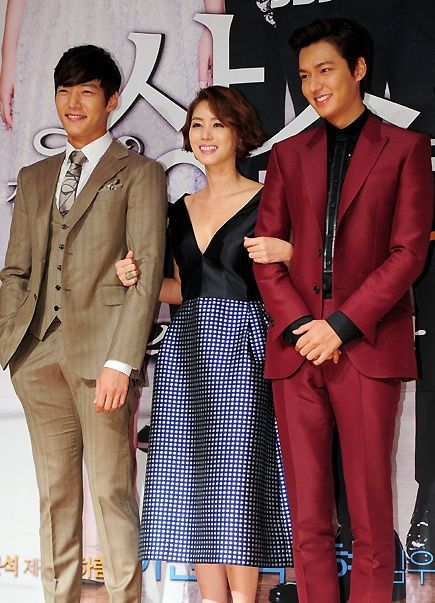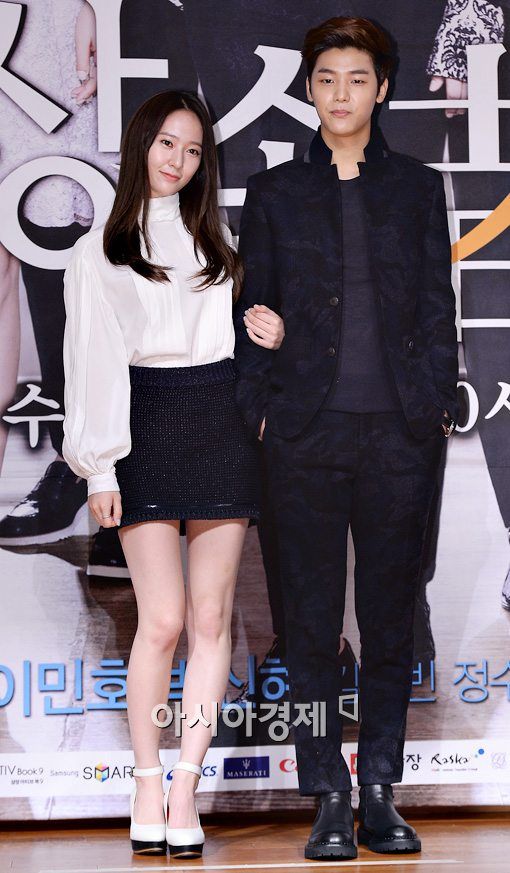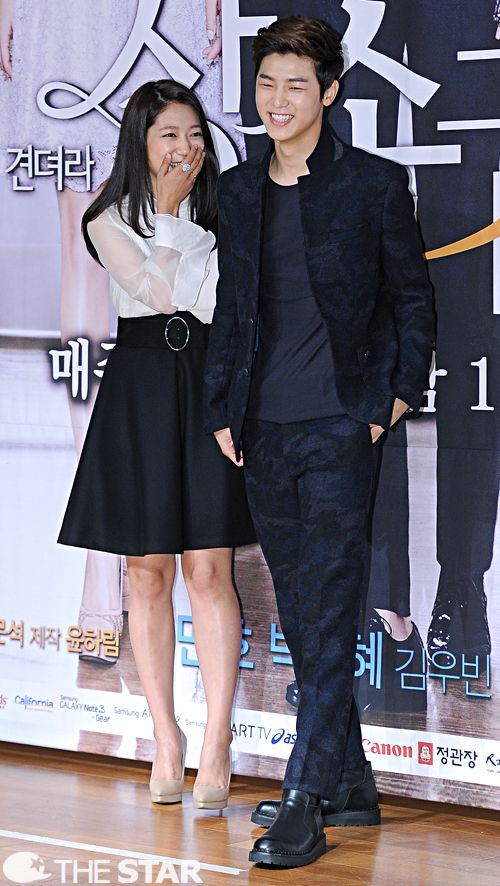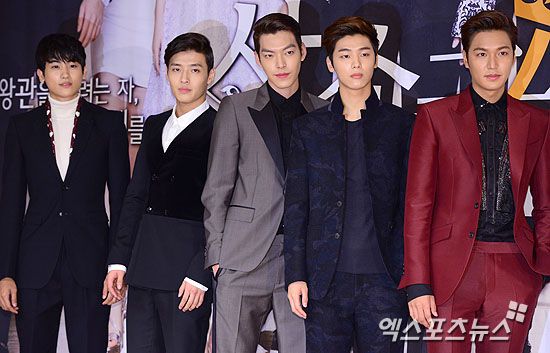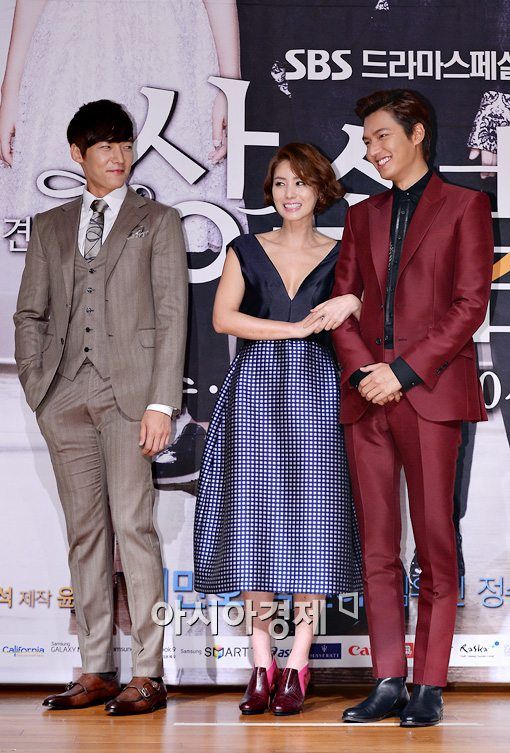 Long 14-minute preview for Heirs:
[youtube id="wuYH1ioYPeI" w="650″ h="450″]
Recap of the long preview:
Kim Tan is studying in LA because older brother Kim Won basically sent him away to keep him out of the family inheritance battle. He is very lonely and surfs a lot. Cha Eun Sang works multiple jobs and has a deaf-mute mommy who works as a housekeeper to the Kim household. Eun Sang is friends with Chan Young, who sees her working multiple jobs. Eun Sang has a temper and is not accepting of her poor lot in life. She's pissed at the inequalities in the world. Her sister is supposedly doing well in LA and sends a message home that she's getting married. Eun Sang rebels for the first time ever and heads to LA to deliver the money the sister asked for. She finds out that her sister is just a waitress and not even getting married but living in a dump with a drunk white guy. Eun Sang confronts her sister who just takes the money and leaves Eun Sang stranded in LA.
Kim Tan sees all of this and you can totally see how this messed up sibling relationship triggers the exact same feelings he has inside. He appears to help Eun Sang out and even drops her off outside her sister's place. But in the end, he comes back for her and asks if she wants to go with him. Kim Tan takes Eun Sang back to his fancy place, he's living the comfortable high life even in exile. The next morning, he goes off to school and leaves her there. Kim Tan's fiancée Rachel arrives and is pissed to see a strange girl there. She kicks Eun Sang's suitcase down the stairs and damages it.
Back in Korea, Lee Bo Na is hanging out with Young Do and Myung Soo and complaining that her Chan Young is not calling and what if he meets a cutie in LA. Myung Soo teases that all the girls are cute in LA. She calls Chan Young and he answers and they cutely banter and admit they miss each other. Chan Young gets a text from Eun Sang that she's run into trouble on her trip.
Kim Tan hears from the family secretary that his brother is in LA at a business event. Kim Tan takes Eun Sang with him and drives up the coast to Santa Barbara to an almond farm to see his brother. Kim Won is pissed to see Tan there and basically tells him to stop trying to be a part of the family and just stay in LA and live a rich carefree life. Eun Sang sees this display of brotherly meanness and asks Tan if he's okay. Kim Tan says he's not okay. They go watch the movies together and he admits being intrigued by her and wonders aloud if maybe he likes her?
All the students at Empire High is gathered at the front as Kim Tan returns to school. He greets angry ex-girlfriend Lee Bo Na and says everyone knows about their past history. He then checks out her new bargain basement boyfriend poor Chan Young. Young Do walks up and the two curtly greet each other with a chingu that is clearly exactly the opposite. All the sparks are flying and Hyo Shin watches in amusement from the rooftop. Suddenly Eun Sang, who is texting her deaf-mute mother, walks right between Tan and Young Do before realizing she's standing in the middle of a showdown. She looks up and notices everyone around her and some of the students recognize her as well.