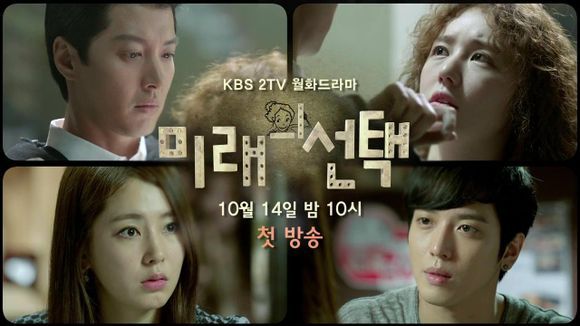 I'm already ridiculously excited and primed for Marry Him If You Dare but the just released 3rd teaser trailer has me salivating and rubbing my hands with glee. Chemistry exploding everywhere with all the leads, time-traveling marriage-altering shenanigans from future Mi Rae, and lots of skinship from the get go. Korea's recent spate of time-traveling dramas last year were a big disappointment for me other than the perfect until the ending Queen In Hyun's Man. That's the kicker really, time-travel dramas are so difficult to end properly without resorting to easy outs or tears galore when time waits for no one. What makes MHIYD a bit easier to deal with from a narrative perspective is that the time-traveler is not one of the leads, as opposed to all the other dramas where either the leading man or leading lady is time-traveling. This makes it easier to zap future Mi Rae back to the future and leave all the present day pretty people matching up into two pairs and then going on double dates together.
Watching this new preview, my impression is that future Mi Rae isn't just keen on present Mi Rae NOT marrying Kim Shin, she's equally determined to shove her into the arms of Park Se Joo. Yet it appears by all accounts that Mi Rae and Se Joo are platonic buddies, and Se Joo might even be interested in Yoo Kyung more. But then Yoo Kyung finds herself intrigued by Se Joo and Kim Shin, and then suddenly all four of them are in this complicated mess that will create all the juicy romance goodness I've been craving. I wonder if future Mi Rae will actively go out to take matters into her own hands and re-write her own life story, or will she be content to dole out information to present Mi Rae and let herself take action. It would be hilarious if future Mi Rae is constantly at odds with present Mi Rae. I'm already loving both versions, especially future Mi Rae who is fierce as all out and looks like she could eat both Kim Shin and Park Se Joo for breakfast and still have time to in a blowout at the salon before heading to work.
3rd teaser for Marry Him If You Dare:
Future Mi Rae reveals she's the future self of present day Mi Rae, who thinks she's crazy and needs to see a shrink. Future Mi Rae reveals to present Mi Rae that she is about to start her ill-fated destiny with that man (Kim Shin). We see Kim Shin and Mi Rae involved in a fender bender and he yells at her. Future Mi Rae promises to get present Mi Rae a good husband and we see Se Joo introducing himself as the new junior VJ for Kim Shin's morning news show. Future Mi Rae reveals that Kim Shin is not just a VJ, he's really a chaebol heir. Kim Shin drags present Mi Rae to a police station while she struggles to get out of his grasp. Present Mi Rae asks if Se Joo is a chaebol? Yoo Kyung meets Se Joo at the bar and he picks up her tab. Yoo Kyung is rescued from a car crash by Kim Shin, and later she asks Shin if he's heard the rumor that she's going to marry him?!?