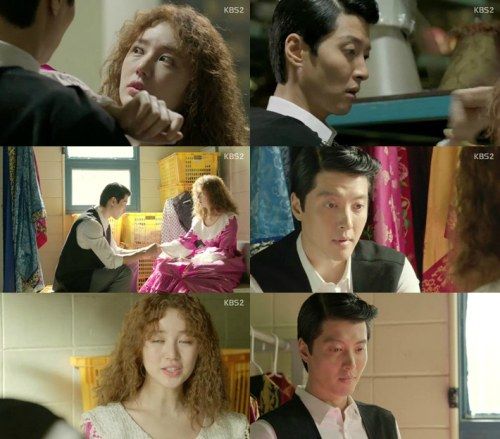 I love the development of Mi Rae and Shin's interest in each other in this time line. Apart from the initial misunderstanding antagonism, they've gotten past that and have become this nebulous mix of colleagues and friends with an overarching attraction to each other. Try as future Mi Rae wants, Mi Rae has no male awareness of Se Joo and a freighters worth for Shin. Conversely, Se Joo seems to have gotten a glimpse into the mind of Yoo Kyung and realizes that she's just a girl trying to succeed using the weapons she has but always catering to the men around her at the expense of her self-worth. I loved how he told her to stop, showing her the same type of friendship and advice that he's given Mi Rae. Episode 4 of Marry Him If You Dare continued to flesh out all the characters, none more so than Shin. I actually find Mi Rae harder to pin down, she's sometimes contradictory but I chalk that up to future Mi Rae trying to pull her strings. But Shin is just awesome, and the more future Mi Rae tries to mess with him the more I'm annoyed at her. Because what could he have done so wrong for her to not just ruin his intended marriage, but also to keep sticking it to his face whenever she sees him in the present. Future Mi Rae uses information she learned from being married to Shin against him, and that is such a breach of trust and a totally sleazy thing to do. I really hope she has a very good reason, and episode 4 doesn't shed more light on what it could be other than future Mi Rae still wants Mi Rae to marry a rich guy so she can do whatever she wants. Not sure what that could be, but I hollered when Mi Rae told her future self to go pound sand with the Marry a Rich Guy plans and she was going to create her own future and not rely on a guy to take care of her. I love all the Shin-Mi Rae scenes, and was especially happy the drama showed us how they both have the same dreams about the original time line of their romance. It was so romantic, maybe a bit too romantic, and I could see how Shin and Mi Rae could have fallen in love without seeing the faults in each other's personality and over the years it could cause all sorts of conflicts. What future Mi Rae doesn't see is that so much has changed in the present time line due to her meddling, including the mass network layoff that didn't end up happening because Shin made a stand and actually stared down Miranda and got her to change her mind. Bravo to that, and it's becoming so obvious that Mi Rae is going to fall for Shin no matter what, so the question is whether this present time line changes to their relationship is enough to avert what will happen in the future?
Kim Shin loses his cool and yells at Mi Rae and Se Joo for distracting him with an office romance chatter, but they point out that he's being the louder one right now. Heh. Shin runs off and can't believe what got into him back there. Mi Rae's program is well received and the Morning team votes and she's chosen as the maknae (junior) writer, but the senior writer is still pissed so Mi Rae's oppa says Mi Rae has to prove her value and the senior writer can still fire her. Mi Rae goes home and future Mi Rae decides to reveal the truth to her so that she can focus on Operation Win Se Joo rather than her dream screenwriting job. Future Mi Rae shows Mi Rae the window with her grand plans and the ripped up and swapped pictures. She reveals Se Joo and Yoo Kyung were supposed to meet in Jeju and get married, so Yoo Kyung can still steal Se Joo away. Mi Rae goes back to her room and the pictures fly around in her head.
Yoo Kyung runs into Se Joo at her regular upscale bar and decides to buy his drinks, continuing with her aegyo routine and asking him to help her with the program when she sees him preparing information for Mi Rae. She tells him not to waste his meager VJ salary coming to such an expensive place. She then freaks out when she realizes Se Joo drank three drinks, all the most expensive. Se Joo takes her to have some cheap oden and notices that Yoo Kyung instinctively prepares utensils for the guy she is with. He tells her to stop serving other and she explains that is habit now and a way to get more reporting assignments. Se Joo says she's worth more than that. Yoo Kyung gets a bit misty-eyed when someone respects her.
Mi Rae and Shin have the exact same dream – they are laying face to face in the hospital room and he's stroking her face and teasing her, but both are startled awake when Mi Rae's oppa enters the dream and asks what they are doing. Mi Rae reads up on Shin online while he grabs a dictionary and looks up on what the word "future" means. At YBS, Shin passes Mi Rae in the lobby as she's bringing coffee for the team. He offers to take her on a shortcut to the CG room, and afterwards waits for her knowing she doesn't know the way back. He says a maknae writer needs to know the studio inside out and takes her on a tour, running into Mi Rae's oppa at the salon. They arrive at the prop room and Mi Rae is immediately excited by the Darth Vadar costume. Shin notices her interest and appears to share the same like, because he then dons the outfit and models the "I am your father" pose. Mi Rae comes out dressed like Scarlett O'Hara, and then her lace dress sleeve gets caught in Shin's chain. They scurry over to grab a scissors and Shin snips her free, but damaging the lace in the process.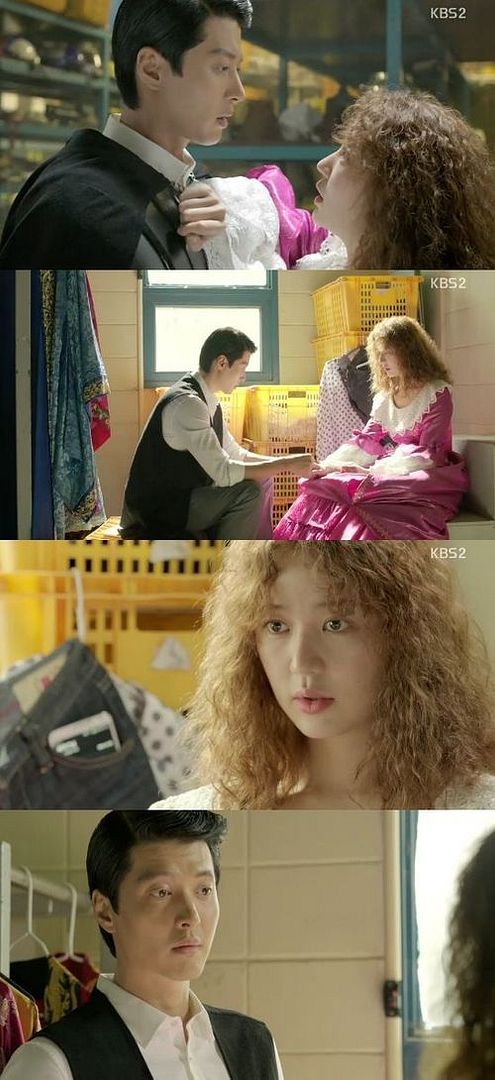 Shin kneels before Mi Rae sewing the lace back and she's amazed he's so handy with a needle and thread. Shin explains he's been living alone for the last 20 years and is a whiz at household chores. There is a small awkwardness when he leans in to bit off the thread. Shin offers to give Mi Rae more pointers and they make plans to meet later in the week. Miranda (Se Joo's grandma) is pissed that her hotel staff caused the President to have an allergic reaction when he stayed there. She fires the lot and worries her hotel is ruined. She decides there are too many people around. Miranda makes plans to layoff staff all over the studio. Se Joo hears this and goes to confront her, but Miranda isn't interest in running a network well, especially since she started off running a hotel and that's the bulk of the group's revenue. She tells Se Joo to take over the network now but he refuses and storms out.
Yoo Kyung and Shin have lunch and turns out he's been doing favors for her as a way to make up to her for the accident. She redeems this lunch with a voucher he gave her and reveals that she asked him to say nice things about her at the network. Shin actually thinks she's a good reporter and advises her to cut down on the aegyo. Yoo Kyung reveals the network gossip is that she'll be marrying Shin and that doesn't bother him. Yoo Kyung reveals Mi Rae knows too and Shin asks what her reaction was. Yoo Kyung plays coys and then lies that Mi Rae says congrats and told them to have a good life together. Shin's annoyed and as they are walking past, they see Mi Rae and Se Joo hanging out in the courtyard. Shin wants to avoid them but Yoo Kyung wants to go over and say hi.
Shin ends up going over and leaning his head between theirs and yelling "What are you guys doing?", which freaks both of them out. Ha! Yoo Kyung continues to be aegyo around Se Joo, and this time Mi Rae openly calls her on it. When everyone gets back to the studio, they find out about the upcoming layoffs. Mi Rae is very upset and future Mi Rae finds her and tells her to just end the dream now since she'll be laid off. Mi Rae refuses and will look for another position at another network. She doesn't want to focus her efforts on marrying rich Se Joo just so she can be taken care off, and she calls out future Mi Rae as having those thoughts when she married news anchor Kim Shin, right. Touche, Mi Rae. Colleagues approach Shin to ask him to talk with Miranda but he refuses since he's on her shit list ever since he was demoted to the Morning Show. As Shin leaves work, he sees Mi Rae in the video booth watching the credits roll with her name on it. He appears to decide something.
Morning comes and Miranda and her minions choose to visit the Morning show team 15 minutes before broadcast and has them all lined up, She dismisses ones she wants to keep, such as Mi Rae's oppa, and even gets them to play along by promising she has an eye on them for future promotions. When the team left standing is whittled down to the junior members, suddenly Kim Shin walks up and tells Miranda that a good show cannot run without a crew and he can't do the show if she lays off his people. Miranda still plans to do it, which is when Shin says he won't go on air this morning then. Shin puts himself on the line to save his staff, and Miranda is PISSED. The standoff runs until mere seconds before the broadcast, when Miranda finally agrees to not layoff the Morning show team. But Shin takes it a step further and says the entire network staff needs to be kept, otherwise she's just making his team the exception and capitulating to his blackmail. Miranda has no choice but to agree and she storms out. Shin gets on air with seconds to spare and everyone sighs a big sigh of relied. Se Joo sees this and looks very impressed, as does Mi Rae, who thinks Shin is so cool.
After the broadcast, Mi Rae submits her work to the senior writer and tells her the truth that she has been playing games and submitting poor work so that later her good work will look better. Flashback to the prop room scene when Mi Rae revealed this tactic to Shin and he tells her to not play sneaky games and just submit only her good work. The senior writer knew what Mi Rae was doing and is happy that Mi Rae confessed. She likes her honesty and hard work ethics, and decides to keep Mi Rae as the maknae writer, which does not make Oppa happy. Future Mi Rae, who has only 1-2 months top here in the past since one month here equals one year of her life, decides to take matters into her own hands. She reads her journal and finds an idea.
The Morning show is running a segment and Mi Rae has all the guests ready when suddenly the fortune teller guest can't make it. The senior writer has heard about future Mi Rae telling the future for the cleaning staff around the network and pulls her in as the last minute guest. Mi Rae tries to come clean with Oppa about who future Mi Rae is but is cut off when the show goes on air. Turns out future Mi Rae eavesdropped on Miranda's conversation with Se Joo in her office and heard that Miranda is looking for a new fortune teller who is very accurate. Future Mi Rae fake apologizes to Shin for their earlier confrontation, and the interview starts. Shin doesn't believe in fortune telling so future Mi Rae uses all the personal knowledge she has of Shin from their marriage and reveals it on air to show that she knows things about him, such as his dad dying because a young Shin refused to be interviewed for his medical bills, and how he practices his diction and reads a dictionary every morning. He says the past is easy to guess but the future is hard to predict. Future Mi Rae looks at Kim Shin and says that she knows his future as well. His future is over (i.e go downhill from here).