Episode 7 of Marry Him if You Dare (Mirae's Choice) succeeded in opening up a whole new can of worms. There is no end to future Mi Rae's meddling, and when it appears present Mi Rae isn't going to follow her game plan, she turns her machinations on Yoo Kyung and Shin. This drama has turned out to be much more character-driven then I expected, with all the leads taking solid leap forward in showing me who they really are, warts and all. Especially Se Joo, who has been less nuanced until now, but finally his chaebol upbringing side peeks out. I hope the drama doesn't throw Se Joo under the bus and turn him into a conniving second male lead when he's been anything but so far. I think the more likely scenario is that Se Joo isn't giving up on Mi Rae so easily and might be tapping into his real identity and all the arsenal it comes with to woo her heart. Episode 7 was a narratively dense episode with lots of emotional forward movement but little plot acceleration. Right now the Morning Team is basking in its subway incident success and working on a new concept program, but it's during the time off and nights out where all four leads make huge leaps forward in fighting for what their heart wants.
Mi Rae and Shin's date was so very them, I can't describe it but their playful ways and candid banter defines their budding relationship. It's 8 parts attraction and communication, 2 parts reservation and hesitation. Se Joo must be blind not to realize Yoo Kyung likes him, but she stepped up her game in both direct and sneaky ways. She coaxes Se Joo into an elaborate confession for Mi Rae, aimed to end his one-sided crush, not a bad idea in concept but she had no clue it would end in disaster when future Mi Rae sends Shin there. I can watch Shin and Mi Rae falling in love all day long, but this episode grounded to a halt on the time-travel mystery which really needs to be revealed now so that I can stop guessing and start trying to solve the problems for all the characters so there can be two happily married pairs at the end of the drama. With not much going on, turns out the first major fight between Mi Rae and Shin is one that had me cringing for both of them. Wow whee, if this is how their married life unfolds, then I vote that present Mi Rae doesn't not pick Shin if he doesn't learn to listen and temper his pride first. Se Joo is basically batter out in Mi Rae's heart, but there are still lots of unknowns that might throw her choice into doubt. Namely – does she have the stomach for a lifetime of rational v. emotional arguments with Shin from now until forever.
Episode 7 recap:
Shin walks back to rejoin Mi Rae when he pauses upon seeing her sitting with Se Joo. He quickly turns around as she's giving Se Joo a grateful shoulder massage. He pauses for another second to consider his options (leave or stay), before speaking up and asking if they aren't coming?
Mi Rae says in a bit and tells Se Joo to go first. Se Joo walks past Shin, who doesn't forget to thank him for turning on the sprinklers in the subway. Shin asks if he's alright and Se Joo says he's fine.
Yoo Kyung walks into the bar joint to find the morning team already seated around a big table. She spots an open slot between Se Joo and Writer Bae and deftly maneuvers herself past the VJs to sit there with the excuse that she sees something. LOL, I approve. Writer Bae realizes she's been used but lets it go.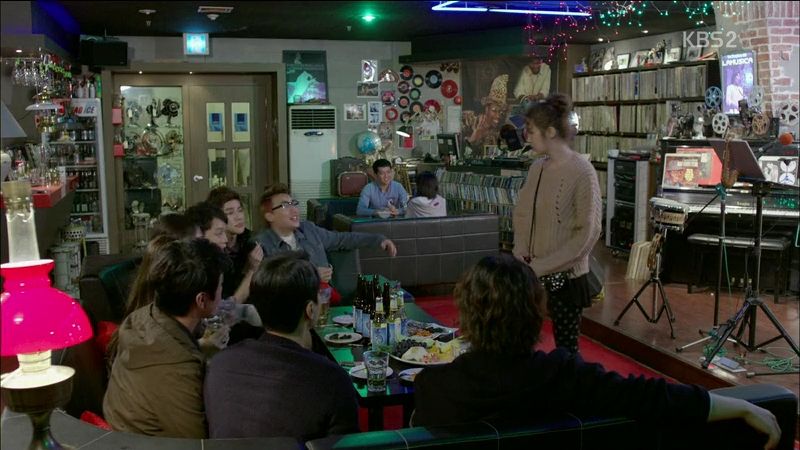 Mi Rae arrives and here comes the hilarious jostling. Shin immediately scoots over to open up a space between him and Oppa, thereby closing the space between him and Se Joo. But then Oppa scoots over and closes up the newly opened space, leaving an empty space next to him for Mi Rae. All three guys Oppa, Shin, and Se Joo all look at one another. She wisely decides not to sit anywhere on that side and sits down next to PD Lee.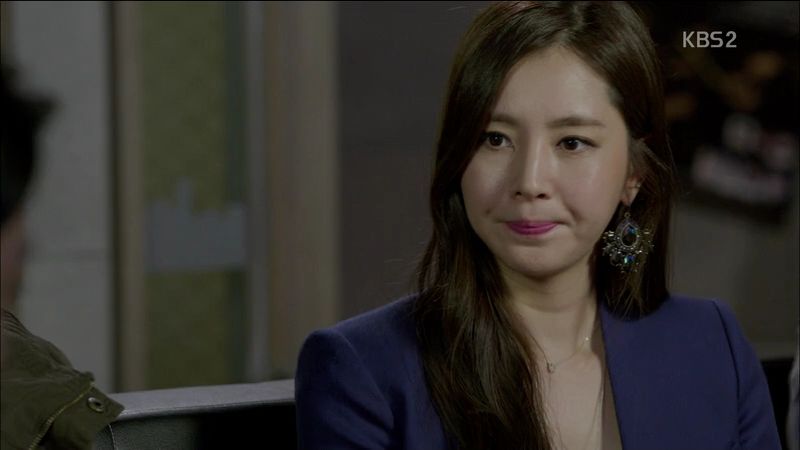 Se Joo immediately hands her a plate of snacks, followed by Shin getting up to pour her a glass of beer. Yoo Kyung stares and realizes that both Shin and Se Joo like Mi Rae.
Pd Lee gets a call from the head chief of YBS and puts it on speakerphone. The entire team sits around and gets chews out out for doing the subway show and not giving the Breaking News team the news tip. He ridicules fired news anchor Kim Shin for acting like he still reports the breaking news, and even pretending to be a reporter at the scene. He forgives PD Na for doing as Shin told him. He orders them to turn over news tips in the future and not to do something like this again.
The chief hangs up the phone and Oppa says the breaking news team is the darling child of the network while they are doing a show only ahjummas watch. Mi Rae says they can keep doing what they want but is told they will be sent away if they don't do as the management tells them. The water flows from top to bottom and they are the bottom of the barrel.
Shin doesn't agree, if they are the bottom now then they can dig a well underneath them and see if they can't climb higher.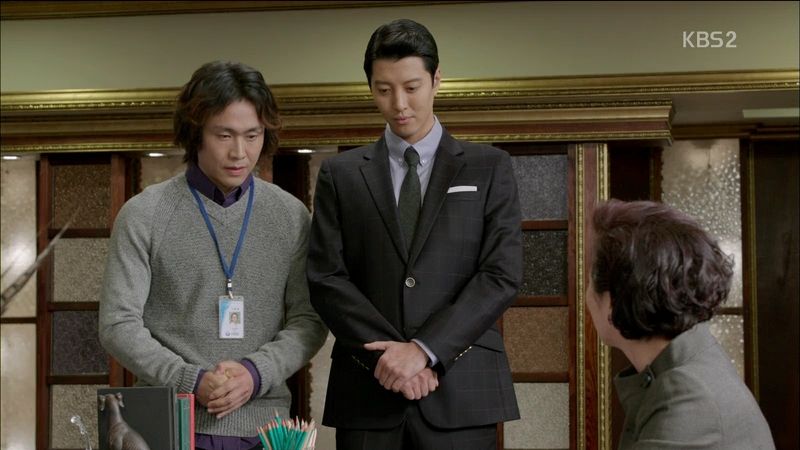 Shin and Oppa go see Miranda to get permission to do a new segment. Miranda says their tip was from a fortune teller anyway and they got lucky something really did happen. Shin says they can all go down to the countryside then like planned. Down there no one will tell them what show they can put on. Miranda realizes Shin is even more famous now after the subway incident and can't lose him so she backs down. Shin says going down to the countryside is better than staying here and having people tell them no all the time. Plus down in the countryside, they can produce a one hour show once a week that will air on prime time.
Miranda increases their morning show budget by 10% and tells them to go ahead and try out a new program. But they have to run it by her and also get test audience viewership of over 100,000 before she'll let it run on air. Miranda reminds them that this is protocol, the very protocol that Shin adheres so strictly to. Shin smiles upon getting the win for the team.
Se Joo walks into the meeting room carrying video tapes. Shin and Mi Rae walk there as well for the meeting for the new program, she's carrying files while he's pushing a chair. She smiles and Shin tells her that he would make it happen. Suddenly a bunch of team members whizz by on chairs, playing racing office chairs.
Mi Rae wants to do it as well but Shin acts all too-serious-for-this. But she rock-paper-scissors him and he instinctively plays right back and she wins with a paper to his rock. I love how effortlessly they interact, both as a factor of the two actors having seamless chemistry and their characters just being artless whenever they are together.
Mi Rae happily gets into the seat and gestures for Shin to push her. He pushes her away with a smile, and then goes to grab her seat and pushes her up and down the hallway. They look so happy goofing around.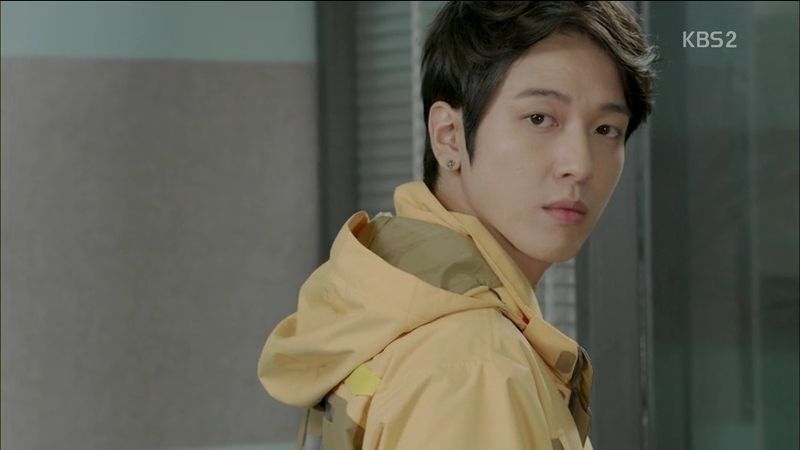 Se Joo looks over a little too later and misses seeing the horseplay. All he sees is Mi Rae and Shin walking into the meeting together. Mi Rae looks around the Morning Team and smiles.
Mi Rae is working on brainstorming ideas for the new program that would air once a week for an hour. It must have a theme topic and be in-depth unlike their morning show. She remembers Shin offering to teach her more about broadcasting. She grabs her phone and heads out.
Future Mi Rae has made Oppa a big meal and sits down to eat with him. She wants to apologize for the mess she caused, the things she said and the messed up subway prediction. Oppa says they can do the new show now because of her. He asks when she can move out. Future Mi Rae says soon and Mi Rae related things will be done so she'll be leaving. She asks if she can see him in the future and Oppa's like "why?" Oppa takes a bite and says the food tastes like his mom's food and asks if she learned it from Mi Rae. Future Mi Rae says she learned it from her mom. Future Mi Rae heads out to buy more peppers for the soup.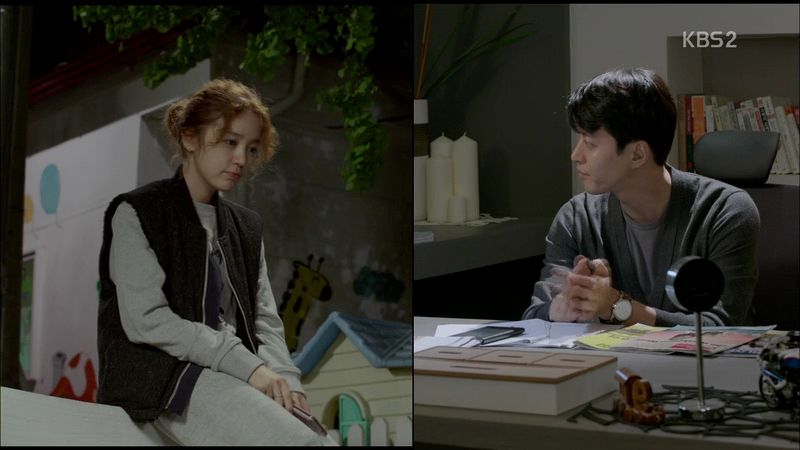 Mi Rae goes outside and sits on the playground. She thinks about calling Shin, and we see that he's doing the same thing while working at his desk. They call each other the same time and both go straight to voicemail.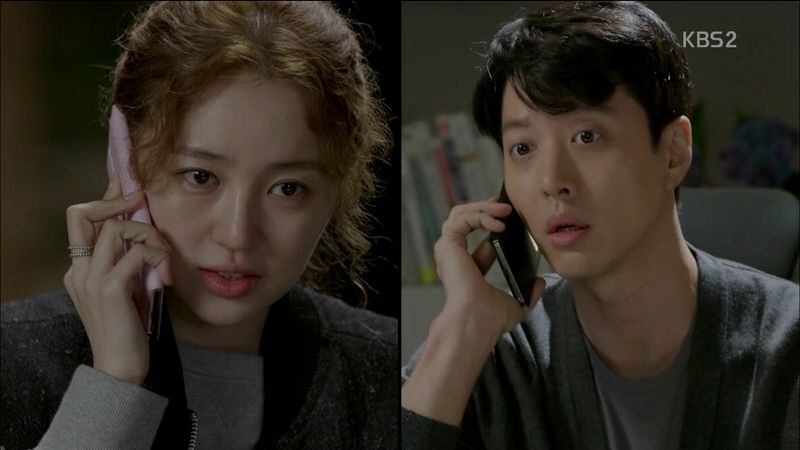 Each hangs up and considers calling again, and Mi Rae dials first so Shin answers. Both prep their voices to talk with each other. Mi Rae asks what he's doing and Shin says he's got cleaning to do and think up ideas for the new program. Mi Rae says Shin is busy then but he quickly says he has free time tomorrow and does she wants to meet? Mi Rae asks for more lessons and Shin pretends to check his calendar and counts to five before confirming their plans tomorrow. Mi Rae happily finalizes her plans and hangs up when she sees future Mi Rae standing to the side.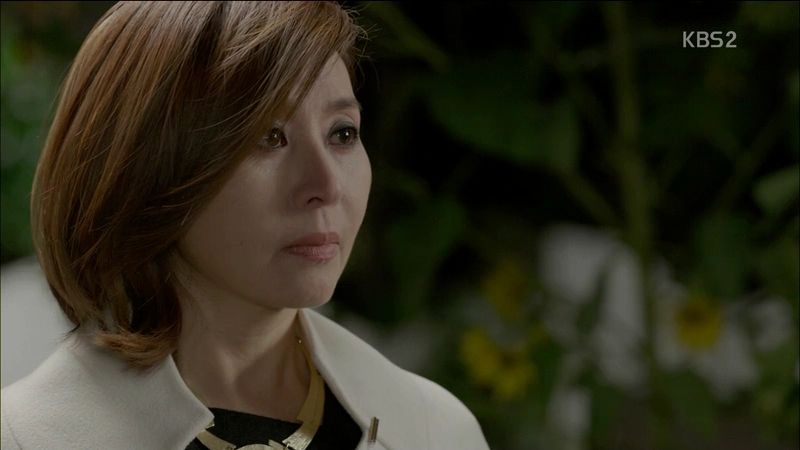 Future Mi Rae confronts Mi Rae, asking if she insists on going forward with Kim Shin? Future Mi Rae asks if Mi Rae is fine with her life being sucky after she marries Kim Shin, but would she be okay with someone she loves dying because of Shin? Mi Rae asks who it is but future Mi Rae says she can't reveal it.
Mi Rae doesn't care since her life is her own. Future Mi Rae insists she and Mi Rae are the same person but Mi Rae cuts her off. There is nothing similar about them. She is not materialistic and shallow like future Mi Rae is, always talking about her marrying a chaebol. Future Mi Rae is hurt that Mi Rae would thinks she's materialistic.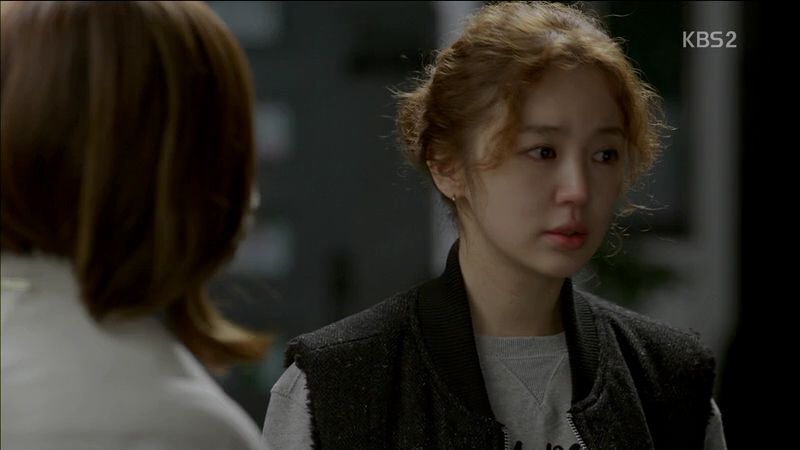 Future Mi Rae says she was the same as present Mi Rae when she was that age, filled with passion and idealism. Mi Rae says she will blame Shin for her problems, but Mi Rae can't imagine a life of poverty like she is describing. Future Mi Rae tears up and says it's all her own fault then, her own fault for not having ambition and drive. She walks away but Mi Rae grabs her to apologize.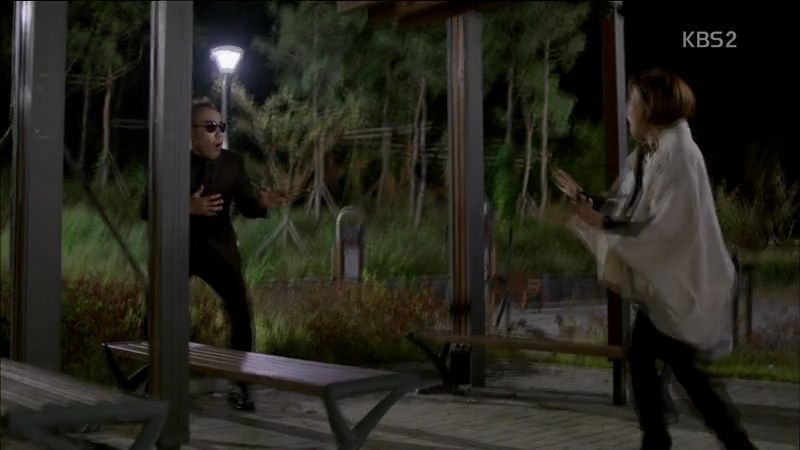 Future Mi Rae sits on a park bench and cries, calling present Mi Rae a bad girl. She didn't want her life to turn out this way either. Future Mi Rae is startled by sunglasses time cop. She runs away and he chases her, but she gets into a car that pulls up and the doors open.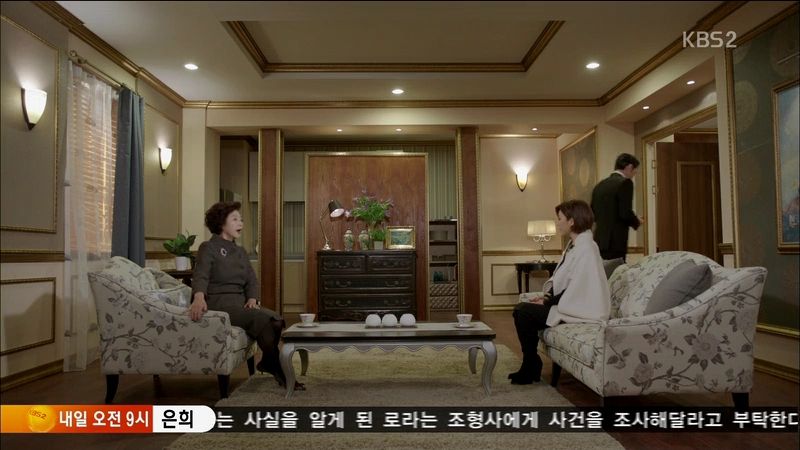 Future Mi Rae is taken to see Miranda, who says everything future Mi Rae has done seems to be aimed at helping Kim Shin. But Miranda doesn't understand the contradiction, saying Shin will be over one day and then manipulating Miranda to send him to New York and then giving him information to help his career. She asks future Mi Rae if maybe Kim Shin is her illegitimate son? Future Mi Rae laughs at the makjang and says she really is doing everything because she had a dream about Miranda's grandson.
Miranda offers to let future Mi Rae stay here if she'll tell her more. Future Mi Rae says that her grandson can never marry a reporter. Miranda agrees that a reporter is not good enough for her grandson. Future Mi Rae says that her grandson already likes a girl.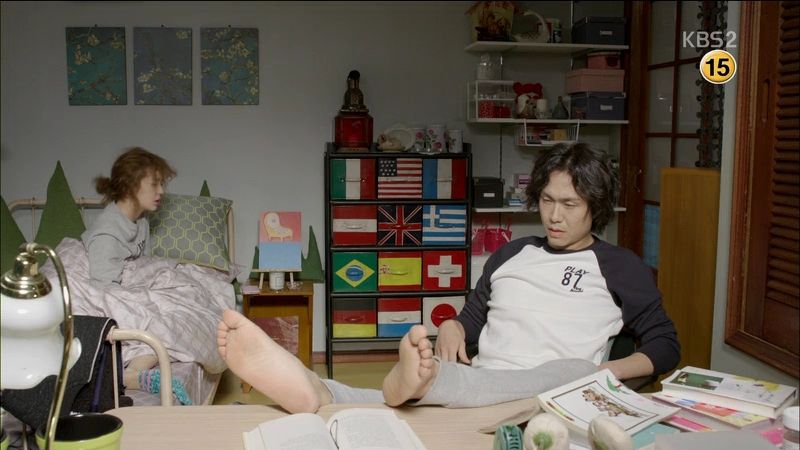 Mi Rae wakes up with Oppa in her room and he's mumbling about future Mi Rae leaving their house after making him a feast. Oppa wants to do something with Mi Rae today but she quickly makes an excuse and begs off.
Mi Rae arrives at the date while Shin is already there wearing sunglasses and a full face mask like he has a contagious disease. Mi Rae spots him and goes to greet him happily. He wonders how she can recognize him but she says she knows him on sight. She asks if he's sick but Shin just doesn't like to be in places with a lot of people, plus after the subway incident even more people recognize him.
She notices that they are wearing a couples coat in their matching blue coats. A passerby recognizes Shin and he quickly darts away and lies that he's not. Mi Rae asks why he picked a public place if he doesn't like to be recognized? Shin says it's a nice day and she probably hasn't been out in awhile since she's been so hard at work. Awwww, he did it for her. Mi Rae smiles to hear that
Shin starts talking about picking a topic for the new program and Mi Rae grumbles that he's going to make them work today as usual. She spots a billboard of George Clooney and goes to fangirl over him. Shin is unimpressed with says he only looks cool here but George probably walks around his house in his underwear. His petty jealousy is adorable. Mi Rae says Shin resembles George with the same aura and the way they smile. Shin takes off his sunglasses and tries to make the same expression. Mi Rae quickly says all guys look alike.
Mi rae gets a call from Se Joo asking her to come over to hang out but she declines because she's already got plans. Se Joo asks who she is with and Mi Rae doesn't answer. Se Joo says next time then and hangs out.
Shin and Mi Rae head on their date, walking around and snapping pictures happily.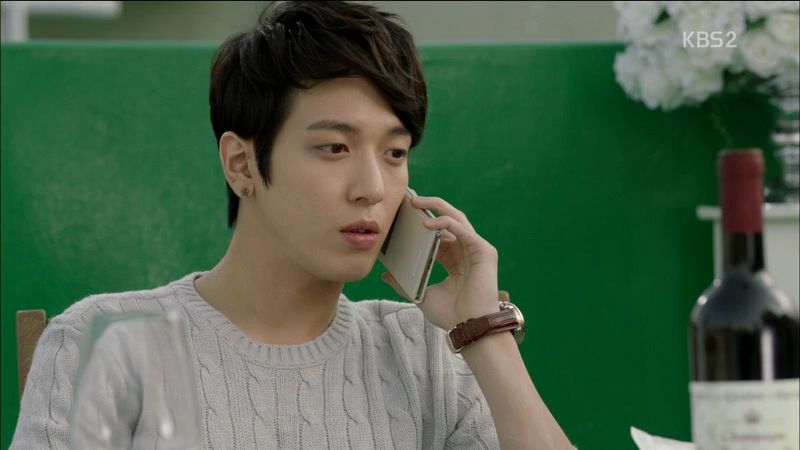 Disappointed Se Joo sits down and gets a call from Yoo Kyung. She asks him if he wants to drink at the bar with her today. He looks at the empty chair and invites her over saying he has wine.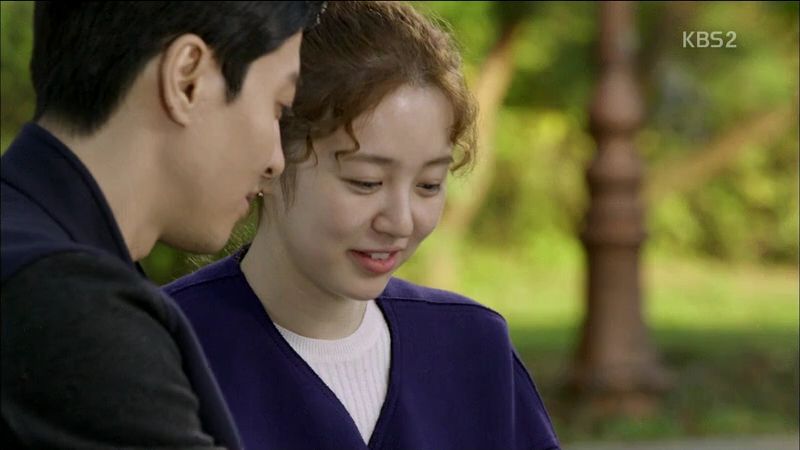 Mi Rae and Shin are sitting in the park and looking through the pictures they took on their phone today. They snapped a lot of people and Shin is good at taking a good and making a first impression, like someone looks like a gangster. Mi Rae asks what his first impression of her was? Shin says "hit and run driver, swindler." She asks what he thinks of her now? Shin smiles and says "maknae writer". Shin asks what Mi Rae thought of him the first time they met? Mi Rae candidly says "ill-fated, someone I need to avoid." Oof. Shin asks why she keeps mentioning ill-fated and what does that mean?
A couple walks by and embraces with a kiss. Shin leans over and gets really close to Mi Rae before they break apart. Mi Rae looks out over the water and says it's pretty to break the awkward silence, not realizing that Shin is staring at her when he agrees that it's pretty.
Yoo Kyung arrives at the rooftop of Se Joo's apartment and marvels at the BBQ set up. She asks if he did it for her and Se Joo says it was intended for Mi Rae but she can't come. He asked who she was with, but Mi Rae didn't answer. Se Joo says she was probably with Kim Shin.
Yoo Kyung tries to make him feel better by saying she is probably with Writer Bae and team and working on the new program so it's a work meeting. Yoo Kyung starts to eat but Se Joo isn't that easily fooled. He knows PD Na (Oppa) is home right now, how could there be a production meeting without the PD there? Good try, girlfriend.
Mi Rae sees a couple getting married and she flashes to the image of her and Shin's wedding. She remembers future Mi Rae saying that someone she loves will die. Mi Rae looks distressed and ends their date.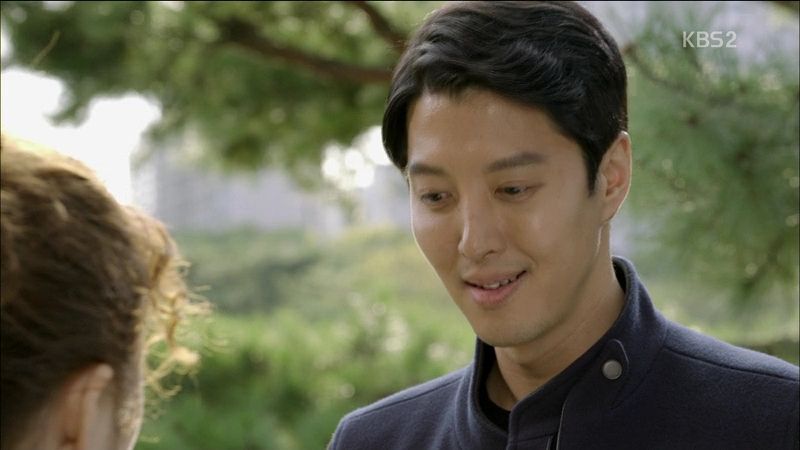 Shin is worried about her sudden change in attitude and asks what happened? He asks Mi Rae to tell him. Mi Rae doesn't answer and instead asks when their next "lesson" will be? Can it be a lesson where they go to a movie and grab something delicious to eat? Go proactive Mi Rae! Shin smiles and says sure, he'll make arrangements for that "lesson". They smile and walk off.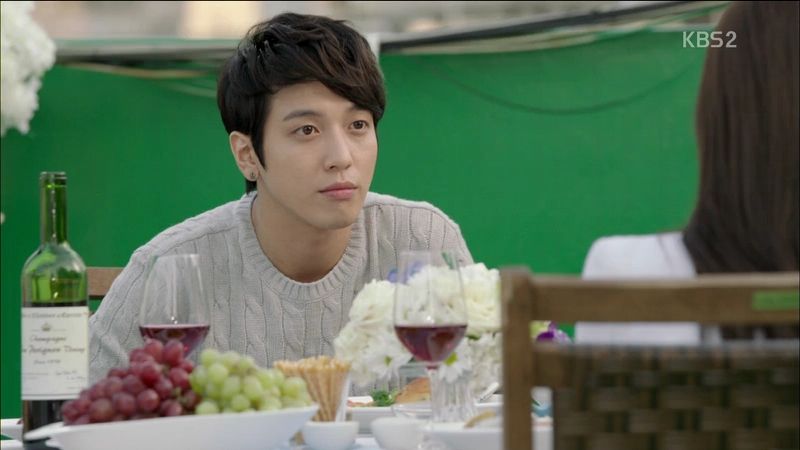 Se Joo talks with Yoo Kyung on the roof. He thinks Mi Rae's reaction to him is his payback for being so cruel in the past when pushing women away. He believed those women all wanted him for his money. This time he doesn't know what to do. He's torn, always confident in the past because he's Park Se Joo, the heir to a chaebol fortune. Who could possibly turn him down? But in front of Mi Rae he's just a junior VJ.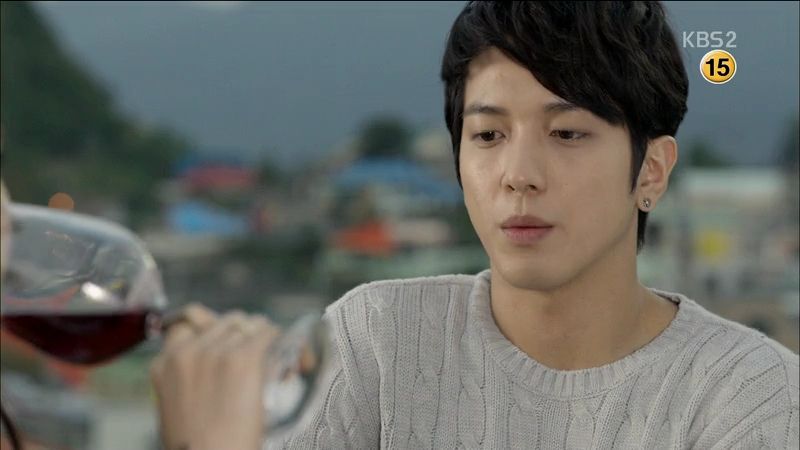 Se Joo asks Yoo Kyung if he's that lacking in charisma. Poor besotted Yoo Kyung tries to explain he's not, he's got plenty of charisma. I agree, it's not what you're lacking Se Joo, it's just that Mi Rae likes someone else. Se Joo smiles and thanks Yoo Kyung for the encouragement. He decides not to do this useless endeavor in the future and concentrate on work.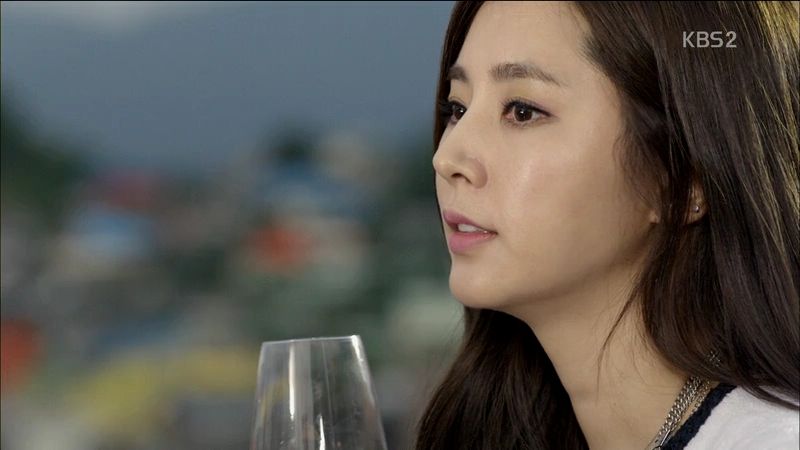 Yoo Kyung tells Se Joo to make a confession but he says he did it, indicating this spread. Yoo Kyung says this isn't it, he needs to it in a straight forward and open way. Se Joo doesn't like it that way, it's too cheesy. Yoo Kyung points out he's already been cheesy what with the fake apartment and showing Mi Rae a student film.
Se Joo asks what he should do? Yoo Kyung says the point is that he hasn't done anything directly yet. As long as he doesn't reveal his real identity, he needs to plan something that is a surprise and a direct confession. Se Joo agrees and asks for her help. Yoo Kyung smiles and says "Park Se Joo, hwaiting!" After they though, she pauses and thinks to herself that Se Joo needs to run into the brick wall hard so that he can give up on Na Mi Rae. True dat, but oof, not looking forward to sincere Se Joo running into that wall named Shin.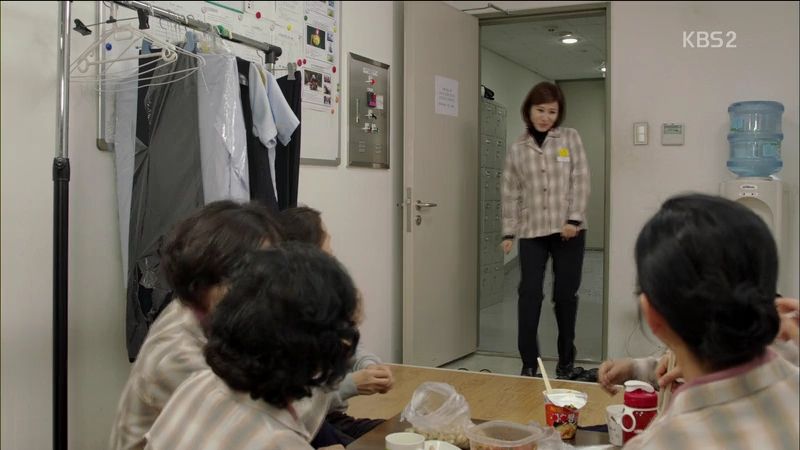 Future Mi Rae joins her cleaning lady ahjumma friends in the rest room. They notice a lackey following him. Turns out future Mi Rae refuses to tell Miranda who Se Joo's future wife is. She doesn't want Miranda to start breaking up Mi Rae and Se Joo now and she wants Miranda to stew a little bit more. The lackey turns out to be future Mi Rae asking for a bodyguard from Miranda.
Future Mi Rae goes back working as a cleaning lady at YBS while Miranda's lackey tails her around. Future cop is keeping tabs on her from across the building using binoculars. He reports back that someone is following her and he can't approach her right now but he'll do his best.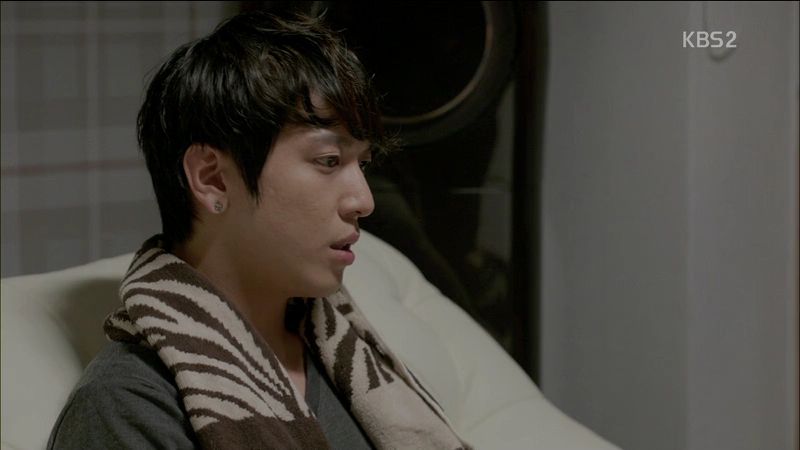 Se Joo sits down in his apartment with a beer and his home movie. He talks with his grandmother and says he doesn't want to go home yet. Se Joo is annoyed at Miranda for forcing him to go to that chaebol birthday party. He is watching Pretty Woman and seeing Richard Gere's final roses confession to Julia Roberts. He wonders if that is what he needs to do. Yoo Kyung is getting ready to film a segment when she gets a text from Se Joo that he's in a bind and he doesn't think Mi Rae would like that kind of surprise. Yoo Kyung reads the text and thinks that Se Joo is right, Mi Rae doesn't like surprises and if surprised that way she would turn Se Joo down. But he needs to do it to give up on Mi Rae so that she can have a chance with him.
She calls him back and tells him that if he really likes someone he needs to think of what the person likes. Yoo Kyung says all women loves surprises. He's still skeptical. Yoo Kyung tells him to continue what he's doing then, romantic BBQs all alone, turning on the water to make a romantic moment for Shin and Mi Rae. Se Joo decides to do it but intends to make it very simple. Yoo Kyung says she'll make sure Mi Rae comes.
After she ends the call, Yoo Kyung looks upset and tells herself that she's a bad girl.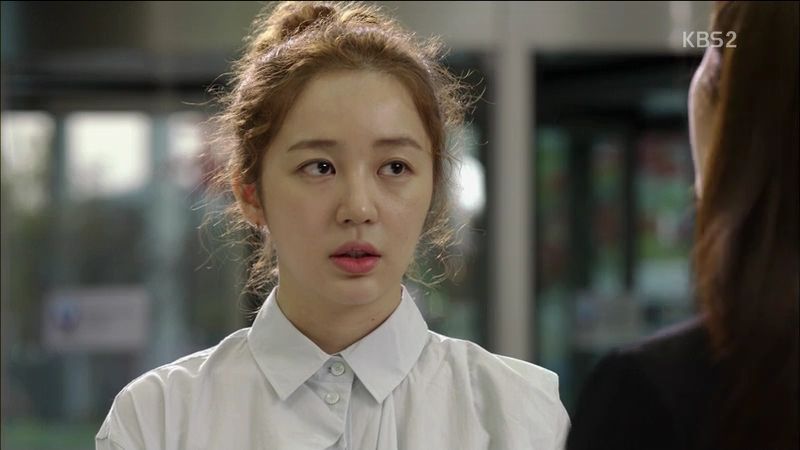 Mi Rae walks through the lobby of YBS and finds future Mi Rae cleaning the floor. She goes to chat with her but future Mi Rae remains cool towards her and pretends to not know Mi Rae. Present Mi Rae apologizes for what she said. Future Mi Rae says she's already started her own Project Se Joo.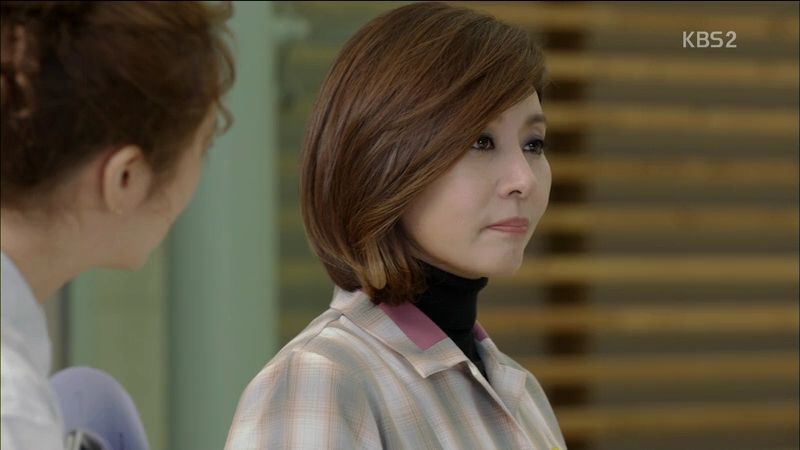 Yoo Kyung runs over and wants to find time to hang out with Mi Rae tonight. Mi Rae is hesitant and Yoo Kyung says to let bygones pass and now they've gone through the subway incident they should get along. Yoo Kyung says Se Joo will be there and it can just be them youngsters hanging out. Yoo Kyung tells Mi Rae to be at the Dream Bar tonight at 8 pm. Future Mi Rae overhears this.
After Mi Rae leaves, future Mi Rae asks Yoo Kyung to talk. Future Mi Rae asks Yoo Kyung what her plot is? Yoo Kyung says there is no plot and if there is, she has no reason to tell her. Future Mi Rae claims to know who Yoo Kyung's husband will be. Yoo Kyung asks who he is but we don't hear what future Mi Rae says.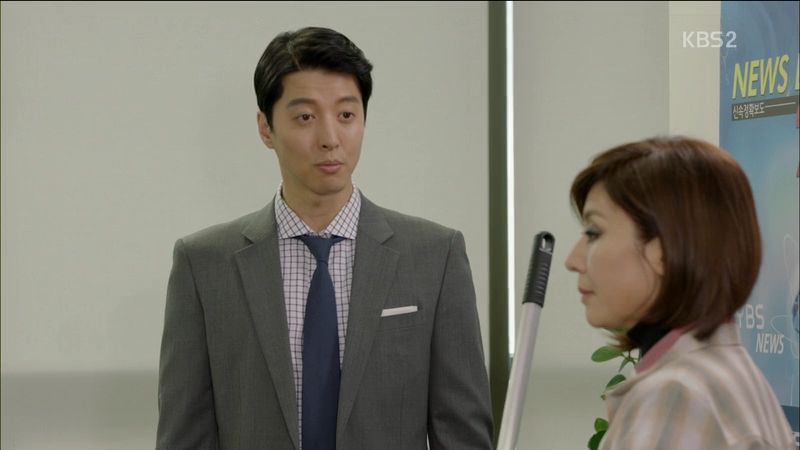 Shin is working at his desk when he sees future Mi Rae come in to clean. He gets up and uses his foot to stop her cart so he can talk with her. They've reached a détente for now, but when future Mi Rae wants to tell him more about the future Kim Shin quickly declines because he's not interested in whatever else she has to say.
Future Mi Rae sends Shin to the Dream Bar to meet Mi Rae, saying that she's changed her number but he can find her there. She leaves Shin with a comment that Mi Rae seemed really happy heading there, probably because Mi Rae really likes Shin.
Shin smiles and checks his watch and happily runs off. He wonders why everyone around them knows? Because you two are about a subtle as a mack truck.
Future Mi Rae flashes back to what Yoo Kyung said. Turns out Yoo Kyung revealed Se Joo's grand confession plans tonight and future Mi Rae intends to thwart it. She knows Yoo Kyung wants Se Joo to get dumped by Mi Rae so she can have a chance with him. But future Mi Rae has set it up for Shin to have a temper blow out tonight, saying "hubby, isn't that what you're the best at?" She intends for future Mi Rae to totally lose interest in Shin tonight.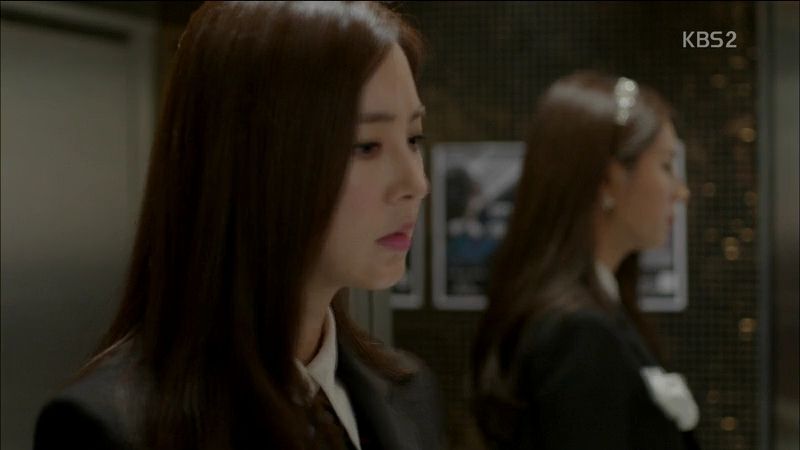 Yoo Kyung is in the bathroom washing her hands and thinks back to future Mi Rae saying that her future husband is Kim Shin. I knew it! That witch. She says that the 7 year age difference between them is perfect and tells her to try dating Kim Shin. Yoo Kyung looks disbelieving and thinks future Mi Rae is really strange.
Yoo Kyung runs back to join the group and turns out she's with Se Joo at the bar and all his friends have gathered to help him with his grand confession to Mi Rae tonight. Se Joo gets a call from the bartender. Yoo Kyung looks around as if she's envious of all this effort being made for Mi Rae.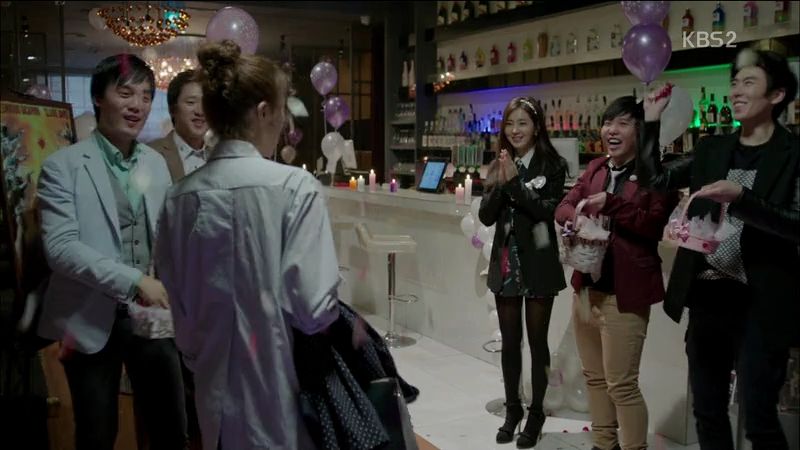 Mi Rae walks to into the bar and sees the whole set up with balloons, flowers, posters of romance movies, and even rose petals being showered on her. She looks very uncomfortable and tries to leave but Yoo Kyung drags her back. Yoo Kyung pushes Mi Rae towards the front where Se Joo shows up bearing a bouquet of roses. OMG, this is so awkward I can't watch anymore. Mi Rae sees him and whispers "oh my god."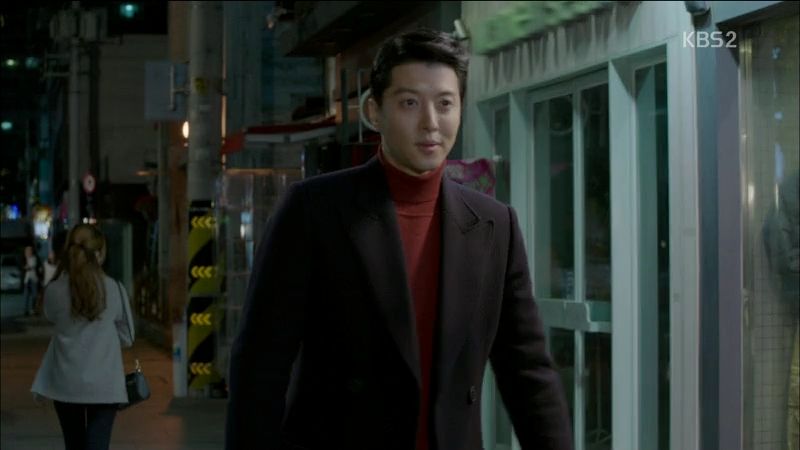 Shin smiles and checks his reflection before walking towards his date with Mi Rae.
Yoo Kyung pushes Mi Rae towards Se Joo. He looks at her directly and admits he doesn't like doing something like this but decided to take a chance. He hands her the bouquet of roses and says "I I really like you, Mi Rae".
All the gathered friends clap for Mi Rae to accept the roses. She takes them but before she can say anything, Shin walks in and Yoo Kyung notices him first and calls out his name. Everyone turns around to stare, especially Mi Rae. Oh shit! The other friends recognize Shin, who says he was invited her by the leading lady. Mi Rae looks shocked.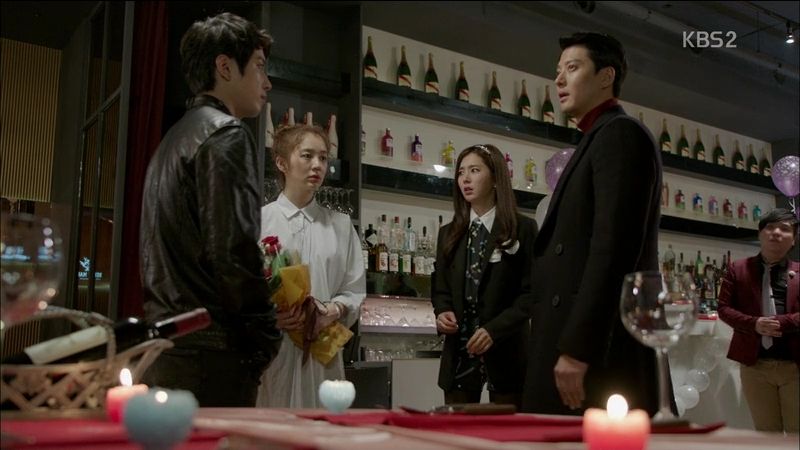 Shin walks up to finish the most awkward crossed love lines foursome in the history of K-dramas. He asks if he was invited to serve as the MC of this love confession? Should he introduce them first? Or ask what their feelings are right now?
Shin grabs a fork and hands it to Mi Rae as a microphone, asking what she feels having just received a confession. Mi Rae doesn't answer his question and instead says she didn't invite him here. Shin is in full on reporter mode and says the question isn't being answered because she's probably still stunned. He then hands it to Se Joo and asks if he brought so many people here for the confession because he was so confident. When did he become so confident? Se Joo asks how Shin found this place? Shin says yet another non-answer to his question. He takes the responses as a sign both of them are already suited to become a couple. Yoo Kyung tries to interject and Shin tosses the fork down and apologizes for interrupting and bothering the happy couple.
Shin congratulates Se Joo and Mi Rae, and looks at Mi Rae and tells her "you guys are well suited" like when he said the same to her in the subway station. He tells everyone to have fun and walks out.
Shin turns and walks out and Mi Rae has only eyes for him. After a second pause, Mi Rae runs after Shin, putting the flowers down on a chair and grabbing her things. Se Joo looks really devastated.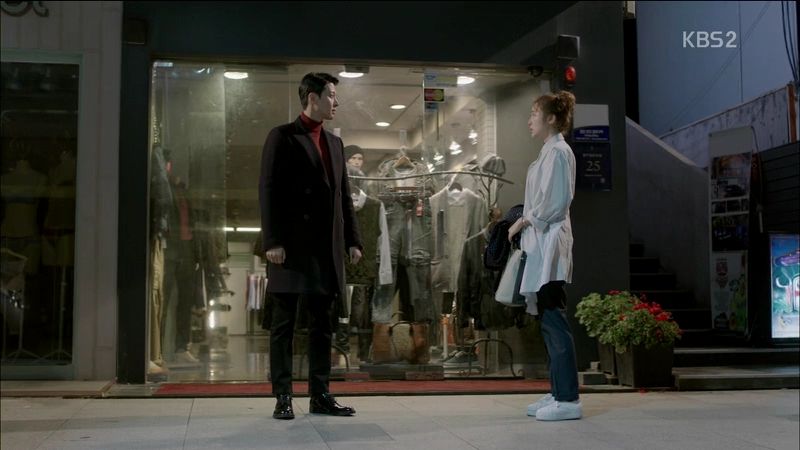 Mi Rae stops Shin outside on the street and here comes the blow out fight. He asks why she asked him to come? Good question. Is it because she wants to gloat about being pursued by someone else. Or was she just throwing it out there and Shin was the one who didn't know better so he came. Mi Rae explains that she never called him to come, and she only came because she was told it was a gathering to have a drink. Shin says of course she didn't know about the surprise, who would anyone have told her in advance. But having received flowers, she must be happy, but why call him here? Is it to make him jealous? She keeps trying to say she didn't invite him but he keeps talking over her. He calls her a bad girl.
They stand there staring at each other. Mi Rae realizes he's not going to listen to what she has to say. Shin says what she did is so wretched he might as well shut his ears and not listen to her. Mi Rae asks how he can look at her like this? Why offer to spend time with her and teach her then? Shin says it's his own fault for being so stupid. He only saw her surface and not what's inside.
Mi Rae cries and asks what is on her inside then? Shin asks if she really wants to hear some really bad things? Mi Rae says she finally understands now, she understands why ahjumma prevented her from being with Shin. He tells her to not blame others, this is all her own actions for stringing two guys along and calling him here in a such a lousy maneuver. Mi Rae screams that she didn't do it and calls Shin a bastard!
Mi Rae turns and walks off while Shin heads in the other direction. Man, the first fight is rough. Mi Rae wipes the tears from her eyes but looks back in Shin's direction.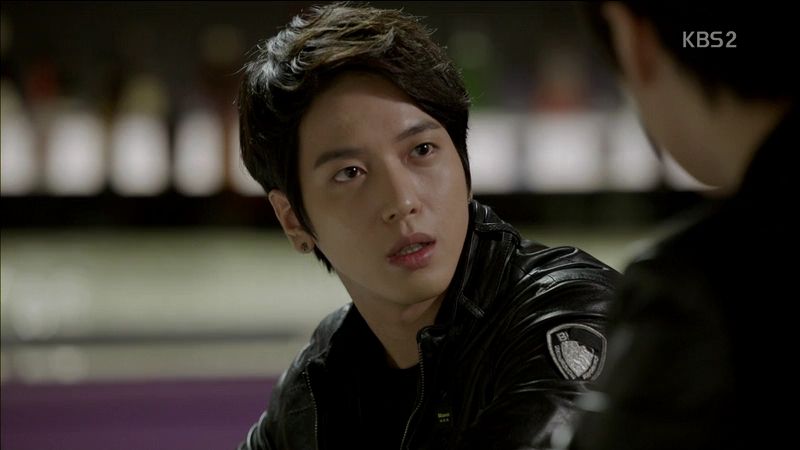 Se Joo sits and drinks away his sorrows while his friends work to take down all the decorations. His friends tell him to cheer up, that girl wasn't even someone hot and she's not the only girl in the world. Se Joo is in a shitty mood and tells her friend to go date those pretty sexy girls himself.
Yoo Kyung tries to talk with Se Joo and apologizes. The bartender gets a call from Mi Rae asking to speak to Yoo Kyung. She tells her to please say how sorry she is to Se Joo and she can't go back to the bar. Se Joo keeps drinking and tells Yoo Kyung to give him some space. Yoo Kyung looks pissed when she leaves that Se Joo is hurting.
Shin goes to his car and sees a television screen playing the ending of a contest where the contestant wins. He sees on the screen instead the scene where Se Joo hands Mi Rae the flowers and his confession and Mi Rae smiles broadly to receive it.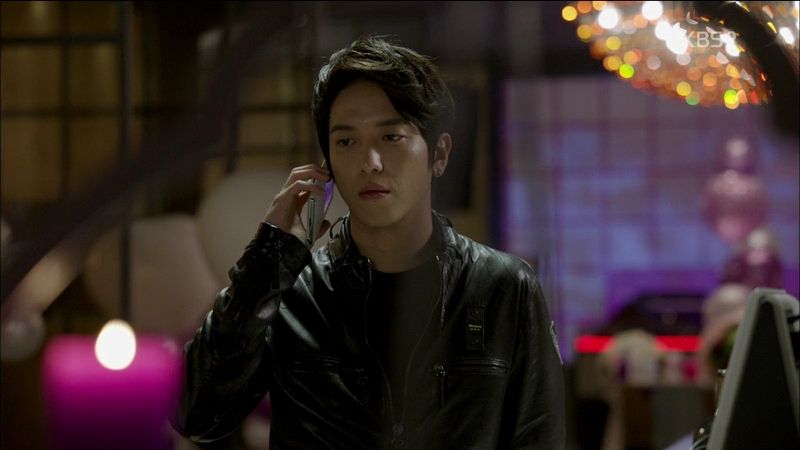 Se Joo gets a call from Shin to meet and he agrees.
Mi Rae is at the bus stop waiting for the bus. Yoo Kyung drives up in her little red car and looks PISSED. She gets out and stares angrily at Mi Rae. I love this girl, so fierce and protective of Se Joo. Shin and Se Joo meet at the park while Yoo Kyung and Mi Rae sit down for a girl talk. I love all this talking going on.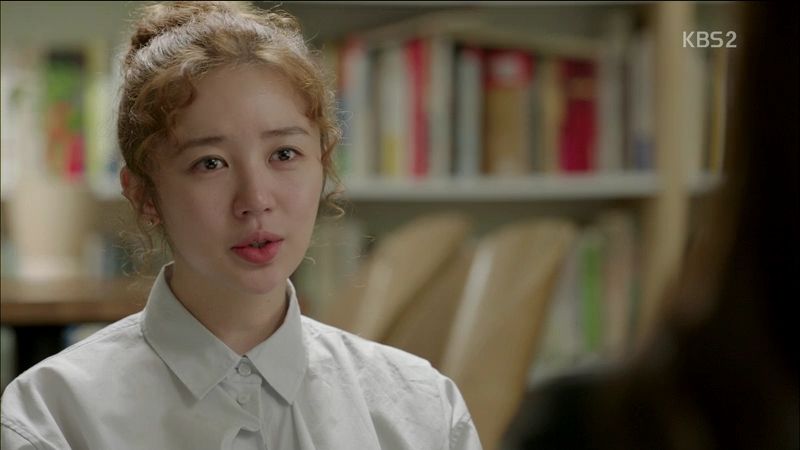 Yoo Kyung asks why Mi Rae didn't apologize directly to Se Joo and had her pass the apology on? Mi Rae apologizes and asks to use Yoo Kyung's phone to call Se Joo right now because she doesn't have her phone. Yoo Kyung tells Mi Rae to tell Se Joo directly she is not the one for him.
Shin asks Se Joo if what happened back there was at Mi Rae's behest? Se Joo wonders why Shin would even ask that when he was the one who took Mi Rae out of there. Shin says she followed behind him, to which Se Joo says that ought to make Shin happy because the girl he likes followed him out of there. Shin says there is nothing for him to like towards a girl who happily goes to receive roses from another guy. Se Joo is very upset that Shin would insult Mi Rae that way, and he will choose to pretend he never heard this from Shin. Ooooh, you tell him, Se Joo.
Shin sighs and asks why Se Joo is so interested in Mi Rae? Se Joo laughs and says why can't a VJ like the same maknae writer that the news anchor likes? The two guys stare at each other.
Mi Rae picks up Yoo Kyung's phone and calls Se Joo. He picks up and she apologizes directly for what happened earlier. She starts to say she thought about it but Se Joo hangs up rather than hear what she has to say. Shin asks what Mi Rae said and Se Joo says she apologized for ruining the party. Why doesn't Shin try the same method – throw a party, have a drink, take her home. Se Joo doesn't want to use the same methods as Shin to pursue a girl.
Shin asks if this is Se Joo's first job after school, and first time in the real world. He gives Se Joo advice that speaking disrespectfully to a work sunbae is not the best idea in the world. Se Joo smirks and remembers that he's a VJ. Shin doesn't want to lecture Se Joo because he's just a VJ, he is sincere about offering him good advice about working in the real world.
Se Joo asks Shin what he would do if their roles were reversed? What if Se Joo was someone very powerful, such as the President of YBS network. If he was the YBS president, what would Shin do in this situation?
Thoughts of Mine:
It's going to take me awhile to digest this episode and the implications for the greater narrative progression of the drama. I thought Se Joo would take his rejection smoothly but he's sticking in the fight and that's totally his prerogative. I love how he stands up for Mi Rae when Shin angry-insults her and seeing the arrogant chaebol side come out along with his pretend submissive junior VJ side adds so much more to his character. Nice dreamy second male leads are so passé, I like how he's joined the other three leads and showing his thorns and warts. His confession that the difficult pursuit of Mi Rae seems like payback for all his past asshole attitude to women was a nice moment of self-reflection. He's also showing that he's genuine about her, to the point that it's not just a passing fancy where he can move on. When he hung up the phone rather than listen to her direct rejection, my heart was on his side. He's done everything right but for the fact that he's not Shin, and to him it must be rather inexplicable why Mi Rae likes prickly Shin over him. Thank god he doesn't attribute it to Shin being an anchor while Mi Rae thinks he's just a lowly VJ. I think Se Joo fails to remember that some couples bicker as a way of expressing interest, and the early stages where Mi Rae and Shin have gotten off on the wrong foot have actually helped them understand each other more. Whereas he hasn't shown Mi Rae a good half of his real personality yet, how can he think she could know enough about him to like him?
I am so over future Mi Rae it's not even funny. Even her scenes make her seem like the villain of this tale, with her side glances and conniving expressions. She and Miranda can go die in a fire for all I care. Both of them are supremely self-absorbed. I knew future Mi Rae wouldn't give up on her meddling and lo and behold, she actually gets to work on Shin and Yoo Kyung. She sets up Shin to go crash Se Joo's confession, which isn't shooting herself in the foot since she knows Mi Rae will turn Se Joo down, she just needs to ruin Mi Rae's feelings for Shin and vice-versa first. One step at a time for this witch. Then she sets up Yoo Kyung to head in the wrong direction by telling her that her future husband is Kim Shin. It might've worked 4 episodes ago, but the Yoo Kyung now is falling for Se Joo and I am relieved she doesn't seem to buy future Mi Rae's prophecy. Whew. One less crossed wire is greatly appreciated right now. I'm not upset at Yoo Kyung at all for encouraging Se Joo to confess, because everyone can see Mi Rae likes Shin and it's pretty pointless for Se Joo to nurse his crush any longer. Of course she has her own ulterior motive, everyone does including Se Joo. What's refreshing is that Yoo Kyung is aware of it, and questions herself, and when push comes to shove, she stands up for Se Joo and tries to protect him. Her anger at Mi Rae was wonderful to see, so complicated but true to herself. She may want Se Joo to move on, but it hurts her to see him hurting because of Mi Rae.
I saved the big elephant in the room for last – namely Shin and Mi Rae's continuing to develop romance which went running smack dab into a wall at the end of this episode with their first major argument. It's pretty amusing that they can fight when they are not even dating. Shin was set up, no question about it, but it's all his failing that his first reaction is anger and lashing out at Mi Rae. When he lashes out its scary, because his verbal dexterity and brilliant mind makes the things he says as dangerous as a sword in the way it cuts to the core. If this is what future Mi Rae wants to avoid, I'm of a mind to say she might not be barking up the wrong tree. It's still trivial enough of a reason to time-travel back, but if what she said is true and someone she loves will also die because of Shin, then maybe all the love she has for him isn't enough to overcome a lifetime of arguing each time there is a misunderstanding. But this drama takes on two trajectories much like the two alternative time lines. Just because we see all of Shin's flaws doesn't mean the OTP is still doomed, because if Se Joo does keep on wooing Mi Rae, then Shin will have to decide if the girl is worth changing himself and fighting for. Mi Rae's heart may fall for Shin in any timeline, but maybe future Mi Rae can still convince her to live with her rational mind this time around. Or she can pick neither guy and go grab that future happiness with her own hands.