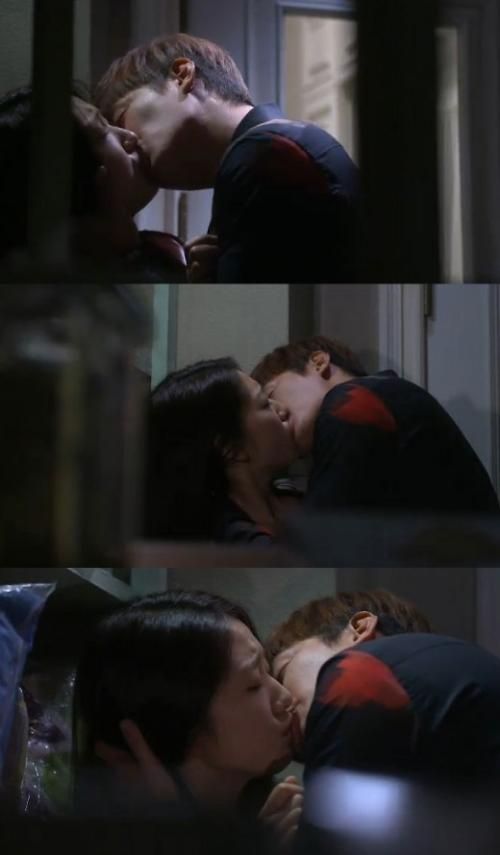 With two weeks left in its run, Heirs/The Inheritors is on such a tight live-film scheduled I've seen BTS pictures of filming where the footage is aired the next day. I'd love to see some spoiler stills for next week's episodes for a hint as to whether Eun Sang left the country or not. Lee Min Ho was snapped by a fan filming outdoors today which gives some clue as to what to expect. I'll discuss what I think after the jump. The kiss scene in episode 16 has been getting very mixed reactions, some love it while others were completely underwhelmed. I belong to the "it doesn't totally suck" group, because objectively it doesn't suck since there was lip movement from both participants, plus Lee Min Ho was trying his best to gnaw on Park Shin Hye's lips. But her body language in that kiss was abysmal. Despite her lips participating, her body language screams "I'm scared out of my wits!" Fans in DC got a hold of the shooting script for the kiss and it's a pretty funny read. Her last kiss with Yoon Si Yoon in Flower Boy Next Door, albeit less passionate, was much more in mutual synergy. Oh well, it doesn't both me too much since I really wasn't expecting something all that memorable though it does seem like a waste of a prime opportunity for Park Shin Hye to shed her "can't kiss onscreen if her career depended on it" reputation. I love her but she really needs lessons, preferably a hit two birds with one stone kind where she starts dating a great guy in real life and they kiss a lot in their relationship and she gets all the practice she needs. With the 2013 dramas soon to wrap up, Heirs has now vaulted to the top of the list as commanding the most money for selling its overseas airing rights. It's already been sold to 13 countries and many more are already in talks. I'll be surprised if this drama breaks Lee Min Ho's top-selling K-drama Boys Before Flowers. It's got some buzz but nothing compared to the hysteria and pandemonium during BBF.
Shooting script for the kiss scene in episode 16:
Tan, using the same gesture pushed Eun Sang against the cabinet.
Tan, held Eun Sang's chin still with his hand and directly leans in to kiss her!
Filled with worry about Eun Sang leaving him at any time
He doesn't know what to do, and he kisses her even more forcefully, his heart burning up with fear.
Afterwards, Tan embraces Eun Sang in his arms.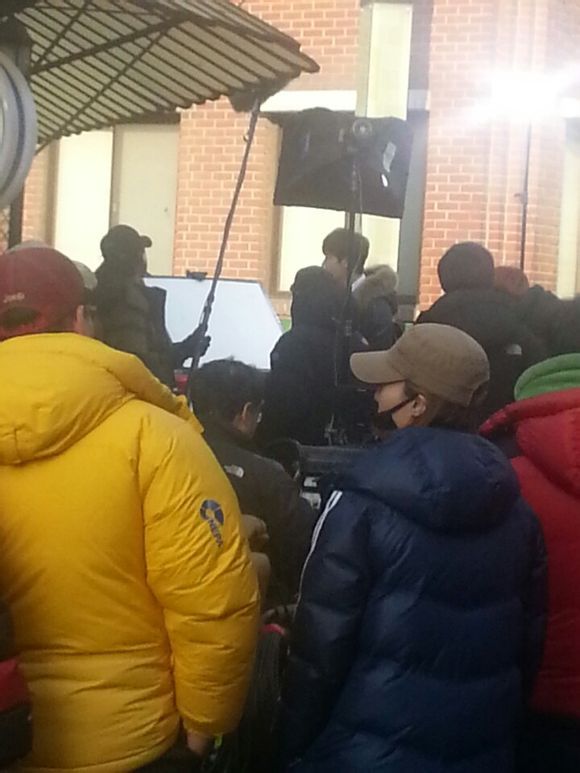 Tan is still wearing his school uniform so I'm guessing Eun Sang is still in Korea and we won't get a time jump. Or this is just a flashback sequence of grown up Tan remembering how he looked everywhere for her. But then the stills below show Tan with black hair, which makes a jump more likely.