There are two sources of strength getting me through this week's dreaded Mon-Tues drama hump – the first is all those people counting on me to plow through the detritus of Marry Him If You Dare and provide a recap so they don't have to watch it, and the second is the comfort that Prime Minister and I is just around the corner. I don't think I'm wallowing in the disappointment of how much MHIYD sucks (I've made peace with it) hence anything and everything looks good in comparison, I genuinely think Prime Minister looks fantastic based on the stills and previews. The posters have just been released and I'm loving the OTP one with Lee Bum Soo and Kwon Yul and Yoona as Nam Da Jung in two different poses. In one they look slightly annoyed with each other but in the second they are definitely warming up to the contract marriage side of things, and in both I spot the rom and com I so desperately need. Yoona sports two different hairstyles in this drama, a curly one for when she's just a tabloid photographer and the sleek look when she becomes Mrs. to the Prime Minister. Normally I'd roll my eyes at the sartorial stereotyping that free-spiriting photographers have wild crazy hair and politician's wives must sport the ironed straight waterfall, but here the narrative requires that Da Jung play the part of the Prime Minister's wife for the public so I figure the handlers around her will be going all out to turn her into the epitome of the high powered lady wife. I still think Lee Bum Soo and Yoona look fantastic together, with their chemistry and sparks going a long way to smoothing out the age difference and the fact that he's on the short side of guys while she's on the tall side of girls. I don't care as long as I get lots of kissing and making out. I love second male lead Yoon Si Yoon and am thrilled he's also in this drama, but for the romance I'm already camping out on the OTP ship. Check out the fantastic substantive first preview below and get wait for some genuine rom and com coming our way in exactly one week.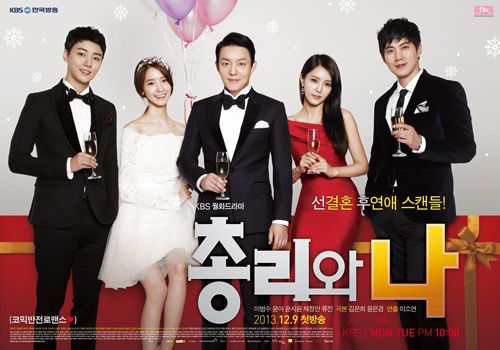 Preview for Prime Minister and I:
[youtube id="fUxUT7RZSgw" w="625″ h="445″]
Kwon Yul: Miss! When are you planning to stop following me?
Nam Da Jung: I've been discovered.
Kwon Yool: This woman, you!
Da Jung: Prime….Prime…..Prime Minister!
Kwon Yul: Is your brain working? How can you appear just like that?
Da Jung: Something big happened!
Kwon Yul: Who did this absurd thing?
Kang In Ho: Love is something that is sometimes beyond our expectations.
Da Jung: Kwon Yul and I are dating!
Random politician: Do you think someone like him deserves to be Prime Minister?
Kwon Yul: I will resign.
Da Jung: YA!!!
Seo Hye Joo: What we worked so hard to achieve, I won't give it up that easily!
Park Joon Ki: Minister Kwon is done.
Da Jung: Is there nothing we can do?
Kwon Yul: Miss Nam Da Jung, will you marry me?