I keep humming the refrain "I live in a pineapple under the sea" probably because certain denizens of my household have been substituting "I" for "Mommy" so this is stuck in my head, plus I do wish I did because then I can climb out of that pineapple every Friday for a new episode of In A Good Way and then climb back to hibernate for another week without this waiting anxiety. It's also freezing here and I'm sure the warm tropical seas is a warmer option right now. The latest video preview is out for episode 5 and I've brought the aggregate video with both the preview released after episode 4 as well as the just released new one. Of course I translated all the shippy dialogue as well, as if I am not doting on every word out of Liu Chuan's mouth. We all saw that a fight was coming for our babies, but so is more skinship! It's the like production wants to kick us first and then hug us later. PPT and Baidu have been on fire discussing this drama and after Jia En was seen practicing ballroom dancing for her PE class elective there were howls that Liu Chuan has to somehow dance with her. Maybe he runs into her practicing and offers to help, something like that.
Folks figured it was just a pipe dream since he's a junior and she's just a freshman but clearly this drama understands how to deliver fanservice in ways that up even the fan's dreams because the latest preview shows us that Liu Chuan is actually IN Jia En's same PE class. Not only that, this man's sense of chivalry and his desire to spend more time with Jia En combines into the perfect excuse to raise his hand and offer to re-take the ballroom dancing test with Jia En since she needs a partner. There is a drool bucket at my house for when my hot boys act in dramas and induce drooling, I now need a swoon sofa for watching this drama because each and every Liu Chuan-Jia En scene induces swooning. I wonder if rumors are going to start flying about them since Liu Chuan is the big man on campus and his each and every move seems to be noticed. I've heard talk that Bai Xue is not going to turn into a catty second female lead and will instead remain a good mentor older sister to Jia En and that is such a relief. There is nothing from Liu Chuan for her to misunderstand plus she's so non-confrontational. I think it would be amusing to have Ren Wei continue to push her buttons because when she got annoyed with him that was really cute and makes her come alive otherwise. As if the latest preview was squee-inducing enough, after the preview I shall bring the the latest nosebleed shippy signals that Rong Rong and Guo Yi have something-something developing. These two, they will be the death of me.
Full preview for episode 5 (the one after episode 4 plus a brand new one)
[youtube id="Cm_IrEbM8xk" w="625″ h="445″]
Jia En: Next week PE class has a ballroom dancing test on the rhumba.
Parents: Rhumba? That's your dad's specialty.
Liu Chuan: I just don't want people to know I'm the son of a congressman and feel like I get special treatment.
Jia En: You clearly have something on your mind? Aren't we friends? What is it that you can't talk about? Why are you hiding it?
Liu Chuan: Look after yourself and don't just ask what others are concealing without any thought put into it.
Dad: Who did you have a fight with? Whatever it is, just say it face-to-face and explain. Don't just misunderstand back-and-forth.
Jia En: 3631, are you from Taipei. What is a must-eat breakfast place in Taipei that you recommend?
Jia En: Teacher, I don't really know how to the dance the lady steps, I only know the guys part.
Teacher: Is there a male student who is willing to take a make-up test with Jia En.
Liu Chuan: Teacher, I'll take a make-up test with Jia En. Tomorrow is Thursday, do you remember what we're practicing?
Jia En: I remember, we're practicing ballroom dancing.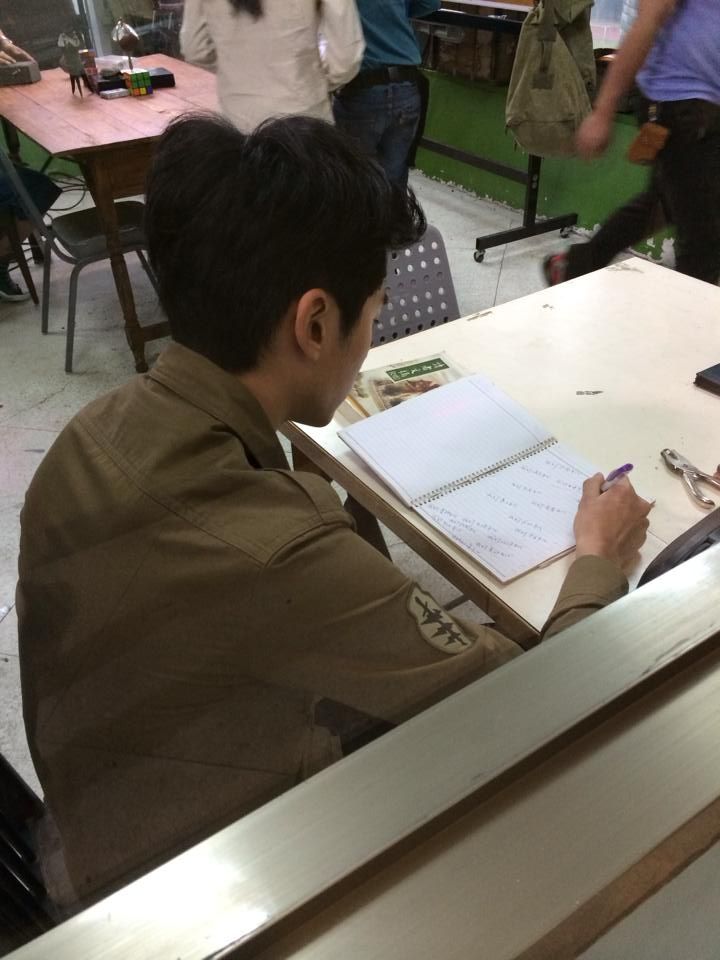 Kirsten posted these two pictures on her FB page over on Sunday with this caption:
"I heard there was this "Freedom Sea" that is very popular, and many people are "drowning" in it. This person before my eyes appears to be drowning as well, doing very strange things and seems to have entered a state of of wildness. Who can save that boy @LegoLee (Lee Guo Yi)"
The pictures Kirsten posted are from the filming in episode 4 where she is outside in the hallway and Lego is sitting inside the club room doing bookkeeping. Turns out Liu Chuan's "bookkeeping" was actually Lego scribbling stuff in the notebook. Since this drama's Chinese title is "My Freedom Era" (我的自由年代 Wo De Zi Yo Nian Dai), Lego was scrawling in the notebook all these variations of "My _________ Era" It is soooooooo hilarious. I spent a good 20 minutes trying to read every one of his variations.
Some funny ones:
My Jurassic Era
My Running Away Era
My Dissolute Era
My Devilish Era
He then writes down all the character names:
My Liu Chuan Era
My Ren Wei Era
My Bai Xue Era
My Jia En Era
My Ah Qing Era
and so forth
EVERYONE went insane because right next to the title which is underlined "My Freedom Era" he wrote:
My Rong Rong Era
As if that is not enough, right above it he added another one:
My Xiao Rong Era.
'Nuff said, dude. And he did not write anyone else's real names down other than Rong Rong.