The Taiwan media is getting wind of the intense popularity of In A Good Way among the coveted younger viewing audience as well as the ground swell of fandom shipping Kirsten Jen and Lego Lee (the RongYi couple). This week's news articles discussing the popularity of the drama are all dissecting how the two leads are so so close and chummy on set and causing fan hearts to flutter for their onscreen and offscreen chemistry. And it's not like either one is oblivious, Lego and Kirsten said in a BTS interview that they know how fandom is shipping them in real life and it actually makes them more hyper-aware of each other when acting. Lego said that when he sees Kirsten he just thinks she's so cute, whereas Kirsten accused him of constantly sending eye-sparks at her and it's causing her to be unable to focus. They hilariously have promised to do well and if there is ever any "good news" to report, Lego promised to share it with the fans. If these two are trolling the IAGW fandom then I'm happy to be trolled because they are just too adorable. They are on a live-filming schedule but I've just come across three spoilery BTS stills for the upcoming episode.
One shows Bai Xue and Ren Wei practicing dancing, which makes me wonder if there is a dance party coming up soon since those two are not in the PE class that Jia En and Liu Chuan are in. The other two pics were snapped by students at the college campus where the drama films and it shows Jia En in a dress with Liu Chuan, and also the actor who plays Jia En's sweet and gruff daddy is there. I can't tell you how happy I am to glimpse Jia En in a skirt. I get the 90's throwback fashion for the guys and Bai Xue and Xiao Wei are dressed normally, but holy are Jia En's outfits a succession of inexplicably dowdy. Trust me when I say girls in the 90's in Taiwan did not have some sort of overalls fetish. That's is all Jia En and folks from Pingdong are probably howling over that implication that a country girl from the South is inclined to own a closet full of overalls. If Bai Xue takes Jia En under her wing in any way, please let it include a fashion tutorial. I don't need a full make over since Jia En is already so pretty, but please ditch the overalls. I'm starting to see fanfiction pop up in the Chinese forums and one hilarious POV essay comes from Momo's point of view from when he ran into Jia En all the way to the scene when Liu Chuan reads her note a year later and reminisces. I need more Momo in the drama, and Momo would make the best matchmaker to bring Liu Chuan and Jia En closer. Let's have a Momo gets lost and needs rescuing scene. LOL, more Momo = more OTP goodness.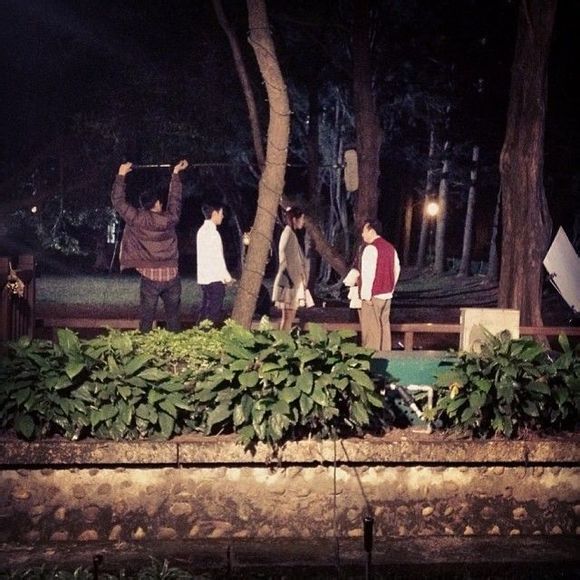 To help get us ready for episode 5, enjoy RongYi cuteness set to one of THE most famous ballads in the 90's in Taiwan. This song played in the second preview for episode 5 which means it coming in the drama. I wouldn't have expected it not to be used since it's still so so famous. The song is Rene Liu's "Crazy For Love" (為愛癡狂) which came out in '95. Since the drama has time-jumped from 1995 to 1996, I'm also expecting Tarcy Su's "Lemon Tree" at some point. That song was everywhere in the Summer of '96 and launched Tarcy to superstar songstress status.
RongYi MV "Crazy For Love" by Rene Liu:
[youtube id="YL7WMO-X__Y" w="625″ h="445″]