The written preview for episode 5 of In A Good Way came out really late this week but its here now so I'm happy again. Knowing the drama has time jumped a year to 1996, I keep going back through my memory rolodex of what was going on that year in Taiwan. Aside from the popular songs and cultural milestones, such as the B.B. Call though cell phones were already around but still huge and expensive at that time, did any major events happen that might get referenced in the drama? I saw some BTS filming stills from two weeks ago showing Jia En and Liu Chuan at the MRT station and I remembered that 1996 was when the first line of the MRT began operations. Back then it was called the Muzha line (though now its been extended and is called the Wenshan line) and went all the way to the suburbs and the Taipei Zoo. Looks like Jia En and Liu Chuan will have an encounter on the MRT and I'm looking forward to them interacting outside of school. I feel like Liu Chuan is always the center of attention at school even if he doesn't even notice, but he seems much more relaxed and open when he's hanging out with Jia En when they have random encounters outside of school. I noticed that he's almost always the one to start conversation and ask her something, which is what someone would do when they want to learn more about the other person. I think right now Jia En likes what Liu Chuan can show her or teach her, but she's not yet connected any dots that she may feel more that. Of course a kiss could vault those two past all that tentative phase, but for once its so delightful to watch that I can patiently wait for love to arrive even if it circles the entire campus twice in a leisurely jog.
The notes of the jitterbug lightly waft over Jia En and Liu Chuan's era of freedom.
Liu Chuan and Jia En both select ballroom dancing jitterbug as their PE elective, but at midterms Jia En faces a danger of retaking the test. Liu Chuan plays the white knight saving the damsel in distress and volunteers to be her dance partner. He lightly picks up her hand and there is a flutter in the heart.
Hearing that a woman is a sensory being, Ren Wei decides to unleash his crazy in love pursuit of Bai Xue. Bai Xue finds a confession tape in the Treasure Hunting club and the mysterious voice sends her into a confusion. Will the mysterious man's efforts touch Bai Xue's heart this time?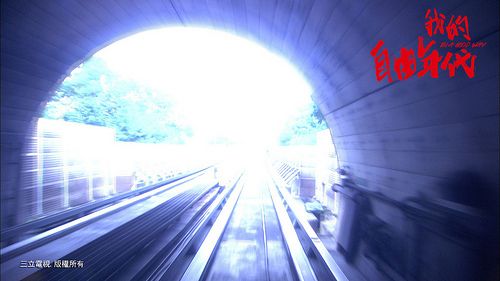 On the BBS portal, 3631 and sky talk all night, but in the real world Jia En and Liu Chuan are having a fight. At Jia En's jitterbug test retake, her partner Liu Chuan doesn't show up…… 3631 tells sky how to cheer up, and Liu Chuan keeps running into Jia En. Will Liu Chuan discover that Jia En is sky? 1996 was the year the MRT (Taipei Metro) started running. On the Muzha line, the ray of light that Jia En and Liu Chuan see will open up an unlimited possibility for love.
Dancing preview for episode 5:
[youtube id="wUXinEOgFKg" w="625″ h="445″]