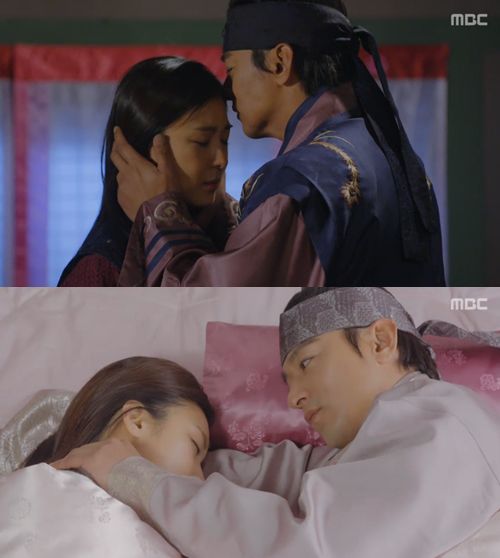 My smiling face this morning was seriously beaming rays of joy after watching two fantastic new episodes of competing Mon-Tues K-dramas Empress Ki and Prime Minister and I (recap coming!), plus I'm finally over the most hellacious cold and jet lag combo ever. It's like the clouds have parted and I can hear the birds singing. This week's two episodes of EK dialed up every plot development from lukewarm to scalding hot and suddenly the fur is flying and shit is finally happening. Yeon Chul goes down and then gets back up, Ta Hwan tries to take out his political rival and love rival in a two-birds-one-stone maneuver, and Wang Yoo out plays everyone AND gets his girl. A sweet marriage proposal to be his queen when they get back to Goryeo? Hairpin worn, proposal accepted. Hot kissing and then BAM a wedding night? Yeah, my King and Queen done up and married themselves, thank you very much. The hilarity of the reactions of doom and handwringing baffle me since Ta Hwan is himself sleeping with his harem while pining for Seung Nyang so let's not be dealing in double standards. What I love about Seung Nyang's relationship with both men is that they both affect her and she acknowledges it. She does have feelings for Ta Hwan as well, but it's a mixture of pity and chemistry and camaraderie. If he didn't cause her dad's death she could totally fall in love with him one day if she still ended up a serving maid in the Yuan court. But the narrative shows us that she's in love with Wang Yoo now, and it's not an imaginary projection of her feelings but knowing him and spending time with him. I can handle Seung Nyang marrying Ta Hwan down the line, and if that happens I hope she at least tries to love him a little. But her heart has been given to Wang Yoo first and he'll always be the man she wants to be with even if life pulls them apart down the road. I'm sooooo happy they got some quality romantic time together now before all hell breaks loose soon. This drama is called Empress Ki and it's Seung Nyang's choice I am keen to watch. She picked her man today and I couldn't be happier.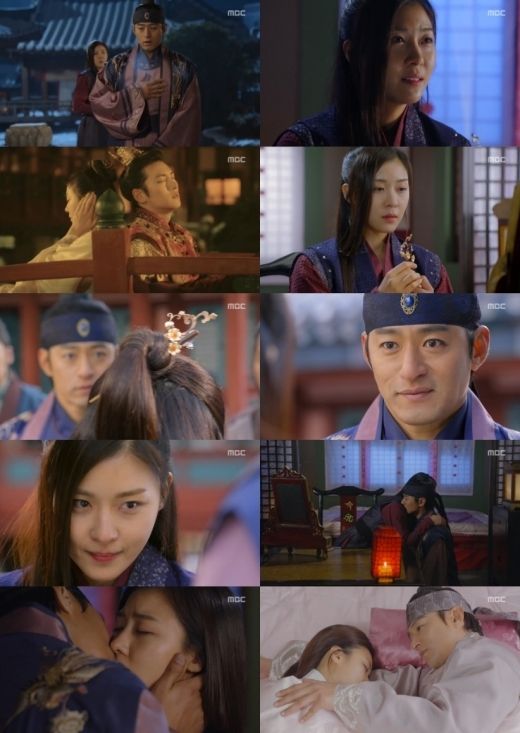 Empress Ki Episode 20 Wang Yoo-Seung Nyang proposal cut:
[youtube id="kiILTZ2QAlI" w="625″ h="445″]
Wang Yoo asks what Seung Nyang wants to do after she gets back to Goryeo. She plans to follow him even if he doesn't want her to. Wang Yoo gives her the hair pin and asks if she'll be his Queen once they go back. If she's not ready to answer him now, he'll wait for her to answer. If she says yes, she can wear the pin as her answer.
Empress Ki Episode 20 Wang Yoo-Seung Nyang wedding night cut:
[youtube id="oamnQZ7G-0k" w="625″ h="445″]
Wang Yoo misses Seung Nyang so goes to see her that night after she accepts his proposal. He kneels down and says he really still has so much to learn about her and asks why she cross-dressed in the beginning? Seung Nyang brings up the incident when the young crown prince released the Goryeo women being sent to the Yuan as slaves. Wang Yoo cries remembering how he wanted to help them but ended up getting many of them killed, including the mother of the young girl who he thinks probably also died. Seung Nyang reveals she is that girl and she never once blamed the crown prince for what happened.