I'm rather torn about the phenomenal success of You From Another Star. On one hand I like it enough and my quibbles rather inconsequential so its success doesn't rankle me in the least. On the other hand this drama really is not all that good and it's shaping up to be another The Moon Embraces the Sun where the success isn't completely baffling but I wish it could be handed to a better written narrative. YFAS wrapped episode 8 today with the typical kiss right around the mid-way point of this drama, though with 20-episodes slated it's a hair shy of being halfway done. My overall opinion is easy to sum up since the story is so limited and decidedly short on brain cells – YFAS is a fun and easy watch, buoyed by the goddess-like star power and acting charisma of Jeon Ji Hyun singlehandedly infusing energy into the story with such ferocity she makes up for everything else. That's it. I like it but goodness I wish I got more out of it. This is the second drama in a row where I've been disappointed in Kim Soo Hyun, and this coming from someone who has been a fan since he started out playing the younger Go Soo in Will It Snow For Christmas and then loving him to pieces in Dream High forever and ever. To think I watched all of WISFC because he was so amazing in the childhood portion, and then DH was made meaningful because his Song Sam Dong was the heart and soul of it. If he overacted in MoonSun, then he's underacting his pants off here in YFAS, leaving me wondering where the perfectly calibrated intensity went. The two leads do have chemistry except their love story is built up to be inoffensively easy to root for what with centuries and planets worth of angst. I end up watching YFAS with my mind and it never engages my drama soul, which is that fine line that separates like from love.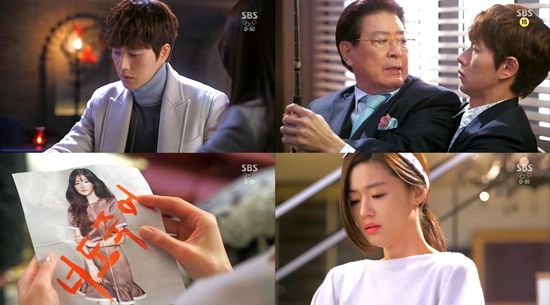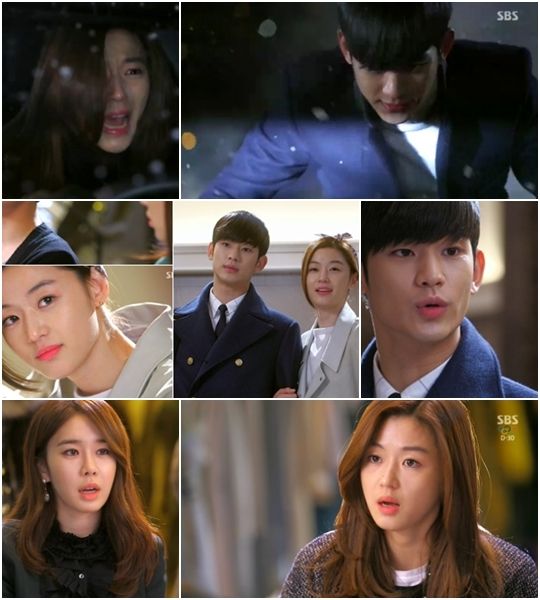 All of YFAS basically boils down to this: centuries old alien gets ready to beam back to his home world soon only to discover that fallen from grace top actress might be the reincarnation of his first love and now she's in danger from a murderous sociopath. In 8-episodes I've felt like the plot has been plodding forward while the romance is oddly underwhelming. I love watching leads Song Yi and Min Joon interact and the drama wisely gives us tons of cohabitation interactions that are entertaining and wonderfully rendered. But I don't feel the romance between them aside from the connection to her past life with him. The drama shows us they are meant to be without making me feel yet their falling in love connection in the present built up between them. They feel more like fun bickering friends than potential lovers. And its not in the chemistry part because they do have it, and in the kiss at the end of episode 8 there was the usual stirring in my heart because it was beautifully shot though the music in this drama continues to grate on my nerves. What keeps this drama humming along are fantastic ending sequences for every single episode. There hasn't been an episode that hasn't ended with a gasp worthy moment to keep the expectation high for the next episode to come along.
It's hard for me to pinpoint why I feel so detached from the character of Do Min Joon and especially with Kim Soo Hyun's performance. I think he's a good actor but in danger of being over-rated so fast and so young after his awards for The Moon Embraces the Sun. He's not doing a bad job here and he's good looking enough as eye candy. I guess the problem is two-fold, the first being that Jeon Ji Hyun is earning her paycheck and then some in her balls-to-walls acting as Cheon Song Yi, putting to shame everyone around her and proving that she deserves her A-list movie star status. The second is that Kim Soo Hyun has shown me that he does much better playing character's with open expressiveness and hasn't the gravitas to sell Min Joon's centuries old soul weariness. His character's reservation and hauteur comes across as a kid trying to be a grown up. I like Min Joon but don't feel like he's the right actor to play Min Joon. It's hard to fault him for anything though because it's not like he doesn't have the skills or isn't doing his best. He has both but it's not working for me is all. Then again, it's also hard to find another K-actor or actress with as astronomical a rise as Kim Soo Hyun with his every project in the last three years turning to gold in ratings or box office. He's like the male version of Han Hyo Joo's career, except a much much better actor than her.
Jeon Ji Hyun is just superb as Song Yi. Period. She is fire and ice and vulnerability and arrogance all wrapped into the heart of a girl in the body of a woman. She puts every other actor and actress in YFAS to shame in comparison to her acting and pitch perfect grasp of Song Yi. Poor Yoo In Na is like living a meta nightmare where her character in the drama Se Mi is overshadowed by Song Yi just like she is overshadowed by Jeon Ji Hyun in YFAS. I actually like Park Hae Jin's performance as dunderhead lovesick swain Hwi Kyung more as he's displayed a better execution of his character than Kim Soo Hyun is doing as Min Joon. He has all the attributes as one of those clingy second male leads yet he's earnestly endearing in his one-track love for Song Yi. The only other notable scene-stealing performance comes courtesy as the well-cast Shin Sung Rok as creepy villain Jae Kyung. Too bad his motivations and the whole murder mystery an attempted murdering is so poorly orchestrated and accompanied by the usual dun-dun-dun plotting. What works best in YFAS is the Song Yi-Min Joon interactions devoid of any alien powers or people wanting to hurt Song Yi. When they are just bickering, eating, and cautiously getting to know one another, that is when YFAS floats above its mundane orchestration and becomes enchantingly magical. Bonus points also go to Min Joon's super-human powers being displayed in fun ways in the story from teleporting hijinks to literally being Superman to his Song Yi's Lois Lane.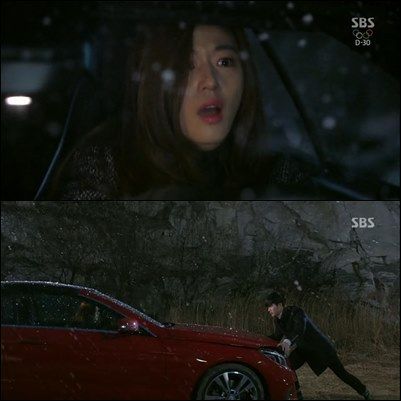 When Min Joon dropped from the sky and literally stopped a careening car from going off a cliff, who can possibly not clap like a trained seal and squee with glee over such a hero saving heroine moment. Too bad the villainous plotting to keep putting Song Yi in danger make me chortle and roll my eyes.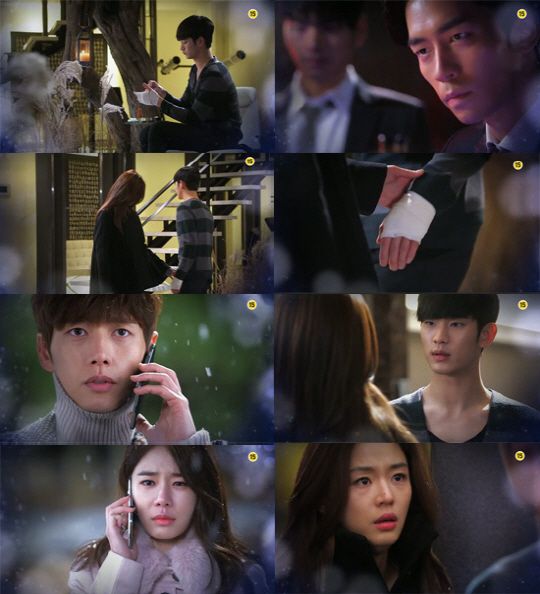 I actually think YFAS has the potential to switch on my "love this drama" button. It hasn't done so yet but then my love for Kim Soo Hyun is strong. I confess to continually wanting to start recapping it hoping each new episode will trigger my itchy writing fingers but it just hasn't. This is as most as I have to say about this drama so far but I'll continue to watch each week and hopefully it'll at least stay as easy to watch as now if not actually become much better.
Final kiss scene in episode 8:
[youtube id="69m6DwWAweg" w="625″ h="445″]