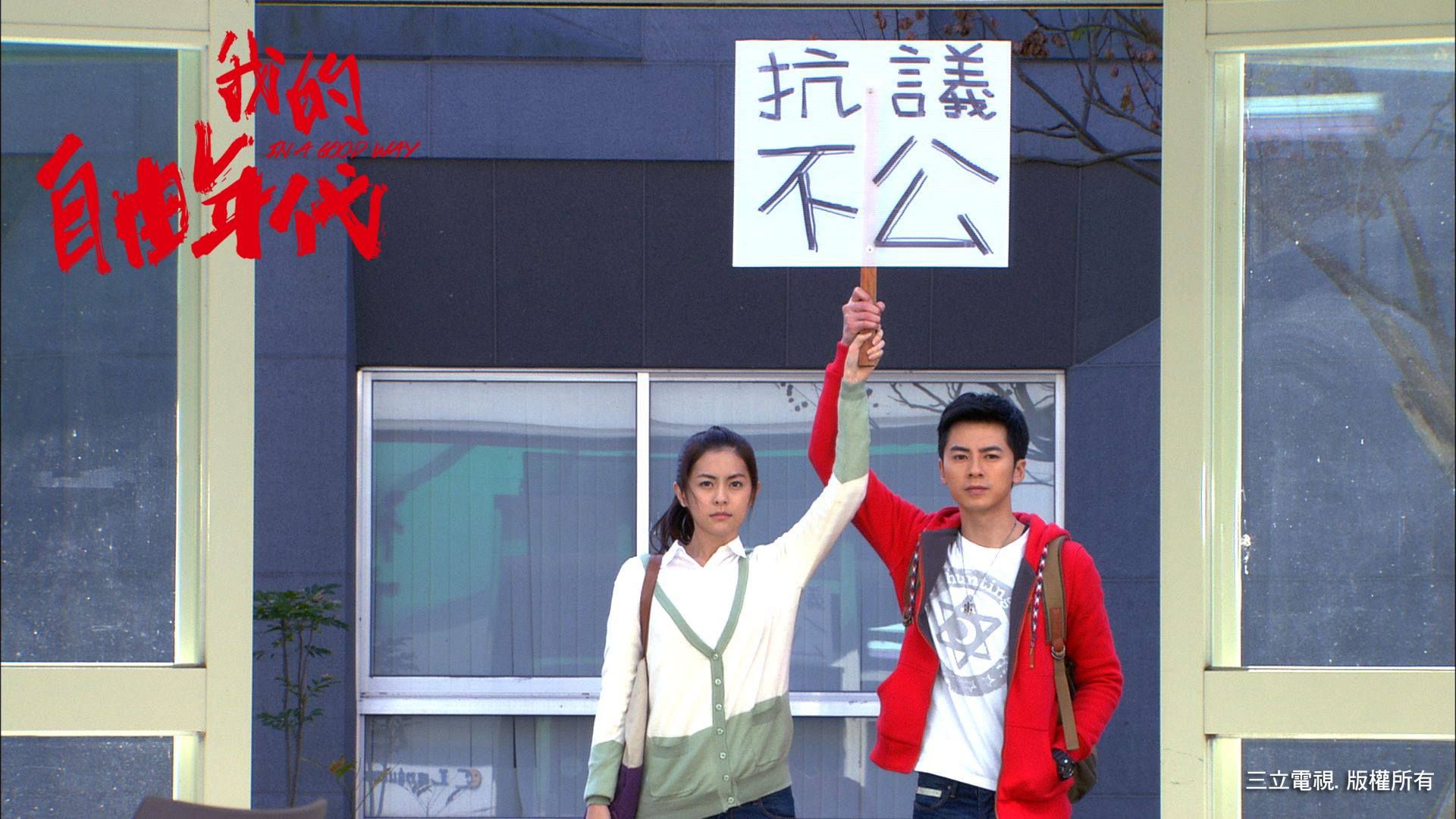 We got yet another fantabulous episode of In A Good Way as the college campus drama hits the double digits in episode count and keeps on delivering the goods. When Liu Chuan showed up at the end of episode 10 and decisively raised Jia En's protest placard with his hand I was screaming in Chinese "Liu Shan Feng, you are so MAN!" I can't believe we all worried about the potential fall out with Bai Xue's love confession to Liu Chuan and later friendship bomb to Jia En in episode 9. The drama continues to let the kids take their time to work through difficult conundrums that don't have easy answers but isn't a big deal in the greater scheme of things. This episode gave Jia En and Bai Xue a midterm question of what they would do if today was their last day on Earth. Each went about in their own way addressing mortality and assessing their current situation in life, but the ripples of their own self-reflection also reached Liu Chuan and Ren Wei. Jia En was the best friend and confidante Ren Wei needed when he was ready to think about putting an end to his Bai Xue crush, but she may have inadvertently opened his eyes to another romantic possibility beside him this entire time.
This episode was as close to being the Liu Chuan Ship of Obviousness what with his repeated attempts to hint to Jia En that he likes her. And in classic Liu Chuan fashion he does so in ways so carefully worded that Jia En always picks the interpretation without any hidden subtext. Of course he also increases the skinship between them and only someone as utterly blind to romance as Lin Jia En would not assume Liu Chuan likes her after the following series of events – he storms to the library to study beside her, explaining that he's irritable today and only could concentrate on his studies when she's around, then makes an excuse to take her to dinner, which leads to the ideal opportunity to wipe some sauce of her lips. It's cute that Jia En's dad has cottoned on his daughter and Liu Chuan having a slow as molasses "thing" going on and his incisive commentary that Liu Chuan's egg in his lunch box is the tastiest one of the bunch had me in stitches. I'm glad the Xiao Wei story line got some time front and center, though Ri Qi wasn't around to play a white knight at least Jia En isn't going to let a crooked professor get away with mistreating her friend. I love that all the characters in IAGW have distinct backgrounds and personalities so we see them reacting differently to the same situation and its always understandable. I hope Jia En wins this round with Professor Chang (and how can she not when Liu Chuan is right there beside her) and helps Xiao Wei regain her spirit and repair their recently distant friendship. For love and justice? I dig it when it's done the In A Good Way way.
Episode 10 recap:
Jia En and Liu Chuan walk around the town and he remarks that it's been a long time since he came here, probably not since elementary school. Jia En has no recollection of this place and then her attention is distracted by a store that sells old-school toys and candies. She heads inside and happily checks out toys from her childhood. She picks up a paper party blower and happily blows into it. Liu Chuan offers to buy it for her if she likes it but Jia En awkwardly suggests buying more for the entire club. Liu Chuan clarifies that he's buying it to thank her for coming here with him today and no other reason. After they walk out with the toys, Jia En hands one to Liu Chuan since it comes in a set and keeps one for herself. She walks off blowing on hers while Liu Chuan stares at her and then puts his in his pocket.
Jia En has lunch with Tracy and they discuss how Xiao Wei is never around anymore. Tracy says Xiao Wei is back late and out early now that she is working part time. Jia En hands a copy of the classics book for Tracy to give to Xiao Wei and then conversation turns to Bai Xue. Jia En doesn't know what she's up to lately which leads to Tracy noticing that with midterms coming up everyone is not around anymore and it feels so lonely.
In Jia En's philosophy class, the professor takes a roll call and Jia En notices that Bai Xue is not in class. The professor gives a midterm assignment for the students to think about what they want to do if today was the last day of their lives. Then the student is to actually do it and then write a report about it. The report will be their midterm grade. The professor points out that humans are heading towards death from the day they are born and it is not something to be feared. Only by facing the reality of death can a person start to think about how he or she wants to live life. He asks the students to convey the midterm project to their classmates not in class today.
Jia En walks to Bai Xue's house and runs into her coming out holding a box in her hand. Jia En asks why she wasn't in class today and if everything is fine? Bai Xue blinks back tears and assures Jia En that she is fine and will be in class tomorrow. Bai Xue walks away but Jia En stops her and wants to discuss what Bai Xue said the other day about the guy she likes in turn liking Jia En. She doesn't want their friendship to become complicated by this or they stopped being friends. Bai Xue assures Jia En not to worry about it and it's no big deal. She was just making an reference and it's nothing to keep on her mind. She was in a bad mood when she said that and she wants to apologize to Jia En now.
Jia En asks why Bai Xue looks so upset right now and hears that Bai Xue's pet chinchilla just died and she's going to bury it now. When Bai Xue was in school her mom put the cage very high up. When Bai Xue came to check on it the chinchilla had died. What if it was afraid of heights like Bai Xue? It makes her think that life is so fragile and short. Jia En says they need to treasure every day in life and then passes on the midterm project for their philosophy class which is to think about what to do if it was the last day in the world. Bai Xue would use that day to overcome her biggest fear and then spend it quietly savoring the beauty in life. Jia En doesn't know what she would do other than saying a proper farewell to everyone in her life. Jia En wants to accompany Bai Xue to bury her pet and the two of them walk off silently together.
Jia En is working on her midterm project and sighing loudly which catches her dad's attention. Dad reads her project instructions and derides it as an ominous subject matter. Jia En likes the topic but she doesn't know how to say a proper farewell to people she cares about. Dad offers to let Jia En practice on him and sits down across from her. Jia En stares at Dad and thanks him for being so good to her. Despite not living together for such a long time, she knows he loves her very much. He never forced her to do anything and allowed her to do what she wanted. She is such a happy Lin Jia En because of her dad. If there is another lifetime, she wants to keep being his daughter.
Dad wants to be Jia En's dad as well in another lifetime. He wants to keep taking care of such a good daughter. He worries about the day when he can't take care of her anymore. When he's not around, she needs to remember to change her sheets and especially her smelly socks. She needs to be watchful when she crosses the road and to be careful when she cuts her nails. She needs to eat well and also take care of her mom for him. Both of them start crying and Jia En wonders why her dad is now saying goodbye when this is her project. Dad has lived longer than her and worries about the day he passes and doesn't leave any instructions behind. Jia En tells him to stop crying and he claims he's not crying and it's just his eyes are sweating.
Liu Chuan and his roommates Ah Qing and Ri Qi are studying in their dorm room. Okay, Ah Qing is playing with Momo but the other two are studying. Liu Chuan is reading ancient Dutch and when he encounters the word "ver" which means far away he pauses and we see that he's written "ver joan" down on the page.
Ah Di and Jacky are in the Treasure Hunting club discussing what to do after midterms. They run down a list of activities and Ah Di lands on going to the onsen at Beitou. Jacky loves it especially the chance to accidentally stumble into the girls onsen. They then pretend to be Jia En and Bai Xue in the onsen and Jacky looks at Ah Di's chest and says "it's gotten bigger, yeah". LOL. Jia En arrives and looks exhausted, revealing that she didn't sleep a wink last night while doing her report. Liu Chuan arrives and Jacky asks if he was also up all night doing a "report" as if jokingly suggesting Liu Chuan was up with Jia En. These two, so useful in being incisive clowns.
The two guys ask what activity the club has planned after midterms? Liu Chuan says nothing is planned so the two guys suggest going to the onsen at Beitou. They suddenly dart out since they need to start inviting girls early with the expectation of being turned down from most of them. They run out and encounter Bai Xue, asking her jokingly to go to the onsen with them at Beitou. Bai Xue walks in and Jia En asks if she likes to go to the onsen. Bai Xue isn't very into it and Liu Chuan interjects to asks if Jia En likes it? Jia En cluelessly says she loves it so Liu Chuan thinks the club should consider that activity for after midterms.
Bai Xue's face freezes during this exchange. Jia En notices so brushes Liu Chuan's suggestion aside and says would rather focus on midterms for now and will think about what to do afterwards at a later time. Ren Wei arrives and Bai Xue immediately gets up to ask if he'll accompany her out of school to do something. Ren Wei agrees and they leave Jia En and Liu Chuan in the club room alone. Jia En takes her leave as well and heads to the library claiming she can focus better there. In the cutest Liu Chuan display EVER, the moment he's alone he flops face down on the table with a loud resounding smack. I feel you, dude. I feel you, but that Ms. Lin Jia En is not your garden variety dense.
Ren Wei asks Bai Xue directly why she invited him out today and wonders if she's conveyed her feelings to the other person? Bai Xue turns around and asks if Ren Wei thinks loving someone or being loved is happier. Ren Wei likes loving someone and also winning their hearts, admitting that everyone wants to be loved back. Bai Xue reveals that she wants to be able to fall in love with someone who would treasure her……….but she can't do it. Ren Wei tells her to leave it to time which takes care of things for people. He offers to take Bai Xue where she wants to go but she says here is fine. She thanks him for always being there when she needs him and then walks off. After Bai Xue walks away, Ren Wei walks alone and mutters that he'll always be the clowning around supporting character. When will Bai Xue's emotions be triggered because of him?
Later that night Ren Wei goes to the tea house and Jia En brings him a cup of tea and teasingly wants to charge him NT50. Ha. He thanks her for letting him bug her so late at night. He sighs about being in a painful love but she's very matter of fact about it, reminding him that one-sided loves are naturally painful and bitter. Jia En stops teasing and is willing to hear what's on Ren Wei's mind. He sits down with a sigh and she recalls it's been a long time since she saw him so down. Jia En has seen Ren Wei being upset when he has tried to pursue girls but always failed. Jia En suddenly realizes he's only ever down when it comes to love. They share platitudes about romance and Jia En lands on the perfect one. "Life is precious but the price of love is even rarer, but for freedom then both can be tossed aside."
Ren Wei understands all this and Jia En points out that he's got everything in life except for love which is why it's always the only thing that upsets him. Jia En suggests that Ren Wei is the one who keeps falling for girls way above his reach. Ren Wei shares Bai Xue's thoughts about how she tried to like a guy who can treasure her but she can't do it. Ren Wei knows she is talking about him and perhaps this is a sign that he will never win her heart no matter how much he tries. Jia En points out that Ren Wei and Bai Xue aren't all that suited for each other. He keeps liking girls from good backgrounds, who are smart, very beautiful, or even someone who already likes another guy. Ren Wei keeps chasing after an ephemeral beauty beyond his reach.
Ren Wei throws it back to Jia En and asks what kind of girl he needs to fall for then? A girl who is his friend and lover, someone who is easy to get along with, not a lot needs to be said but they understand each other, someone down to Earth so there is no pressure when they are hanging out. Ren Wei nods and a thought appears to flicker through his mind and he turns to stare intensely at Jia En. She is clueless and asks why he is staring at her? Ren Wei brushes it aside, turning away and thanking her for talking to him today. Jia En prods him to share what he is thinking but he refuses. Ren Wei wants another cup of tea since this cup is cold but she yells at him to finish it. Ren Wei drinks his tea and seems contemplative.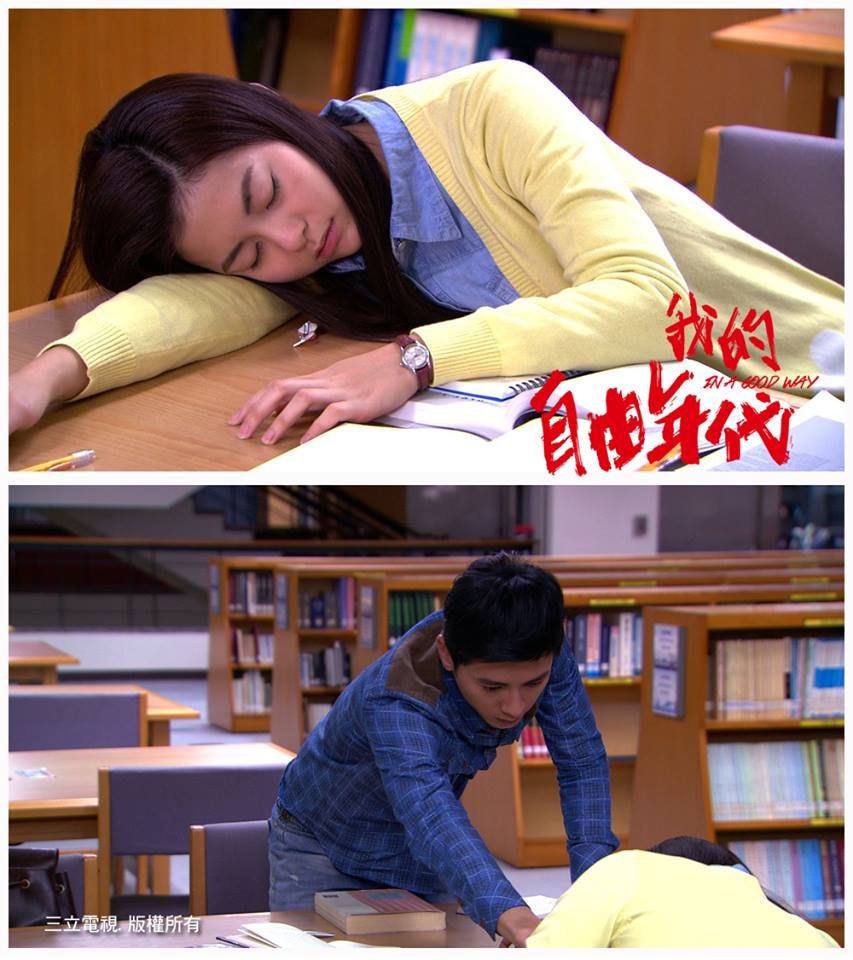 Liu Chuan is studying in his room but cannot concentrate at all. Heh. He finally packs his books and heads out leaving Momo staring quizzically at him. Liu Chuan heads to the university library and walks inside clearly looking around for someone. He finally spots the person he is looking for and strides purposefully towards the table Jia En is sitting at. He sits down across from her and shushes her when she wants to ask why he's here. He shows her the book he's working on and they silently get back to studying. Liu Chuan is able to focus now whereas it's Jia En who keeps sneaking glances at him.
Darkness falls and the students leave the library one by one until only Liu Chuan and Jia En are left. She's fallen asleep sprawled over her books and Liu Chuan takes a break and just looks at her. He looks around to realize they are the only ones left and then checks his watch to note the late hour. He sees Jia En's hair clip has fallen on the table and leans over to pick it up. It jostles her awake and he tells her the clip is on the table. Jia En pins her hair back up and is alarmed when she finds out it's almost 10 pm and library closing hours.
Liu Chuan asks if she's hungry since he's starving. Jia En is hungry so Liu Chuan asks what she wants to eat and it'll be his treat as thanks. Jia En wonders what he's thanking her for and Liu Chuan reveals that he couldn't concentrate today for some reason and felt very irritated. But he was able to be calm with her around so he got some studying done. He quietly shares that it's the first time he's felt this way. Jia En tells Liu Chuan to come find her anytime he can't focus and feels frustrated and he doesn't need to treat her to a meal afterwards. Poor Liu Chuan is like talking to a brick wall so he just tells her that they need to eat since both are hungry so let's go.
It's still raining outside and they walk under the same umbrella and pass by some protesters who have wrapped up whatever protest of the day. Jia En notes that protests seem to be increasing these days and wonders what Liu Chuan thinks? He approves since people have a right to express their opinion and protest is a proper channel to communicate it. Plus if a person has the courage to stand on the street to fight for something then Liu Chuan will support them taking action for it.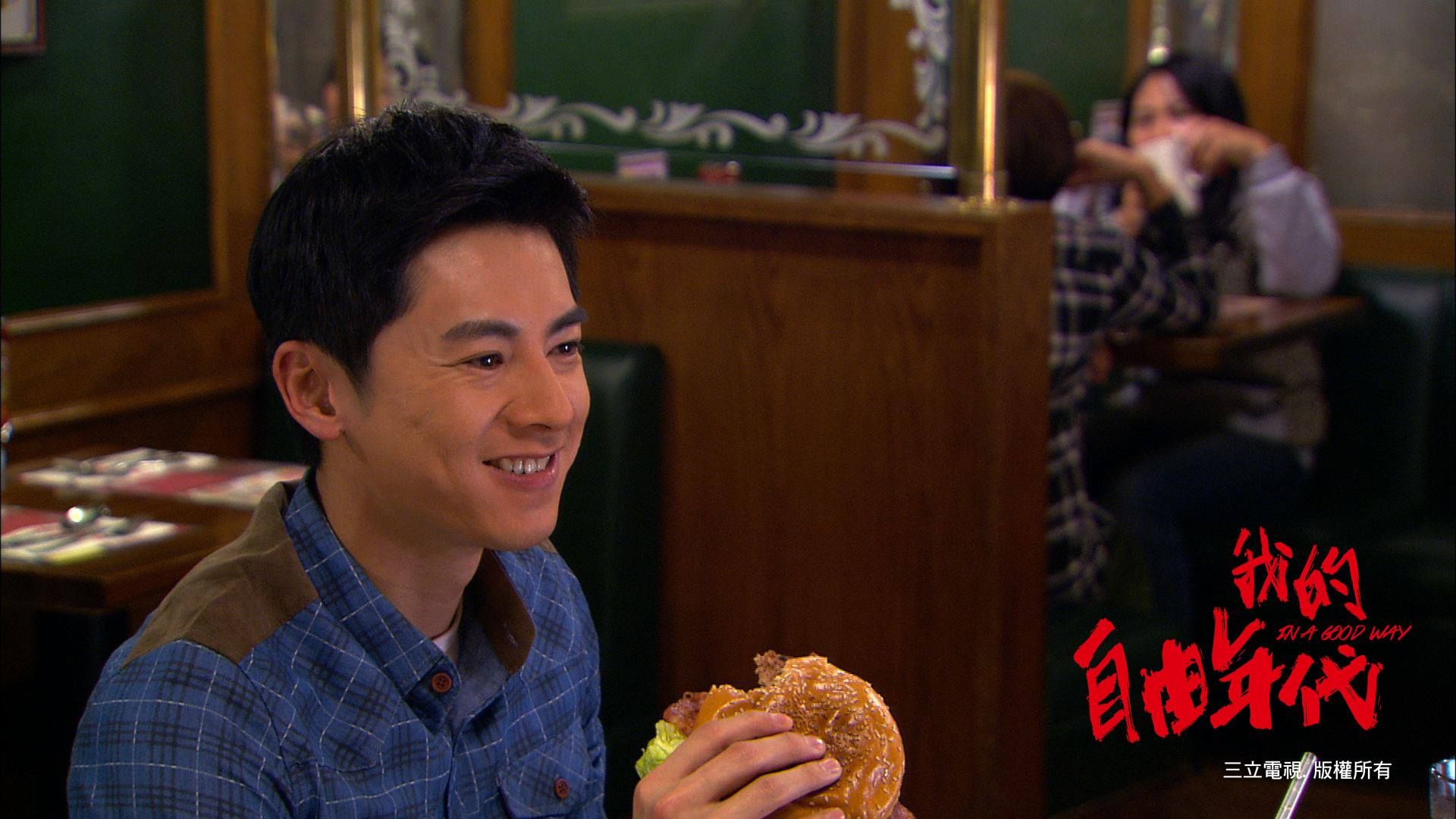 Liu Chuan and Jia En sit down to two huge burgers and Jia En picks up a knife and fork to dig it. Liu Chuan tells her to eat it with her hands and he won't care if she's concerned about making a mess. Jia En thinks its unseemly to open her mouth wide to take a big bite to eat it with her hands but Liu Chuan shows her that it's fine and takes a giant bite of his burger. Jia En smiles and follows suit with Liu Chuan telling her that there are no proper rules when it comes to eating and enjoying food.
Jia En gets some sauce on her upper lips and Liu Chuan tries to point it out but she can't seem to wipe it away so he leans in and wipes it for her. Both of them are slightly awkward afterwards and then resume eating. Jia En thanks him for the meal and offers to make him a lunch box next time. He's surprised she can cook but she reminds him that her family runs a tea house. Jia En then lights on a great idea for her midterm project – she'll make her famous dish sesame oil fried egg and pass out lunch boxes for everyone she cares about.
Jia En is making fried egg lunch boxes and her dad comes by and starts nibbling on the eggs. He wonders who the cute little box is for and learns it's for Momo. He asks who or what the heck is a Momo and learns that Momo is Liu Chuan's dog. Likely Dad's future furry step-grandson then? I don't know, the whole Momo calls Liu Chuan dad and Jia En jiejie (older sister) bit hurts my brain. Dad then asks which lunch box is for Liu Chuan and takes it claiming this has to be the tastiest one of the bunch. Heh.
Jia En and Xiao Wei finish taking their classics midterm for Professor Chang. After the test Jia En asks how Xiao Wei did and hears she feels good about it. Xiao Wei heads off before Jia En can hand her the lunch box. Jia En heads to Tracy and Xiao Wei's dorm room and hands over both lunch boxes for the girls. She finds Ah Di and Jacky and hands them their lunch boxes.
Jia En knocks on Liu Chuan's door and he opens it and immediately welcomes her in with a smile. She declines because today is her last day on Earth and she wants to properly say farewell to everyone. She hands Liu Chuan his lunch box and a smaller one for Momo. She gets chopsticks for him and he asks if she's pretending today is her last day. Jia En is serious and tells Liu Chuan that after today he won't be able to see her anymore. He looks very solemn and she tells him this is just pretending. He reminds her that she was the one taking it seriously. Jia En tells him to be serious but not that serious.
Liu Chuan gives a relieved smile and says that if today was her last day and he wouldn't be able to see her from now on, he will probably be a little bit sad. Jia En awkwardly says goodbye with the excuse that she's got more lunch boxes to pass out and runs off. Liu Chuan grabs Momo from the bed so that he can enjoy his delicious lunch box. Momo dives right in and Liu Chuan asks if Momo wants to spend the very last day with Jia En jiejie or every day from now on? Jia En runs back to hand Liu Chuan a cup of black tea and asks what he was talking to Momo about? Liu Chuan lies that he was asking Momo if the lunch was delicious. Riiiiiight. After Jia En leaves then Liu Chuan dives into his lunch with a smile.
Jia En delivers lunch boxes to Ri Qi, Ah Qing, and Ren Wei at the Treasure Hunting club and says her farewell. Ren Wen is a bit weirded out by using sesame oil to fry an egg and then fights when Ah Qing wants to eat his. Jia En asks where Bai Xue went and hears she's off doing her midterm project. Jia En goes to Bai Xue's house with her lunch box but she's not home.
Bai Xue is taking a cable car up the mountains to conquer her fear of heights. As she heads up with the cable car, she stands by the front window and yells out that she's so awesome to encourage herself when she does it. Bai Xue comes home and finds Jia En waiting outside for her with the lunch box. Jia En was worried she wouldn't be able to see Bai Xue before her last day ended but Bai Xue arrived before the night was over. She hands over the lunch box and thanks her for being a friend. Bai Xue takes it with a smile and they sit down outside so she can eat it. Bai Xue digs in with a smile and enjoys the lunch box immensely. She shares that she went to overcome her greatest fear of heights today. After doing so she feels like she can be even stronger and better. She wanted to share this elation with someone and then realized she had no one beside her.
So right now she's so happy that she has such a good friend like Jia En beside her on her last day. Jia En compliments Bai Xue on being so beautiful when she smiles and asks her to smile more often. Bai Xue reveals that she's been sad and depressed lately, feeling like there are disappointing things she can't overcome. But after today she's relieved that it's not really her last day and she can keep on living. She's happy to have Jia En as a friend and wants to preserve their friendship but she needs some time to fully get over her recent disappoints.
Tracy is checking midterm grades on the computer and they are shocked to see that Xiao Wei's grade took a steep dive on the midterm just for her classics class compared to her grades for all her other classes. Xiao Wei is so upset and worried about the stress this will cause on her parents. She kept her midterm test and asks to compare answers with Jia En. They go through the test and it's clear Xiao Wei got all the same answers right as Jia En except for two but Jia En's grade is much higher. Xiao Wei is worried that if her grades drop she can't qualify for the scholarships anymore which means she can't afford college. Tracy suggests their professor graded it incorrectly and to go check first.
Xiao Wei and Jia En approach Professor Chang to discuss the midterm. Xiao Wei doesn't have the courage to talk to him so Jia En speaks up and asks him if they can review her test paper. Professor Chang is an ass and asks Xiao Wei to go study for the finals to repair her grades and then accuses them of suggesting that he graded wrong. Professor Chang claims that Xiao Wei doesn't own a textbook so how can she do well on the exam? Xiao Wei explains she read the book at the library but the Professor says no one saw her do it. Jia En just wants to see her test to be fair but Professor Chang says what he decides is fair since he's the teacher. He will not be showing them Xiao Wei's test paper.
Jia En wants to keep pushing but Xiao Wei stops her and doesn't want to escalate the confrontation. Xiao Wei finally reveals that her dad lost his job so she sends half her scholarship money home for family expenses. Her part time job is now to cover her own living expenses. If she loses her scholarship then she's not even going to be able to go to school anymore.
Jia En is at the tea house where her dad is complaining about all the recent environmental protests where students are not studying and instead taking to the streets. Jia En asks if Dad will stand up for her if she's been mistreated at school. Dad immediately wants to go to school to demand justice for Jia En but she says it's just her friend who got all the exam questions right but ended up with a failing midterm grade and now the teacher won't show her the exam.
Ting Ting overhears and asks which professor is this? Jia En reveals it's Professor Chang and Ting Ting shares that some of her Foreign Languages major friends have had the same thing happen and all because they refused to buy the textbook. Turns out the Professor is the author of the textbook and makes money that way and he's notorious for retaliating when the student won't buy it, though there is no definitive proof.
The next day Jia En drags Xiao Wei to confront Professor Chang again and he still refuses to show them Xiao Wei's midterm exam. Jia En comes out and accuses him of retaliating because she wouldn't buy his textbook. Professor Chang threatens that he can write Jia En up for her insubordination but Jia En refuses to back down because Xiao Wei needs her scholarship desperately. He warns Jia En and Xiao Wei to leave immediately or else they won't even be able to take his class.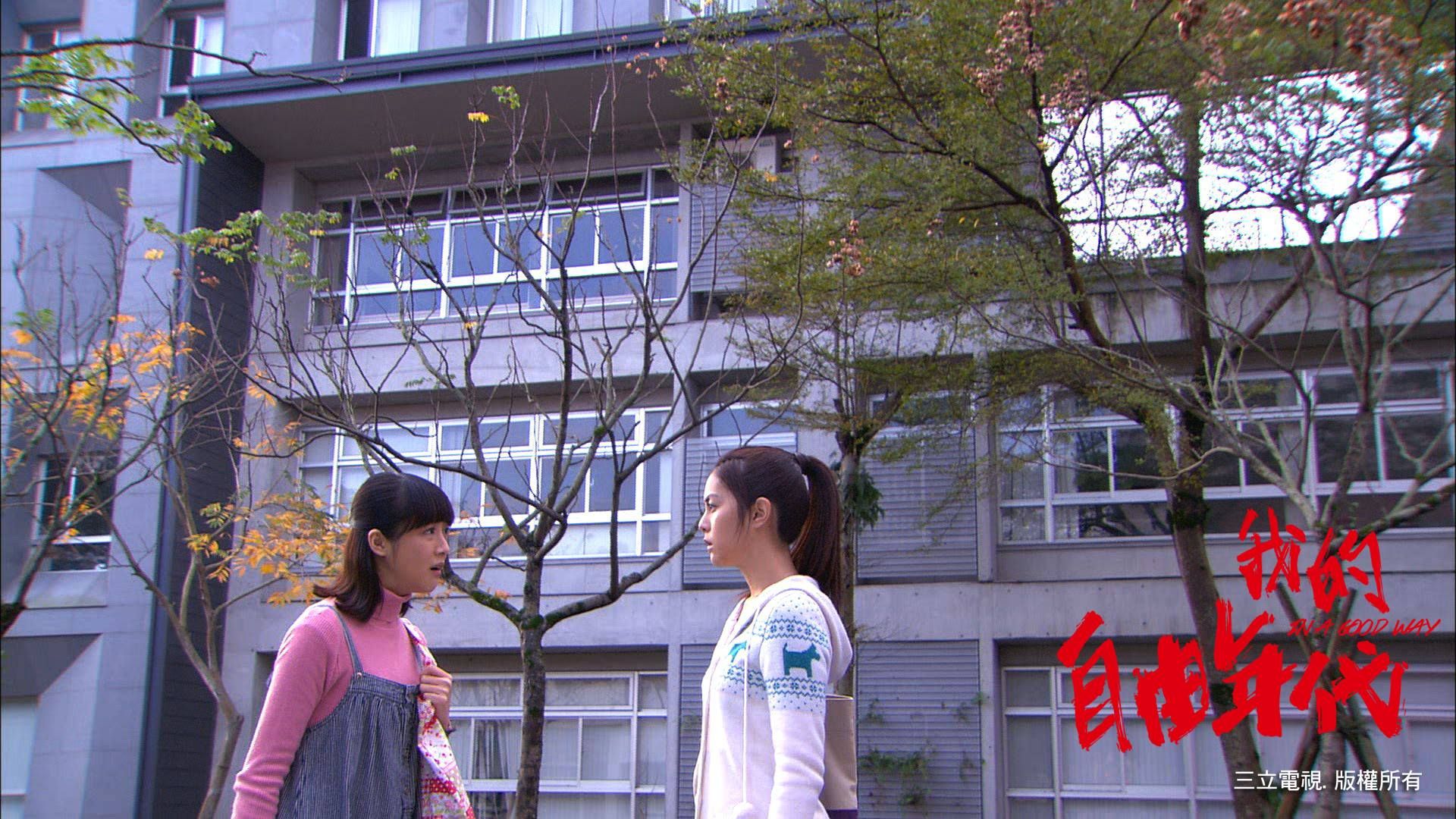 Xiao Wei drags Jia En outside and wants Jia En to let it go. She tells Jia En that it is her own fault for not having the money to buy the textbook. Jia En says that is not her fault but Xiao Wei doesn't want to escalate it. She just wants to live quietly at school until graduation. Jia En says it's not fair but Xiao Wei doesn't care. She is from a different world than Jia En! Jia En is brave and popular and has people around who will help her. Xiao Wei has none of that and her family has financial problems. No one likes her so all she has left is her studies so she wants to peacefully spend four years and then graduate. She yells at Jia En to stop pushing her anymore!
Jia En thanks Xiao Wei for telling her all of this and she won't push Xiao Wei anymore. But Xiao Wei is her good friend and she doesn't want to stand by and see Xiao Wei mistreated. She will not let Professor Chang get away with this. Xiao Wei yells at her to do whatever she wants and then storms off. Jia En rides her bike past some protesters on campus and gets an idea.
Liu Chuan is studying in his room and puts his hand in his pocket and pulls out the party blower. He blows on it a few times and then sets it on the table. Momo pokes his head up from the desk while Liu Chuan heads out to take a shower. After he leaves Momo pulls the party blower down from the table. Liu Chuan comes back to the room and immediately freaks out to see Momo gnawing on the party blower. In a hilarious scene he tries to wrench it out of Momo's mouth and the fierce little sucker has it in a death grip. Liu Chuan finally frees the desiccated party blower. He chides Momo for destroying something he really liked and Momo turns away with a "talk to my furry butt" head swish. Liu Chuan sits down at the desk and stares at it. Elsewhere and dealing with bigger fish to fry, Jia En is at home and gets out of bed to write a protest placard.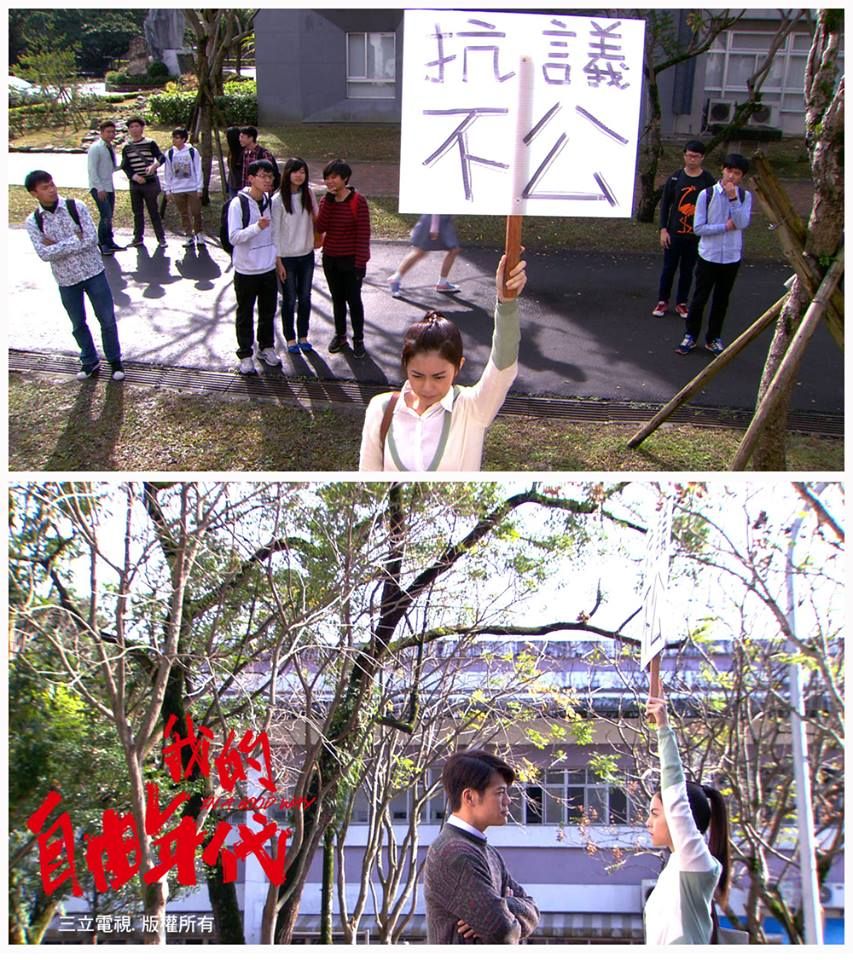 Jia En goes to school the next day and stands outside the Foreign Languages department building. She gets up her courage and raises a protest placard over her head which reads "Protest. Injustice." Students walk by all shooting glances at her and more and more people gather. Xiao Wei walks by and then runs away with her head down. She runs to the Treasure Hunting club looking for Bai Xue and finds only Liu Chuan. She reveals that Jia En is protesting right now and she doesn't know what to do.
Some students try to ask Jia En what she is protesting when Professor Chang arrives and disperses the crowd before going up to talk with Jia En. He asks what she is protesting? Jia En is protesting his grading error, his retaliation for a student not buying a book, and refusing the student right to see a text exam. Professor Chang says he can write up Jia En which is when Liu Chuan walks up and asks which school rule is it that Jia En broke?
Liu Chuan says Jia En was respectful when addressing Professor Chang and is asking for something fair which is to see the exam paper to check the score. Professor Chang warns them once more time before storm off. Jia En and Liu Chuan exchange a glance and then Liu Chuan puts his hand on Jia En's placard and raises it between the two of them. Oh. Hells. Yeah.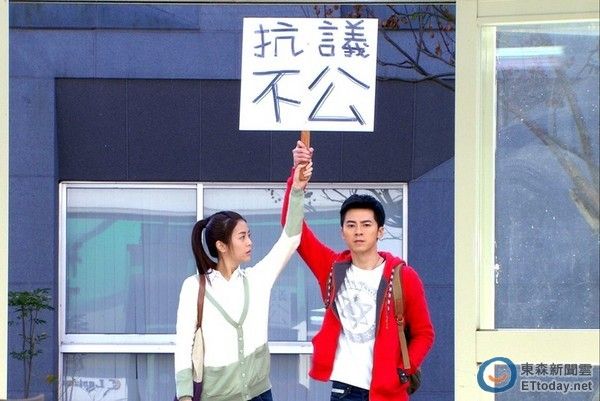 Thoughts of Mine:
It's easy to say that Liu Chuan and Jia En are like two peas in a pod but it's actually not true since they are so very different in temperament and behavior. Liu Chuan stands up for what is right but he's not the type to be as direct and confrontational as Jia En. He keeps so much inside and is much more thoughtful than her so if she had asked for his guidance first I don't think he would have suggested the protest route. He would have probably alerted her to some sort of school complaint framework that she could work through first. But the part about Liu Chuan that is so very Jia En is that when his hackles are raised then he's all in like she is. I knew he would have her back in this protest because it's the very thing he hates that she is protesting against. He hates the abuse of power and he lives his life on the principle of being righteous and honorable. He may have difficultly in the romance credit with telling Jia En straight up that he likes her, but when it comes to other aspects of life he'll tell it like it is. Professor Chang doesn't stand a chance against these two, and Xiao Wei really is very lucky she has a friend like Jia En to bring her into a greater world of people who care about her well-being. Jia En is starting to become the center of this particular group of CDU friends because it's her warmth and genuine effort at maintaining friendships that is the glue to keep them together.
Click here to watch In A Good Way.