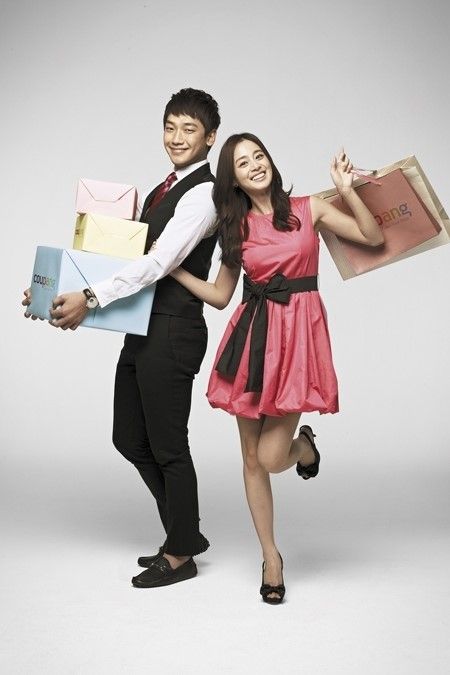 I get that the public has opinions about the dating choices of celebrities by dint of living in the public eye. At least it's just opinions and not some sort of referendum whereby the dating couple actually needs to get married and/or break up based on public sentiment in favor or against certain couplings. I have such a soft spot for A-list couple Rain and Kim Tae Hee. Their dating bombshell news last year opened the floodgates for what feels like a veritable deluge of celeb couples willing to go public. I also think it's such an incongruous pair of brainy wholesome Kim Tae Hee with brawny himbo Rain that maybe it'll actually work and the opposites attract sentiment may lead to two people complementing each other's strengths and weaknesses. While they did admit to dating immediately after the news broke, they haven't made any public appearances or actually spoken much about each other in public. Korean netizens are completely against the couple for reasons that make no sense to me, something to do with scandal-prone Rain not being good enough for sweet and sensible Kim Tae Hee. I'm sure she likes him for reasons aside from his peccadilloes, perchance he looks good in a muscle T or worships the ground she walks on, who knows?
Rain was in the US in late January for final filming on the Hollywood flick The Prince co-starring Bruce Willis and Jason Patric and he's not exactly an obscure celebrity stateside since he had two Hollywood releases in recent years with Speed Racer and Ninja Assassin. So it's no surprise that in early February Rain was recognized visiting Six Flags Magic Mountain outside of LA with Kim Tae Hee in tow having a genuine couple's day out. Fans who bumped into them said Rain was totally energetic and outgoing and doing the leading around the park and the two of them were cheerful and having a great time on all the extreme rides. Afterwards they were seen dining at a nearby restaurant for dinner. This isn't the first time Kim Tae Hee has been spotted with Rain outside of Korea, she reportedly joined him in Singapore when he was there last December for some promotional activities with the release of his new album Rain Effect. Considering how famous they are in Korea and how much K-netizens don't like them together, I wouldn't be surprised if they never do anything domestically and save their happy getaways for overseas where there is less hoovering censure from the international public.
I think they are adorable together and Kim Tae Hee has tried in subtle ways to sensibly dispel what people think about them as a couple. In various interviews last year, she revealed that she's not perfect like the image she's been given, she's rather slow on the uptake and sometimes blurts things out rather randomly and even out of context. LOL, I knew I liked her for a reason. She revealed that she doesn't pre-judge someone based on the public reputation and tries to get to know someone personally before having an impression of that person. She doesn't like forming an opinion based on what other people tell her about another person. Her dating style is very slow and long, she's never dated someone for only a few months and usually for a couple of years. I guess that means no wedding bells until at least another year of dating if not more. Take your time, my pretties.