Perfect. The ending sequence to episode 20, the penultimate episode of You From Another Star, was absolute sheer hilarious heart-stopping perfection. First time this drama made me cry, and it did so in a way that seamlessly unfurled the romance between the two leads that had been built up until this point. I had a hunch the moment the awkward shoehorned in serial killer Jae Kyung scenes came to an end the drama would finally hit it out of the park. I still think this drama is shockingly overrated until now, but I loved episode 20 for all its mellow scenes of two lovers who are facing the Catch-22 choice of death or eternal separation. I like to think there is a third choice in a happily ever after, and my gut tells me this drama is going to end well for everyone not named Jae Kyung, but the OTP don't know that so they are in fact dealing with the painful option between sucks and sucks even more. I've been completely underwhelmed with Kim Soo Hyun's performance while equally worshipping Jeon Ji Hyun's sizzling delivery, but this episode felt like they met in the middle and the result was magic happening onscreen.
Below is the cut of the post-credits sequence for this episode which goes down in K-drama history as one of the best marriage proposals ever. I'll remember this one for years to come. Song Yi makes Se Mi record her dancing a marriage proposal and I was laughing and crying along with Min Joon. Se Mi whining about why she has to do it, Song Yi tell her "unni wants to get married", and Min Joon's tears and laughter were such fantastic acting on the part of Kim Soo Hyun. THAT is what I wanted out of him in this drama, that conveyance of centuries of restraint and gravitas paired with a discovery of love as a fascinating emotional core. This massive out-of-this-world popular hit is ending tomorrow and I'll lay bets that Star fans will be giddy with glee when all i said and done. It's a fluffy manga romance that really gelled at the end for me in terms of the romantic hook and now I'm super excited to see what the drama has in store to sign off with a bang.  Below I've also translated the written preview for the final episode 21. Everyone hold on to your horses!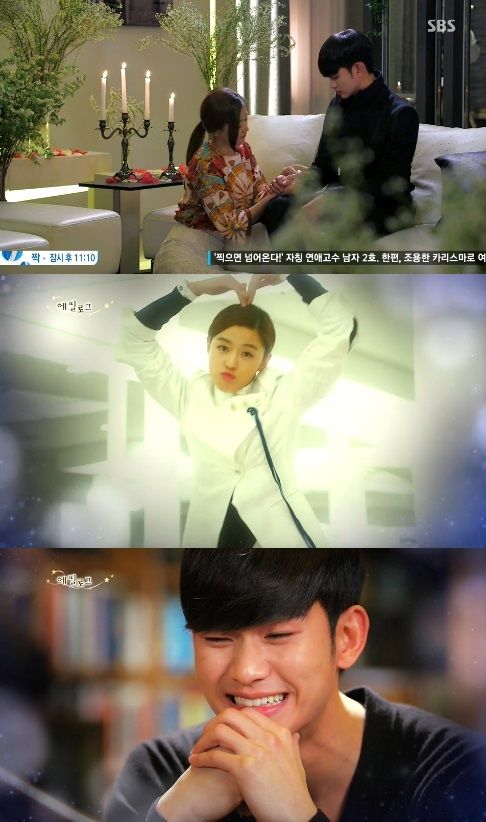 Song Yi's proposal to Min Joon:
[youtube id="xYfhjsOBKUU" w="625″ h="445″]
I've watched this proposal so many times I've lost count. Chun Song Yi continues to set trends and I'm sure the reverse proposal will suddenly be de rigueur among the cool kids for the next wedding season in Korea.
Written preview for episode 21:
The comet streaks towards Earth and creates the most fantastic sky show in 400 years full of shooting stars. Knowing the parting day draws nearer, Do Min Joon prepares his final farewell to Song Yi…..