This was a very painful episode of Secret Love Affair, painful yet I still managed to chuckle a few times here and there. That's life, isn't it? Even in the middle of a maelstrom a person is capable of laughter, the complications of the human psyche deep and unfathomable. We only try to make sense of ourselves, and attempt to make sense of others. Hye Won doesn't even know herself, she hasn't ever truly weighed whether she's willing to pay the price in exchange for the reward. She's merely gone ahead with it, and part of me feels like she does it because she's so good at it. That also feels like life, making a choice with the available information but unable to truly see the full scale of the future that lies ahead. Does Hye Won have an inkling that one day she'll be cleaning up the dirty messes of the uber-rich, selling her authenticity because it brings her proximity to the music she can't play but also can't get out of her soul. This is as close as she'll ever get to the piano, short of just plinking it out at home in a world far far from Seohan Arts Center.
I'm impressed that this drama doesn't go for cheap thrills to reside in a deep dark place of furtive glances and heavy-breathing embraces. This secret love affair is truly one of the heart and soul, but with it comes the natural physical attraction as well. It's alluring to watch even if a tad contrived, making it so that Sun Jae and Hye Won are constantly forced into each other's orbit. I also found Sun Jae's mother's death such a cop-out, making him an orphan and removing the inevitable motherly horror at finding out her young son has fallen for a woman old enough to have mothered him. This story moves now from unexpected first attraction to that conundrum of a question "What to do about it?" that plagues Hye Won but Sun Jae pays no heed to. For him it's so simple – I love you – but for her it's so monumental and earth-shattering. It's also happening at the same time her orderly and well-managed professional world is starting to show cracks all around her. I find my heart hurting for Hye Won and wanting her to find a safe haven from the piranha infested musical world she inhabits. If that safe haven is Sun Jae, then so be it.
Episode 7 recap: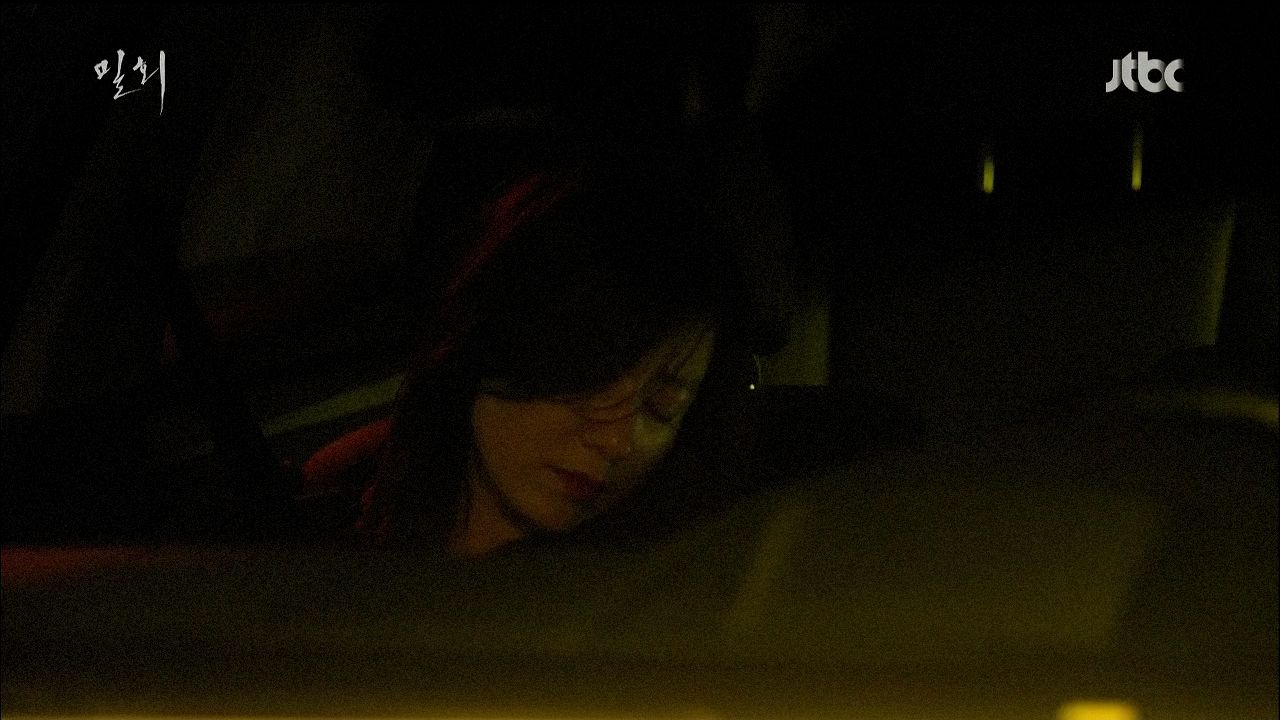 Hye Won sleeps in the passenger seat as Sun Jae drives. He glances over at her periodically. He glides to a stop at an intersection and looks over while Hye Won adjusts her position and pulls his jacket over herself. Sun Jae notices the bandage on her forehead and stares until the car behind him honks and he keeps driving.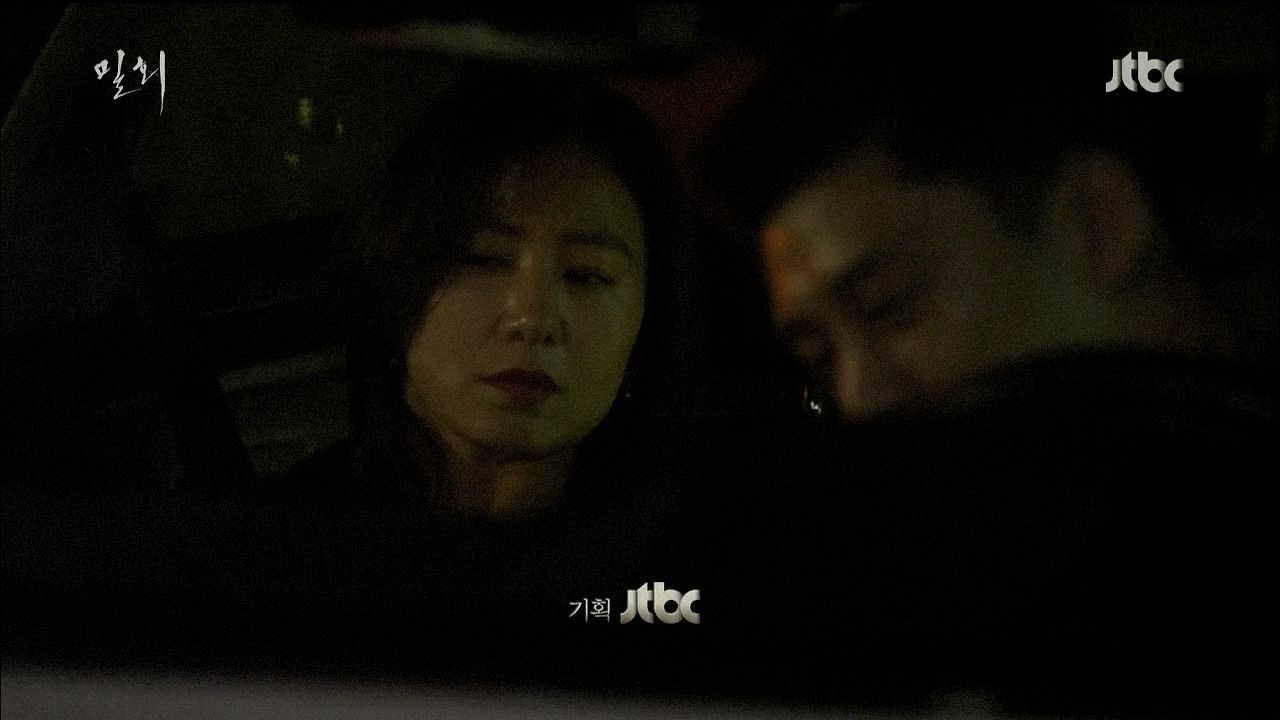 Sun Jae pulls over and stops the car which is when Hye Won sits up and asks if it's been two hours already. Sun Jae explains he's only driven for forty minutes, but I wouldn't be surprised if he's savored the quiet time together like a drawn out two hours. Hye Won leans back to rest again, telling him to just park here for the remaining time.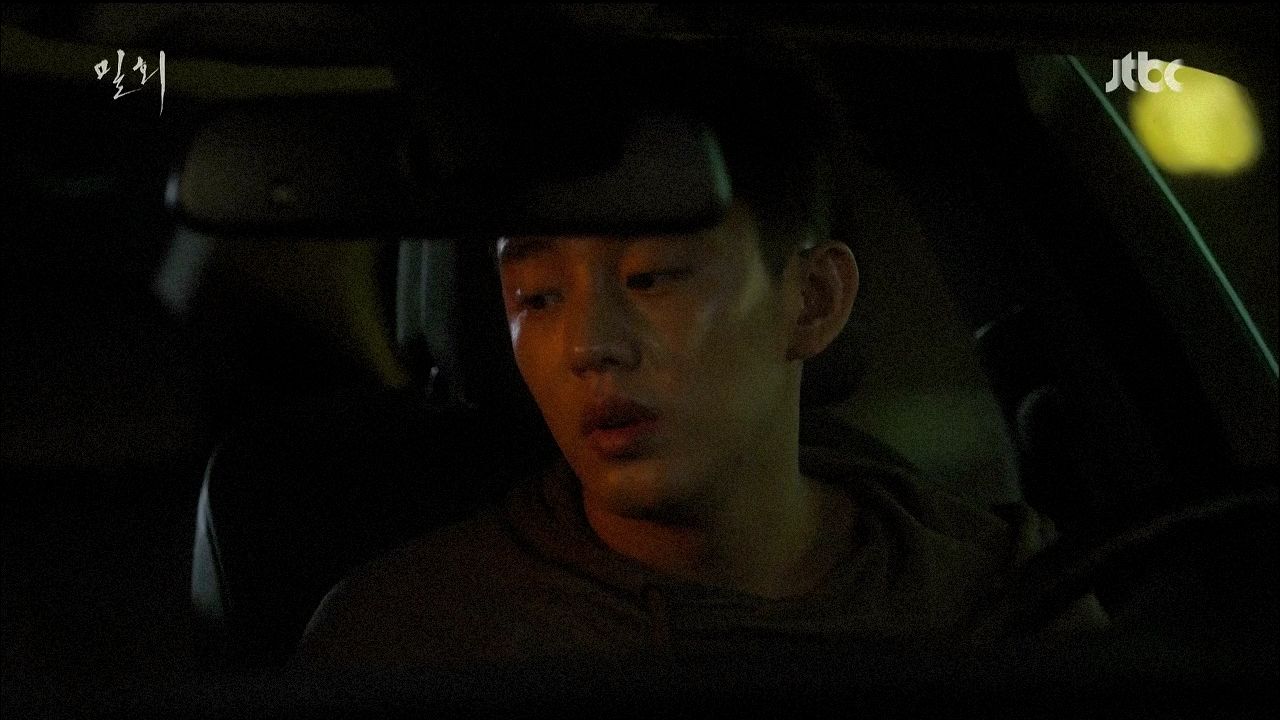 Sun Jae asks about her forehead injury and Hye Won touches it to remember that crazy bitch Young Woo pelting her with mahjong tiles. She turns to Sun Jae and says "Hit by shooting stars." Sun Jae stares and she sighs that he doesn't need to laugh if he doesn't find her joke funny.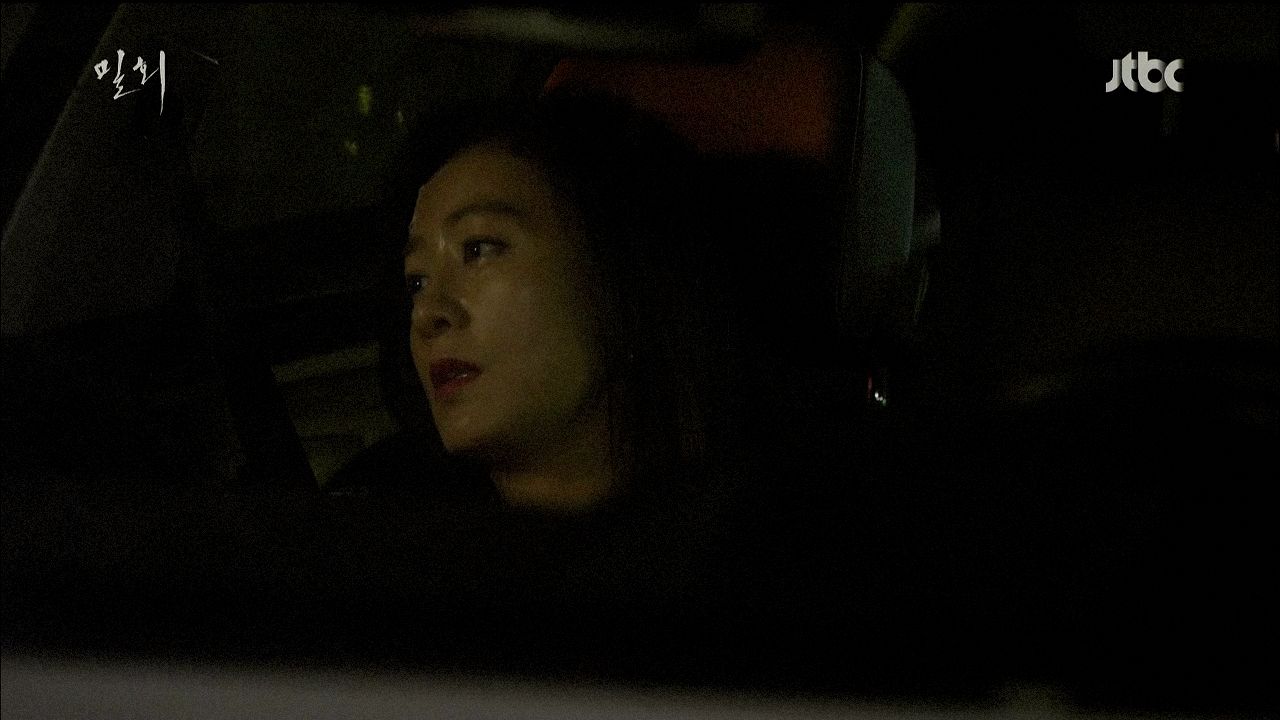 Sun Jae wants to know why she called him out to drive around rather than take her back home. Because home is empty and cold and he's warm and alive, but Hye Won will never tell him that. Hye Won merely says she felt like it and then closes her eyes as if this conversation is ended. Then she opens her eyes and says with resigned sadness "Because sometimes home feels like my work place, that's why." Awwww baby. Hye Won tells Sun Jae to get something to drink and he obediently complies, probably because he knows she needs some alone time right now.
Sun Jae saunters over to the convenience store and picks up a bottle of water. He checks his wallet and then checks his bank account to see he doesn't have a lot of money left. He leaves the convenience store and walks the opposite direction of the parked car.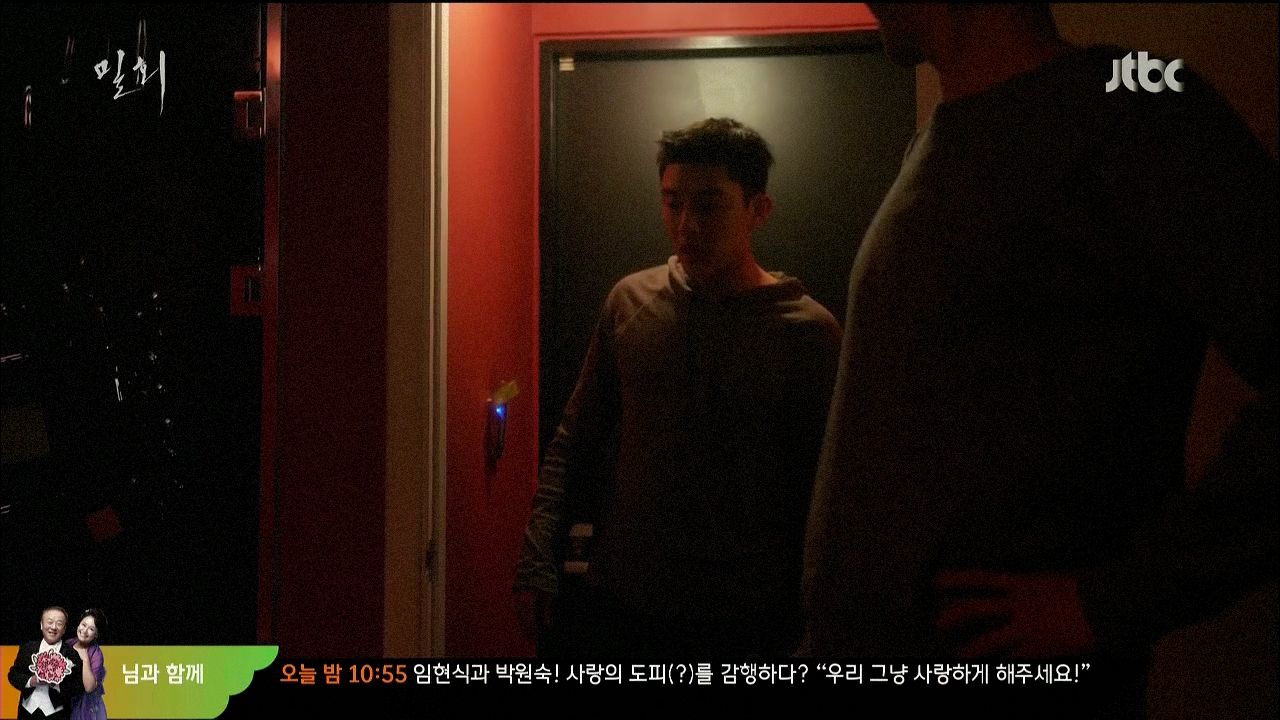 Sun Jae enters a nearby love motel and goes up to the front desk to inquire about getting a room to rest for an hour and a half. He hears the regular room rate and then asks for the rate for the best room. Only the best for his goddess, right? He asks to see the room beforehand and he's shown a room with a giant whirlpool sunken spa in the middle of the room.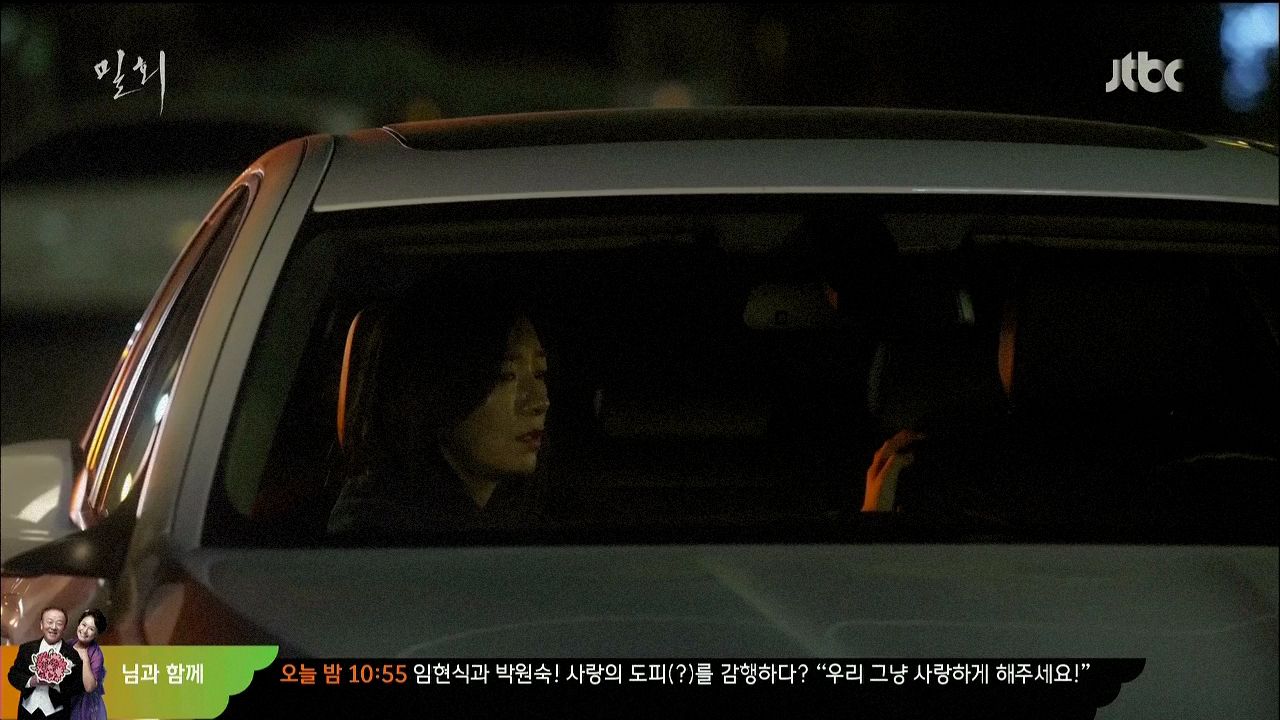 Hye Won waits in the car and looks around for Sun Jae. She sudden spots the love motel and starts to mildly hyperventilate, but in a very refined way that is Hye Won.
The hotel clerk demonstrates all the "gadgets" in the room for Sun Jae including dimmer lighting, porn channels and websites all reloaded, and a special sex chair that provides extra positional pleasures. Sun Jae cringes and clerk assumes his girlfriend wants 5-star service rather than this. Sun Jae wants a room without any of this stuff, just no bugs and very clean.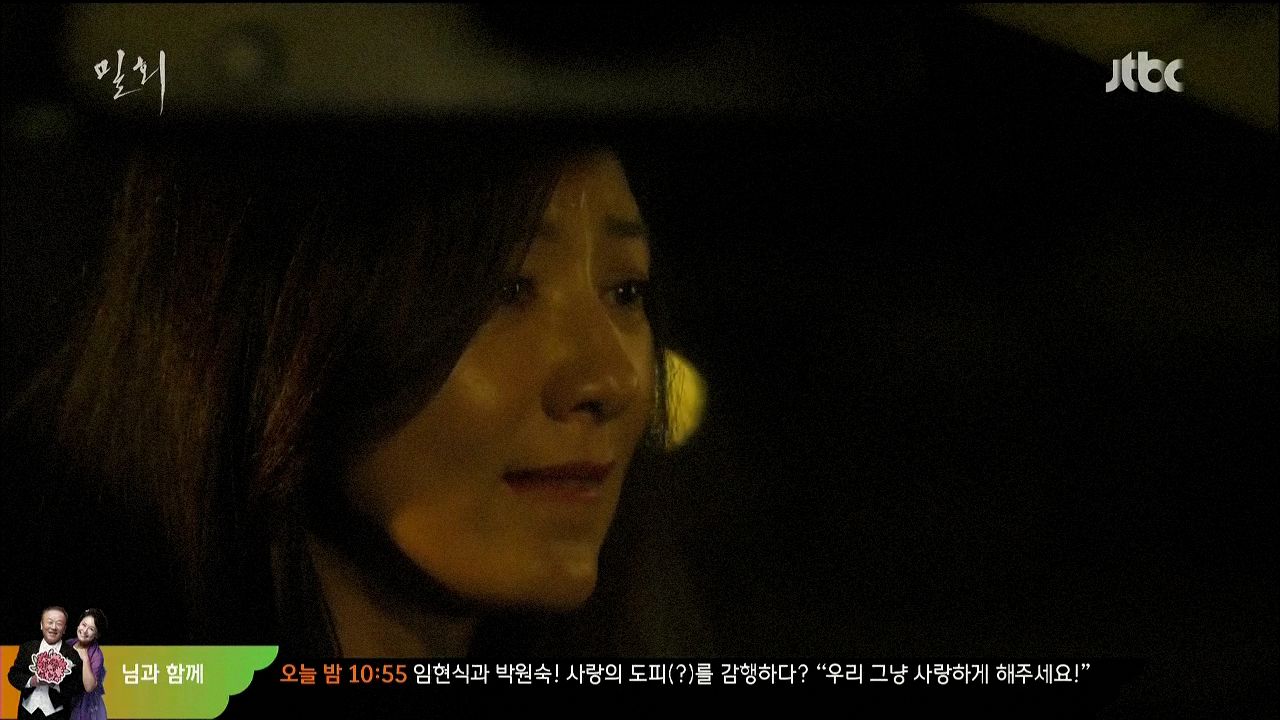 Sun Jae runs out of the motel towards the car and looks around because the car is gone. Oh Hye Won, you did not leave this earnest sweet boy stranded forty minutes outside of Seoul in some random town. Sun Jae calls Hye Won and asks her where she is? He then says in the most adorable way "I got a room, it's clean and doesn't have anything weird in it. You said your home was like a workplace so I wanted to get you a place so you can rest." Grah, I can't even. Hye Won is barely able to talk because she's taking big breathes. She apologizes for calling him out in the first place, it's all her fault because she was trying to run away. Because she didn't want to go to such a place with Sun Jae.
Sun Jae waits by a bus stop and checks his present location on his cell map. He looks around and starts walking in the direction towards Seoul. Hye Won is still barely able to hold it together as she drives back home. Sun Jae is calm and resigned as he walks in the dark.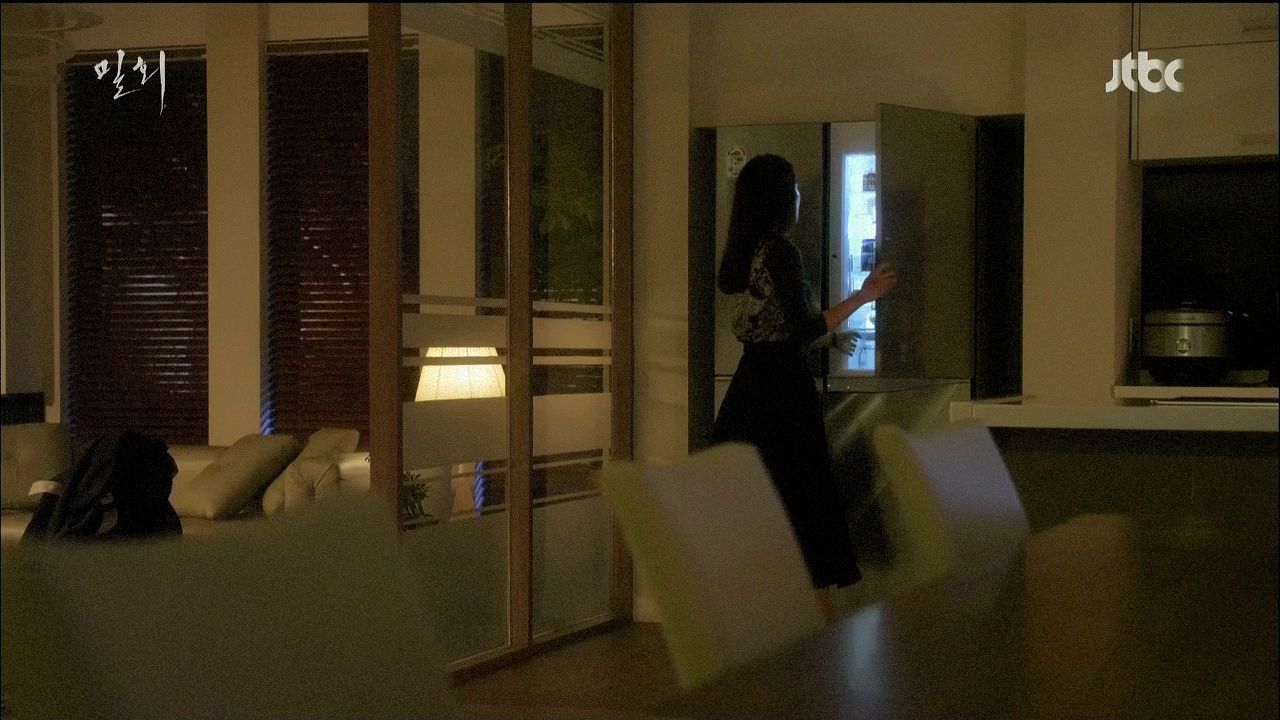 Hye Won goes home and immediately grabs some water from the fridge. She pouring herself a glass when she hears "You're home late" and looks up to see Joon Hyung standing there staring at her. Hye Won says it's not late since this is usual for mahjong nights. He orders her to bring him some tea in the study. Make your own damn tea, loser. That is what Hye Won should say but she takes him the tea like the good wife she is.
Joon Hyung finally notices the forehead injury on Hye Won and she explains it was just her carelessness. He wants her to be careful, not because he cares, but he doesn't want people to misunderstand it to be the result of a married couple fighting. Ugh, my fist, your face Joon Hyung. He then adds "I told you to be careful with what you say or do." Hye Won wants him to be more specific but Joon Hyung says his cautionary words are exactly that. Hye Won turns around to glare at him for a moment before revealing that Young Woo struck her tonight. She leaves and Joon Hyung chases out after her and asks if she's throwing a temper tantrum with him. Such pot calling the kettle black. Hye Won isn't angry but Joon Hyung doesn't like her "tone of voice" back there. Joon Hyung thinks that if others heard back there they would think her tone of voice was implying that he ordered Young Woo to hit her.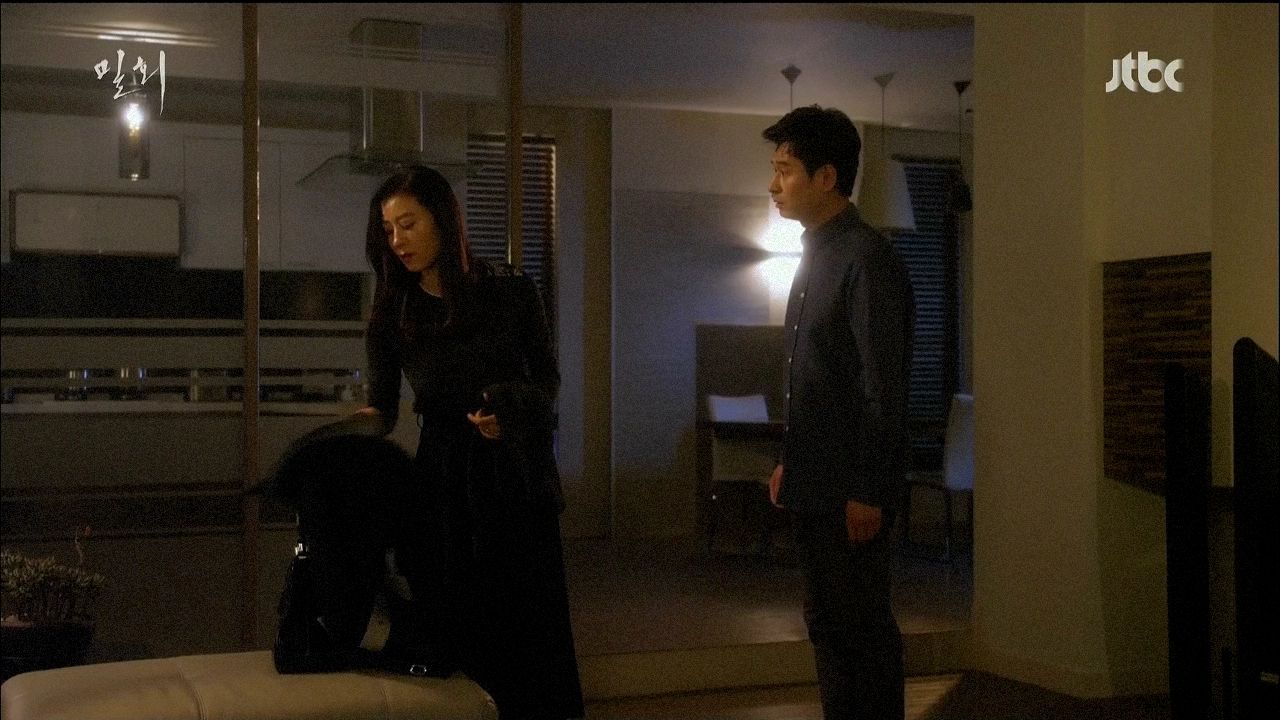 Hye Won smiles and walks away while pointing out that he cares a lot about what others think and what others see. Joon Hyung demands that she not pick at his words. Hye Won raises her voice (WOW) and says that he needs to be comforting her right now rather than mocking her if he cares so much about what others think. To have this kind of life, is the price she needs to pay to allow Young Woo to just hit her and strike her? Joon Hyung yells back right in her face "WHO TOLD YOU TO DO ANY OF THAT!" Oh you fucking piece of toady shit with low self-worth.
Joon Hyung claims Hye Won wants name brands and is the one who aspires to make connections with the rich. She gets to enjoy all those things and this is the consequence that she brought on herself. If she doesn't like it, then stop now! Hye Won says sure – she can stop and they can give up this house, her job, his professor position, spit it all back up to give back. Return to their twenties when they had nothing. If she could do that, she would be happier. Hye Won walks away near in tears while Joon Hyung yells "Go back if you want!" He then walks past Hye Won's closed door and snarls "You must really want that."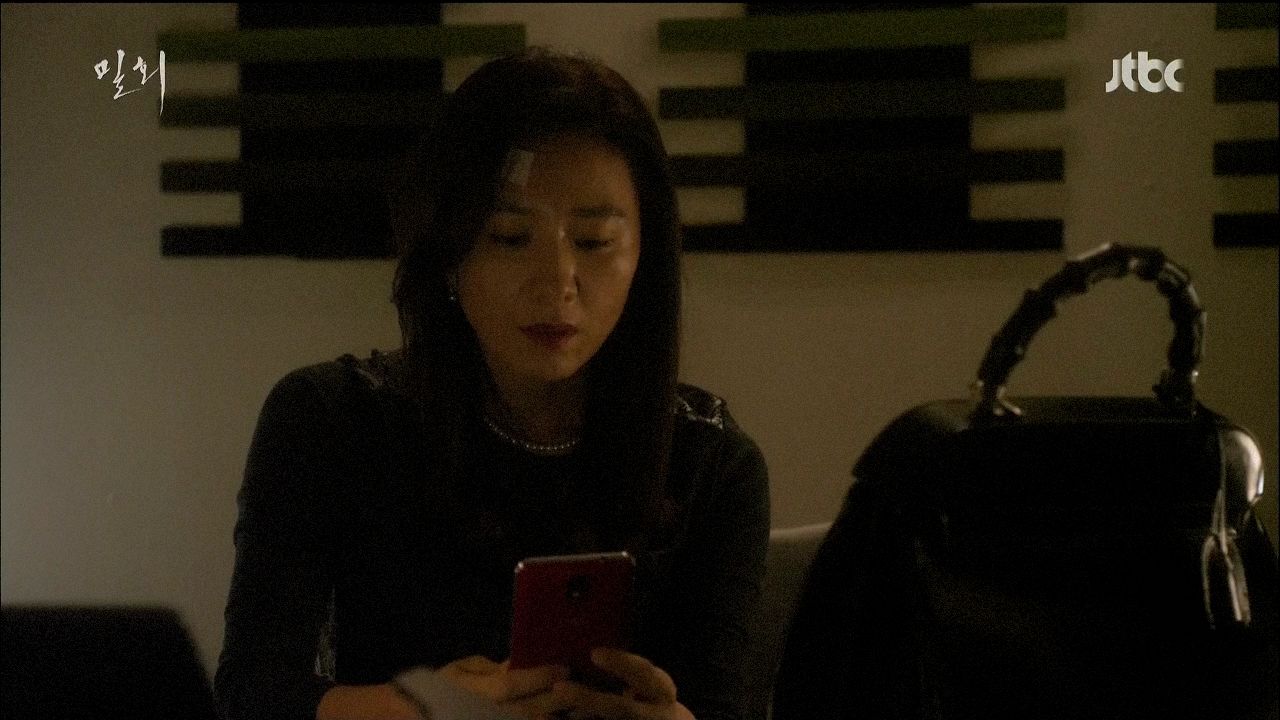 Joon Hyung is about to ransack his desk to vent but he can't even do that and puts the book he was about to toss back down. Hye Won curls up in front of her desk and then finally takes our her cell phone. She finds a text from Sun Jae saying that his house key is in his jacket pocket while he left his jacket in her car. He's also right outside her house now. Hye Won grabs his jacket from her car, the jacket that he took off to cover her with while she napped in the passenger seat. She rifles through the jacket pocket and takes out the keys and stares at it.
Sun Jae is waiting outside the front door when suddenly the door opens and a hand deposits the jacket outside before the door closes. Sun Jae's mouth drops open at the lengths Hye Won will go to to keep her distance from him. It's pretty funny actually. He puts on the jacket and gets a text from her chiding him to keep better track of his own things. Sun Jae text back "I don't know what I did wrong, I didn't even ask you to sleep with me." LOL, you did nothing wrong, kiddo, and that's the problem.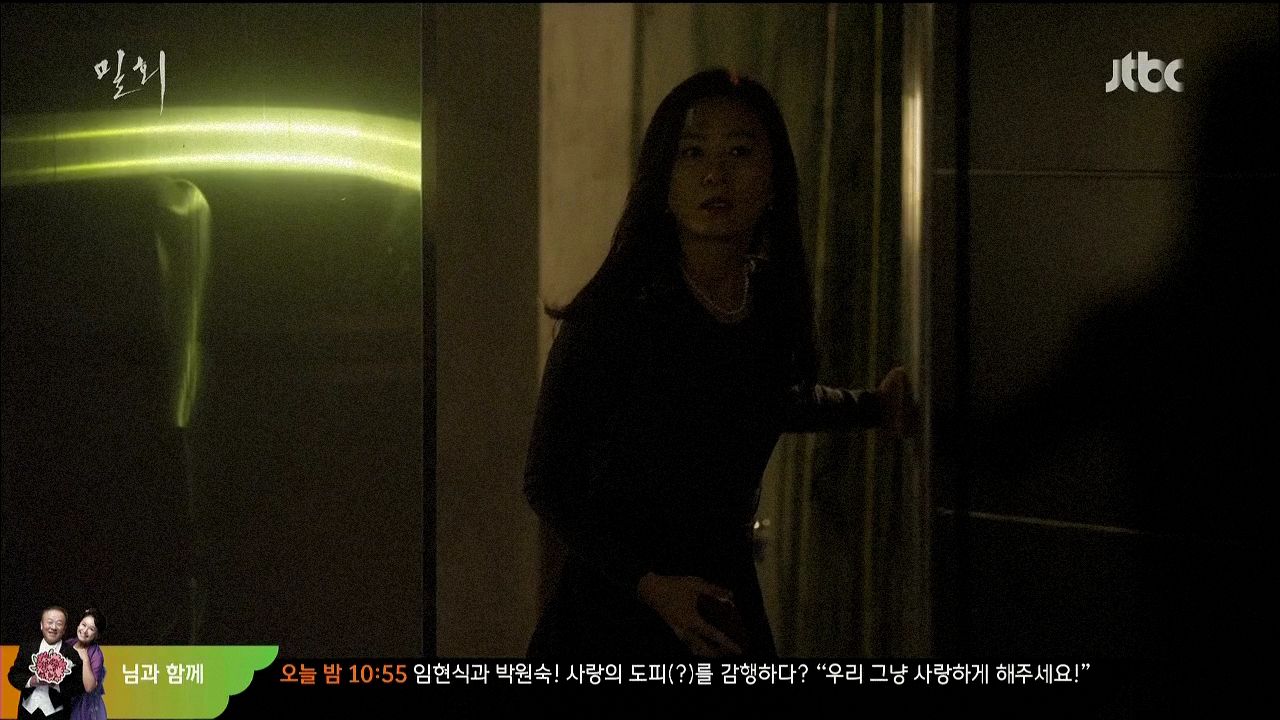 Hye Won texts back "You don't know? You think I would have beautifully swanned after you there." Sun Jae texts back that he just wanted to do something for real after what she said. Hye Won claims she doesn't believe a word he says but everything he says is sincere. It's sincere because he loves her! Of course he hopes one day they will sleep together, but today it wasn't that. It was because she said she was in such pain. Hye Won opens the front door and rushes out but Sun Jae has already left by then.
Hye Won takes a long leisurely bubble bath and she looks near tears again. Sun Jae lays in his cramped apartment and sighs in frustration. After her bath, Hye Won takes off the first bandage and puts on a bandaid over the forehead cut. Joon Hyung walks right past her. Lovely marriage you two have there.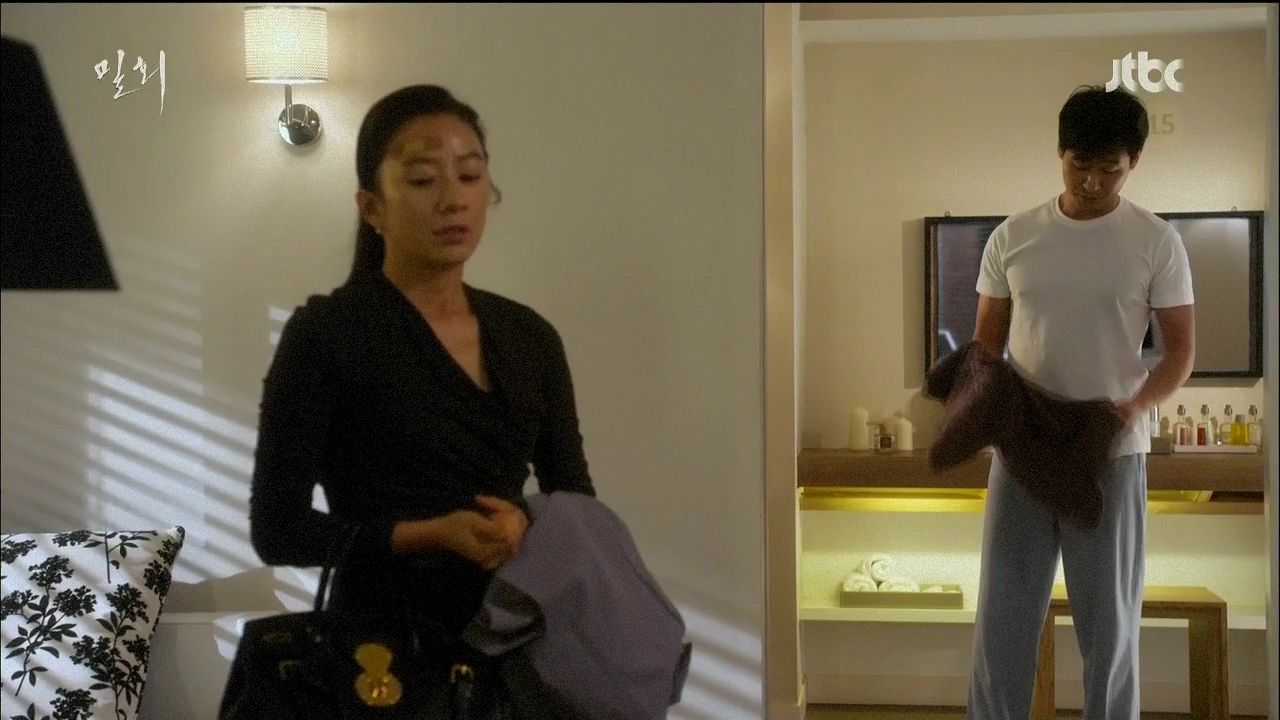 The next morning Hye Won peers out the window but Sun Jae isn't there on his morning goddess worshipping run. Joon Hyung apologizes for being angry with her last night, it was all his fault. Hye Won murmurs "it's no big deal" but Joon Hyung explains that he was actually angry at himself for being so useless that she needs to endure such humiliation. Hye Won cuts him off using jeondaemal and Joon Hyung asks why she's speaking in polite language and it's scary.
Hye Won reverts to banmal and apologizes, turns out she's angry still as well. She tells him to breakfast while she's heading out for a morning meeting. Joon Hyung nervously asks who and hears it's with the Chairman to discuss Young Won. Joon Hyung asks if she's coming to Sun Jae's audition today and Hye Won says she can't. She leaves but Joon Hyung calls out to her like a nervous little boy "Don't be mad anymore."
Hye Won calls Sun Jae to ask why he didn't run by in the morning? If he has decided to do something, he needs to stick with it. Sun Jae is avoiding her thinking that she's mad at him. You know, in so many ways, Sun Jae and Joon Hyung have the same low EQ, except one is twenty years older than the other. Hye Won doesn't see the need to avoid, and then switches topics to his music choices for the audition. She reminds him not to infuse his feelings into the piece after the cadenza. She explains a famous pianist who is marvelous because she uses calm to play a passionate piece thereby showcasing its full power.
The other end is silent and she asks if he's really angry at her or just wants to toy with her? Is he really playing mind games with her? Sun Jae understood what she said and he doesn't want to do any games. Hye Won barks at him to just do well at his playing and then hangs up. Sun Jae is about to text Hye Won that he will do well but then goes to get ready in the shower but can't stop thinking about what Hye Won said to him yesterday night.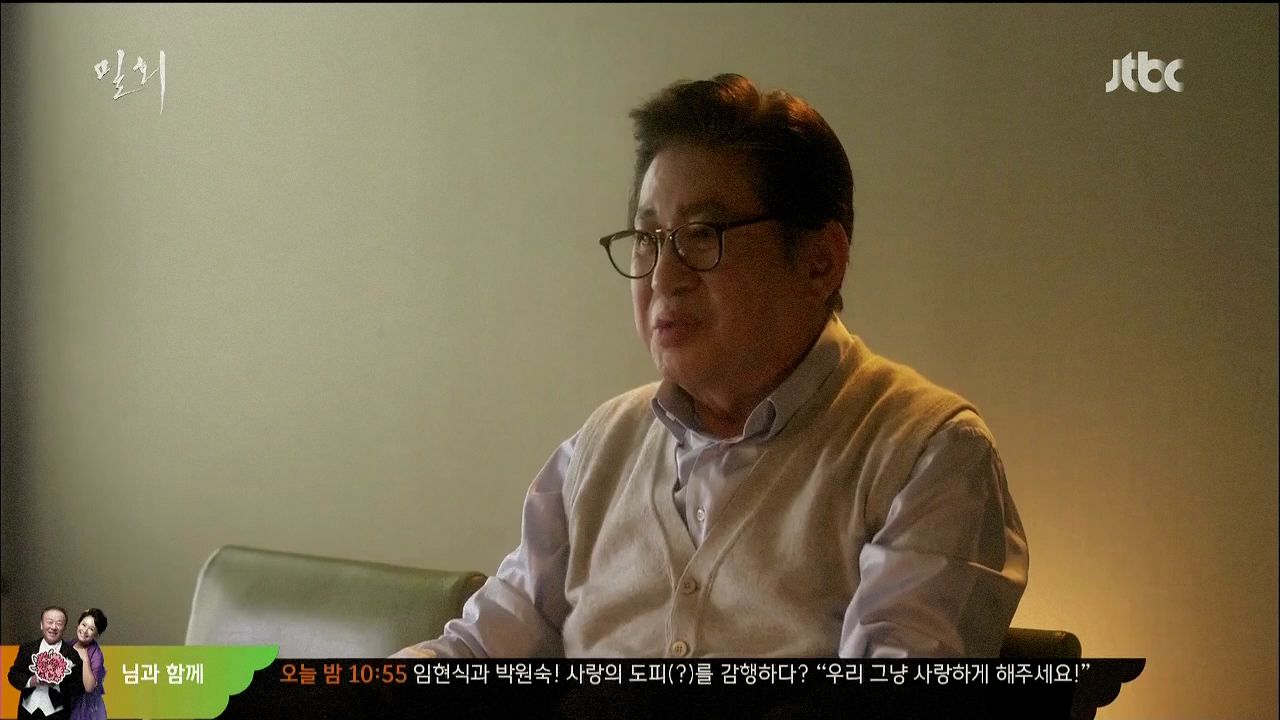 Hye Won meets with the Chairman and immediately apologizes for last night but the Chairman waves it off. To placate Young Won, her position as Director will be maintained, but the Chairman is elevating Hye Won to Vice-Director. He asks if she's disappointed and Hye Won answers "Disappointment should be saved for last." He likes that very Hye Won-esque answer. Hye Won used to say it didn't matter the position as long as actual power is had, and now she'll be giving the decision making over the new venture.
The Chairman asks Hye Won to do another separate investment with him. She asks for what and he asks "You really don't know?" which makes Hye Won look down because she clearly knows. He confirms that Madam Han bought a few painting at the Paris auction recently with the intention of keeping it as an investment. He then changes the topic back to Young Woo's new company and making sure it doesn't get her in trouble down the road. Hye Won explains it'll be registered for importing so even if later art will be included in the products it can be.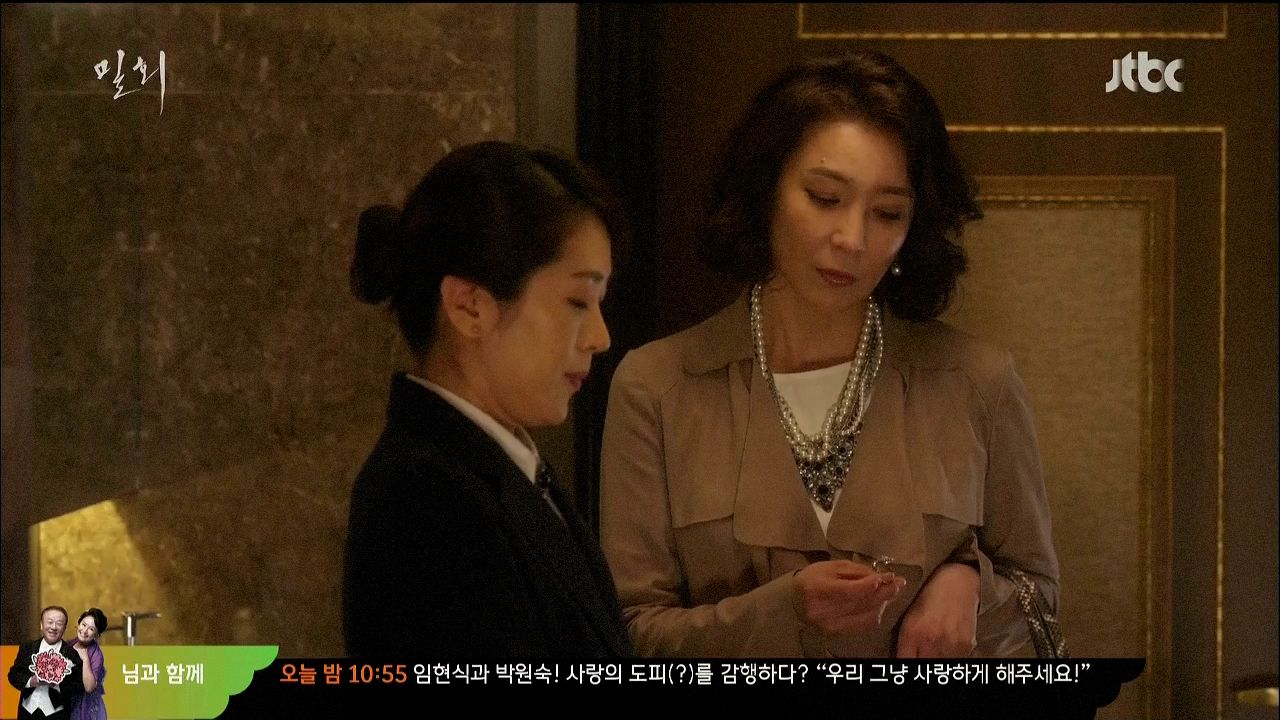 Madam Han gets the update from her secretary about Hye Won's breakfast with the Chairman followed by meeting Young Woo at the clothing district to do research and won't get into the office until 3 pm. That's when Madam Han will head to the office then and she has her secretary schedule a meeting with Professor Baek first. The secretary is putting the Chairman's coat away and pauses so Madam Han walks over and asks if she found something strange? The secretary found a diamond ring in his pocket and shows it to Madam Han.
The Chairman asks Hye Won if Madam Han knows about "it", i.e. his banging the poor soup ahjumma. Hye Won almost chokes and assures him that Madam Han doesn't know and is surprised that the Chairman seems to like that lady a lot. The Chairman calls that ahjumma quite unique, at times cold as ice but then she can be passionate as fire. Ewwww. Hye Won barely can force a smile. The Chairman muses that it would be great if he could take her away for a month somewhere. He then looks at Hye Won "Can that be done?" Oh dude, c'mon, she's not the Miracle Worker here. Hye Won points out that longer he's away the more leaks will form.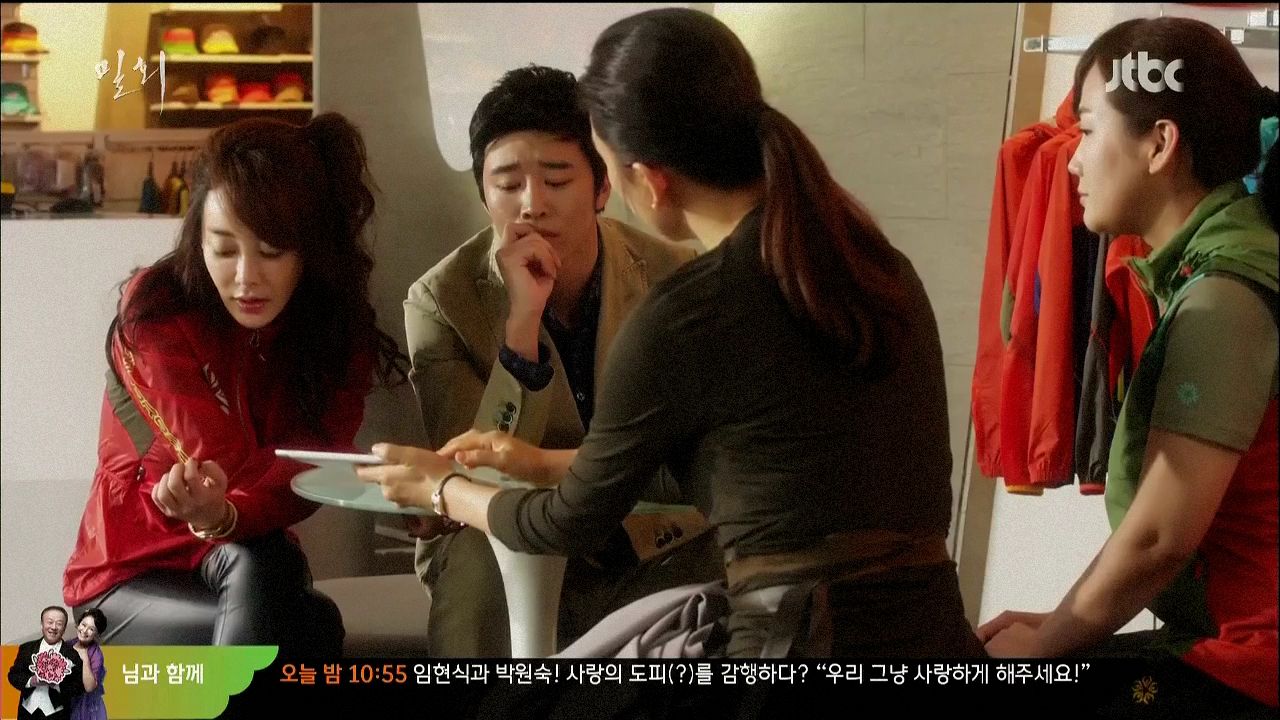 Hye Won goes to a store where Young Woo is already trying on outfits with her boy toy looking on and complimenting her as pretty enough to be a model. Young Woo acts like she didn't try to bash Hye Won's head in last night and greets her casually. The boy toy snarks at Hye Won's late arrival due to her clearly busy schedule. Hye Won has no time for such fools and wants the store clerks to meet with them now. Hye Won explains to Young Woo that SeoHan Fashions will focus on a male outdoor clothing concept and she'll handle all the accounting and logistics. The boy toy wants to be involved with the CF campaign and Hye Won will consider it as long as it's appropriate.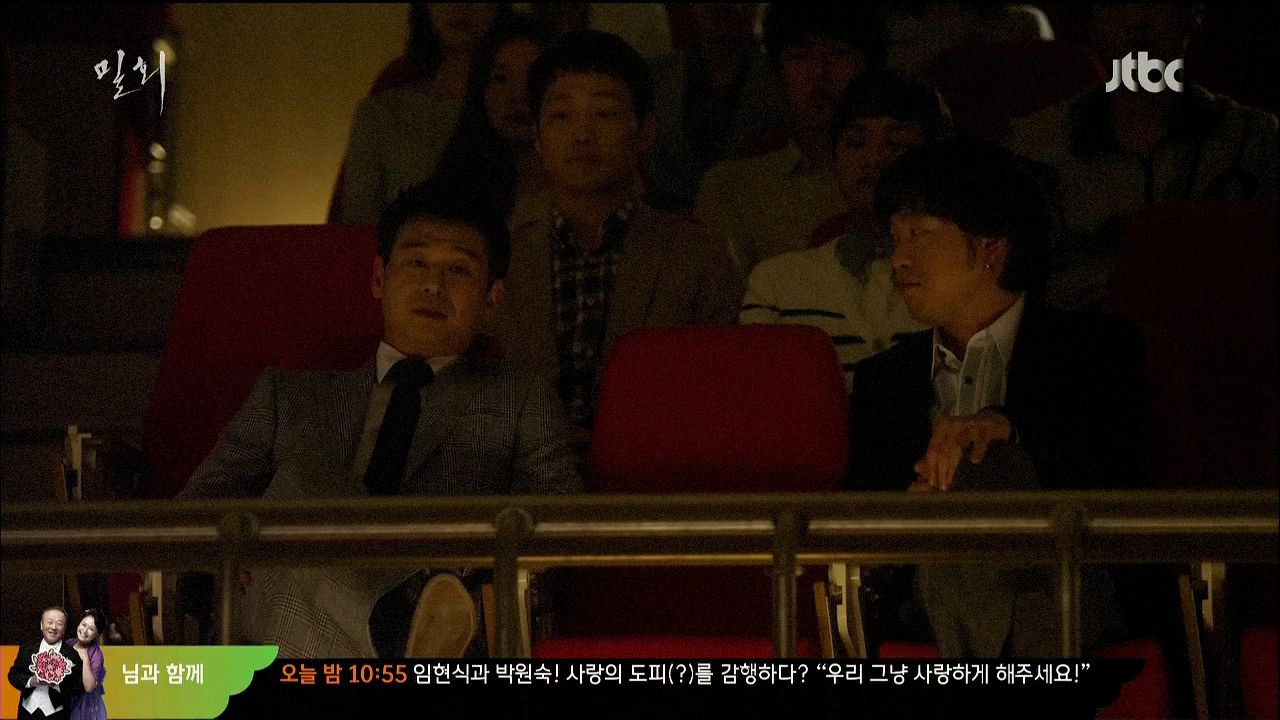 Sun Jae sits down for his piano audition with the audience packed with professors and other students. Joon Hyung tells Professor Jo that Sun Jae is playing Liszt's Spanish Fantasie. When asked if Joon Hyung prepped Sun Jae, he says of course it's him, who else can it be? Professor Jo interjects "Hye Won…I mean Manager Oh, where is she?" Love the subtext, guy. Joon Hyung claims Hae Woon is so busy lately and only occasionally takes note of Sun Jae. He tells Sun Jae to start now and then flashes back to all the interactions he saw between Hye Won and Sun Jae.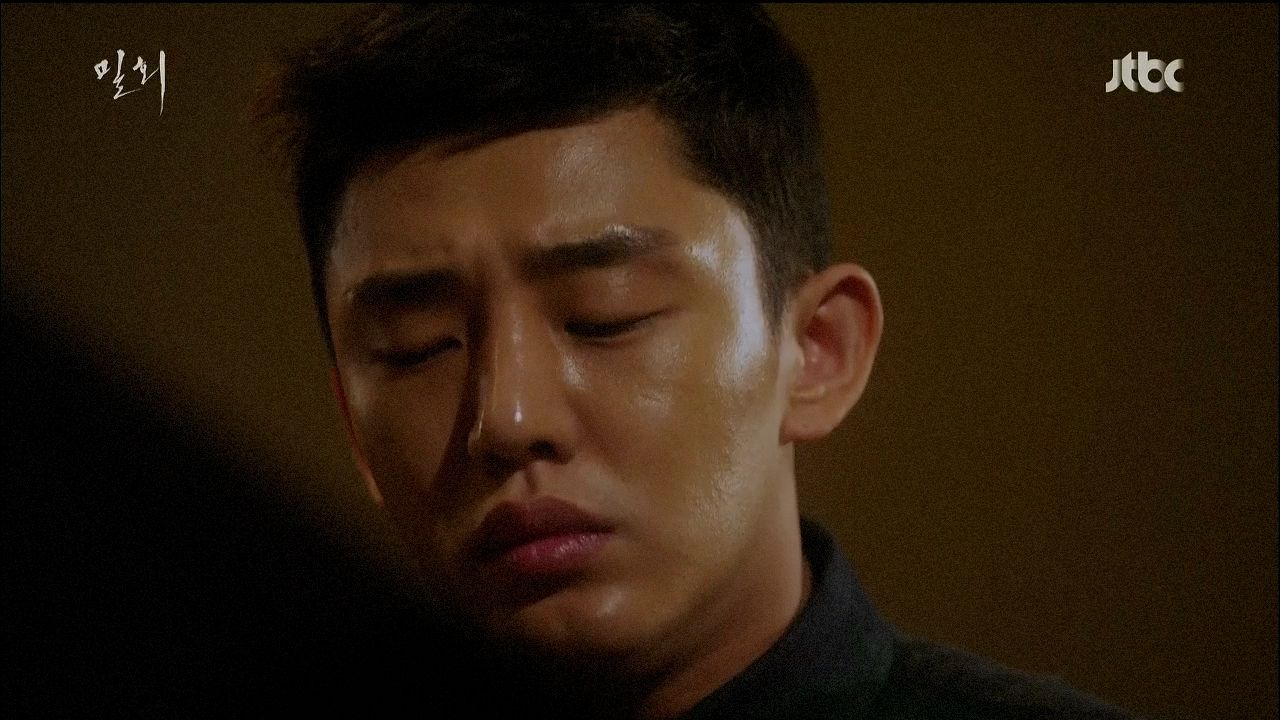 Sun Jae starts playing, and people you all need to listen because this is impossible to recap the majesty of his piano playing. The audience listens raptly to his playing, which is fluid and controlled, lively without being bombastic.
Sun Jae remembers playing his performance recording for Hye Won in his apartment and watching her listen. Hye Won is currently sitting in her office clearly imagining Sun Jae playing and hearing it in her head.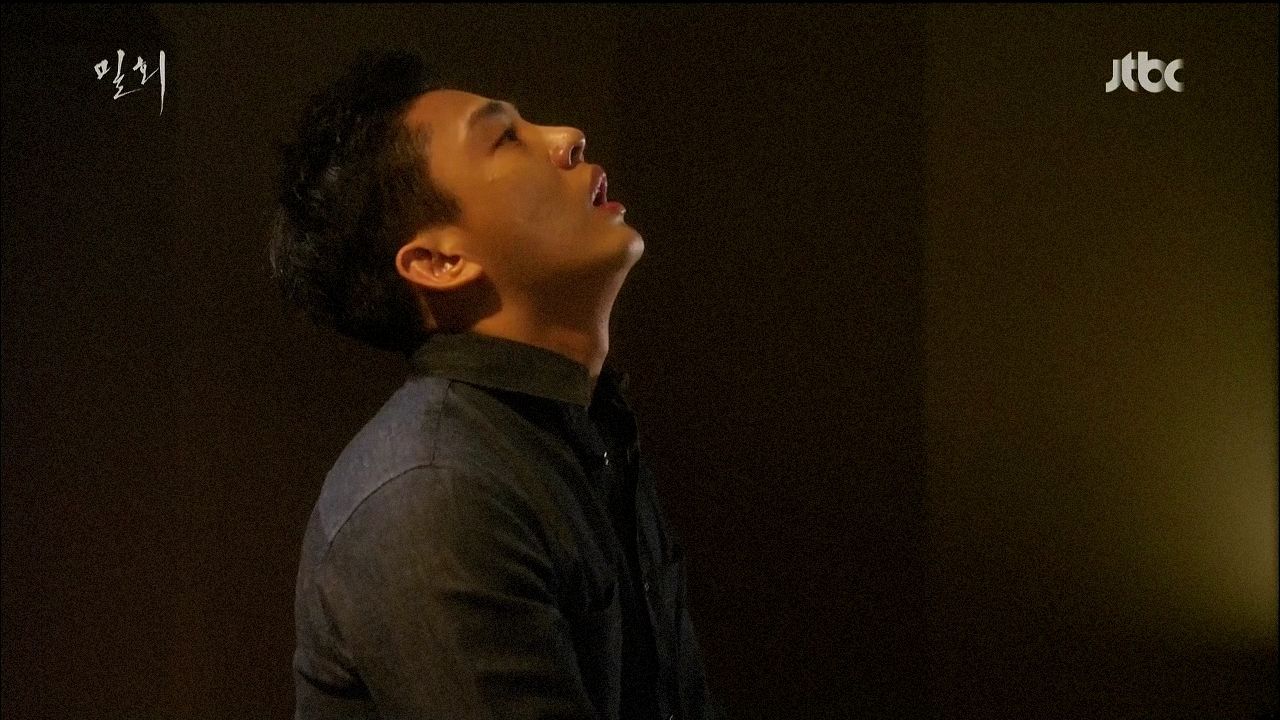 Sun Jae ends his performance to earnest clapping from the audience. The professors head down to the stage to talk with the wiped out Sun Jae who has unbuttoned his shirt and is taking deep breathes.
Professor Jo claps as he walks up to Sun Jae and points out that he made nary a mistake today. Joon Hyung is also pleased and then introduces Sun Jae to Ji Min Woo. Professor Jo explains the two young men need each other in the future to spur each other one. Joon Hyung suggests a piano battle in the future and Min Woo is excited about that.
As Sun Jae walks with Min Woo, he hears that it was Hye Won who discovered Min Woo and placed him with Professor Jo. But he considers Hye Won his real piano teacher. It's been a long time since she taught him and he still misses it. Min Woo is like a little friendly rabbit and asks Sun Jae to exchange cell numbers. Sun Jae doesn't want to and Min Woo runs off to catch up with Professor Jo.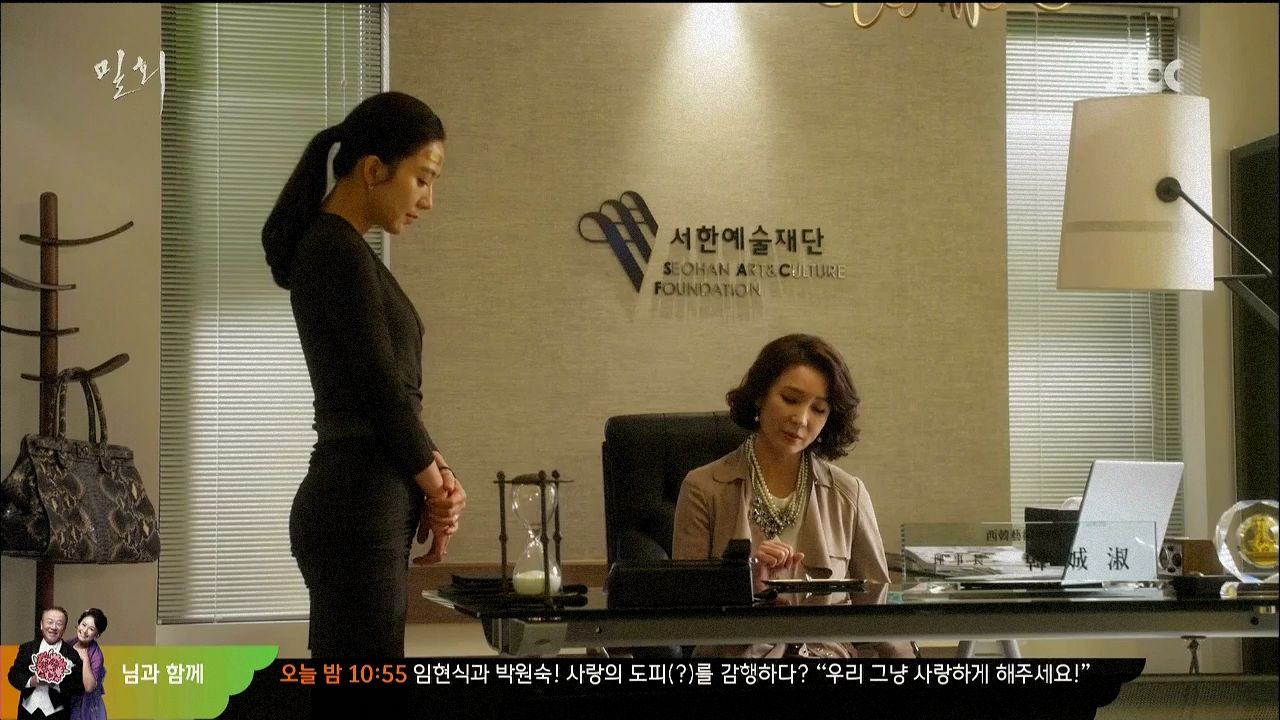 Madam Han's secretary finds Hye Won to inform her of an emergency – Madam Han knows about the Chairman and the soup ahjumma! Hye Won chides her for telling Madam Han without coming to her first and the secretary says Madam Han saw it with her own eyes. Hye Won walks into Madam Han's office to find her playing with the ring on her desk. Madam Han says the ring didn't come in a box, like it was given and then taken back. She thinks the Chairman did this to show her.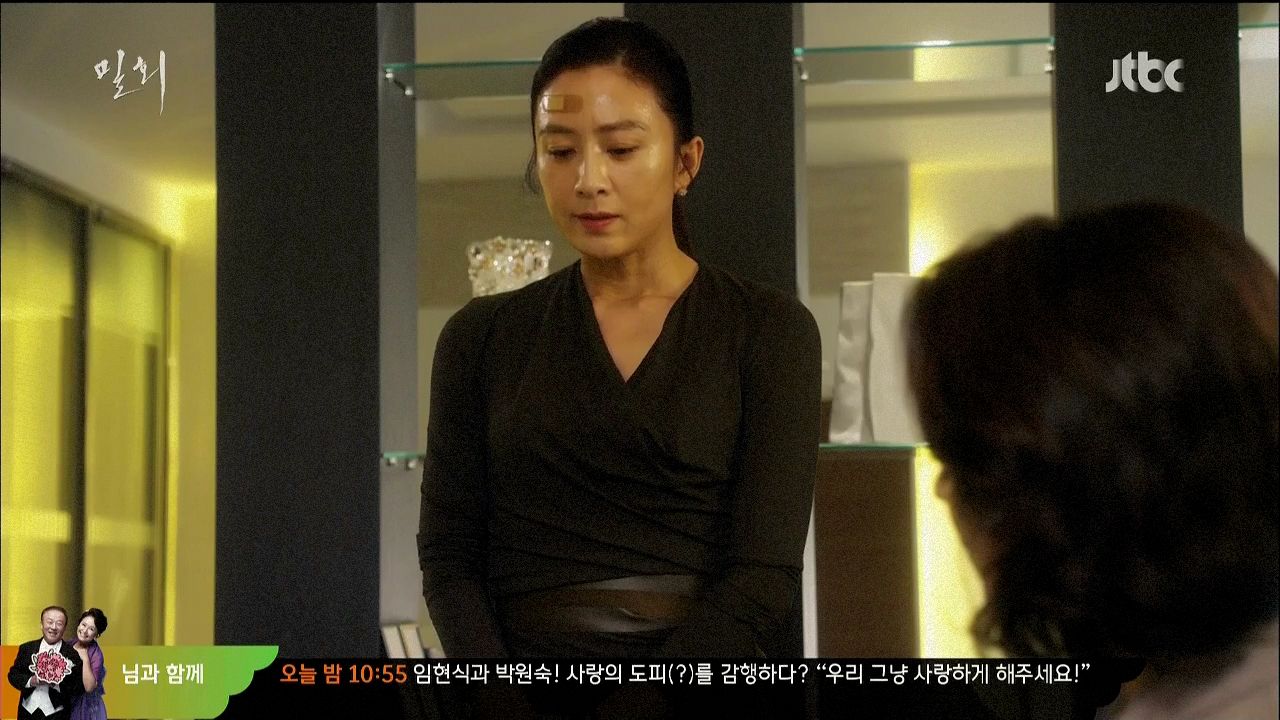 Madam Han asks if Hye Won knows anything but Hye Won claims she doesn't. Madam Han considers this a dereliction of duty from Hye Won who accepts that. Madam Han wants to know if Hye Won is mad at her for not getting her a Director position in Young Won's new company. Hye Won looks resigned and says it's not that. The worst case scenario in Madam Han's mind is Young Won introduced a woman to her dad with Hye Won's assistance on the side. She thinks it's totally possible Hye Won did that. Hye Won can only say she is very hurt by this accusation. Madam Han tells Hye Won to prove her innocence then. She looks at Hye Won and says "handle this cleanly, got it?" before walking out.
Hye Won is so overcome she stands there with her hands on her head. Later Hye Won's secretary tries to call the ahjumma's cell but it's disconnected and the ladies wonder how the Chairman gets in touch with her. Word has it the ahjumma has quit working at the restaurant as well. Hye Won gets up to go look for the ahjumma the old-fashioned way and tells the secretary to just manage Madam Han's matters well.
Sun Jae is hanging his clothes to dry in the apartment when Da Mi arrives asking how he did today in the audition? Sun Jae did well but he doesn't feel good. Da Mi doesn't intend to come in but merely wanted to check on him. Sun Jae asks her to come by more, he wants to see her and Jang Ho so that he doesn't forget his roots and suddenly thinks he's someone amazing. Da Mi threatens to kill him if he forgets that he was barely a high school graduate working as a messenger. Sun Jae asks her to call in the future when she comes over and makes the excuse that his professor might be around in the future. Da Mi agrees despite how weak his explanation was.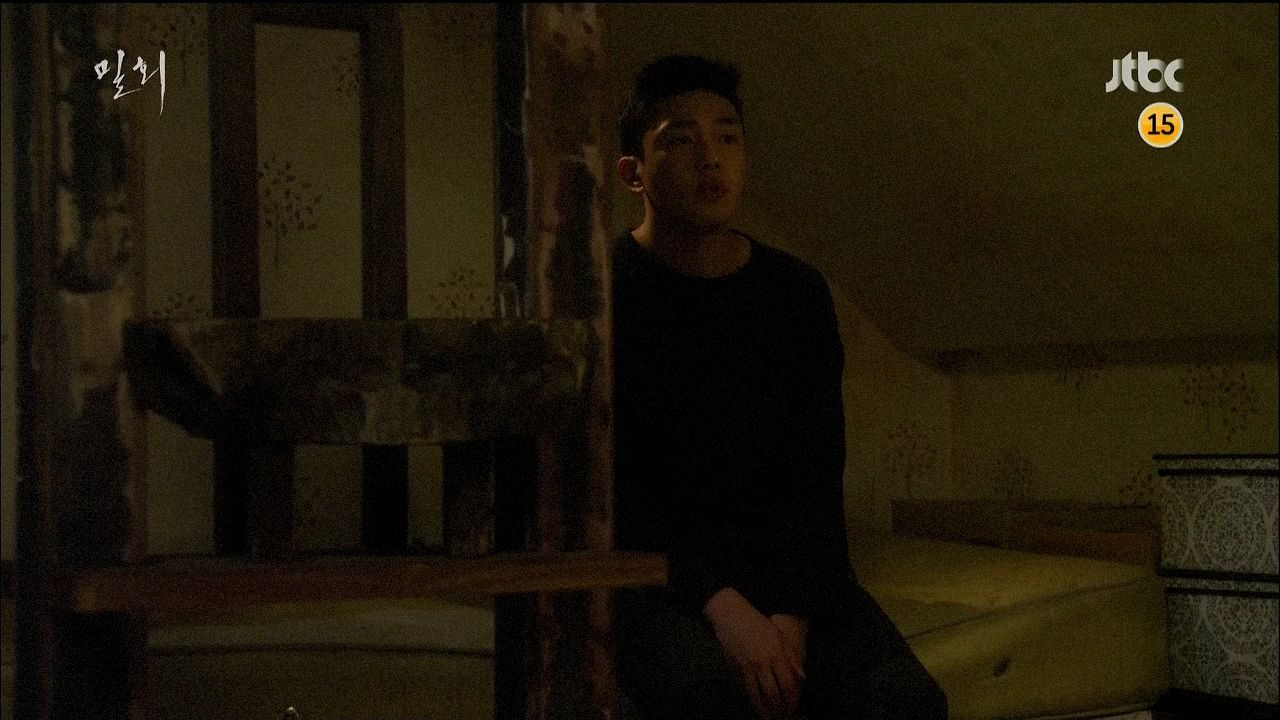 Sun Jae sits on his bed and thinks about Hye Won.
Hye Won finds the ahjumma working at a cafe now but the ahjumma doesn't want to talk to Hye Won. She persuades her to talk with some friendly chit chat and offers of alcohol. The ahjumma declines beer and wants hard liquor. The two ladies drink and the ahjumma tells Hye Won to take her things and leave now. Hye Won likes the ahjumma's straight talking nature which is why the Chairman likes her as well. Hye Won takes out the diamond ring and asks if the ahjumma has seen this before? She has. The ahjumma cuts to the chase, the Chairman put it on her and then wouldn't leave her alone. She shoved it back to him and run off. Looks like his wife caught him with it now, right?
The ahjumma tells Hye Won to convey were exact words to the Chairman's wife "I slept with that old dude twice and he was so dull I kicked him to the curb so she has nothing to worry about." Hye Won doesn't understand so the ahjumma makes it clear that when she broke it off with the Chairman, he bought the ring and continued to try and get her back. So she quit her job, changed her phone, all the evade him. The ahjumma believes everyone is equal and she determine her own life. If she wants something, she can pay for it. But a man who has money forcing a woman to do what she doesn't want, she won't do that.
Hye Won takes the ring back and asks the ahjumma for a direct reassurance since she's just a messenger. She wants the ahjumma to say that if the Chairman finds her in the future, she won't communicate back. The ahjumma yells at her for wanting more than she just said since she already said she didn't want the Chairman! She scoffs at Hye Won dressed in name brands and refusing to take what people say at face value. She splashes a glass of water on Hye Won for being the messenger of those rich people but unable to communicate like a human being. She storms off and warns Hye Won to never show her face again. Hye Won wipes the water off her face and tries to process her own shock and pain.
Hye Won calls Madam Han to convey the news that the ahjumma is done with the Chairman. She then reminds Madam Han of tomorrow's ceremony to enroll Sun Jae in the University. She ends the call and sits in the car looking devastated.
Madam Han is playing the guitar for the Chairman as he sips his tea. She then sets the guitar aside and pulls the Chairman up to embrace him tightly while swaying to her humming a song. The Chairman clearly can tell something is off and just lets her finish. Madam Han then asks for a present and he wonders what she wants? She wants him to get a vasectomy. The Chairman says "what?" and then Madam Han knees him hard in the groin while still hugging him tightly. OMO!
Madam Han thanks Hye Won for making her evening quite entertaining and decrees that Hye Won has regained her trust. Hye Won says "thank you" with her head bowed low.
The secretary knocks and brings a group of people including Sun Jae inside to greet Madam Han who is pleased to see him as the latest talent to join their school. Hye Won grabs Sun Jae's file and reads out the scholarship bequest to him. Madam Han then takes the scholarship papers and hands it to Sun Jae all while cameras are capturing this moment.
Young Woo comes in just then and asks what everyone is doing. Madam Han invites her to join in the pictures even though this is a arts foundation matter. Young Woo sees Sun Jae and remembers him as "that kid" from last time (the one she accused Hye Won of sleeping with in exchange for school entrance). Young Woo stares at Hye Won and says she'll keep on eye on them to see how long they can use this method to cover up their wrongdoings.
Young Woo tells Hye Won there is no need to do Madam Han's private dirty work anymore since Hye Won is now a Vice-Director in the new apparel company. Sun Jae stares at all this nasty talk going on right in front of him. The secretary hurriedly ushers him out of the room while Young Woo continues to light into Hye Won. Sun Jae sits with the secretary who hands him all the papers to sign and asks if he was alarmed back there and apologizes for the higher ups having very strong personalities.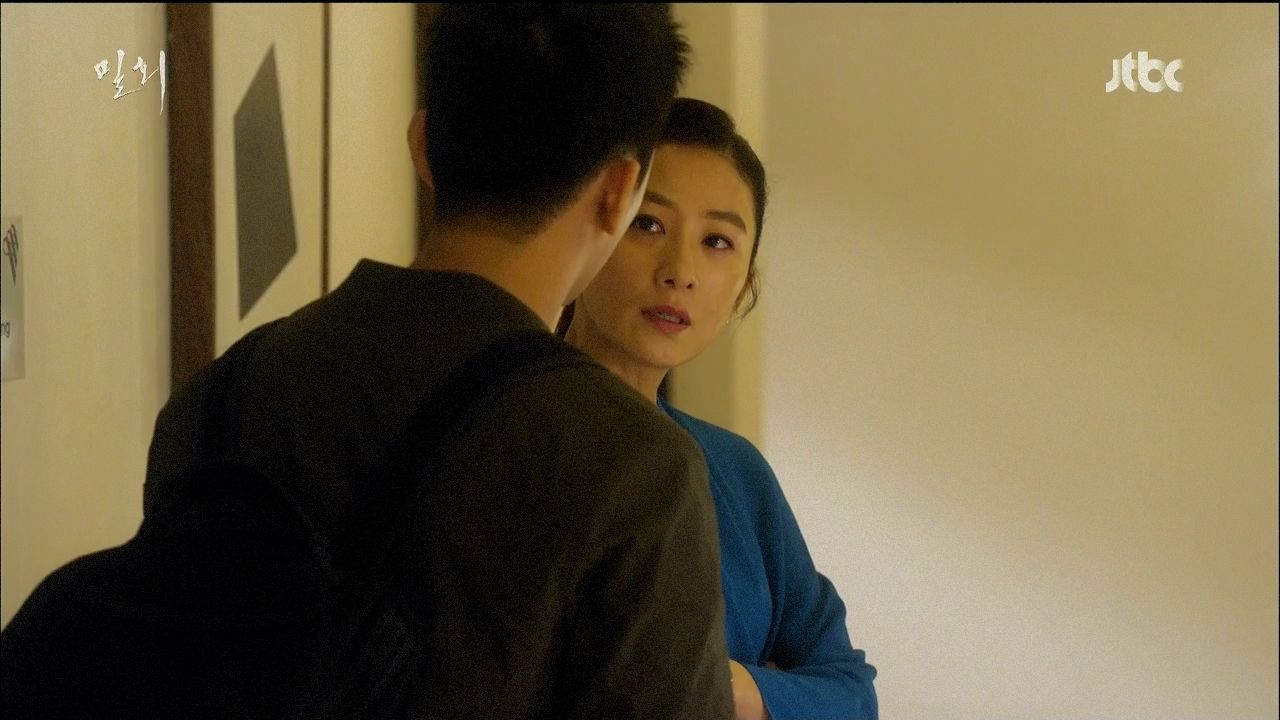 Sun Jae leaves Hye Won's office right as she's coming back. She whispers for him to go while he looks really concerned about her and asks about who that woman was back there? Hye Won says "Art Center Director", but Sun Jae doesn't understand how that woman can treat Hye Won that way. Hye Won doesn't need Sun Jae to know why, just chalk this up to getting a preview of life down the road. Joon Hyung hears them talking and hides behind a wall.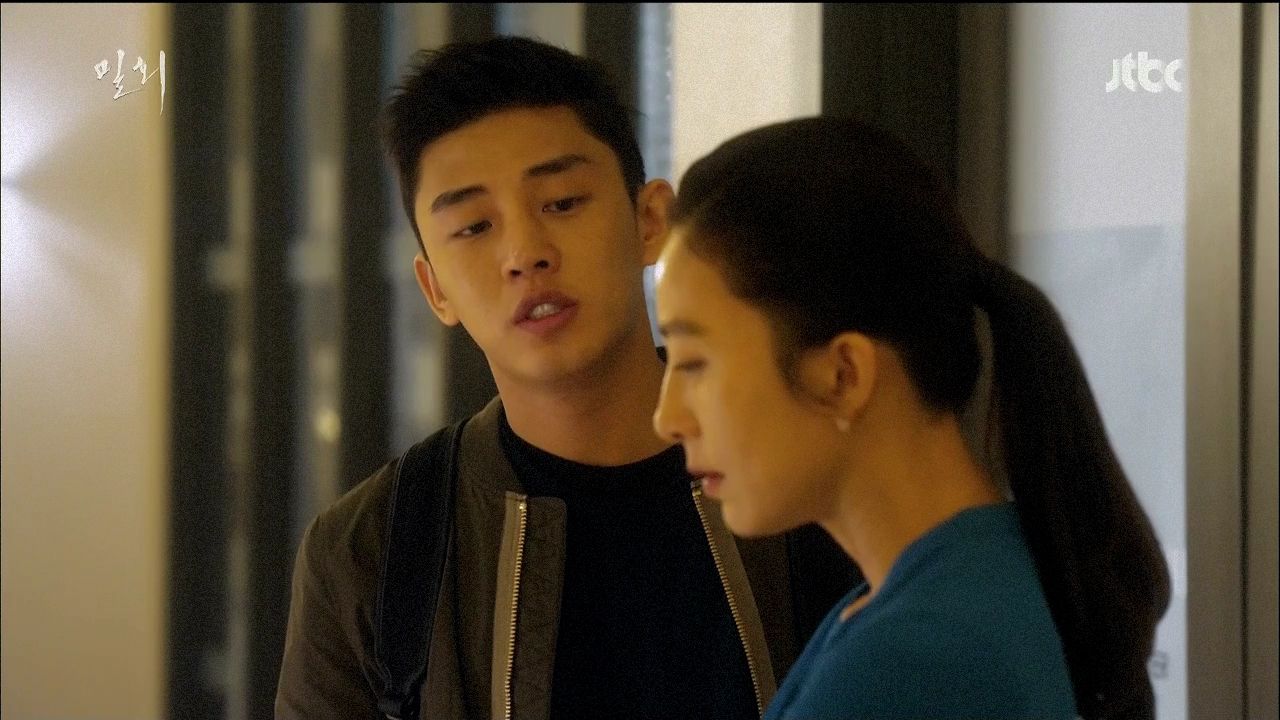 Sun Jae says his callouses towards her from yesterday (when she missed his audition) are all gone, but Sun Jae is very angry right now. Hye Won pushes him like a child and tells him to go! She walks into her office and slams the door shut. Sun Jae can't decide to leave or stay when Joon Hyung rounds the corner all smiles to lead Sun Jae to get his school ID.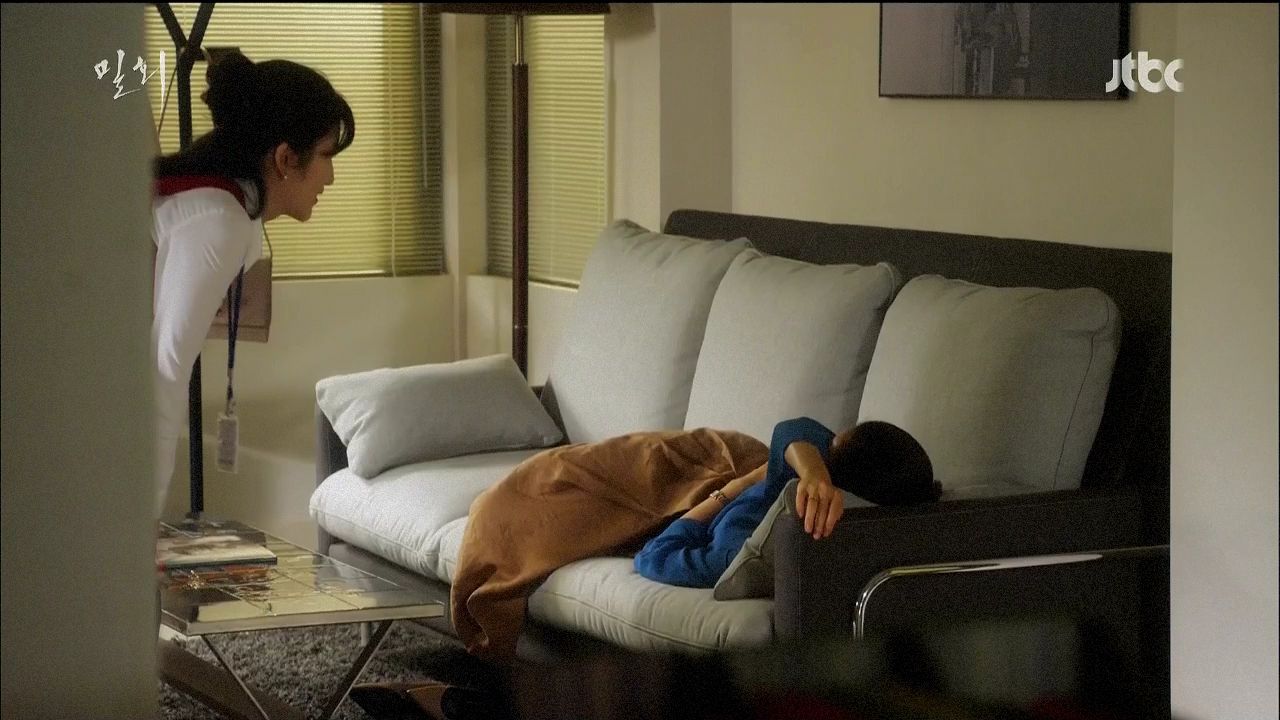 The secretary asks if Hye Won wants to handle the recent kerfluffle with the strings professor introducing an instrument middleman to the students and claiming it's a person used by the arts center. Hye Won yells at the secretary to just say that is not true. The secretary made that call already but…. Hye Won doesn't want to hear this now so the secretary lets her rest. Joon Hyung and Sun Jae are about to get into his car to head to school when he declines and says he'll go later by himself. Joon Hyung stares at Sun Jae walks away.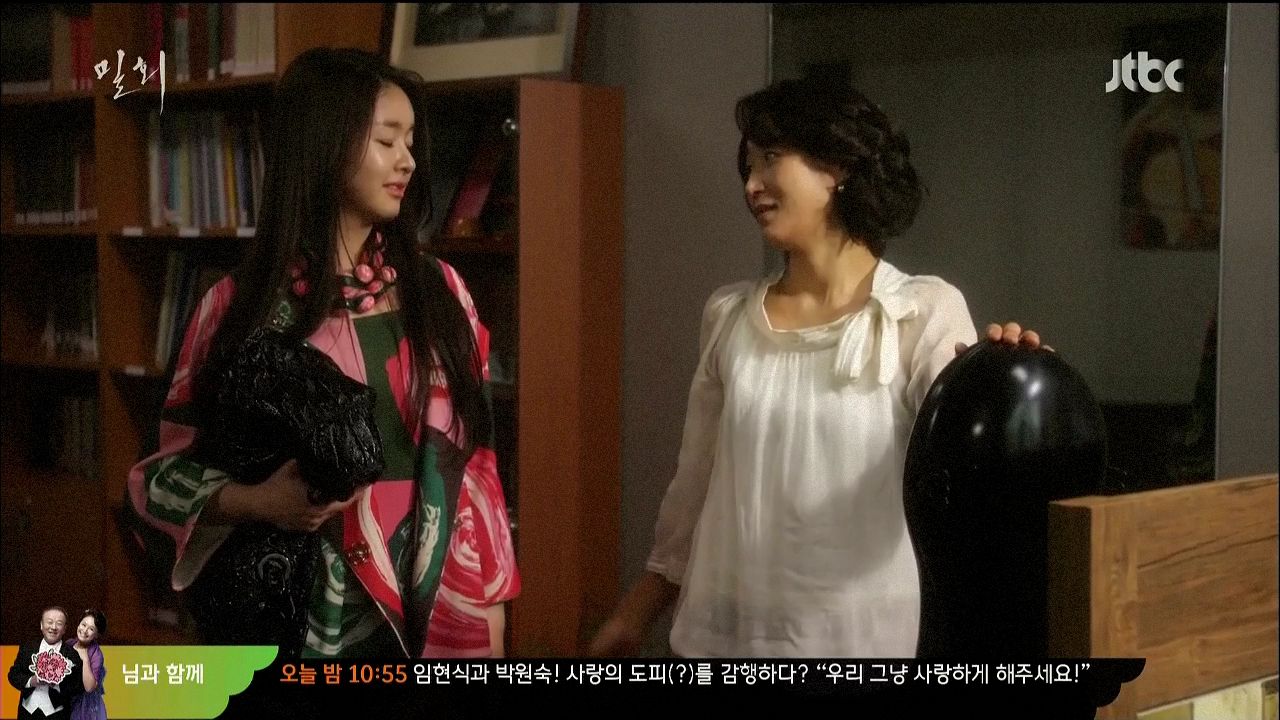 The strings professor is chewing out the student who bought the faulty cello that can't be tuned and accuses her of escalating this matter. The student didn't, she just went to see her sunbae at the arts center who was formerly a strings major. The professor snarks that the same lowlifes congregate together and says that future is the one awaiting her. She doesn't want her as a student anymore and tells her to switch professors immediately. Yoo Ra arrives to check out her cello and asks point blank how much it costs and she's not going to accept some crap instrument.
Sun Jae goes to see Joon Hyung in his office to get his class schedule. Since he's coming in middle of the school year, Joon Hyung wants Sun Jae to audit his classes for now three times a week. He hands Sun Jae a pile of books for him to start refreshing because once next semester starts he has to take all the classics courses as well. Joon Hyung explains how a balanced education is needed to fully understand the world and music. He then invites Sun Jae to his house this weekend for extra lessons with Hye Won. Sun Jae pauses before quickly leaving the office and Joon Hyung wonders what's with his attitude.
Joon Hyung sits in his office and thinks back to overhearing Hye Won's interaction with Sun Jae outside her office, how she pushed him away and told him to leave. Sun Jae is brooding in his apartment remembering how Hye Won brushed aside his concern, calling it just an early lesson on life. Hye Won chokes back sobs while laying on her office sofa. She finally gets up and then stumbles because she's so worn down. She sits there and cries out loud on the sofa.
Thoughts of Mine:
SLA is like watching two good people at heart suffering the pain of little cuts that leave no scars but the torment is excruciating. It's death by a thousand punches rather than one killing blow. That makes it different than the K-drama penchant for the angst to come in the form of tidal waves and tsunamis, literally roiling tides of suffering that overwhelm characters. Here we see the pain is manageable but with it comes a greater sense of compassion to watch Hye Won bear with it, to see Sun Jae hurting for her. What makes the people around Hye Won so loathsome is that they purposely inflict extra pain when it doesn't need to be that way, they use her beyond what she's ever gotten from them. Madam Han makes Hye Won do her job as the wife, to get rid of the light skirt on the side. The Chairman is sleazy beyond belief other than he hasn't appeared to want to tup Hye Won as well. It's skin crawling the two that husband-wife pair wield their power over Hye Won in slithery ways knowing full well she cannot say no to their "tasks".
In some ways Young Woo is the least objectionable one in that family, treating Hye Won openly with disdain and as a frenemy, calling her out when she has no one but pushing her away as an act of lashing out. Don't get me started on Joon Hyung, spineless, self-serving, chip on his shoulder Joon Hyung. I would love for Hye Won to quit her job and walk away not only for her sanity's sake, but to show Joon Hyung the totality of what his wife has done to create the very cocooned world he enjoys. The cushy professor job, the gorgeous model home, the effortless comforts of his daily routine. It comes at a price he purposes chooses to look the other way at, and now snipes at her for. I want to punch him in the face so badly in this episode. I find the writing for SLA less nuanced that it appears to be, but the deft execution and fantastically restrained acting more than makes up for it. 
The rich temperamental lieges that Hye Won serves has conflicting needs that she is finding herself unable to manage seamlessly anymore, and that is likely how the cracks also form to allow Sun Jae in.I found Hye Won and Sun Jae's interactions in this episode totally funny in their typical off-kilter way. I adore how Sun Jae always tries so literally so solve Hye Won's problems. She's exhausted because her home feels like a workplace? He runs off to get her a motel room to rest in, of course making sure it's the least sleazy one available. There is no filter with Sun Jae when it comes to Hye Won, probably the same way he has no filter with piano. He's actually quite reserved and standoffish with others, able to parry conversationally with the proper guard up. I guess Hye Won really is his goddess if he puts her on the same level as how he approaches the piano, with an innate understanding and knowing how to push all her buttons.
I found it so telling how Hye Won literally left Sun Jae by the side of the road when she drove back to Seoul like the devil was on her back. Merely the imprimatur of heading to a motel room with Sun Jae is too much for her to handle. She's even more shaken than when Young Woo committed assault and battery on her earlier, probably because she is girded for that since it's the price she pays for the world she inhabits, whereas Sun Jae's unconditional giving towards her is something she doesn't know how to handle. She could easily play him the way Young Woo plays with her boy toys, and with Sun Jae it's even easier to just take without any pressure to pay a price. It's because it's so pure between them that Hye Won resists, and we commend her for it, but at the same time weep for her pushing away the only solace she has in her dank and lonely world.
Click here to watch Secret Love Affair.