I'm grateful Dr. Stranger remains true to its larger-than-life story and execution without being apologetic or trying to back track and be more logical so to speak. It's fun and crazy and that's what I love about it. Park Hoon continues his ascension as one of the most engrossing leading men in K-dramas this year and all this my ship-your ship fighting threatens to undermine his character arc and reduce it to which leading lady character he ends up with. Really? That's all some people care about? He's such a tortured soul in a brightly functioning shell, his mind controlling the traumatic emotional spirit inside while clinging onto the hope of finding his Jae Hee. She's not just a first love, she is his sole purpose for soldiering on when he stands on piles of dead bodies on his way to becoming the skilled surgeon he is today. Jae Hee may be ephemeral and written that way but if she is indeed Seung Hee then slowly the curtains are being pulled back on who she has become in the years since she's been torn apart from Hoon.
This episode was yet another gripping Hoon-speaks-the-truth tour de force, this time when he confronted Dr. Choi about the enormity of what was done to his father Park Chul for the sake of a hospital's bright future. Park Chul, and Hoon as the collateral damage, was chewed up and spit out by powerful and narcissistic men without any regard for the hell they were sending the father-son duo into. North Korea is shown to have depraved indifference to human life in the pursuit of talent and skill. The glimpse into the horrors of the medical training facility in episode 1, the horrors that Hoon lived through for five whole years, we can't forget that ever even when Hoon is being all jokey with Soo Hyun or without a care when he's sauntering around the hospital. It's pretty clear that he's gotten the confirmation that Seung Hee is indeed Seung Hee what with the little hints dropped during this episode. If he can deduce that she's putting on this pretense for a very scary reason, then his silence about unmasking her makes sense and continues to paint him as a man who is both brilliant and tactical. I can't wait to have all the baddies get a taste of Hoon's medicine down the line and make them truly pay for what they did to an innocent boy and his principled father.
Episode 7 recap:
Hoon asks Seung Hee for a moment of her time and explains what he once said to Jae Hee, that no two people in the world can have the same heartbeat. He then walks forward and pulls Seung Hee in for a hug. She looks startled and then her hand clenches into a fist the way Jae Hee did when Hoon hugged her years ago. Hoon hugs her with his eyes closed for many seconds and then suddenly his eyes pop wide open like he realizes something.
Seung Hee snaps out of it and pushes Hoon away. Soo Hyun tells Hoon to apologize but Seung Hee says no need and storms out. Soo Hyun wonders what the heck Hoon is doing and he explains there is only one person in the world with the same heartbeat as him. Soo Hyun asks if that's true and Hoon avoids answering the question by claiming he was just joking.
Hoon then walks right up to Soo Hyun and teases her, asking if perhaps she is his fate? He pulls her in for a hug to check her heartbeat which makes Soo Hyun totally flustered and she pushes him away and delivers one of her patented slaps before hightailing it out of there. After she leaves Hoon appears to be thinking about something.
Hoon catches up to Seung Hee and bows his head low before apologizing for what he did back there because he mistook her for someone else. Seung Hee gets a call and warns Hoon to watch his actions around her before running off. Soo Hyun got the same call and pulls Hoon along to go to the ER. Hoon doesn't want to go and Soo Hyun grabs him by the ear like an errant school boy and drags him off.
Dr. Moon has sealed back up the CD rom containing Seung Hee's medical records to hand back to the HR guy with an entreaty to act like nothing ever happened. He claims to have been probing to ascertain whether Seung Hee is a spy or not and the HR guy smartly points out that if she was indeed a spy then her medical records would have been doctored to begin with.
Seung Hee and Dr. Kim are treating a pregnant patient in the ER who is bleeding out and worried that if her blood pressure continues to drop it'll harm the baby. Hoon arrives and uses his magical healing touch to diagnose the pregnant patient with an air leak in her heart and her uterus is also in danger of rupturing. Seung Hee wants to call for a CT scan but Hoon says there is no time because a lack of oxygen to the brain of the baby can cause permanent brain damage.
Since Jae Joon is in surgery with the other doctors, Hoon asks Seung Hee to be his anesthesiologist and they head into surgery with Soo Hyun in tow. Dr. Kim wonders why Hoon never speaks in polite language to the other doctors but Dr. Eun thinks he's pretty cool that way. Hoon and Seung Hee push the patient into surgery together and he turns to glance at her during the walk over.
The patient is prepped for surgery and Seung Hee confirms she's gone under and announces the start of the surgery. Hoon warns her to watch the blood pressure so that oxygen flow remains intact for the infant.
The other doctors and nurses gather outside to watch this complicated surgery for the pregnant lady. Dr. Moon is impressed with Seung Hee's ability as an anesthesiologist, able to put a pregnant woman under in five minutes. He shares his concern that she may be a spy with Dr. Yang who suggests a method to confirm. Dr. Moon wants to know what his suggestion is and Dr. Yang asks for a raise first since he works for Dr. Moon's team. Dr. Moon agrees and Dr. Yang suggests having Seung Hee undergo a new CT scan at this hospital so it's clear her records are not doctored. Dr. Moon is happy to yet again hear a good suggestion.
The pregnant woman's blood pressure starts to drop and Hoon orders Seung Hee to watch the anesthesia levels. She tries to explain her concerns but he yells at her to try explaining if the patient dies.
Hoon starts a lung ventilation for the patient while Seung Hee gets everything ready and says Hoon can resume the heart surgery now. Soo Hyun suggests that Hoon was out of line to yell at Seung Hee and perhaps he just needed to vent since she's not the girl he was looking for. Hoon tells her to cut the crap and call the OB/GYN in now to also deliver the baby.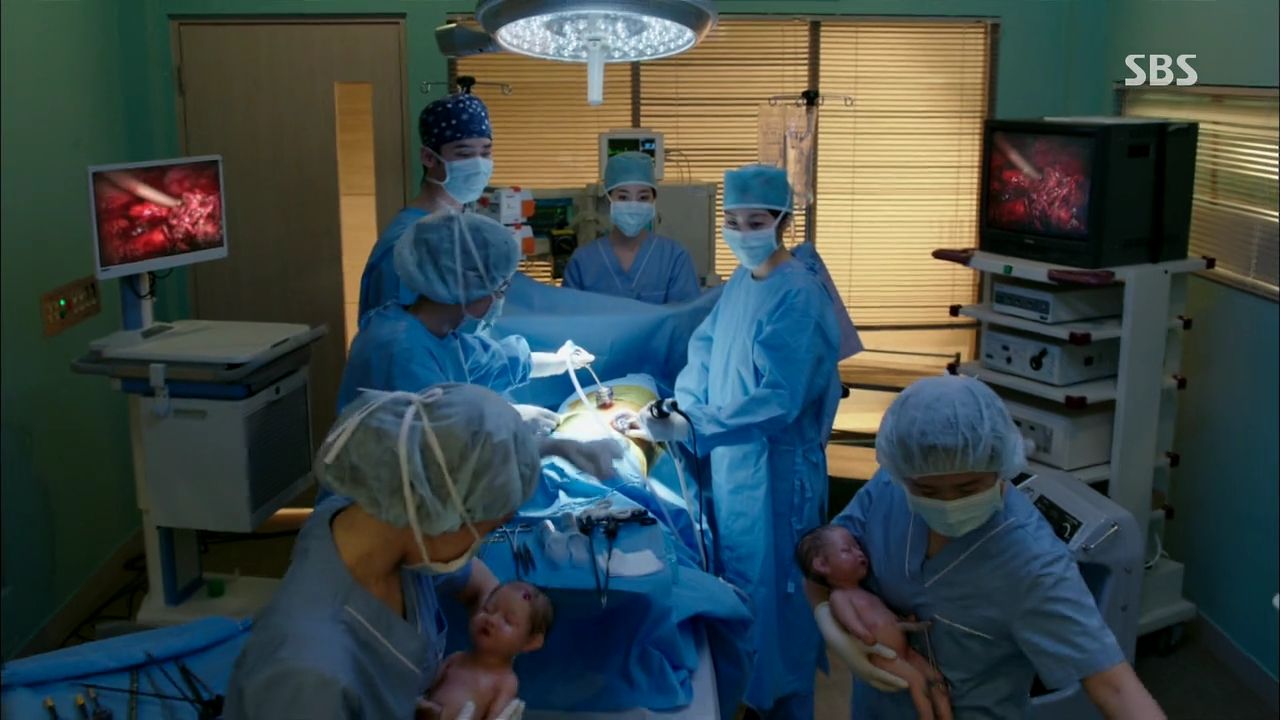 Hoon finishes the heart surgery successfully while the other team of OB/GYN safely deliver a pair of twins for the pregnant woman. Hoon asks Soo Hyun to wrap up and she agrees.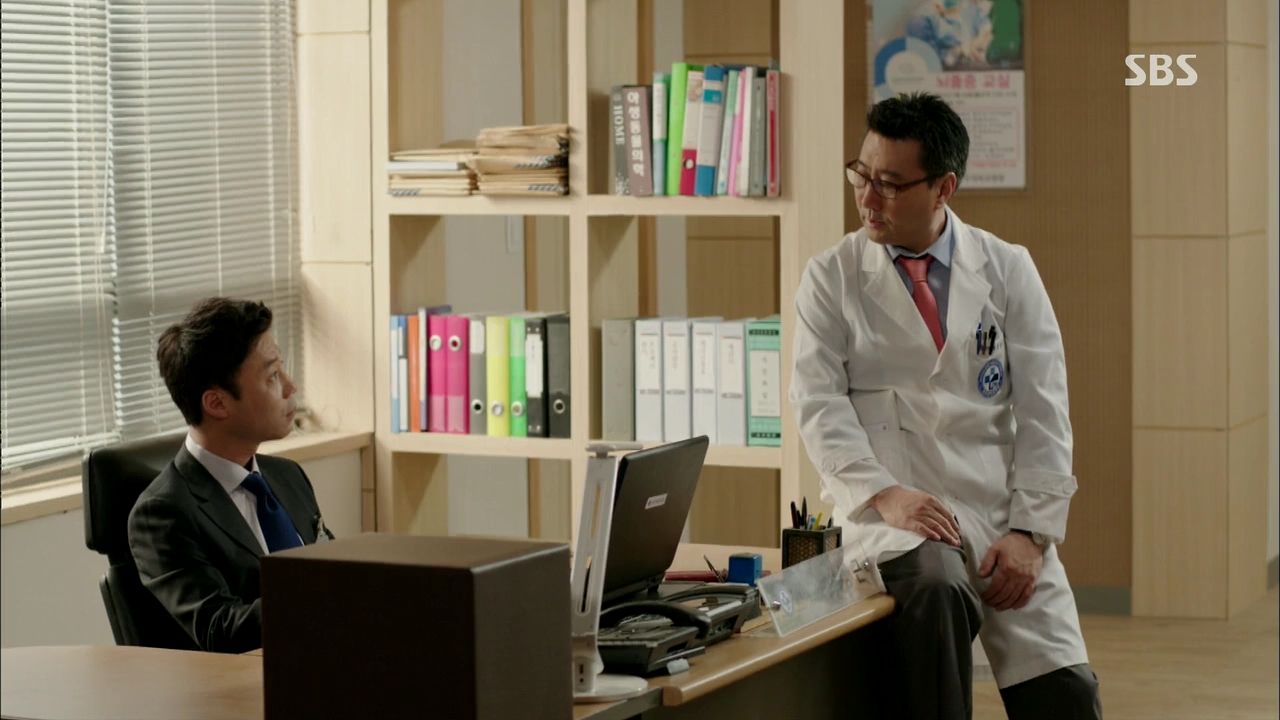 Dr. Moon heads to find out more about Seung Hee and passes Dr. Choi in the hallway who takes note of where he's headed. Dr. Moon browbeats the HR guy to join in his scheme to get Seung Hee to undergo new medical exams by claiming the HR guy is also guilty of disclosing her medical records.
The pregnant lady is wheeled out of the OR and she looks towards Soo Hyun in gratitude. Jae Joon wonders why Soo Hyun looks so content and she's happy because a pair of twins were delivered and she feels gratified to have saved this patient. She is also happy Dr. Park is so skilled and successfully performed such a complicated surgery.
Right as Soo Hyun is complimenting Hoon is when he walks past them to go sign some paperwork at the counter. Soo Hyun's eyes follow him which Jae Joon notices. Soo Hyun is about to go check on the patient when Jae Joon stops her to congratulate her on the successful surgery but also remind her that she's his team's best second in command. Soo Hyun smiles and says she understands that.
Hoon turns and sees Jae Joon staring at him and smiles back beatifically. He then walks off and his smile disappears. He encounters Dr. Moon wanting to bring Dr. Han Seung Hee onto their team as the anesthesiologist. He has no problem with that but Dr. Moon worries Hoon will be uncomfortable, or later if Seung Hee turns out to be Jae Hee then it means she's a spy and they are all ruined.
Hoon reminds Dr. Hoon that they confirmed she's not Jae Hee since she has two kidneys. Dr. Moon thinks medical records can be doctored and suggests they make a final confirmation today.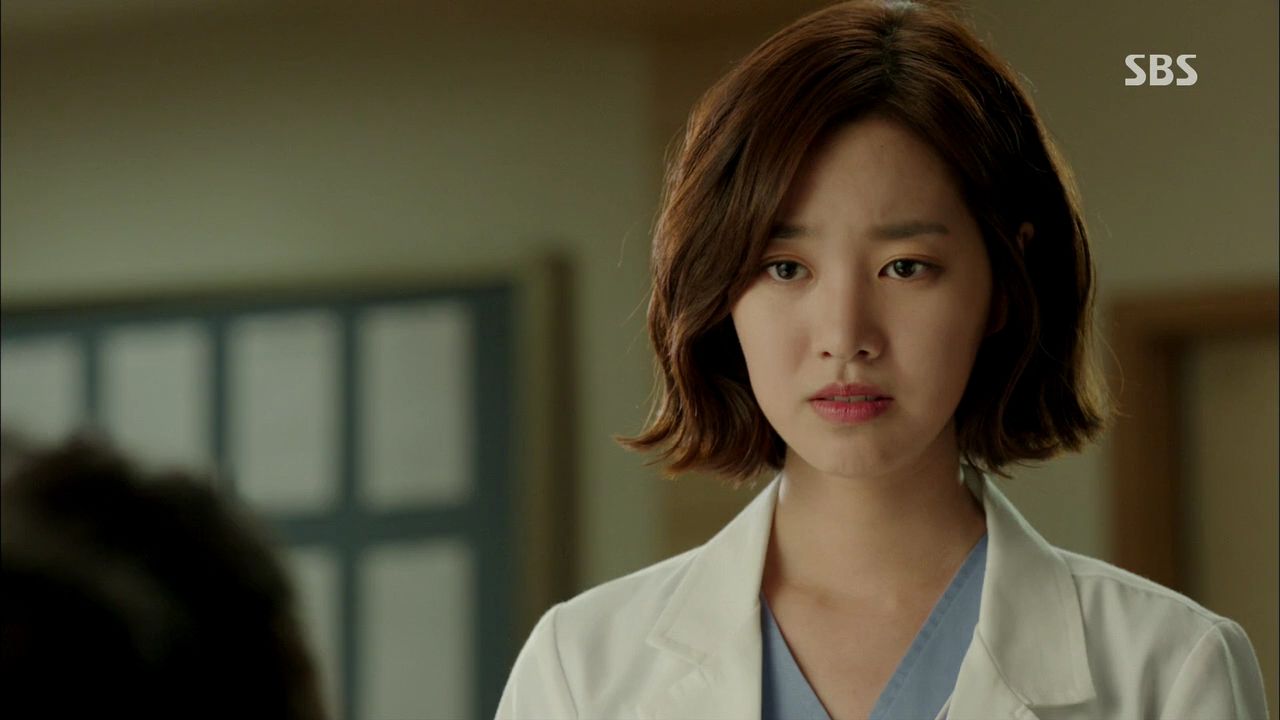 Seung Hee is called to see HR and told that she needs to undergo a full physical again today because her records won't be accepted. Seung Hee has no choice but to agree and head to get another full exam. Hoon and Dr. Moon watch her and Hoon snarks that they might get taken away by the authorities for doing this. Dr. Moon says they've come so far they have to get the answer.
Jae Hee undergoes a full battery of tests and then the HR guy delivers the results to Dr. Moon and Hoon. Dr. Moon holds the CD rom and Hoon stares at it with a glint in his eye. We see Dr. Yang peeking at them from outside the office.
Comrade Cha goes to a nicely furnished apartment to look around while it's empty. Seung Hee calls him to report that she was asked to re-do her entire physical exam and she had no choice but to agree.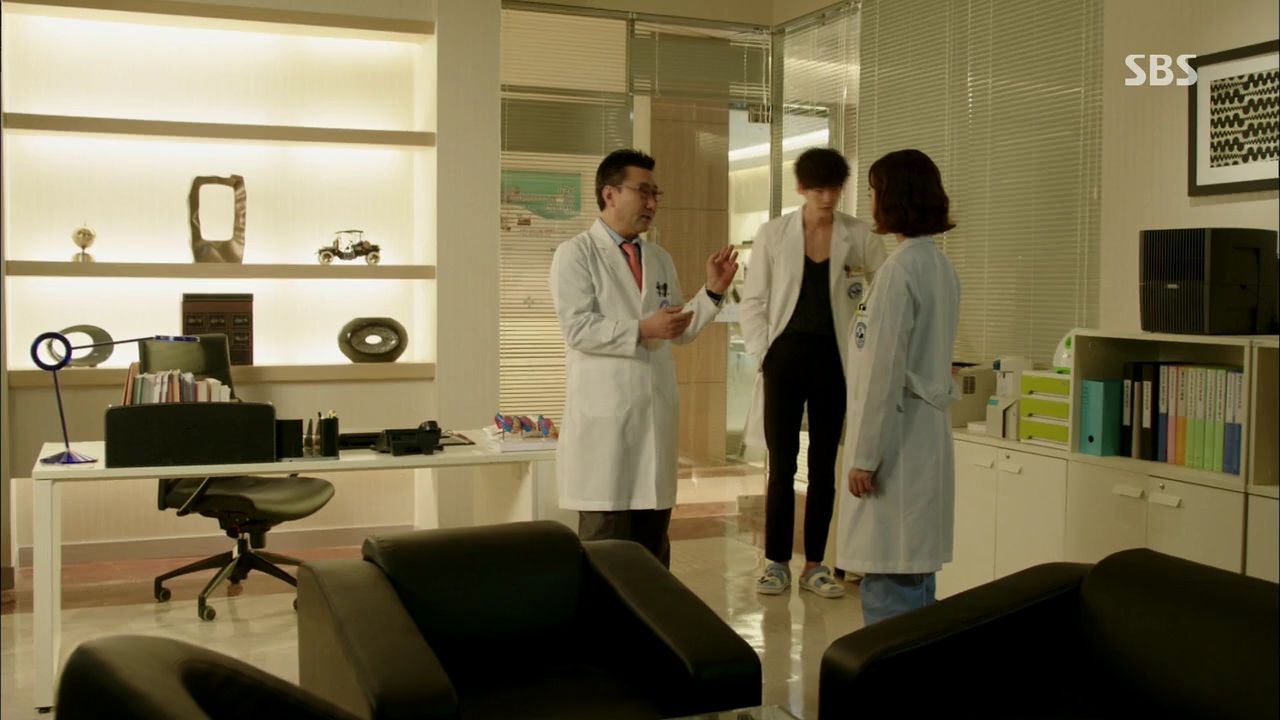 Dr. Moon summons Seung Hee to meet with Hoon and him to discuss that they need to confirm she is not a spy. If she is Hoon's girlfriend then she would only have three kidneys and if she has two kidneys then they are really sorry for doing this to her. Dr. Moon gestures to Hoon who hands over the medical records CD rom and Seung Hee is furious they are invading her privacy this way.
Seung Hee tries to grab the exam records back but Hoon pulls her away and holds her tightly. He calmly stares at her and says "don't do anything" while giving a small shake of the head. Seung Hee stares back and then does nothing. This is soooo strange. Does Hoon know something already? Did he confirm Seung Hee is Jae Hee by the heartbeat and now will keep her here and let her keep on pretending to be Seung Hee? Did he switch the old CD rom with the new CD rom? Probably.
Dr. Moon pops the CD rom into the computer and pulls up her kidney scan. Dr. Choi runs in to stop this nonsense but the records are viewed and Seung Hee has two kidneys. Dr. Choi turns to look at Seung Hee who bites her lip slightly and looks down. Dr. Yang stares from outside and smirks before calling someone on his cell. Dr. Moon is shocked to see Seung Hee has two kidneys and flops down on his seat.
Seung Hee warns that she won't let this matter go while Hoon looks up at her with a small reassuring smile. Seung Hee storms off and Dr. Choi follows her to apologize for what happened. He asks that she let it go but she is especially upset that doctors of all people would look through her medical records. Dr. Moon and Hoon run out and both apologize to her. Hoon smiles at her with this warmth and familiarity but does nothing else. He totally knows!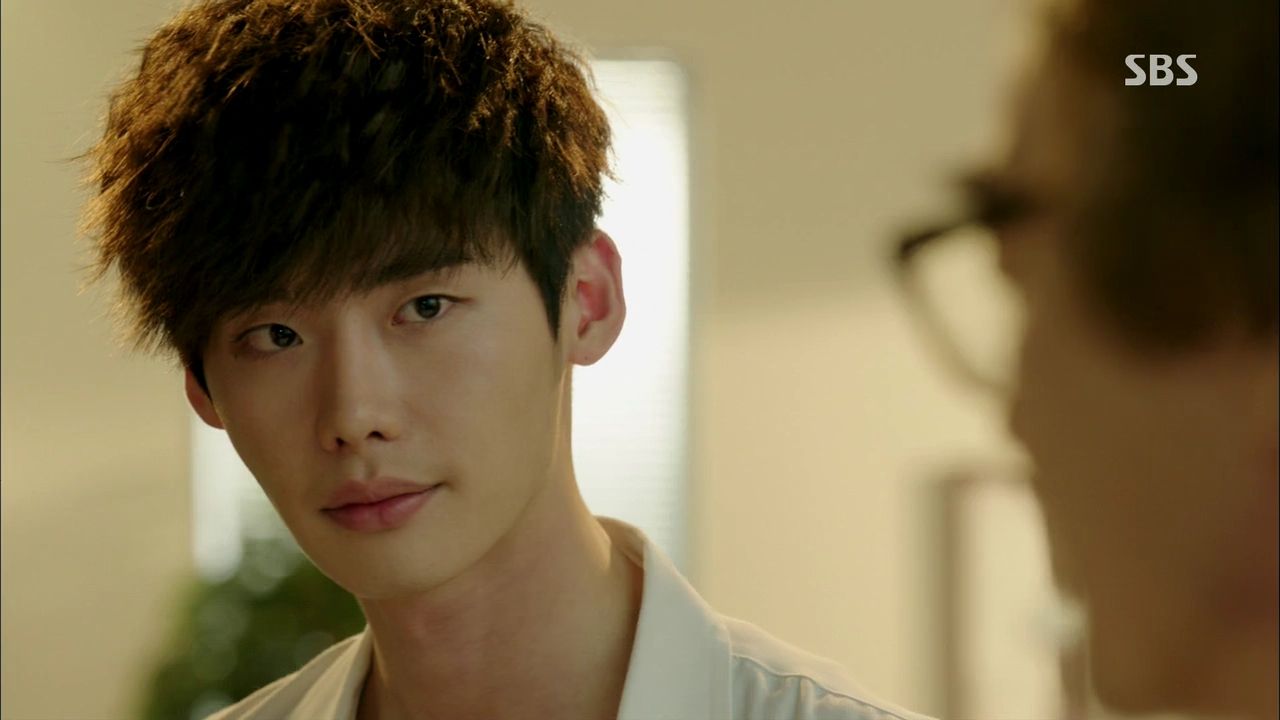 Seung Hee bows and walks away angrily with Dr. Moon chasing after her. Hoon stares at her as she walks up the stairs and she looks down at him and they lock eyes for a moment.
Hoon goes to meet with Chang Yi and her mom at the cafe and she starts taking off her outside shirt which leaves him all flustered. Chang Yi is just getting ready for her next part-time job across the street at the jjimjalbang so she can pay her mom's medical bills. Hoon asks for her car keys to drive back to the little medical clinic.
After Hoon leaves, Chang Yi's mom wants to know why her daughter calls Hoon "hyung" instead of "oppa" like a girl would. Chang Yi grumbles that she feels more comfortable that way, clearly to keep her relationship with Hoon casual rather than risk falling for him.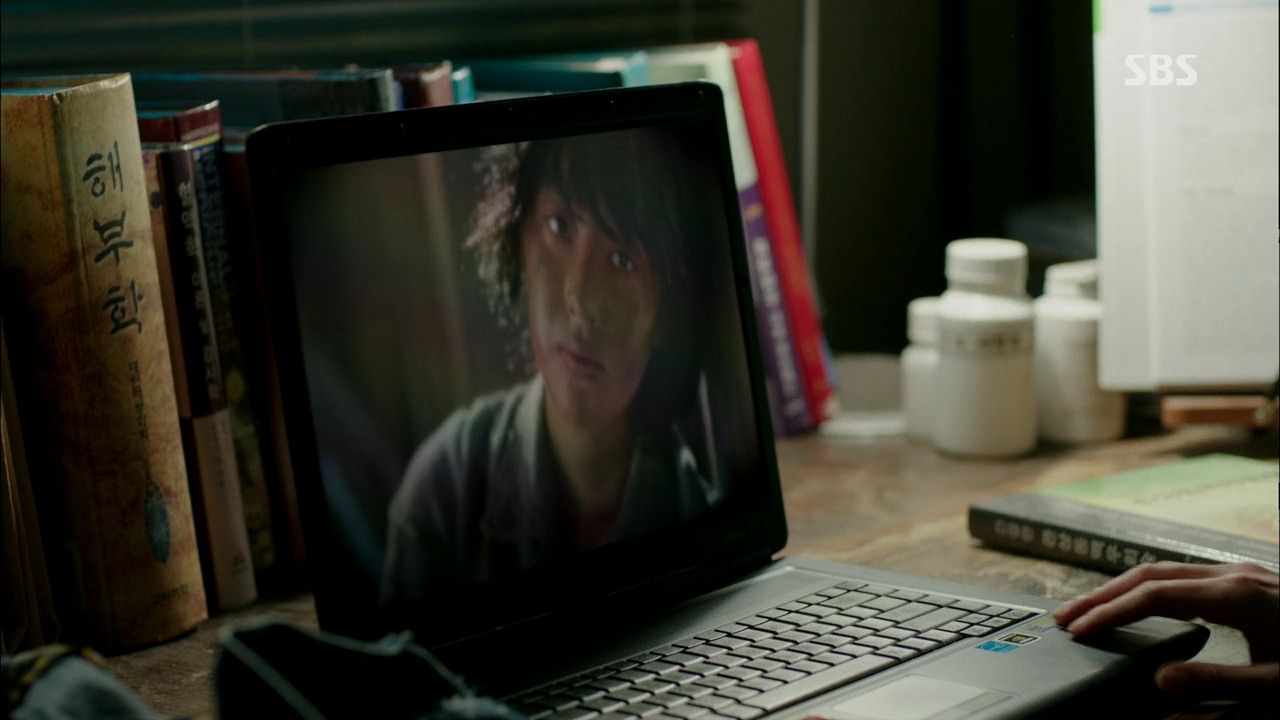 Hoon goes back to the little clinic and immediately turns on his laptop to the Jae Hee in prison video. Dr. Choi arrives and reveals that he's going to North Korea tens day later. Hoon isn't interested in going with him and plans to find Jae Hee by himself and declines any further assistance from Dr. Choi. Dr. Choi wants to tell Hoon the real reason his dad Park Chul went to North Korea in the first place. He hands over the lawsuit we saw in the beginning of episode 1 and Hoon remembers it.
Flashback to Dr. Choi sitting with Park Chul about the lawsuit which involved a patient dying on the operating table. He asks if Park Chul has to do this? Park Chul says a doctor's job is to save lives and right now the hospital is demurring by refusing to reveal who was the operating surgeon on that surgery. He wants that person to understand the weight of the white coat he wears. He asks Dr. Choi to convey this.
Dr. Choi goes to meet with Chairman Oh to ask that they admit fault on the surgery and go public with it. Chairman Oh refuses since they are about to build Myung Woo Hospital and this will delay certification. Dr. Choi says they can wait another year but Chairman Oh screams that Dr. Choi promised they would build the best hospital in the world!
Congressman Jang arrives and dines with Chairman Oh and Dr. Choi with an offer that can help both men accomplish their goals. Congressman Jang says North Korea needs a heart surgeon and it's for a super secret mission to operate on Kim Il Sung. This trip will be for a long time and if Park Chul is sent then the lawsuit will naturally be dismissed when he's not around. Chairman Oh likes the idea and Dr. Choi appears reluctant but goes along with it.
Congressman Jang then goes to see Park Chul to show him Kim Il Sung's medical records and ropes him into going to North Korea to do the surgery. Park Chul asks Dr. Choi to watch Hoon for a week while he's gone and we see that Dr. Choi took this call in the hospital with Chairman Oh and Congressman Jang. The sleazy Congressman Jang assures Dr. Choi that he will personally handle the "welfare" of Park father and son.
Hoon asks if Dr. Choi is joking about this but Dr. Choi claims he and Congressman Jang did everything to try and bring them back. Hoon scoffs at the blatant lie since they wanted them killed! Dr. Choi claims that's impossible and if Hoon has been told that then North Korea lied to him. Hoon screams at his bullshit but Dr. Choi calmly tells Hoon to decide whether he wants to believe him.
Hoon knows they all used his dad for their own desires. They sent Hoon and his dad off and then tossed them aside like trash afterwards. Hoon cries and asks if he knows how Hoon survived in that strange world? Dr. Choi thinks all was well since Park Chul developed Hoon into a doctor. Hoon screams back that his dad did want to develop him into a doctor, a doctor who saves people and doesn't kill.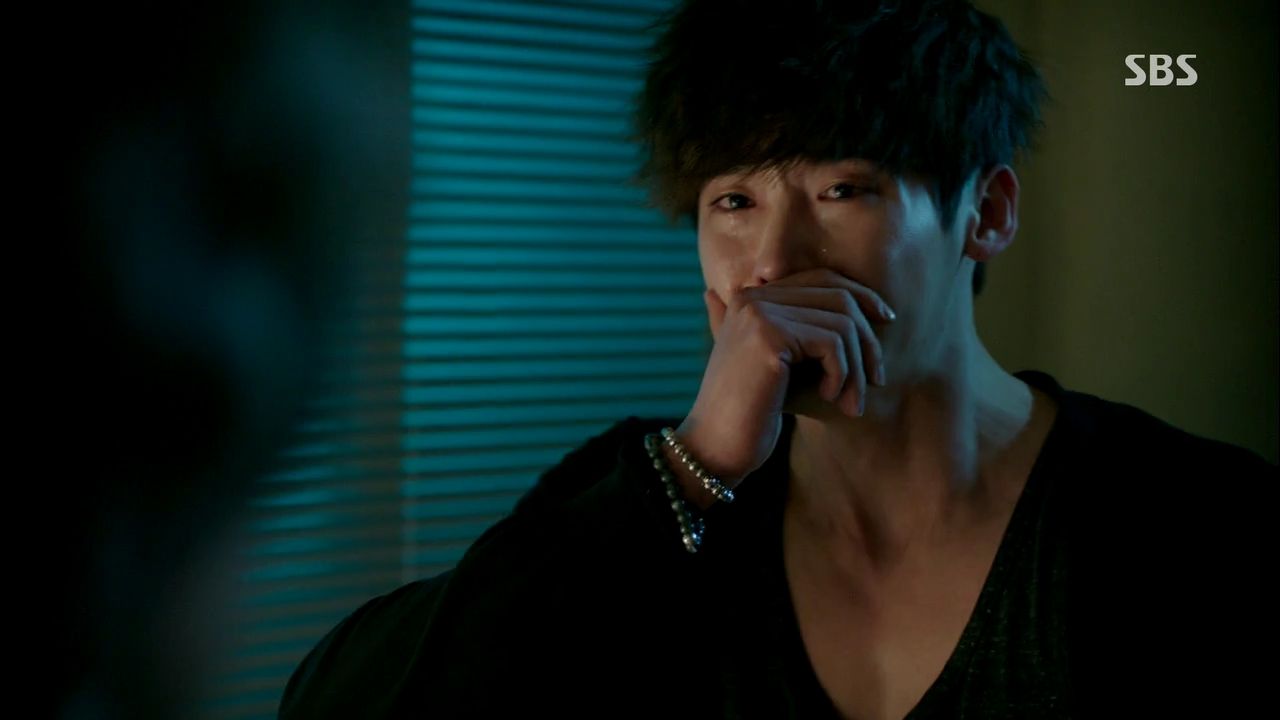 Hoon is almost in tears as he rages that the do-no-harm rule is not true over there. The doctors there kill people! HE KILLED PEOPLE. He killed many, countless people. That's not what a doctor does because they are just ordered to cut people up to experiment and train. Dr. Choi claims that he understands that Hoon feels his heart was twisted up in the process but assures Hoon that he's still a doctor. He still carries the dreams of his doctor father but Hoon screams at him to shut up because he cannot possibly understand what his father thought!
Hoon breaks down and says that his father was willing to be shot to death so he could turn this crazy dog back into a doctor. How could Dr. Choi understand how his father felt? Dr. Choi who abandoned his father there, how could he stand here now and say such things? He orders Dr. Choi to leave and Dr. Choi sets down a package before Hoon. He wasn't able to get Park Chul's body back for burial but he got his belongings back.
Hoon opens up the package to find his father's medical bag and broken glasses laying inside. Hoon cries as he remembers how his dad came back for him and took him along to go North. Hoon remembers his dad watching him when he got engaged to Jae Hee, and then later going to the countryside clinic with his dad and how his dad handed him a bouquet afterwards so he could go meet Jae Hee's dad. Hoon clutches his dad's things and crumples on the ground crying. Dr. Choi stands outside the clinic listening to Hoon cry.
Hoon hugs the glasses tightly to his chest and wipes his tears. He walks outside to thank Dr. Choi for bringing his dad's belongings but to not get involved with Hoon's life anymore. He hands over the old lawsuit filing and asks what happened to those people who suffered the medical malpractice? Dr. Choi says the husband died and the wife passed shortly thereafter, leaving an orphaned son. Hoon says Dr. Choi caused a boy to be orphaned and Dr. Choi doesn't dispute that. He heard the boy was adopted to the US and he wanted to look for him after he found Jae Hee for Hoon.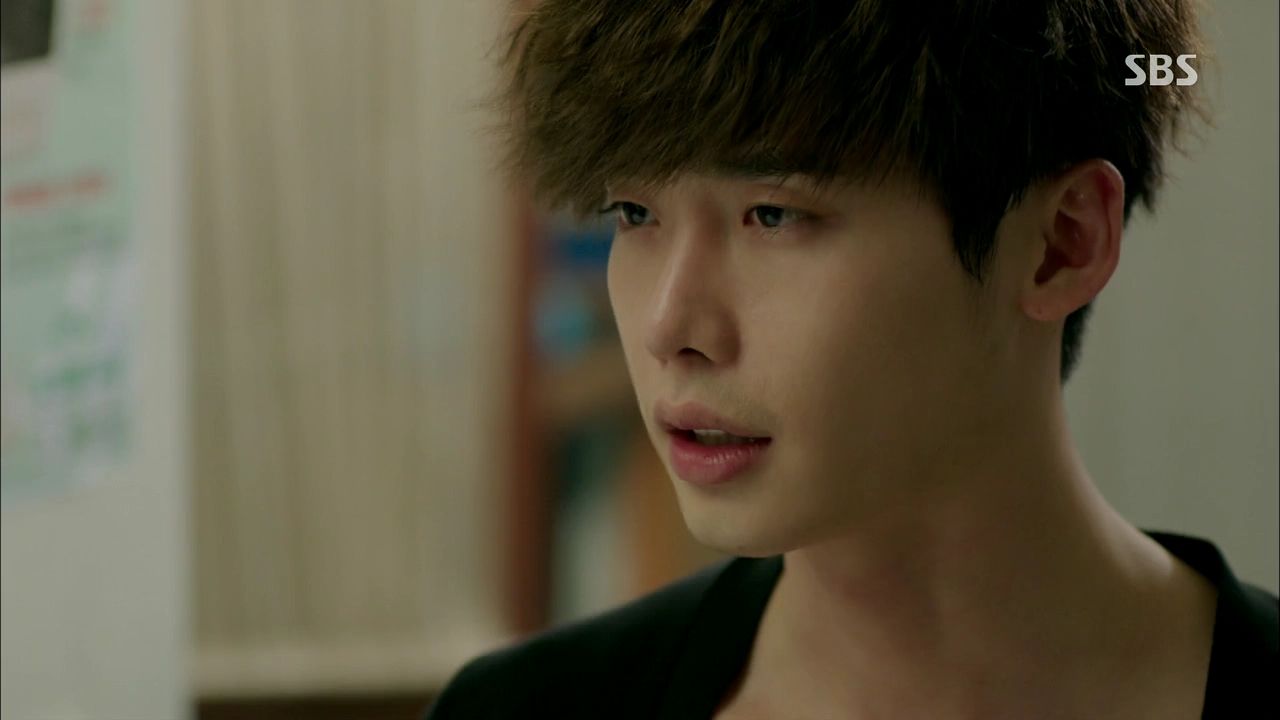 Hoon tells Dr. Choi to go find that boy and apologize as Hoon will handle finding Jae Hee himself. He asks Dr. Choi not to go to North Korea and go to the US instead.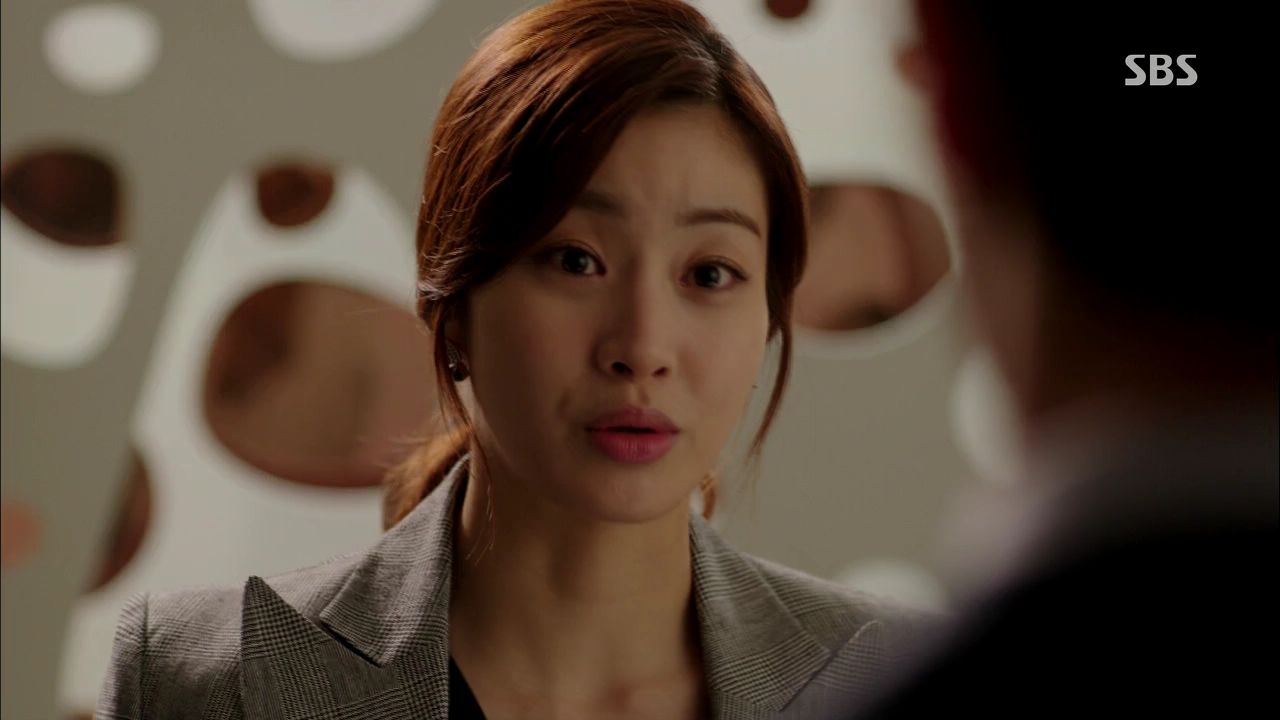 Jae Joon arrives at a hotel and looks up to where he's meeting with Chairman Oh. He is surprised to run into Soo Hyun outside and hears that her dad summoned her here as well. They head up together in the elevator.
As the elevator starts to rise, Soo Hyun quietly calls Jae Joon's name and pulls him in for a hug as she rests face on his shoulder. He stands there as she hugs him and then finally puts his hands around her as the elevator arrives at their level. Soo Hyun steps back and asks if Jae Joon believes in fate? He asks if she believes in it and Soo Hyun does.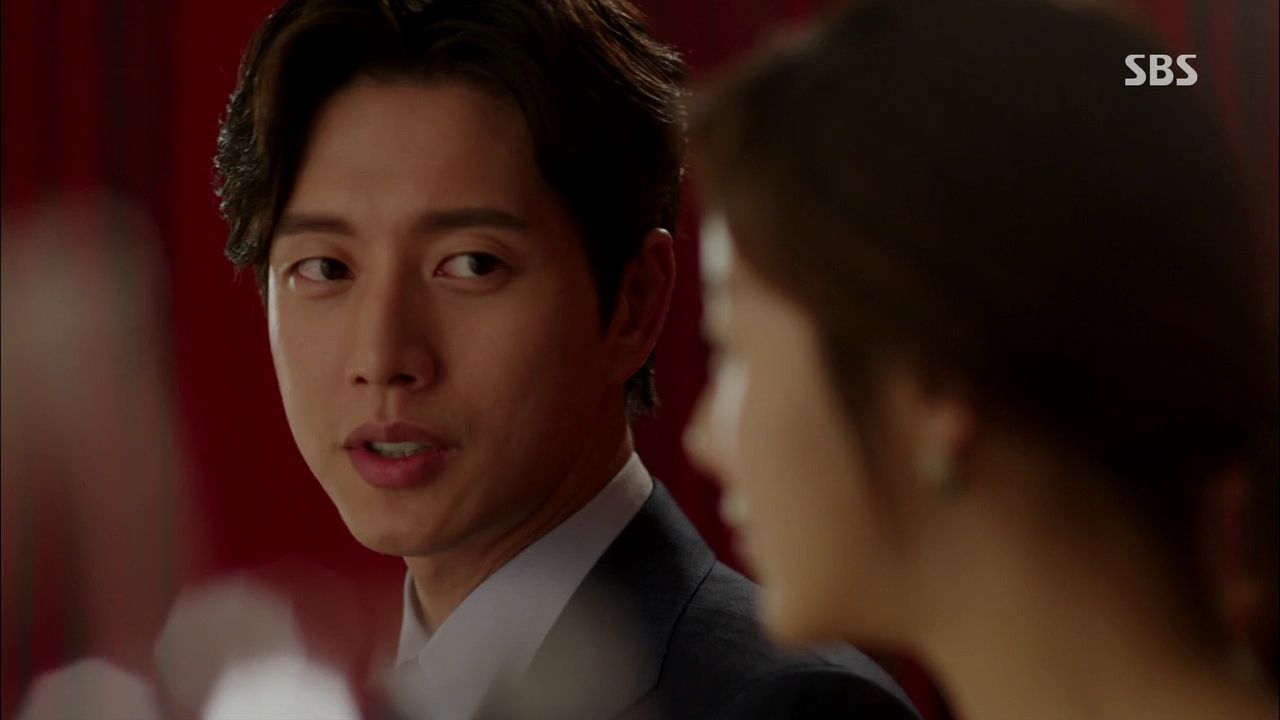 Soo Hyun and Jae Joon have been called out by Chairman Oh who is eager to settle their marriage plans. Soo Hyun puts her fork down and asks if her dad believes in fate? Jae Joon thanks Chairman Oh for his concern and suggests he let them handle their own marital plans. Chairman Oh asks if something happened between them but Soo Hyun assures him that she likes Jae Joon and he likes her back, she just wants to decide her own life. Soo Hyun gets a call and heads out first.
Jae Joon walks Soo Hyun to the elevator and asks if she's headed back to the hospital? Soo Hyun is and declines his offer to drive her back. Jae Joon takes her hand and says the fate he believes in isn't about believing in things but believing a person can decide. Soo Hyun smiles and gets into the elevator. They smile at each other as the elevator closes.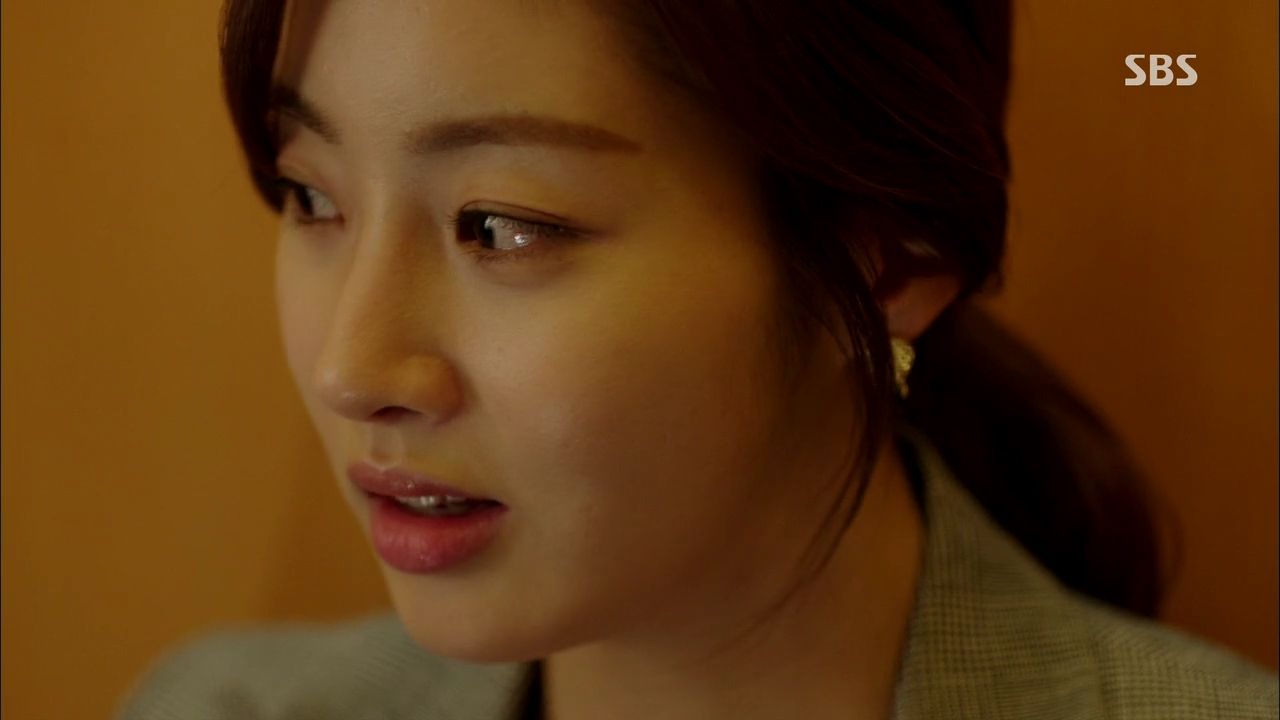 Soo Hyun's smile then disappears and she clutches the back of the elevator railing as she remembers both her hug with Jae Joon in the elevator earlier and the way Hoon hugged her after he hugged Seung Hee. Soo Hyun smiles at the memory of the Hoon hug and then shakes her head to clear it, calling herself crazy.
Chairman Oh pushes a glass of wine towards Jae Joon and asks if he will take responsibility for Soo Hyun? He answers of course and Chairman Oh asks further if he'll take responsibility for Myung Woo Hospital as well? Jae Joon smiles and fingers his wine glass.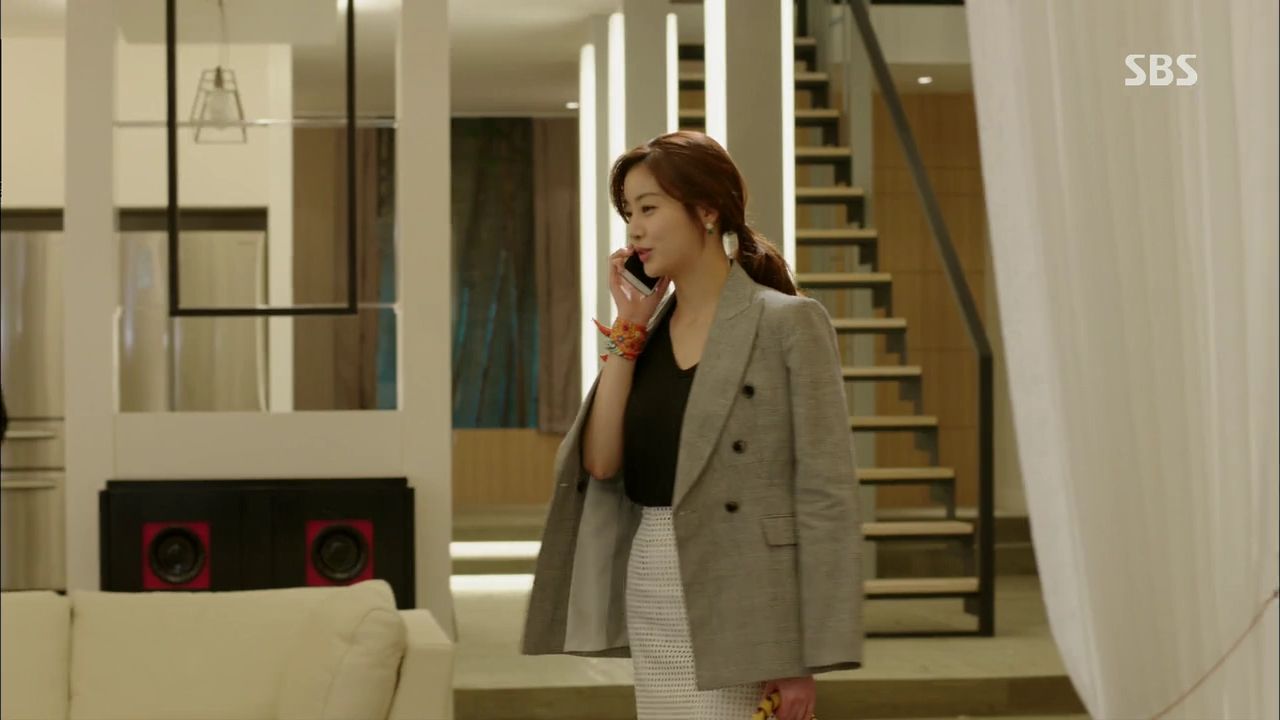 Jae Joon is back at his office and calls Soo Hyun wondering why she isn't back at the hospital. Soo Hyun apologizes since she had to go somewhere first. We see Soo Hyun in the apartment where Comrade Cha was the other day and the real estate agent asks Soo Hyun to decide now otherwise someone is waiting to take it.
Jae Joon asks if she'll come back to the hospital and Soo Hyun apologizes but she's going to head straight home. Jae Joon felt a bit empty after she left and wanted to see her and also talk about the surgical team. Soo Hyun asks to talk tomorrow and they end the call. Jae Joon then looks down at his castle and talks to his parents, telling mom and dad that he's so close and is about to succeed. He asks them to be patient for just a bit longer.
Dr. Moon is doing a public apology and courtship of Seung Hee to woo her to join his surgical team. Seung Hee isn't going to report them for the invasion of privacy into her medical records but she also can't work alongside him and Hoon so curtly declines his offer. Dr. Moon scrambles after Seung Hee and Dr. Kim suggests he stop the public courtship since he's married already. Dr. Moon pooh poohs that and runs off to beg Seung Hee to join his team.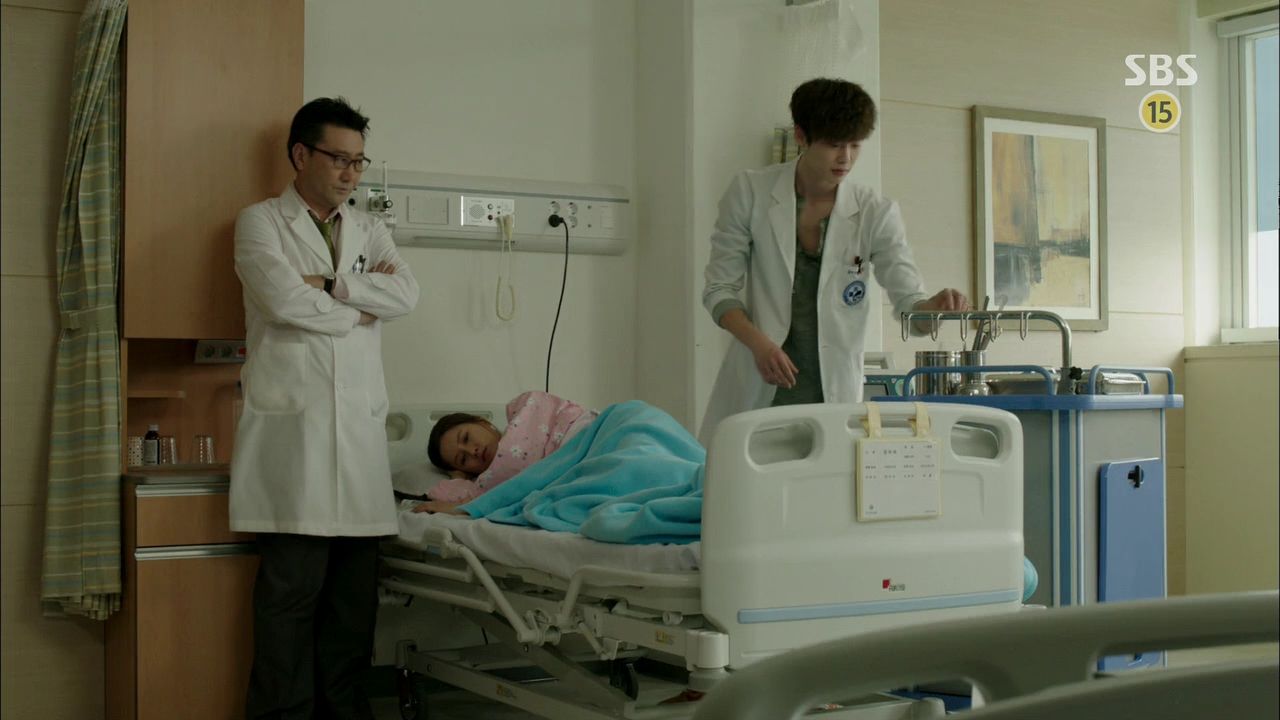 Hoon and Dr. Moon are doing their rounds and run into the formerly pregnant lady that he operated on. The patient is talking to the nurses and apologizing about not having the money to pay her medical bills. Hoon says it's not a crime to be poor and takes her back to the hospital room to change her surgical dressing. Hoon tells the patient to hurry up and heal and he'll handle the billing situation. Dr. Moon rolls his eyes at Hoon wanting to help a patient over this.
Hoon sits with Dr. Moon later and asks why he's so eager to assemble a top surgical team? Dr. Moon wants to win over Han Jae Joon and also become the head of the cardiothoracic surgery department. All the former hospital presidents have all been past heads of the cardiothoracic surgery department. Dr. Moon reveals that his dad was a pharmaceutical salesman for thirty years, always bowing before the doctors to make a sale. Before he died, he told Dr. Moon to become the president of a hospital one day and then make all the doctors go bow before his altar. Dr. Moon actually tears up and Hoon hands him a tissue.
Hoon asks if there is another reason and Dr. Moon says he'll make a lot more money as head of the department. Hoon suggests he find another anesthesiologist but Dr. Moon needs Seung Hee because he needs the best. Hoon wonders why all this desperate need for the best and learns that PM Jang Seok Joo is coming in for heart surgery and the hospital is picking his surgical team. Dr. Choi walks in and repeats that it's PM Jang Seok Joo. THAT Jang Seok Joo. Hoon's eyes widen and he stands back to stare back at Dr. Choi.
PM Jang reads the report on Seung Hee's anesthesia ability and burns the report. He wants to see them in person but Secretary Kim worries that it's too risky. PM Jang smirks that this concerns his political future and it's the least he can do.
PM Jang attends a meeting with the gathered media and cracks a joke about how there are fewer and fewer cardiothoracic surgeons being trained that when they retire and have heart failure they might as well jump off the bridge into the Han for a quick death. He wants his heart surgery to be covered to encourage youth to enter the profession. The media asks if the hospital has been selected and Secretary Kim rattles off the three choices including Myung Woo Hospital.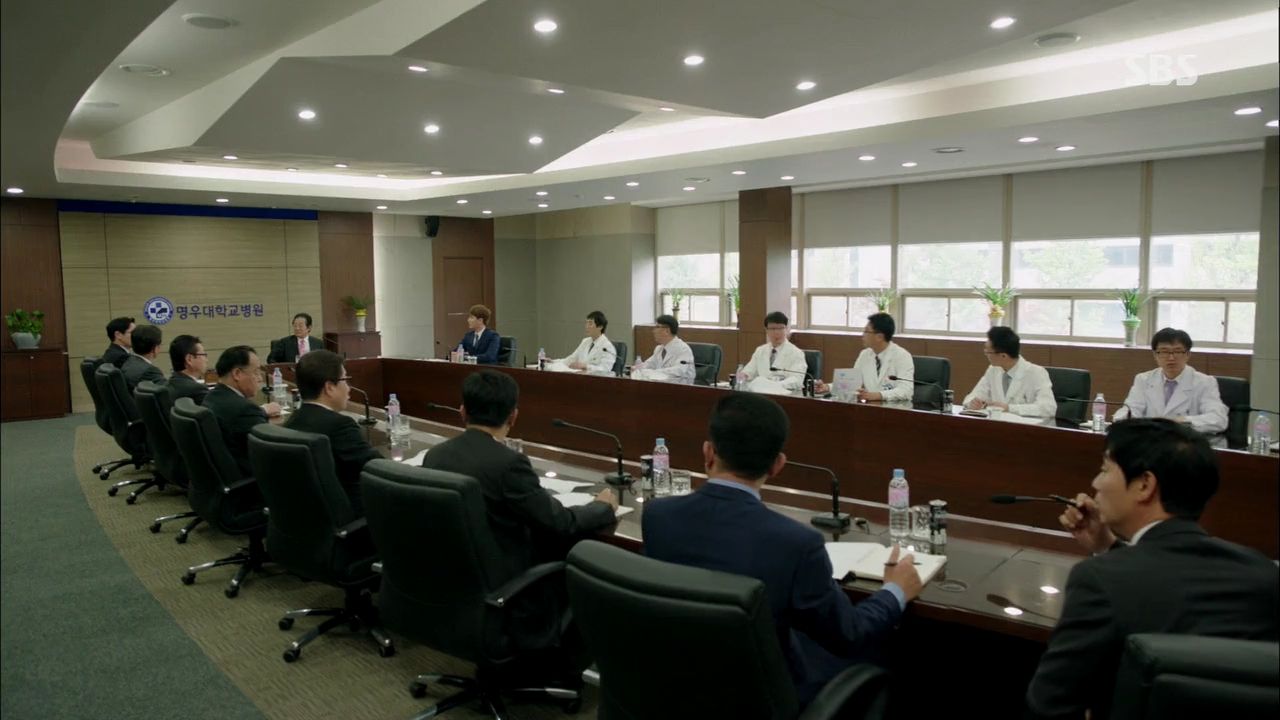 Sang Jin is delivering a report to the gathered Myung Woo Hospital directors about their preparation to be selected for PM Jang's heart surgery. Talk turns to which doctor is leading the effort and Chairman Oh explains he's got two teams competing for the right. One team is led by Dr. Han Jae Joon and the other by Dr. Park Hoon.
Jae Joon is in surgery with his team when a man in scrubs walks in to take pictures for promotional purposes if their team is selected for the surgery. When Chairman Oh announces Park Hoon's team, there is an audible gasp and Sang Jin wonders if he can do it since he's an escapee from North Korea. Chairman Oh says ability is what matters.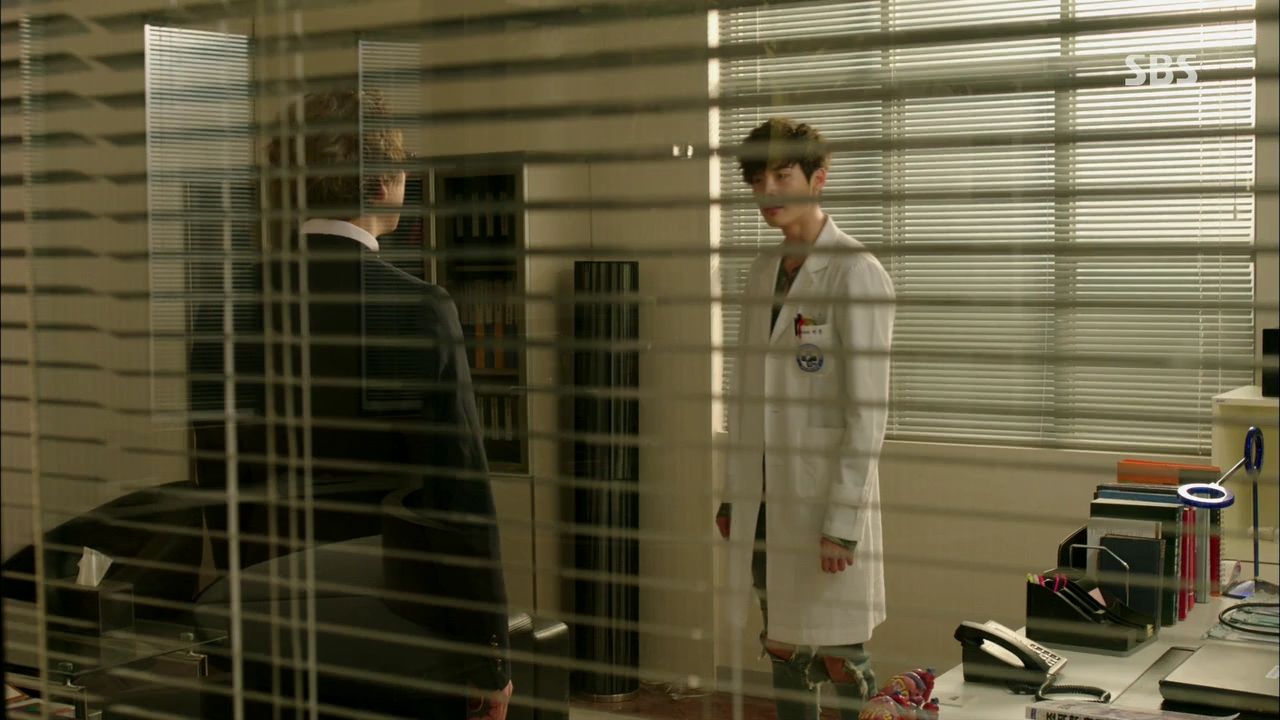 Dr. Choi is trying to encourage Hoon lead his team for contention in PM Jang's surgery but Hoon flat out refuses. He asks if there is another hidden agenda behind Dr. Choi trying to get him to agree to this? Dr. Choi says Hoon will become a top surgeon in South Korea if he is picked and succeeds. Hoon yells back that the bastard did so much to him, he would kill him first so it's absurd to ask him to save the guy. Dr. Choi points out that Park Chul saved Kim Il Sung and Hoon bites back that he's not his dad! Dr. Choi says Hoon is still a doctor but Hoon screams that he can leave that to the dogs.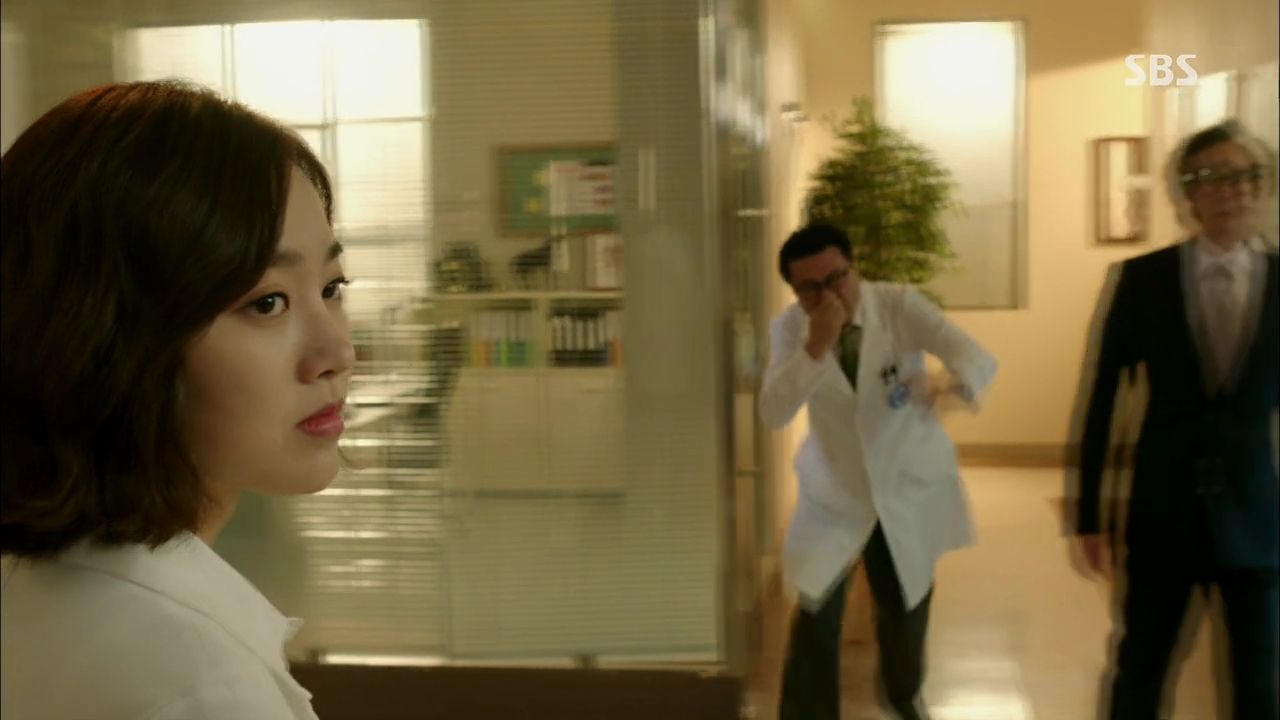 Hoon storms out and the door slams into Dr. Moon's face again in the recurring comedy bit. Seung Hee passes by and Hoon stops to tell her that he can't do it. He cannot act like a doctor in front of that trash. Seung Hee turns to watch him storm off with Dr. Moon chasing after him.
Hoon walks into Jae Joon's office and takes off his white coat to drop it on his desk in lieu of a white flag. Jae Joon wonders why the early surrender especially since he's been looking forward to going head-to-head with the legendary Dr. Park. Hoon smiles and apologizes for disappointing Jae Joon. He asks if Hoon is scared of the battle but Hoon doesn't care what Jae Joon thinks. Dr. Moon runs inside to tell Jae Joon not to think this is a surrender before running out to keep chasing after Hoon.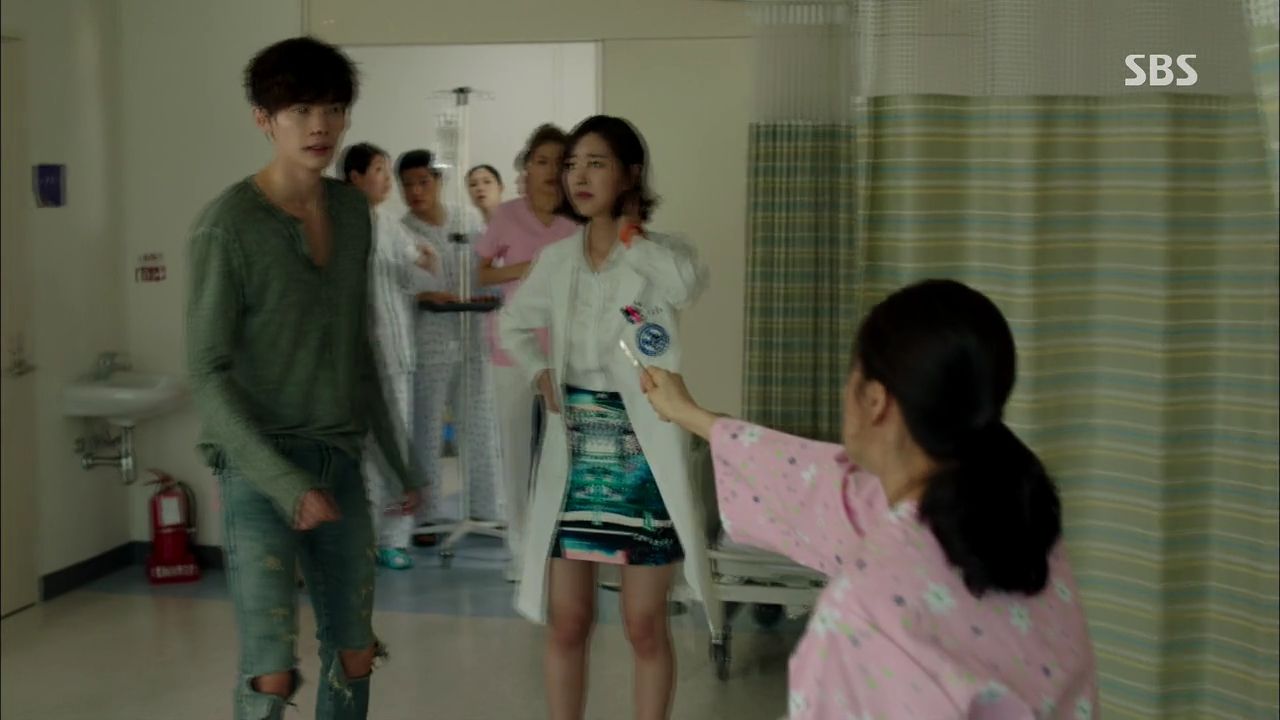 Hoon runs into Dr. Yang bringing the injured head nurse out to get treatment and tells Hoon to go check on an urgent situation with the heart patient with the newborn twins. Hoon runs into the hospital room and sees the patient holding one of her twins and wielding a scalpel. She would rather die here than be kicked out of the hospital since her kids are dead if they are forced to leave.
Hoon asks Seung Hee what's going on and hears that the twins have been diagnosed with congenital heart defect. Dr. Yang patches up the head nurse who is actually his wife because he worries about who is going to take care of their kids if anything happens to her. Hoon runs out and asks how come the twins have heart conditions and learns from Dr. Yang that it could have been detected during prenatal checkups but the patient didn't have money to get any prenatal care.
Hoon looks at the twins heart x-rays and hears their hearts valves are too small. He asks for a surgery room to be prepped but Sang Jin walks up and says not so fast. Hoon demands to know why Sang Jin is sending the family away and hears Sang Jin cruelly says the hospital already wasted money on saving the mom in the ER surgery and now he wants to hand this matter over to the police because she can't pay her medical bills. Soo Hyun arrives and asks what is happening when suddenly there is a scream from the patient's hospital room.
Dr. Choi is chatting with Chairman Oh who is called away to welcome a VIP guest to the hospital. All the doctors are gathered outside Myung Woo Hospital and PM Jang pulls up in his car and gets out.
The scream turns out to be the nurse noticing that the baby in the basket isn't moving or breathing anymore. Hoon tells Soo Hyun to bar the door from Sang Jin entering and he gets to work resuscitating the baby. Soo Hyun bars the door and dares Sang Jin do something to her to get past her into the room.
Hoon and Seung Hee check the baby and confirm she has no heartbeat. Hoon takes the baby and puts her on the bed before doing CPR and mouth-to-mouth. He touches her heart with a finger and magically diagnoses the baby and continues doing CPR and mouth-to-mouth until the little one starts breathing again. Seung Hee looks sincerely stricken as she watches Hoon working to save the baby. Everyone lets out a big sigh of relief when Hoon revives the baby.
Hoon picks up the baby and puts her in Seung Hee's arms. Seung Hee cradles the baby and smiles at Hoon while pointing out that he's finally acting like a real doctor. Hoon gives her a small smile while she extends her hand to for a shake and calls him "Dr. Park Hoon". The handshake is yet another similarity to little Jae Hee's first meeting with little Park Hoon in North Korea when she introduced herself to him with the same handshake gesture.
Sang Jin is still trying to fight his way into the hospital room when Hoon opens the door and tells Soo Hyun to transfer the patients to intensive care. He then walks off with a smirk.
PM Jang is meeting with Chairman Oh, Dr. Choi, and Jae Joon and talk starts with Park Hoon having turned in his white coat and bowed out of the surgical competition. PM Jang's face falls and he exchanges a look with Secretary Kim. Hoon barges in and takes his white coat back and puts it on. He's willing to be back on the surgery with only one request. He wants the hospital to pay for all medical bills for the surgery. Chairman Oh asks if that is his only request and Hoon takes that as Chairman Oh agreeing to it.
PM Jang welcomes Park Hoon to this process and the two exchange pointed fake smiles with each other.
Thoughts of Mine:
I loved this episode for all the great new information dropped in our lap as well as tons of movement on all fronts. I'll start with Jae Joon who finally gets his back story revealed. Like there is any doubt he's not the orphaned son of the parents who suffered in the malpractice lawsuit against the hospital back in 1994. I gather Jae Joon is around Hoon's age so he was also old enough to understand why he lost his parents and the institution responsible for it. He's back at Myung Woo Hospital because he wants revenge which is a motivation that works better than simply wanting to succeed as the hospital head by marrying Soo Hyun. It also adds a layer of intensity to his interactions with her, he's not just using her, he's probably also fighting against having real feelings for her because she's Chairman Oh's daughter.
Falling in love with the enemy's daughter is such a old trope in the K-drama book but it's not presented with too much angst here. I think even if Jae Joon does admit he loves Soo Hyun, he can work through the issues because his parent's death wasn't fully the actions of Chairman Oh but Dr. Choi also played a part since he was the surgeon who botched the surgery. I still can't get a full read on Dr. Choi as to whether everything he tells Hoon is the truth or he's simply sharing some details in order to fully manipulate him. I feel like it can go both ways, he can be in cahoots with PM Jang and the North Korean agents all working together to get Park Hoon working at Myung Woo Hospital and getting selected for the surgery. As for why it has to be Park Hoon, that remains a mystery but one I'm willing to wait and find out.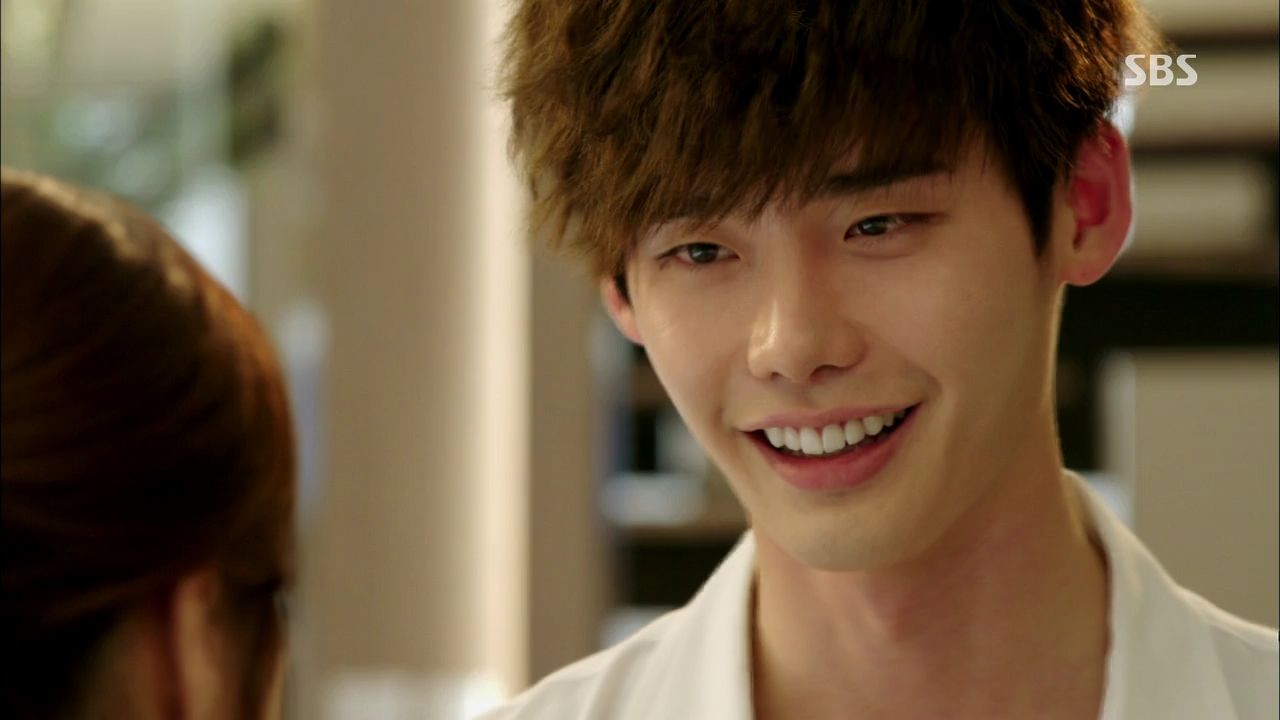 I adore the comparatively well-adjusted Soo Hyun but her story feels so lightweight compared to the other three, Jae Joon's revenge bent and Hoon's trained in a torture chamber history or Jae Hee/Seung Hee's years in a North Korean labor camp detention center. Sometimes Hoon acts all jolly and carefree but it's just a screen for a man who cannot face the enormity of what he had to do to survive, and his whole reason for doing it to survive is to be reunited with Jae Hee. I'm fairly certain Hoon knows Seung Hee is Jae Hee. So many tiny details give it away, but mostly it's the overarching full-stop that took place immediately after the hug. Park Hoon, the man who spent the last two years in Seoul looking for a way to find Jae Hee, suddenly stops actively looking for her. There is no way Hoon would accept a kidney CT and a hug with Seung Hee to simply stop believing she could be Jae Hee. NO FREAKING WAY.
He is so one-track minded with it comes to Jae Hee that he would go to any means possible to confirm her identity, even taking her shirt off to check for a kidney surgery scar or a bullet wound scar from Budapest isn't out of the question for him. Hoon's restraint and then all the looks he sends Seung Hee's way, plus the long stare they shared in Dr. Moon's office when Dr. Moon was looking at her new CT scan, that tells me Hoon is now going to preserve Seung Hee's identity so that he can adopt a watch and see approach to figuring out how to extricate her. When he turned down Dr. Choi's offer to go back to North Korea to find Jae Hee, it's because he knows Jae Hee is already in South Korea and right under his nose. Hoon isn't stupid, he was raised in North Korea and understands the scary regime and what it's capable of. He would never break Seung Hee's cover because he knows whoever is controlling her can take her out if she's of no use to them.
Click here to watch Dr. Stranger.