Summer is typically the season for more supernatural fare on television and theaters in Asia what with the lunar month of August having a Asian cultural association with ghost month. Two years ago Arang and the Magistrate hit the airwaves in August, and last year we had Who Are You and The Master's Sun all being late Summer dramas. This Summer will start the supernatural genre off with the July premiere of Records of a Night Watchman (Night Watchman's Journal) on MBC following the three-separated-brothers drama Triangle. I'm sure somewhere there are JYJ v. DBSK fans discussing the irony of a Yunho drama following a Jaejoong drama. Night Watchman stars Jung Il Woo leading a group of night watchman to protect the citizenry from the supernatural elements and solve mysteries. His character is the Crown Prince with the same ability as his father the King to communicate with the supernatural entities.
Yunho and Yoon Tae Young will play two other fellow night watchman while female lead Go Sung Hee is a guardian of the spiritual mountains and newbie Seo Ye Ji plays a noblewoman harboring dreams of marrying the Crown Prince. The older characters include Choi Won Young as the crazy King, Kim Sung Oh as a powerful wizard who wants to raise a demon serpent/dragon mythical creature to use its power and rule the world, and Kim Heung Soo as the half-brother to the Crown Prince who naturally wants to snatch the throne from the upstanding legitimate heir. The entire cast attended the script reading session except Yunho, an absence that I'll assume is due to his busy idol career schedule. With Triangle being a 24-episode drama and just rounded the corner into its second half, that gives Night Watchman plenty of time until its premiere the last week of July. Looking forward to checking it out!
This drama looks to be in good hands. The PD is quite familiar with sagauks and even ones with a twinge of supernatural in it as he directed the MBC epic Jumong and recently helmed another long drama in Lights and Shadows. The writer has one sageuk under his belt in The King's Dream but his more well-known hit was the powerful-woman-centric Daemul. I worry the most about the acting (of course) and the special effects with so many supernatural elements which will need to be CGI-generated on a tight live-filming drama schedule as well as a significantly lower budget than movies.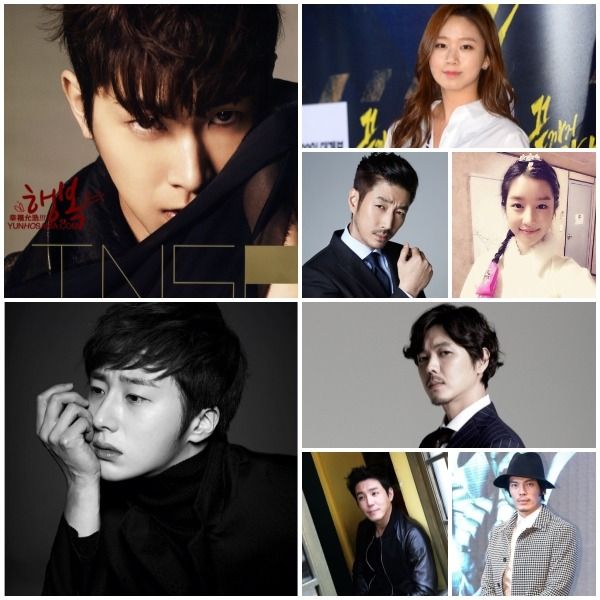 The children's portion of the drama has already started filming. The kid actors are so colorful and cute.